Choosing the best paintball gun for the money can be a challenge, especially if you're a beginner in the game. With so many brands and factors to consider, it can be hard to know which one will best suit your needs. This is why we not only provided the list below, but we also discuss what you'll need to know before making a decision. Soon, you'll be ready to make the best decision, so you can get to playing the exciting game of paintball!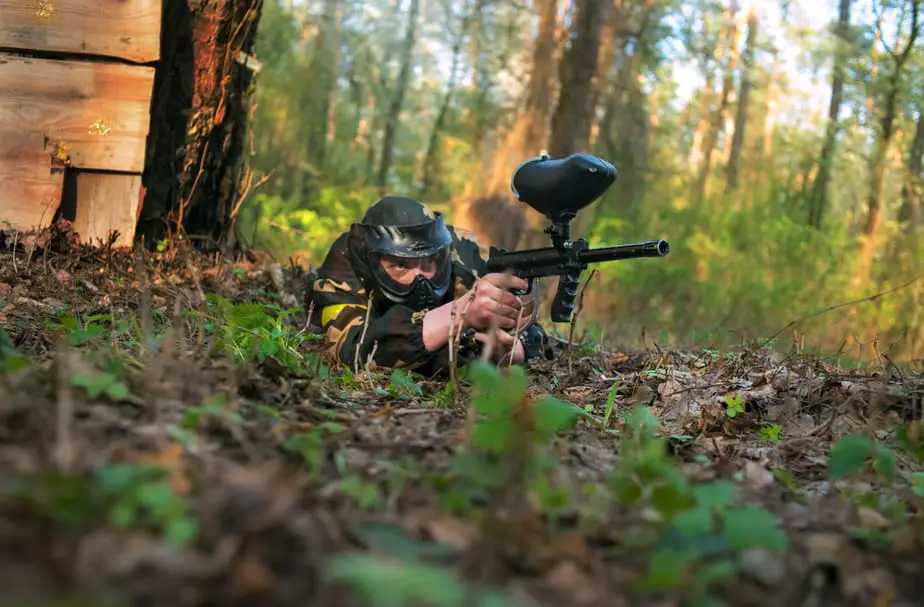 In a Hurry? Here's Our Top Picks…
1. Spyder Fenix Electronic
Dye Rize CZR Paintball Marker
Packed with features normally only found on high-end markers, the DYE Rize CZR delivers premium features without the pro price tag. The CZR gives you the ability to compete with any marker on the field through a proven, reliable platform that delivers.
Featured loaded with the precision True Core two-piece 14" barrel, proven Hyper3 regulator, DYE Ultralite on/off Airport, and DYE Lever Lock adjustable clamping feed neck the CZR is packed with features that make playing paintball easier and more fun by adding more firepower to your game.
Innovations like the internal Anti-Chop eyes, screw together bolt design, DYE's patented self-cleaning 4th generation Eye Pipe, and Color Coded O-Rings keep maintenance to a minimum and easy when required. Built to last and withstand even the toughest of games, the CZR performs in all conditions with minimal maintenance.
New nylon reinforced feed neck, elongated body for improved ergonomics, and RAMP solenoid boast improvements made to the CZR over its predecessor, the Rize & Rize MaXXed.
Parts kit, DYE Slick Lube 2.0, OG DYE Barrel Sock, tool kit, and 9-volt battery included. All DYE products are backed with a 1-year warranty against manufacturer defect.
Last update on 2023-09-17 / Affiliate links / Images from Amazon Product Advertising API
One of the most impressive features of the Spyder Fenix Electronic Paintball Marker is the unique Eko valve system it uses. With this valve, it can double the capacity of shots that the average tank would provide.
Another thing that is remarkable about this paintball gun is that it lets you make changes between semi-automatic ramping because of the electronic trigger frame in the marker. This makes the Spyder Fenix Electronic extremely flexible.
It's also got a clamping feed neck that is capable fo shooting up to 25 balls per second.
The break beam eye technology in this paintball also works well as an anti-chop system. This decreases the risk that the gun will fire paintballs unless all are settled well inside of the chamber. With this, there is no chopping of the paintballs and maintaining cleanliness inside the gun.
It's velocity adjuster, and adjustable inline regulator allows you to make quick changes, making this a great option.
What We Like About This
Highly reliable
Able to shoot twice as much as what an average tank or guns fires
Comes with a velocity adjuster
Check Price and Reviews on Amazon
---
2. Tippmann Cronus
Tippmann Cronus Paintball Marker Gun Player Package
COMPLETE ALL-IN-ONE PAINTBALL GUN PACKAGE! Tippmann Cronus .68 Caliber Paintball Marker Gun Player Package. Everything You Need to Get in the Game!
THE BEST CHOICE FOR ENTRY LEVEL PAINTBALLERS! High performance, low maintenance, reliability, and incredible durability make it one of the most popular paintball markers across the globe. Built with the paintballer in mind, the marker's high-impact, composite construction is extremely lightweight and features molded-rubber grips and an internal gas line for enhanced control and maneuverability. Plus four Picatinny rails for fast and easy custom modification.
TIPPMANN CRONUS MILSIM STYLED .68 CALIBER SCENARIO PAINTBALL MARKER - Semi-Automatic - Adjustable from 250-325 FPS - Barrel Thread: A5 - Proven, In-line Bolt Design - Internal Gas Line - High-Impact Composite Body - Multiple Picatinny Rails - High-Performance Ported Barrel - and MORE!
Player Package Includes: GenX Stealth Anti Fog Paintball Mask, 200 Round Gravity Fed Loader, Maddog 20 Oz. CO2 tank (Shipped Empty), 6+1 Paintball Harness w/ (6) Standard Paintball Pods
TAKE THE PAIN OUT OF PAINTBALL! EASY, ALL-IN-ONE, Complete Package! This CO2 Starter Kit has Everything You Need for Field Entry.. Fill Your Tank, Add Some Paint, and You're Set! Tippmann's Cronus Paintball Marker comes with a 1-Year Manufacturer's Warranty, not to mention, Tippmann's DEDICATED Cerfified Technical Support Department Available as a Resource For You and Your Marker All Year Long!
Last update on 2023-09-17 / Affiliate links / Images from Amazon Product Advertising API
You may notice that there are a few Tippman options on this list, and it's not by accident. Of all the options on this list, the Tippman Cronus is one of the best models for beginners.
Tippman builds their paintball guns with the user in mind, and this model is no different. This marker's composite construction is very lightweight and even features molded-rubber grips as well as an internal gas line, giving you enhanced control and maneuverability.
It has a rail system to attach various accessories such as red dot sights, lights, or grips. You also get a removable barrel shield and stock that can change up the look of this gun.
For paintballers who are new to the game, you can't go wrong with this high-quality, durable, and affordable marker. This kit comes with the Tippman Cronus paintball gun, a GXG mask with an anti-fog lens and visor, deluxe paintball harness, 6 round heavy duty paintball clear tubes, one-ounce gold cup oil, skull 21-inch orange squeegee, 20 ounce CO2 tank (empty), and 3skull round black hopper.
Extremely lightweight and comfortable to use
Easy to use and works well for beginners
Enhanced control and maneuverability
Check Price and Reviews on Amazon
---
3. Tippmann TMC MAGFED
Tippmann TMC MAGFED Paintball Marker
Tippmann's latest MagFed Extremely Authentic Milsim Styled Tactical Paintball Marker
THE MOST REALISTIC MILSIM SCENARIO PAINTBALL GUN ON THE FIELD! Dual feed option: Go MagFed or Traditional Loader and Get the Best of Both Worlds in One Awesome Package! Perfect for Close Quarter Battles, Tactical Games, Woodsball, Etc! High Performance, Low Maintenance, Reliable, Fully Pnuematic, and Extremely Authentic Milsim Tactical Paintball Marker!
TIPPMANN TMC MAGFED .68 CALIBER SCENARIO PAINTBALL MARKER - Semi-Automatic - Adjustable from 250-325 FPS - Includes (2) 20 Round Spring Driven Magazines - Dual Feed Option: Hopper or Magfed Design - 12" High Performance Barrel - Internal Stainless Steel Gas Line - Front and Rear Adjustable Sights - Built-in Picatinny Rails
Tippmann's TMC MAGFED Paintball Marker comes with a 1-Year Manufacturer's Warranty, not to mention, Tippmann's DEDICATED Cerfified Technical Support Department Available as a Resource For You and Your Marker All Year Long!
Last update on 2023-09-17 / Affiliate links / Images from Amazon Product Advertising API
Another great option from Tippman, the Tippmann TMC MAGFED, is one of the most reliable markers on the market. It is suitable for woodsball players who play both distance and up-close games. This marker can work with various strengths, which is excellent for paintballers who like to mix things up.
This paintball gun is a fast shooting weapon that maintains a high level of accuracy and is a popular option for a lot of paintball players.
It's got an AR15 look, but despite its size, it's very lightweight. Because of this, you can easily play the game without compromising your performance on the field.
You also have the option to add some upgrades without weighing it down too much. This fully functional gun can be easily customized to suit your tastes.
What We Like About This
Uses a dual-feeding system
Shoots fast and accurate
Lightweight
Easy to customize and upgrade
Check Price and Reviews on Amazon
---
4. Empire Mini
Empire Paintball Mini GS Marker
Pressure controlled poppet engine for outstanding performance
Integrated break-beam anti-chop eyes
Wrap-around fore grip for protection from elements and increased grip
Venting ASA regulator with ON/OFF lever
Only two hex wrenches needed for all screws
Last update on 2023-09-17 / Affiliate links / Images from Amazon Product Advertising API
As the name suggests, the Empire Mini is one of the smallest paintball guns on the market. This means this marker is extremely lightweight and easy to maneuver with. The two-handle design also adds an extra level of comfort for the user.
It has an electronic trigger system that makes it incredibly quiet and able to shoot fast as you pull the trigger. This paintball gun has a pressure gauge on the air connector, allowing you to check the remaining air in your tank with a quick glance.
The Empire Mini includes a full wrap-around rubber foregrip that gives the user a secure grip and protection from the paint. The on/off ASA removes any thread issues, allowing for smooth and easy removal of your tank.
The foregrip attachment points give you even more strength and performance than ever. Additionally, the new design of the Empire Mini allows for a simple drop-in of the Redline OLED board without needing to switch the foregrip.
What We Like About This
One of the smallest paintball guns on the market
Has a quiet and fast shooting electronic trigger system
Comes with a full wrap-around rubber foregrip
Check Price and Reviews on Amazon
---
5. Empire Axe
Empire Axe Paintball Marker (Polished Black/Sunset)
Patented Proprietary Slipstream Solenoid Allows For Fast Firing
Empire Relay Regulator/ASA with ON/OFF Lever Makes Tank Removal a Breeze
Multiple Adjustable Firing Modes (Semi, PSP Ramping, NXL, & Millennium Ramping)
Magnet Returned Bearing Trigger Offers Smooth Firing Action
Integrated Break Beam Anti-Chop Eyes Eliminates Chopped Balls
Last update on 2023-09-17 / Affiliate links / Images from Amazon Product Advertising API
The Empire Axe is a high-end paintball marker that shoots fast and is excellent for paintballers who are ready to get serious in tournaments. There are multiple shooting modes, including single shot, ramping, and full-auto, enabling you to fire off lots of paintballs with ease.
It's got a new shape and extended grip frame that gives users a comfortable firing position suitable for all-day play. The Empire paintball on/off regulator ASA makes removing the air bottle quick and easy by using the lever.
This powerful paintball gun has a unique push-button, tool-less bolt removal system that makes maintaining the AXE paintball gun simple.
Although this paintball gun is capable of firing off paintballs extremely fast, it is still gentle on the paintballs with the proven mini break-beam eye system.
What We Like About This
Highly accurate
Incredibly lightweight and easy to use
Gentle on paintballs
Check Price and Reviews on Amazon
---
6. Azodin Blitz 3
No products found.
The Azodin Blitz 3 is a paintball gun that can be used whether you want to play a round of paintball with your friends or want to play with for a tournament. Its streamlined design and durable construction make it one of the best performing guns on the market.
With this marker, you can enjoy all-day play without getting tired because it's so lightweight.
The frame is made from nylon-reinforced composite material, meaning this gun will never fail you while you're playing on the field. Having a reliable marker made from a solid frame is essential when in challenging playing environments.
This paintball gun runs smoothly and ensures that you save a lot on gas with the use of a piston featuring an integrated seat.
Although this gun is incredibly powerful, it stays remarkably quiet during play. The quietness allows you to easily hear your opponents as they move around, giving you more opportunities for attack.
What We Like About This
Durable construction
Reliable nylon-reinforced composite material frame
Saves on gas
Quiet
Lightweight and easy to maneuver
Check Price and Reviews on Amazon
---
7. GOG eNMEy
Last update on 2023-09-17 / Affiliate links / Images from Amazon Product Advertising API
For an incredibly reliable and dependable paintball gun that's budget-friendly, the GOG eNMEy should suit your needs. It works well for both beginner paintballers and experts because of its simplistic design paired with the way it powerfully fires off paintballs.
It comes with a pistol grip, forward grip, a paintball loader on top, and an air tank on the bottom. The highly advanced design propels balls forward without the use of batteries, springs, or hammers. Because it's got fewer parts than other models, this decreases the chance of it breaking down.
Made with durable plastic, the construction makes it capable of holding up in almost all environments and gameplay situations you may find yourself in. Despite its durability, it's still incredibly lightweight even when fully loaded.
The anti-chop technology and low-bolt pressure make this paintball gun capable of enhancing the firing ability of this gun. It boasts of a good firing rate and impeccable accuracy that both new and veteran paintball players can appreciate.
What We Like About This
Beginner-friendly
Advanced pneumatic design
Durable plastic
Anti-chop technology
Highly accurate
Check Price and Reviews on Amazon
---
8. Tippmann 98 Platinum Series
Tippmann 98 Custom Platinum Series .68 Caliber Paintball Marker Gun with ACT , Black
Split Receiver Design, which provides easier access to internal components for simplified installation of grip upgrades and modifications
Picatinny Rails, which makes adding a carry handle, scopes and other accessories a snap
Secure Front Sight Spring and Trigger Pins, which makes the marker easier to service and reassemble
Easy-to-Remove Power Tube Design with self-sealing/locking gas line makes maintaining the marker quick and easy
Includes maintenance pack: allen wrench set, spare tank o ring, marker lubricant, cleaning cable
Last update on 2023-09-17 / Affiliate links / Images from Amazon Product Advertising API
For another high-quality paintball gun that won't break the bank, you'll want to take a look at the Tippmann 98 Platinum Series. Another Tippmann brand, this paintball gun, is designed to enhance just about anyone's gameplay.
One great thing about this gun is that you will be able to customize its look as well as make upgrades as you decide to take your game to the next level. Some upgrades you can ado are on its response trigger, e-trigger kit, and its cyclone feed system.
This semi-automatic paintball marker features a split receiver design, making it possible to access the internal components quickly. Because of this, installing any modifications or upgrades can be done with ease.
With the anti-chop technology in this paintball gun, you can be sure that it can significantly decrease the risk of paint breakage.
What We Like About This
Can help improve your gameplay
Highly reliable performance on the paintball field
Promotes ease in accessing the internal components
Low risk of paint breakage
Check Price and Reviews on Amazon
---
9. Azodin Kaos 2
No products found.
The Azodin Kaos 2 is a top-rated paintball gun that's great for entry-level players. The design is flexible in that you are able to use it in various playing environments with different settings.
It has a simple pop-valve design that is incredibly easy to work with. It only has a few moving parts and seals, providing a no-nonsense approach when operating it. The simplistic design also makes it less prone to having leaks on the springs or firing issues.
When you need to disassemble the gun, you'll find that it is incredibly easy to do. You can easily get the job done in five minutes, which comes in handy if you need to replace its o-rings or clean it.
This is another incredibly lightweight marker. You can have the assurance that there will be minimal recoil, and you can continue to play comfortably.
It is also an incredibly accurate paintball gun. When it comes to game time moments where long-distance accuracy is required, this gun will be sure to hit your target.
What We Like About This
Flexible for use in various environments
Comes with a lower chance of firing issues or leaks
Lightweight with fewer internal parts
Minimal recoil
Long-distance accuracy
Check Price and Reviews on Amazon
---
What to Consider Before Choosing the Best Paintball Gun For the Money
Consider How Often You'll Play
One aspect to consider first is how often you'll plan on playing. If you're just going to play here and there, you won't need anything too fancy.
However, if you plan on playing several times per week, then it's worth the money to invest in a more durable marker that you know will last a longer period of time. Although the upfront cost will be a bit more, it's going to save you a lot of money in the long run.
Where Will You Play?
It is also important to take into consideration where you'll be playing paintball. Different facilities have different regulations, so make sure you know them prior to purchasing your gun, especially if you're a beginner.
To do this, check the facility website or call to ask the staff prior to choosing the gun.
Some facilities may limit the number of paintballs that can be fired per second, and some do not allow fully automatic paintball guns.
Once you familiarize yourself with all of the rules and regulations of the facilities you plan to play it, you'll have a better idea of what to look for in a gun.
What Type of Game Will You Play?
Another factor to note is the type of paintball game you plan on playing most of the time. While some can be used in various environments, some paintball guns are better suited for different styles of paintball.
If you plan on playing woodsball, for example, then you'll want to look for a gun that can accurately shoot long distances. For speedball, you'll need to choose a paintball gun that is capable of firing multiple shots quickly and accurately.
What Characteristics to Look For When Choosing the Best Paintball Gun For the Money
Weight
Closely examine the weight of the gun prior to making a decision. You will want a more lightweight gun if possible. Aside from having to carry it around for long periods of time, a lightweight gun is going to be easier to moving it around discreetly and quickly to keep you in the game longer.
A lighter gun is going to improve your mobility, allow you to move around the field with ease, and also ensure that you won't get tired from carrying it around the field.
Type
The type of gun you choose will either be a pump or automatic. If you know others that you'll be playing with using a semi-automatic gun, then you will want to look for the same.
This will keep you from getting outmatched in case you have a pump-action marker when the other players are using a semi-automatic type.
Both guns are highly reliable; they just function differently.
Keep in mind that the position you play or tactics you use could help determine which type of marker you should choose. If you are someone who tends to act like a sniper, then you'll want a gun that matches that style of play.
This means that if the others utilize a semi-automatic gun, then you also need to use the same. Doing such will prevent you from getting outmatched just in case you bring a pump-action marker when all the others are using the semi-automatic type. Also, take note that both these guns are reliable options, but they have different functions.
Hopper placement
Lastly, you'll want to keep in mind what the hopper placement is. You can choose between the offset or center-fed placement.
Center-fed paintball guns have the hopper in the middle, allowing you to aim from both sides of the gun effectively. The offset type placement tends to limit your line of sight, especially if you're aiming from the side the hopper is on.
Final Thoughts
With so many paintball guns on the market, making the right decision may seem like a daunting task. However, as long as you know how often you play, what kind of game you'll play, and what aspects of the gun to look for, making the right decision should be a lot easier.
If you're trying to decide between airsoft and paintball, read our article on which game we think is best.