You can think of it as Star Trek meets a favorite childhood game with an added high-tech twist. It's like walking onto the set of a reality-based video game, only you're the target. To get the most fun out of it, you, of course, want to look for the best laser tag guns to ramp up the action.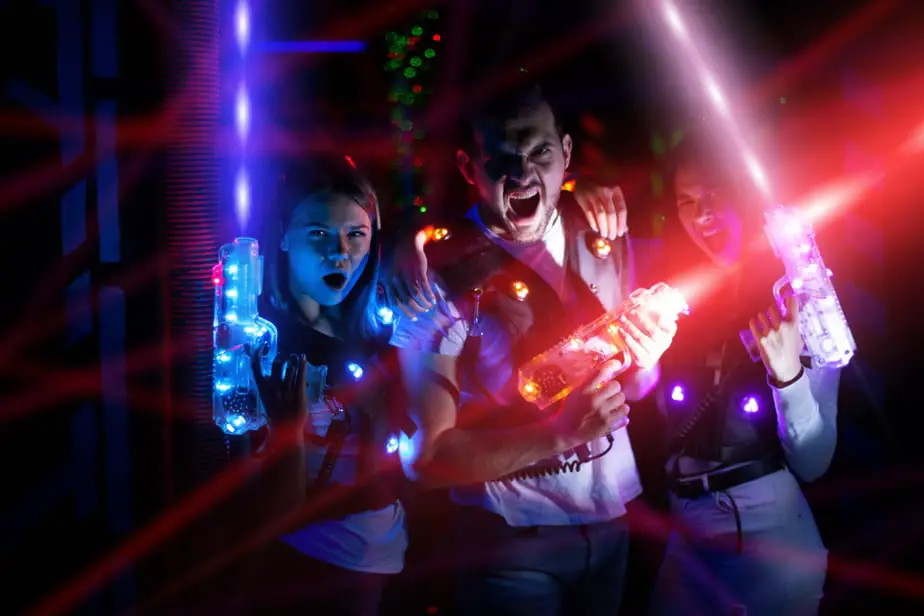 Our guide will take you through the ins and outs of choosing the right product for your style of gameplay. We'll cover the features you should look for, along with some tips for scoring the most hits. You'll find plenty of options, whether you want a barebones model or one with all the latest bells and whistles.
In a Hurry? Here's Our Top Picks…
1. Kidzlane Infrared Laser Tag Game
Sale
Kidzlane Infrared Laser Tag Game - Set of 2 Red/Blue - Infrared Lazer Tag Game, Works for Indoor and Outdoor Activities | Laser tag for Boys Age 8-12
4 TEAM MODES ✨– Choose one of the four teams, teams are indicated by light color, Red White Green and Blue
4 GUN MODES ✨– Choose one of four gun settings – Pistol, Lazer Guns, Submachine Gun and Rocket.
REALISTIC ✨– Realistic shooting sounds, different sounds for each gun mode (Pistol, Shotgun, Submachine, and Rocket)
FUN & ACTION ✨– Lights up and vibrates when shooting or hit, different life bars and available shots for each gun mode.
OUTDOORS & INDOORS ✨–a striking distance of approximately 130 Feet makes it a great outdoor or indoor activity - Kidzlane Infrared Laser Tag Uses Child Safety Infrared Signal Emission 0.9mW
Last update on 2023-09-13 / Affiliate links / Images from Amazon Product Advertising API
The company name of the Kidzlane Infrared Laser Tag Game says it all. It succeeds as a kid-friendly product with the attention to detail that we like to see. You can play in teams of four with brightly colored guns to match. There is no limit to how many can play on each side. Players don't have to wear vests as they have a built-in target.
The shooting range is decent at up to 130 feet. You have your choice of four playing modes: Pistol, Shotgun, Submachine Gun, and Rocket. Each one has different sounds and actions to identify it. Each gun measures 11.8 inches by 6.8 inches by 4.1 inches and weighs just over 1 pound. They run on AA batteries, which adds slightly to the weight.
Pros:
The output is 0.9mW, which is well within the FDA's recommendations.
The product is affordably priced.
The guns are well-made.
Cons:
You can't turn off the sound effects.
Check Price and Reviews on Amazon
---
2. ArmoGear Infrared Laser Tag Blasters and Vests
ArmoGear Laser Tag – Laser Tag Guns with Vests Set of 4 – Multi Player Lazer Tag Set for Kids Toy for Teen Boys & Girls – Outdoor Game for Kids, Adults and Family – Ages 8+
AUTHENTIC LAZER TAG GAME 🔥 Turn your home or backyard into a laser tag arena with the ArmoGear laser tag blaster set, the most advanced set of laser tag blasters out there! No other laser tag set has real TARGET VESTS, INVISIBILITY MODE, NIGHT VISION FLASHLIGHT, VOICE-GUIDED DIRECTIONS, and an extreme 150 FT SHOOTING RANGE!
MULTI-PLAYER, MULTI-AMMO 🔥 Up to 4 teams can play in this riveting battle! Switch between the unique powers of PISTOL, SHOTGUN, MACHINE GUN, and ROCKET to blast your enemy and declare victory! These laser blasters are ergonomically designed with a solid grip in your hand, even for young kids. Using child-safe infrared emission.
FUN FOR THE WHOLE FAMILY 🔥 Tactile vibrations and lifelike shooting sounds make for deeply immersive gameplay, turn kids and adults away from their screens! Have a blast and create cherished memories on holidays, snow days, or birthday parties, with a fun family laser tag tournament! It's the PERFECT GIFT IDEA, sure to delight kids of all ages!
PREMIUM QUALITY & CHILD SAFETY 🔥 The ArmoGear laser blasters for kids are made according to the highest manufacturing standards for a top-quality, long-lasting toy. LITHIUM RECHARGEABLE BATTERIES are NOT included for child safety, each blaster uses 3 AAA batteries and each vest uses 3 AAA batteries. (set of 4 totals to 24 AAA batteries, batteries not included)
For nearly a decade ArmoGear has been devoping quality toys that inspire imaginative play, outdoor fun and creativity. Bring out the best in your little one!
Last update on 2023-09-13 / Affiliate links / Images from Amazon Product Advertising API
The ArmoGear Infrared Laser Tag Blasters and Vests have a lot of bells and whistles that can justify the higher cost. The product includes four guns and vests. They have a 150-foot shooting range. There is also a night-vision flashlight, voice directions, and an invisibility mode to mix up the gameplay. It has four gun settings, like the previous product. It also has a decent emission rate of 0.9mW.
The guns are brightly colored with large controls for easy use. The sounds are realistic and loud. However, the accuracy of the shots isn't perfect, especially if you're playing indoors. That said, you'll probably find gameplay more enjoyable outside without the indoor-cheat factor.
Pros:
The manufacturer backs up their product with a money-back guarantee.
The extra features make gameplay more exciting.
The guns are easy to use.
Cons:
Both the guns and vests require batteries, which means you'll need 24 AAAs for each round of play.
Check Price and Reviews on Amazon
---
3. Nerf Lazer Tag Phoenix LTX Tagger
Nerf Lazer Tag Phoenix LTX Tagger 2-Pack (Amazon Exclusive)
This version comes in simple brown packaging
Complete 2-player system lets you battle in intense real-life lazer combat
Features 2 Phoenix LTX taggers for fun, action-packed competition
Taggers register hits with lights, sounds and vibrations
Includes 2 Phoenix LTX taggers - requires 12 "AA" batteries (not included)
Last update on 2023-09-13 / Affiliate links / Images from Amazon Product Advertising API
The Nerf Lazer Tag Phoenix LTX Tagger takes realism to the next plain with not only sounds but vibration and recoil when you shoot the gun. That makes an excellent choice for older children and adolescents who want to up their game. The weapon is larger than some comparable ones at 17.5 inches by 13 inches by 4 inches. However, each one only weighs just over 1 pound without the six required batteries.
The shooting range is respectable at about 120 feet with decent accuracy. There is no gaming the system with these guns. While spendy, they are well-constructed, albeit, with kind of a kiddie look to them. They support multi-player modes to ramp up the action. It's worth mentioning that returns are not accepted on this product unless you contact the manufacturer directly.
Pros:
The realistic gameplay is exciting.
The force-field protection shot is a welcome addition.
The product meets all safety standards.
Cons:
Some players may find them bulky.
Check Price and Reviews on Amazon
---
4. USA Toyz Laser Tag Toy Guns
USA Toyz Laser Tag Toy Guns for Boys and Girls - 4pk Kids Toys Multiplayer Shooting Game Lazer Tag Set w/ 4 Laser Tag Guns for Kids and Adults
4-PLAYER LAZER TAG TOY GUNS: No vests needed for these toy guns for kids featuring gun target tech in each laser gun; blasters include Life Meter, Team Selector and Grip Reload
LONG RANGE LASER TAG SET: Enjoy multiplayer games of laser tag across the neighborhood with these toy guns' 130 ft. range; infrared lasers are kid-safe with less than 1mW output
4 LASER TAG GAME FIRING MODES: Laser tag guns for kids fire in toy pistol, shotgun, submachine gun and rocket launcher modes; use all 4 modes for indoor or outdoor laser tag fun
SPECS: Play laser tag games with family and friends; these laser tag sets are super fun for kids ages 6 and up; each kid toy gun requires (4) AA batteries
QUALITY ASSURED: Have fun with your lazer tag gun set! We'll provide a full refund if you're not thrilled with your laser tag set for kids and adults
Last update on 2023-09-13 / Affiliate links / Images from Amazon Product Advertising API
The USA Toyz Laser Tag Toy Guns show some attention to detail that improves gameplay. They use lithium-ion batteries instead of AAAs, which reduces their weight and makes it easier to handle. Each shot provides plenty of action with sounds, lights, and vibrations. There are also extra indicators for team selection, life, and grip reload.
The guns have a sleeker design than some comparable products we've seen. They measure 17.7 inches by 11.3 inches by 4.7 inches each and weigh less than 1 pound. We also like the more subdued color scheme, which makes them look less like a child's toy. However, they are kid-friendly with an output of less than 1mW. Customer service is top-notch with 24/7 support available.
Pros:
Lithium-ion batteries are a better choice for powering the guns.
You don't have to wear a vest to use them.
The seller offers a money-back guarantee with your purchase.
Cons:
The accuracy could be better.
Check Price and Reviews on Amazon
---
5. DYNASTY TOYS Family Games Laser Tag Set
Liberty Imports Infrared Laser Tag 4 Players Game Set for Kids - Indoor Outdoor Multiplayer Toy Guns Battle Blasters Mega Pack with Carrying Case
Extreme 4-Player Laser Tag Set - With FOUR different Team Settings, you can play on the same team or in a 1v1v1v1 Free-For-All Battle. Unlimited Players! The more blasters you have, the more can play!
Choose from 4 Different Weapons Settings - Pistol, Shotgun, Machine Gun, Rocket Launcher - and pulverize the enemy! Ultra-realistic shooting sounds accompany each setting for a riveting game!
No Vest Required! The blaster is the target! Choose between the Blue, Orange, Green, or White Team and let the merciless wars begin!
Long Range Sensor - An infrared receiver tracks and registers hits with a max strike distance of 132 feet or 40 meters. These Laser Blasters light up and vibrate while shooting to allow you to immerse yourself in the action!
With a Child Safety Infrared Signal Emission that is less than 1mW, this toy conforms to ASTM F963-16 and is a certified class 1 laser toy product and safe for children of all ages
Last update on 2023-09-13 / Affiliate links / Images from Amazon Product Advertising API
The DYNASTY TOYS Family Games Laser Tag Set is another quality offering by a company that puts kids first in the design and safety of its products. The two-gun set includes a carrying case for easy transport and convenient storage. Each gun requires four AA batteries, which is par for the course. The size is a bit more compact at 14.6 inches by 11.3 inches by 4.4 inches. They weigh over 1.5 pounds each.
Like the other products we considered, these guns have an output of less than 1mW. The manufacturer went the extra mile to have it verified by a third-party tester, which we appreciated. You can buy them in either two or four packs to build your teams. You can add as many players as you'd like, too. We liked it that the gun kept firing continuously—until you reach your maximum number of shots.
Pros:
The product includes a carrying case.
You can change settings even during gameplay.
The sound effects change with the gun mode.
Cons:
The guns don't feel as sturdy as other products we reviewed.
Check Price and Reviews on Amazon
---
Things to Consider When Choosing the Best Laser Tag Guns
You'll likely feel overwhelmed the first time you start looking at the best laser tag guns. There are so many from which to choose! While you may think of it as a kids' game, once you scan the available products, you'll realize those older children and even adults play it, too. Therefore, the first thing you need to think about is the ages of the users.
The sky is the limit for what you want out of your laser gun. Of course, the more it does, the more you'll pay. The features to consider include:
Infrared Output
Shooting Range
Types of Gameplay
User Settings
We'll cover each one in detail.
Infrared Output
We'll discuss this feature first since the safety of the laser gun hinges on this spec. The concern rests with the infrared output. These products emit this type of light wave in a narrow beam in the familiar red color that you may associate with pointers. Instead of touching someone, you "tag" them with the light.
The red flag is the beam and its focused output.
If someone looks into the light directly, it can temporarily blind or permanently injure a person. That explains the involvement of the FDA. It's not a stretch of the imagination that children may use the laser guns recklessly in the heat of the game. We recommend that you only buy products with an IEC Class I label that emits no more—preferably less—than 5mW, especially when used by children.
Shooting Range
You'll see this spec in the product description because, frankly, it's a major selling point. Usually, they run 100 feet or more. It certainly adds to the fun, depending on the venue in which you play. If you're playing indoors, a large shooting range won't bring a lot more to your gameplay. If you're outdoors, that's another story. Most product descriptions will include this spec.
If you're in doubt, we suggest that you measure it and get a frame of reference to give you a competitive edge when playing laser tag. It'll improve your hit rate if you know what to expect from your gun.
Type of Gameplay
You'll see different game modes for each product. They are not unlike what you'd find on a video game. They typically involve the number of preloaded shots and the power load. The more the laser gun, the more options you have in the heat of action. If you're serious about laser tag games, you'll appreciate having more weapons at your disposal.
Some laser tag guns won't let you change settings once the game is underway. Make sure to check out what functionality it has if that is essential to your gameplay.
User Settings
This category of features includes a myriad of customized settings. Some products may include night vision, which is certainly an asset. Others have realistic sounds, which can add to the excitement. You'll see guns with different colored lights and sensors. Many of these options are window dressing to match the action of the laser gun with the experience that you want.
Bear in mind that many products won't let you turn off these effects. However, you'll likely find that the sounds and lights change with the gun mode.
Design
If you typically play for long stretches, ergonomic design is a godsend. You'll likely grip the handle tightly, which can lead to hotspots or blisters if there are rough edges. That's often the difference between a value-priced product and one in a more deluxe class. And if you like something that looks mean or more realistic, here's where you need to focus.
Most of the products we reviewed lean toward something more like a toy than a real gun. However, you can find ones with colors that are less gaudy and fit in more with your gaming style.
Top 3 Brands
DYNASTY TOYS
DYNASTY TOYS is an Illinois-based company that is all about making entertaining and safe toys for kids. One of its hallmarks is the creativity that goes into its products, making them fun for parents too.
ArmoGear
ArmoGear specializes in laser guns and accessories. The company strives to produce quality products that will engage children in safe play that can help them learn life skills.
Kidzlane
Kidzlane produces toys for children of all ages with an emphasis on fun and education. Their mission is "quality over quantity." The company's slogan, by the way, is "Where fun never ends."
Frequently Asked Questions
Q: What is the best laser tag gun to buy?
A: The best laser tag gun complements your gaming style with the features you want, such as an adequate shooting range. Most models are affordable, whether you're buying weapons for yourself or multiple players. If you play it a lot, you can justify paying a bit more. We'd suggest focusing on the options that provide a good balance between gameplay and cost.
Q: Can you play laser tag with 2 people?
A: Technically, the answer is yes. Two children at home or in the backyard will probably have fun chasing each other around the place. However, if you go to a gaming facility, you'll usually end up in a group with other players, especially if they only have one or two arenas. It's an opportunity for your kids to meet some new people and learn teambuilding skills, too.
Q: Is laser tag safe?
A: There are two sides to this question. Foremost is probably the gun itself. The FDA regulates these products because of the chance of eye injuries if used incorrectly. The risk is real too as we discussed earlier. The second part involves the gameplay. Consider the scenario. It's dark. The players are running around in a heightened state of excitement. Tripping and other hazards exist.
The final answer is that playing laser tag is safe with FDA-approved products as long as the players stay aware of their surroundings to avoid falls and injuries.
Final Thoughts About the Best Laser Tag Guns
Playing laser tag takes your gaming playing to the next level with added excitement and the rush of being in the action—literally! The best laser tag guns offer ways to make your gameplay even more enjoyable with realistic sounds and other features that put you in the moment. Besides, it's an excellent way to get your game on while getting some exercise. You won't even know that you're working out.