Indoor or out, one of the best games for you and your kids to play is laser tag! It's a natural evolution of the ordinary game of tag, using affordable but advanced blasters and sensors to let you and your kids enjoy blasting each other with handheld laser emitters. Laser tag can be as simple or complex as you decide; one of the best parts of this game is that it can be enjoyed at all ages, and adults can easily set up more advanced courses or game arenas for tactical games.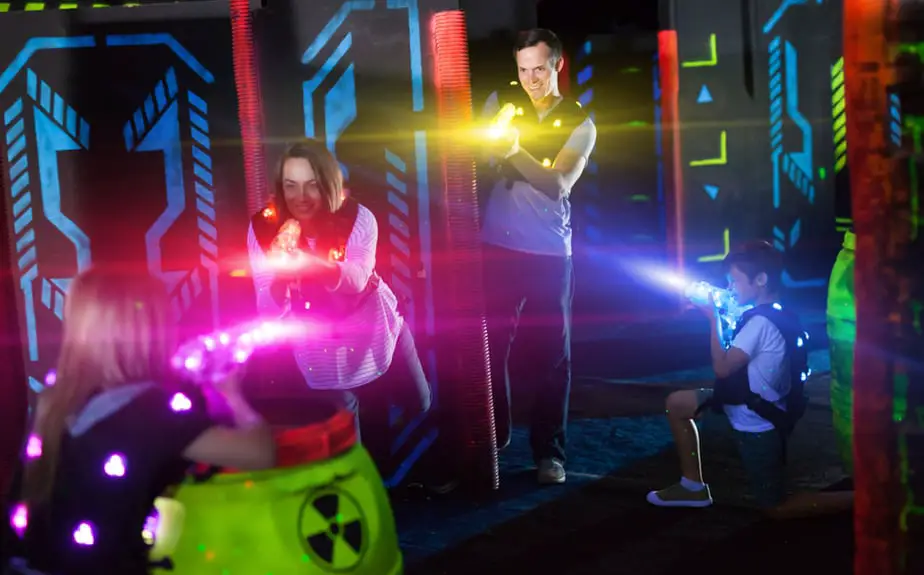 However, not all laser tag sets are built to the same quality. In addition, the box art for many laser tag sets is intentionally misleading, making many parents and kids disappointed when they use the blasters and they don't see a red-hot beam of light coming from the barrel.
But there are plenty of excellent sets to find; you just need to know where to look.  Fortunately, we've already done the research and found the best laser tag sets so you don't have to. Let's check out our favorite sets and help you discover the perfect kit for your next laser tag game.
In a Hurry? Here's Our Top Picks…
1. ArmoGear Infrared Laser Tag Blasters and Vests
Sale
ArmoGear Laser Tag – Laser Tag Guns with Vests Set of 4 – Multi Player Lazer Tag Set for Kids Toy for Teen Boys & Girls – Outdoor Game for Kids, Adults and Family – Ages 8+
AUTHENTIC LAZER TAG GAME 🔥 Turn your home or backyard into a laser tag arena with the ArmoGear laser tag blaster set, the most advanced set of laser tag blasters out there! No other laser tag set has real TARGET VESTS, INVISIBILITY MODE, NIGHT VISION FLASHLIGHT, VOICE-GUIDED DIRECTIONS, and an extreme 150 FT SHOOTING RANGE!
MULTI-PLAYER, MULTI-AMMO 🔥 Up to 4 teams can play in this riveting battle! Switch between the unique powers of PISTOL, SHOTGUN, MACHINE GUN, and ROCKET to blast your enemy and declare victory! These laser blasters are ergonomically designed with a solid grip in your hand, even for young kids. Using child-safe infrared emission.
FUN FOR THE WHOLE FAMILY 🔥 Tactile vibrations and lifelike shooting sounds make for deeply immersive gameplay, turn kids and adults away from their screens! Have a blast and create cherished memories on holidays, snow days, or birthday parties, with a fun family laser tag tournament! It's the PERFECT GIFT IDEA, sure to delight kids of all ages!
PREMIUM QUALITY & CHILD SAFETY 🔥 The ArmoGear laser blasters for kids are made according to the highest manufacturing standards for a top-quality, long-lasting toy. LITHIUM RECHARGEABLE BATTERIES are NOT included for child safety, each blaster uses 3 AAA batteries and each vest uses 3 AAA batteries. (set of 4 totals to 24 AAA batteries, batteries not included)
For nearly a decade ArmoGear has been devoping quality toys that inspire imaginative play, outdoor fun and creativity. Bring out the best in your little one!
Last update on 2023-09-10 / Affiliate links / Images from Amazon Product Advertising API
This laser tag set is about middle-of-the-road in terms of affordability, but it provides excellent laser tag gear comparable to higher-priced kits. It comes with four blasters and lasers, perfect for a small handful of friends or parents and kids to begin a game right away.
Each blaster is equipped with several modes, allowing you to use the weapon like a pistol, shotgun, machine-gun or rocket launcher depending on your preferences or the game you choose to play. Each blaster is also designed with an ergonomic handle that is easy to handle even for smaller kids.
The blasters are made with even more advanced features to set this pick apart from the rest. The side of the gun features a flashlight and a team selection button, as well as a series of lights that tell you how many lives you have remaining. A small speaker will let you know if you've been knocked out or alert you when it's time to reload.
The vests are also very well made, with wide target areas and several colors to distinguish the separate teams. You don't even have to use the vast if you don't want to; the guns come with separate sensors you can use for a more agile game.
Each blaster and vest is made with high-quality and durable plastic that can withstand a bit of wear and tear before showing signs of stress. You'll also easily be able to add more players to the game if you purchase some additional blasters and vests, which come in packs of two without needing to pick up another four-pack.
The lasers with this set are powerful enough to reach distances up to 150 feet. The only downside to this pack is its battery power; the vests and blasters combined need of six AAA batteries for each pair, and the toys only last for a few hours before needing new batteries. This will quickly drive up the price overall, but it might be worth it if you only play laser tag once in a while.
Things We Like
Excellent design for features and functions
Good blaster range
Easy to add new team members
Durable builds
Things We Don't Like
Needs a lot of batteries
Each toy burns through batteries fast
Check Price and Reviews on Amazon
---
2. Kidzlane Infrared Laser Tag Game Mega Pack
Sale
Kidzlane Laser Tag Guns Set of 4 | Lazer Tag Guns for Kids with 4 Team Players | Indoor and Outdoor Laser Tag Play Toy for Kids and Teens Boys and Girls | Kids Laser Tag for Boys Age 8-12
4-TEAM ACTION TOY ✨ Organize breath-taking battles with your friends and get hooked to the most amazing action game! Pick your team in bright GREEN, RED, BLUE or WHITE, and let the merciless wars begin!
PICK YOUR AMMO ✨ Select one of the 4 Gun Settings - PISTOL, SHOTGUN, SUBMACHINE GUN and ROCKET- and pulverize the enemy! Ultra-realistic shooting sounds accompany each setting for a riveting game!
TOP NOTCH QUALITY ✨ Immerse yourself in the action! These Laser Blasters light up and vibrate while shooting as far as 130ft! Each gun mode comes with a different range of life bars, available shots and booming sounds that will blow your mind!
SAFE PLAY ✨ With a Child Safety Infrared Signal Emission that is less than 1mW, this toy is certified safe for children of all ages. Best activity at parties and get-togethers- great for indoor and outdoor use!
AMAZING GIFTING IDEA ✨ Treat your little adventurers to the laser guns of his dreams and enjoy his ear-to-ear smile! Give him the high-end action toy that will lead to thrilling moments and dreamy memories.
Last update on 2023-09-10 / Affiliate links / Images from Amazon Product Advertising API
This laser tag set is another set of four blasters, though they don't use vests at all. Instead, the blasters themselves have the only sensors you'll need to begin a four-way game of action-packed laser tag. These blasters have similar gun settings, ranging from pistol to rocket launcher, and each setting is accompanied by realistic sound effects to impress your kids.
Each blaster has laser ranges up to about 130 feet, allowing you and your kids to play at significant distances and still hit your marks. The blasters are how you control all aspects of the game, including what team you want to be on, how many lives you have left, and what gun mode you want to choose. There's also an easy reload button at the bottom of each handle, and the guns vibrate when shooting or when you've been hit.
This laser tag set is also worthwhile because it's so affordable. It does a great job of providing similar laser tag quality and experiences as higher-priced kits while being one of the most budget-friendly options on the market.
Of course, this set also requires batteries, although it uses four AA batteries for each blaster. These last a decent amount of time before you'll need to purchase new batteries, so this set does an even better job in terms of value for money compared to many other laser tag kits.
Things We Like
Battery life is good
Each gun vibrates when shooting
Easy to choose modes and teams
Good blaster range
Things We Don't Like
A little hard to hit gun sensors sometimes
Check Price and Reviews on Amazon
---
3. Pokonboy 4 Set Laser Tag with Guns and Vests
POKONBOY 4 Sets Laser Tag with Guns and Vests, Upgraded Infrared Laser Tag Guns with Pistol, Rifle, Machine Gun and Rocket Mode, Boy Toys of 4 Players
💖💝【Package Included】: 4 x laser tag guns, 4 x vests, 8 x belts (38.2 in each, adjustable), 1 x screwdriver, 1 x storage bag, 1 x manual. Each gun needs 4 AA batteries and each vest needs 3 AA batteries, totally needs 28 AA (1.5 V) batteries (Not Included).
👦👨【Perfect for Kids and Adults】: Clear vibration when being hit and realistic firing sounds bring deeply immersive gameplay for everyone, perfect game for backyard, indoor and outdoor. Come on! let's throw a laser gun party with your friends and family.
🥇🏆【High Quality & Durable】: Our infrared laser guns and vests are made from safe and durable ABS plastic, no odor and barbs.They are environmentally sound and manufactured to the highest standards, which certified class 1 laser toy product with less than 1mW output and infrared range of over150 ft (45 meters).
🎄🎁【Amazing Gift for Kids】: Treat your little adventurers to the laser guns of his dreams and enjoy his ear-to-ear smile! Give him the high-end action toy that will lead to thrilling moments and dreamy memories.
😍😜【Multi-players Battle】: Support up to 4 teams get into the battle! Four mode----PISTOL MODE, RIFLE MODE, MACHINE GUN MODE, and ROCKET MODE, fire to your enemy and struggle to be the winner! These laser blasters are ergonomically designed with a solid hand grip, easy to use even for young child.
Last update on 2023-09-10 / Affiliate links / Images from Amazon Product Advertising API
Pokonboy's laser tag set comes with four blasters and for vests; each blaster can go between of multitude of firing modes to let your kids or you have a blast with each toy. This kit also comes with the belts you need to secure the vests comfortably to everyone so you can enjoy your laser tag session without them falling off or feeling too tight. All of the gear is made with durable plastic that can withstand some drops or other impacts before cracking.
This set allows four teams to fight at once, and all the blasters have especially ergonomic grips that make them comfortable to use no matter how large or small your hand is. An additional carrying case is included with the purchase, so it's even easier to take this entire set with you on a camping trip or to a friend's house. The blasters have a firing range of about 150 feet, which is a bit low compared to other kits on our list but still decent.
Each of these blasters and vests needs seven AA batteries in total, which is a bit pricey when you consider all of the 28 you need for a full four-person game. However, each blaster and vest lasts for between 3 to 6 hours of play depending on how many times you pull the trigger, so you get good battery mileage for the cost overall.
Things We Like
Durable design for all pieces
Come with adjustable straps for the vests
Comes with carrying case for all the gear
Decent battery life
Things We Don't Like
Range is a little lower than normal
Initial battery cost may be high
Check Price and Reviews on Amazon
---
4. Play22 Laser Tag Set
Sale
Laser Tag Sets Gun Vest - Infrared Laser Tag Set 4 Guns 4 Vests - Laser Tag Gun Toys for Indoor Outdoor - Laser Tag Game Set Best Gift Boys Girls – Original – by Play22
laser Gun Toy Has Tons Of Useful Features and Great Sound and 4 Color of Lights Blue, Red, Green, White, Which It Can Be Played 4 Teams together
laser Tag Set With Vests Comes With 4 Gun Types: Pistol: With 12 Bullets, To Reduce 1-Point life value if it hits - Shotgun: with 6 bullets, to reduce 2-point life-value if it hits - Machine gun; with 6 bullets, to reduce 2- point life-value if it hits Rocket launcher: with 1 missile, to reduce 3-point life-value if it hits
laser tag game features realistic vibrations every time you shoot or get shot - strikes distance of approximately 130 Feet
lazer Tag Guns For Kids By Play22 Is 100% Safe By All USA Regulations - Requires 28 AA batteries (Not included) - You can add multiple players by purchasing another sets - Great Gift for Birthday and Holidays for Boys & Girls.
Last update on 2023-09-10 / Affiliate links / Images from Amazon Product Advertising API
Play22's laser tag offering is another kit that comes with four blasters and an equal number of vests. These are matched to one another by color both to keep things simple and allow you and your kids to easily identify who belongs to which team. The blasters come with the standard four gun types, ranging from pistol to shotgun to rocket launcher.
Each blaster is also fitted with realistic vibrations every time you fire the weapon or are hit yourself. The sensors on the vests and the blasters are sensitive enough to register impacts up to 130 feet away. We also really like that each vest has a very clear life indicator on the top, which can help you and your opponents keep score without people trying to cheat.
These blasters and vests require 28 AA batteries in total for all four toys. Naturally, this will add to your overall asking price, although the cost for the kit itself is pretty reasonable. All of the blasters and vests are further made with non-ABS plastic that is durable and non-toxic. As a result, this kit is a great choice if your kids are on the younger side and may use their mouths on the blasters or vests at some point.
Things We Like
Made with non-toxic, durable plastic
Vests and guns have sensors
Decent blaster range
Vest has clear life indicator
Things We Don't Like
Additional battery cost is a bit high
Sounds are a little loud for some
Check Price and Reviews on Amazon
---
5. LaserX Micro Blasters Real Life Laser Gaming Experience
No products found.
This laser tag set is a particularly good choice for slightly older kids or adults with families across many ages. It comes with four micro blasters that are smaller than most other laser tag weaponry, as well as for receiver armbands that contain the sensors necessary to register a hit during the game. When you are hit, both the receiver and blaster light up.
The biggest downside to this set is the short range of the blasters, which only reaches to about 100 feet. This is a better set for indoor play than outdoor as a result. But on the plus side, you only need 12 AAA batteries to power everything, making this one of the most economical laser tag sets on the market in the long term.
The small size is also convenient for keeping the kit stored in your home without the toys taking up too much space. Each blaster has a view controls to let you decide between team or individualized play, which is a bit of extra flexibility that many other laser tag sets don't provide.
Ultimately, this set is a better choice for tactical indoor laser tag sessions and for kids that don't need larger vest target sensors or blasters to make the most out of this game.
Things We Like
Good long-term cost
Blasters are small and easy to store
Comes with batteries
Color-coordinated flashing on sensors and guns
Things We Don't Like
Relatively low blaster range
Check Price and Reviews on Amazon
---
What to Look for in a Laser Tag Set
Whether you're thinking about choosing between our favorite laser tag sets or want to browse even further, remember to keep these major factors in mind and you'll have a better chance of selecting the perfect laser tag set for your next game.
Battery Power and Performance
Laser tag might be a blast, but every set will run on some kind of battery power to produce the sound effects and laser lights that enable the games to take place. Better laser tag sets will have guns and accessories that rely on more powerful batteries or batteries that last for a significant amount of time. You wouldn't want to purchase a laser tag set with laser tag weaponry that needs to be changed every hour or so.
When you're trying to find an ideal laser tag set for your scenario, think about who will be using the laser tag guns most often. Smaller children will probably spam the trigger multiple times every second, draining the battery more quickly. In this case, it's a smart idea to purchase a laser tag set with a bigger battery reservoir or longer battery life spans instead of focusing on other aspects.
On the flip side, if you're an adult and want to play with your college roommates or just want to play with kids and adults mixed together, laser tag weaponry with other features and the more moderate battery life might be appropriate. Adults are more accurate with their shots and also don't pull the trigger as frequently.
Whatever your needs, just are sure not to purchase a laser tag set with a really bad battery life. You'll end up regretting it.
Some laser tag sets are powered from disposable batteries, but we wouldn't recommend these in most cases. Most laser tag guns and harnesses or belts will drain disposable batteries that you can get at a store far too quickly for it to be worthwhile. You'll very quickly end up spending more money on disposable batteries than you did on the initial set!
Durability
The vast majority of laser tag sets are primarily constructed from plastic and other synthetic materials. This is fine and it helps to keep the asking price of most laser tag sets down to an affordable range. That being said, you should still try to find laser tag gear that is fairly durable rather than settling for something overly cheap.
This is especially true if the primary users of the laser tag set will be children. Kids have a tendency to go rough on their favorite toys, and they'll more than likely want to take their laser tag stuff outdoors. Laser tag kits that last longer by being able to withstand some punishment will be more worth your money than cheaper but more brittle sets.
Number of Blasters/Guns
Some laser tag kits are affordable and only come with two blasters, while others will have four or more. Think about this choice carefully so you don't leave anyone out when it's time to play laser tag. In general, laser tag blasters come with sensors or harnesses that can be used to fully integrate a new player into the game.
Keep in mind that larger battles can become more chaotic if you aren't playing in a regimented space or an actual arena. You should also be aware that cheaper laser tag sets don't have the most sophisticated sensors; they may be confused if they try to register laser inputs from multiple weapons at once.
Modes and Display Features
The most sophisticated laser tag sets will have all of their blasters equipped with different firing modes and display features. Basic kits might only have a battery indicator and a light that will flash if you hit your target. These are fine for younger kids or for more casual laser tag players.
More advanced players will probably want to pick up a kit that includes several firing modes for the blasters themselves and different indicators like health or energy. You can make really complicated and tactical games with more advanced laser tag sets.
The most expensive but worthwhile sets will also include games that can be initiated from the blaster control panels. These will allow you to accurately keep score and really put your laser tag accuracy to the test.
Sound Effects
Some laser tag kits come with blasters that incessantly rattle or make a laser gun sound. This is all part of the fun and games, but it can be annoying if you're an adult trying to get work done and your kids are playing indoors. It might be worthwhile to find a laser tag set that has some kind of volume moderator control.
Sensor Type
There are three major types of laser tag sensors that come with most commercial sets: belt, harness, and blaster.
Belt sensors are ones you can wear either separately on a regular belt or ones that come with a belt you should equip every time you want to play laser tag. These are flexible and easy to wear that they don't provide the easiest targets for you or your opponents. They require pinpoint accuracy to hit their targets in many cases.
Vest sensors are a little bulkier but provide better targets for most players, usually by having sensors on the front of the chest and the middle of the back. These vests can be heavy or lightweight depending on the material they are made of and how large they are.
Finally, blasters can also be equipped with their own sensors, so players will need to shoot at their opponents' weapons in order to score a point. This is arguably one of the most innovative and effective sensor solutions for take-home laser tag sets, as it doesn't require an additional piece of gear and it'll always be relatively easy to hit.
The Best Laser Tag Set Brands
ArmoGear
This company exclusively produces laser battle gear for a variety of ages and interests. They produce toys of extremely high quality that can withstand significant wear and tear so little kids can continue to enjoy them even if they roughhouse.
Kidzlane
Kidzlane is an all-in-one toy company that produces playthings for kids of all ages, from babies to teenagers. There are five individual toy collections you can browse from, so it's not just laser tag gear that they offer for discerning parents. Boys and girls are equally represented among their offerings.
Play22
Play22 is a toy company that focuses on providing playthings for younger boys and girls from around their toddler years to before they hit teenager. Many of their toys are colorful and feature vibrant audio cues to keep kids interested. Their toys are also made with health in mind; most of the plastic they use is exclusively non-toxic yet durable enough for most play sessions.
FAQs
Q: How to Play Laser Tag
A: Since laser tag isn't an official sport, there aren't any official rules you need to concern yourself about. You can find several example rules online, of course.
Your chosen laser tag set may come with a series of rules that you should adhere to so you can make the most of your equipment.
In essence, laser tag is just like regular tag except you attempt to get your opponents with a blaster fired laser instead of touching them with your hand. This allows all kinds of creative situations, where you and your teammates or opponents can outflank one another or undergo paintball-like scenarios. Tactics and squad dynamics are possible if you enjoy playing with your team.
One of the biggest aspects of laser tag is that the lasers don't penetrate solid cover, or even transparent cover like windows more often than not. You'll need to use cover effectively to outflank your opponent and prevent them from hitting you.
Q: What's the Difference Between Take-Home Laser Tag Sets and Commercial Laser Tag?
A: The laser tag sets that are most commonly available for home use are pretty similar to the ones you can use at official laser tag game centers. The main difference is found in quality and laser intensity.
In a nutshell, laser tag blasters found at commercial game centers are much higher powered to facilitate better accuracy and faster pace play. These are the laser tag guns with the lasers you can see with your naked eye, especially since most games take place in dark rooms. On the flip side, laser blasters from take-home sets usually don't produce beams that you can easily see with your own eyes, especially if you play outdoors in your backyard.
That doesn't mean that your lasers aren't actually working, of course. The lasers are just either on a part of the electromagnetic spectrum that's invisible to our eyes or are just too faint compared to the sun.
Commercial laser tag centers also usually use heavier vests with more sensitive sensors, so people can hit their targets more quickly. There are also several smaller sensors for extra impact points, like the shoulders or hips.
Q: Can You Play Laser Tag in Sunlight?
A: Yes! But keep in mind that sunlight affects the sensitivity of your laser tag sensors. Most laser tag blasters and sensors can work up to about 120 to 140 feet or so depending on the settings you select. But laser tag in the sunlight will have to be limited to about 50 feet because all the ambient energy interferes with the sensors.
Q: What Kind of Light Do Laser Tag Blasters Use?
A: All laser tag sets have blasters that use low-power infrared light. This is actually the same kind of radiation used by your TV remote and other typical household devices, so there's no danger to you or your kids. Additionally, these lasers won't hurt your eyes, even if you fire a blaster into them directly.
Conclusion
So, which laser tag set should you use? The Pokonboy 4 Set Laser Tag with Guns and Vests is a great choice if you don't have any particular desires and just want something reliable and affordable. It comes with a great set of blasters and vests and even has a good battery life for each of the included toys, which drives down the lifetime cost of the set.
Alternatively, you can go with the LaserX Micro Blasters Real-Life Laser Gaming Experience if you want something a little more adult or suitable for kids that are a bit more accurate because of their age. These blasters are smaller and easier to store, and they come with the batteries you need to start playing right away, unlike the vast majority of other laser tag sets.
Ultimately, you'll have to decide for yourself which of these laser tag sets is right for your family. Remember to go with a set that has a high maximum range for its blasters if you are set on playing outdoors. Otherwise, go with what feels right. Whether you're playing laser tag or any other backyard game, remember to have fun!