Indoor soccer can be a fantastic way to keep your soccer skills and footwork sharp even during spells of inclement weather or lack of a proper playing field. Like outdoor soccer, though, having the proper equipment, attire, and footwear is paramount. That means that having the best indoor soccer shoes can either make or break your footwork and, ultimately, your game.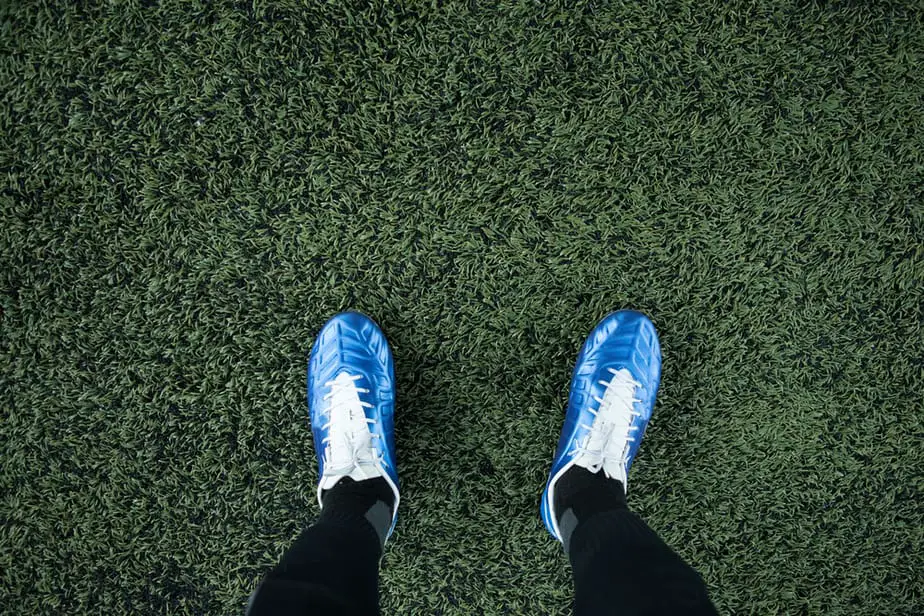 So the question is, how do you choose the right shoes for the job? That depends on your needs.
For kids and adolescents that need cleats to play on turf, you might want to consider one of these options. If you have flat feet, your options will be different and geared more toward a proper, comfortable fit.
But, for indoor soccer players, there are several great options to suit your needs. After we give you our picks for the top five best indoor soccer shoes, we'll tell you how we made our decisions. We'll also answer some frequently asked questions about this useful type of footwear.
In a Hurry? Here's Our Top Picks…
1. Adidas Performance Men's Samba Millennium Indoor Soccer Shoe
Sale
Last update on 2023-09-23 / Affiliate links / Images from Amazon Product Advertising API
The Adidas Samba Millennium soccer shoe is an improved version of an old favorite, and we have to say it's a welcome improvement. Though to be fair, we have a soft spot for the classics as well.
This shoe features Adiprene inserts, which are a special padding that helps to provide additional shock absorption and cushioning. They're made to give you the ultimate comfort while you're playing the game, and they certainly deliver.
They have that timeless, classic look with very few changes to the original design as far as appearances are concerned. It's a clean, sleek look that can be worn on the indoor court or as part of your regular, everyday ensemble. They do run a little narrow, so you might have to order a half-size up over what you typically wear, but it's worth it.
Things We Like:
Has a classic aesthetic with improvements on comfort and durability
Uses a pre-molded EVA midsole to give you more comfortable, lightweight cushioning
The outsole has excellent grip for all hardwood indoor surfaces
The shoe comes with medium enhanced arch support for increased comfort and to minimize fatigue
They're easy to slip on and off
Things We Didn't Like:
These shoes are designed a bit more narrowly than others
Due to the more narrow design, you might have to order a size up, especially if you have wider feet
Check Price and Reviews on Amazon
---
2. Puma Men's King Indoor IT Soccer Shoe
Last update on 2023-09-23 / Affiliate links / Images from Amazon Product Advertising API
The Puma King line is a popular choice among indoor soccer players. They match the same quality and performance of the outdoor King models that are worn by many famous soccer players. Primarily, this design improves on the original design with an improved, indoor-friendly sole.
This shoe is made of genuine leather and has a finish that offers improved quality. This finish and high-quality material combine to give you a fantastic, natural grip and improved control on the ball while it's in play.
The materials of this shoe are also built to ensure that they're durable. They're built to last with strong materials and thorough, steadfast stitching. The sole is a little heavier than you might be used to, especially in the heel area, but the additional padding helps to prevent slips.
Things We Like:
The genuine leather uppers give the most natural grip and control while you've got control of the ball
They're very resistant to the wear and tear of playing
Has a padded heel that helps to prevent any awkward slips or landings
The durability is great for goalkeepers and defensive player positions
These shoes are fairly lightweight, so they won't impair your play style
Things We Didn't Like:
It has a flipped tongue, which may not appeal to everyone aesthetically
This shoe design tends to run on the smaller side, so you may need to order a half-size up from what you typically wear
Check Price and Reviews on Amazon
---
3. Nike Mercurial Victory V Indoor Shoes
Last update on 2023-09-23 / Affiliate links / Images from Amazon Product Advertising API
Nike is definitely renowned for their sports shoes and daily kicks, and their Mercurial Victory V shoes are some of their more impressive indoor shoes. These innovative shoes are stylish, inspired, and versatile.
These indoor soccer shoes aren't for those that don't want high-quality performance. They're meant for players that are quick on their feet and take part in fast-paced games. The sole is designed to improve your speed and traction.
The synthetic leather may not stretch as much as regular leather, so the shoe may always fit snugly – keep that in mind. But, there's not much cushioning in this shoe. But, it has TPU all along the length of each shoe, which helps to give you the best possible traction.
Things We Like:
Made of durable, lightweight synthetic leather
The outsole is non-marking rubber, which enhances traction and overall movement without scuffing the hard surface of your indoor court
The synthetic leather is soft and micro-textured for enhanced ball control
Has a bold, attractive look with bright colors and added glitter
Features internal caging, which helps to prevent your foot from slipping while wearing the shoe
Things We Didn't Like:
The shoes may fit a little too snugly in some areas, which can lead to blistering if you aren't careful
The shoe doesn't have very much cushioning
Check Price and Reviews on Amazon
---
4. Adidas Performance Men's X 15.3 IN Soccer Shoe
Last update on 2023-09-23 / Affiliate links / Images from Amazon Product Advertising API
This is another great Adidas shoe for indoor soccer, specifically if you're playing on a hardwood-type surface. It comes in four different, highly-visible colors that will let you express yourself even while you're in the midst of a game.
Made with 100 percent textile synthetic uppers, this soccer shoe will give you smooth reliability in the impact zone so that you can aim down a shot or pass with unparalleled accuracy. It's also as snug as a bug, giving you all the support you could need while running down the court to score that next goal.
One unique thing about these shoes is that it has a reinforced midfoot cage. This will give you a greater amount of stability, so in an intense game where you find you're going to need to make some explosive movements, this is the perfect shoe for the occasion.
The rubber sole is ideal for giving you great traction, but this is primarily for hardwood or tile types of floor. You may have trouble gripping other floor types until this shoe's properly broken in, so keep that in mind.
Things We Like:
Made with 100% textile synthetic materials for improved durability and lightweight performance
Has a synthetic lining for a fantastic fit and instant, step-in comfort
Has a soft, close-fit mesh upper for breathability
These shoes are durable even when used for daily wear and tear
The rubber outsole has fantastic grip on hardwood-type surfaces
Things We Didn't Like:
As with other soccer shoes, you may have to order a half-size or so up from your usual shoes, as they run tightly
They're ideal for hardwood and tile specifically, and may not have optimal traction on other surfaces or waxed floors
Check Price and Reviews on Amazon
---
5. Diadora Women's Capitano ID Indoor Soccer Shoes
Last update on 2023-09-23 / Affiliate links / Images from Amazon Product Advertising API
If you're looking for one of the best indoor soccer shoes for women, Diadora has you covered. Their Capitano soccer shoes come in a flat rubber indoor type and a turf-friendly version. So whether you're playing on artificial indoor turf or a hardwood court, you've got a great option available to you with these shoes.
It's designed to have both a wider fit option alongside every standard size, which is great if you need a wider shoe or if you simply want one for comfort reasons. It's made of a soft polyurethane synthetic material for the upper. It also features a fixed cotton and EVA foam insole for better cushioning and shock absorption.
However, if you're looking for an indoor soccer shoe with arch support, you might want to consider another model. Otherwise, be ready to have your own inserts or orthotics to put into these shoes.
Things We Like:
Comes in two designs for both hardwood and turf use
Has a wider fit option for women with wider feet or who prefer a wider fitting shoe
The uppers are soft polyurethane synthetic material which is great for durability and a lightweight feel
Has an attractive, bright coloration for aesthetic appeal and visibility
The outsole is abrasion-resistant gum rubber which has great traction on hard surfaces and won't scuff floors
Things We Didn't Like:
The arch support isn't the best, so you may have to use your own insoles or orthotics
The wide size may not be wide enough for everyone, and you may have to size up to get the best fit
Check Price and Reviews on Amazon
---
Education: What You Need to Know
With our top choices fresh on your mind, you might be wondering exactly how we decided on those particular indoor soccer shoes. What makes them the best? What should you look for when deciding on the best soccer shoe for you?
The Playing Field
When you play indoor soccer, you will be playing on one of two types of ground: hardwood or turf. The kind of field you intend to play on will play a part in what kind of soccer shoes you invest in. Though, it may be equally worth it to get a pair for both types of ground, just in case.
Hardwood, linoleum, or vinyl will require you to have an indoor soccer shoe with a flat gum rubber outsole. These soles are similar to those that you would see for basketball or volleyball courts. They're non-marking with an intricate, flexible tread that helps to increase your traction.
Indoor soccer shoes that are made for turf are different, and you can tell that by just looking at them. They're built more like outdoor cleats, with low-profile studs. They tend to have thicker cushioning, and can be used on authentic or artificial turf, but shouldn't be used on hard floor-type surfaces.
The Material
Indoor soccer shoes come in a wide range of material types that can affect comfort, breathability, and cost. Additionally, different materials may be more or less durable than others. They may also offer different touch and feel, which will affect your gameplay.
First, you should know that there are two main material types used to make the uppers of your indoor soccer shoes: leather and synthetic.
Leather: Leather is, as a rule, soft, flexible, and able to mold to your foot for an improved fit. But, it also stretches the more you break it in and use it, so keep that in mind. There are different types of leather used for soccer shoes, including:
Suede Leather is regular leather, but it has the top layer removed for a softer and more flexible touch.
Calfskin Leather isn't as pricey as another type on this list, kangaroo leather, but it has a similar feel to it with improved durability. It weighs a bit more, however.
Full-Grain Leather is thicker and more durable than both kangaroo and calfskin leather, but it weighs the most. This is also the most durable leather type, though.
Kangaroo Leather is also known as k-leather and is the most expensive of the leather options. It has exceptional feel and comfort, but it isn't as durable as the other types unless it receives additional treatment.
Synthetic: Synthetic materials and synthetic leather are usually lighter and thinner than traditional leather, but it doesn't stretch as much. It is, however, usually more durable. Primarily, you'll see either mesh or synthetic leather in this type.
Mesh is thin and optimally breathable. It's incredibly lightweight, but it's lighter weight typically results in less support.
Synthetic Leather mimics real leather in feel and playability. However, it does sacrifice your touch a little to do so, so keep that in mind.
Features and Anatomy
Is it important to know the anatomy of your shoe? Can shoes have features? The answer to both of these questions is, absolutely.
Mostly, you should be concerned with the uppers' material, the soles, the tread, the lining, and the shape.
Uppers: The uppers are what we just talked about above, the leather and synthetic materials that make up the shoe and determines its durability and wearing comfort.
Soles: There are three sections or layers of the sole that will have an effect on your play style and comfort.

Insole: The insole is the footbed of your indoor soccer shoe. These may or may not be removable, and help to provide support and comfort.
Midsole: The midsole exists between the insole and outsole. It's relatively thin as a layer but helps to provide conditioning throughout the shoe.
Outsole: The outsole is the rubber bottom of your shoe. Whether you're playing on turf or hardwood, this is the part of the shoe that gives you your traction.
Tread: The tread of your shoe is either the flat gum rubber or the thick, low-profile studs. No matter the ground type, the tread should provide additional traction and control.
Lining: The lining of your indoor soccer shoe of choice is a sock-like fabric. It lines the shoe to help improve comfort while you play.
Shape: The shape is often determined by the last, a piece of your shoe that is under the insole. It affects how the shoe will fit in the heel, arch, and toe areas.
The Shoe's Fit
The fit of your indoor soccer shoe is arguably one of the most make-or-break factors that come to mind when shopping for athletic footwear. Fitting an indoor soccer shoe or cleat is different than how you would fit a regular sneaker or boot. Since you'll be wearing these shoes for anywhere from 60 to 90 minutes for a typical game, you want to be sure it fits properly.
Some tips for fitting your indoor soccer cleats or shoes are:
Shop in-store for the most accurate fit
Wear the socks that you intend to play in while trying on the shoes
Consider the stretchability and size appropriately – remember that synthetic shoes won't stretch while leather types will.
Consider using your own custom insoles or orthotics for the best comfort and fit
Once you find a shoe you like, try multiple sizes to make sure you get the best fit
Test your shoes by running or walking in them to be certain that there's no pain or discomfort.
The heel of your indoor soccer cleat or shoe should not lift. You should have about ⅛-inch to ¼-inch of space within the toe area of the shoe. It should fit snugly on the forefoot area.
You should feel no discomfort or pain with the shoes. If you do, the chances are high that you'll feel more unpleasant while playing, including chafing or irritation to pressure points in your foot.
Best Indoor Soccer Shoe Brands
Some of the best brands of shoes for indoor soccer use are those that you may already be familiar with.
Adidas is one of the biggest names in stylish and functional sportswear. They design innovative, versatile, and reliable sports footwear, including some of the best indoor soccer shoes.
Established in 1948, Puma has been providing athletes of all types and calibers with high-performance footwear that won't let you down. Their slogan is "Forever Faster," and their shoes definitely back that up.
Everyone's heard of Nike, even if you aren't a sports fanatic you've likely at least seen a pair of Nikes at some point in your life. They're high-quality, reliable shoes that have an undeniable aesthetic.
Diadora is a name that may not be as familiar as the others here, but don't be fooled. This company's been around for as long as Puma, and while they started by making boots, they've come a long way and now also make fantastic soccer shoes.
FAQ
These are some of the most common, frequently asked questions about indoor soccer shoes. We've answered them here for your convenience!
Q: Which is the better upper: leather or synthetic?
A: Most of the indoor soccer shoes that you'll see available are made with either leather or synthetic uppers, sometimes a combination of both. But between the two exclusives, which is better?
Well, the truth is, neither is really 'better' in terms of use. They both have their own perks that may make them better for your specific tastes and needs, though.
Leather uppers usually provide an increased level of softness while wearing them. They also conform better to your feet with more ease, so you'll have the perfect fit when playing. Ball touches in these types of shoes tend to be much more consistent as well.
Synthetic uppers, on the other hand, are usually more durable than their leather counterparts. This is true for all styles of play and is partially due to their increased moisture resistance. While they're more durable, they're also usually more lightweight as well.
You'll probably also see shoes made of kangaroo leather, which is another popular material that falls under the leather headliner but has some unique characteristics. It offers a superior fit to both synthetic and traditional leather, which helps to avoid having to break in your new shoes as much. But it also tends to stretch out easily after being worn a few times, so you should think about ordering a size smaller than what you usually wear.
Q: Can indoor soccer shoes be used for other sports, such as running?
A: Indoor soccer shoes are made with the intent of handling bursts of running and intense activity, it's true. However, the way that they're constructed varies widely from the ways of running shoes, basketball sneakers, and more are made and designed.
Using indoor soccer shoes to run several miles each day can end badly for you. It can very easily result in injury or tearing along the metatarsal bones in your foot, whether actually in your foot or just in your indoor soccer shoes only. Especially if you tend to run on the insides of your feet during your stride.
Either way, if it gives way while you're running, you'll be in an inconvenient and uncomfortable position.
Honestly, the best option is to have a great pair of shoes for every spot you do and keep them separate for their intended purposes. This way, you'll always have the proper amount of stability and support for your activities.
Q: Are indoor soccer shoes and outdoor soccer cleats interchangeable?
A: The answer to this question is a little complicated, so we'll preface it with this. You may be able to wear indoor soccer cleats or outdoor soccer cleats, but only if you're playing on artificial or authentic turf in both instances. If you want to play on a surface like hardwood, however, you cannot use them interchangeably.
If you remember, we touched on this a bit earlier in the article. The type of indoor soccer shoe you choose depends on the type of ground you intend to play on, whether it be a hardwood type or some kind of indoor turf set-up.
So, if you play on turf indoors as you would on an outdoor field, then yes – technically, you could use the same pair of cleats interchangeably. We suggest using different cleats, one set for outdoor use and one for indoor, as sometimes the stud types can be different and may tear up one type of turf but not another.
However, if you play on a hardwood type of surface for your indoor play, you cannot wear outdoor soccer cleats for your indoor soccer games. The outdoor cleats will scuff up the hardwood surface, and you're much more likely to slip and injure yourself.
Additionally, you cannot wear indoor soccer shoes that are flat and meant for hardwood use, for outdoor play. These types of soccer shoes are great for playing on hard, flat surfaces, but you will have a significant lack of traction and control if you try to use them for outdoor play.
Wrap Up
At the end of the day, if you're looking for the very best indoor soccer shoes, we don't think you can go wrong with the Adidas Samba Millenniums. They've got an incredibly classic appeal but with notable improvements that make them some of the best soccer shoes out there.
But, if they're not your style or you want something more colorfully visible, the Nike Mercurial Victory V's are a great option. But they don't have very much cushioning, so the Adidas Performance X 15.3's might suit your needs better in that case.
No matter which model of indoor shoe you select, you're sure to get a great choice with our suggestions. And if you're not sure how to select a pair of indoor shoes or cleats from this list, consult our buying guide and compare features!