If you are planning to join a soccer team, looking for cleats for a young soccer player, or simply looking to upgrade your current cleats, then stop searching now. Read on to see the ultimate guide in Adidas soccer cleats including honest review and a buyer's guide to help you make the ultimate choice. In no particular order, we have selected the five best Adidas soccer cleats for performance soccer players. Each of these reviews will cover an in-depth look at the shoe as well as a solid list of pros and cons for each shoe.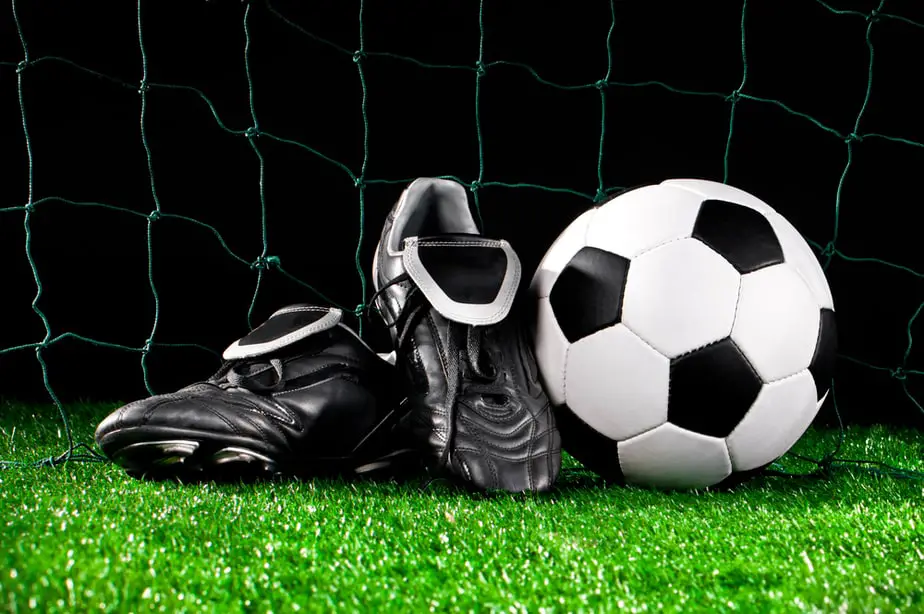 In a Hurry? Here's Our Top Picks…
1. Adidas Performance Mundial Team Turf Soccer Cleat
Last update on 2023-11-21 / Affiliate links / Images from Amazon Product Advertising API
These soccer cleats are the epitome of a classic style with extremely functional performance. The black shoe is crafted of 100% genuine leather. As an added bonus, this classic style is designed with maximum comfort in mind. This shoe features an extended tongue, chafe resistant heel fabric, and molded studs.
Adidas remembers both comfort and safety when they design cleats. These cleats are designed to create maximum traction on the field. There are no slips or falls when you are wearing an Adidas shoe, at least not due to poor traction on the grass. These cleats are designed to dig into the ground for firm footing that you can feel confident with.
Further, these shoes are made with the most high-quality materials on the market. Adidas prides themselves on being the best, these soft leather shoes will not disappoint.
Pros
Chafe Free Heel
Traction Guard
Cons
Limited Design
Weak Soles
Check Price and Reviews on Amazon
---
2. Adidas Men's Tango Turf Soccer Shoe
adidas Men's X Tango 18.3 Turf Soccer Shoe, Solar Yellow/Black/White, 6.5 M US
Low-cut silhouette with signature Clawcollar shape locks your foot into the boot for match-long stability and support
Match-long comfort and a true touch from a lightweight, dual-layer mesh upper that flexes with your foot
Sock-like construction hugs the foot
Full-length EVA midsole for cushioning
Lightweight perforated rubber outsole for pure acceleration; Arrowhead studs for maximum traction
Last update on 2023-11-21 / Affiliate links / Images from Amazon Product Advertising API
The Adidas Tango soccer cleat is the soccer player's dream. These cleats are built to impress and prove that durability, style, and excellent athletic capabilities can be married into one single shoe design.
This shoe features an extremely unique design that makes it a clear advantage over similar cleat designs from other brands. The boot of the shoe is designed to mimic the 'hugging' of a sock. This design locks your foot firmly into the shoe and creates a more natural, lightweight, and secure shoe in which to play soccer. Further, this design gives the player a clear advantage in judging how hard and when to kick a ball.
This shoe is designed for maximum traction control. The studs are built in an arrowhead shape to maximize the shoe's grasp on the ground. The game of soccer can quickly become foul if the cleats that players choose do not have a solid grasp on the ground. Do not make this mistake with your own choice.
Pros
Modern Design
Arrowhead Studs
Cons
Fabric Material
Extremely Tight Fit
Check Price and Reviews on Amazon
---
3. Adidas Men's Nemeziz Turf Boots Soccer Shoe
Last update on 2023-11-21 / Affiliate links / Images from Amazon Product Advertising API
The Adidas Nemeziz soccer shoe is a unique style that creates increased performance, comfort and style. The black on black design makes these cleats an extremely modern choice in regards to style. This is accentuated by the deep-v design of the boot of the shoe. It is certainly unique and should definitely be considered as a contender for your next soccer cleat.
The Nemeziz soccer shoe is another Adidas option that employs the tight-fitting "sock" boot to secure the player's foot and create a sense of firm confidence in your shoe. This design makes it a great option for running. Further, the soles of the shoe are designed with traction in mind.
These shoes are perfectly suitable for indoor soccer, a field with turf, and a field with natural grass. This makes them a versatile choice, and may even save you money in the long run since you do not need a different cleat for all the different types of playing ground you may encounter.
These soccer cleats are built to last. Other Adidas soccer cleats are made from plastic, rubber, and mesh. However, these boots are made with durable metal. While this definitely makes the cleats a little bit heavier, it also makes them a great investment because the cleat will last longer than less durable materials.
You should always keep in mind both the turf on which you play and the position you play before purchasing your cleats. These cleats are great for goalies and offense positions that require less running than other positions. These may also be a good option for shoes for practice to build fine muscles in the legs and feet.
Pros
Unique, modern design
Extremely Durable
Cons
Check Price and Reviews on Amazon
---
4. Adidas Copa Turf Soccer Shoe
Last update on 2023-11-21 / Affiliate links / Images from Amazon Product Advertising API
The Copa Turf soccer shoe is another extremely modern design. The black on black color option makes this one an extremely sought after look, the sleek style is hard to resist for a player looking to make a lasting impression. These shoes have a stunning look about them.
The Copa Adidas soccer shoe is crafted from fine soft leather. This leather features a decorative trim that is a slight nod to the classic Adidas style of the past. The shoe features a lace-up closure and black outsole with traction control for the safety of the soccer players on the field.
The Copa is designed to be used on an artificial soccer turf, but it is also appropriate for natural grass. Because of the rubber cleats, these shoes can also be worn for everyday use. However, that is typically frowned upon when they are still being used for soccer games or practices.
Pros
Cons
Sized Small
Rubber Cleats
Check Price and Reviews on Amazon
---
5. Adidas Copa Glora Soccer Cleats
Last update on 2023-11-21 / Affiliate links / Images from Amazon Product Advertising API
The Adidas Copa Glora soccer cleats are designed for use on a firm ground playing field. These cleats are stunning in white with traditional Adidas stripes in gold on the side. The combination of mesh and leather makes them an excellent choice for the frequent soccer player.
These cleats feature a lace enclosure with an added layer of elastic support underneath the tongue. This creates a firm hold on the player's foot for added security. This firm hold on your foot helps guarantee that there will be no accidents on the soccer field. Further, it ensures that you have a solid grasp on your minute foot movements that could affect the ball when attempting to move it down the field.
Pros
Cons
Check Price and Reviews on Amazon
---
Buyer's Guide
Especially if you are a serious soccer player, buying cleats can be a major purchase. Cleats are not a casual purchase, and you want to make sure that you are making the best long-term investment for your sport.
There are a lot of factors to consider when questioning which cleats are best for your situation. Comfort, fit, ball control, traction, your position, and design all play a significant role in choosing which cleats are best for you.
If you are a casual player, then you probably want to consider a more generic cleat so that you can get the most use out of this purchase, but if you are a serious soccer player, then you may even need to consider purchasing more than one soccer shoe for your career.
According to this article, soccer cleats are a major contributor to injuries obtained on the soccer field in player's lives. This means that these shoes could make a major difference in your ability to remain safe and intact on the field and on the practice field. Be sure to consider all of the relevant factors before making your purchase.
Comfort
Playing soccer can be an extremely time-consuming sport. Even for a young child, this is a serious time commitment. Considering the amount of time that will be spent in soccer cleats for the soccer player, comfort is not an area in which you want to compromise.
Think about your feet! They are the most valuable body (aside from the brain) for a soccer player. In fact, there is almost no other body part that a soccer player even uses! This means that comfort is of the absolute utmost importance.
Choose a shoe that fits well but also a shoe that is built with your comfort in mind. Think about the material that the cleat is made of. Rubber and plastic cleats tend to be easier to walk on than metal. Further, many Adidas soccer shoes have an insole made of a soft foam to aid in the comfort of the foot. Some of these shoes have additional padding in the heel which may be necessary for the comfort of your feet on the playing field.
Also, consider the weight of the shoe. Typically, soccer shoes are more comfortable when they weigh less. However, they also tend to be less durable. If I were you, I would choose comfort over durability in regards to your soccer shoe.
Fit
Many soccer shoes are designed for comfort rather than for fit. Companies assume that the player will simply find a fit that most closely conforms to their feet. However, feet vary widely in size. If you wear an 8 and your friend also wears an 8, that does not necessarily mean that your feet are the exact same size.
Width, toes, height, arches, the size of the balls of your feet; all of these factors play a major role in how a particular shoe is going to conform to your feet. You need to get a shoe that fits you correctly, this is non-negotiable.
One of my favorite aspects of many of the Adidas brand shoes is that they are built to hug the foot that is placed in them. Unfortunately, this can make them a bit pesky to pull on, but it is a major selling factor in my opinion. The fact that the shoe fits snugly makes it a safer shoe for the player.
A downside to this same design is that people who have wider feet may be easily made uncomfortable by these shoes causing them to be a poor choice for the wide-footed athlete. Whatever you do, walk around in the shoe store in your cleats before ordering them. Make sure they are a good fit for you.
Feel for the Ball
In soccer, the ability to control the ball is crucial to a player's success. Often, the cleat the player chooses to wear can greatly affect their ability to control the ball. Bring a ball with you to try on soccer cleats, make sure you have a good feel for the ball before you purchase your shoes.
Traction/Grip
As I mentioned before, soccer players can easily be injured on the field or during practice. Having a shoe that has good traction on the ground is crucial for a player's safety. Cleats are designed to save a soccer player from experiencing painful tumbles to the ground.
For playing a game of soccer in a friend's backyard, you probably do not need to buy soccer cleats. Tennis shoes are perfectly acceptable for the casual soccer player. However, if you play soccer on a regular basis then you need to invest in a solid pair of cleats.
Make sure your cleats are built to keep your feet planted firmly on the ground. Falling on a soccer field can get you seriously injured, and if you fall you most certainly have lost control of the ball.
Player's Position
Your position will also affect your choice of a soccer cleat. If you are an offensive player who runs up and down the field constantly, then you will want a soccer cleat that is lightweight but retains good traction. On the other hand, if you are a goalie, then your priorities probably will not lie in the weight of your shoe. Just remember, that what your position is may change the needs you see in a soccer cleat.
Ground You Play On
There are a lot of different types of soccer fields that you may wind up playing on. Some cleats are specially designed for these different types of soccer fields. For example, you may play on regular old grass. Most turf shoes are designed for natural grass as well as turfs. If you play high school or youth league sports, then most likely you will be playing on a natural grass field.
Some college-level teams play on a special turf. There are shoes designed for these turfs. It is not likely that you will have a need for these turf shoes unless you play highly competitive soccer, or frequently play on a college field. There are also shoes designed for firm grounds in the event that you play soccer on hard clay or really dry grass.
Most casual players will not purchase separate shoes for different types of turfs, but it is worth mentioning that if you are a casual player, you want to make sure that you purchase a versatile shoe rather than a specially designed shoe.
Looks/Design
Of course, the desired look of your shoe is going to boil down to personal preference. Whether you are interested in a classic look, a modern look, or even a wild colored look, Adidas has your style covered. Adidas' shoes vary widely from a classic black and white look to a more wild neon look. Adidas shoes all bear the same striped logo, though, and that is a symbol that you can be proud to represent.
Popular Brands
According to the Adidas website, Adidas as a brand has a deep personal connection with the world of sport. They strive to be the number one leader in sports and athletic wear internationally and their commitment to this goal never ceases. It is Adidas' commitment to quality that makes their brand far superior to those of any other.
There are plenty of professional athletes who prefer Adidas over other sports brands. Some of them even openly prefer Adidas without any kind of compensation or bribery. This says a lot about the brand name that Adidas has built for itself. Adidas is a brand you can trust, they are a brand with integrity.
So, it is no surprise that when you need shoes, clothes, or gear for any sport, you look to the Adidas brand because you know they make high-quality, reputable material. If you need to know which soccer cleats are the best, look no further because Adidas has made high-quality and stylish soccer cleats that are exactly what you need to excel.
Final Thoughts
There is no question that Adidas cleats are superior to their competition. However, Adidas does such a good job of building a quality brand that choosing between these high-quality cleats can be overwhelming. Simply remember to keep your specific needs in mind and you will be able to find the perfect cleats for your needs.
Adidas really does not sell a shoe that is not worth buying. For this reason, there are a lot of factors to consider when comparing different soccer cleats. Hopefully, after reviewing this article, you will have a clear idea of what it is that you need to look for in an Adidas cleat. This comprehensive guide will provide you plenty of material to make a solid decision about your next soccer cleat.