Looking for more ways to get your kids outside playing backyard games in the summer and not stuck behind a video game? Buying a water gun is a great way to encourage outdoor play in warm weather. Choosing the best pump-action water gun is sure to set you and your family up for a long summer of fun! Here are our picks for the best five pump-action water guns available on the market today, when you consider a variety of different factors.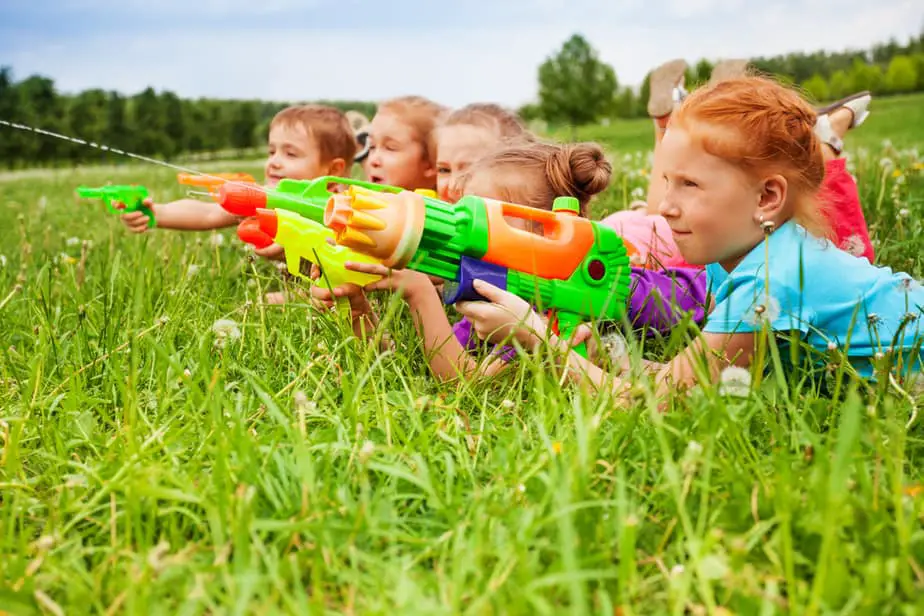 In a Hurry? Here's Our Top Picks…
1. Water Blaster Soaker Gun
No products found.
This soaker gun comes highly rated. It is a set of 4 pump-action water funs. They are different colors and great for kids ages 3 and up. They're colorful and have different animals to choose from: hippo, doggy, ducky, and Cooper, which make these pump-action water guns an attractive option for your kids.
They are actually designed from pool noodles, meaning they are safe for young kids to play with. This is a great starter soaker gun for young kids and is very safe and easy for them to use independently. As your kids age, you can look into replacing this pump-action water gun with a bigger and stronger one designed for older kids or adults.
Made of foam, these water guns can also float in a pool, so they won't sink to the bottom. You can kill two birds with one stone by letting your kids use these water guns on the front lawn, and you won't need to water your lawn when they're done playing. The lightweight design means even your little toddlers can pick up this toy and play with it.
Things we like:
It's safe
It does not waste water
Good for small children
Things we don't like:
Not great for older children
Can leak slowly
Check Price and Reviews on Amazon
---
2. 16 Pack Super Water Blaster Soaker Gun
Boley Crayon Water Blasters - 16 Pk 23" Super Soaker Water Gun Pool Party Game Set - Big Water Guns for Kids & Adults
WHAT'S INSIDE: Boley Crayon Water Blaster squirt guns are here for the party, and there are plenty to share! Every brightly colored, crayon-shaped squirt gun in this 16 pack are made of sturdy plastic with comfort-grip handles and sized just right for kids and adults alike. For ages 3 and up.
SUPER STREAM: These blasters pack a punch! Shoots out thin, powerful streams of water up to 30 feet away! Surprise your friends at your next pool party, family beach day, and backyard BBQ with a blast of cool water on a hot summer day.
NO MOLD: To keep your squirt gun set mold free: empty the remaining water, wipe down with a towel, then air dry before storing.
SAFE AND CHILD FRIENDLY: At Boley, child safety is our highest priority. That's why our entire production process is rigorously monitored by the most reputable organizations of child safety standards, including ASTM, Sedex, ICTI Care, and more.
Last update on 2023-09-06 / Affiliate links / Images from Amazon Product Advertising API
This is a 16 pack of soaker guns and is highly recommended. Why buy just one pump-action water gun when you can buy many?
As a 16 pack, this means you can have a water gun fight with the whole neighborhood! Four different color options mean there is something for everyone, and boys and girls will both be able to pick their favorites. It shoots quite far, and you can have a competition between a lot of kids at the same time!
Made to shoot long distances, this can be a great option if you are hosting a summer party for a lot of different kids. Buy a big pack of these and you can entertain a lot of kids of all different ages all at the same time! It's a great option if you're looking for some outdoor summer fun for a lot of people.
Things we like:
It comes with a lot of soaker guns
Good for kids of all ages
Long-range shooting
Things we don't like:
Heavy for small kids
Pricier than some other options
Check Price and Reviews on Amazon
---
3. 2 Pack Water Guns for Kids and Adults
Jogotoll 2 Pack Water Guns for Kids Adults 600CC Blaster 32 Ft Long Range Squirt Guns Pool Beach Sand Toys Water Pistol
LONG RANGE SQUIRT GUN - Utilizing pump action fire, each powerful water blaster gun douse targets up to 32 feet away
STABLE QUALITY - Large capacity squirt guns for kids made using safe materials. Children do not feel heavy and easy to play
INTERACTION WATER TOYS - Start big water gun fun with your kids. Even super for training naughty pet behavior without hurting them
SUMMER PARTY FAVOR - Enjoy your water squirt gun whether in your home action yard, swimming pool, beach or water party
TIPS - The water pistol supercharging device can accept 8 times pressure of water booster. Pump-handle can pressurize not more than 20 times
Last update on 2023-09-06 / Affiliate links / Images from Amazon Product Advertising API
If you buy this set of 2 water guns for your kids, you might end up buying another set for yourself. Designed for older kids, teens, and adults, this long-range bump squirt gun has a large capacity to hold a lot of water.
Since you won't have to fill up often, this is great for a long-distance water fight with friends and family.
The tank on this makes it a great feature. You do not need to be in a swimming pool or near a water source. Fill up once, and your water gun will last you a long time. Be careful though, this water gun can shoot pretty powerfully. Advise your kids not to take any headshots, and do not shoot anybody from close range.
Things we like:
Large capacity for water
Good for older kids and adults
Long-range shooting
Things we don't like:
Only a pack of 2
Not great for small kids
The powerful shot could cause injury
Check Price and Reviews on Amazon
---
4. Set of 4 Multicolor Water Gun With Pump Action
No products found.
This is a very versatile water gun set. Although it only shoots up to 20 feet, compared to some others that shoot 30 feet, this is still a fun set for the whole family. Multi-colored, so each person can choose the one they want.
These water guns are a great option for older kids and teenagers. They can be a bit heavy and forceful for smaller children. The pump-action spray means it's hard for a small child to use it. That said, this is a great option for summertime fun! You will not have to worry about constantly filling up the tank, as it can hold a lot of water.
Things we like:
Large capacity for water
Durable
Good value for the price
Things we don't like:
Does not shoot far
The trigger is hard for small kids to use
Large and heavy
Check Price and Reviews on Amazon
---
5. Super Pump Shark Water Gun 2 Pack
No products found.
This is a cool looking water gun set. Shaped like a shark, this is a great option for small kids. Two different color options, so you can keep each kid's toy separate from the others.
The pump-action shoot mechanism on this design is easy to use and should be okay for small kids.
While these water guns don't hold a ton of water, the neat shark design is an attractive option for younger children. Buy a couple of these pump-action water guns, and watch your young children have summer fun for hours.
Things we like:
Shark design
Easy pump action shot
Shot distance up to 30 feet
Things we don't like:
Not great for older children
Does not hold a lot of water
Check Price and Reviews on Amazon
---
How to Choose the Best Pump Action Water Gun
What factors should you consider when selecting the best pump-action water gun? Let's take a look at everything we considered when looking at the best water guns. A variety of pump-action water guns could be good for different reasons.
Age of Person Using the Toy
Are you buying these toys for young children aged 2 or 3? There are a lot of great options. However, those options would be a lot different if you're looking at buying pump-action water guns for your teenagers.
If you're wondering if it is safe to get your child a water gun, it is safe. While there is some concern over toy guns and violence in today's society, it's okay to provide children with a toy water gun if they know it's a toy and is taught proper usage. This is an instance when an animal-shaped toy could be beneficial.
Price
There are a variety of price options when you're considering what toy water gun to get. We've reviewed water guns in different price ranges, and you can get a good pump-action water gun in almost any price range.
Consider this video on the differences between a $20 water gun and a $200 water gun. In fact, the $200 toy was actually federally banned because it was too dangerous.
The Tank
The tank on your water gun will hold different amounts of water. This is important because you want to look at where you are going to use your pump-action water gun the most.
Do you have a swimming pool and are just looking for another toy to use in the water? In that case, tank size does not matter as you have a whole swimming pool at your disposal.
However, are you going to a summer BBQ where the only option to fill up your toy is the bathroom sink that already has a line of people at it? If so, then you'll want to go with a model that holds more water.
You can also consider a water gun like the one in this video that loads itself, and then you won't have to worry much about tank capacity.
Squirting Distance
This is a matter of personal preference. Are you trying to have an all-day water fight with your kids? Do you want to be able to hide around corners of the house where they can't reach you with the spray from their water gun?
In terms of distance, also consider if you're only going to be shooting from a short distance. If you're going to be squirting each other in a small swimming pool, you might not want a very powerful spray. If it's made to shoot long distances, it could injure someone with a full-force up-close shot. For safety reasons, do not use a long-distance pump-action water gun from only a few feet away.
Popular Brands
Here are some of the reputable brands that sell pump-action water guns:
Super Soaker – Super Soaker is made by NERF, which is made by Hasbro. Hasbro is a very reputable manufacturer of toys and has been in business since 1923. A very reliable brand, Super Soaker has a variety of options that could meet your needs for a pump-action water gun. They've been around for years, and don't show signs of slowing down.
Boley – Boley was founded in 1981 and was designed by parents who were trying to create better toys and educational experiences for their children. Their toys are designed to foster creative play, and you can purchase their products knowing they have your children's best interests in mind.
Best Choice Products – Best Choice has a great website and offers 24/7 customer support, so if you have an issue with one of their products, you can always get assistance. They sell a variety of home goods and products.
FAQS
Q: What water gun shoots the furthest?
A: The Original Steam Machine Water gun promises an outstanding range of up to 70 feet. This is by far the longest distance that we have come across in our research. Most water guns seem to shoot up to 30 feet, so anything further than that is considered long-distance.
Q: What is the best Super Soaker water gun?
A: Super Soaker is a brand that has been around for a long time and is perhaps the best well-known in the water gun industry. The Super Soaker Soakzooka is considered the "Granddaddy of them all." It holds a lot of water and also shoots quite a long distance. While it might not be great for small children, it is quite fun for teenagers and adults.
Q: How do pump-action water guns work?
A: Water guns work in different ways. If you get a cheap, basic water gun it works just by pushing a trigger and having the water squirt out. For pump action, water is drawn into the pump as the pump is extended, and then forcibly ejected out as the pump is compressed.
Q: Can a water gun cause an injury?
A: You do need to be careful with water guns and provide supervision when young children are using them. While drowning can be a concern, especially if used around a swimming pool, you also want to make sure nobody is directly any shots at the eyes and face. Due to some strong water streams, injuries can occur if you don't practice good safety.
Q: How long will your water gun last?
A: Are you wondering if your water gun will break after a month, after summer, or can last for the entire duration of childhood? It all depends on how well you take care of your toy, and also what types of conditions you expose it to. If you have children who are a bit rough, and might toss the toy around, you risk the toy cracking if it lands on hard surfaces. If water guns sit in a pool overnight for long periods of time, you risk the toy wearing out quicker. With normal wear and tear, a good pump-action water gun should last for many summers and many years.
Final Thoughts
The best pump-action water gun for you is probably the 16 Pack Super Water Blaster Soaker Gun because it's really good for a variety of ages. It also comes in such a high quantity, that you'll have water guns on hand all summer long for whenever you or your kids have friends over.
If you don't need to buy an option that has so many in the pack, then I'd probably take a good look at the two-pack of water guns reference above. That option was good for both kids and adults.