If you've played pickleball, you know it's not just a kids' game anymore. The competition is often fierce with aggressive gameplay the norm in some venues. That's what makes getting the best safety glasses for pickleball a necessary purchase. The benefits go beyond wearing a slick-looking pair of specs.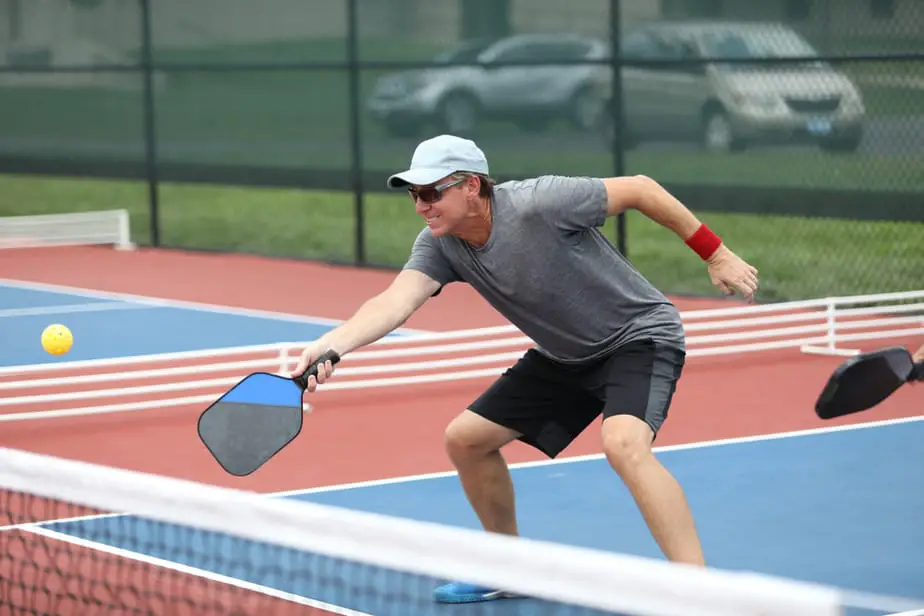 They will provide protection against the stray ball as well as from dust and other airborne debris like cottonwood seeds or bugs. Products marketed for sports use are a far cry from the industrial-looking ones you wore in chemistry class. Today's safety glasses often are identical to sunglasses with some added durability baked into their designs.
Our guide will show you the wealth of products available. We'll also discuss some of the features that distinguish the best ones for use while playing pickleball.
Let's pickle!
In a Hurry? Here's Our Top Picks…
1. NoCry Work and Sports Safety Sunglasses
Sale
NoCry Safety Sunglasses with Green Tinted Wraparound Lenses; Tinted Safety Glasses for Men and Women with Adjustable Arms & No-Slip Grips; Work Glasses with UV 400 Protection; ANSI Z87.1 Rated
PREMIUM ANTI-SCRATCH COATING. Professional safety glasses designed for extreme conditions. The premium anti-scratch coating protects your lenses so that your tinted safety glasses for men and women last.
FULLY ADJUSTABLE. Our work glasses are built for comfort. The soft nose pad and rubber tips help distribute weight evenly so they feel great. You can even change the angle and length for a better fit.
TOUGH, DURABLE CONSTRUCTION. The strong polycarbonate wraparound design provides superior impact protection, so your eyes stay safe from all angles. Use your shaded safety glasses for running, cycling, driving, or work that needs PPE eyewear.
100% UV PROTECTION. Thanks to the green tinted lenses, these dark safety glasses block 85% of light. This decreases visual fatigue, and provides glare protection. They block harmful UV light too.
BUILT TO LAST. NoCry safety glasses come with a limited lifetime warranty because we stand behind every product. If they're not right for you, we'll replace them or refund you. We've got your back, no matter what.
Last update on 2023-09-24 / Affiliate links / Images from Amazon Product Advertising API
The NoCry Work and Sports Safety Sunglasses tick off a lot of the boxes for the features we like to see in these products starting with a wraparound design. The polycarbonate lenses offer UV protection and are also scratch-resistant. They have a green tint that enhances the color of trees and other vegetation that we liked. The rubber coating on the sides and over the bridge ensures that they will stay in place.
Pros:
The glasses are affordably priced.
The design and construction ensure minimal glare.
The manufacturer backs up the product with a limited lifetime warranty.
Cons:
The glasses are not anti-fog.
Check Price and Reviews on Amazon
---
2. TOREGE Polarized Sports Sunglasses
Sale
TOREGE Polarized Sports Sunglasses for Men Women Cycling Running Driving Fishing Golf Baseball Glasses TR002 Upgrade (Black&Ice blue lens)
3 Interchangeable Lens- All the lens UV400 protection coating, blocks harmful UVA & UVB Rays. Restore true color, eliminate reflected light and scattered light
Clear, Superlight, Stylish and Durable- Cool Rimless jacket frame design enables clear lower vision field. Lightweight design is ideal for motorcycle and cycling bicycle, driving, running, fishing, racing, skiing, climbing
Soft Rubber Nosepad,Let Your Nose Feel Comfortalbe While Wearing TOREGE Sports sunglasses for Cycling Running Fishing Golf .
Lifetime Breakage on Frame- Frames and lens are unbreakable for no risk purchasing. In case any broken problem happens, contact the seller of Torege without hesitation to solve the problem until satisfaction.
30 Day Money Back- All TOREGE customers enjoy 30 Day Money Back. Customers can return and get refunded in case the purchasing is not satisfactory for any reason. You have no risk to try.
Last update on 2023-09-24 / Affiliate links / Images from Amazon Product Advertising API
The TOREGE Polarized Sports Sunglasses are a multi-functional pair with three lenses to suit varying light conditions. They have a sporty look to them, which we liked. The polarized lenses offer both UV protection and scratch-resistance, too. The glasses come with both a 30-day money back guarantee and a limited lifetime warranty on the frame.
Pros:
The product includes both a soft case and a cleaning cloth.
You can match your eye protection to the lighting.
It is an excellent value for the price.
Cons:
Some may not like the tint of the blue lens.
Check Price and Reviews on Amazon
---
3. Smith and Wesson Safety Glasses
Sale
Smith & Wesson 21303 Elite Safety Sunglass, Smoke Anti-Fog Lens with Black Frame
These Smith & Wesson Elite Safety Glasses (safety sunglasses) have a black frame and smoke anti-fog lenses for outdoor use: Smoke anti-fog lenses are ideal for bright, sunny days to provide glare reduction and humid environments
These Smith & Wesson safety glasses meet ANSI Z87.1 plus standards
These lightweight shooting sunglasses provide 99.9% UVA/UVB/UVC protection to help prevent eye damage like cataracts, retinal damage, and other conditions that can cause temporary vision loss
Anti-scratch, dual lens offer wrap-around protection, and the wide temple provides structural integrity and stability
Every pair of safety sunglasses comes with a Smith & Wesson branded microfiber carry bag that doubles as a cleaning cloth.Temple Style:Ratchet Hinge
Last update on 2023-09-24 / Affiliate links / Images from Amazon Product Advertising API
The Smith and Wesson Safety Glasses is a value-priced product that offers decent protection. It comes in a black frame with a dark tinted lens. They wrap around the sides of your face for complete coverage. They provide UV protection and are scratch-resistant. This product is truly one for safety and is compliant with OSHA standards.
Pros:
You get a carrying pouch with the glasses, which you can use to clean the lens.
The product meets the ANSI Z87.1+ standards for safety.
The glasses are well-made and durable.
Cons:
Some may find that the frame is too bulky.
Check Price and Reviews on Amazon
---
4. SUNGAIT Polarized Sunglasses
Last update on 2023-09-24 / Affiliate links / Images from Amazon Product Advertising API
The SUNGAIT Polarized Sunglasses is an excellent choice if you want to customize the pair to what you need. There are nine choices, covering the color of the lens and frame. The lenses offer UV protection and are shatterproof. We love the fact that you can adjust the hinges for the best fit. Your purchase even includes a screwdriver and carrying case. The product is well-made.
Pros:
The frame is metal and quite durable.
The manufacturer offers a lifetime breakage warranty.
Customer service is top-notch.
Cons:
The company doesn't sell replacement nose pads.
Check Price and Reviews on Amazon
---
5. BLUPOND Sports Sunglasses
Sale
BLUPOND Polarized Sports Sunglasses for Men Women - UV Protection Anti Glare Glasses Unisex (grey)
Experience the clarity and safety of our Mirrored REVO Polarized Titan's – Colored Lenses for minimal distortion and night use / Black-out lenses for maximum sun exposure. Specifically designed to cut and diffuse harmful light, for a more vivid outdoor experience. Enhance your field & range vision with the most advanced Light-Neutralizing technology. Guard your eyes from harsh environmental elements, glares, bright headlights and the sun's harmful rays with our 100% UV400 Titans
Rest assured with the incredibly durable, metal frame construction of your new Titan's. Built to last amidst inevitable drops and dings. Intuitively designed semi-rimless frames for a larger field of sight with minimal distortion + polycarbonate, shatterproof, color-tinted lenses with blue light neutralization, does all the work and lets you keep your eyes on the target at all times
The optimal form factor for maximum comfort and wearability, the Titan's were designed to be worn hours on end, effortlessly and with ease. Leave the stress and headaches behind, with our ultra-thin, super-light semi-polarized lenses, complete with integrated nose pads and our rubberized support system for added security. Weighing in at just 26 grams, you'll never want to take these babies off!
Sleek and stylish, to be worn on or off the field, our timeless, classic Italian design exudes ingenuity and innovation. A fashion statement fit for both men and women, no matter the occasion. Take your shooting, sports, and outdoor adventuring to new heights with your all new TITAN – available in 6 colorways: BLACK + Yellow or Blackout lenses; SILVER + Orange Mirrored, Silver Mirrored, Blue Mirrored, or Yellow lenses
In addition to your new TITAN by BLUPOND, you will receive a Complementary Accessory Set, complete with our EVA protective sports case, Screwdriver for minor adjustments, Sunglasses pouch, Microfiber cleaning cloth, Glasses clip for convenient car storage, and Gift box. The total package to keep you active and ready anywhere you go
Last update on 2023-09-24 / Affiliate links / Images from Amazon Product Advertising API
The BLUPOND Sports Sunglasses are a well-constructed product with a metal frame and shatterproof polycarbonate lens. They come in your choice of yellow, blue, or dark mirror lenses and either a black or silver frame. You get some goodies with your purchase, including a hard case, cleaning cloth, glass clip, and carrying pouch. They offer excellent UV protection with a comfortable design.
Pros:
The ergonomic design keeps the glasses from slipping.
The glasses come with a hard case with a carabiner attachment.
They are comfortable to wear.
Cons:
Some individuals might think that the glasses are too big on their faces.
Check Price and Reviews on Amazon
---
Things to Consider When Buying the Best Safety Glasses for Pickleball
The first thing we need to say upfront is that safety glasses don't have to look like, well, safety glasses. Newer products are attractive and multi-functional for use both on and off the court. You'll find them in a broad range of price points to fit any budget, too. There are several factors to think about when deciding which pair is right for you.
Consider your typical venue. Do you play primarily indoors, outdoors, or both? Some products are well-suited for some settings that won't work with others. The next point involves how you plan to use them. If you want them as a go-to pair for whatever activities you do, that may steer you in one direction over another. We always like to get products like this which can serve several purposes.
Other features to research include:
Polarized Coating
UV Protection
Anti-Fog
Multi-Use Functionality
Design and Durability
Accessories
Polarized Coating
Polarized lens are a godsend if you play pickleball on bright, sunny days. The glare off of shiny objects can distract you and ruin your gameplay. It is also a migraine trigger for some individuals. These glasses have a coating on them that blocks some of the light. The result is a clearer image with a richer color range and sharper focus.
That can help you see the ball better, which can improve your accuracy. We think that the polarized lens is a must-have no matter what sport you play. They will also reduce eyestrain and fatigue, which can also help your gameplay.
UV Protection
UV protection is a no-brainer if you spend any time outdoors. Without it, you risk serious damage to your eyes and future vision problems. The best safety glasses for pickleball will clearly state this information on the label. Bear in mind that some brands of contact lenses and glasses have this feature already. Of course, if you only play indoors, it is not mission-critical.
Anti-Fog
This feature is essential no matter if you play indoors, outdoors, or both. High humidity can obscure your line of sight and thus, your game. Consider it even if you don't go outside because your breathing or the ambient court conditions can also fog your glasses.
Multi-Use Functionality
The appearance of some of the best safety glasses for pickleball hardly resembles its namesake. Yes, they provide the necessary protection, but they don't look so utilitarian. You'll find some products that have multiple lenses that you can swap out, depending on the lighting. They are an excellent choice if you play in a variety of venues.
Design and Durability
Some products bill themselves as safety glasses when, in fact, they are just glorified sunglasses. Look at the overall construction of them. Scan the descriptions for words like impact and shatter-resistant for clues about how they'll handle use while playing sports. You may find some that offer a warranty or guarantee against cracking or damage.
We prefer glasses that wrap around the sides. After all, dust can get in your eyes from any angle. It also ensures that glare won't affect your vision or create a distraction.
Accessories
If you're the type of person who frequently sits on their glasses, a carrying case is another must-have for storing them in between uses. Look for a hard case instead of a soft one. The latter is useless if you drop them on a hard surface. We always like to see a lens cleaning cloth included with our purchase, too. Remember that paper towels are a no-no for cleaning them because they can scratch the surface of your glasses.
Top 3 Brands
Oakley Eyewear
Oakley Eyewear got its start as a small start-up business in 1975. It has since grown to a world-class innovator for sports eyewear for a broad range of activities and needs.
NoCry
NoCry specializes in safety equipment for both the workplace and recreation. The company prides itself on providing outstanding customer service with quality products.
SUNGAIT
SUNGAIT produces affordably priced sunglasses for both casual and sports use. The company goes the extra mile to ensure compliance with international safety standards.
Frequently Asked Questions
Q: What safety glasses are best?
A: The fit is the single most important consideration for finding the best safety glasses for pickleball. Our pet peeves are ones that slip off easily during the heat of battle. We also hate it when they sit too close to our faces and rub against our eyelashes. You can mold some products by heating them to fix some of these issues. Getting a set of Croakies or a similar product is always a safe bet, too.
Q: What are the best sunglasses for playing pickleball?
A: The best products are those that leave you forgetting that you have them on in the first place. That denotes a good fit that won't interfere with your gameplay. If you want to make sure that they'll last, save them for playing pickleball only and keep the sunglasses for driving and other activities.
Q: How do I keep my safety glasses from fogging up when I play?
A: There are a few old-school tricks that can keep your lens clear, including shaving cream or bar soap. Scuba divers will also spit in their masks and wipe them out before going into the water. Any of these things will work. We think it's less messy and more convenient to get a pair with some type of anti-fog coating.
Final Thoughts
The best safety glasses for pickleball provide the necessary protection to protect your eyes without being a distraction. After all, you need to focus on your game. Fortunately, you'll find a broad range of options with features that can suit your playing style without breaking the bank. Don't let the term, safety, turn you off from getting a pair. Your eyes will thank you.