Are you trying to find the best airsoft pistol? They can be used for a number of activities. Whether you're playing a game with your buddies or you're looking for something to shoe off those squirrels from your garden, airsoft guns can come in quite handy. Below we'll dive into the five best airsoft pistols on the market and share with you a handful of things to keep an eye out for before spending any money!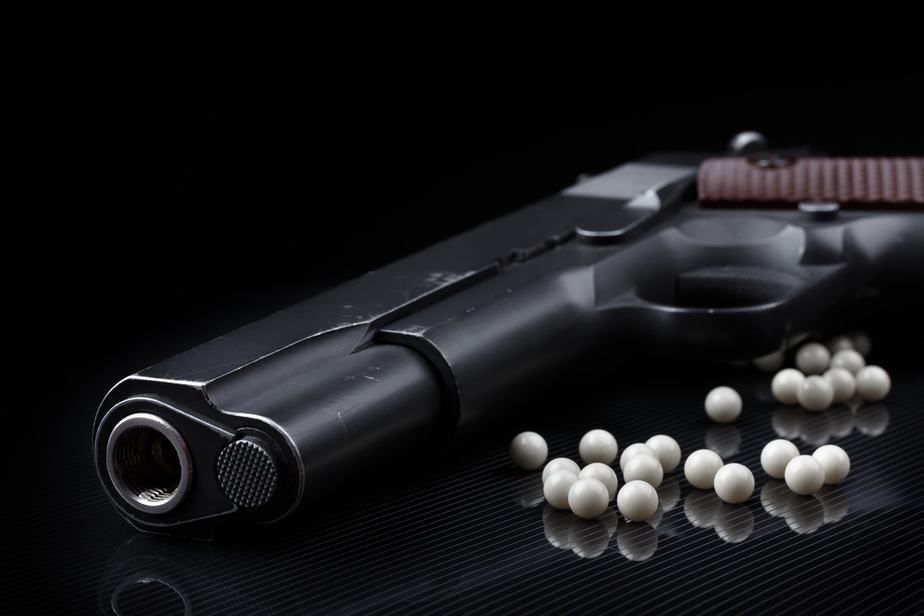 In a Hurry? Here's Our Top Picks…
1. Glock 19 Gen3 .177 Caliber BB Gun Air Pistol
Sale
Umarex Glock 19 Gen3 .177 Caliber BB Gun Air Pistol
15-Shot, .177 Caliber Bb Air Pistol
Powered By A 12-Gram Co2 Cartridge (Co2 Not Included)
Shoots .177 Caliber Steel Bbs At Up To 410 Fps
Integrated Weaver Rail For Easy Mounting Of Accessories
Fixed Glock-Style Sights And Officially Licensed Glock Markings
Last update on 2023-11-21 / Affiliate links / Images from Amazon Product Advertising API
Starting us off is the Glock 19 Gen 3. This is one of the best airsoft pistols for several reasons. It's incredibly versatile and easy to use, even if it's your first ever airsoft gun. It is semi-automatic and is powered by a single CO2 capsule that is hidden in a compartment directly in the grip.
The CO2 is easy to access thanks to the Allen key that you can find in the backstrap. It is just over seven inches long overall and weighs less than two pounds. Many users enjoy the textured grip. It keeps you in control and prevents the gun from slipping out of your hands. The high-quality magazine drops free and can easily be loaded with up to 15 steel BBs.
The entire airsoft pistol is durable and if well taken care of, will last you for years. It also has an integrated weaver rail to allow users to attach light sources or a laser to get a more accurate shot. Even though this is a smaller pistol, it can shoot up to 410 feet per second! Lastly, there is a rear and front size that makes it easier to hit your target.
What We Like:
Ergonomic handle grip
Lightweight
Looks realistic
Hidden CO2 compartment
Drop-free magazine
What We Don't Like:
Check Price and Reviews on Amazon
---
2. Umarex Combat Zone Enforcer 6mm BB Pistol Airsoft Gun
Sale
Last update on 2023-11-21 / Affiliate links / Images from Amazon Product Advertising API
Another one of the best airsoft pistols that money can buy is the Umarex Combat Zone Enforcer. If you're looking for something that has amazing accuracy from a short distance, this is it. Weighing less than one pound, this airsoft pistol is lightweight and compact. It has semi-automatic action with a double-action trigger.
The magazine can hold up to 15 rounds at a time. It can fire around 400 feet per second, making it a quick airsoft gun. Many users enjoy the fix white dot front sight and the rear sight. It is a durable gun and is designed using high strength polymer. You can use a 12-gram CO2 cartridge to power this gun. The CO2 cartridge is kept hidden under the backstrap and is easy to load.
You may enjoy that it has a built-in accessory rail that allows you the option to add a laser under the muzzle using the Picatinny rail. This is an amazing airsoft option if you're on a budget, yet still want a high-quality product in your arsenal. It's also a solid choice for beginners to use as their first gun. Lastly, you'll find the classic orange tip on this pistol, signaling that it is not a real gun.
What We Like:
It's lightweight and compact
Built-in front and rear sight
Designed with polymer
Fast firing speed
Picatinny rail
What We Don't Like:
Trigger pull is stiff and long
Hard to find extra magazines
Check Price and Reviews on Amazon
---
3. Crosman Stinger P311 Airsoft Pistol
Sale
Last update on 2023-11-21 / Affiliate links / Images from Amazon Product Advertising API
This six-millimeter airsoft pistol makes the list as one of the best airsoft pistols on the market right now. It's about nine inches long and weighs around one pound. Unlike the other airsoft options so far, the Crosman Stinger P311 is a spring-powered gun. It has a top speed of 325 feet per second. The magazine is incredibly easy to load and holds 12 rounds at a time.
This is one of the most popular options due to its design. It's meant to look similar to a U.S. military pistol. Not only does it look like the real thing, it feels like the real thing as well. This is a great pick if you're a sportsman looking to improve his or her aim. It's comfortable to hold and you won't have to worry about losing grip on the handle.
The barrel is made with smooth bore aluminum. There is a notch-style safety feature that helps to reduce the pistol from accidentally going off. This pistol also has a surprising amount of power. Whether you're using it to improve your aim or to get rid of pesky critters in your family's backyard, it packs quite a punch.
What We Like:
It's spring-loaded – saving you money
Looks and feels like the real thing
Lightweight
Comfortable grip
Built-in safety features
What We Don't Like:
Shoots soft
The grip may be too small for some
The inner barrel isn't polished
Check Price and Reviews on Amazon
---
4. Taurus PT111 Spring Pistol
Taurus Soft Air 24/7 G2 Co2 Blowback Two Tone Airsoft Pistol, Black/Silver
Powerful officially licensed Taurus 24/7 replica  G2- Co2 powered air soft blowback pistol shoots 439 FPS w/.20g 6 mm airsoft BBs
Realistic replica - airsoft gun replica with detailed finish and metal/polymer construction
Details, details, details - adjustable Hop-Up sight, full metal slide, 19 round magazine, ergonomic grip, lower accessory rail
Safety - functional ambidextrous trigger safety
Extras -two adjustable back straps to ensure proper hand to pistol fit, and trigger safety
Last update on 2023-11-21 / Affiliate links / Images from Amazon Product Advertising API
Designed using ABS polymer the Taurus PT111 is another spring-powered airsoft pistol option. This is a single-shot gun that can shoot up to 180 feet per second. While there are faster options out there, the Taurus PT111 is a great choice for beginners. It has a compact design and weighs less than a pound, making it incredibly portable.
It comes with a magazine that can hold up to 20 rounds at once. The built-in slide mechanism is incredibly smooth. The magazine practically drops right out. As for the safety feature, there is a safety switch that is a thumb safety, giving a natural tactile feel to the airsoft pistol. You can easily keep a sturdy and firm grip on the ergonomic handle.
The built-in sight makes it easy to aim and is a great feature for those looking to improve their shot accuracy. The unique exterior design of the Taurus PT111 makes it stand out from other airsoft pistols that are on the shelves. Something else that makes this gun stand out is that you get 50 BBs when you purchase it. This saves you money and allows you to get some practice in right after you unbox it!
What We Like:
Small and compact
Built-in sight
20-round magazine
Comes with BBs
Comfortable handle
Unique design
What We Don't Like:
Check Price and Reviews on Amazon
---
5. Walther P99 Blowback 6mm BB Pistol Airsoft Gun
Sale
ELITE Walther P99 Blowback CO2 Powered 6mm BB Pistol Airsoft Gun, Walther P99 Airsoft Gun
Metal slide blows back creating a realistic kick
Built-in hop-up system
Shoots 6mm plastic airsoft BBs at up to 320 fps
Includes 15-round drop out mag
Powered by a 12-gram CO2 cartridge housed in the grip (CO2 NOT included. To ensure a proper seal and for best performance, Umarex-brand CO2 is recommended.); Compatible with spare magazine part number: 2262024
Last update on 2023-11-21 / Affiliate links / Images from Amazon Product Advertising API
The Walther P99 is a heavy-duty airsoft pistol. If you're looking for something that's extremely durable and built to last, this is a solid choice. It has a metal slide blowback that goes off with each shot. It gives the gun a kick that is comparable to a real gun. It has a magazine that holds 15 rounds at once.
The top speed on this airsoft pistol is 320 feet per second. It's easy to reload because the Walther P99 is equipped with a drop-out magazine. It is powered using a CO2 cartridge that is hidden within the grip. The double-action is a big plus for many airsoft shooters. That feature, along with the paddle-style magazine release and fixed front and the rear sight makes this airsoft gun great for users of all skill levels.
The paddle-style can be used by either your right or left hand, which is a big plus if you plan on sharing the gun with someone who has the opposite dominant hand. The exterior of the barrel is metal, while the interior is made of brass. There is a bright orange tip to signal to others that this is an airsoft gun. Last but not least, it is just over seven inches long and weighs under two pounds!
What We Like:
Aluminum inner barrel
Paddle-style magazine
Front and rear sights
Ambidextrous
What We Don't Like:
Slide tends to hang a bit
Sight isn't adjustable
Check Price and Reviews on Amazon
---
Buyer's Guide
Below you'll find a few key things to look out for when buying your next airsoft pistol. One gun might be great for you, while your buddy may prefer something else. This buyer's guide is to help fit one of the best airsoft pistols to each individual user.
Power Source
There are a handful of different power sources for airsoft guns. The most commonly seen ones are CO2 cartridges or springs. This list above has a mixture of both. An airsoft gun that uses a CO2 cartridge to fire will cost you more in the long run, but they tend to pack way more power than a spring-powered one.
Spring-powered airsoft guns are easy to use and best for beginners. They tend to shoot a bit slower but won't cost you anything in terms of fuel products. They also tend to be more lightweight, due to not needing a compartment for a CO2 tank.
Revolver vs. Automatic
Just like with real guns, airsoft guns give you the option to choose between automatic and revolver. Unlike real guns, the choice here is more out of preference. There aren't massive differences between the two options. If you're wanting an airsoft gun that looks classic and realistic, a revolver may be more your style.
It's also important to note that revolvers don't have magazines. They can usually hold between six and eight rounds in a chamber. This is why revolvers are better suited for those needed them for quick tasks, rather than gameplay.
Automatic guns can come fully automatic but also have semi-automatic versions as well. If you want the gun to continuously shoot out bullets, you'd want a fully automatic weapon. Something else to keep in mind is the accessories.
There are plenty more accessories for automatic options. Whether you're looking for a light to add on the rail or a holster to keep your gun in a safe place, you'll find way more products for automatic airsoft pistols.
Magazine Capacity
If you're buying an airsoft gun for play, the magazine capacity is a major feature to pay attention to. If you're researching airsoft guns to help with a pest problem, this may not be the most important thing to you. Either way, the majority of airsoft pistol users prefer something that has a large magazine capacity.
The capacity of the magazine pertains to how many bullets the gun can hold before it needs to be reloaded. One round is one bullet. The average airsoft pistol magazine can house between 12 and 15 bullets. While some may hold more or less, you can always buy backup magazines.
Material
Something you need to consider is what the gun is made out of. This will influence a number of different things. For starters, the material is going to affect the weight of the gun. If the pistol is made out of plastic, it's going to weigh much less than one that's made out of metal.
The material also affects how durable the airsoft pistol is. Metal, like aluminum, tends to be more durable. You can drop it and scuff it up a bit without the gun really being affected. Plastic breaks easily and is easier to destroy than metal.
Speed
Lastly, consider how fast you want your airsoft gun to be. If you're okay with a slower speed, there are more options out there for you. Speed can also be affected based on what you're using the gun for.
For gameplay or shooting rodents, you'll want something between 400 and 1,000 feet per second when it comes to the speed of the gun. Slower is great for target practice or just to play around with.
Best Airsoft Pistols Brands
Umarex
Founded in 1972 in Arnsberg, Germany, Umarex is a well-known company that makes sporting goods. The headquarters are located in Fort Smith, Arkansas and it's best known for making tear gas, paintball guns, and airsoft gear.
Crosman
Founded by Frank Hahn in 1923, the Crosman Corporation is a popular American company. They are best known for designing traditional style paintball and airsoft guns. They also make accessories such as CO2 cartridges.
Taurus
Taurus is a firearm company that is established out of Brazil. It was founded in the late 1930s as a tool and die forging plant. As of lately, they focus on firearms and metal manufacturing.
CYBERGUN
Not too much is known about the french company, Cybergun. Yet it is one of the most popular airsoft manufacturers in the world. It was established in 1983 and the company now has over 20 worldwide licenses.
Lancer Tactical
One of the newer companies creating airsoft gear is Lancer Tactical. This company has been around since 2012 and is best known for creating airsoft materials and guns that are budget-friendly.
FAQ
Can airsoft guns kill people?
Airsoft guns are designed to be shot at other people and occasionally pesky animals. At most, it may bruise or leave a welt. They very rarely will break the skin.
Do airsoft bullets hurt?
Yes, they can. It depends on a number of factors. How fast the bullet is traveling and how close the shooter is to you play a big role. The faster and closer the bullet, the more it's going to hurt.
Why is it called airsoft?
Airsoft guns use a propane-silicone oil mixture. Better known as Green Gas, this mixture is used as a propellant to help the airsoft gun fire off. It got the name because this is considered soft air releasing to shoot off the bullets.
How fast does an airsoft gun have to be to kill wild animals?
It depends on the animal. If you're trying to kill a squirrel, you'll need something that fires at 1,000 feet per second. If you're trying to ward off small rodents like mice or rats, 750 feet per second will get the job done.
Final Thoughts
Now that you've seen which products made the cut for the five best airsoft pistols, which one do you think you'll buy? All of these are amazing options and have features that can suit just about everyone. Remember to keep in mind what you're using the airsoft gun for. You may want to consider what materials it's made out of, what it's powered by, and the magazine capacity.
Make sure the gun is comfortable to hold, especially if you're buying one for gameplay. Airsoft guns can hurt quite a bit if shot at a fast speed and close range. If you're playing a game with your friends, wear the proper safety gear to reduce welts and bruises.
Thanks for taking the time to educate yourself on all things airsoft pistols. There are so many options on the market, but these top five have proven why they're the best. Whether you want something powered by CO2 or spring-powered, you're bound to find something that works for you. We hope that you learned something new and found a fun new pistol!