Airsoft is perhaps the most popular competitive team shooting sport that allows players to simulate real combat experiences and utilize realistic equipment. The specialized airsoft guns are designed to shoot pellets to take out the other team while causing minimal harm. People often associate airsoft with being a large financial investment, which tends to scare away new players. However, it is possible to find a great gun for a fraction of the price. Here are the best cheap airsoft guns currently on the market.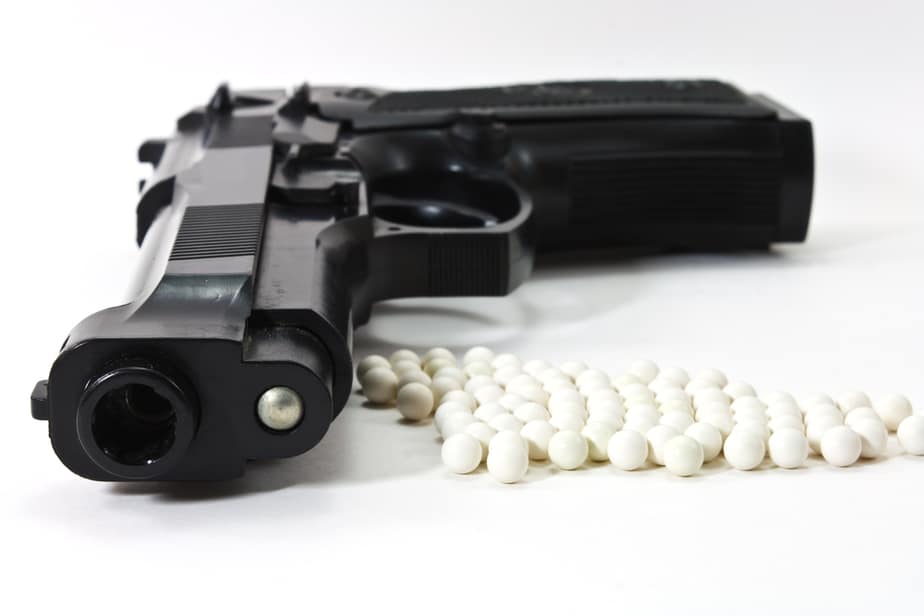 In a Hurry? Here's Our Top Picks…
1. FN Soft Air Scar
Sale
SOFT AIR USA FN Scar-L Spring Airsoft Rifle, Tan, 400 FPS
Powerful spring: 300 FPS with 6 millimeter ammo
Ready to play: Shoots 6 millimeter ammo in a single shot. Includes 100 starter BBs
Replica: Made with high strength ABS polymer for a realistic feel. Weighs 4 pounds
Easy to load: Magazine holds 50 rounds
Features: Folding/collapsible stock and flip-up front and rear sights
Last update on 2023-09-25 / Affiliate links / Images from Amazon Product Advertising API
The FN Soft Air Scar is a heavier rifle model that comes in at 3.3 lbs., but it is still affordable because the body is made of plastic. Internally, the system uses metal gears to reduce jamming as well as overall wear and tear. This is one of the best airsoft guns when it comes to distance because this model can shoot up to 400 fps using 12G BBs.
One of the most notable features of this gun is the foldable and retractable stock, which makes it easy to customize and store when not in use. There is a vertical grip as well as top and bottom rails. These rails truly make the FN Soft Air Scar stand out, since it allows you to place any desired accessories without affecting the function of the rifle.
The magazine is high capacity and capable of holding 350 pellets. There are also foldable front and rear sights so you can fire using whichever is more comfortable for you. The total length of the gun is a commendable 31.9 in., and the range is between 100 and 120 ft. This allows you to pick off the opposing team without needing to get involved in close quarter combat.
What We Liked
Shoots straight without interference
Easy to customize with rails
Includes a foregrip
Durable exterior body
What We Didn't Like
The vertical grip is shaky when in use
Check Price and Reviews on Amazon
---
2. Sig Sauer SIG1 MPX Airsoft
Sale
Last update on 2023-09-25 / Affiliate links / Images from Amazon Product Advertising API
The Sig Sauer SIG1 MPX Airsoft is modeled after real Sig Sauer weapons and is designed as a long distance rifle with a large magazine capable of holding 500 pellets. Although it looks like it could be automatic, this is actually a single shot model that is easy to reload while on the go. It fires at 300 fps and takes .12 pellets.
The SIG1 is spring powered with a slight kickback while firing. While it does not have the power of some gas or electric models, it runs well and features internal metal gears to reduce maintenance as well as jamming. There are flip up front and rear sights, so players can hide and aim from a distance to take out the opposing team on the field.
In terms of design, this model is easy to hold and cradle on the shoulder. The magazine is slightly long and unwieldy but is easy to remove and reload, even while taking cover. Another notable feature is the detachable buttstock, which can be moved to three separate positions depending on user comfort.
When it comes to the dimensions, the SIG1 is one of the lighter rifles. It comes in at 25.5 in. in length and weighs around 2.6 lbs.
What We Liked
Large magazine
Easy to reload on the go
Detachable buttstock for improved comfort
Solid construction
Lightweight rifle
What We Didn't Like
The magazine is long and unwieldy on the go
Check Price and Reviews on Amazon
---
3. Game Face GFR37 Airsoft Rifle
Last update on 2023-09-26 / Affiliate links / Images from Amazon Product Advertising API
The Game Face GFR37 is a model designed for players who prefer to play at a distance. This airsoft rifle is spring-powered and holds a maximum of 400 pellets, making it great for long matches and picking off the other players from the safety of a perch. The maximum firing speed is around 350 fps and pellets are able to travel around 100 feet before losing velocity. This is a single shot air rifle, so there is not automatic fire.
This plastic model has a synthetic adjustable stock and a smooth bore barrel for better targeting. There is space to place attachments such as a separate pair of sights, although it can be difficult to make them stay. The GFR37 features a Picatinny mounting rail and does not have much kickback, making it great for newer players.
There are two separate sights already placed on this rifle: a fixed blade front sight and a fixed notch rear sight. The GFR37 is a medium weight model, coming in at around 3.7 lbs. The internal gears are metal to reduce maintenance, and the overall pattern is a combination of black and tan.
Overall, this is an effective and durable airsoft rifle that includes all of the basic features.
What We Liked
Little to no kickback when firing
Large magazine
Multiple sights with room to attach other varieties
Sturdy construction with metal gears
What We Didn't Like
It is hard to attach optional features despite there being room for them
Check Price and Reviews on Amazon
---
4. Umarex Walther P99 Blowback
Sale
Last update on 2023-09-26 / Affiliate links / Images from Amazon Product Advertising API
The Walther P99 Blowback from Umarex is a classic example of an airsoft pistol designed for close quarters combat and rapid firing. The metal slide creates a realistic kick to add extra flare to games, and the construction is sturdy and solid. A built in hop system is included, and the P99 can hold 15 rounds.
This model shoots at 320 fps and features a drop out magazine for easy reloading. This magazine can be dropped with the paddle style release system. The Walther P99 fires 6 mm. plastic airsoft pellets and is gas-powered, utilizing a CO2 cartridge which can be changed and refilled.
This gun weighs a mere 1.75 lbs. and has a barrel length of 4.25 in. The full pistol length is 7.25 in. with a reinforced grip. Fixed sights make it easy to aim and shoot.
The Umarex Walther P99 is a simple airsoft gun, but can't be beat. It is lightweight and easy to maneuver, and will also last a long time without breaking the bank. It is definitely worth the investment for beginners and experts alike.
What We Liked
Metal slide for realistic blowback
Easy to remove magazine
Capable of shooting at 320 fps
Easy to manage and maintain
What We Didn't Like
The slide is louder than anticipated and alerts other players
Check Price and Reviews on Amazon
---
Buying Guide
There are many factors that go into choosing the right airsoft gun for you, so check out this handy guide.
Firearm Type
One of the main elements you need to consider is what style of firearm you would like to use during play. Airsoft is a popular sport, and this means manufacturers create a broad range of weapons modeled after pistols, revolvers, rifles, and assault rifles. There are even models that have been registered with specific brands like Glock and Sig Sauer.
The type of weapon you choose will heavily influence your play style, so pick wisely.
Firing Mechanism
Not all airsoft guns are built with the same technology. They could be powered by a spring, gas, or batteries. Each one comes with its own pros and cons.
A spring-powered gun is the original model and also the most reliable. While they lack an automatic firing feature, they are easy to reload and tend to be more versatile. They are also more environmentally friendly and simple to upgrade, making them excellent starter guns. Plus, they are super affordable. The downside is you need to cock the gun each time you want to fire.
Gas
Gas-powered airsoft guns are actually rare in competitive matches and are more common on shooting ranges. They propel pellets through a release of gas, typically carbon dioxide or propane. This creates a powerful shot and semi-automatic firing. They also have realistic blowback, making them popular among players who enjoy recreating a combat environment.
The downside to these models is needing to replace the gas, as the canisters can be expensive. It is also affected by the weather, and gas can cause misfires.
Electric
An electric airsoft gun requires batteries to function properly. This type is simple and straightforward. It uses the stored energy to recreate an automatic weapon that fires rapidly and requires little maintenance. It can launch pellets at speeds of 250 to 500 fps, and it has an effective range between 100 and 200 ft. Plus, these models are quiet and suitable in all temperatures.
The downside is needing to recharge and replace the batteries to play multiple games. The gun can also malfunction in wet conditions and has the most cartoonish appearance out of all of the airsoft guns.
Know Your Role
If you are new to airsoft, you might not realize that each player on a team has a role they must play to ensure the fight goes well. The most common ones are CQB (close quarters battle), sniper, support gunner, or suppressing fire.
Someone who is going to play CQB needs a gun with less distance but more firepower and accuracy, usually a handgun or shotgun. A sniper naturally needs a sniper rifle, while a support gunner can get away with regular rifles. For suppressing fire, you will want an assault rifle or similar model to really lay down a spray against the opposition.
Weight
When you buy an affordable airsoft gun, you often don't have to consider the weight since most models are made of plastic. However, if you are interested in a metal weapon, you need to think about how much weight you are comfortable with. If you try to use a gun that is too heavy, you will struggle to run and play.
If you want to perform your best, don't buy a large or heavy gun just because it looks cool.
Best Airsoft Gun Brands
While there are some amazing airsoft gun brands out there, it can be difficult to find one which is affordable. Most of the top manufacturers only make $300 to $400 weapons, which is not a place for someone to start. However, there are a couple of gems that stand out and make weapons suitable for beginners or those who would just like a cheaper gun.
Umarex
One of the best brands is Umarex. Umarex focuses on making steel replicas of real guns designed to create the most realistic play possible. These weapons come in a variety of types but are often low maintenance with high reward and play value. They tend to alternate between spring and gas-powered models and have multiple bases in the United States where they manufacture their weapons.
FN Herstel
Besides Umarex, another good brand is FN, full name FN Herstel. This is an airsoft gun manufacturer based in Belgium which one again copies real designs to create high octane, realistic weapons for dedicated airsoft fans. They have even collaborated with arms manufacturers in the past to create limited edition items that are sought after by collectors.
Frequently Asked Questions
Q: Can I remove the orange tip from my gun?
A: Toy weapon manufacturers in the United States are required by law to include the orange tip to help law enforcement distinguish the airsoft gun from a real weapon. Although it might reduce your immersion, it is illegal to take off the tip of the gun and carry it around.
Q: Is plastic strong enough for play?
A: A common concern among airsoft aficionados is whether a plastic weapon will be able to withstand the rigors of play. In general, the plastic used to make airsoft guns is reinforced and designed to be able to take a hit. Pellets should not damage it, nor should regular use. Just avoid dropping it on rocks or accidentally throwing it.
If you are worried that plastic will not be strong enough, consider investing in a metal weapon. While these are heavier, they last longer and can withstand more damage.
Q: Should I buy a gun if I don't know what position I want?
A: If you are new to the airsoft scene and are unsure of your desired position, it is a good idea to get an affordable gun and practice. This allows you to become used to a particular shooting style and gives you practical experience with any position.
Plus, when you purchase an inexpensive model, you save money that you can invest in the long run. If you decide you don't like the gun you have because you don't like the style, you can always get another one and keep the original weapon as a backup for rainy days.
Q: Is metal better than plastic?
A: Most dedicated airsoft players use metal guns because they are more durable and less likely to break. They also provide an authentic experience since the weight and feel of the weapon is similar to an actual gun, allowing players to become more invested in the game.
The downside to a metal airsoft weapon is that the material is heavy and can weigh down players who are not used to it. It is also more expensive and requires extra maintenance to ensure the metal is maintained and does not rust.
Q: Do I need sights on my gun?
A: The sights are an essential component of any gun as they are what let you aim. If you find an airsoft model without sights, even if it is a pistol, then it will be difficult to aim at your target and fire accurately. If you are unable to find a sighted model you like, consider getting an airsoft gun with rails. You can attach any accessories to the rail to improve your experience, including sights that suit your needs.
Q: How far does a good airsoft gun shoot?
A: The distance your gun is able to shoot will depend on its style and power. In general, pistols are not designed to cover great distances and will be the most accurate between 25 and 50 ft. Rifles, on the other hand, should be able to cover at least 100 ft. to be considered effective and ideal for play. Most weapons will list their range, as well as fps, on the packaging when you order or buy it. Always check these numbers before purchasing any model.
Q: Is airsoft safe?
A: Airsoft is a safe sport if you use the right equipment, including a helmet for protection. Never try to modify your gun without experience and avoid using handmade equipment.
Wrap-Up
Airsoft is an excellent game and a great way to stay active while socializing and improving hand-eye coordination. While many people feel like they need to invest a lot of time and money just to get started in the sport, nothing could be further from the truth. Instead of buying expensive equipment, it is possible to find cheap airsoft guns which work just as well as pricy models.
One of the best cheap airsoft guns currently on the market is the FN Soft Air Scar, which allows the user to customize it while still being durable and streamlined. A close second is the Sig Sauer SIG1, which mimics a real gun and is great for long-range combat.
However, if neither of these weapons suits your taste, there are tons of other cheap airsoft guns out there. Don't limit yourself just because you think you need the best equipment to become active in the sport.
If you would like to become active but want to start smaller, you can consider other games that require good hand-eye coordination like pickleball and soccer.