Pickleball isn't different from a lot of racquet sports. You likely have a lot of gear you need to haul to your next game. Having something to carry everything in helps keep you organized and focused on your gameplay and strategy. That's why having the best pickleball bag is a great asset no matter what your skill level.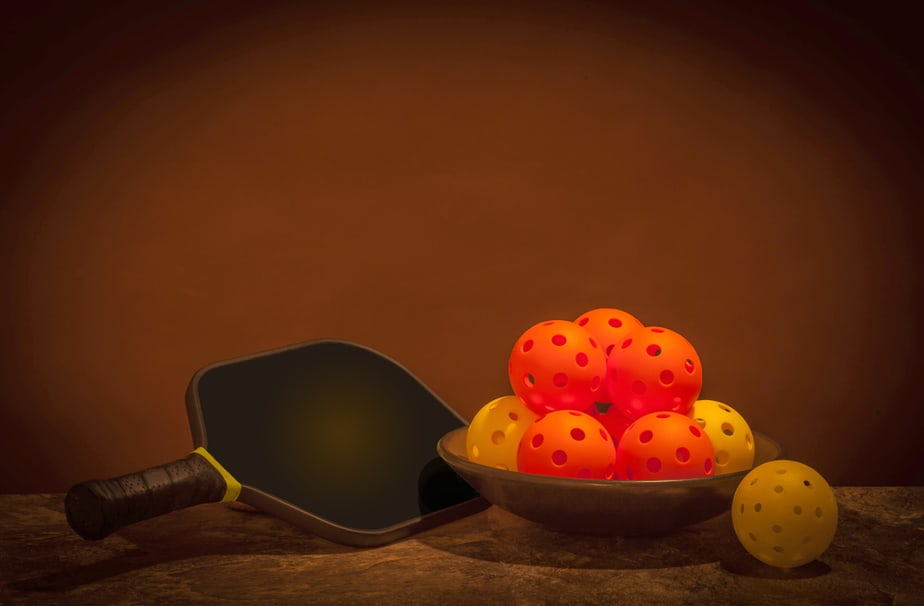 You'll find a vast array of products from those specific to pickleball and others that are multipurpose. We'll review the features that make a suitable choice, along with our roundup of some quality bags to check. The two most important criteria are comfort and durability. They come in a wide range of price points too.
As you may expect, there are some stand-out leaders in the industry, which we will also discuss. There is no volley llama here. It's just the straight talk, pickler to pickler.
In a Hurry? Here's Our Top Picks…
1. Selkirk Sport Pickleball Backpack
Last update on 2023-09-02 / Affiliate links / Images from Amazon Product Advertising API
The Selkirk Sport Pickleball Backpack is an excellent offering from a company that provides performance-grade equipment for the sport. The bag is roomy with a water bottle pocket on each side and one front pocket. We loved the fact that one of the bottle holders is insulated. The straps curve to follow the form of your back, which we liked. It is also a mesh material for breathability.
Overall, the bag is well-made. The stitching and reinforcements are sound. We liked the added touches that show their dedication to the sport and its participants.
Pros:
The manufacturer has a vested interest in providing USAPA-compliant gear.
The shoulder straps are well-padded and comfortable.
The backpack doesn't scream "Pickleball!," so you can use it for other things.
Cons:
At only 2.2 inches deep, some may find it a bit small for toting a lot of gear.
Check Price and Reviews on Amazon
---
2. Franklin Sports Pickleball Bag
Sale
Franklin Sports Pickleball Bags - Pickleball Sling Bag Backpack for Gear + Equipment - Pickleball Bag for Men + Women - Holds Paddles, Pickleballs + Accessories - Official US Open Pickleball Bag
OFFICIAL BAG: Carry your pickleball gear in style with this sling bag, the official pickleball bag of the U. S. Open Pickleball Championships. It's the pickleball bag used by the pros.
HOLDS IT ALL: This sling bag effortlessly holds all your pickleball gear, including up to 6 paddles, X-40 performance pickleballs, and related accessories. Store all your pickleball stuff in a bag designed for pickleball
EXTRA-LARGE STORAGE: Why settle for an ordinary backpack when you can own a pickleball gear bag designed for the sport Large pockets and inverted weather-resistant zipper pulls keep all your gear organized
SUPERIOR PORTABILITY: Hold more than just gear with this pickleball bag. It includes a dual padded cell ph1 and key storage, plus a built-in fence hook inside the largest pocket
BACK SUPPORT: An adjustable shoulder strap makes this pickleball sling bag easy on your back and shoulders, helping prevent muscle strain and shoulder pain
Last update on 2023-09-02 / Affiliate links / Images from Amazon Product Advertising API
The Franklin Sports Pickleball Bag is another company that manufactures pickleball-specific products like this offering. Its official status is worth noting too. This style is an excellent choice if you feel like a backpack is too confining. We loved the extra touches, too, like the hook on the back and accessories pouch. It is lightweight but still a decent size for holding a lot of gear.
The bag is a high-quality product that is roomier than it looks at first glance. We love the addition of the support pads for your back to avoid strain from carrying a bag that is too heavy.
Pros:
The bag is affordably priced.
You have your choice of five color combinations.
The product has cred as the official bag of the US Open Pickleball Championships.
Cons:
There are occasional quality control issues with the positioning of the shoulder strap.
Check Price and Reviews on Amazon
---
3. Pickleball Central Duffel Bag
Game On Pickleball Duffle Bag (Lime Green)
Spacious duffle holds 2-4 paddle plus a dozen balls
Simple, lightweight, durable bag with single large interior pocket
Adjustable shoulder strap and shorter hand carry straps
Outside slip pocket
18"L x 10.5" H x 9" W
Last update on 2023-09-02 / Affiliate links / Images from Amazon Product Advertising API
The Pickleball Central Duffel Bag is a value-priced item that is lightweight and roomy all around. It's a practical choice if you need to carry another change of clothes with you. The branding is fun too. It only has one internal space, which can make something tough if you've packed it full. There also isn't a water bottleholder. If you're looking for a no-frills product, you can start with this one.
Of all the products we reviewed, it was the lightest. However, that didn't take away from its durability nor the amount of gear that you can stuff inside of it.
Pros:
You can either carry it in your hand or over your shoulder.
Serious players will appreciate the pickleball branding.
The bag is affordably priced.
Cons:
The bag doesn't have dedicated water bottle pockets or dividers inside of it.
Check Price and Reviews on Amazon
---
4. Pickleball Marketplace "All-In-1" Backpack
No products found.
The Pickleball Marketplace "All-In-1" Backpack stands out as both an attractive and functional pickleball bag. It's a decent size at 18.5 inches long by 13 inches wide by 6 inches deep. It can easily hold a second racquet. The bag has a lot of cushy padding everywhere you need it. We loved the mesh back that keeps your back from getting sweaty.
"All-In-I" is a fitting description for this product. We can easily see us using it as a commuter bag with our laptop and office supplies tucked inside of it.
Pros:
The bag has lots of easy-to-use external storage.
The material is durable.
The backpack has a good-looking design with its "Pickleball Power" emblem.
Cons:
The backpack might seem like overkill and a bit hefty if you're only carrying a few things in it.
Check Price and Reviews on Amazon
---
5. Under Armour Undeniable Duffel 2.0 Bag
Last update on 2023-09-02 / Affiliate links / Images from Amazon Product Advertising API
The Under Armour Undeniable Duffel 2.0 Bag isn't a pickleball product, per se. However, it will fit the bill well. Overall, the construction is outstanding. The extra material on the sides and bottom will handle any conditions. It's worth mentioning that it was the only one we reviewed that said it is water-resistant. The inside is roomy with four pockets. It also has two zippered ones on the outside.
For all of its features, the bag is affordable. It is an excellent example of the quality that we expect from this manufacturer.
Pros:
The construction is excellent.
The bag has both a cushioned handle and a padded shoulder strap.
The organization of the interior makes it easy to find things.
Cons:
You can't machine wash the bag.
Check Price and Reviews on Amazon
---
Things to Consider When Looking for the Best Pickleball Bag
A bag for your pickleball gear isn't much different from a lot of similar sports. Your paddle is likely the largest piece of equipment that you'll have to carry. Therefore, its dimensions are your limiting factor. The official measurements as per the USA Pickleball Association (USAPA) are a length of no more than 17 inches. That leaves up to another 7 inches for its width, plenty of room with which to work.
Features to look for in the best pickleball bag include:
Size
Type
Material
Carrying Straps
USAPA compliance
Let's discuss how each one can affect your choice.
Size of the Best Pickleball Bag
As we mentioned earlier, your paddle is likely the largest thing you'll have with you. Don't forget the extra things like a coat or pullover. Think about what you'll need to bring if you're playing at a gym or YMCA and want to shower afterward. Bear in mind that some places have limited space for storage.
We'd suggest looking for a bag that makes it convenient to hold and find your stuff. That means a separate pocket for your keys, wallet, and cellphone. We prefer zippers over buttons, but that's a personal preference. A large internal compartment is always welcome too. Some products include separate pouches for balls and are large enough to fit several.
Type of Bag
Of course, what you're doing doesn't limit the type of pickleball bag you can get. It does help to get one specific for the sport for adding the gear you'll likely use to your pack. You'll find four basic types. The sling bag is a popular choice for pickleball players because it conforms to the shape of your racquet and does an excellent job of optimizing space. They usually have a teardrop shape with one shoulder strap.
Some people prefer the roomier duffel bags. You can carry a lot of stuff in them. That's helpful if you're going to change after you play. You can carry an extra pair of shoes and toiletries if you're going to shower. Make sure to look inside the bag for pockets or zipper enclosures to keep some items handy.
A tote bag works just as well as a duffel, providing extra room if you have a lot of stuff. It may or may not have a closure. A practical compromise between the two is a backpack. You can get more space for storing gear without having to carry a bag in your hand. Look for a product that has a handle on the top too.
Materials
Stain and water-resistance are some of the top features we look for in the best pickleball bag. Inevitably, it'll sit on the ground or floor most of the time. Bear in mind that waterproof is something different. One labeled as such will keep your stuff dry. Synthetic materials like nylon and polyester are excellent choices. While canvas looks cool, it may not offer the protection of other options.
We recommend that you pay attention to the stitching and construction of your pickleball bag. That will give you an indication of its durability. Some products have reinforcements in the corners or bottom of the bag, which we always like to see, no matter what the sport. If you're a core player, you'll likely find that it's a smart idea to pony up for a high-quality product.
Carrying Straps
This feature often falls in the dealbreaker or dealmaker category. Strips of cloth for handles will become uncomfortable after a while and dig into your hands, especially if the bag is heavy. Look for ample padding or a separate grip in the handle. Be sure to check out the shoulder straps if you're going with a backpack style.
We recommend getting a bag with adjustable straps. We don't believe in the concept of a one-size-fits-all choice when it comes to hauling gear.
USAPA Compliance
No, we're not suggesting that the USAPA regulates what kind of bag you can get. However, it does have some well-defined rules about graphics and other design elements on the apparel. That could carry over to your bag if it's visible to the officials. Keep it real and tame. After all, we're all here to have fun, aren't we?
You'll find many products that have pickleball branding. It speaks to your enthusiasm for the game, which many might find desirable. Several manufacturers focus on this sport alone. You can make a statement if you walk up to the court carrying a bag with their logo brandished on your gear.
Best 3 Brands
Selkirk Sports
Selkirk Sports is a family-owned business specializing in everything pickleball. In fact, that is all that they do. The company works with the top athletes in the field, producing USAPA-compliant gear. However, they also produce gear for players of all skill levels.
Franklin Sports
Franklin Sports produces a full line of gear for several sports, including lacrosse, baseball, and pickleball. The company began in 1946 with football, making gear for legendary football star, Joe Namath. They have formed partnerships with stars in other sports, including pickleball.
Wilson
Wilson Sporting Goods is a global leader in quality equipment. While better known in other arenas, the company produces performance grade pickleball gear, apparel, and accessories. It got its start in 1914, making tennis rackets.
Frequently Asked Questions
Q: What are the best bags for pickleball?
Ones made for the sport offer the best features and those little details that serious players will appreciate. Look for things like water bottle holders, fence hooks, and divided compartments to keep everything separate. If you have a professional-grade paddle, we suggest getting a cover for it to protect its surface. It's one of the criteria that define a USAPA-compliant paddle.
Q: Is there an official pickleball bag?
There isn't an official one by definition or rule. The USAPA produces a few products that have their logo on them. The Franklin Sports pickleball bag we reviewed is the official one of the US Open Pickleball Championships. Manufacturers will label their bags as those meant for pickleball if they can accommodate the size of the paddle.
Q: Which style of pickleball bag is the best?
A lot depends on your preferences. We'd suggest considering what gear you typically take with you when you're playing a match. Some extra room is always welcome. The weight is another vital factor. Think about how heavy the packed bag will be. You may find that one style stands out over another because of the ease and comfort of carrying it.
Wrap Up
Pickleball continues to win fans every year with over 3.3 million people taking up the paddle, according to the 2019 Sports & Fitness Industry Association's Pickleball Participation Report. We can see why. The game is fun and action-packed. It only makes sense that you'd want the best pickleball bag to store your gear. Zero! Zero! Two! Game on!