When it comes to playing soccer one of the worst possible things is to have to lug your gear back and forth, which is why you need the best soccer backpack. Where did you put your cleats? Your ball? Extra socks? You wouldn't have this problem if you had a backpack that carries it all.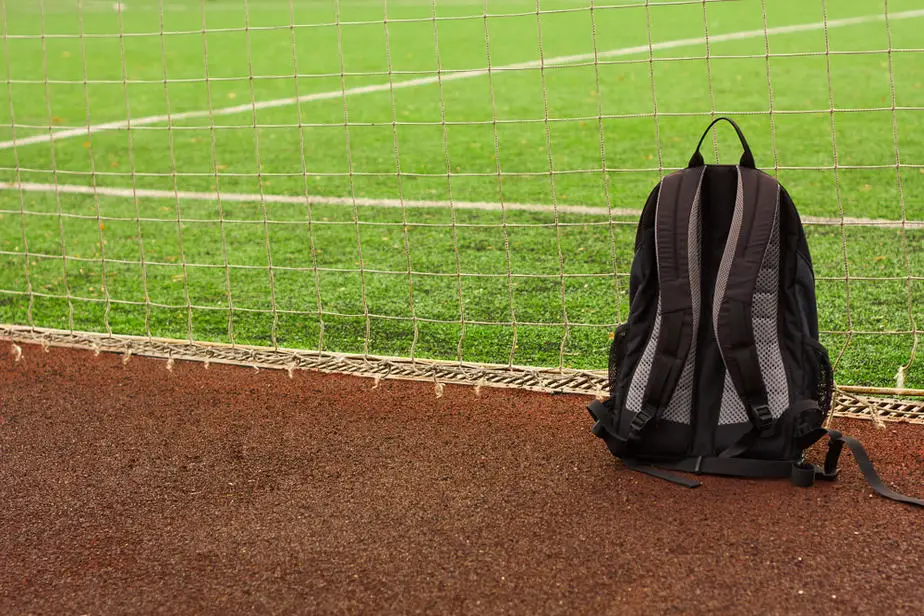 Thankfully we've taken the time to compile a list of the best soccer backpacks you could dream of, so you don't ever have to deal with the lumpy bags or disorganization ever again. Soccer has a rich history, you can flourish as a professional soccer player, or just hit the field with a group of friends. Either way making sure you're organized is the difference between having a great match, and a rough one.
In a Hurry? Here's Our Top Picks…
1. Stadium II Unisex Backpack
adidas Stadium II Backpack, Black, One Size
Lifetime warranty.
Zippered bottom ball pocket that can hold a size 5 soccer ball inside or be worn on the outside in a mesh pocket.
Dual water bottle pockets and a zippered tricot lined media pocket.
Padded shoulder straps and back panel to keep you comfortable.
Water-resistant base, extra durable 3d ripstop fabric, and up to 3 spaces for your team branding.
Last update on 2023-05-21 / Affiliate links / Images from Amazon Product Advertising API
This backpack was specifically built for athletes. With an interior zippered pocket, dual water bottle pockets, padded shoulder straps, and a water-resistant base these are just the tips of the iceberg. This backpack is built for soccer players and other athletes and for everyone in the family. It's got a dedicated shoe or cleat pocket, a pocket for your valuables which is lined with soft material and a zippered ball pocket so you can even pack your soccer ball into your bag for quick, efficient and safe travel.
That's not all though, this backpack even comes with a lifetime warranty, so you know that no matter how rough the matches get it's built to last and easy to replace. One person did complain that the handles of the backpack broke, but regardless of the warranty stands, so even if this happens to you, you can easily replace this backpack by reaching out to customer support.
Things we like:
Lifetime warranty
Double water bottle slots
Zippered ball slot
Things we dislike:
A few reports of breakage
Check Price and Reviews on Amazon
---
2. Athletico Youth Soccer Backpack
Sale
Athletico Youth Soccer Bag - Soccer Backpack & Bags for Basketball, Volleyball & Football | Includes Separate Cleat and Ball Compartment (Black)
LARGE VENTED BALL COMPARTMENT - The front ball compartment is perfect for carrying a soccer ball, volleyball, basketball, or football
SEPARATE CLEAT COMPARTMENT - The bottom compartment is vented to carry your cleats or shoes and keep the stink out.
RUGGED, COMFORTABLE, ERGONOMIC - Beyond its storage capacity, this soccer ball backpack is designed with padded, adjustable straps for a comfortable, ergonomic fit. Made with durable polyester and nylon fabric, this soccer bag is lightweight, yet rugged enough to withstand rain, mud, and dirt, allowing players to haul their gear in all weather conditions and outdoor environments.
BACKED BY THE ATHLETICO 100% SATISFACTION GUARANTEE - If your are not satisfied with your new Athletico Bag for any reason, simply return it for a full refund, no questions asked!
Last update on 2023-05-21 / Affiliate links / Images from Amazon Product Advertising API
This backpack is another great choice for the best soccer backpack. It has a large vented ball compartment, a cleat compartment to boot and isn't just rugged and comfortable, but ergonomic to. Athletic has a 100% satisfaction guarantee for this backpack. So you either love it or you get your money back. The back and straps are padded, making it more comfortable to wear and has a main compartment with 7 pocket organizers.
The zippers are designed to open and close without getting caught on anything and the cleat pocket even has a freshness air vent. This backpack really packs a punch with its water-resistant fabric. The only downside is that it's smaller, it's for kids that are itching to hit the field not an adult. Meaning that this backpack would not be a great idea for anyone over the age of 13 and it still may be quite small for the 8-12 range as well.
Things we like:
Satisfaction Guarantee
Cleat compartment
Catch resistant zippers
Things we dislike:
Check Price and Reviews on Amazon
---
3. This Awesome Soccer Backpack
Soccer Backpack - Basketball Backpack - Youth Kids Ages 6 and Up - With Ball Compartment - All Sports Bag Gym Tote Soccer Futbol Basketball Football Volleyball
Perfect size for young players: Room for all their sports and school gear so they don't lose anything, yet not too bulky DIMENSIONS: 18" tall - 12" wide - 10" deep
Ready for Practice- A place for everything: Water bottles, cleats, socks, shin guards, jacket, snacks and a ball. Compare to competitors without water bottle holders.
Durable Construction: 420D Nylon with PVC Backing makes these bags tough enough for everyday use!
Ball Bag Fits Up To Size 5 soccer ball, full sized basketball and volleyball - Ventilated Side Pockets: Keep socks, shoes, cleats and shin guards aired out.
Padded Back with Adjustable Shoulder strap for comfort! Many bags don't have this, you'll be glad yours does.
Last update on 2023-05-21 / Affiliate links / Images from Amazon Product Advertising API
This backpack is on our list of best soccer backpack because of the fact that the qualified age range starts at six, and keeps going up. Its got an excellent mesh ball compartment that fits up to a size five ball so you can easily see that you have your ball. Pair that with a variety of colors, durable construction and the padded back and shoulder straps and you can't go wrong.
There's also plenty of space and pockets, great for all of your soccer playing needs, such as shin guards, snacks, and socks and shoes. This backpack is great for everyday wear and tear, perfect for younger players, and can even accommodate for cleats! With one of the best soccer backpacks like this, you'll have a hard time keeping off the field.
Things we like:
Easy to organize
Padded back and shoulder straps
Great ball pack
Things we dislike:
Inside is difficult to clean
Check Price and Reviews on Amazon
---
4. The Erant Soccer Bag
ERANT Soccer Bag for Girls – Soccer Backpack for Boys – Soccer Bags for Boys – Girls Soccer Bags with Ball Holder – Soccer Backpack for Girls – Kids Soccer Bag Kids - Soccer Backpacks with Ball Holder
✅FITS ALL GEAR: Our boys and girls soccer backpack with ball compartment are designed with a large ball compartment (up to size 5), cleat compartment (up to size 12) and water-resistant personal item compartment.
✅DURABLE: This youth soccer bag is made of high-density polyester fabric for lasting durability. These soccer bags with ball holder for girls and boys have been improved with reinforced zippers to prevent strap and rip issues.
✅MULTIPURPOSE: Our soccer bag backpack is not just a soccer bag for girls and boys. It can also be a basketball bag, volleyball bag, and sports backpack. It is a great basketball backpack and volleyball backpack.
✅VERSATILE FOR TRAVELING: Our soccer bag for girls is perfect for storing all your soccer gear to and from practice & tournaments. Our soccer bag with ball holder is an easy way to stay organized!
✅OUR MONEY-BACK GUARANTEE: 100% Money-Back Satisfaction Guarantee, No Questions Asked! We will offer a 30-day money back guarantee on any boys and girls soccer bag you have purchased from ERANT directly.
Last update on 2023-05-21 / Affiliate links / Images from Amazon Product Advertising API
This soccer bag is a great bag to have if you're going to be traveling a lot to and from games. It's durable and sturdy and has both a cleat and soccer ball holding section. This backpack fits all the possible gear you could want, even with those with larger feet. It also has reinforced straps and zippers ensuring that the bag won't rip or tear on you while you're moving to or from a game. The best part about this bag is its moneyback guarantee which may come in handy because a few people have complained that zippers or handles have broken. If this happens you can take advantage of that guarantee and get your money back, so what is there to lose?
Things we like:
Durable
Great for travel
Holds large-sized cleats
Money-back guarantee
Things we dislike:
Check Price and Reviews on Amazon
---
5. Diadora Soccer Bag
Diadora Squadra II Backpack
Large main compartment with a media pocket and earphone pass-through slot.
Front vented ball pocket, side vented shoe tunnel, and side accessory pocket.
Slanted side zipper for easy access to side pocket and shoe tunnel
Padded anatomically shaped shoulder straps for adults, boys and girls
Great for all sports like soccer, volleyball, basketball and more.
Last update on 2023-05-21 / Affiliate links / Images from Amazon Product Advertising API
This soccer bag has a lot of space, from a compartment for headphones to pass through the bag to a vented ball pocket and more. The slanted zipper on this backpack provides easy access to the bag which is very heavily padded to ensure maximum comfort. It has a drink holder on one side and an accessory holder on the other, so you can put your phone away while you're kicking the ball around.
You can get this bag in so many different colors it's almost hard to choose, and there are no direct issues with this bag at all. Not a single person has complained of breakage or damage over time, landing this bag on our best soccer backpack list.
Things we like:
Padded
Headphones slot
Vented ball hole
Things we dislike:
Check Price and Reviews on Amazon
---
6. This Awesome Youth Soccer Bag
Soccer Bags With Ball Holder - Use As Soccer Backpack, Basketball Backpack, Volleyball Bag or Football Bag | Separate Cleats & Ball Pockets | Designed For Boys & Girls Ages 4-16 | Keeps It Organized
✅ LARGE VENTED BALL COMPARTMENT - Front pocket with plenty of room for a soccer ball, basketball, volleyball or football equipment.
✅ BIG MESH POCKETS PREVENTS STINKY SOCCER CLEATS - Vented mesh pockets provides easy & secure access to the soccer cleats or water bottles.
✅ BIG MAIN COMPARTMENT WITH EASY ACCESS TO THE GEAR - Holds all your soccer equipment, basketball gear, volleyball gear with plenty of room to spare. Several smaller and secure pockets inside the backpack.
✅ RUGGED, COMFORTABLE AND ERGONOMIC FOR THE BACK - Made of 600D Polyester that is considered the perfect partner for sport bags.
✅ LIFETIME WARRANTY AVAILABLE - We believe in the quality of our sport bags, and we offer an optional no questions asked lifetime warranty on all our products. Buy today worry-less and rest assured that you will not be disappointed.
Last update on 2023-05-21 / Affiliate links / Images from Amazon Product Advertising API
A backpack like this doesn't come around every day this is best for your players between 4 and 16 years of age. It's the perfect choice for those looking for a sturdy soccer bag that can last. The main compartment though is where this bag really shines, it has a massive compartment with plenty of room for snacks, shin guards, extra socks, a change of clothes, and so much more.
It's rugged and even ergonomic specifically designed so it won't hurt your back. On top of that there's also a lifetime warranty so whenever you have a problem with this bag if ever, you can always reach out to the manufacturer. The only complaint anyone has ever had is that the straps broke, but the buyer was able to get a replacement because of that warranty.
Things we like:
The lifetime warranty
Padding
All that extra space
Things we dislike:
Occasional strap breakage
Check Price and Reviews on Amazon
---
7. Mootygy's Soccer Bag
Sale
Youth Soccer Bags - Sports Backpacks for Soccer, Basketball, Football with Ball Holder for Boys Girls - Black
National Soccer Equipment Bags - The front ball compartment is perfect for a size 5, 4 or 3 soccer ball, also for volleyball, basketball, football, Even shoes, towels, socks and helmet for cycling.
Sports Gym Bag For Youth / Girls / Boys - Slanted side zipper for easy access to side pocket and shoe tunnel.
Ball Holder Backpack - Ventilated compartments Keep your gear deodorized and bacteria free. [External pockets] (2x) water bottle and snacks mesh pockets, (1x) top zipper pocket. [Internal Pockets] (1x) easy access pockets for phone, money etc. Ballroom fixed adjustment belt to help better fix, can also carry towels and other items.
School Sports Net Bag & Gear - Comfortable to carry, adjustable curved shoulder straps provide cushion and comfort for a better, more ergonomic fit. Added cushioning against the back provides extra support and better weight distribution.
100% Satisfaction Guarantee - If your are not satisfied with your new Soccer Bag for any reason, just contact us for full refund or replacement.
Last update on 2023-05-21 / Affiliate links / Images from Amazon Product Advertising API
This bag is another great contender on our best soccer backpack list. The ball compartment in this one doesn't have an external vent but it is still vented for maximum odor control. With external pockets galore this backpack is a great bag to carry all of your soccer gear. You can hold everything from your cleats to a change of clothes, and more in this bag.
This bag also comes with a satisfaction guarantee ensuring that no matter what you will always be able to replace this bag if anything does happen to it. The only downside is that the ball slot is just large enough to hold a size 5 ball, but there isn't much space in the slot afterward. Otherwise, this is an excellent backpack that can hold up to just about anyone's rough play or professional training.
Things we like:
The satisfaction guarantee
abundant pockets
ventilation without being see-through
Things we dislike:
minimal wiggle room in the ball compartment
Check Price and Reviews on Amazon
---
What You Need to Know About Soccer Backpacks
Soccer backpacks are incredibly versatile and there's a lot of differentiation in them. There are some very important things that each should include though. Firstly, you're going to need space. A soccer player has to bring a lot of things with them, cleats, their ball, a snack, a change of clothes, and so much more. You're not going to be able to bring all of this with you in a small soccer backpack.
There is No One Size Fits All
Soccer backpacks come in different sizes as well depending on the age of the player and the ball size they're playing with. This is important to note so you don't accidentally get your sixteen-year-old soccer player a soccer backpack designed for a child. If you're on the move and constantly busy the worst thing you can do is get a bag that overall will be useless. Getting the best soccer backpack means getting the best soccer backpack for your kids, who need it.
Ball Slots
There are lots of different slots on a soccer backpack, but the most important slot has got to be the ball slot. Lots of children will be expected to bring their own ball to practice. A ball slot makes life so much easier and more bearable especially if you clean and prep everything in their soccer backpack before they leave. They'll just have to grab the bag and go, and they'll have their ball and everything else they need.
Packing Smart
Regardless of what kind of bag you get, it will only be as effective as how you pack it. Soccer is a messy sport, and the inside of the bag can get muddy and difficult to clean regardless of which bag you choose. Always think ahead when you're packing a soccer backpack. For example, sending your child with a small bag for their dirty cleats would be a good idea. It would keep the inside of the backpack clean, without being a detriment to their ability to play.
Professional and Older Players
Professional soccer players and older players won't have someone to pack their bags for them, but they will know what bags are actually the best soccer backpacks, and they will likely point out backpacks on this list. Soccer backpacks are vastly different and range from children's bags to large professional ones. Make sure you get the right bag, for the right age. If they're an older player, show them this list and let them choose for themselves. That way they like their soccer backpack and you still know it's one of the best available on the market.
Wear and Tear
Nothing lasts forever, and though these are the best soccer backpacks available, after years of use they're likely to show some wear. Many of these bags have lifetime warranties or moneyback guarantees so we encourage you to use those options if the bag you choose has them. These bags are sturdy, stable, and are difficult to break down, so you should get years of use out of them, but don't expect them to last forever.
FAQ
Q: What should you carry in your soccer bag?
A: Water, your soccer ball, cleats, shin guards, bug spray, a change of clothes or shoes, extra socks and a snack for after the game.
Q: What does every soccer mom need?
A:  Every soccer mom should have chairs, a blanket with a waterproof side, water, sports drinks, soccer balls, and a soccer ball pump, and a towel.
Q: What should you eat before a soccer game?
A: Lots of carbohydrates like whole grains, rice, cereal, pasta.
Q: What skills do you learn from soccer?
A: Teamwork, Hard Work, goal setting, perseverance, and much more
Q: What exercises can soccer players do to get better?
A: Jump rope, goblet squats, change of direction ball dribbling, front plank row, lateral single-leg bounds, side box jumps, you can also use a soccer rebounder, along with so many more.
Q: What should I develop to be a great soccer player?
A: Your balancing and coordination skills are going to be key to becoming a better soccer player.
Q: What are soccer techniques?
A: It directly refers to how different players kick the ball differently, for example kicking with the laces of your cleats to power kick it in one direction, or curling your foot around the ball to move it in another.
Final Thoughts
Soccer is historically a very diverse and competitive game, but you may not be looking to get the best soccer backpack just because of this history. The backpacks on this list are all wonderful for varying levels of play from intense players, to children on the field. Made of durable material, a place for your ball and cleats, and with plenty of other space for other things like extra socks and snacks.
Each of these backpacks has pros and cons, but regardless of that, they are all excellent choices for a soccer backpack. Regardless of which one of these wonderful selections you may pick, you know that you're getting the best possible selection regardless of if you're looking to be a professional, or just looking to kick a ball around with your friends.