We understand why you might scratch your head when you first hear the name. Are you really hitting pickles around a court? What do pickles have to do with balls? Why is it even a game? So, why is it called pickleball, anyway?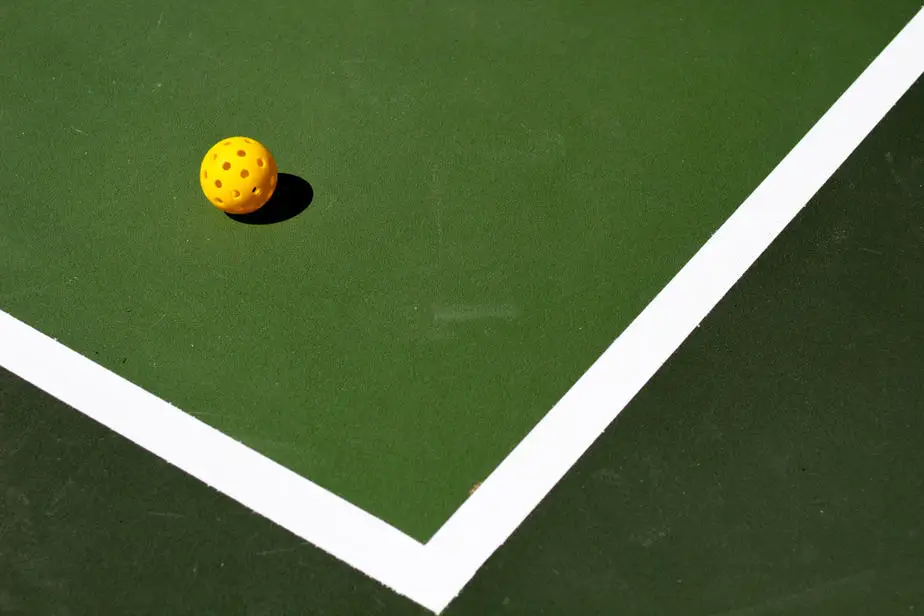 Let's do a deep dive and get the facts about this popular sport and its silly name.
History of Pickleball
We'll start with the origin of the game before we discuss why is it called pickleball. Congressman Joel Pritchard from Washington and his friend, Bill Bell invented it in 1965. The resourceful men devised a way to entertain their waiting families with the things that were handy: 
Badminton net

Ping-pong paddles
Sounds like the beginning of a joke, doesn't it?
Badminton provided the initial rules of the game with a shorter net than the regular one. Asphalt provided the bounce. Pritchard and Bell then introduced their mutual friend, Barney McCallum to their invention.
No one looked back from that day.
Pickleball took on a life of its own. By 1972, it was an official sport that captured media attention and enthusiasts from all over the country. The USA Pickleball Association (USAPA) formed in 1984, making spreading the word its mission. It has its own board of directors and a team of volunteers anxious to share their love of the sport.
And the rest, as they say, is history.
JP WinLook Pickleball Paddle Set - 2 Premium USAPA Approved Graphite Rackets Honeycomb Composite Core; Portable Racquet Bag and 3 Balls, Ultra Cushion Grip, Gift Kit with Accessories, Indoor Outdoor
Superior high-quality lightweight (7.8 oz) honeycomb polymer core with graphite carbon fiber face. Makes paddles feel great. Eliminates denting. Exceptionally durable material gives racket ideal strength and longevity. Designed in USA.
Optimal balanced control and power hitting. Wide body creates large sweet spot for better impact. Resilient surface offers great ball spin. Shots are more accurate. Slim edge guard for protection of paddle head on ground hits. Good looking black / purple paddle face design. Enjoy your recreational or professional indoor and outdoor play.
Precisely drilled holes make the balls deliver a perfect flight path. Balls can be used for the most aggressive pro play and minimize wind interference. Perfect bounce and remarkable durability make these pickle balls the best top choice for any level to champion game. Popular high visibility orange / yellow color.
Super soft non-slippery comfortable handle with elite wraps (overgrip). Blue protective carrying duffel / storage cover case with nice gift bag design. Racquets are for all age (adults, elders, teens, young kids, and whole family), female & male, different skill levels including beginner / starters, intermediate, to all-round advanced players. Two paddles and three balls bundle pack provides immediate game court needs.
Mens and ladies, parents and grandparents, grab this unique sport bundle equipment gear present for your children, grandchildren, and friends. Great for a birthday party, Thanksgiving, Christmas, New Year's Eve, any holiday, reunions, housewarming, or graduation. Get this amazing smart expert deal for you on Amazon now (bat raquet sale 4)!
Last update on 2020-12-21 / Affiliate links / Images from Amazon Product Advertising API
---
Why is it Called Pickleball, Anyway?
Pickleball has stayed true to its origins as a racquet sport. It has, however, shed the Wiffleball and ping-pong paddles for official gear that players use today. There is nothing even remotely resembling a pickle in the game, barring its name, of course.
Word around the campfire has it that Joan Pritchard, the congressman's wife, gave the sport its moniker after the others invented it. After all, it didn't have a name at first.
One popular urban legend says that the family named it after their dog who would fetch the Wiffle balls that were in play. It's probably the story you'll see most often. Unfortunately, it's not true, at least, not entirely.
Joel and Joan Pritchard and their son, Frank, have all debunked the story. Those in the know aren't really sure how it took on that name. It remains lost in the family lore.
Last update on 2020-12-11 / Affiliate links / Images from Amazon Product Advertising API
---
Of Crew and Pickle
A likely explanation involves Joan Pritchard and her love of rowing. Pickle, in terms of crew, means the last team to win a regatta. Presumably, it has the least skilled oarsmen, a mish-mash of individuals not chosen by the other ones.
Pritchard equated this word to the jumble of gameplay elements of pickleball. The story has some merits. There are three sports represented in the original version with another set of rules. It has its own jargon. It has something of a mystery associated with it. That qualifies in our book.
As an experienced rower, Pritchard likely had an excellent handle on the lingo of the sport. The name makes sense when taken in this context. It also fits when you consider another idiom using this word, in a pickle. That's where you'd be if you've sunk your boat.
Another variation speaks of Pritchard thinking that the ping-pong paddles the players used resembled the ones that the crew members would use on a pickle boat.
Word around the internet states that the fishermen on the said pickle boat would catch herring and pickle them on the way to the shore. However, that doesn't quite seem right. For one, it takes a few days to make it. More likely is that pickled herring was made on land put in barrels to transport it someplace else.
Nevertheless, it makes for a good story too.
Pickleball Paddle, USAPA Approved Graphite Pickleball Racket with Carbon Fiber Face, Polypropylene Honeycomb Core, Ultra Cushion, 4.5-Inch Grip, Lightweight 8 Ounce with Cover, Ideal for Beginners
USAPA Approved and Professional Paddle: Our pickleball paddle has passed the USAP test and is qualified for sanctioned tournament play; We are confident to announce that our pickleball paddle is the best choice on Amazon; This is one of the most popular USAPA pro pickleball paddles in the market for over two decades; Our pickleball paddle can withstand any challenges on the court; This will be the first and best pickleball paddle for beginners
Advanced Materials and Incredible Value: Our pickleball paddle comes with a graphite carbon fiber face and honeycomb composite polymer core which provide nice bounce, reduce ball deflection, and enhance the strength of your strike; With the long service life, the pickleball paddle racquet is vastly superior in texture, balance, and construction, great for beginner and athlete to use
Premium Grip and Perfect Handle Size: The USAPA pro pickleball racquet is comfortable to handle and works well while playing; Pickleball racquet is perforated, sweat-absorbent, and cushioned, providing a better paddle grip for longtime play without fatigue; Wide-body pickleball racquets shape with 4.5-inch grip length and 4.25-inch grip circumference; Paddle dimensions: 15.5 inches (L) x 8.3 inches (W) x 1.5 inches (H), lightweight pickleball racquet 8 ounces
The Edge Guard for Protection: Edge protection is provided for ground hits; Low-profile edge guard protects the edges of pickleball paddle, yet slim enough to reduce mishits; This pickleball paddles also feature a corner-shield and interlocking neck-guard, greatly enhancing strength and durability; The pickleball paddle is noticeably lighter than any wooden paddle; The USAPA pro graphite pickleball paddle strikes the perfect balance between great gameplay, control, and power
Comes with a Protective Cover: Protect the pickleball paddle with the zippered neoprene cover when toting around and when not in play; Every USAPA pro graphite pickleball paddle is designed to be an awesome pickleball paddle for either a beginner or a professional player; All models of our pickleball paddles have passed the strict USAPA test. We dedicate to providing our customers with quality products and services
Last update on 2020-12-21 / Affiliate links / Images from Amazon Product Advertising API
---
Is There a Connection Between the Name and the Family Pet?
Barney McCallum, one of the game's original inventors, said that Pickles the dog was the inspiration for the name. He claimed the pet's antics during gameplay gave someone the idea.
They say that timing is everything. Which came first, the chicken or the egg? Or, as in this case, was it the name or the dog?
Family members confirm that Pickles the cocker spaniel joined the Pritchards well after the game's creation. The name, therefore, came before the dog. Pickleball, as it turns out, gave the family pet his name, instead.
Why the Name Fits
If you want to set any notions of logic aside, we think there are a lot of great reasons that the game has this name. You have to admit that it sounds funny. And that seems to define what it means.
Sure, there are clubs and leagues, which bring a serious edge to the game. However, its origins rest with finding a way to while away an afternoon. After all, doesn't it make you want to smile after just saying the name?
Pickleball has found followers in all 50 states. It has made a hit on the international scene with clubs in India and Canada too, with no signs of stopping, according to the Sports & Fitness Industry Association (SFIA) 2018 Pickleball Participant Report.
Sale
Amazin' Aces Pickleball Paddle Set | Pickleball Set Includes Two Graphite Pickleball Paddles + Four Balls + One Mesh Carry Bag | Premium Rackets Graphite Face & Polymer Honeycomb Core
Unbeatable value - Our Classic set includes two premium graphite pickleball paddles, four pickleballs, and one mesh bag for convenient carry and storage of your pickleballs. It's everything you need to hit the court! Get started playing the amazing sport of pickleball today with industry-leading gear.
Superior quality & performance - We've worked long & hard to develop a high performing pickleball paddle. Our Classic paddles combine cutting-edge technology, premium-grade materials, and expert craftsmanship. The end result is an amazingly lightweight racket that is excellent for everyone from beginner to pro. We've even gone the extra mile with our packaging; your order will arrive in a high-quality box that makes it easily giftable and also works well for storing the set.
Premium specifications for power and control - Our Classic paddle has great specs! It features a polymer core paired with a graphite face. This is the configuration most pros use & for good reason. The Classic paddle weighs between 7.8 oz and 8.2 oz. It expertly blends power with control. It has a large sweet-spot, optimized weight distribution, & classic shape. Our hand-stitched contour grip is second to none. Superior performance and materials make the Classic an absolute joy to play.
Join millions of happy pickleballers - Millions have discovered the sport of pickleball over the last few years. Pickleball is a social sport that appeals to everyone. Hit the court with our Classic pickleball paddle set, get some fun exercise, and make new friends.
1-year warranty - Choosing a pickleball set can be overwhelming! We back up our pickleball set with a 1-year warranty. Have an issue with one of our paddles? We want to get it fixed pronto! Contact us and we'll replace it with no questions asked.
Last update on 2020-12-21 / Affiliate links / Images from Amazon Product Advertising API
---
Why the Story of the Dog Persists
Like in many urban legends, sometimes, the more farfetched a story, the stronger it takes hold. To be fair, the inventors of the game went with it, including the Pritchards. It offers just that right bit of craziness to match its strange beginnings. 
Even the USAPA embraced it and gave it a new life to another generation of followers. The organization has since acknowledged the varying accounts, leaving the door open for any variation to take center stage.
We have to admit liking this version better too.
Final Thoughts
Whatever story is true about its whimsical name, pickleball continues to attract followers with over 3.3 million participants in the game. And while you may consider it a casual backyard game, think again. Over 60 percent of enthusiasts over age 55 are core players. Thanks to the efforts of the USAPA and its members, pickleball is here to stay.