In this article, we'll be taking a look at the best Pro Wiffle Ball bat on the market today. Purists and old-school Wiffle Ball players from the '80s and '90s are probably shifting uncomfortably in their seats right now. Back then, there was just one wiffle bat; a yellow, light, plastic bat – but it goes without saying that times have changed.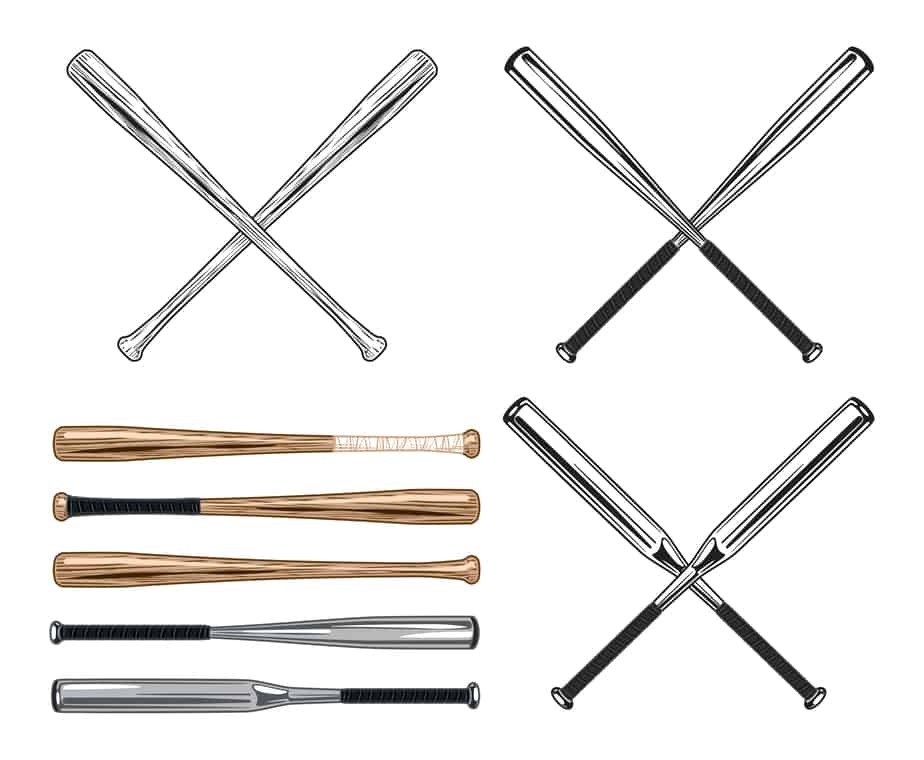 Some of the newer bats are better than ever, and this is great news for Wiffle Ball players who now have more choices than they had ten years ago. Let's look at some of the most popular bats (and Batting Tees, if you're interested) we've gathered in our list.
In a Hurry? Here's Our Top Picks…
Our Top 4 Wiffle Ball Bats Available
Following is a list of some of our favorite Waffle Ball bats available today. We've avoided extremely pricy products, and bats that don't seem to last very long, to save you time and money. The bats reviewed below provide the best tradeoff between quality and durability – perfect for any casual Wiffle Ball player.
1. 32″ Wiffle Ball Bat: The original Bat
No products found.
Let's start with a classic. Just looking at this bat brings memories of summers playing Wiffle Ball in the yard. This bat is manufactured by the company that created the game (how cool is that?). In fact, if you played this game back in the '90s, the odds are that you were using this exact model. It's 32 inches long, which makes it the perfect size for both kids and adults.
Being the first Wiffle Ball bat, it's also served as an inspiration for many knock-offs and alternative brands – but there's nothing quite like the original (there never is). What really surprised us about this bat is its durability. The plastic used is exceptionally long-lasting and reliable. This is really impressive considering that a single bat is incredibly cost-effective and affordable.
As long as you use this bat as intended it's surely going to last you for years.
The surface has a smooth, solid feel to it with some slight texture near the handles for better grip. You'd need to purchase a ball separately, but that's not too big of an issue.
What We Like:
Using a classic Wiffle Ball bat brings a feeling of nostalgia and better times
Extremely affordable. You'll have hours of fun for just a couple of dollars
Safe for kids of all ages
What We Don't Like:
Not much has changed over the years. While this could be viewed as a good thing, it also means that this bat may have fallen behind the new bats offering better features
The bat is an individual product, and you'd have to purchase a ball separately
Overall, this is a truly reliable bat that makes it easy to play the game without investing too much into it – and it's stood the test of time (which is an added bonus). The bat is hollow from inside which makes it easier for kids to use and safe for them to play with, as well.
Check Price and Reviews on Amazon
---
2. Wiffle Ball Bat With 6 Wiffle balls
No products found.
This product is a complete Wiffle Ball kit – perfect for times when you're looking for more than just another Wiffle Ball bat. It can also double as a gift set. A single set contains two 32-inch bats and six perforated wiffle balls.
This set is the same kind your grandparents may have played with around 50 years ago. The bat is even made with the same plastic (similar to the one in the above product). Only this product is a complete kit that should contain everything you need to play Wiffle Ball. The great thing about the wiffle balls is that they're pretty light, which means they can be used to play indoors and won't break any windows – hopefully.
For a set that provides six wiffle balls and amazing quality, you'd expect to be spending a pretty penny. But that's definitely not the case here. The price is affordable and each ball is the same quality as the ones you'd get when buying them individually. In fact, most buyers went entire summers just using a single ball.
What We Like:
It's a complete set of everything you'll need to get started playing wiffle ball
Excellent quality for the money
The balls and bats are pretty durable
What We Don't Like:
We noticed that purchasing two bats and six wiffle balls individually would likely save you more money than getting this set. Although, the choice is completely yours concerning this fact
Just like the first bat, this set has no unnecessary features and is perfect to get started playing wiffle ball. It contains just 2 hollow bats and 6 hollows balls to play the game – and nothing you don't need.
Check Price and Reviews on Amazon
---
3. Easton Pro Stix Training Set
Easton | PRO STIX PLASTIC BAT AND BALL SET | All Ages
HIGH QUALITY PLASTIC BAT that is modeled after a professional wood series bat
SEAMED PLASTIC TRAINING BALL to mimic a real leather baseball
AWESOME FOR THE BACKYARD OR FIELD, it's ideal for a game of whiffle ball and can even be incorporated into training drills or practice
IMPROVES BATTERS HAND SPEED, hand-eye coordination and contact
ULTRA-LIGHTWEIGHT BAT allows for more swings and less fatigue and improves rotation speed
Last update on 2023-09-19 / Affiliate links / Images from Amazon Product Advertising API
Easton is one of the big names in backyard baseball. That's why we weren't surprised to find that they also made wiffle ball bats. Just like other Easton products, this bat is an exceptional product – it's an ultra-lightweight bat and super durable. The design was modeled after a professional wood bat, and they've done an excellent job making it look like the real thing. In fact, most people won't be able to spot a difference between this and a traditional baseball bat.
As we said, it's incredibly light, and some customers who reviewed the product say it weighs under 200gm making it perfect for both kids and adults. This bat packs a punch, the plastic used here is incredibly durable, and you could even use it with a tennis ball (although we don't recommend it, just in case). We found that the bat has a little more pop than the traditional yellow bat manufactured by Wiffle.
Interesting Observations
There were, however, some odd choices made by Easton that we couldn't help but notice. Firstly, this bat is 33 inches long (unlike most bats that are 32 inches). It shouldn't be a deal-breaker and probably won't affect your game in any way, but it's one of those quirks you'll notice – especially if you've been playing Wiffle Ball for a long time.
Another odd choice was the oval-shaped handle. While most baseball bats use a round handle, the grip on the pro stix is flattened and more oval-like. This is one of those things that you probably won't even notice unless you were specifically looking for differences. In fact, out of 134 buyers, only a handful of them actually noticed this oddity.
The bat also comes with a seamed, plastic training ball. Which means you don't have to go out of your way to purchase your own ball. However, many users have complained about the quality of the ball and have recommended getting your own wiffle ball. Some buyers have even said that the ball won't last you more than a single inning.
What We Like:
Made from a tough plastic which is much better than the quality used in traditional whiffle ball bats
It looks terrific, almost like a premium wooden bat used in baseball
Made from an extremely durable plastic
What We Don't Like:
The bat has a slightly rough seam
The quality of the ball you get with this bat is really underwhelming. You're better off getting your own ball separately
Check Price and Reviews on Amazon
---
4. Louisville Slugger Replica Bat
Sale
Louisville Slugger Replica Bat and Ball Combo
Exact replica of the genuine C271 34" big league baseball bat but made of plastic
Authentic wood grain look
Plastic baseball bat and ball are Made in USA
Plastic ball included for safe play
Great fun for backyard games
Last update on 2023-09-19 / Affiliate links / Images from Amazon Product Advertising API
The Louisville Slugger is one of the few bats that can hold its own against the Easton Pro Stix. They're both made from high-quality, wood-grained plastic and are designed to look like the real thing. Overall, both of these bats are much better than anything else the competition has to offer.
However, there are still some differences between the two. Easton comes with a bigger barrel, making it easier to hit shots but this also means it doesn't hit as hard. The bigger barrel size means a larger portion of the bat is hollow, and when the ball does make contact with the bat it doesn't go as far as the Louisville Slugger would make it go.
You also get a white, plastic ball with this bat. However, we recommend that you buy a high-quality ball from Amazon. The ball that comes with this bat is very cheap and doesn't have a good feel to it.
Design
In terms of design, this bat is created as an exact replica of the  C271 Louisville Slugger used in Major League Baseball, with the only difference being that it's made from plastic. Because of this, it looks very different from the yellow plastic Wiffle Ball bats you're used to seeing. For one, it's black in color. It's also much longer, measuring at 34 inches long with a bigger barrel, too.
This extra length makes it difficult for younger kids to use the bat, and if you're looking for something a young child can easily use then you should look for a shorter bat.
To make it look realistic, the manufacturers have given the exterior plastic an authentic wood-grained feel. We like this added touch, and it provides the bat with a very premium feel. In fact, most players won't be able to tell that it's a plastic bat just by looking at it.
Interesting Observations
The seller says that the bat is made and manufactured in the US, however, on the product page, it mentions that the place of origin is China. After some research, we found that this bat is actually manufactured in a warehouse in China and then shipped to The States.
But either way, this is still a fantastic bat.
What We Like:
One of the best wiffle bats you can buy
Extremely high-quality plastic
Looks like the real Louisville slugger used in MLB
What We Don't Like:
The plastic ball is not very good in terms of quality
Although the bat is pretty light, it's a bit too long for a young child
Check Price and Reviews on Amazon
---
Things You Should Consider Before Buying a Wiffle Ball Bat
Here are some things you should look for when picking your next wiffle ball bat. We'll be covering the essentials below so that you can find the best pro wiffle ball bat for your needs and personal preferences.
Durability
Most wiffle ball bats are hollow and made from inferior plastic. That's part of the reason they're so cheap but when you are picking your next bat don't let price be your driving factor. Look for a bat that is made from durable materials and can handle some abuse. Customer reviews on Amazon are a great way to filter out bats made from low-quality plastic. In fact, getting a high-quality bat like the ones we've mentioned are going to save you money in the long run.
Set or No Set
Sometimes it might be better to get a complete bat set with everything you need to play the game rather than purchasing the items individually. On the other hand, when you pick the wiffleball bat or ball separately it lets you choose your preferred product tailored to your preferences and needs. This kind of freedom is not available with a bat and ball set. In the end, it's up to you to decide if you favor the flexibility or the ease of a one-time purchase.
Brand
The brand of the products plays a huge role when picking a wiffle ball bat. Popular brands symbolize trust and lasting quality. If you're looking to support the creators of the game and the individuals who have been manufacturing wiffle balls and bats for the longest, you should pick the WIFFLE CORPORATION. On the other hand, you might prefer an Easton bat, if you're familiar with the quality of their other available products.
Frequently Asked Questions
What are Wiffle Ball Bats Made From?
The first Wiffle Ball bats were made from wood, like the ones used in baseball bats – but with one difference: they were very thin, like a broomstick. This made the bats light enough for kids to swing.
Then in 1959, the first plastic wiffle ball bat was made. This is the one most will remember. It was lightweight and yellow with a large Wiffle brand engraving on it.
You can read about the entire history of Wiffle Ball at Wowwiffleball.com. They cover how the game was invented and also provide a detailed timeline of Wiffle Ball through the years.
How do I Cork a Wiffle Ball Bat?
In baseball, a corked bat has been specially modified by filling it with cork or some other material to make it feel lighter. Major League Baseball has banned corked bats and players like Sammy Sosa have been rejected for corking their bats.
So why would you want to do this with your Wiffle Ball bat? The straight answer is that it makes your ball fly further. The easiest way to cork your bat is to cut open the top with a hacksaw and stuff the bat with old newspapers. Once you have your desired weight, you can tape the top back together, and there you have it –  a corked bat.
Disclaimer: Corked bats are banned in most professional Wiffle Ball leagues. It's okay if you're going to be using it at home, but we recommend that you don't use them for any professional tournaments.
How do I Tape a Wiffle Ball Bat?
Taping your bat is another great way to add some weight to it. This helps provide more impact when you hit the ball and is usually done in official Wiffle Ball leagues. One of our favorite ways to tape your bat is by wrapping it in wood. This helps it swing faster and harder, adding quite a bit of extra weight to the bat.
Another great option, which is perfect for those who want to avoid adding too much weight to their bat, is to wrap it in black electrical tape. It won't add any extra weight to your bat and is simple to do: Wrap the tape around the sweet spot of the bat (which should about 8 inches from the top) with about 32 inches of electrical tape. This adds just the tiniest amount of extra weight to the end of the bat and makes it feel a lot more solid without adding any additional thickness to the bat.
If you're going to be using this bat in your local league, then we recommend checking in with the authorities to see if your bat is okay for use.
To Conclude
So there you have it, some of the best pro Wiffle Ball bat you can purchase on the market today. While all the products mentioned above are great, we personally love the Easton pro stix. It might cost a bit more, but its quality speaks for itself and this is going to be a purchase you'll be happy with for many years in the future. Hopefully, this article told you all you needed to know about Wiffle Ball bats! Happy playing!