If you're looking for a good time out in the yard, you can't go wrong with a game of Wiffle Ball. In this article, we're going to be taking a look at the best Wiffle Ball pitching machines on the market today. These pitching machines are great whether you're wanting to play in the yard, help your kid love batting practice, or improve your swing so that everyone in your next game is left wondering where that came from.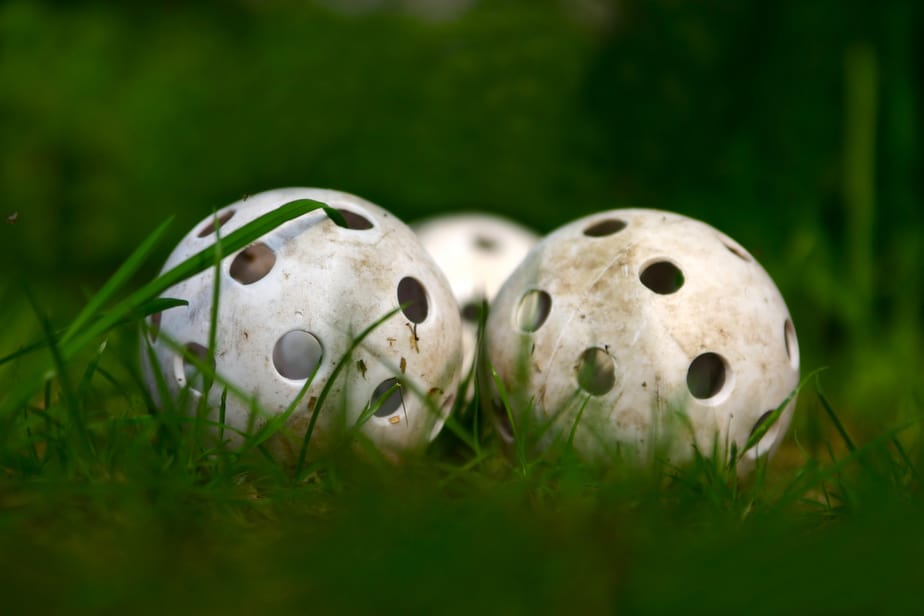 We've already covered the best Wiffle Ball bats and like in that post, we've excluded a lot of options that are either very high in price or very low in quality. The machines we are going to look at have different perks: some can stock more balls before being refilled, others can shoot at blink-and-you-miss-it speeds, and some can even mimic pitches like the slider, curveball, or rising fastball.
We've specified which machines do what and broken down our favorite (and least favorite) attributes of each machine to make it easy for you to pick the best one for your preferences. Let's get started with our best overall pick:
In a Hurry? Here's Our Top Picks…
Our Favorite Wiffle Ball Pitching Machine
Personal Pitcher Pro Pitching Machine
Last update on 2023-11-22 / Affiliate links / Images from Amazon Product Advertising API
This Wiffle Ball pitching machine combines high quality with a price point that competitors have trouble matching. This is a great machine for those looking to play a round out in the yard but is probably a better match for those looking to improve their baseball swing.
The Personal Pitcher Pro has a lot of customization options: it can throw fastballs, curveballs that break right or left and give a soft toss. Ball speed can be adjusted to the point where you can simulate anywhere from a 95 mph fastball (enough to make a roadrunner feel a little winded) to as low as a 15 mph fastball (enough to make us feel winded).
This pitching machine comes with 48 balls and can hold up to 60, which is good news – unless you enjoy spending hours picking up the same 4 balls you just hit. It's portable, has a rechargeable battery, and weighs less than 5 lbs.
What We Like:
Good combination of quality and price
Throws different types of pitches
Adjustable speeds
Portable
Holds a lot of balls before needing to be refilled
Comes with 48 balls
What We Don't Like:
Only uses the small Wiffle Balls, so may be better suited to training hitters than playing Wiffle Ball in the yard
Overall, this pitching machine has a lot of quality and won't cost you an arm and a leg. It's great for batting practice, perfecting a swing, or learning to hit a nasty curveball, but there are probably better options for someone simply looking to play Wiffle Ball out in the yard.
Check Price and Reviews on Amazon
---
Franklin Sports MLB Pitching Machine
Sale
Franklin Sports MLB Kids Electronic Baseball Pitching Machine - Automatic Youth Pitching Machine with (6) Plastic Baseballs Included -Youth Baseball Pitcher for Kids Ages 3+
7 SECOND PITCHES: This electronic pitching machine for kids is a great way to encourage them to practice batting skills; The ball pitches every 7 seconds for improved accuracy and precision on the field; Assembled height 7.75 x 9.5 x 9.875 inches
FLASHING LIGHT INDICATOR: A flashing red indicator light shows when the ball pitches, making it easy to prepare in your baseball stance; You get all the fun of a batting cage right in the comfort of your own backyard
ANGLE ADJUSTMENTS: The angle of your pitch is adjustable, making it a perfect training tool for developing young athletes; Perfect for practicing multiple batting angles and pitch styles!
SIX BALLS INCLUDED: This batting machine includes six white aero strike baseballs; You should not use regulation baseballs or tee balls with this baseball machine – only use the balls included; The ball shoot can hold up to 9 balls
IMPROVE BATTING PERFORMANCE: Your child should ideally use a plastic baseball bat with this pitching machine; There's no better kids' baseball pitching machine to help grow and improve your batting skills!
Last update on 2023-11-22 / Affiliate links / Images from Amazon Product Advertising API
The Franklin Sports pitching machine was designed to train young players to hit better and to be a great tool for outdoor Wiffle Ball games. Its height is adjustable, so it can be used to train little ones (and work for them as they grow), or pitch right to your sweet spot during a game with the neighbors.
This pitching machine pitches a ball every 7-10 seconds, but can be turned on and off by hand. It's battery-operated, portable, and comes with 6 balls. Although, it can hold up to 9 balls in total.
This pitching machine is a great budget buy, good for kids and will work for outdoor games, but it may not be the best option for a player who is at an intermediate level or higher. There are no customization options for pitches, meaning that you'll get a pretty consistent fastball down the middle. This can be good or bad, depending on whether you want to be the next Babe Ruth or just want your nine-year-old to make the team.
Some buyers thought the 6 balls that come with the machine weren't worth much. You may be better off buying a few Jugs balls to go with this machine for faster, more consistent pitches and less wear and tear to the balls themselves.
What We Like:
Can be used to practice batting for lower-level baseball and softball players
Works great for outdoor Wiffle Ball
Good pick for those on a budget
Comes with 6 balls
Adjustable height
What We Don't Like:
Doesn't work well for players who are at an intermediate level or higher
No adjustable speed options
No different pitches
Balls are not always pitched to the same location, but this can be a perk since it reflects real batting
When all is said and done, this is a great budget pitching machine. Though it's also great for improving hitting for kids and can work out in the yard, it may not be the best machine for higher-level hitters.
Check Price and Reviews on Amazon
---
Jugs Lite-Flite
JUGS Lite-Flite Machine for Baseball and Softball
Lightweight pitching machine for honing swings of up-and-coming hitters.
Throws 11 inch or 12 inch Lite-Flite softballs, Lite-Flite baseballs and the JUGS Bulldog polyballs
Simulates speeds up to 85 mph at 25 feet. Recommended Age- 8- Adult
Throws fastballs, left- and right-handed curveballs and sliders.
1/8 Horsepower, 1.3 amplifier motor. Weighs 35 lbs. 2-year warranty.
Last update on 2023-11-22 / Affiliate links / Images from Amazon Product Advertising API
The Jugs Lite-Flite is a great all-around option for those looking for any kind of Wiffle Ball pitching machine. It can be used for baseball or softball batting training or can be used to play out in the yard.
The Lite-Flite has a lot of customization options for how you want your pitches to come out. It can throw left or right-handed curveballs, sliders, and even a rising fastball. The fastball can mimic 85 mph if the Lite-Flite is close to the batter. The Lite-Flite also allows for a 360-degree range of motion so you can shoot out fly balls or grounders.
Even though this machine can use baseball or softball-sized Wiffle Balls, there's no storage capacity. Each ball has to be loaded by hand, so someone always has to be standing by this pitching machine for it to continue shooting out balls. This may not be a huge deal to some but could become inconvenient.
The Lite-Flite comes with a two-year warranty. A warranty is not really a necessary thing to look for when purchasing a wiffle ball pitching machine, but it's nice to see that the manufacturers support their work.
What We Like:
Can hold baseball or softball-sized Wiffle Balls
Can be used for in-the-yard play or for hitting training
Can be used to train players to catch since it's able to pop fly balls or shoot grounders
Versatile pitches: left and right-handed curveballs, sliders, and fastballs up to 85 mph
Comes with a two-year warranty
What We Don't Like:
One of the more expensive options
No storage capacity for balls
Overall, this pitching machine is best used for baseball or softball batting practice. It comes with a lot of features and only a few bugs but can go a long way in improving someone's hitting ability. If your goal is just for use in the neighborhood Wiffle Ball tournament, there may be better options (so you may want to stick around).
Check Price and Reviews on Amazon
---
Franklin Sports Pitching Machine
Franklin Sports MLB Kids Pitching Machine - POP ROCKET Kids Baseball Trainer - Includes 5 Plastic Baseballs & Baseball Bat, Multicolor Medium
GREAT FOR TEEBALL: The Pop Rocket helps kids perfect hand-eye coordination by teaching them to hit a moving baseball so they can make the jump from teeball to pitching
IMPROVE SKILLS: This youth pitching machine is perfect for young athletes learning to hit live pitching all by themselves without needing a pitcher
AUTOMATIC RELEASE: Pitches are automatically popped up every 7 seconds to give the batter a chance to reset between swings
INCLUDES: (5) plastic baseballs and (1) 24" collapsible plastic baseball bat are included so you have all the equipment you need to start playing
REQUIRES: (4) "AA" batteries (not included)
Last update on 2023-11-22 / Affiliate links / Images from Amazon Product Advertising API
The Franklin Sports pitching machine has a bit of a different take on Wiffle Ball pitching. Instead of shooting the balls out, this pitching machine shoots them up. Shooting the balls up instead of out makes for a less complex, more portable pitching machine (which means a lower price for you). However, this machine lacks a few features.
Since the balls are shot up, there's no way to put a real spin on them. You won't get any fastballs, curveballs, sliders, or knuckleballs out of this one. There's also the issue of height – since balls are shot up and height can't be adjusted, this machine isn't suited for taller players.
This pitching machine is probably best suited for kids but can be enjoyed either for batting practice or for playing out in the yard. It holds up to 5 balls at a time (balls included) and even comes with a collapsible bat. Some buyers mentioned that if hit too hard, the balls may start to crack, so you may want to consider buying the balls separately.
What We Like:
A great budget pitching machine
Doesn't require much space, since balls are shot up from the machine
Holds up to 5 balls
Includes 5 balls and a bat
Can be used for batting practice or yard game
What We Don't Like:
No options for pitches (no fastballs, curveballs, sliders, etc.)
Taller players may have trouble hitting
Doesn't work as well for adults as it does for children
Included balls may be low quality
This pitching machine would be great for helping children to be better batters or for a kid's Wiffle Ball match. For higher-level baseball training or an adult Wiffle Ball game, it may be best to consider other options.
Check Price and Reviews on Amazon
---
Jugs Small-Ball Pitching Machine
Jugs Small-Ball Pitching Machine
Small-ball pitching machine for improving depth perception and honing hitting skills. Portable and light-weight, weighs only 23 lbs.
Uses 5-inch, 5-ounce polyurethane foam ball that's half the size of normal baseball
Built of heavy-duty steel, with adjustable legs that simulate realistic delivery height
Throws accurate fastballs and overhand curves, with simulated speeds up to 75 mph
25-ball manual or automatic feeder; also shoots fly and ground balls.
Last update on 2023-11-22 / Affiliate links / Images from Amazon Product Advertising API
The Jugs Small-Ball pitching machine is another versatile pitching machine that can be used indoors and outdoors, and for both batting practice and Wiffle Ball games. It is portable and offers a changeable height, so it works for all age groups in any location.
The Jugs Small-Ball is able to throw a variety of pitches: you can count on getting consistent fastballs and sliders – but, unfortunately, no curveballs or left-handed pitches. It can hold up to 25 balls at once, so you won't have to stand by it and reload it all the time.
This machine is adjustable and can pop flies or throw grounders, but can't use the larger-sized Wiffle Balls most of us are familiar with. This isn't a huge problem, but it makes this machine more suited to up-and-coming batters or Wiffle Ball players who don't mind hitting smaller balls.
It also comes with a one-year warranty in case you're not happy with your purchase.
What We Like:
Portable and easy to move
Holds up to 25 balls
Offers some pitching options
Adjustable
1-year warranty
What We Don't Like:
Not many options for pitching variety
Can only use small Wiffle Balls
One of the more pricey options
This pitching machine isn't a bad choice for hitting training or Wiffle Ball games, and it's nice to see portability, storage space, and a couple pitching options wrapped up in one.
Check Price and Reviews on Amazon
---
Features to Look at Before You Buy
Wiffle Ball pitching machines come in a variety of types and pack all sorts of different features. There is a lot to distinguish between certain brands and products, so let's take a look at some of the things that are important so you can decide which pitching machine is best for you:
Pitch Variety
Wiffle Ball pitching machines offer different levels of options when it comes to pitching variety. As a general rule of thumb, you can expect the more pricey machines to have more options. All pitching machines can toss a ball straight, but higher-end machines will let you hit against curveballs, sliders, rising fastballs, and can throw those pitches left-handed.
This can be a big factor if your goal is to improve with a better tool for batting practice but may be less important if your goal is to have a pitching machine for outdoor play (unless you are very serious about your Wiffle Ball).
Speed
Pitching machines offer different levels of speed in their pitches, as well. Some machines do pitch faster than others, but there's an important distinction you should know before you buy: none of these machines pitch at the speeds they claim (85, 90, 95 mph). Instead, these machines simulate these speeds at certain distances.
This means that even if you go for a machine with less "simulated speed" advertised, you can still move it closer to the batter to simulate higher speeds. Even the least expensive and least geeked-out options can be moved at distances where they simulate high-speed pitches.
So don't be too worried if the advertised speed of your preferred option isn't quite as quick as you'd like it – a little elbow grease will get you the results you desire.
Storage Capacity
Different Wiffle Ball pitching machines have different storage capacity for balls, and no one has ever complained about picking up balls less. A smaller capacity will mean that someone is running ball retrieval more often.
Several of these pitching machines have timers on their storage capacity for hitters and every seven-to-ten seconds a ball will be shot out in the direction the machine is facing. In each machine with storage capacity, this can be turned on and off by hand, so there's no need to worry if your goal is to play a game with a group of friends.
Versatility
Many pitching machines allow themselves to be turned in different directions. This allows the machines to be used for fly balls, ground balls, or catching training in addition to batting practice.
While probably not a make-or-break feature, knowing that you can get a full baseball training set from one machine is nice to know. It's a factor worth considering if you're looking to make an all-star out of a player (or if you're just making sure you won't have to pay for your kid's college).
Ball Size
Some pitching machines allow for different types of ammunition, while others are a bit more restricted. Most of the machines on our list shoot smaller-than-a-baseball type ammo. This won't be detrimental to a game in the yard but will help train hand-eye coordination and (as common sense would have it) the machines that shoot the smaller ammo tend to have a larger storage capacity.
Some machines do shoot regular baseball or softball type balls. Again, this isn't a make-or-break feature but it's nice to know before you invest money into a pitching machine.
Portability
Different machines have different portability options. Most of your options here are pretty user-friendly. A lot of the machines we've looked at above come with their own tripod or stand. Some can be sat on any flat surface to work. Each machine weighs different amounts and none could be used as a makeshift Olympic barbell but be aware of the height and weight of your favorite pick before buying.
Frequently Asked Questions
Can I Make a Wiffle Ball Pitching Machine at Home?
There are people who have made Wiffle Ball pitching machines at home from common household items: a leaf blower, some PVC pipes, a few nuts and bolts, and a few bungee cords later they have a functional Wiffle Ball pitching machine.
These homemade machines do have some serious limitations though: they can't throw very fast (to get a comparable speed to the pitching machines you can purchase, the homemade ones need to be very, very close to the batter). Homemade pitching machines don't offer any neat pitches like the rising fastball, left or right-handed curveballs or sliders. Not to mention, unless you are very creative, homemade pitching machines don't offer any sort of storage capacity.
The strongest argument against a homemade pitching machine is pretty simple: if we assume that you already own a leaf blower and just buy some PVC pipes, nuts and bolts, and bungee cords, then you will almost have spent as much as if you just bought one of the less expensive pitching machines online – one with storage capacity, limited ability to vary pitches, and one that you didn't have to put together by hand.
Can These Machines Help Batters Get Better?
Yes! A Wiffle Ball pitching machine helps make batting practices better for a few reasons.
First, a batter won't need a pitcher to toss every ball. Since there's no pitcher getting wore out (or bored) toss after toss, the batter can practice longer. This is even more true if you have a determined up-and-coming hitter who loves practicing long after their pitcher is worn down.
Second, these machines offer quick and continuous feedback. Batters know immediately how their last swing was based on whether or not they hit the ball, but most pitching machines already have another ball down the pipe within another few seconds. This allows batters to make swing and contact or miss, reset, and swing again.
Third, many of these pitching machines can either throw difficult pitches (left-handed curveball, anyone?) or can pitch balls that are smaller than a regular baseball or softball. These difficult pitches and hard-to-hit balls improve hand-eye coordination, allow for great swing practice, and make better batters.
Best Wiffle Ball Pitching Machine Brands
Personal Pitcher
Personal Pitcher started when Chris Richard asked his dad for a pitching machine. The two of them made it together and Chris used it to practice batting all the way until he was in the major leagues. Personal Pitcher is now run by Chris.
JUGS Sports
JUGS built their first curveball pitching machine in 1971. Since then, the company has expanded from baseball to sports of all kinds: football, soccer, lacrosse, and more. They've expanded, but they've never given up on their mission to make baseball training easy and fun.
Franklin Sports
Franklin Sports started in 1946 when the two founders wanted to make an entire product line for athletes. Since then, Franklin has expanded into a huge portion of sports gear and sportswear: their name shows up in baseball, football, golf, and other sports.
Conclusion
When it comes down to it, the best Wiffle Ball pitching machine for you will be the one that has what you are looking for and is within your budget. We recommend first deciding on whether you are looking for something to help someone become a better baseball or softball batter, or whether you are just looking to play some games out in the yard.
If you're looking for a Wiffle Ball pitching machine to train batters (or just the best overall), we recommend the Personal Pitcher Pro. It isn't the least expensive option, but it has a great combination of a decent price, lots of features, and it's versatile enough that it can be used for playing Wiffle Ball out in the yard or doing some batting practice.
If the Personal Pitcher Pro is out of your price range, we recommend taking a look at the Franklin Sports MLB pitching machine. It has several features for a lower price point. This is also our top pick for those who are just looking to play a few games of Wiffle Ball out in the yard.
Whatever your goal, a Wiffle Ball pitching machine can help you to have inexpensive and fun batting practices or have a blast with family and friends.