Baseball and Softball are very popular games, played especially in the United States. Occasionally, those who are passionate about the game, take it up professionally as well. Either way, regardless of if you are a parent teaching your child the game for the first time, or an adult looking to hone your skills, a batting tee is essential towards achieving the skill required to excel in this game.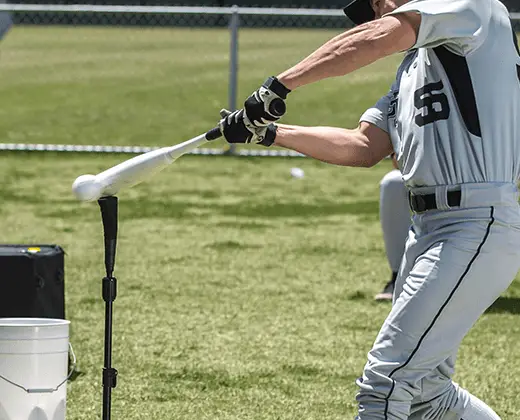 Realizing that you need a batting tee is just the first step as you need to have the right product, depending on your needs and your budget.
In this article, we will walk you through the process of acquiring the best batting tee, ensuring that you can get the most out of it.
In a Hurry? Here's Our Top Picks…
Types of Batting Tees
Essentially, a batting tee takes the place of a pitcher, allowing you to practice and perfect your swing without having someone throwing a ball directly at you.
Most of the batting tees available in the market are adjustable, allowing multiple users to make use of it. Additionally, it also helps users to ensure they can hit either low or high pitches.
Other than this, most batting tees are portable as well, thus ensuring that they can be used wherever and whenever you want to practice your swing.
People normally think of batting tees being specifically for children, when they're beginning to learn baseball or softball – but batting tees are used by more advanced players, and professionals as well (here's an article explaining a typical routine). Depending on what your experience is, you can get a simple batting tee that's mostly used for children, or one that's more advanced.
Our 5 Favorite Batting Tees
1. MacGregor Batting Tee
Sale
MacGregor Batting Tee
Batting tee for T-ball, softball, baseball
Constructed of durable rubber components
Features a solid metal base for added weight
Protective Qualities: All-weather design
Ideal for training players of all ages. Care & Cleaning: Spot or wipe clean
Last update on 2023-11-01 / Affiliate links / Images from Amazon Product Advertising API
For the first batting tee on our list, we've decided to feature the MacGregor. This product is simple, yet perfect for the job, specifically when catering to young players. It comprises a metal base, with the remaining part being made of rubber. It can also be adjusted from 20 to 40 inches.
The MacGregor Batting Tee is mainly popular amongst coaches and parents who are teaching their children baseball and softball, thus making it a common sight on school practice fields and even at peoples' homes.
Possibly the best feature is that it is pretty cheap and because it lasts for years, it is easily one of the best batting tees available in the market.
Pros
Adjustable, making it perfect for coaches
Budget-friendly
Remains in good condition even after rough use
Can be carried from place to place
Cons
Cannot be used by adults as the tip isn't flexible enough
Check Price and Reviews on Amazon
---
2. Jugs T Pro Style Batting
Sale
JUGS Hit Like a Pro Hitting Tee, Black
The most durable hitting tee on the market in the under $75 category.
2D Barcode located on base of tee links to video, highlighting the proper way to use the tee for both right- and left-handed hitters, softball and baseball drills and educational tips.
100% rubber construction.
NEW ribbed upper tee tube prevents your tee tube from slipping during practice.
Patented Grip-n-Go handle.
Last update on 2023-11-01 / Affiliate links / Images from Amazon Product Advertising API
When it comes to strength, this batting tee is pretty high up there. The reason why this is so durable is that it's built with steel, which is then covered with rubber. This batting tee is also adjustable, giving you heights ranging from 24 to 46 inches. This way, numerous people can make use of it.
Another feature which adds to its popularity is how easy it is to carry and transfer from one place to another, allowing players to take it to their training fields and bring it back home for more practice.
A base which is covered with rubber not only prevents slippage on multiple surfaces but also lets users set this batting tee up outside their homes as well.
Pros
Portable
Can be used on several surfaces without falling
Height is adjustable and can be used by different players
Cons
Check Price and Reviews on Amazon
---
3. Tanner Tee
TANNER TEE ORIGINAL Premium Pro-Style Baseball/Softball Adult Batting Tee with Tanner Original Base, Hand-rolled Flexible Rubber Ball Rest, Adjustable: 26" to 43", Durable Steel Stem
The ORIGINAL pro-style Tanner Tee that started it all. TRUSTED by more travel ball, youth, college and professional players than any other batting tee. FAMILY-OWNED BUSINESS where we still hand-assemble every Tanner Tee in our Florida shop.
FLEXIBLE CONE FOR BETTER CONTACT Rubber Flextop ball rest is hand rolled in Sarasota, FL and ensures ball stability without interfering with your swing. You feel the ball, not the tee at contact.
PREMIUM STEEL SHAFT, flexible rolled rubber cone and composite base deliver maximum performance and durability with heavy use.
ONE HAND HEIGHT ADJUSTMENT Quickly adjust height from 26-43" with one hand. Unscrew stem from base to fit in most bat bags.
MIDWEIGHT BASE provides ample stability at bat without sacrificing portability or swing feedback when the hitter strikes the cone vs the ball.
Last update on 2023-11-01 / Affiliate links / Images from Amazon Product Advertising API
The Tanner Tee is one of the best batting tees available. To begin with, this batting tee can be used by players of all sizes and ages, something which is slightly difficult to find when it comes to purchasing a batting tee.
The way the makers of the tee have achieved this is by making sure that it can adjust significantly, creating a short or a standard model. Younger players can then practice on the short model, while older ones use the standard one.
Also, the design of the tip of the tee is such, that the player hits the ball and not the tee, giving them an idea about what it should feel like when they hit the ball in an actual game. Compared to other simple tees, this one costs slightly more – however, its attributes are numerous, ensuring that you don't feel like you're wasting your money.
Pros
Lightweight, making it easy to transport
Tough and long-lasting
Worth the investment
Can be used by amateurs and professionals alike
Replaceable and flexible top
Allows users to feel the ball and not the tip
Cons
Slightly more expensive
Can only be used by players who are above 9 years of age
Check Price and Reviews on Amazon
---
4. PowerNet Practice Tee and Net Bundle
PowerNet Baseball Softball Practice Net 7x7 with Travel Tee | Practice Hitting, Pitching, Batting, Fielding | Portable Backstop (Red)
7'x7' NET & DELUXE TEE; Instant portable baseball & softball net; Includes 7ft x 7ft (49 SqFt) net and 1 deluxe tee (2.5 lbs), 1 carry bag with shoulder strap; Heavy duty zipper storage bag
EASY QUICK SETUP; Net sets up in less than 2 minutes; No tools required; Includes ground stakes for added stability; Nets can withstand even the hardest hits
ULTRA PORTABLE; Collapsible training nets assemble quickly and easily for easy setup; Lightweight for easy portability and placement during practice sessions; Breaks down to fit in carrying bag for easy long-term storage and portability in any vehicle
TRAIN ANYWHERE; Great for outdoor and indoor use; Perfect for hitting, pitching, batting, fielding; Can be used for as a portable backstop; Perfect for training sessions
USED & ENDORSED BY PRO PLAYERS; Jose Martinez, Andrelton Simmons, Kelly Kretschman
Last update on 2023-11-01 / Affiliate links / Images from Amazon Product Advertising API
As the name suggests, the fourth tee on our list of best batting tees can be purchased in a package, which not only gives you a high-quality batting tee, but also a net which is another essential tool required for practicing baseball and softball.
An interesting fact about this tee is that many professional baseball players actually use it to practice, making it a product that can surely help you better your swing. It has a tripod stand, thus allowing for greater stability, and lets users really have a go at it without worrying about the batting tee giving way or getting destroyed. With the features that this product offers, this package is a real steal.
Pros
Is used by professionals, so it's one of the best options available
Can be carried easily, as it doesn't weight much
Adjustable so it's ideal for any height you're comfortable with
Sturdy tee top
Cons
Preferred for baseball use, compared to softball use
Check Price and Reviews on Amazon
---
5. SwingAway MVP Hitting Trainer
Sale
SKLZ Hurricane Premium Portable Batting Practice / Hitting Swing Trainer System for Baseball and Softball, All Ages Training,Black
Baseball or softball swing trainer designed to improve batting by developing consistent contact and faster bat speed
Can be used for static tee practice or as a moving pitch simulator; create different pitch speeds by using between one and four removable power bands
High-visibility ball-target provides ballplayers a prominent focal point to focus on and react to; sturdy steel frame is stable, durable, and long lasting
Adjustable height for virtually any player or ball position; use at home or at practice for continuous improvement
Easy setup and storage, folded dimensions are 8 x 8 x 50 inches; includes 4 power bands, carry bag, and 4 ground stakes
Last update on 2023-11-01 / Affiliate links / Images from Amazon Product Advertising API
Last but not least is the SwingAway MVP Hitting Trainer, which is one of the best batting tees currently available on the market. Along with a range of features, this batting tee is actually designed for professional and advanced players.
If you look at the picture, you can see that the position of the ball isn't limited by the design of the tee. Instead, the ball can be placed just about anywhere along with the player not having to chase any balls either.
This way, you can practice without any breaks and can also experience how it will be like hitting an actual pitch, something which a lot of the batting tees can't offer.
Pros
The ball can be adjusted depending on the player's needs
Can be used by professional players
Portable and sturdy
Can be used indoors and outdoors
The player can hit around 100 swings in 10 minutes
Cons
Though the makers do say it can be used by younger players, it's better suited for advanced players
Check Price and Reviews on Amazon
---
Things to Consider Before Buying a Batting Tee
Now that we've discussed which batting tees are best on the market currently, let's talk about what things you need to keep in mind before purchasing this product.
Affordability
This is the first thing that you need to keep in mind because if you spend a huge amount on something without wanting to, you tend to stay dissatisfied with the product. So, to ensure that doesn't happen, decide on your budget before you go shopping. Fortunately, the market offers a wide variety of products and it isn't going to be extremely difficult to find the best batting tee within your budget.
Purpose
As you read the above parts of the article, you must have noticed that there were some batting tees which were more suited to younger players, batting tees suitable for both beginners and advanced players, and batting tees used mainly by professionals.
When you go to buy a batting tee, make sure you keep your level of experience in mind. If you're a parent or a coach, something like the MacGregor Batting Tee might suit your needs more, compared to someone who is pursuing baseball or softball professionally.
Similarly, if you are a coach and carry out practice drills frequently, the height of the batting tee should also be adjustable, taking into consideration the various heights of the students you'll be working with. There's no point in buying a batting tee which is above your level, as that will just be a waste of money.
Portability
For someone who is trying to become the best at baseball or softball, practice is the ultimate key to success, regardless of your age or the level at which you are playing.
If you're someone who's going to be practicing a lot, you'll probably be carrying around your tee from the practice fields to your backyard – and sometimes, you might even be taking it indoors. You need to make sure you invest in a tee which can be transported easily.
While the best option would be to get a batting tee that can be folded up and stored inside a bag, most of the batting tees are light so you can carry them effortlessly in your hands without folding them up.
So when you buy a batting tee, don't forget to make sure it's one that's easy to carry around.
Strength
This factor does sound like a given but at times, it's easy to get distracted by how a product looks, be it the design or the color, or by the affordability of a batting tee.
Buying a batting tee which can't withstand a sufficient amount of force is practically pointless because the player will not only hit the ball with all their might for most of the time, they will also be doing countless times.
Something to remember is that not only will the tee have to withstand the force of the players who are using it but it will also have to withstand harsh weather conditions and other harsh situations.
To get the best batting tee, ask the salesman specifically about what material it is made of, or better yet do your research at home.
Features
Different batting tees offer different features. While some are extremely simple, there are more advanced ones which can be automatic or come with nets and a pitch. Again, the features that a buyer is looking for varies widely. Someone who is training their child in baseball and softball doesn't really need to invest in a batting tee that is loaded with features. A batting tee that's sturdy and adjustable will work best for them.
However, for a professional, the case will be totally different as they'll be using that batting tee to better every aspect of their game.
By evaluating the above-mentioned factors thoroughly, you'll surely be able to buy the best batting tee for your own unique needs.
Benefits of Having a Quality Batting Tee
Absolutely essential for beginners
If you think about it, pitching to a child who is 6 years old or younger can go wrong in a number of ways. They can get upset and leave the field, or panic and even hurt themselves in their haste to hit the ball or alternatively, protect themselves from the ball. To ensure this doesn't happen, coaches and parents should make use of batting tees. Through this, the child learns the correct way to hold a bat, how to not be afraid of the ball and also gains confidence through the process.
Practice purposes for intermediate players
Once a player has mastered the basic art of hitting the ball, there are many things which need to be worked on further, and the only way to do this is by practicing. For these players, the best option is again, a batting tee as it allows players to practice whenever they have some spare time, regardless of where they are.
Professional players can become even better
Once you become an advanced baseball or softball player, you need to constantly stay at the top of your game as there will always be someone else putting in the same amount of, or even more, effort than you are. To do this, professionals use the best batting tees around and stay in touch with their skill even during the offseason.
It serves as an alternative to a pitcher
Someone who is constantly practicing needs, someone, to pitch, too – and it's practically impossible to carry a pitcher around with you everywhere you go. However, once you purchase a high-quality tee, you can practice for hours without having to rely on someone else.
Best Batting Tee Brands
There are a lot of batting tee brands available on the market. However, we have found the following two to have some of the best products.
Tanner Tees: Based in the United States of America, this company began with Joe's batting tee. Today, the company is being run by the family of the original owners and has come up with one of the best batting tees available.
SKLZ: Another brand which specializes in sports equipment, SKLZ, makes high-quality products that include batting tees, designed to provide exceptional training for their customers.
Frequently Asked Questions
How long does a batting tee normally last?
While this does depend on the brand that you decide to go with, your batting tee should last for at least 2-4 years.
Where can I get a batting tee?
Batting tees are relatively easy to find and so your local sports shop should have some in stock. Alternatively, online platforms such as Amazon and eBay can also be used for this purpose.
Will I have to assemble my batting tee?
Yes, you will have to assemble your batting tee, but it's easy and will come with a manual. Other than that, there are many YouTube videos available that can guide you through the process, step-by-step.
What's the best batting tee?
Well, it's definitely difficult to answer that question as the definition of the best batting tee varies from person-to-person, as we have emphasized earlier on. However, this question is frequently asked so depending on your needs, you can pick one of the five from the list we have compiled.
Final thoughts
As you can see, purchasing a batting tee isn't as simple as it sounds and you need to consider a host of things before making a final decision, as the batting tee you choose will be one that you'll likely be using for a long time.
Based on the above information, you can hopefully make the right decision when it comes to buying the best batting tee for your needs. If you want to excel at baseball and softball, you need to go the extra mile, and that means investing in a durable and reliable tee.
Interested in all things sports? Check out our Best Soccer Rebounder, Best Putting Mats, Best Volleyball Nets, Best Badminton Rackets, and Best Golf Nets articles!