Are you looking for the best volleyball net for backyard activities? You've come to the right place.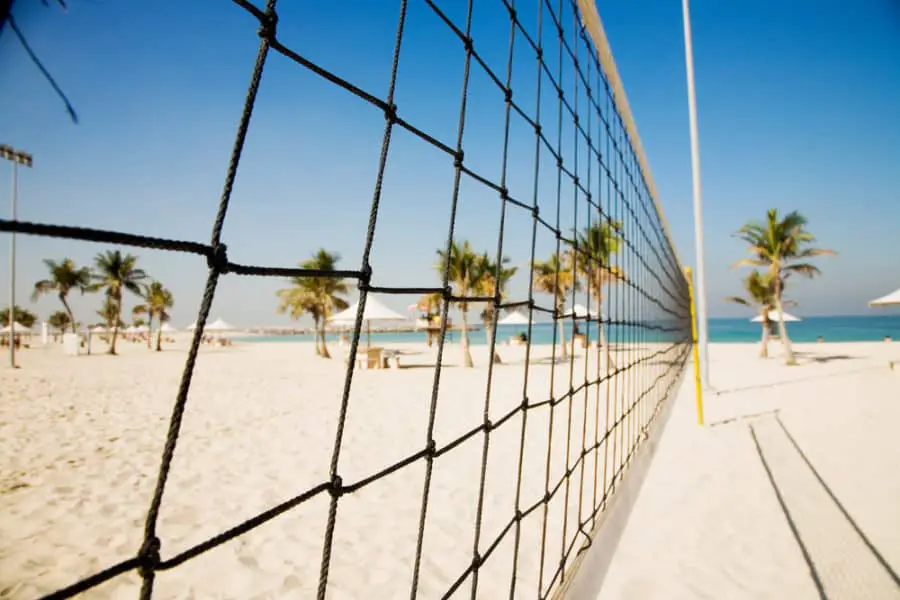 You are most likely looking for a half-decent net that can stand up to regular play without breaking the bank.  In fact, you don't need to (and probably won't) spend $1,000+ on a volleyball net with kevlar and carbon just for a casual game in the backyard. That's why today we are going to only look at some of the top volleyball nets that are practical for you.
From nets that look like they belong to a professional tournament (without costing as much) to portable net options that take less than 2 minutes to set up. We've got it all.
In a Hurry? Here's Our Top Picks…
Best Volleyball Net For Backyard Activities (Top 3!)
We aren't going to be discussing hundreds of volleyball nets just for the sake of comparison. In fact, we are only going to review the top 3 products today. That's because the outdoor volleyball net market is dominated by just two products and almost every player swears by one or the other. They are the Spectrum Classic and the Cobra Outdoors.
Both these nets are easy to set up, extremely strong and most importantly they get tight without much effort. These nets are regularly used everywhere from open level tournaments to casual backyard games and even AA competitions.
Now some sharp readers might have noticed that I mentioned three products and not two, that's because we have another option for you – The tournament flex. This net is not as hyped up as the first two but it is still a great option and will save you some money.
1. Spectrum Classic – Most Portable
Last update on 2023-09-21 / Affiliate links / Images from Amazon Product Advertising API
Spectrum classic is THE most popular outdoor volleyball net set. In fact, just like dentists 4 out of 5 volleyball players recommend it. It is also the most widely recommend net on Reddit and a best seller on Amazon
The great thing about it is that hardly takes up any time to set up, so if you do not want to/ can't keep it up, you can quickly take it down without any hassle. After some practice, it takes less than 5 minutes to set up and can be taken down much faster. This is great news for families who may not be allowed to put up a volleyball net because of HOA regulations.
With a quick 5 minute set-up, you can easily get a game started and take it down after. Additionally, you can take this net to your local park and play there.
A common worry when setting up volleyball nets is the damage to your lawn, however, that's not an issue here. The net itself is held with the help of stakes. These holes are just a couple of centimeters in diameter so they don't really cause much damage.  The damage to your lawn because of players trampling the grass is going to be much more.
When you first put the net up you may notice that the bottom is not as taut as you might have liked, but this is probably due to an incorrect setup. And as long as the ground is good, you will get fantastic tension from the bottom and the top.
You would also be glad to know that this net holds up its value pretty well. A well-maintained spectrum classic can easily be sold off with almost no depreciation from what you paid, thus helping you recoup most of the costs. And as long as you hold on to it, this net will outlast the tournament flex series.
For beach volleyball players, this net works great. It holds up its tension really well in sand and combined with its portability it is probably the best net to take to the beach.
What We Like:
Very easy and quick to set up. In fact, most people can get the entire thing ready within 10 minutes
The stakes don't do much damage to your lawn. Moreover, any damage can be quickly mended
Extremely long-lasting with many users reporting to selling the net off around the same price they bought it
What We Don't Like:
The net is not as durable as the cobra outdoors
The net is almost $100 more than the tournament flex series which may be a deterrent to some buyers
Spectrum classic needs to be "tightened" more often than the cobra outdoors
Overall, the spectrum classic is a great, cost-effective choice for most players. But if you are looking for a better quality net, the cobra outdoors may be your thing.
---
2. Cobra Outdoors – Best Performance
Cobra Sports 3 Game Volleyball net System
LIFETIME WARRANTY ON OUTDOOR VOLLEYBALL NET SINCE 1993
Patented Guy Wire Free Portable Volleyball Net Design is completely self-supporting
Our Beach Volleyball Net Patented design doesn't require heavy steel ground brackets & spikes inside the playing zone
Easy 5 minute set up and take down on our portable badminton net- no heavy steel ground fixtures to remove
Cobra Set 3 in 1 game system - volleyball, beach/grass tennis & badminton
Last update on 2023-09-21 / Affiliate links / Images from Amazon Product Advertising API
The cobra outdoors volleyball net system takes a little longer to set up than the spectrum classic. You may even need some help initially. But once you get the hang of it, you can effortlessly put this outdoor net up on your own. However, it is still not as easy to set up as the latter.
A huge issue here is that if you don't get the spikes deep enough OR at the right angle, the steel poles may not stay up for long and you may have to do it all over again. And depending on your situation, you may not want to drive the spikes deep down as it causes a lot of damage to your lawn. It is also a great way to get banned from your favorite park.
But once set up, this net feels great and lasts much longer. In fact, the cobra outdoors set is almost impossible to topple over once it is set up. This is fantastic news if you are playing with rookies or casual players who are more likely to fall on the net.
That is not to say that the Spectrum Classic is flimsy but that this net is just so much more durable. This also makes it a great choice to play on a beach volleyball court as the spikes hold their ground much better(which is crucial on soft material like sand). Many users have reported that the tension they get on sand is similar to the one on grass, which is pretty crazy.
All these features make the cobra outdoors more of a "setup once and forget" kind of a volleyball net. This way you minimize the damage caused to your lawn and you can spend some extra time to ensure that it is set upright.
And finally, we get to the cobra's biggest selling point – the lack of guy wires. If you didn't know, guy rope is the extra wires the keep your pole centered and bolted to the ground. It works great for keeping the pole steady but becomes a tripping hazard. You don't need to worry about hurting yourself to one of these wires when you get the cobra outdoors as it keeps the pole steady and in place without them, making things much safer.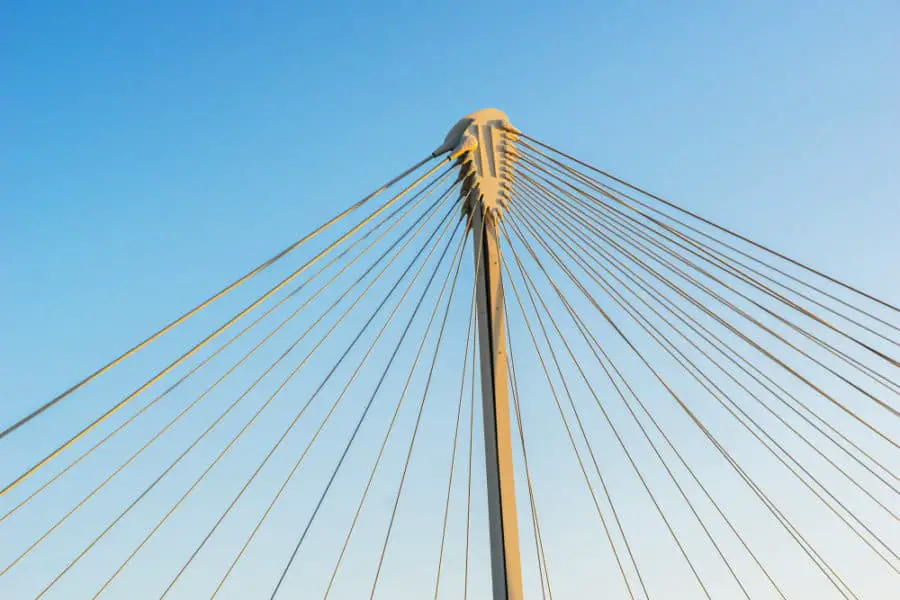 Some users have reported owning these nets for almost 15 years without any issues. However, if you are setting it up on your lawn, you may wanna be careful about your sprinkler lines. Too many people have broken their underground lines as they were planting the stakes.
What We Like:
This net is fantastic at holding tension for really long especially compared to any of its competitors
This is one of the most durable and long-lasting nets you can purchase. Most cobra outdoors nets can last 10 years and longer without any issues.
The lack of guy wires is great. It almost unrealistic how stable this net is even without any guy wires
What We Don't Like:
Setting up this net is kind of a hassle. However, if you do it right, it only needs to be done once.
It is the most expensive net system on this list and functionally, it's not a large difference between this net and the spectrum classic
Many parks don't allow you to play using this net because of the damage it causes to the ground
The cobra outdoors is a net you only want to set up once. It is extremely stable and the lack of guy wires is just icing on the cake. Once it is set-up this net can go toe to toe with even the most pro-grade nets that typically cost $1,000 or more.
---
3. Tournament Flex- Budget Option
Park & Sun Sports Tournament Flex 1000: Portable Outdoor Volleyball Net System, Blue
Telescopic, 2-piece aluminum poles measure 1-3/4" in diameter; Push-button pole locking system adjusts to men's, women's and co-ed playing heights
Features a regulation size (32' L x 3' H) Spectrum net; Nylon blend net has 2" top and bottom tapes with reinforced corners and side sleeves for even net tension
1/4" double guyline with tension rings allow for quick adjustments that ensure the net remains taut, even during rough play
Define your court with the 1/4" diameter, pre-measured boundary (60' L x 30' W) which is firmly secured to the ground with corner anchors
A compact hand pump with 2 inflation needles are also included to get you outside and playing without delay.
Last update on 2023-09-21 / Affiliate links / Images from Amazon Product Advertising API
For those on a tighter budget, you have the Tournament Flex outdoor volleyball set by Park and Sun (the same guys who brought you the spectrum classic). If we had to sum up this net in one sentence, we'd call it a stripped down version of their flagship model. Elements of the spectrum classic are clearly visible here and it is obvious that the manufacturers were trying to build a budget-friendly alternative to it.
This is especially clear if you can observe both the products side by side.  So to make things easier we are going to compare it to the Spectrum Classic directly.
As is typical in any park sun product, the setup is a breeze. However, you have a greater chance of messing up. For some reason, if the poles are not set up absolutely perfectly you would find that the tapes are not evenly tightened( the top would be really tight while the bottom would be loose). This could possibly because the poles are much thinner.
Even the tape at the top of the net is much thinner. This means shots hitting the top have a good chance of going over rather than stopping as they would on other nets. However, we believe this may be due to the nylon rope which was used instead of a steel cable. This was probably done to cut down on costs.
If this really bothers you then you can get a steel cable from your local hardware store for around $20 and use that instead. Another issue with the nylon rope is that it will stretch out over time, thus affecting the longevity of this system. So you may be forced to get a steel cable eventually anyways.
Many users have reported that the net sags as you play and to make matters worse the rings are much harder to tighten. With that said this is still a great net to play on. In fact, many park tournaments even use this exact model. And functionally this net works great.
What We Like:
Setting up this net system is really easy
Players pulling on the net or hitting it likely won't cause any issues. In most cases, it will snap right back in place as if nothing ever happened.
The quality of the net and poles is extremely good
What We Don't Like:
The nylon cable hurts the quality of the net and may actually decrease its longevity
The boundary lines provided with the system are inaccurate and it is one of those things that could have been easily avoided.
Spikes that hit the top of the net usually go over instead of stopping
If you cannot spend over $200 on a volleyball system then this is the best net you could purchase. Its flaws can easily be countered and overall this net works pretty similar to the spectrum classic.
---
Conclusion
You cannot go wrong with any of the best volleyball net for backyard play we have mentioned above. If you are looking for the best volleyball net under $200 then you picking the Tournament flex is a no-brainer. However, don't let cost be your driving factor. Make sure to check out the cobra outdoors or the spectrum classic as they may actually end up being cheaper in the long run (especially considering their resale value)
Players looking for the more portable volleyball set should obviously go for the spectrum classic but if you want something more durable we'd recommend you to pick the cobra outdoors. Its lack of guy wires may also be too tempting for many buyers.
Are you looking for some other exciting games for your backyard? Check out our exhaustive list of nearly every single backyard game in the world.