Golfing is one of the world's most leisurely pastimes and in our busy modern society, traveling miles to practice your drive just may not cut it anymore. Whether you're looking to impress your buddies on the golf course or simply improve the accuracy of your swing, golf nets are your go-to helper in the ease of your own home or backyard.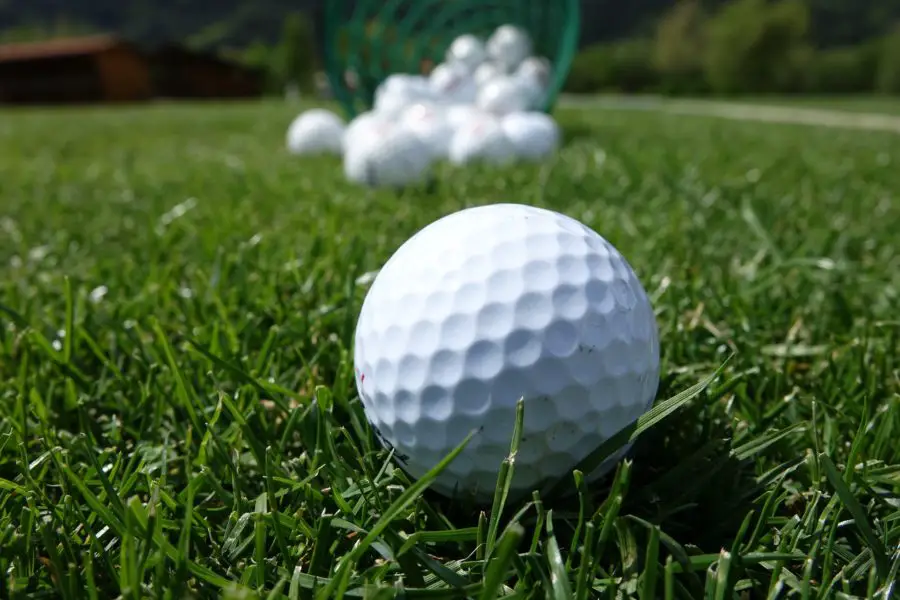 In a Hurry? Here's Our Top Picks…
Our Favorite Golf Net
JEF World of Golf Collapsible Chipping Net
JEF World of Golf Collapsible Chipping Net Black, 23 inch
Sharpen your skills with the ultimate folding chipping basket
Converts from a 23-inch diameter frame into a 7-inch diameter frame
Features 3 chipping baskets for the ultimate challenge
Great for left or right handed golfers
Perfect for any skill level
Last update on 2023-09-19 / Affiliate links / Images from Amazon Product Advertising API
Out of the golf nets we reviewed, the JEF World of Golf Collapsible Chipping Net was our favorite. Not only is this net the most affordable, but it's also a lightweight and durable #1 bestseller. The 23-inch net is easy to assemble and folds back together into a 7-inch compact for storage in seconds.
This golf net was designed specifically with three different size rings so that you can measure and improve the accuracy of your shots. Each of these rings also has nets separately attached underneath to catch your golf balls for hassle-free retrieving. It's truly the most reliable and budget-friendly net we found, even after hundreds of shots.
What we liked about this net:
The affordable price, which is great for those looking to stay under budget.
The variously sized rings, which allows for more precise shots.
The folding of the net for quick disassembly and storage.
It's good for indoor use because of its smaller size.
The separately attached nets underneath each ring for fast retrieving and measuring the accuracy of your shots.
The lightweight yet durable metal frame, making an easily-moved but sturdy golf net.
What we didn't like:
The net is somewhat thin, which may not last as long as a thicker golf net.
Doesn't come with a carry bag.
Check Price and Reviews on Amazon
---
Other Great Nets
SKLZ Quickster Golf Net
TUSY Golf Net Golf Hitting Nets Training Aids Practice Nets for Backyard Driving Range Chipping Practice with Target Sheet Carry Bag for Indoor & Outdoor Sports
[STURDY and DURABLE] The frame is made of fiberglass rod, which has better flexibility and performance. The net is made of nylon and the design is into hexagon. It is stronger than other shapes, anti wind and tear resistance. The target sheet is made of Oxford cloth, which take more hits
[BOARD APPLICABILITY] The target sheet can be set up or took down up to to your needs. TUSY golf net is suitable for both real/foam balls in all types of training practice indoor/backyard. It is suitable for golfers of all levels and there is no age limit. TUSY golf net is an amazing gift choice for golfers
[QUICK ASSEMBLY & CONVENIENCE] TUSY golf net is easy to assemble and take down. The carry bag is used for storage; it is handy and light, and can be carried anywhere
[LARGE OPEN SIZE] 10' (L) x 6' (W) x 7' (H) golf net size provides a 30% increasing area and space to practice chipping/driving hit
[PROMPT CUSTOMER SERVICE] We provide 90 days guarante to every TUSY customer for any issue. Please don't hesitate to contact us, our customer service will reply within 24 hours
Last update on 2023-09-19 / Affiliate links / Images from Amazon Product Advertising API
The SKLZ Quickster Golf Net was one of the most efficient nets we could find. The net takes only a minimal amount of time to set up, roughly a minute and can be quickly taken apart and easily stored in the provided SKLZ carry bag.
It comes with a height-adjustable target so that you can perfect your swing, and two sizes available for purchase: the large 6' x 6' net, or the extra-large 8' x 8' net for an easier shot. Not to mention, you can use this net indoors and outdoors by either staking the net in the grass or simply setting it on the level ground inside your home. This net is a little on the pricey side, but the quality and efficiency surely make up for the cost.
What we liked about this net:
The quick setup which allows more time for practice and less time for frustration.
The adjustable target to practice various hits on.
Comes with a carry bag for proper storage so there's no hassle.
It comes in two large sizes, perfect for beginners whose shots may not be so accurate yet.
You won't have to worry about the weather, because the net can be used indoors or outdoors.
What we didn't like:
The net's a tad pricey, which may not be suitable for those looking to stay under budget.
The large size of the net doesn't allow for indoor use in small spaces.
Check Price and Reviews on Amazon
---
Rukket 10 x 7 Haack Golf Net
Last update on 2023-09-19 / Affiliate links / Images from Amazon Product Advertising API
The Rukket 10 x 7 foot Haack Golf  Net is the most expensive net we've included, however, it was designed by the University of Georgia's golf coach, Chris Haack. His knowledge of effectively practicing golf led to the construction of this helpful aid to the beginner or experienced golfer. This golf net is knot-less, which keeps your golf balls rolling smoothly and the net is shaped in a way that allows the balls to roll back towards you after you've shot.
The large 10H x 7W x 3D foot frame of this net is sure to collect your shots, even if they go haywire. The net is very durable 4-ply netting, thicker, and able to withstand fast shots so you won't have to worry about wearing it out. This is a net built to last. The net comes with a metal base and two bendable vertical poles which attach to the base and hold the net firmly. Finally, you'll be able to remove the various parts from one another for quick disassembly and storage.
What we liked about this net:
The large cage shape and roll-back ability are great for keeping your golf balls contained in one general area, even when you're a little off your game.
Golf net comes with a carry bag for easy storage (which means more room in your garage).
It's very lightweight and portable for such a large net, so you can practice virtually anywhere.
A golf coach created this golf net for better and simpler practices.
What we didn't like:
There are no targets to practice your shots on so there is really no way to mark your accuracy.
The net is definitely higher in price, which isn't ideal if you're not looking to overspend.
Check Price and Reviews on Amazon
---
Ajillis 3 in 1 Golf Practice Set
No products found.
The Ajillis 3 in 1 Golf Practice Set includes various practice nets for chipping and driving, as well as a driving mat. This set is a tad pricey, however, it isn't the most expensive on our list and you get more golf practice equipment for your money. The driving net's fiberglass poles expand to make a decent-sized net of 11 x 7 x 5.5 feet, which practically guarantees that no golf ball will escape.
The chipping net is completely weather-resistant which makes it great for outdoor use if you're the type to practice golf in rain, wind, or snow. The included driving mat is made of high-quality grass turf and a rubber bottom for a long-lasting product. Each piece in this set is able to be broken down for storage in the weather-proof nylon carrying bag that you also get with your purchase.
What we liked about this net:
There are two nets included in this set, which is ideal for beginners looking to further their skill in the golf world.
You can hit your golf ball on a level surface and avoid mishaps with the driving mat that's included.
The weather-resistant chipping net lets you practice golf in various weather conditions, and is less likely to deteriorate as quickly as other nets if left in the elements.
What we didn't like:
More nets mean more time assembling.
Does not come with stakes to hold the nets firmly in place.
Check Price and Reviews on Amazon
---
Club Champ Indoor-Outdoor Multi-Sport Easy Net
Sale
Club Champ Indoor / Outdoor Multi-Sport Easy Net, White , 8' x 10'
This multi-sport utility net is great for any type of outdoor sport practice such as golf tennis teeball or more
Large 7' high by 9' wide net is supported by a flexible aluminum and fiberglass frame with shock-corded strength
Outdoor design is best supported by burying 6-8" below the dirt or grass surface
Quick and easy to set up and break down
Stable enough to stop the hardests shots
Last update on 2023-09-19 / Affiliate links / Images from Amazon Product Advertising API
The Club Champ Easy Net is definitely the easiest net to assemble that we've found. Not only does it take less than 5 minutes to set up and take down, but it's also the second most affordable net on our list. The shock absorbency lets you hit your hardest shots each time you practice without any damage to the net.
This is a larger 7' high by 9' wide net, which is great for practicing your drives. The net is also deep enough to catch all of your golf balls, rather than have them ricochet as they may on a more shallow net.
What we liked about this net:
Made with aluminum and fiberglass poles to absorb shock and bend with the movement of the net.
Large and deep enough to make for an easy, hassle-free practice.
The simple assembly of one net and a few poles won't leave you frustrated.
What we didn't like:
You have to bury the poles a few inches underground for best use of the net.
The net doesn't come with targets. You'll have to buy them separately if you prefer to use targets during practice.
Check Price and Reviews on Amazon
---
Consider This Before You Buy
Net Size
It's definitely a good idea to determine what size net suits you. Net sizes range from huge 10-foot nets to the more convenient 23-inch diameter nets. When you pay attention to the size, you're sure to choose a net that fits comfortably in your indoor or outdoor space. It's best to measure the space you have available and choose your net accordingly. Be sure to leave 4 to 6 extra feet behind the net, because golf balls will damage anything left too close behind the net.
Targets
Targets are another aspect to consider. If you're looking to improve your shots and have the ability to measure them, then you may want to look into a golf net that has targets. Targets can be adjustable or stationary depending on the net you purchase and can challenge you to perfect your high or low swings. A net without targets does not provide the same confidence in maintaining your decent shots as a marked net does.
Chipping or Drive Nets
Deciding whether you need to work on your swings and drives, or chipping and putting is also essential when looking to buy a net. Small nets with built-in targets are used primarily for chipping and putting, while the large nets are for practicing your drives, as they are more likely to withstand fast blows to the netting. Here's an article that may help you decide whether you need a net for drives or putting.
Permanent or Temporary Set-ups
When looking for a golf net, you should decide whether you want to have a professional install a permanent golf net set-up or if you'd rather have a temporary net. If you're considering a permanent net, keep in mind that permanent nets are often installed in the home and are difficult to uninstall once they're set up. However, they are usually of higher quality and will last longer than movable nets.
On the other hand, you can move temporary nets from one area to another, making practice simple. They are often less expensive than permanent golf nets and can be of lasting quality, as well if properly assembled, disassembled, and stored. You'll be able to fold or take apart these nets to form a much smaller object for storage. That way, the net won't take up much room inside or outside of your home when you're not using it.
If you're looking to install a golf net indoors, we've linked an article that may help you prepare for installation.
Price
Above all, the price is the most important aspect to consider when searching for a golf net. There are many decent, affordable golf nets on the market if you're looking to stay within your budget. However, it's important not to purchase too cheap of a net, because cheap nets are often less dependable and may not last as long as a slightly more expensive golf net. If you're looking for a lasting net, it might be in your best interest to save for a higher-priced net.
Quality
Once you've decided what kind of net you'll be needing, you should begin looking for the best quality net. A good quality net is usually made of thicker netting material, which keeps from rips or tears from fast shots. The net should also be loose. If the netting is tight, your golf balls will ricochet rather than be caught in the back of the net.
The frame of the net is best when it's easily bendable, to absorb the shock of your golf balls and keep from fractures or breaks. If the frame is too stiff, the net may deteriorate quicker with constant practice and use.
Here is an article describing the benefits of a good-quality golf net, as well as some additional things to look for in a decent golf net.
Best Golf Net Brands
Now that you've gone over the details of each net, let's briefly take a look at our top picks again, as well as some other decent net manufacturers we didn't talk about previously.
Top Picks
Other Brands
Spornia SPG-5 Golf Practice Net: This great net is manufactured by Spornia Inc., a company that's been in business since 1998. They specialize in manufacturing and distributing pop-up practice nets.
The Net Return Pro Series Multi-Sport Golf Net: This net designed for the experienced golfer is manufactured by The Net Return. They produce not only golf nets but other sports nets as well.
FAQ
Q: Can I leave my net outside?
A: Yes, golf nets can be left outside safely in sunny weather. However, extreme or wet weather conditions will most likely cause the materials to deteriorate faster. We recommend that you always store your net when you're not using it.
Q: How much room should be left behind a net indoors?
A: 4 to 6 feet is ideal to avoid damage to anything behind the net.
Q: How far from the net do I need to be to hit the golf balls?
A: Typically you should be about 5 yards from the net. However, depending on what club you're using, you may need to stand closer or farther away.
Q: How long does it take to set up and take down a golf net?
A: You can usually set up and take down a golf net rather quickly. The time for both ranges from 2 to 5 minutes. However, more expensive professional nets will take longer to assemble.
Q: Are golf nets worth it?
A: Golf nets can help you improve your swing and allows you to practice in the comfort of your home or yard. Furthermore, many professional golfers trust practicing on golf nets when they're not participating in games. In addition to this, some have even designed their own nets for you to purchase. If you're looking to better your shots or you don't have time to constantly travel for practice, then a golf net may be a worthwhile purchase for you.
Q: Are real golf balls too damaging for the nets?
A: No. Using real golf balls is usually fine for the nets, especially if the nets are of good quality. If you leave your net outside to deteriorate from the weather then constant shots with golf balls may weaken the net further. However, if you store your net properly then you should expect a decent lifespan out it, even while using actual golf balls.
After all is Said and Done
We believe that all of our choices would make great nets for your yard or home. After doing the work for you and listing the best nets we could find, we decided that our favorite golf net was the JEF World of Golf Collapsible Chipping Net. The affordable price, targets for precision, quick disassembly and conservative size, seems to make the ideal golfer's practice net.
Looking for a way to make golf practice more enjoyable? Check out these wheeled coolers.