Whether it's the $450 tundra yeti or a $30 Coleman, coolers weigh a ton.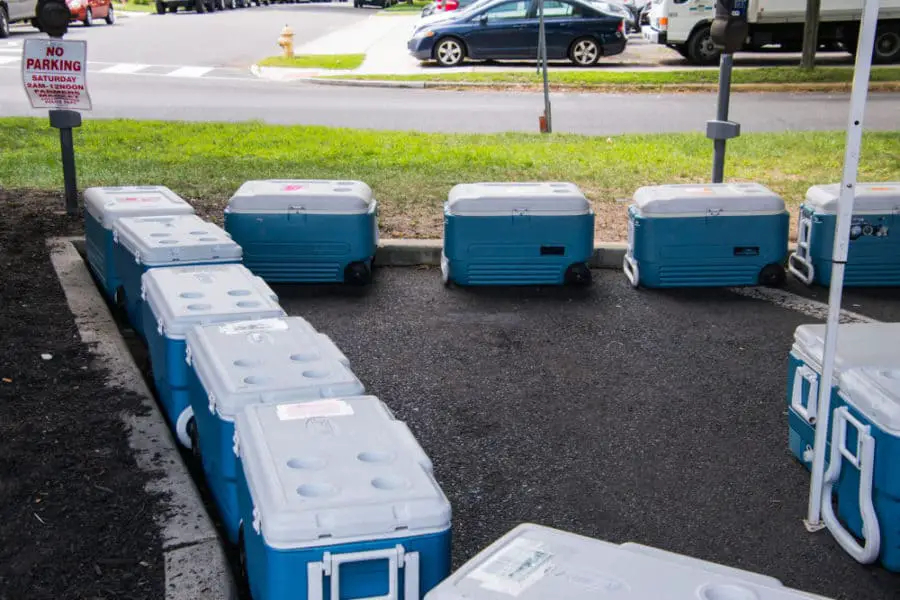 A fully loaded 40-quart cooler weighs almost 94 pounds. Would you want to lug it around all day?
If you shouted "No" at your screen as you read my question, then keep reading because today we're going to look at the best wheeled coolers you can buy.
Since man first put wheels on coolers, the market for them has exploded. But getting a wheeled cooler is not a one choice fits all option. A horrible camping cooler may be the best option at a tailgating event. This is why we have studied over 50 coolers(that's not an exaggeration) to find the top 10 wheeled coolers available.
We made sure to include coolers for every kind of event. Some will keep your stuff cool for days while others are really easy to move around. If you keep reading until the end we even review a cooler that' comes with a speaker system built in. With so many choices you are guaranteed to find one you love.
In a Hurry? Here's Our Top Picks…
Igloo Ice Cube Maxcold Cooler – The Tailgating Cooler
Igloo Ice Cube 60 Quart Roller Cooler , Ocean Blue
Ultratherm insulated body keeps cold for a long time
Push button and locking telescopic handle
Durable wheels and reinforced tow handle make transporting a full cooler easy
Molded side scoop handles for ease of loading and unloading
60 quart capacity. Exterior Dimensions ( L x W x H )-20 x 18.5 x 20.69 inches. Interior Dimensions ( L x W x H )-Top - 16.75 x 14.5 x 17.25 inches, Bottom - 15.25 x 12 x 17.25 inches
Last update on 2023-11-02 / Affiliate links / Images from Amazon Product Advertising API
The Igloo Ice Cube Maxcold is THE cooler for tailgating events. In fact, you probably have a friend who owns one.
That's because this cooler can hold a mind-blowing 70-quarts which makes it perfect for barbeques. For reference, a 70-quart cooler can store up to 100 cans of beer. Not even the largest barbeques need as many.
Keeping a cooler as large as this one cold for long is a difficult task. However, the igloo maxcold manages to keep food and beverages cool all day long even on a hot sunny day.
It would be irrational to expect a cooler under $30 to be extremely sturdy, but this cooler is surprisingly durable. In fact, some buyers even use it as a seat(we don't recommend it). We found the quality of plastic used is really good – polyethylene and should not break easily.
What we like:
The cup holders on the lid of the cooler are really convenient. It's one of those features you didn't know you needed until you use it
The entire structure is made from high-quality polyethylene plastic
The cooler has a capacity of almost 100 cans
What we don't like:
This is a pretty massive cooler weighing as much as 15lbs when empty.
The ice remains cool for only about a day
The tires in this cooler are not meant to be used on rough surfaces
Check Price and Reviews on Amazon
---
Pelican Products Progear- Our top Pick
No products found.
The Pelican Products Progear is one of the best coolers available on the market today. It can retain ice for 7 – 10 days without a hassle, making it a perfect companion for any multi-day camping trips you have coming up. These capacities are not just empty promises made by the manufacturer, they have been tested multiple times under extreme heat and real-life conditions.
In almost every test, this cooler easily beats out the competition for the top spot. In fact, if ice retention capacity is the only factor you're considering then STOP reading and buy the pelican progear right now.
The gasket is just one of the many places where the cooler shows that it's in a league of its own. The Pelican Brand uses a freezer grade gasket to help seal the cold in and keep the hot air out. Even it's 2-inch thick polyurethane insulators on the inner lid are much thicker than its competitors.
Ease of Use
But what's really unique about this cooler is the latch. The Pelican Progear cooler uses a specially designed press and pull lock to withstand rough use. In fact, Popular Mechanics tested these coolers against a Grizzly Bear and it WON. The pelican progear was so strong that even a grizzly bear could not break it open.
With the amount of focus shown towards performance, you'd expect this cooler to be inconvenient to use. We are glad to say that this is not TRUE!! The Press and Pull Latches are wide enough to be handled even with gloves on. Additionally, the cooler comes with non-skid and non-marking raised feet to protect it from unwanted scratching.
Even draining fluids from this cooler is a breeze, the sloped drainage design helps drain every drop of water from the cooler without any effort.
While it might be scary to spend a lot of cash on a cooler, you can to relax knowing that the manufacturer is 100% behind their product. Pelican has fantastic customer support who will help you with any issues you might face. In fact, this cooler even comes with a lifetime warranty.  The Pelican Progear is a long-term investment that's going to last you long after your other coolers have broken down.
What we like:
The Progear has an interior volume of 40.70 quarts which much better than other rotomolded coolers of the same size
The stainless steel construction makes this cooler extremely corrosion resistant
The cooler offers the best insulation you can get.
What we don't like:
The wheels are not what you'd expect from a $400+ cooler. There are not horrible per say but at $400, you expect better
While the 2-inch insulation is excellent for ice retention, it also makes this cooler extremely bulky. In fact, this is one of the bulkiest coolers when you compare its total volume to the amount of internal storage you get
This is really heavy cooler weighing 37lbs when empty. That's almost 4 times the weight per unit volume as most other regular coolers.
Check Price and Reviews on Amazon
---
Coleman Soft-Sided Collapsible Cooler- The perfect Picnic Cooler
Last update on 2023-11-02 / Affiliate links / Images from Amazon Product Advertising API
Coleman's are popular for their outdoor camping and picnic equipment. This cooler fits right into their target niche as perfect picnic cooler.
It's large enough to hold food for a party of two but not too large that it becomes an inconvenience to carry around.
You even get a ton of storage with front and side mesh pockets to help you store items that don't need to be kept cold.
The red and orange/brown color schemes come with a removable plastic liner which is handy if you want to store this cooler in a really small place. You can even go for the blue, silver, green or camouflage designs. However, these models do not get a removable plastic liner, which is kinda sad. Their liners are fixed and cannot be detached.
The soft grip handles on this cooler makes it easy to hold and is a nice touch.
Another feature we really love about this bag is the heat-welded seams and the built-in antimicrobial additives. This helps drastically extend the life of your cooler and make them much more durable.
What we like:
The perfect picnic cooler that's large enough to store all your essentials without becoming a burden to carry
The plastic liner helps keep the cooler extremely rigid
There are tons of storage pockets available
What we don't like
The cooler could do with an improved layer of insulation
Not all models come with a removable plastic liner
Check Price and Reviews on Amazon
---
Coleman Xtreme Series Cooler – Jack of All Trades
Sale
Last update on 2023-11-02 / Affiliate links / Images from Amazon Product Advertising API
The most extreme thing about this cooler is its name. This is not a cooler that is going to blow your mind. But it gets the job done. Perfect for someone who wants a cheap affordable option that without too many fancy features
One of the few bright points of this cooler is the storage space. In fact, the actual amount of space you get is bigger than advertised at 58.1 quarts. No other cooler will provide as much storage at this price point
However it's design feels a bit cheap, as if the cooler might break if you tug too hard. Luckily that's not true and this cooler can handle some rough use.
Even the handle position is not designed too well. Rolling the cooler requires you to tilt it at a sharp angle which is not good for its mobility.
For its price point, the Xtreme cooler provides some great insulation. It's not the best in the market but it's good enough. Any ice you keep in the cooler will last  2-3 days.
Surprisingly though the Coleman Xtreme gets a telescoping handle and even a drainage spout. That's something not many coolers offer at this price point.
The Coleman Xtreme is a jack of all trades. It has no glaring weaknesses but no strengths either making it the perfect option for someone who wants an all-rounded cooler on a budget. If you're willing to spend a bit more then you're better off going with the pelican progear.
What we like:
Affordable cooler on wheels
Better performance than many pricier coolers, You can expect to get at least 2-days worth of ice retention from this cooler
A pretty sturdy cooler which can handle some rough use
What we don't like :
Rolling the cooler requires tilting it at a steep 90-degree angle
Many users reported issues with the latch – It would not seal the cooler shut and opens up easily
Terrible design
Check Price and Reviews on Amazon
---
Rovr Rollr 80 – The most mobile cooler
Oakland Living Steel Patio Cooler with Cart, 80-Quart
Durable Steel Construction
Hardened Powder Coat Finish in Red for Years of Beauty
Easy to Follow Assembly Instructions and Product Care Information
Stainless Steel, galvanized or Brass Assembly Hardware
Fade, Chip and Crack Resistant
Last update on 2023-11-02 / Affiliate links / Images from Amazon Product Advertising API
There's a huge difference between a cooler that embraces the wheel in its design vs one where it is an extra feature.  In fact, most wheeled coolers these days are just variations of the regular model. However, the rovr rollr stands out by being the only cooler where the wheels are an integral part of the design
Those who own a Rovr Rollr know what I'm talking about. This cooler is built around a rugged aluminum axle which supports a pair of heavy-duty, 9-inch rubber tires.
Yup, you read that right. Rubber tires. Every other cooler(even the high-end ones) stick to plastic to cut costs.  That's a shame because rubber tires are fantastic on all kinds of surfaces. Once you get used to them you will never be able to use a cooler with plastic tires again.
Performance
The manufacturers have designed this cooler with mobility as their goal and it shows as the rovr rollr offers the best portability on the market. While this focus on mobility is nice, it also means the designers had to cut corners on insulation. This is clearly visible when you compare the performance of this cooler with other similarly priced options. Although the rovr rollr is a rotomolded cooler, it does not retain ice as well as other cheaper options.
But even with its flaws, the rovr rollr is a great choice for someone who leads an active outdoor lifestyle and takes their cooler with them wherever they go
What we like:
The rubber tires make this cooler really easy to transport
Better than average insulation, with an ice retention capacity of up to 4 days. However, we feel like a cooler at this price point should do better.
It is a HUGE cooler and will store a lot of stuff. Although the cooler holds several quarts less than what is advertised by the manufacturer.
What we don't like:
It is a very expensive cooler
The rovr roller is not very spacious as some of the other coolers at this price point(pelican progear)
This cooler does not hold ice as well as it should. Although it's insulation capacity is still a lot better than the average cooler
Check Price and Reviews on Amazon
---
Coleman 16 Quart- The Cheap Option
Coleman 16-Quart Personal Wheeled Cooler
16-quart personal wheeled cooler keeps stuff cold on-the-go
Rugged construction holds up to 22 12-ounce cans
Recessed wheels ensure easy transport
Retractable handle adjusts for comfort
Backed by limited manufacturer's warranty
Last update on 2023-11-02 / Affiliate links / Images from Amazon Product Advertising API
If you are looking for a wheeled cooler that does not need a huge investment then a Coleman 16 quart is a great option.
This is a really small cooler. Not ideal, but you are not going to find a bigger option at this price.
It can hold about 22 cans and even a 2-liter bottle upright which should be enough for any tailgating event. In fact, that's about all you can use it for. The wheels on this cooler are really small which makes them unusable over rugged surfaces like the ones you would expect while camping. However, it works great over smooth surfaces like concrete.
We found the inclusion of a telescopic handle pretty surprising. The Coleman 16 quart is supposed to be a budget cooler and they could have cut costs by getting rid of it. This is a convenient feature that even some pricier coolers don't get and is nice to see.
What we like:
The price, This is a budget option that's perfect for someone who will rarely use a cooler.
You are not going to find a better cooler in terms of quality at this price range
What we don't like:
The size is really small, this makes this cooler useless if you are the type to carry a lot of food
The small wheels make it unusable on rugged surfaces
The entire cooler is made from plastic and there's a good chance that it could break with some rough use
We have an entire article focused on the best budget coolers, so be sure to check that out if you want a great cooler without stretching your budget.
Check Price and Reviews on Amazon
---
Igloo Glide Marine- The fishing cooler
Igloo Glide Marine Ultra Cooler (White/Blue, 110-Quart)
Virtually Indestructible stainless steel hinges
Cool Riser Technology improves cooling performance by minimizing surface contact and allowing air to flow underneath
Oversized rally wheels for easy transport and a smooth ride
Threaded drain plug allows for easy draining, cleaning and optional hose hook up
Dimensions: 19.740 inches H x 39.670 inches W x 18.620 inches L
Last update on 2023-11-02 / Affiliate links / Images from Amazon Product Advertising API
A fishing cooler needs to be durable enough to withstand being thrown around on your boat. They should also keep your catch cold for hours or even days. The Igloo Glide Marine is that cooler.
It is an extremely sturdy cooler than can withstand the wear and tear of being used on a fishing trip. In fact, you can even use it as an extra seating when there's not enough space on your boat.
In fact, the designers have made many unusual decisions to improve performance. One such example is the handle, this cooler comes with a weirdly shaped handle. The manufacturer claims that it makes the cooler easier to move with one hand. This is especially important if you frequently take solo fishing trips.
In fact, this cooler was built to be taken fishing and even has a neat little fishing ruler on the lid to measure the size of your catch.
Igloo Glide does not slack in performance either. This cooler will keep your catch cool for about five days which should be enough for most fishing trips.
What we like:
What we don't like:
The packaging is horrible. The cardboard box the cooler comes in is super thin especially if you buy it from Amazon.
Extreme inconsistencies in manufacturing. Many users reported getting coolers with hinges that would break off after a couple of uses
The spokes on the wheels are pretty fragile and will break after a couple of years of use
Check Price and Reviews on Amazon
---
Nash Sub Z-Four Wheel Cooler- The "swiss army knife" cooler
Last update on 2023-11-02 / Affiliate links / Images from Amazon Product Advertising API
Most coolers you see come with only two wheels. The Nash Sub Z is an exception to this rule. It has four.
Each of the wheels can be screwed into the cooler making it very mobile. Since the wheels are completely modular they can be removed when not being used. You can even remove just two of the wheels and use it as a 2-wheeled cooler. _
The first thing you'll notice about the wheels is their size. They are really small and resemble the ones you see on roller blades. This makes the cooler best suited for flat surfaces like concrete.
The wheels also have a locking feature which keeps the cooler stationery when it's not in use.
The Features
But what sets the cooler apart is the features, specifically the sheer number of them. This cooler comes with the most number of features out of any other cooler on the market. In addition to the wheels, you get a cutting board on the inside of the cooler which doubles as a divider to split the interior into multiple components.
You also get a padded seat which can be effortlessly attached with buttons and an optional wire basket.
Needless to say, this is the best bang for the buck coolers you can purchase. Oh, and we almost forgot to mention this cooler is made completely in the US.
What we like:
Most features out of any other cooler
This cooler is made completely in the US
The cooler provides a ton of flexibility, you can add and remove wheels as you please
What we don't like:
The smaller wheels make this cooler unusable on rough surfaces
As the wheels in the cooler are not recessed, the braking system may fail
It is neither best insulating cooler nor the most mobile cooler you can purchase at this price point
Check Price and Reviews on Amazon
---
Coleman Rugged A/T Wheeled Cooler- The  most rugged cooler
Coleman Rugged A/T Wheeled Cooler, 55 Quart
Rugged, high-capacity cooler ideal for camping, hikes, and other outdoor activities
Oversized 8-inch wheels for easy passage over rough terrain
55-quart capacity accommodates up to 84 cans
Keeps the Ice! insulation offers 5-day ice retention in temperatures as high as 90 degrees Fahrenheit
EZ-Lift swing handles for easy carrying in tough conditions
Last update on 2023-11-02 / Affiliate links / Images from Amazon Product Advertising API
As coolers get more expensive and add new features they are also becoming increasingly fragile. The Coleman A/T wheeled cooler takes the opposite approach.
It is a low maintenance cooler that is super easy to clean. In fact, the interiors are specially treated so they don't retain any odor. They don't stain easily either which is a nice perk and makes your cooler look great even after a couple of years of use.
If you are the kind of person who is looking for a durable cooler that can meet your demands of an active outdoor lifestyle then the Coleman Rugged A/T could be the perfect cooler for you.
One of the first things you would have noticed about this cooler are the wheels. They are LARGE(comically large). But the advantage with having monster truck like wheels is that this cooler is very easy to drag around(Even on the most rugged surfaces).
This cooler will keep your ice cold for a respectable 12 hours which is not great but it's not too shabby either especially for a cooler focused on durability.
We're just nitpicking here but you also don't get an informational manual with this cooler.
What we like:
The cooler is spacious and very easy to clean
Extremely durable
The insides of the cooler are don't stain easily. They hardly retain odor from any kind of food.
What we don't like:
This cooler can be pretty difficult to open especially if have never used it before
There's no use or care information manual included.
Unlike the rest of the cooler, the handles are pretty fragile. There's a good chance that it may break if your cooler falls down
Check Price and Reviews on Amazon
---
Coolest Cooler- The perfect party cooler
Last update on 2023-11-02 / Affiliate links / Images from Amazon Product Advertising API
Hopefully, the name tells you all you need to know about this cooler. But if you still want to know more. Keep reading.
Unlike other coolers on this list, the coolest cooler is completely crowd-sourced. It was first listed as a project on Kickstarter and within a month it exceeded its goal. Over the next 6  months, it got more than $13 million in funding and become the most funded product on Kickstarter for 2014.
The features
One of the best things about being crowdsourced is that the creator got to listen to their audience and improve their product in real-time. What you get is this super-fine cooler which can do ANYTHING..
One of the first features introduced was the blender. This can be used to make smoothies and cocktails on the go. This means snow cones on the beach and smoothies at picnics
There's also a Bluetooth speaker that can connect wirelessly with your phone to play your favorite tunes. And yes the speaker is completely waterproof so you can stop worrying about getting the cooler wet. The speaker will last you 8 hours on a single charge, which should be enough for any kind of event.
But that's not all, you won't have to carry a power bank on an outdoor trip ever again. The cooler has an inbuilt USB charging port to recharge any cameras or phones.
You even get a plate holder filled with disposable plates and a ceramic knife to make eating easier. There's even a bottle opener with a magnetic cap catcher.
If you plan to camp at night then you would be really pleased to know that the cooler has an LED light built in the lid. This lights the insides of the cooler when it is opened – very useful if you are searching for stuff at night.
We might be gushing a little here but coolest blew our minds. In fact, we were so impressed that we tried to get in touch with Ryan Grepper(the creator).
Performance
Enough about the features though, what really matters is if it can do its job. The coolest cooler has an ice retention rate of about a day. Some users have even reported getting 3 days of use from this cooler.
It uses extra wide tires that make the cooler easy to move around on all kinds of surfaces. You don't have to worry about durability either, every part of the cooler uses premium grade equipment. The wheel axle and hinges use stainless steel making them super durable completely rust proof. Even the handle is made from aluminum.
But nothing in life is perfect and that's true for this cooler too. The coolest cooler is hardly ever available and it is sold out as soon there's any stock.
What we like:
Really easy to move around
Tons of features
The cooler comes with a divider, this helps organize the stuff inside the cooler
What we don't like:
This cooler is in high demand, which means it's usually out of stock
The sub-par insulation is probably the only flaw in an otherwise perfect cooler
Check Price and Reviews on Amazon
---
Things you should consider before getting a wheeled cooler
If you are still unsure about the right cooler for you. Then this section is for you. We are going to look at some factors you can use to filter out the coolers that may not necessarily right for you.
Size
How do you plan to transport the cooler? Is it going in your car trunk? the backseat?  or back of your truck? You don't want to purchase a cooler that's too large to carry . Measure the space you plan to carry the cooler in. This way you have an upper limit on the size you can pick
When looking at the exterior dimensions of the cooler, you also want to consider the space occupied by any parts that protrude from the cooler. These could include handles, wheels or some other accessories.
Once you have selected the maximum size, It's time to look at the actual amount of storage you'll get. Make sure the cooler is large enough to hold enough food and drinks for your trip. If you've owned a cooler before. Look at its size. Was that enough? Do you need something bigger? smaller?
Handle
The kind of handle used in the cooler plays a pretty huge role in how easy it is to move around. If you are not going to move around much then there's no need to spend a ton on a fancy handle.
Some coolers. only have a rope handle. This makes it a hassle to wheel the cooler over long distances.
You should check out if your cooler has a telescopic handle. A telescopic handle is adjustable in length so it is easy for people of different heights.
You should also consider how your handle is positioned, The pelican pro gear has it's handle on one side of the cooler. This could be a problem if you keep you cooler in your truck but the handle is pinned against the side. In cases, like this, you would be forced to lift the cooler before it can be wheeled out. Although the position of the handle should not change your buying decision it is still something you should consider as you pick your cooler
Wheel Size
The size of the wheels on your cooler can turn out to be a really big deal. This is especially true if you plan to pull the cooler over uneven surfaces. Small wheels don't perform very well on rugged surfaces
If you plan to drag take you cooler camping or somewhere it is expected to be used on rugged surfaces then it's best to pick a cooler with larger tires.
Ask yourself – Is the cooler I'm picking large enough to roll over gravel or are they meant for flat surfaces like on a parking lot?
As a rule of thumb remember that the larger the wheel the more aggressive the terrain it can handle.
Wheel Structure
Are the insides of the wheel open to the elements? If yes then there's a good chance that dirt and gravel might get inside the wheel and lock it up.
Number of wheels
How many wheels does your cooler have?
Most coolers come with just two wheels which makes them better suited to handle rougher terrain. However, a 4 wheeled cooler is easier to move around on flat or sloped surfaces.
If you are going for a 4 – wheeled cooled then you should check to see if it will stay in place on a sloped surface. Some 4-wheeled coolers roll away when they are on a slope. You are not going to face this issue with 2-wheeled coolers as they have their wheels recessed so that when the cooler sits flat, the wheels are not in use.
Biggest Wheeled Cooler Brands
Igloo has been in business for over 70 years. This means they have seen it all, igloo became really popular in the 60's as the number of families going on picnics grew.
While the first igloo coolers were produced in metalworking shops. The ones you buy today are factory made. Igloo has moved to a 1.8 million square foot facility in Katy, Texas and are now one of the largest cooler manufactures in the world.  In fact, igloo manufactures over 500 products and employees over 1,200 people.
Coleman is one of the largest outdoor equipment manufacturers in the world. While other big brands are primarily focused on coolers, coolers just form a small part of the Colemans product line. That's just how large the company is. They have been in business for over 100 years, ever since WC Coleman first decided to sell gasoline lamps
Frequently Asked Questions
What is a telescopic handle?
A telescopic handle can be extended to adjust to a height you set. It is the kind of handles you find on most luggage bags. Another advantage of getting a telescopic handle is that you can store the handle out of the way when its not in use. This makes the cooler easier to store in small spaces.
Do Yeti Coolers Have Wheels?
It is really surprising that one of the most popular coolers on the planet does not come with any wheel option. Not even as an optional accessory.
But luckily, some manufacturers have created ways to convert a yeti cooler into a wheeled cooler. One of the best options you can go for is the Ramble X2. It's really durable and offers better mobility than most wheeled coolers
Last update on 2023-11-02 / Affiliate links / Images from Amazon Product Advertising API
I already own a cooler that works great. Do I have to buy a separate cooler with wheels?
Do you already own a great cooler but it does not have any wheels? If that's the case, you don't need to spend a ton of cash on a brand new cooler. Many brands sell cooler wheels that can be added to your existing non-wheeled cooler.
Even some cooler companies provide wheels that are specially designed for a particular model. While these DIY wheeled coolers are not as mobile as pre-built coolers, they work just fine and are much lighter on the pocket.
Conclusion
With so many choices(we've discussed 10 great ones in this post alone), there's a cooler for everyone. The best wheeled cooler for us has to be the Pelican Progear.  It provides fantastic insulation,  that's much better than what any of its competition can provide. It is easy to use, durable and if that wasn't enough the Lifetime warranty offered by Pelican really sold us on this cooler.
The costs turned us off for a bit before we realized that buying high-quality durable cooler would be cheaper than buying a budget cooler every couple of years.
But if you are looking for a cooler that's only going to be used at barbeques and tailgating events, the Igloo Maxcold is the smarter choice to go for.