Everybody is looking for value. This buying guide is about finding the best cooler for the money. We have talked about the best coolers for keeping ice and the best rotomolded coolers for the money. This guide is all about finding a great cooler at an affordable price.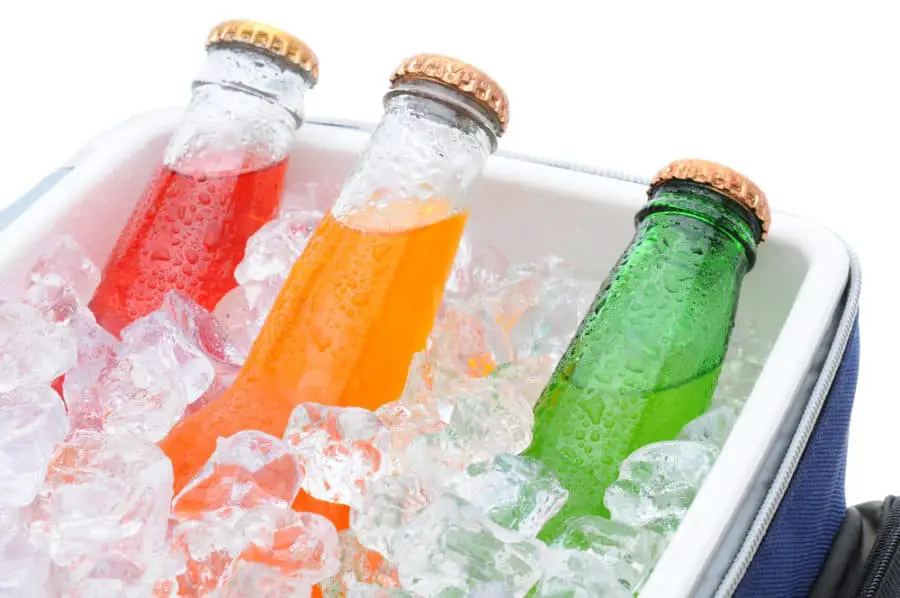 Classic brands are frequently the best. Our main options are produced by US companies that have been perfecting the cooler business for a long time. We talk about the classic steel-belted coolers, the best cheap cooler, and super functional wheeled options.
Camping, picnicking, fishing, or tailgating. Having a stocked cooler can make the event. We want you to have all of the best options when choosing a cooler brand, style, and color that will fit your lifestyle. We also talk about how to pack for ice retention and convenience.
We also share a few tips for caring for your cooler, customizing your cooler, and finding the best value.
In a Hurry? Here's Our Top Picks…
Coleman 54-Quart Steel-Belted Cooler
Sale
Last update on 2023-11-21 / Affiliate links / Images from Amazon Product Advertising API
If you aren't going for a rotomolded high-performance cooler, you really can't go wrong with a classic Coleman cooler. This 54-Quart steel-belted cooler is the same cooler your parents and your grandparents had.
Nothing says camping like waking up to the smell of pine air and reaching into the classic green Coleman for a cold drink or to get food to begin an awesome camp breakfast.
This heavy-duty cooler has that retro design that we all know and love. They also have other color options including black, red & black, rose pink, silver, stainless steel, and turquoise.
The 54-Quart cooler can hold up to 85 cans. If you have ever looked at the expensive rotomolded coolers they are much larger and heavier and have less capacity because of the thick insulation.
This cooler still has good ice retention capabilities and is said to have 4-day ice retention. It is the perfect cooler for picnics, tailgate parties, and camping trips where you can get fresh ice. This is a great cooler and the retro design makes it our favorite.
Coleman 54-Quart Steel-Belted Cooler Features We Like
Cool Retro Design
Durable Steel Belted Engineering
Four Day Ice Retention
Several Color Options
Strong Enough to Sit On
Locking Latch
Bottle Opener
Comfort Grip Steel Handles
Check Price and Reviews on Amazon
---
Coleman Xtreme Series Wheeled Cooler 50 Quart
Sale
Last update on 2023-11-20 / Affiliate links / Images from Amazon Product Advertising API
Here is another great value from Colman. The Coleman Xtreme Series Wheeled 50 Quart cooler is economical, useful, and sharp looking. This cooler has a large 50 Quart capacity and can hold up to 84 cans.
All of those beverages and ice can get heavy. The Coleman Xtreme has you covered because it comes with wheels. Stroll to the lake or picnic area with ease while the guy next to you struggles to carry his packed ice chest.
This model is also sharp looking. It comes in black with gray accents. The lid has cup holders for added convenience. It's also no slouch with ice retention capabilities for up to five days. This is a really nice cooler and a great value.
Coleman Xtreme Wheeled Cooler Features We Like
Up to 5 Day Ice Retention
Cool Black with Gray Accents
Four Built-In Lid Cup Holders
Wheeled for Easy Transport
Telescoping Handle
Holds Up To 54 Cans
Check Price and Reviews on Amazon
---
Igloo Ice Cube Roller Cooler 60-Quart in Ocean Blue
Igloo Ice Cube 60 Quart Roller Cooler , Ocean Blue
Ultratherm insulated body keeps cold for a long time
Push button and locking telescopic handle
Durable wheels and reinforced tow handle make transporting a full cooler easy
Molded side scoop handles for ease of loading and unloading
60 quart capacity. Exterior Dimensions ( L x W x H )-20 x 18.5 x 20.69 inches. Interior Dimensions ( L x W x H )-Top - 16.75 x 14.5 x 17.25 inches, Bottom - 15.25 x 12 x 17.25 inches
Last update on 2023-11-20 / Affiliate links / Images from Amazon Product Advertising API
Igloo is another company that has been around a long time. They focus on coolers, bags, and drinkware and have been around since 1947. This cooler has a large 60-quart capacity and also has wheels and a telescoping handle.
It is the classic Igloo blue and white and has cup holders built into the lid. This product is affordable and durable. The cube design makes loading and unloading easy and the telescopic handle locks with a push-button release.
You really can't go wrong with a cooler that keeps cold, holds a lot, and is easy to carry and transport. The classic Ocean Blue color adds to the coolness of the functional and practical cooler.
Igloo Ice Cube Roller Cooler Features We Like
Telescopic Locking Handle with Push Button Release
Large 60-Quart Capacity
Cool Ocean Blue Color Scheme
Sturdy Easy Pull Wheels
Lid Features Built-In Cup Holders
Check Price and Reviews on Amazon
---
Igloo MaxCold Roller Cooler 40 Quart in Jet Carbon, Ice Blue, and White
Igloo Quart MaxCold Cooler, Blue/Navy, 40 Qt
Igloo max cold cooler offer the ultimate in cold retention with ultratherm insulated lid and body
Durable wheels and tow handle for easy transport to and from the event
Ultratherm insulation in body and lid helps keep things cold
Reinforced swing-up handles with tie-down loop
40 qt. Capacity and can hold up to 56 cans
Last update on 2023-11-21 / Affiliate links / Images from Amazon Product Advertising API
Here is another great wheeled cooler option by Igloo. This one is rectangular shaped with kind of a space-age appearance, thanks to the rounded lid. This cooler has a 40-quart capacity, but it has ultratherm insulation for extra ice retention capabilities.
The handle is a reinforced plastic with a swing up design. There is also a reinforced tie-down loop. You can be the envy of the beach pulling this space-age cooler filled with 56 cans of your favorite beverage.
Igloo MaxCold Roller Cooler Features We Like
Side Handles for Easy Lifting In and Out of Vehicle
Pull Up Handle for Easy Pulling
Sturdy Wheel Construction
Modern Color Combination
Ultratherm Insulation for Added Ice Retention
Rounded Space Age Design
Check Price and Reviews on Amazon
---
Coleman 48-Quart Performance Cooler
Last update on 2023-11-21 / Affiliate links / Images from Amazon Product Advertising API
If you want classic Coleman performance and don't want to spend the money on the steel belted models, this is our best cheap cooler recommendation. The red or blue Coleman performance cooler has been a beach and campground staple for years.
This cooler has three-day ice retention and holds up to 63 cans. It's also tall enough to hold 2-liter bottles making it camp and picnic ready. It has an easy access hinged lid and two way handles for easy lifting and storage.
It has low CO2 insulation for reduced carbon emissions. It's also made in the USA. It's rustproof and leak proof and rugged enough to last for years. This is a great value in a classic lower end cooler.
Coleman Performance Cooler Features We Like
Lightweight
Easy Access Lid
Strong Enough to Sit On
Classic Red or Blue Colors
Tall Enough to Stand a 2-Litre Bottle Upright
Holds up to 63 Cans
Check Price and Reviews on Amazon
---
The Coolers First Patent
According to Wikipedia a man named Richard C. Laramy filed a patent application for a portable ice chest in 1951 and received that patent in 1953. In 1954, Coleman started making their classic steel-belted cooler.
Even though it has been less than 60 years, coolers and portable ice chest are synonymous with fun. You will find the ubiquitous cooler at any picnic, swim party, camping trip, tailgate party, fishing trip, or any outdoor activity that is made better by fresh food and cold drinks.
Why Retro is Cool
Understanding history gives us a glimpse into the future. Plus, it's interesting to see how things used to be and the differences between tools and things our predecessors used and what we have today.
There are quite a few articles talking about the psychology of being attracted to vintage and retro items, but it might be simpler than that. We like nostalgia because it brings back memories and reminds us of our pasts.
Our grandma's cookie jar or grandpa's green Coleman cooler brings back fond memories. This is one reason why some of the modern steel-belted coolers with that retro flair are appealing. Some people even like these so much that they take the time to restore retro coolers. There is even a Coleman Museum and Factory Outlet.
Packing Your Cooler
Cool your cooler before you pack it. You want to bring your cooler inside a day or so before you need to pack it. You could even put some ice in it and let it prechill. The insulation not only holds cold, but it can hold heat too. You don't want your ice to melt before you even arrive at your destination.
Freeze and chill anything that you will be putting in the cooler. You don't want to waste your ice on cooling warm drinks. Block ice lasts longer than bagged ice. Dry ice can also be an option if maximum ice retention is your goal, but there are drawbacks like expense and hassle.
Some ice substitute products claim to freeze colder than ice and stay frozen longer. A product like this could be used to help keep your regular ice colder. Air is your enemy and insulation is your friend. This is why you don't want to drain the melted ice water. It serves as insulation against air and keeps your cooler colder.
Common sense also matters. If it is a long trip, have perishables like meat and dairy on the bottom or put them in a separate ice chest that doesn't get opened as often. Each time you open your cooler cold air escapes.
Have a dry basket on top for things that you don't want touching the ice or things that aren't in a waterproof container. You can also have a second ice chest for cold drinks. This chest will get opened often while the other ice chest stays cool.
If you are near a store, you can always replenish your ice supply. Super packing and ice retention are only needed if you can't get more ice. Adding a fresh bag of ice every day or two is a time-tested method that works indefinitely.
Using Dry Ice In Your Cooler
Dry ice is frozen carbon dioxide, and it is colder than frozen water or regular ice. Unlike regular ice, dry ice turns into a gas when it melts. Carbon dioxide is what we exhale after breathing in oxygen. Dry ice and carbon dioxide can be safe, but there are some precautions that need to be taken.
You can't touch the dry ice. It's so cold that it can cause frostbite and touching it feels like a burn. Wear gloves or use tongs. Small amounts of carbon dioxide gas are normal. You don't want to let a lot of carbon dioxide build up in an enclosed space. Use common sense and good ventilation as your dry ice begins to vaporize.
Dry ice can be used to make spooky smoking cocktails and Halloween punch. It can also be used to keep your cooler extra cold. Wrap dry ice in several layers of newspaper and put it on top of your cooler to help lock in the cold air and keep your regular ice longer.
You can also wrap your dry ice in newspaper and line the bottom of your cooler with it. The effect won't be quite as good as it would be with the ice on top, but it's more convenient not having to touch the dry ice every time you get something from the cooler.
Don't put the extra cold dry ice in a glass container or directly on glass bottles because the extreme cold could cause them to explode. Avoid skin contact and gas buildup in enclosed spaces. With a few safety precautions, dry ice can be a helpful ice retention tool. It can also be expensive and a lot of work. So, if ice retention isn't your main goal weigh your options.
Keeping Your New Cooler Clean
You should clean your cooler before its first use. Mild dish soap and a good rinse should be all that is required. You can repeat this process after use. Let your ice chest air dry completely before storage.
If heavier cleaning is needed, use a cloth of non-abrasive tool like a Scrub Daddy sponge. You can even add a little baking soda for extra cleaning power and freshness. If there are stains or you need to disinfect your cooler, a bleach solution works well. Just be sure to rinse it and let it dry before storage.
How to Get Smells Out of a Cooler
If cleaning your cooler with the above methods does not remove odors here are few tips that you can try. They say sunshine is the best disinfectant for a reason. Open the lid and let it air out in the sun. You can also try odor absorbing items like charcoal or coffee grounds. Rubbing a cloth soaked in vanilla extract can also be used.
Fun Ways to Make a Cooler Your Own
If you are a sports fan or into college sports, there are many custom designed cooler options to match your favorite school. You can also make your cooler your own with creative fun upgrades. The easiest option is to add stickers or decals. From team sports to bands, your cooler will be distinctly yours and reflect your taste.
Painting your cooler is also an option. From restoring a vintage cooler to creating your own custom cooler design. The steps include making the surface smooth, using a primer appropriate for the type of cooler you have, transferring your design to the cooler or freehanding it, painting, and sealing.
Best Cheap Cooler
All of the above coolers are great options. The steel-belted is a more expensive option, but the Coleman 48-Quart Performance cooler is a rugged plastic classic and our choice for the best cheap cooler. Our other cheap cooler choice is Igloo Ice Cube Roller Cooler 60-Quart it is affordable and versatile with wheels and cup holders built-in to the lid.
Prices fluctuate based on sales and demand, but both choices are affordable and quality coolers that will last a long time. Especially, for light duty picnics and day trips.
Brands of Best Coolers for the Money
Igloo
Igloo coolers are manufactured in the USA by a company that has been around since 1947. Igloo is a great American company based in Katy, Texas. The goal of the company is "to create products that enable the pursuit of happiness" however you define it.
In 1947, a modest metalworking shop designed the first beverage cooler with hopes of bringing clean water to the job site. They went on to create the first plastic coolers in 1962.
Then they came out with Igloo 5 gallon beverage coolers which we see strapped to work trucks everywhere. Then they decided to tackle marine accessories and created the 155 quart giant sea chest.
In the 1970s, they came out with the popular Playmate personal cooler and continued to evolve on that idea. In 1990, Igloo was the first maker of wheeled coolers, and they began making coolers with telescoping handles in the 2000s.
They have continued to evolve and have created bags, drinkware, rotomold performance coolers, and even the party bar. Igloo is a great American brand that knows a thing or two about designing coolers.
Coleman
Coleman started making the classic steel-belted Coleman cooler in 1954. The company began when W.C. Coleman saw a new gasoline burning lamp in a drugstore in Brockton, Alabama.
He began making lanterns, and soon the Coleman name became synonymous with outdoor fun. They still make lanterns, cook stoves, grills, tents, all types of camping gear, chairs, lifejackets, several different types of coolers, drinkware, and more.
Coleman insulated thermoses and water jugs are almost as famous as their classic cooler. They even offer a bear proof heavy-duty super cooler that gives other high-performance coolers a run for their money.
Frequently Asked Questions
Q: What is the best ice chest for camping?
A: This depends on the type of trip you are taking. If your trip is short or you have the ability to get fresh ice, and bears won't be visiting your camp at night, then any of the above are fine.
If you need longer ice retention or there is a possibility of bears visiting your camp then you will need one of these high performance rotomolded coolers.
Q: What is the best ice chest for your patio?
A: Any ice chest you already own is a great fit for your patio. If you are buying one specifically for home use, we are partial to the the retro look and color choices of the Coleman steel-belted coolers. If you want to go all out Igloo makes a party bar.
Igloo® 49271 Party Bar™ Cooler – Powered by LiddUp®
Fully insulated body for long-lasting ice retention
16 water-resistant, heat-free LED lights provide 360-degree interior lighting allows the party to continue when the sun goes down.
Heavy duty locking casters on a removable base makes it easy to move when full.
Threaded drain plug is garden hose compatible;Cool Riser design keeps contents cooler for longer by elevating away from hot surfaces
Handy bottle opener and cap catch bin
Last update on 2023-11-21 / Affiliate links / Images from Amazon Product Advertising API
Q: What is the best ice chest for the beach?
A: Any of the above options will work fine. Unless you have two people or a strong person to carry your ice chest, a wheeled option with cup holders would be a good choice.
Q: Will coolers keep things warm?
A: Coolers are insulated, so technically if lined with foil or something similar they could keep things warm, but the plastic lined coolers are designed to keep things cool. There are much better warming options. The insulation will retain heat. That is why it is recommended to pack your cooler after precooling it, so the stored heat doesn't melt your ice before you get to your destination.
Q: What is the best cooler for ice retention?
A: The best cooler for ice retention are some of the newer high-performance rotomolded coolers. You pay a premium price for these coolers, but they are the ones with the most insulation and ice keeping properties.
Final Thoughts
The best cooler for the money is the one that you can afford. We are partial to the cool looking steel-belted Coleman coolers, but all of the choices above are affordable and great quality. They are both made by quality manufacturers who have a time tested history of making coolers, water jugs, soft sided coolers, and drinkware.
If affordability is your main concern, the Igloo Ice Cube Roller Cooler 60-Quart is a great choice. It's a quality Igloo product and it has the added convenience of being a wheeled cooler. It is also a really nice cooler at an affordable price. Our other top cheap cooler choice is the Coleman 48-Quart Performance cooler.
It's a classic rectangular cooler that comes in red or blue. It's lightweight, easy to pack, and easy to carry. Has ice retention capabilities that are great for day trips and overnighters. We also included two really nice wheeled coolers that are a little more high-end. The Igloo MaxCold Roller Cooler 40 Quart in Jet Carbon has a space age design and extra insulation for ice retention.
The Coleman Xtreme Wheeled Cooler has a great design, a telescoping handle, and can hold 54 cans. It looks great and is the perfect beach or picnic accessory. All of the above choices are great options. The most important thing is to get outside and enjoy being with your friends and family. We hope this guide helps you find a great cooler selection.