It's not fun to reach into a cooler for a cold drink and find semi-cool beverages floating in water that has had several hands plunged into it. It's even worse to be on a family outing and have to wonder if your perishables are still good or not.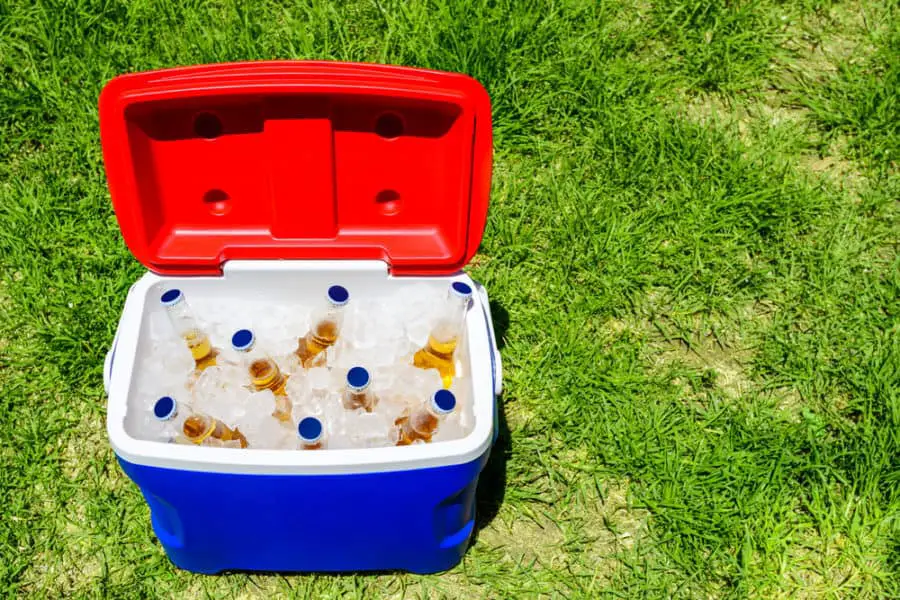 This guide is about some of the best coolers for keeping ice frozen and keeping your drinks cold and your food at a safe temperature for storage. According to the FDA, the safe storage temperature is below 40 degrees Fahrenheit.
In the last decade, high-performance rotomolded coolers have increased ice retention. Rotomolding is when heated plastic is poured into a mold and rotated to cover the mold. This results in a strong even and seamless shell that can be filled with thick insulation.
The drawback to these coolers is that they are heavy, even when empty, and they are expensive. If a high-performance cooler is on your list, the options below are great choices.
In a Hurry? Here's Our Top Picks…
RTIC Cooler 65 Quart
RTIC Hard Cooler 65 qt, Tan, Ice Chest with Heavy Duty Rubber Latches, 3 Inch Insulated Walls Keeping Ice Cold for Days, Great for The Beach, Boat, Fishing, Barbecue or Camping
ALL ABOUT THE EXTREMES – The RTIC Hard Cooler is designed for impact resistance, durability, and long-lasting ice retention. Perfect for anywhere adventure takes you.
3-INCHES OF INSULATION – With up to 3 inches of closed-cell foam insulation, this insulated cooler is all about extremes. Your food and beverages will stay colder and for longer in this ice chest.
LONG-LASTING ICE RETENTION – This portable cooler is made for portability with heavy-duty rope handles that allow you to take it anywhere. Keep your drinks, food, and meat cold on that long trip.
MULTIPLE USES – It's the perfect ice cooler, drink cooler, travel cooler, beer cooler, can cooler, camping cooler, beach cooler, boat cooler, or barbecue cooler.
MANY SIZES AVAILABLE – This outdoor cooler comes in 20 qt, 45 qt, and 65 qt. It can double up as a bench, step stool, tabletop, or extra cutting board.
Last update on 2023-09-20 / Affiliate links / Images from Amazon Product Advertising API
RTIC Coolers are a brand of affordable high-quality coolers by a direct to consumer company. This 36-quart RTIC cooler is rotomolded and virtually indestructible.
This is one of the best large coolers on the market, it has 3" insulated walls and a freezer-style gasket lid which helps it to keep ice up to 10 days. This cooler is small enough for one person to carry but can hold up to 64 cans or 70 pounds of ice.
The traction lid allows this ice chest to serve double duty as a casting platform or a step up and into your truck. It's rugged and bear-proof with an integrated locking system and heavy-duty rubber t-latches.
Water shouldn't be drained while you are trying to prolong the life of the ice, but when it is time to drain the RTIC it has a rapid v-drain system with easy-flow drain spouts.
RTIC also offers replacement parts and accessories like the RTIC 65 Divider that can also serve as a cutting board. Along with ice packs, baskets, and even stainless steel straws for the environmentally conscious folks.
RTIC offers cooler sizes of 20, 25, 65,110, and 145 quarts. Color options include pink, white, blue, tan, and seafoam green.
RTIC Cooler Features We Like
Bear Proof Rotomolded Construction
Freezer Grade Gasket and 3 Inches of Insulation
Integrated Locking System
Molded Tie Downs
Rabid V-Drain System
Heavy Duty
Color Options
Cool Accessories Available
Affordable High-End Cooler
Check Price and Reviews on Amazon
---
ORCA TP0580RCORCA Cooler, Tan, 58-Quart
Sale
ORCA TP0580RCORCA Cooler, Tan, 58-Quart, TP058ORC
Integrated insulation for maximum Ice/cold retention and Freshness of your stowed items for up to 10 days
This are outdoor-kitchen-accessories
This is manufactured in United States
100% USA Made, Lifetime Warranty
Lid Gasket to ensure a perfect seal
Last update on 2023-09-20 / Affiliate links / Images from Amazon Product Advertising API
ORCA coolers are high-quality American made coolers. These have a lifetime guarantee and are designed to give you 200 hours of cool. ORCA stands for Outdoor Recreation Company of America and the founders have put these coolers to the test.
This 58-quart option is rugged rotomolded plastic bear proof design. It also features the ORCA whale tail logo and the made in the USA flag logo. The rubber tie downs also have the whale tail design.
The integrated insulation allows for maximum ice and cold retention up to 10 days. The lid gasket ensures that cold stays in and the heat stays out. Flex-grip handles allow solo or tandem carrying.
The easy flow drainage spout is there when it's time to drain melted ice and water. There is also an optional cargo net attachment. Orca offers six size options from 20 quarts up to 140 quarts and features several stylish color choices.
ORCA 58 Quart Cooler Features We Like
Large Capacity
Holds Up To 72 Cans
Rugged and Bear Proof
Ice Retention Up To 10 Days
Made in the USA
Lifetime Warranty
Non-Slip Rubber Feet
Whale Tail Logo and Latches
Color Options Available
Available Cargo Net
Check Price and Reviews on Amazon
---
YETI Tundra 65 Cooler
YETI Tundra 65 Cooler, Desert Tan
The YETI Tundra 65 is just as adept at keeping your catches cold in the field as it is storing the drinks and food for your backyard barbecue, this ice chest is plenty roomy, holding a limit of redfish or your prized brisket
Ice stays ice thanks to up to 3 inches of PermaFrost Insulation and an extra thick FatWall design is certified Bear-Resistant
The Rotomolded Construction makes the Tundra armored to the core and virtually indestructible so wherever you decide to take it, this portable cooler's sturdy construction will stand up to the rigors of the journey
All Tundra coolers feature T-Rex Lid Latches constructed of heavy-duty rubber so you'll never see another busted latch and has patented keeper technology
The Tundra 65 dimensions are 30 1/2 in long x 17 1/2 in wide x 16 in high with an empty weight of 29 lbs NOTE: All Tundra models come standard with one dry goods basket.
Last update on 2023-09-20 / Affiliate links / Images from Amazon Product Advertising API
YETI was founded in 2006, by two brothers who wanted a cooler that was tough and could withstand outdoor wear and tear while keeping ice frozen. They came up with the YETI featuring a bear-proof almost indestructible rotomolded hard plastic design with two inches of pressure-injected polyurethane foam permafrost insulation.
This makes the YETI strong enough to stand on which is great for casting when out on the water insulated enough to keep ice frozen for days. The YETI is strong with heavy duty rubber latches, a never-fail hinge system, durable military grade handles, and Bearfoot non-slip feet.
The lid uses a form-fitting interlock system and there is a cold lock gasket to keep the heat out. This cooler is versatile and durable and comes with a dry goods basket. There are other accessories available like a divider.
YETI is one of the most popular and well known high-end cooler brands. The Tundra comes in a range of sizes from the Tundra 35 up to the Tundra 350. The Tundra 65 is a popular and versatile YETI model.
YETI Tundra 65 Cooler Features We Like
Tough Enough to Stand On
Bear Resistant
Keeps Ice Cold for Days
YETI Quality and Reputation
Comes With A Dry Good Basket
Strong Handles and Latches
Interlocking Lid and Freezer Quality Seal
Easy to Carry
Large Capacity
Check Price and Reviews on Amazon
---
Engel Coolers High-Performance ENG65 Roto-Molded Cooler
ENGEL ENG65 High Performance Cooler - Haze Gray
Best in class ice retention and overall performance, holds ice for up to 10 days
Rotationally molded with 2 inches of high density closed-cell polyurethane insulation all round and is certified Bear-Resistant - so its vertually industructable and built to last!
IGBC Certified bear resistant container - when 2 locks used
Silicone airtight gasket, adjustable recessed marine grade compression latches and UV-Resistant Contruction
Dry Ice compatable. Non-Marking rubber feet. 10 year warranty
Last update on 2023-09-20 / Affiliate links / Images from Amazon Product Advertising API
This is the brand behind the first high-performance rotomolded coolers. The Engel 65 is tough and durable with two inches of insulation in the lid, bottom, and sides of cooler. It boasts ice retention up to 10 days and is dry ice compatible.
This cooler is tough. It is an IGBC certified bear-resistant container. The seamless construction makes it strong. It also comes with a 10-year warranty.
The all silicone gaskets create an airtight seal that never loses its shape. If you encounter problems opening the Engel open the drain valve to release the pressure. This 58-quart cooler can hold 70 cans.
These coolers are offered in sizes ranging from 25 to 320 quarts. There is also a wide variety of available color options including camouflage. There are also optional accessories available and a bottle opener on the latch.
Engel 65 High-Performance Cooler Features We Like
10 Day Ice Retention
Dry Ice Compatible
10 Year Warranty
IGBC Certified Bear Resistant
Marine Grade Compression Latches
UV-Resistant Construction
Non-Slip Rubber Feet
Check Price and Reviews on Amazon
---
Pelican Elite 70 Quart Cooler
Last update on 2023-09-20 / Affiliate links / Images from Amazon Product Advertising API
The Pelican Elite 70 quart cooler is great for outdoor enthusiasts and long trips. It can hold food for 7 days along with 24 cans or just 46 cans. Pelican also offers cool accessories like marine cable locks and cushions for the top of the cooler.
This cooler features EZ pull latches. No more fighting with latches that have been sitting in the sun. It also has a lifetime warranty. It has a built-in bottle opener, built-in cup holders and is grizzly proof.
It has non-slip rubber feet and boasts two full days of ice retention. It's made in the USA and the stainless steel components are corrosion resistant. It has molded-in tie downs, a sloped drain and tethered plug, and an integrated fish scale on the lid.
This model comes in four contrasting color options including white & gray, tan & orange, olive green & tan, and green & gray. Hard side cooler options range from 20 quarts to 250 quarts.
Pelican Elite 70 Quart Cooler Features We Like
Lifetime Warranty
Two-Tone Color Options
Built-In Cup Holders
Bottle Opener
Easy Pull Latches
Accessory Options
Check Price and Reviews on Amazon
---
OtterBox Venture Cooler 65 Quart in Frosty Dew
No products found.
OtterBox is the same company behind the drop proof, dustproof, and waterproof phone cases. They focus on tough durable cases. Their Venture cooler can keep ice up to 16 days in optimal conditions.
That translates into long-lasting ice in regular conditions. It is made in the USA and backed by a limited lifetime warranty. It has an accessory mounting system and comes with a bottle opener and dry storage tray.
This 65-quart cooler can hold 75 pounds of ice or 36 cans or for the kid in you 69 juice boxes. It comes in 25, 45, and 65-quart options with color choices of frosty dew or shoreline which are a two-tone gray and green or gray and navy.
This cooler is newer than the competition, but its excellent ice retention along with fun accessories make it a contender.
OtterBox Venture Features We Like
Highest Ice Retention
Stylish colors
Durable Design
Comes in 3 sizes
Fun Accessory Options
Check Price and Reviews on Amazon
---
Why Get a High-Performance Cooler?
If you plan on being outdoors for multiple days a high-performance cooler is really beneficial. The ability to keep food fresh by storing it below 40 degrees will keep your family safe and give you peace of mind on those extended camping trips.
A high-performance cooler is also perfect for hunting, fishing, and boating trips. Even people who work in the hot sun can benefit from a cold drink at the end of the day. Having ice that isn't melted is super valuable on the job site.
These coolers are also tough. They can be stepped on, used as a casting platform, and sealed tight to prevent bears and wild animals from breaking into them at your camp.
These versatile coolers can be used at outdoor cookouts, tailgate parties, picnics, and outdoor get-togethers. Cold drinks never go out of style.
Keeping Your Cooler Clean
The last thing you want is dirt, old food, bacteria, or worse left in your cooler. Keeping your cooler clean and fresh smelling not only prevents possible contamination, but it just makes using it more pleasant.
No one wants to get a cold drink out of a stained up fishy smelling cooler. It doesn't matter how long it is guaranteed for. Often times a cooler only needs to be rinsed out after use. You can also use warm water and dish soap to give it an extra cleaning.
If stains or odor persist, use a solution of water and chlorine bleach. You can also give it a good scrub with baking soda and water. This will not only kill any lingering germs and bacteria it should help with any leftover odors.
If odors persist, you can rub the inside of the cooler with a cloth saturated in vanilla extract. Always be sure and let the cooler completely dry before closing the lid and putting it in storage.
Cooler Handling and Storage
Rotomolded coolers are heavy, even when they are empty. Take a large cooler and fill it with ice, drinks, and food, and it will be even heavier. Many of these are small enough that a strong guy can carry it, but using two people is a better idea.
Most have accessories that can make using the coolers easier. A wheeled cart is a great accessory if you plan on hauling a large filled cooler around. You can also keep your cooler in the back of the truck and not move it far from your vehicle.
To ensure that your cooler stays cool, put it in a shaded area or put a towel or cover over it. This may not be possible at all times, but if ice retention is your main goal, it is a good idea.
Ice Retention Best Practices
Rotomolded insulated coolers have excellent thermal properties. Still, there are a few things you can do to help make your ice last longer. Don't take a hot cooler out of the garage and fill it.
Instead, put it in the house or somewhere cool and then put some ice in it to prechill it. If you are filling your cooler completely, use a 2 to 1 ice to contents ratio. Twice the ice as you have drinks and food.
Use the coldest ice possible. Partially melting and dripping ice isn't as cold as ice that is frozen solid. Block ice melts slower. Cubed ice will chill a cooler faster, but will melt faster.
You can also use dry ice wrapped in newspaper. It is best to put it on top, but putting it on the bottom is more convenient and still beneficial. Some companies like YETI offer an ice supplement that is actually colder than ice and gives your cooler an extra boost.
Watch out for air. Fill your cooler completely or use extra ice or paper to prevent air. Also, don't drain the water until you are done using the cooler. Keep your cooler out of the sun and limit opening and closing the cooler lid as much as possible.
Brands of the Best Coolers for Keeping Ice
RTIC Coolers
RTIC Coolers is a developer of premier outdoor products. They focus on coolers, hydration, backpacks, hard cases, weather resistant duffel bags, and on-the-go food containers.
They are a direct to consumer brand that focuses on keeping prices down by eliminating the middleman. This is a brand that is popular with all types of outdoor enthusiasts.
ORCA Coolers
ORCA stands for Outdoor Recreation Company of America. Founded in 2012, this is a company of outdoor enthusiasts that makes products for outdoor enthusiasts. ORCA's goal is to create a cooler that outperforms the rest.
They also offer the largest selection and back up their products by guaranteeing them for life. Besides their hard-sided coolers, they also offer soft-sided coolers called pods and podsters. They also offer innovative drinkware options.
YETI
YETI was founded in 2006 with the simple idea of building a cooler that you would want to use every day. YETI isn't just a status symbol, it's a product that gets the job done.
Roy and Ryan Seiders are two brothers who love the outdoors and hunting and fishing. Like most entrepreneurs they found a problem and solved it, enabling them to turn their passion into a business.
They are the proud industry leader in outdoor gear and feature Tundra hard coolers, Hopper soft-sided coolers, and Rambler drinkware.
Engel Coolers
Engel claims to have the first and original high-performance cooler rotomolded cooler. They were established in Japan in 1962 and launched in the US in 1998. They have 50 years of passion going into their products.
The company is a pioneer in portable refrigeration. They claim to have invented the rotomold process in 2005 and perfected it by 2007. You can still purchase the original Engel cooler along with soft-sided coolers, dry boxes, performance drinkware and more.
Pelican Coolers
Pelican Coolers are makers of coolers with several size and color options. They also have a wide assortment of accessories. They also stand behind their products with a lifetime warranty.
These coolers are made in the USA and they offer a wide variety of accessories and replacement parts. They offer coolers, bags, drinkware, cushions, locks, dry baskets, and more.
Otterbox
Otterbox Venture Coolers are by the same Otterbox that creates super rugged and stylish phone cases. Their outdoor collection features hard coolers, soft coolers, dry bags, drinkware, and accessories.
The Venture hard coolers have the longest ice retention and are durable and stylish. They come in 25, 45, and 65-quart options with several stylish color combinations including an American flag lid.
Frequently Asked Questions
Q: What coolers keep ice the longest?
A: All of the above coolers have great ice retention. Factors to consider when buying a cooler are the insulation, seal, and cooler quality. Precooling and packing, as well as cooler storage, can affect ice retention.
Q: How do I clean my cooler?
A: Dish soap and warm water should do a good job on your cooler. If you have stubborn stains a mixture of bleach and water should help.
Q: How to prolong the life of ice in a cooler?
A: Precool your cooler with an extra bag of ice. Use twice as much ice as cooler content. Put a layer of dry ice on the bottom or top of cooler. You can also use an ice supplement and block ice as opposed to bagged ice. Keep the cooler out of the sun. Open and close as little as possible. Don't drain the water it serves as insulation against air.
Q: What does precool mean?
A: Your ice isn't going to last as long if you take a hot cooler from the garage, fill it with warm drinks, and dump a bag of ice on top. Take your cooler out of the heat, put a bag of ice in it, and fill it prechilled beverages for the longest lasting results.
Q: Is dry ice safe?
A: Yes and no. Dry ice can be an effective addition to a cooler that is dry ice safe. You don't want to touch the dry ice with your bare hand and you want to avoid breathing too much of the CO2 that the melting ice can let off. Wrap your dry ice in newspaper and line the bottom of your cooler with it for best results.
Q: Why are coolers measured in quarts?
A: They have to have some type of measurement for a size indicator. The amount the cooler will actually hold depends on the shape and dimensions of the inner container. The YETI coolers seem to have a smaller inside capacity.
Q: Will coolers keep things warm?
A: Coolers may not be the best way to keep foods warm. They are insulated and insulating warm food from cool air will help it to stay warm longer, but you don't want to damage your hard plastic cooler with trying to use it as a warmer.
Final Thoughts
All of the above options are quality coolers and some of the best coolers for keeping ice. They will keep your ice frozen longer than a conventional cooler. If you are just using the cooler for day trips or don't mind refilling the ice when camping then one of these may not be necessary.
Each one has different features and benefits. Although, most of them are very similar. Weighing price, how serious you are about ice retention, durability, color, and style can be factors when choosing which brand is for you.
ORCA, Pelican, and Otterbox have some really cool color and design options. Whereas the YETI is well known and thought of as the gold standard by many. Engel is the original rotomolded cooler, and RTIC makes quality products.
The final decision comes down to your personal preference. You really can't go wrong with any of these high quality options. You may be more interested in durability or accessories or maximum ice retention. Once you have the best cooler, go out and enjoy the great outdoors with all the comfort of ice cold beverages and fresh food.