Looking for the best putting mats for your home or office?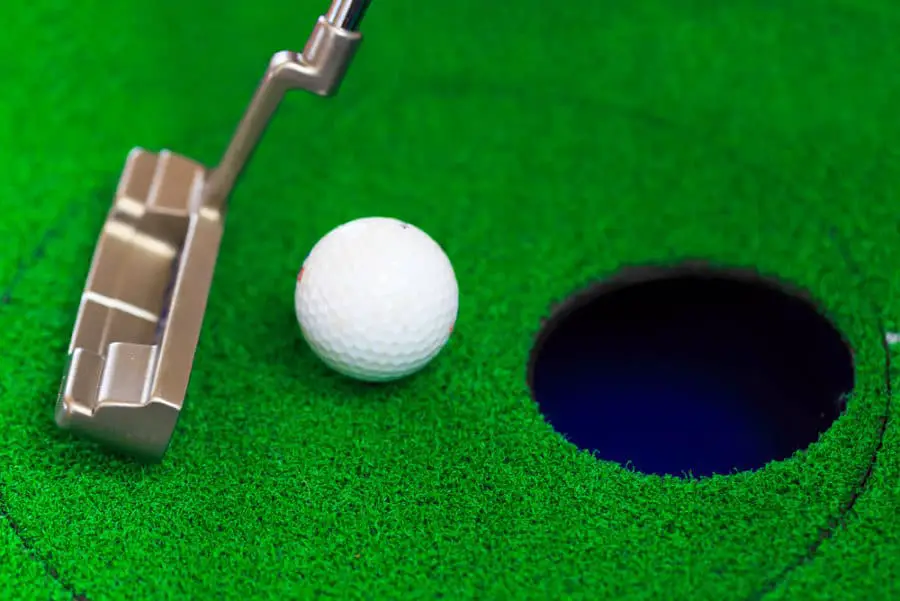 For many of us, indoor putting is the best way to improve our game. You might also use it as something to pass the time during the winter or play golf when the club is closed.
Putting indoors will allow you to practice your skills whenever you get the time, instead of having to drive all the way to the golf course. Even though you're not going to get the same kind of material you get at the course, it's an invaluable investment if you're serious about playing golf.
Another added benefit is that it allows you to study a technique and then try it right away instead of having to drive to the club or wait for the weekend. This allows your game to constantly improve.
You also get a sense of pride in owning your own course. This lets you play a quick game with your friends when they come over or maybe impress your colleagues by getting one for your office.
But the most important reason that many people seem to overlook is that getting a putting green will actually save you a ton of money. It's much cheaper to practice your shots at home instead of paying for the golf course every time you want to practice your put. This is especially true if you practice very frequently.
In a Hurry? Here's Our Top Picks…
Best Putting Mats For The Money
Players have tried everything from shooting on a thick carpet into a cup to using course-quality putting materials and a professional golf hole. The bottom line is that it's difficult to pick a high-quality putting green that does what you want – help you improve your putting stroke.
This is partly because everyone has different criteria and budgets and the perfect green will vary for everyone; but it's also because there are many shady manufactures on the market. These guys try to scam you by selling extremely low quality putting greens at inflated prices.
We're here to help you navigate the market to find the best putting green for you.
1. Putt-A-Bout Par Three Putting Green- Our Top Choice
Sale
Last update on 2023-09-18 / Affiliate links / Images from Amazon Product Advertising API
The putt a bout is a fantastic indoor putting mat and is one of our favorite ones available. This is mostly a "straight to business" mat with no fancy features. You get exactly what you paid for – a good quality putting green that gets the work done. There are no fancy ball return machines or gadgets.
In fact, the best thing about this mat is its simplicity. It takes less than 2 minutes to get started playing. The mat is pretty wide, too, and comes with 3 practice holes. Overall, the entire putting area is slightly smaller than 9 feet (8 feet 6 inches, to be exact) and almost 3 feet in width.
The bottom of the mat has a non-slip surface so that it doesn't slide on the ground as so many other mats do. There's also a slight elevation of about 1 inch, which was a pretty nice way to make putting challenging and realistic. We noticed that this elevation also acts as a makeshift return mechanism as the ball returns back if it's short.
Many users have reported some issues with bumps on their green when they first got it, but this sorts itself out after being played on for some time. In case it doesn't smooth out, you can manually fix it by flattening it out by hand. Overall, there shouldn't be any issues with irregularities in the putting green.
What We Like:
One of the best value for money putting greens available today
It's extremely easy to put away when not in use
Multiple golf cups provide some variety when practicing
What We Don't Like:
Many users have reported that the putting green may get wrinkled if not cared for properly
There's a slight bump near the golf hole which may be an issue for some
The material quality doesn't resemble the real thing. This means while the mat is really fun to play on, you may not want to use it for serious practice
Check Price and Reviews on Amazon
---
2. SKLZ Accelerator Pro – Best For Practice
SKLZ Accelerator Pro Indoor Putting Green with Ball Return, 9 Feet x 16.25 Inches
9-foot indoor putting green with continuous automatic ball return for developing accuracy and control
Squaring and alignment guides at 3, 5, and 7 feet help promote consistency in every aspect of putting motion
Continuous automatic ball return allows for uninterrupted training
True-roll surface and upslope at the cup emulate putts found on actual greens
Measures 9 feet x 16.25 inches; great for use at home or office
Last update on 2023-09-18 / Affiliate links / Images from Amazon Product Advertising API
SKLZ (pronounced as skillz) is one of the more popular putting mats available. It's even recommended by some PGA professionals as a great way to practice putting, and unless you're a professional golfer, the SKLZ is the best putting green you can use, even better than some $500 putting greens.
The markings on it let you practice your shot at all kinds of distances, so you can move from shorter puts to eventually make longer shots. You can even use the markings as guidelines as you take your shot to follow its path and see why you're missing.
However, the most talked about feature of this mat is its ball return technology, which means you don't have to fetch the ball after every shot. This is huge for golfers looking to practice their game because you're going to be taking a lot of shots. Having the ball return back to you after every shot will save you a ton of time.
If you're interested in learning more about this mat, then make sure to check out the following review by Professional Golfer Kelly King. (A testimonial from a PGA player just goes to show how great this mat really is!)
What We Like:
The markings help with accuracy and are a great way to find out where you're going wrong
The ball return feature lets you practice more shots without having to constantly fetch the ball
The putting green is pretty durable
What We Don't Like:
The quality of the green is not as great as some similarly priced products
Many users have reported problems with the packaging. Many products were improperly packed resulting in damage and formation of creases on the green
After the purchase, there will be a couple of lumps on the green which may take some time to flatten out
Check Price and Reviews on Amazon
---
3. Upstreet Putting Mat- Golfing on a Tight Budget
Tianhaik Golf Practice Putting Cup Mat with Hole and Flag Plastic for Indoor Outdoor Office Yard
Please Note: Package Includes:1 x Golf Putting Cup, 1 x Flag. Hole Diameter: Approx. 2.68inch; Putting Cup Dimension: Approx. 7.09 x 5.31inch; Flag Hight: 6.89inch
Additional inner ring allows the putter to practice with greater accuracy. Made of plastic. Allows you to practice your putting virtually anywhere
High-quality moveable putting cup.
Ring can be removed for standard putting practice.
Perfect gift for the avid golfer.
Last update on 2023-09-18 / Affiliate links / Images from Amazon Product Advertising API
If you're on a tight budget or are looking to practice shots at varying lengths, then you should check out the upstreet putting mat.
Actually, it's not exactly a mat, more like a square around the hole. The upstreet putting mat comes as a 6 inch by 6-inch square with a golf hole cutout. This lets the manufacturers cut down on costs and keep only the essentials. The brand justifies the cost cuttings as a way to increase the quality of the grass used. However, the green on some other mats on this list are much better.
We did notice one issue though; if you don't have some kind of carpet-like surface, this mat becomes unusable. This may make the mat a deal breaker for those without a carpet at home.
Overall, this mat is great if you're looking to golf on a budget and that's exactly what it's meant for. You get 2 golf holes and 2 golf balls with every set you purchase, that's actually quite the bargain for $10. Also, because you now have 2 golf holes, you can keep one in the office and one at home.
What We Like:
Comes with 2 golf balls you can use to practice your putting
Extremely portable. In fact, you can carry the mat in your bag and practice your moves wherever you are
The edges come with adhesives which keep the mats held on to the ground
What We Don't Like:
The hole is not deep enough and every so often the golf ball may pop out after the shot is made
You need a carpet-like surface to be really able to play using this mat which may be a HUGE disadvantage for some
The mat as a whole feels a bit fragile
Check Price and Reviews on Amazon
---
4. VariSpeed Putting System – Provides the Most Control
Sale
ProActive Sports, VariSpeed Putting System, 10 ft, Mimics Real Putting Green, Loaded with Drills, Perfect Practice & Training Aid for Indoor or Outdoor, Practice 4 Different Speeds On One Mat
PRACTICE PUTTING ANYWHERE - This 10 foot putting mat is perfect for any golfer's home; designed to fit in your office, living room, backyard, or anywhere else you can find a flat surface; get ready for lower scores on the golf course
UNIQUE FEATURES - The Varispeed Putting System includes features you won't find anywhere else; adjustable speeds let you choose from 4 Stimp tested speeds ranging from 7.5-13 on one indoor putting green; plus, with visible ball traces you can evaluate every putt even after you've made your stroke
CUSTOM BREAKS - With the included adjustable break wedge you can set up realistic break conditions; practice uphill or downhill putts, or left and right breakers; this mat was built for ALL golfers, whether you're looking to fine-tune your game before a weekend tournament, or just looking for something fun to play with friends and family - this is the training aid for you
SMART GUIDELINES - Allow for you to perfect your putt and enable several fun games to be played; the included booklet covers pro training exercises and fun games for multiple players; this mat was meticulously tested by actual golfers so that the games, drills, and overall "feel" of the mat ensure you're game is improving and you're having fun at the same time
SPECS & CARE - The 10 foot x 20 inch VariSpeed mat easily rolls up for fast, convenient storage and set up; follow standard carpet cleaning methods for spills or messes and avoid direct sunlight for prolonged periods; make sure to place mat on flat surfaces
Last update on 2023-09-18 / Affiliate links / Images from Amazon Product Advertising API
The Varispeed putting system is a bit unique compared to some other putting mats we have on this list.  That's because you can vary the speed of your putt as needed. The system works brilliantly and we were really impressed with it. Rather than using 4 different greens having different speeds, you just have a single green and a brush.
By brushing the green in a particular direction we can control its speed from between 7.5-13 stimps. Any experienced putter can easily tell the difference between the 11 and 13 stimps, but even a novice will be able to notice the change in speed between 7.5 and 13
The putting green is about 10 feet long and 1 and a half (~20 inches) wide.
If you're the kind of player who loves to analyze their technique after each shot, you're gonna love the trace feature. Each shot you take leaves a slight trace of the path traveled by the ball. This allows you to study the path of the ball and perfect your techniques.
And finally, if you've wanted a green which allows you to practice shots with a custom elevation. You can do that, too! The varispeed has a wedge which can be easily slid under the mat. You can use this wedge to create custom elevations giving you a great opportunity to simulate real-world conditions.
What We Like:
Visible trace lines allow you to study the path of your shot and optimize your technique
The fact that you can control the speed of the green means you can adjust it to suit your local course and practice on different terrains
The break wedge allows you to adjust the slope of the mat so that you can try shots at different elevations
What We Don't Like:
The Varispeed Putting System is not as heavy as some other mats which cause the edges to slightly lift off the ground
To maintain a particular putting speed you would have to regularly brush the green after every 10 or so shots
It adds a bit of complexity to what would usually be a simple exercise. The amount of choices may feel a bit overwhelming to putting newbies
Check Price and Reviews on Amazon
---
5. Shaun Webb's Golf Putting Green & Indoor Mat – Best Quality Green
SHAUN WEBB Golf Putting Green Indoor Mat. Step Up Your Game and Impress Your Friends. Practice Anywhrere with This Training Aid: Basement, Backyard, Office. Large 3 x 9 Feet Realistic Matt Surface
The Secret to Lowering Your Scores: Around 36 of the strokes in a round of par 72 golf are putts. So, 40% - 50% of the game is all about putting; This mat will allow you to get in putting practice all year long, so you can shave off strokes and enjoy the game even more. Great for left- and right-handed golfers of all experience levels
Butter Smooth Surface That Rolls True: Not all golf training aids are created equal; This putting mat is as close to a real green as you'll find; It's 3x thicker than similar mats and much wider; The turf-like surface has minimal to no creases or bumps; The ball will roll smoothly every time
Little Details That Create a Perfect Putting Experience: Since this golf putting matt for indoors is created by a teaching pro, no detail was overlooked; It's large, measuring 9 x 3 feet, and equipped with thick, durable foam; It has a slight uphill elevation and the cups are deep and true-to-size so the ball won't pop out
Elevate Your Golf Game and Have a Blast:: Who knew golf practice equipment could be so much fun? You can use this indoor putting green to entertain your friends and family right at home; It also makes an excellent gift idea for men; Surprise a lucky fella on Father's Day, Anniversary, Birthday, Holiday, and more
Add to Cart with Confidence. We're committed to helping you play better golf that's why all our products come with a 100% Customer Satisfaction Guarantee. Let us help you sink more putts, and impress your playing partners with this golf putting mat
Last update on 2023-09-18 / Affiliate links / Images from Amazon Product Advertising API
Shawn Webb is one of the top teachers at the golf digest. He's written 100s of articles and spent 1,000s of hours teaching amateurs how to play. Now he has his own putting green to help you practice your game at home.
This putting green is about 9 inches in length and 3 inches wide, which is a lot more than other putting greens on this list and about the same dimensions as the putt-a-bout. The price might turn you away at first or make you a bit hesitant but this mat uses some really high-quality materials.
The material is a lot rougher than other cheaper alternatives, making putting a lot more realistic. In fact, this mat even comes with some artificial elevation. Overall, the quality of this mat is pretty close to the real thing.
What We Like:
Shawn Webb has an excellent customer service team who go out of their way to make sure that you're satisfied with your purchase
You're not going to get a better quality putting mat for under $100
The mat comes with an instructional video by Shaun Webb which teaches you how to putt
What We Don't Like:
For $70, you don't get any advanced features
When you just get the mat there is a slight crease, however, it will go away as you keep playing
This is a pretty wide mat and we would'nt recommend it if you don't have the space.
Check Price and Reviews on Amazon
---
Things You Should Consider Before Buying A Putting Mat
Depending on your answer, the kind of mat you pick may change.
For example, when looking for a mat to use as decoration in your office you would want to go for a more "professional looking" mat – something like the SKLZ Accelerator Pro. Its ability to return the ball will certainly impress any visitors.
However, if you're looking for a mat to specifically improve your putting skill, then you need to be a lot more deliberate in your selection. Lastly, when selecting a putting green for just casual play, any choice on this list works.
The Space You Have Available
Even the most high-end premium golf mat is absolutely useless if there's no space to play. Before you even purchase your putting mat, you should pick a spot where you plan to place the putting green. After that's done, measure it. Make sure there's enough space for a putting green and only pick a green that will fit in that space.
Worst case scenario? Just pick the Upstreet Putting Mat which should work for any space you have available.
The Features That Are Most Important to You
Getting the ball to automatically return to you is a magical feature. It will save you a lot of time and the effort from walking to the hole every time you score. However, mats with this feature will also cost a bit more than ones without. They also tend to sacrifice some quality.
So if you're comparing two similarly-priced mats, one with a ball return feature and one without, the mat without the ball return feature will use much better quality green.
Your Budget
The amount of money you're willing to spend on a putting mat has a large role in the quality of the mat you will get.
If you have a budget of over $200, then you can possibly even have a custom designed putting mat that's built specifically for you; and at even higher budgets ($500+) you can build a commercial quality putting green.
Best Golf Putting Mats Brands
Birdie Ball is a company every golfer should consider. Their indoor putting greens are easily some of the most realistic out there. Most of their products cost under $500. In fact, you are not going to find many brands who can match their quality at this price point.
The brand itself was founded almost 17 years ago in Colorado, and if you're wondering the names comes from their flagship product – the birdie ball.
Pro putt systems make only the highest quality putting greens in the world. Each putting green is custom made per order in the US.
It's very commonly used by many PGA players and other professionals so you know that you are getting the best. The idea behind the Pro Putting System was to build indoor putting greens that could match the quality of the ones at your club.
A typical putting green by them could cost $1,000+
Frequently Asked Questions
Q: Will using a putting green improve my skills?
A: Any extra effort you make in improving your golf game is going to pay dividends and putting counts.
While going to the course is still the best way to practice your game, it may not always be possible. That's why it is best to purchase a good quality putting green at home.
Q: Do I have to get a putting green?
A: Retailers and golf coaches will tell you that getting a putting green is the only way to practice your shot at home, but that's not entirely true. While practicing on a putting green is certainly the best choice if you are playing at home, it may not always be possible. In such case, you can build your own makeshift putting green.
All you need is a cup, just place it sideways and try to hit the golf ball inside the cup. If that doesn't work, check out this article by Golf Digest that teaches you how to build your own putting green.
Q: How should I practice my indoor putting?
A: You probably understand how important the art of putting is to your game (why else would you be getting a putting green?). One of the best ways to improve your game is through simple repetition. Plan to make a given number of shots every single day. Make it a part of your routine.
Remember to count the number of holes you make and not the number of attempts. If you're too busy, then try a smaller number of shots, but make sure to meet your requirements nonetheless. Once you get pretty good at that, you can move to perfect practice shots from different distances. So your typical workout would look like X shots from 3 ft, X shots from 5 ft and finally X shots from 7ft.
Alternatively, if you're looking to master your swing, you should get a golf net. Be sure to check out our fantastic article on the best golf nets, to know what to look for in a high-quality golf net. Combine your swing shot practice with your putting and you have a recipe to quickly become the best golfer in your social circle (after a lot of practice, of course!).
Final Thoughts
Putting is a game of finesse, and in many ways it's very different from the rest of golf. That's why it has to be practiced more than your other shots.
Getting a great putting mat will certainly help you practice your game more often than only playing on weekends. And while the artificial grass of the putting green mat cannot recreate the feeling of being on the real course, it's still a great tool to master this aspect of your game.