Spring is the most wonderful time of the year. Birds are chirping, flowers are blooming, bees are buzzing, the days are getting warmer… and our homes are becoming more colorful. Aside from spring cleaning, there's also spring decorating in which we cover our yards with vibrant flowers – and some of us with our own homegrown food.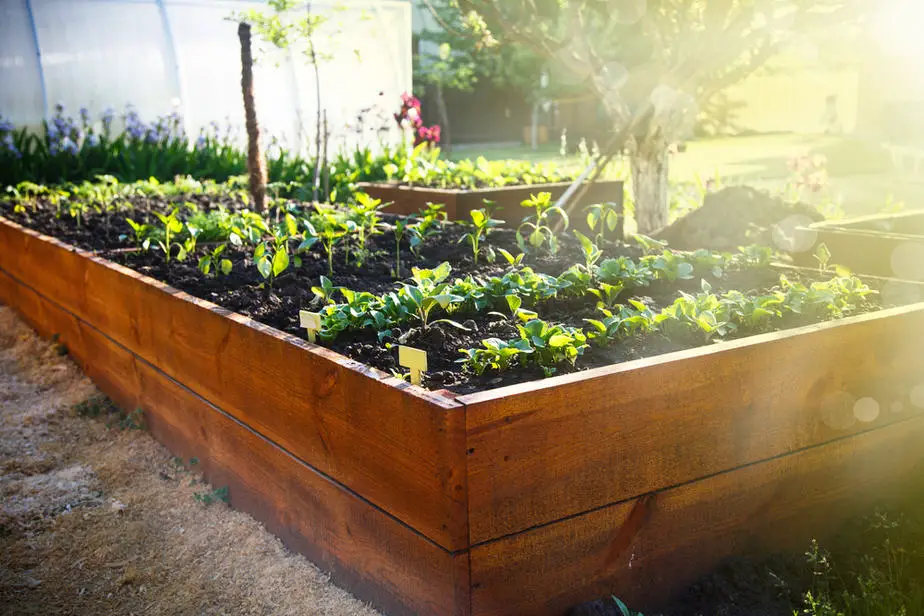 But gardens can often be a hassle. With all the new fuzzy creatures growing and learning where the sweet petals and leaves of your plants are, it can be a task to protect your flowers and edibles. Raised garden beds are possibly the best way to deter fluffy little bunnies and mice from grazing on your marigolds and lettuce.
Or, if you don't have a problem with woodland creatures, raised gardens can simply be a way for you to add a little intrigue and uniqueness to your outdoor space!
Without further ado, we're going to cover some of the most beautiful raised garden ideas to decorate your yard with flowers or edibles! (With gorgeous photos for inspiration)!
1. Raised Pyramid Garden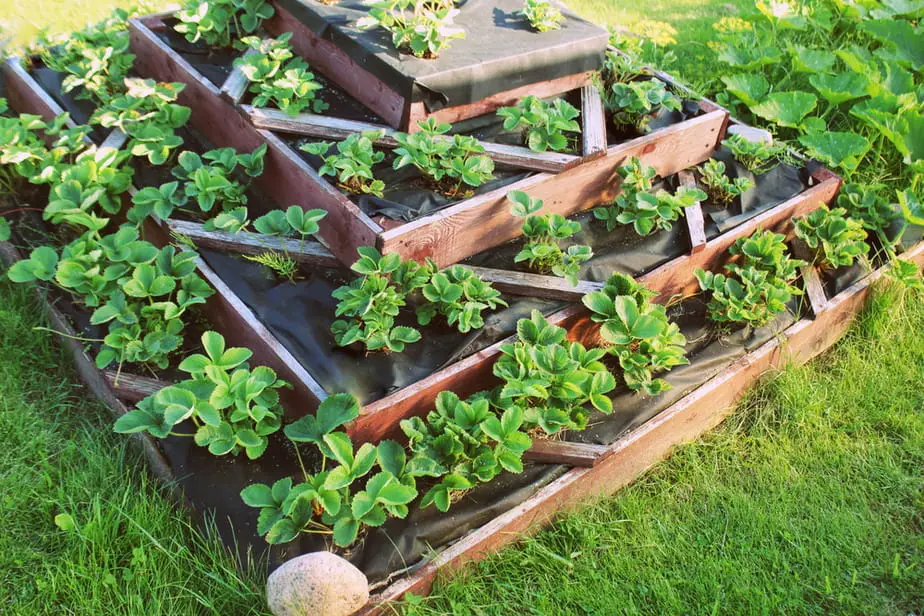 Raised pyramid gardens are an obviously eye-catching raised garden bed that is sure to add pleasing detail to your backyard. Not only are they visually appealing, but they're also very useful for those who may have smaller yards. The towering, layered build of this garden is perfect for close spaces and won't take up as much room as other raised gardens might.
Each plant (strawberries, as shown in the photo) are comfortably nestled in their own separations, which creates a look of uniformity and order.
2. L-Shaped Garden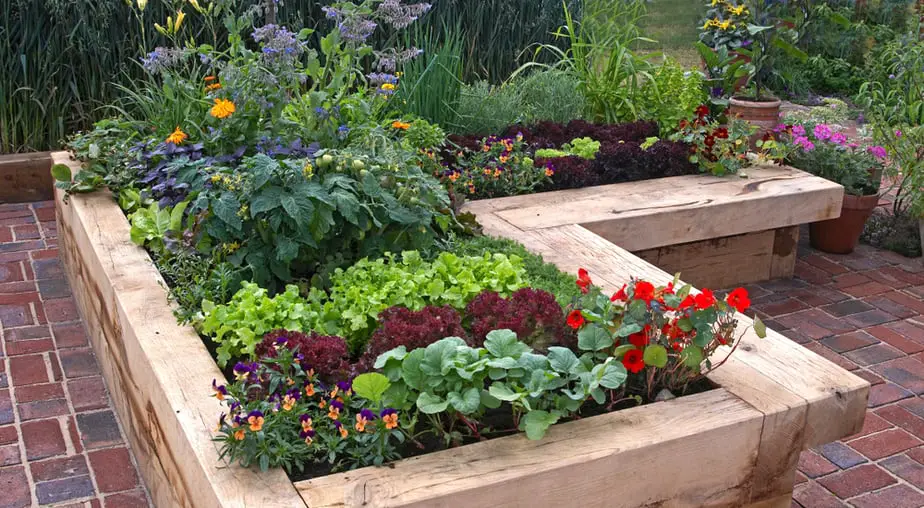 This L-shaped garden is made entirely of wooden beams and seems to have convenient seating on the interior edges. These gardens are perfect for the corners of homes or for creating a space where seating and a small table can be added to the inside of the garden as an aesthetic choice.
The bench lining the garden is wonderful for those who may tire from planting and need a short rest. Not to mention it would be a great place for your guests to gather and talk (and admire your luscious plants).
3. Colorful Raised Garden Beds with Fence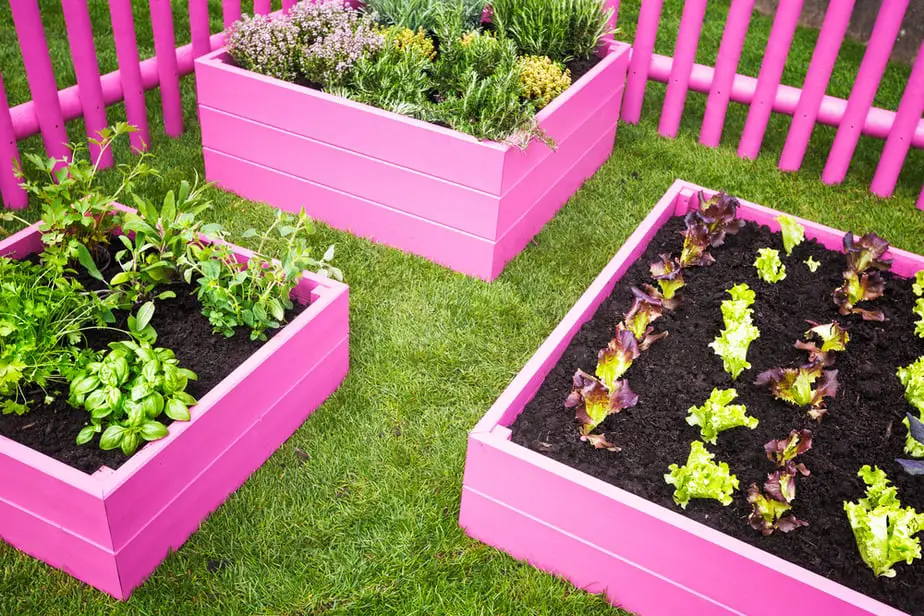 For the color fanatics, these gorgeous bubblegum pink raised garden beds may be just the thing you're looking for. Painting your raised garden beds creates a unique, hard-to-miss focal point in your yard as the striking colors of your planters contrast with the muted, natural colors of the outdoors.
Of course, garden beds can be painted any color or pattern your heart desires. Your imagination is the limit with this one!
4. Modern Abstract Raised Garden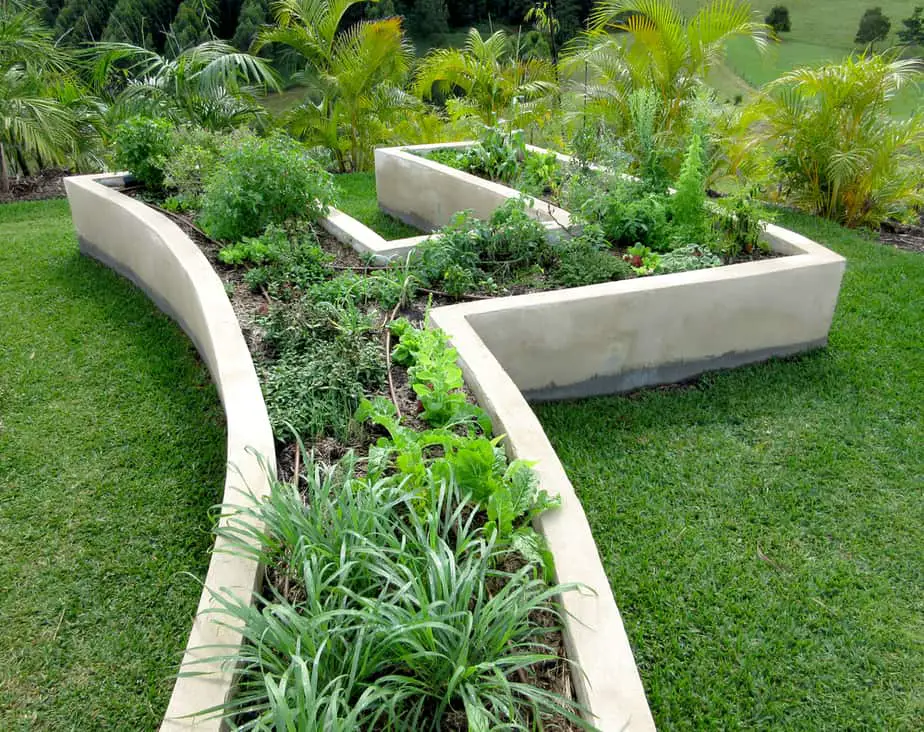 Art is one of the best ways people can express themselves, and if you like art pieces and gardening, this glorious abstract raised garden bed may be the perfect addition to your home.
The odd form of this garden is sure to bring attention to your home and create a yard unlike any other. The elongated spaces of this type of garden is perfect for various types of plants, whether they be edibles or simply visual or fragrant plants.
5. Stone Raised Garden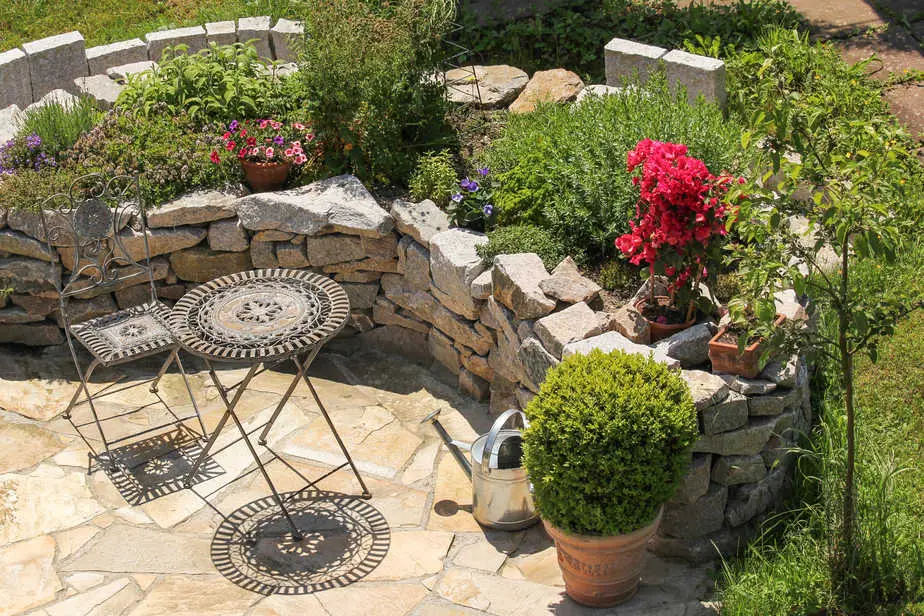 Implementing stones into your backyard decor is one of the best ways to keep your outdoor space looking intriguingly designed, yet natural enough as to not take away from the natural beauty of the outdoors.
This raised garden made out of stones is kidney-shaped to allow room for the small seating area in the curve of the structure. The stone garden is tall enough to act as a privacy wall, as well, which is an added bonus if you live in close proximity to others (or you just have nosy neighbors).
6. Greenhouse Raised Garden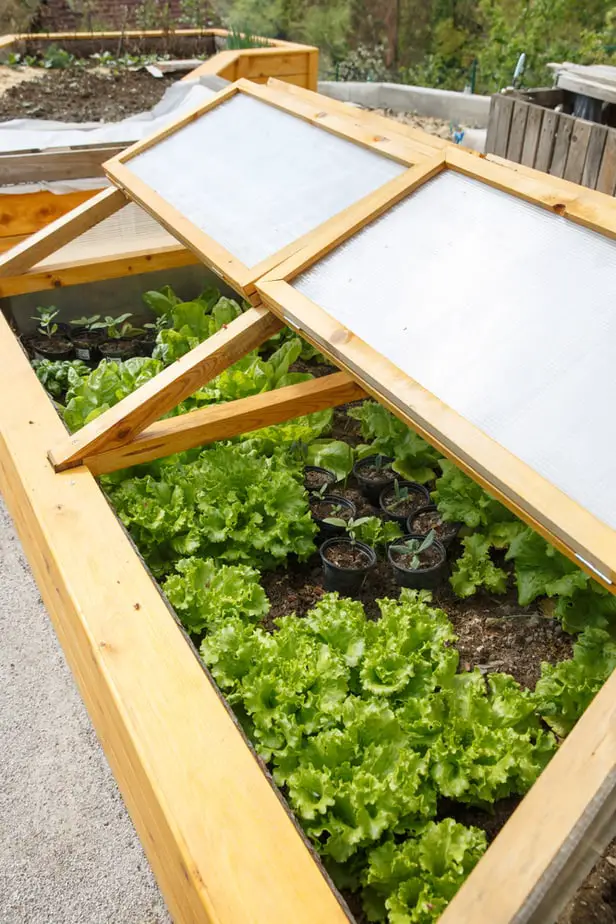 Even though we plant our gardens in the spring, sometimes nature likes to throw cold spells at us when we least expect them. This adjustable raised greenhouse garden is a great way to combat the potential shifts in temperature.
As you can see, the panels close and open either creating a cozy greenhouse for your plants and produce, or allowing the warm breeze and sunshine to come in freely.
7. Modern Chic Raised and Hanging Gardens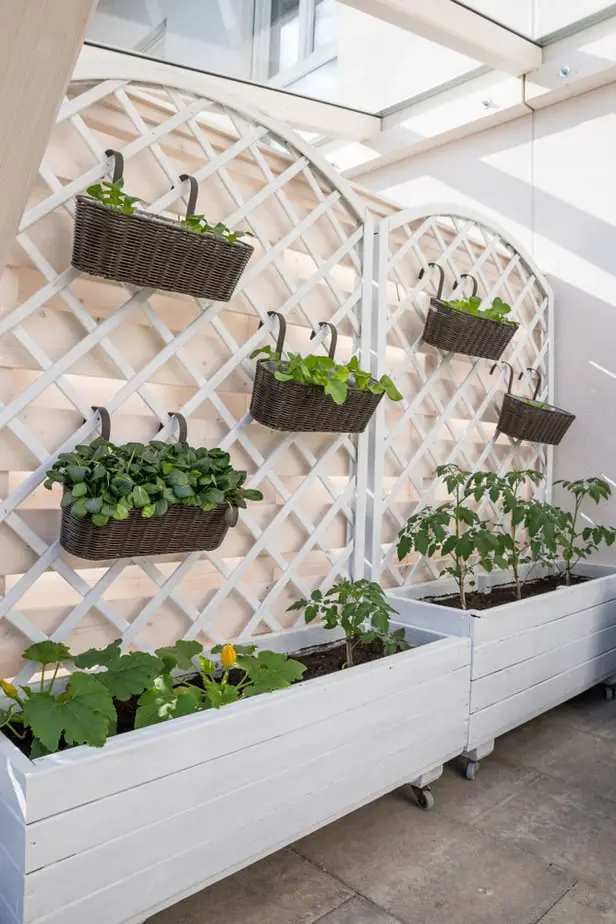 This raised and hanging garden combination is a great mix for those who have little space to work with when it comes to gardening. The raised gardens fit snuggly against the wall and the hanging planters allow for extra produce (or flowers) to be grown without taking up additional room on the ground.
Plus, this style is so farmhouse chic and gorgeous.
8. Raised Garden Box with Handles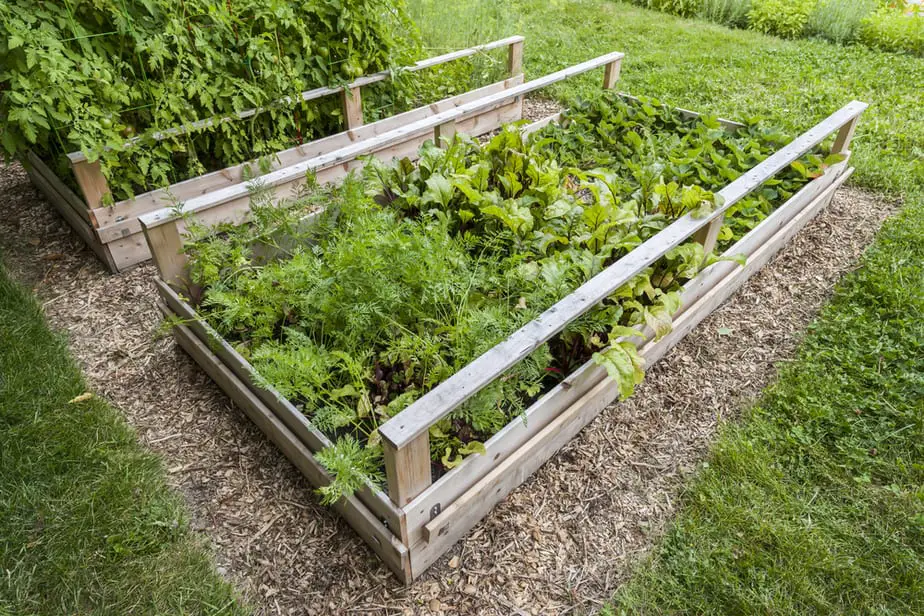 These raised garden boxes with handles are extremely useful. The handles not only add a charming, farm appearance to the yard, but they also make the raised garden incredibly simple to move if you end up not liking your original placement.
The handles also make a place for plants such as cherry tomato plants or melons to wrap their vines around which keeps them off of the ground outside of the box.
9. Wooden Cradle Raised Garden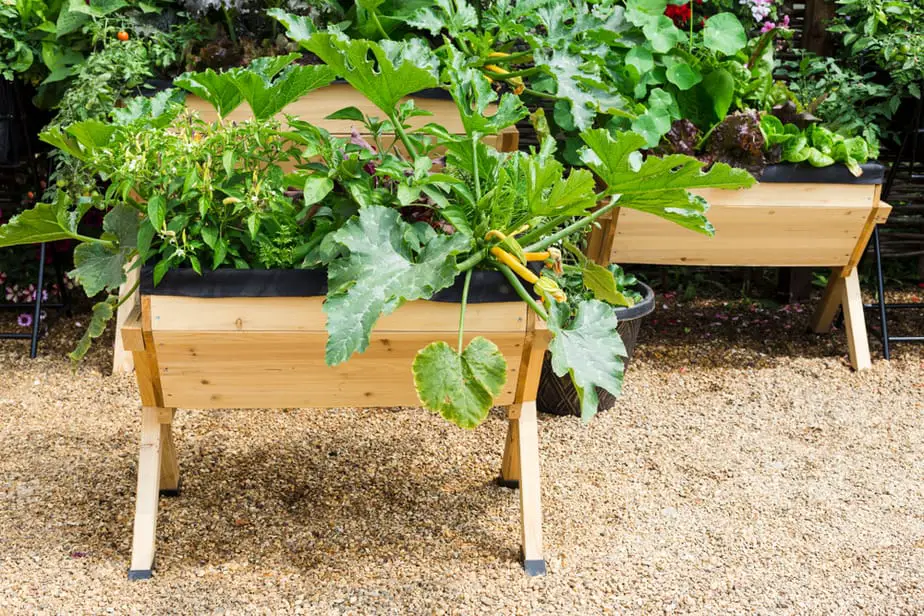 Cradle boxes are another raised garden type that is great for those who don't have much room for gardening. They sit up high, leaving room underneath for supplies or more decorations, and their adorable shape is definitely a great piece for any outdoor area.
Because these are usually compact and smaller in size, they're simple to move around and are no hassle for when you're ready to redecorate.
10. Raised Table Garden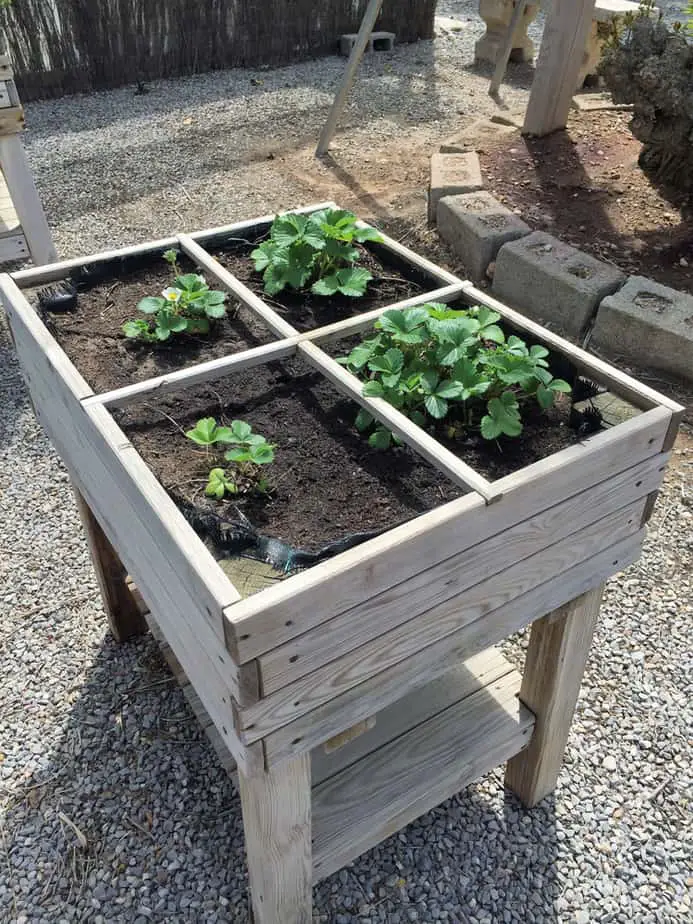 Similar to the cradle garden, raised table gardens are often smaller in size and have space underneath for storage or decor. They're wonderful for making otherwise dull corners more lively and fun and are sure to give you neat little garden.
Although raised table gardens are usually on the small side, you can find or build much larger table gardens for an easy-reach vegetable garden with lots of storage.
11. Medieval Style Raised Garden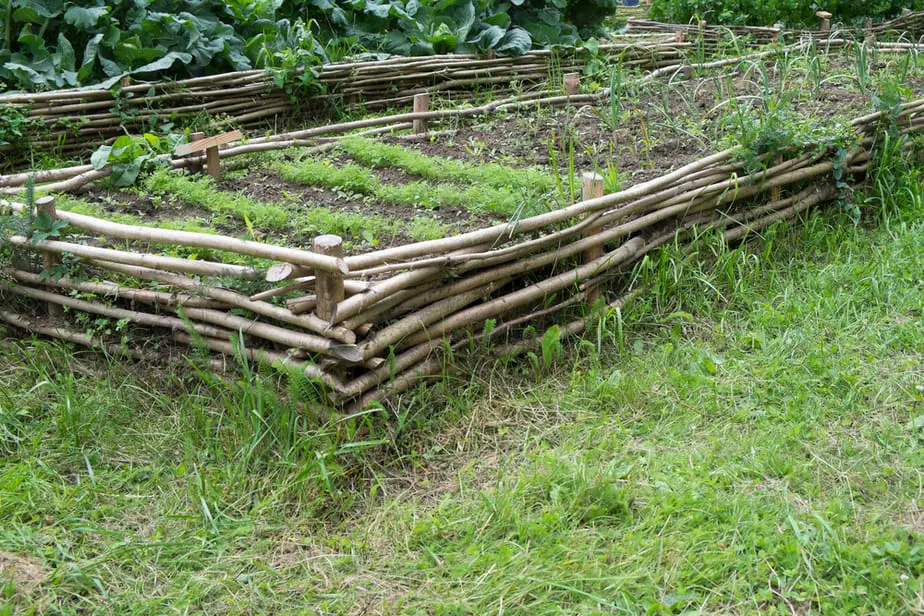 These raised gardens have been around for centuries (hence the name) and give off a very old world, natural aura. They're made simply from smoothed sticks and wooden poles and can be money-savers if you're a decent crafter and live near a wooded area.
Although, with the gaps between the sticks, it's possible that a little creature could find their way to your delicious lettuce… so watch out for that.
12. Staircase Raised Flower Garden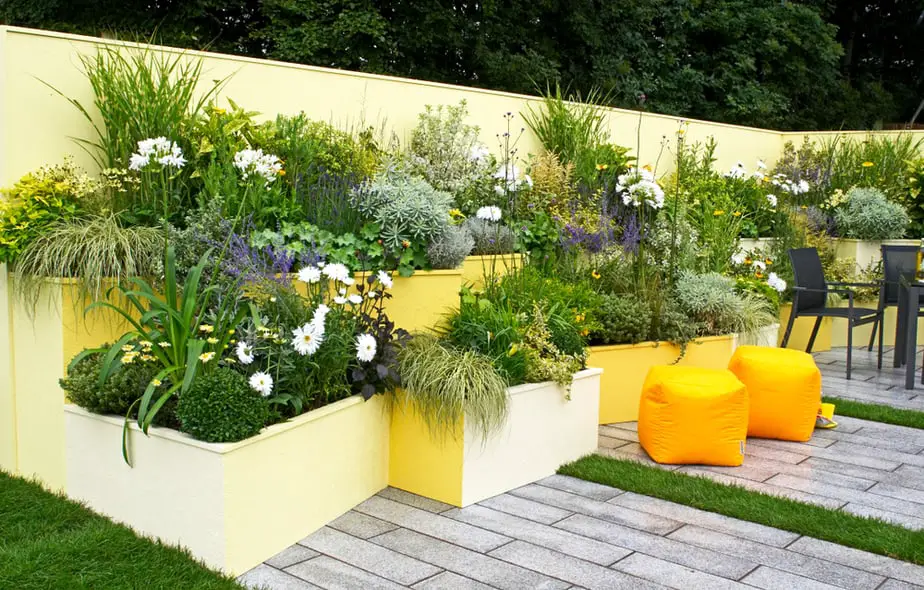 These style of raised gardens are more for decoration than practicality or produce-rearing. But they definitely make this back patio look intricate and detailed with the vibrant yellows, greens, and purples.
Staircase raised garden beds like in the photo are quite large and would be great for taking up an empty area in a spacious outdoor living place. Although the patio in the photo has a wall behind the raised beds for privacy, not all of us have the same feature. However, considering the massive size of the planters themselves and the lush foliage, you could easily create your own privacy wall if you wished.
13. Raised Garden Tables with Enclosed Storage Area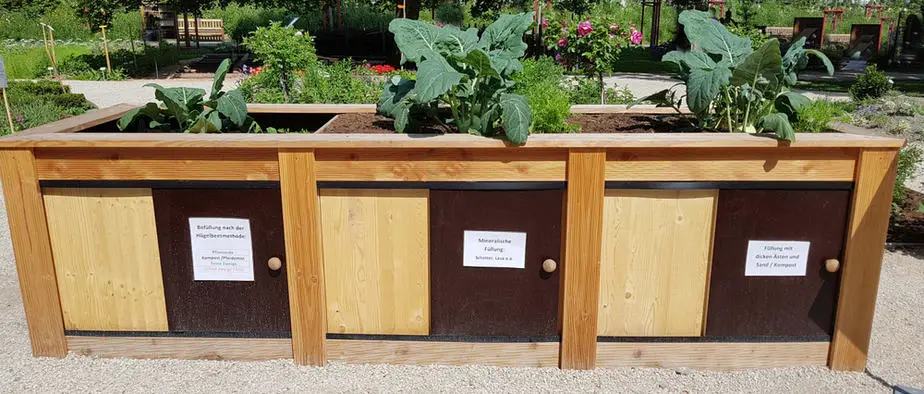 Incredibly similar to the garden table we mentioned earlier, this elongated raised garden table comes with enclosed storage areas – perfect for keeping your watering cans, extra fertilizer, gloves, hand shovel, and whatever else you may need when it's time to start planting.
The variety of wood colors in this raised garden is a beautiful contrast and far more visually appealing than your average, plain raised garden bed.
14. Wooden Pallet Raised Garden Shelves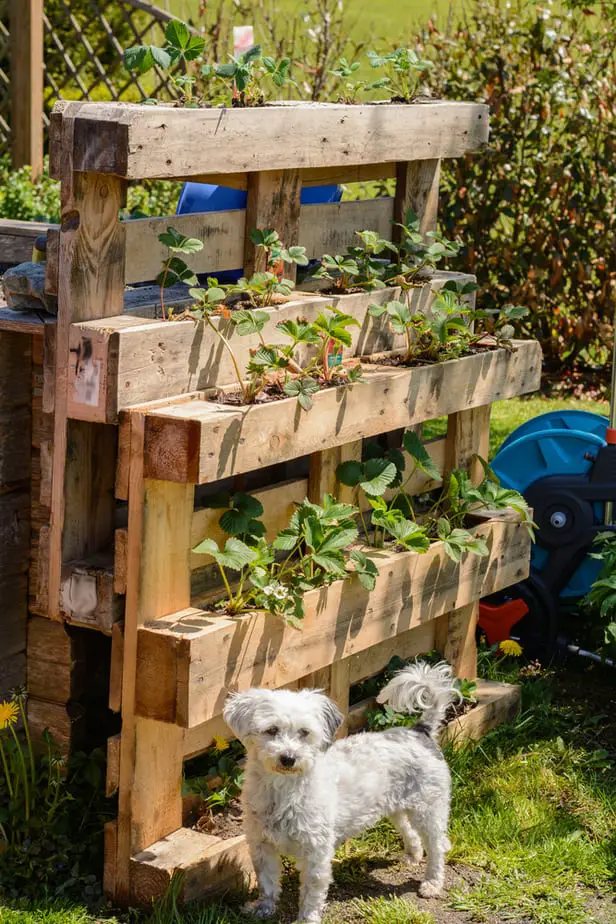 If you love DIY projects or have a couple of wooden pallets lying around, these vertically raised garden shelves would be a simple backyard design piece.
All you need for this little beauty is a staple gun, nails (or screws), and some weed control fabric and voila – you've constructed a charming wooden pallet raised garden.
Don't forget to check out this article if you want to get more ideas of what you can do with a raised pallet garden.
15. Raised Garden Bed with Trellis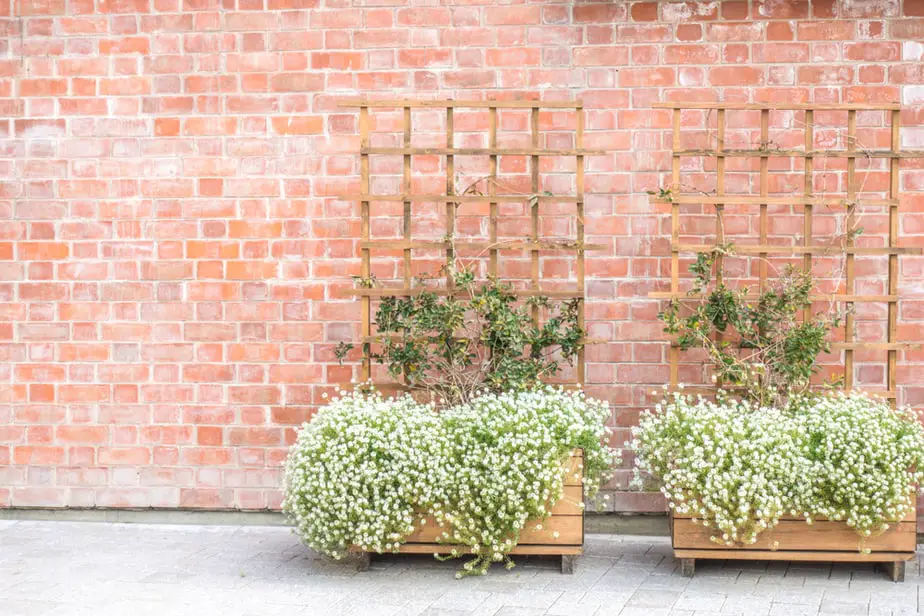 Trellises are stunning when engulfed in vines and flowers. These raised garden boxes with trellises would surely brighten up any backyard, porch, or patio without taking up too much room or being too bulky.
16. Modern Raised Relaxation Garden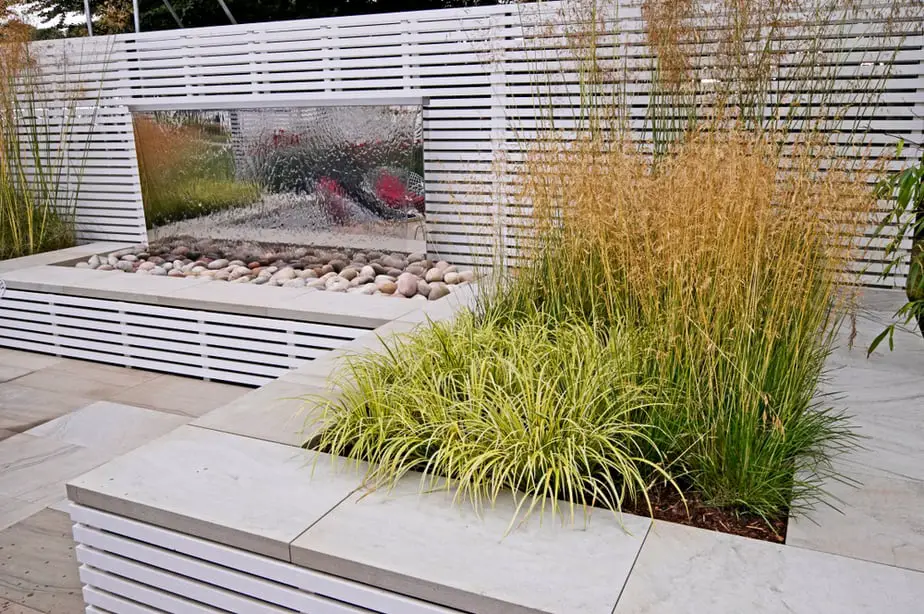 For those who enjoy the simplistic, monotonous colors and shapes of the modern era these raised relaxation gardens could be just the thing for you. They seem to be constructed out of hard plastic white bases similar to pallets with stone slabs as a vaguely contrasting border and possible seating area.
Even if your style isn't modern, these raised gardens would be a great muted addition to your yard that stays in the background and doesn't take away from the other, more detailed, aspects of your backyard.
17. Water Trough Garden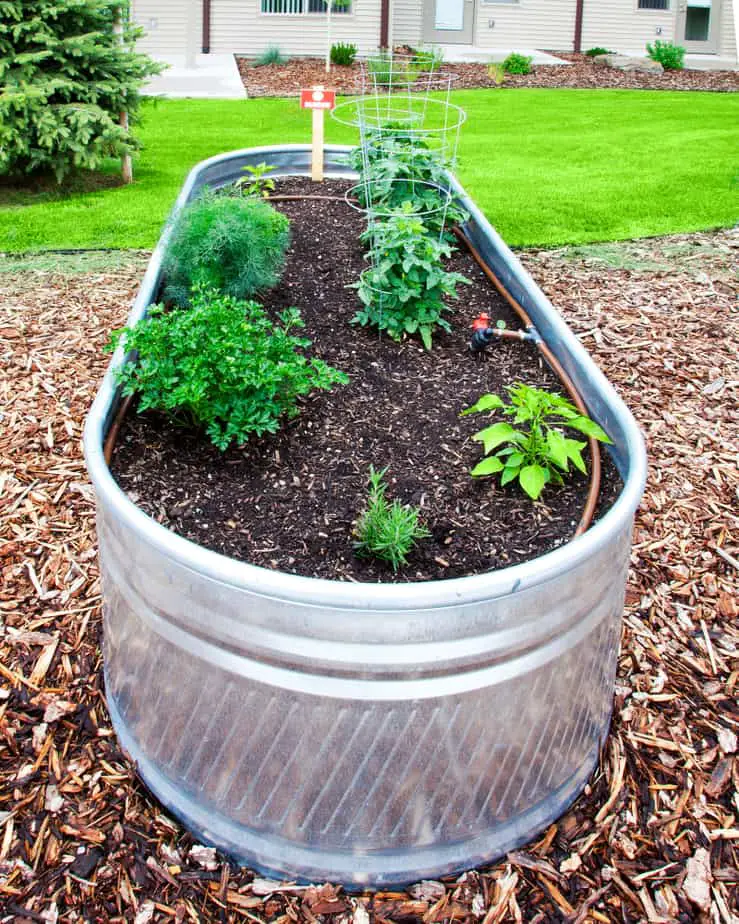 Water troughs can be found in practically every agriculture-related store, which makes them a simple option for raised garden beds. They bring a rural vibe to any yard they're put in and are often spacious enough for a variety of flowers, vegetables, or fruits.
Not to mention they're designed for outdoor use and are incredibly durable, lasting years in various weather conditions.
18. Raised Garden Rack
Used in industrial farming, these types of raised garden racks are optimally designed for proper water and sunlight distribution. Because these racks are taller than they are wide, they're yet another space-saving addition to backyards.
19. Bamboo Raised Garden Shelves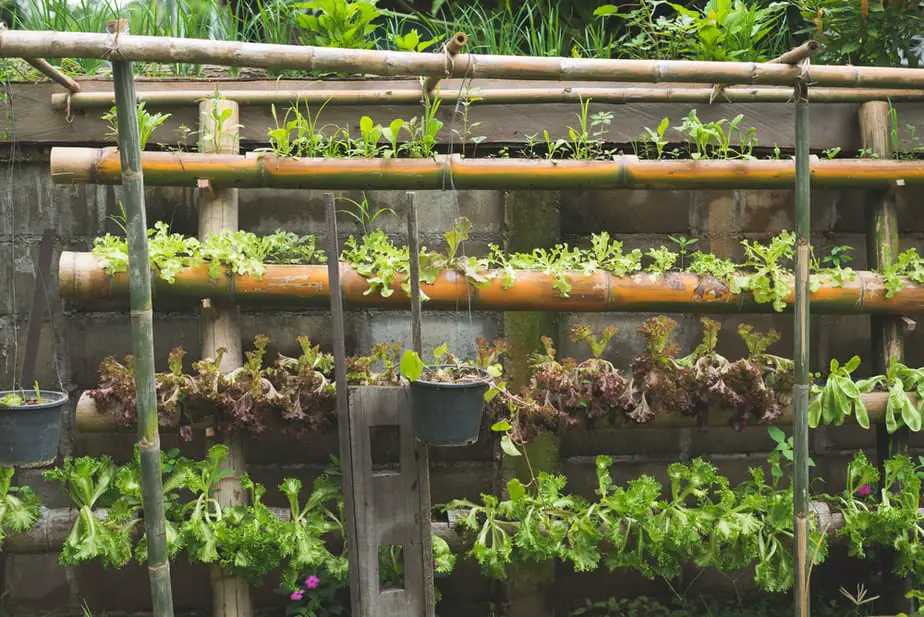 These raised garden shelves made of bamboo are awesome for giving off a bohemian, naturalist aura. A side of each bamboo stem is cut to reveal the hollow interior, and soil can then be placed inside, making an all-natural planter for your edibles or flowers.
20. Wheelbarrow Garden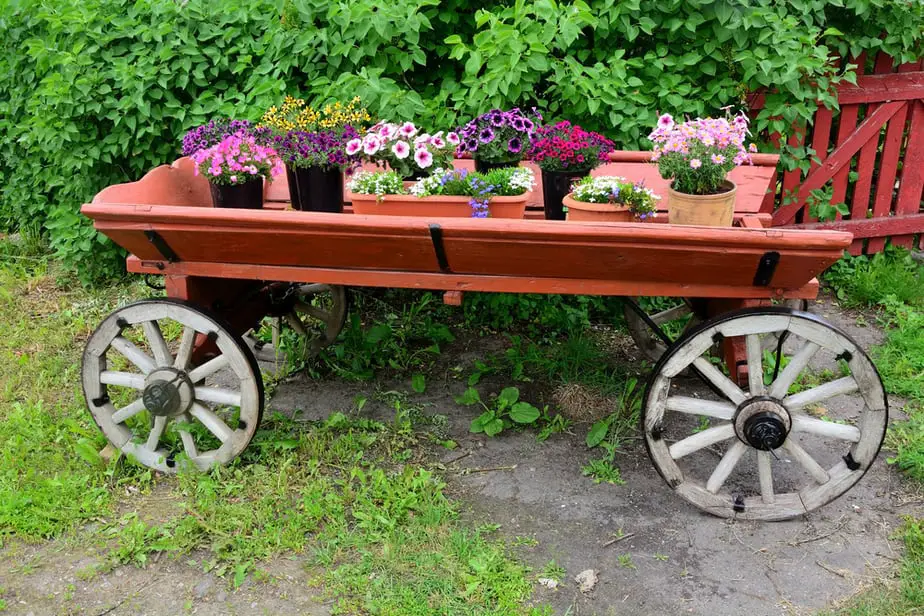 Though this wagon is holding separately potted plants, a large, sturdy wagon could surely be used as a raised garden. Wagon and wheelbarrow planters are ideal for bringing the old-timey, Southern rustic feel to your home and yard.
21. Raised Brick Garden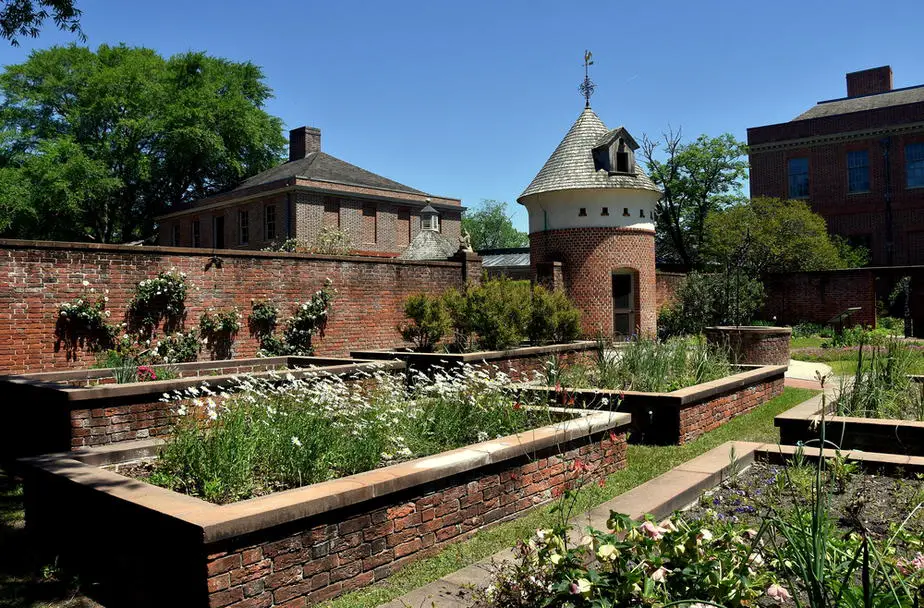 Bricks have been a common and beloved building material for hundreds of years. The rusty red color and rough, rectangular appearance is a classic that won't soon be surpassed.
These raised brick gardens are gorgeous, bringing the sophisticated feeling of the 19th and mid-20th Century cities to your backyard. Although, these garden beds are no doubt a more permanent addition to your home.
Though pleasing to the eye, you may want to pass these raised gardens up if you prefer less permanent backyard decor.
22. Layered Raised Garden Box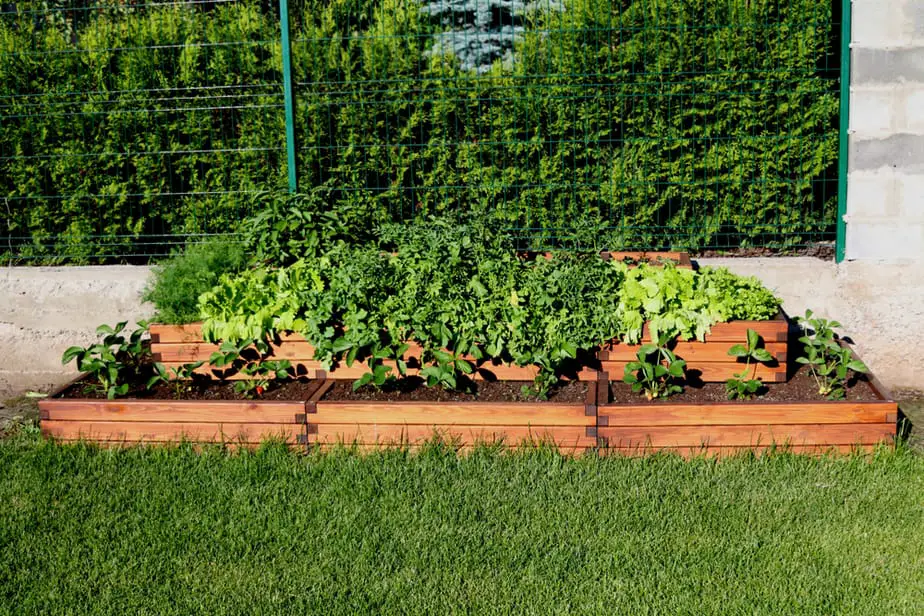 Like the pyramid raised garden, this layered garden is designed with equal-sized divisions for each type of plant. These are great for bringing a feel of order and neatness to your backyard, as they're symmetrical and add to the sophistication of outdoor lounge areas.
23. Rustic Style Raised Log Garden Bed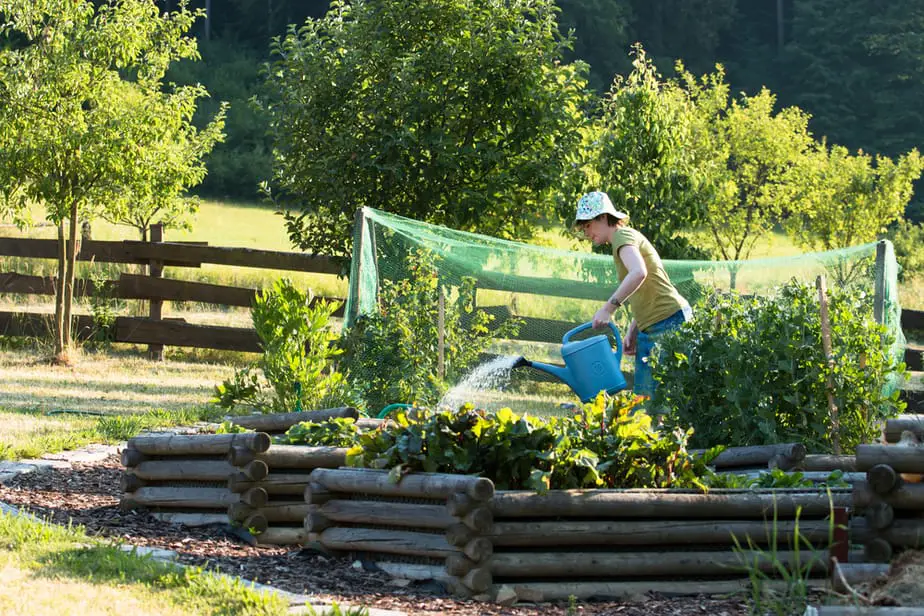 Similar to the medieval style raised gardens, these rustic gardens are made with large, symmetrical logs held together by rounded cuts at the end of each wood beam. These are perfect for giving your home a farmhouse-style appearance.
24. DIY Tire Garden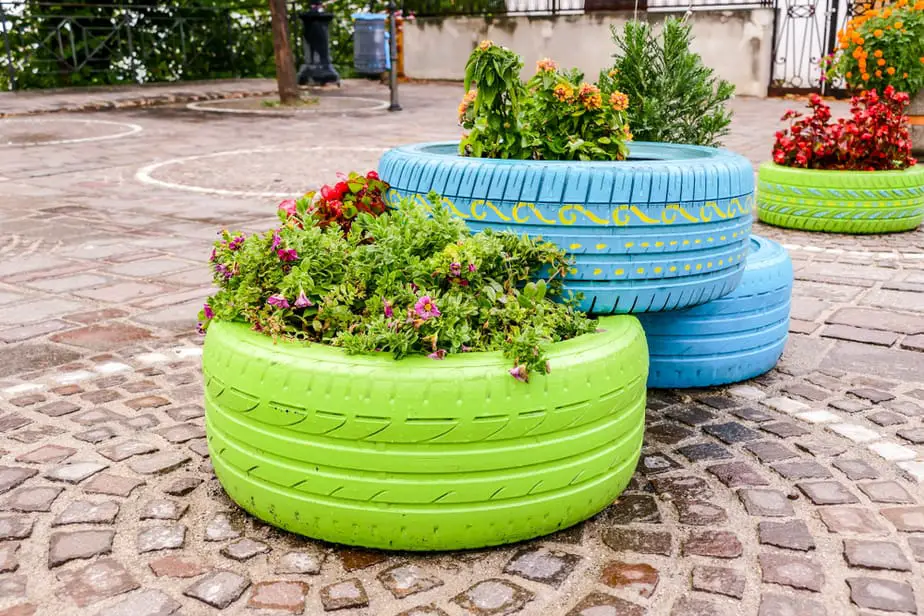 Yet another ridiculously easy DIY raised garden project, these tire planters are some of cutest on our list. All you need are old tires, paint, and necessities for gardening. Here's how you can make your own.
Check out our DIY tire planter article for more ideas!
25. Hanging Rows Fruit Garden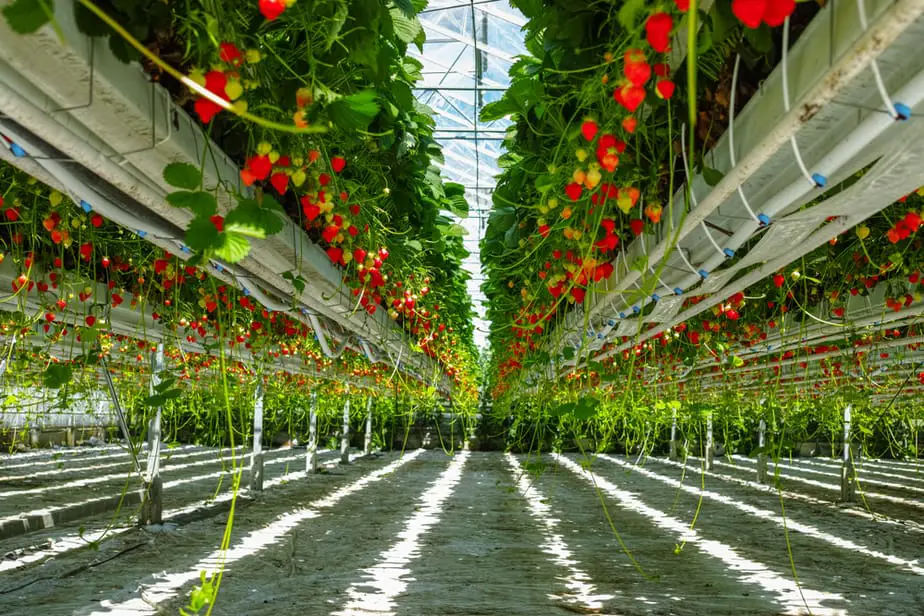 Another industrial-style raised garden, these hanging garden rows are the ideal space for hanging plants. Strawberries and tomatoes are the perfect plants for these types of raised gardens.
26. Raised Cement Block Garden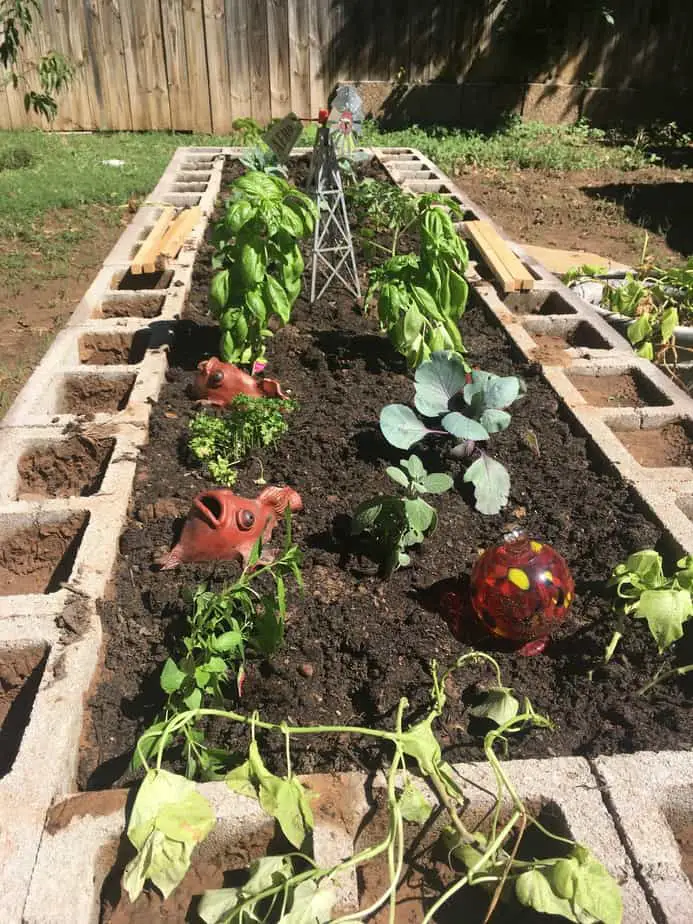 Cement blocks are easily accessible and can make a sturdy, quick raised garden bed. The holes in the blocks provide extra space for plants you wish to separate from the internal garden, which is a great bonus to this DIY raised garden.
Although this isn't the most eye-catching garden bed, it's still wonderfully practical for when you're in a pinch.
27. Window Flower Box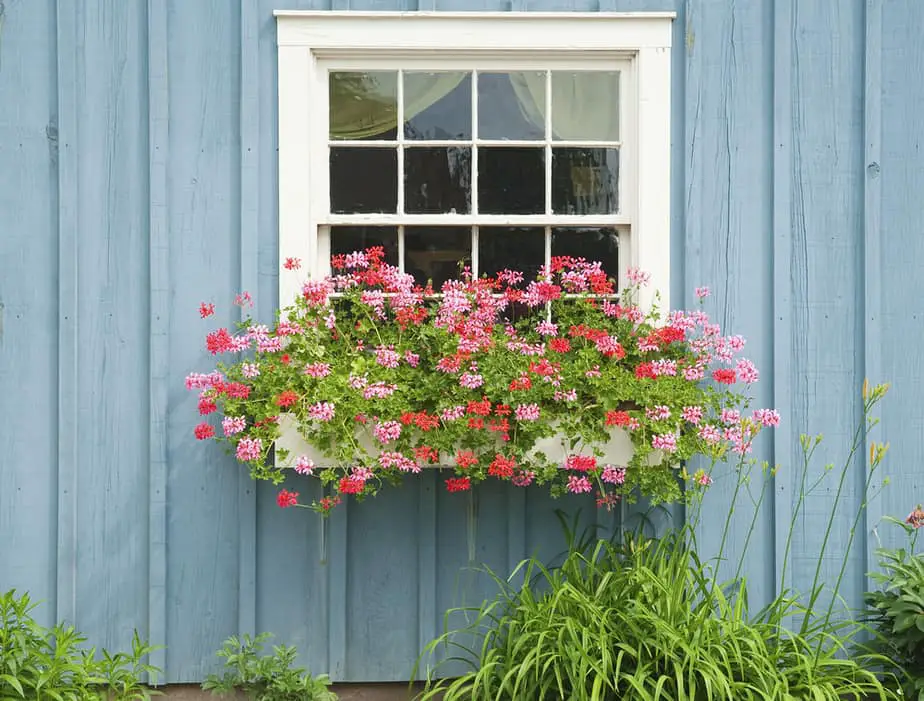 Window flower boxes are an inexpensive raised garden option that makes homes look absolutely beautiful during the spring. They're a great way to transform your yard with lovely flowers or tasty herbs on a budget.
(Pst. Check out our article covering more ideas for your yard when you're on a tight budget!)
28. Stacked Circular Garden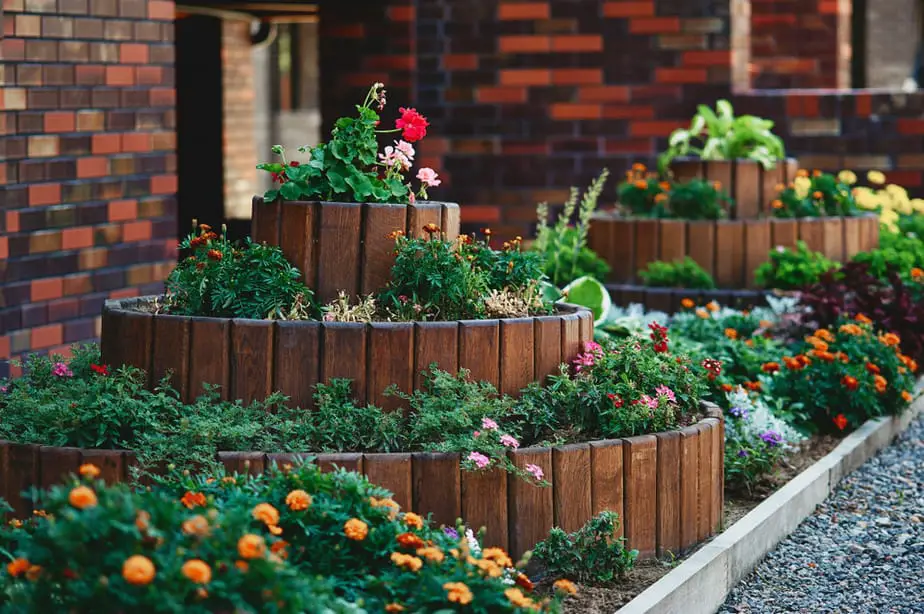 These layered, circular raised gardens give dimension to your home and backyard. Adding these to your ground-level gardens will make the area stand out beautifully in your yard and give variation to the shapes and sizes of your garden decor.
29. Raised Bicycle Basket Garden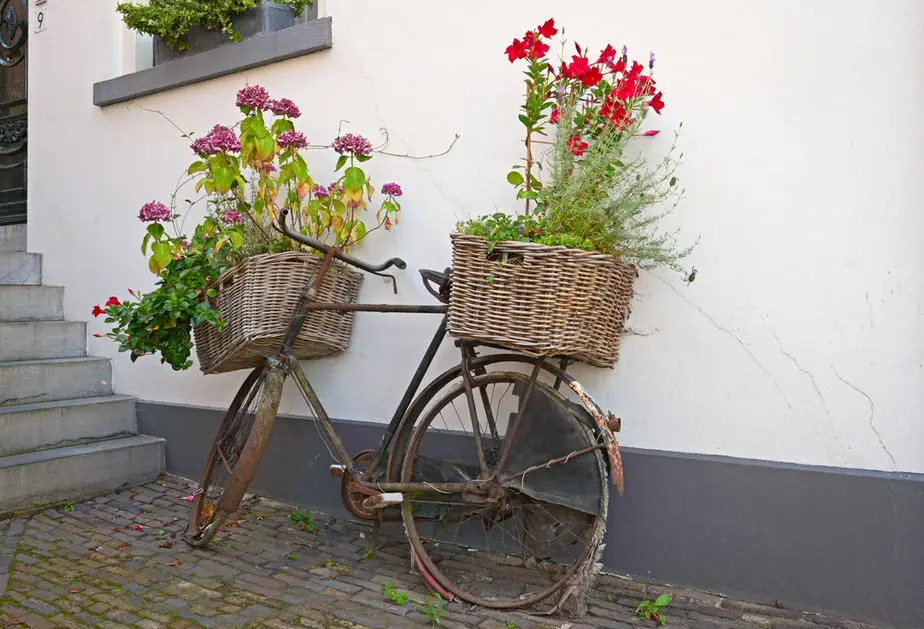 Antique garden decorations have been increasing in popularity over the last few years, so it's only natural that we include this adorable raised garden bed made from the vintage baskets of this bicycle. Finding antique bikes at local antique shops is fairly common so this is a generally inexpensive, cute option for your backyard.
30. Circular Brick Raised Garden Bed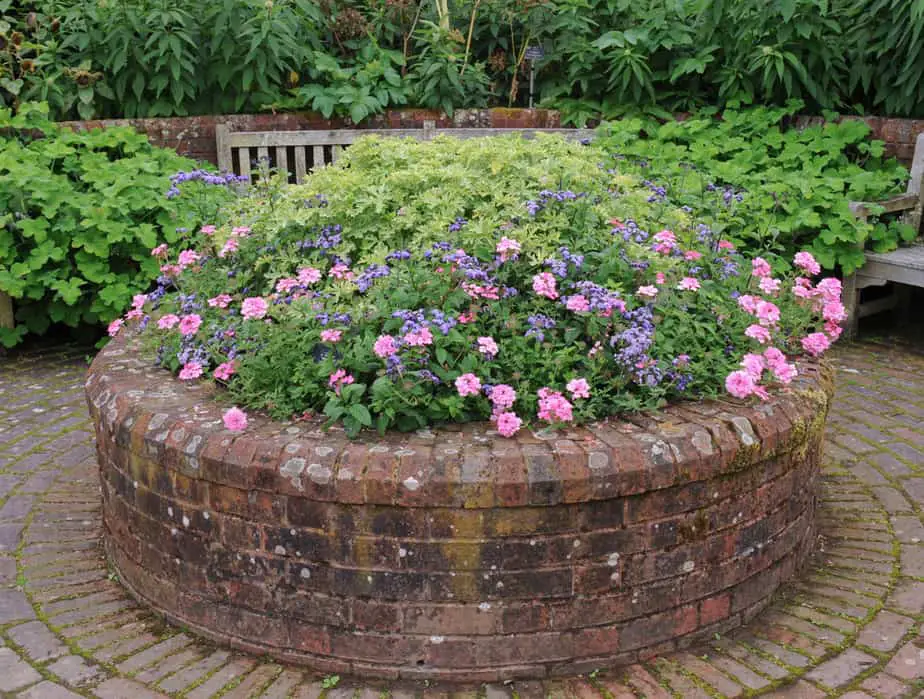 Similar to the rectangular brick raised gardens we showed you earlier, this rounded brick garden bed is a timeless outdoor decoration. The rusty red of the brick contrasts in such a pretty way with the pink and lavender of the flower blooms.
The brick patio surrounding the raised garden bed would be a lovely area to place garden tables and chairs.
31. Elevated Wicker Garden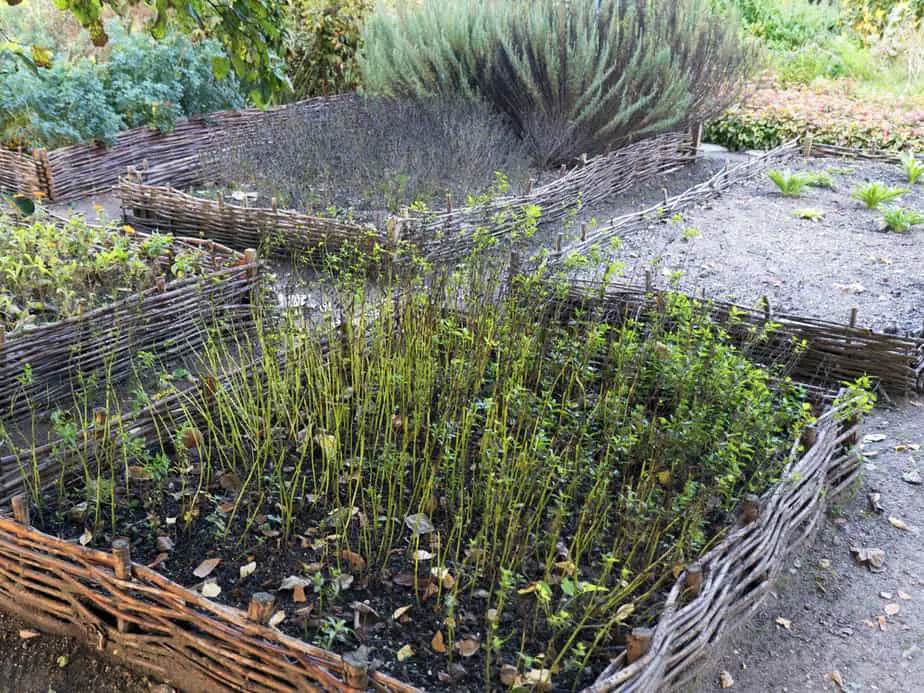 Wicker raised gardens are incredibly nostalgic, bringing back memories of the wicker baskets filled with flowers and pies of storybooks.  You can bring a fairytale feel to your backyard simply by making a raised garden out of wicker fencing.
They're an interesting texture to look at and are sturdy enough to keep furry critters out of your garden bed. What more could you ask for?
32. Raised Garden Bed with Arbor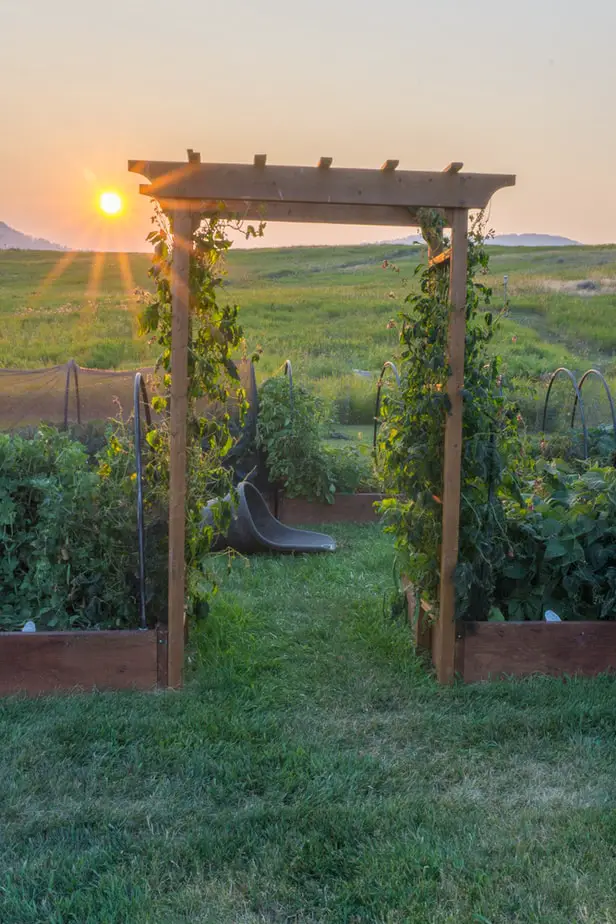 Garden arbors have been a beloved garden feature for generations. They're intriguing shapes and the way vines wrap around the posts is a beautiful sight and perfect for any backyard. Placing an arbor at the entrance to your garden would be a great way to give your plants something to grab on to rather than simply slumping to the ground as they grow.
By the way, you can check out our Garden Arbors article for more ideas!
33. Chair Flower Garden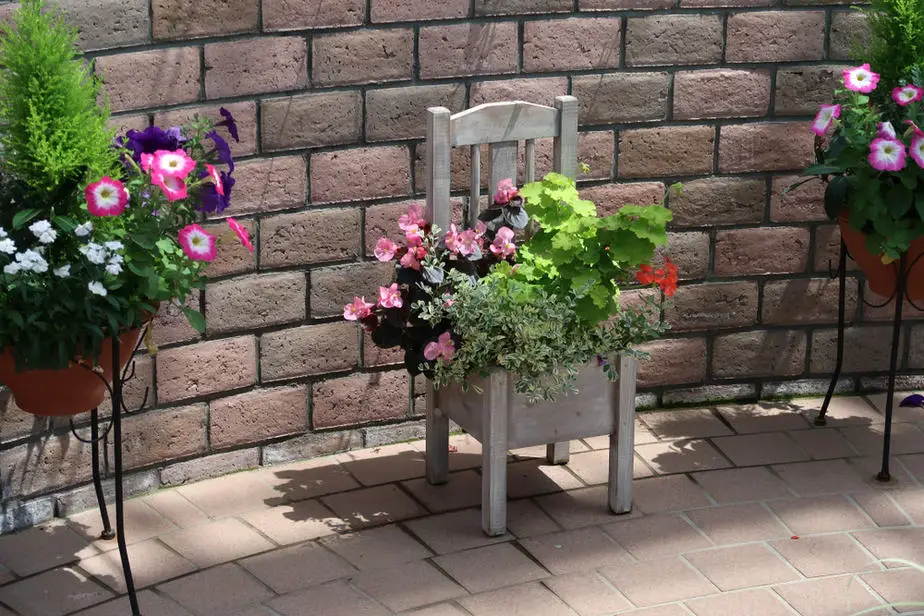 Though a very tiny garden, this chair garden would be an adorable piece for any yard or porch. They're simple to make and are such a unique decoration idea.
They would also be a great raised garden experiment for those who may be new to growing herbs, edibles, or flowers – or for those who don't have much space on their property for large garden beds.
34. Octagonal Raised Garden Bed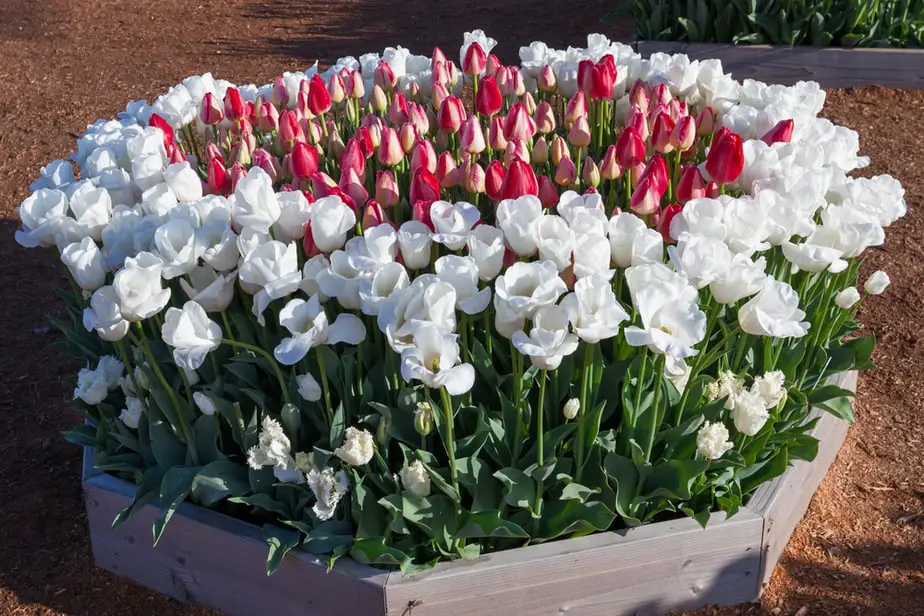 The full, lush look of this octagonal raised garden is enough to capture anyone's attention. Like in the photo, octagonal gardens make the perfect garden beds for flower-mixing to create unique patterns.
It's not often that you see these types of garden beds, so if you enjoy things that are unordinary and lovely, this may be the ideal garden bed for your home.
35. Square-Framed Raised Garden Sets
This is an artistic type raised garden set. The way the gardens are lined together with the comfortably-sized entrance gap and single raised garden in the center is an odd, eye-catching setup. This is sure to pique the interest of your guests and create intrigue in your backyard space.
To Conclude
Raised garden beds are not only practical, (taking away the need for in-ground planting and care from animals who may try to eat your plants) but they're also visually appealing and look great in any outdoor area. They can make colorful and lively focal points and are the perfect spring project for DIYers. Whether you and your green thumb will be raising fruits and vegetables or gorgeous vibrant flowers, there's sure to be the ideal raised garden for you! We hope you were able to gain some inspiration from our raised garden ideas and are eager to get started on your own! Happy planting!