Autumn is the time for raking leaves, carving pumpkins, and potting colorful assortments of mums. Do you find yourself searching for extra space to grow and display your potted plants? If so, why not consider an outdoor shelving unit for your patio or deck? We can suggest some fabulous free-standing foldable shelves made of bamboo or wood that will offer functional space for potted plants to grow, flourish, and thrive.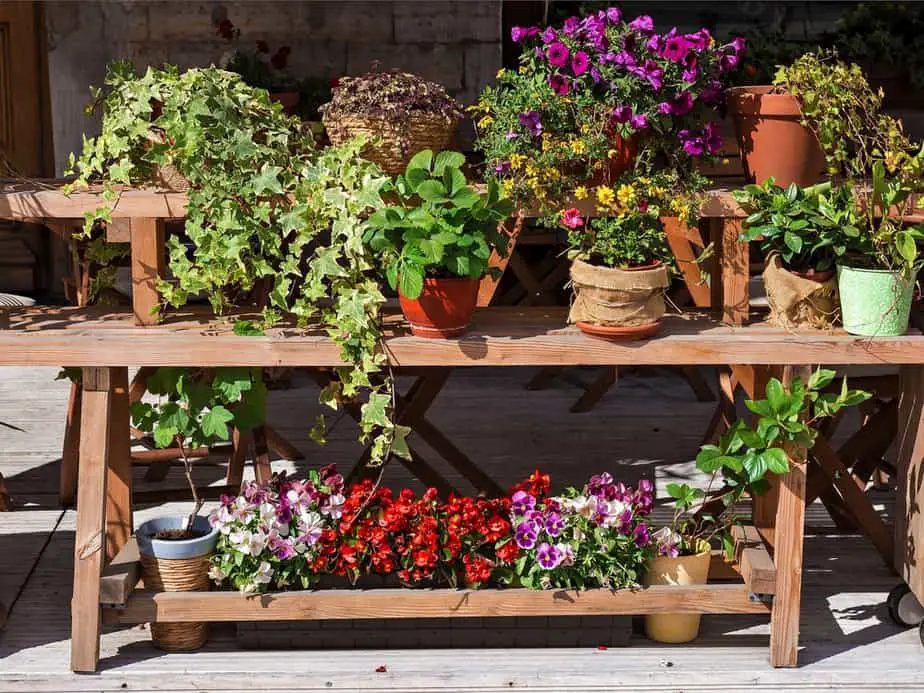 Along with free-standing shelves, we'll also recommend a few portable greenhouses if you want to start your plants from seeds or seedlings in a protected environment. With their special mesh covering, these outdoor shelving units provide a proper space for container gardening in challenging climates, plus added space to display your finished products. Keep reading for the best outdoor shelving to carry you through every season!
In a Hurry? Here's Our Top Picks…
Bamboo Outdoor Shelving
Bamboo is an attractive and durable material that is naturally resistant to insects and most types of rot, which makes it our top choice for outdoor shelving. The bamboo is polished and then treated with an eco-friendly, non-toxic, odor-free varnish to create a smoother, more refined appearance. Some units are movable on wheels, while others are foldable and portable, so they can easily be used outdoors as well as indoors. This gives you an additional option if you want to bring your potted plants inside for the winter.
In addition, bamboo also has a warm tone and an appealing texture. Here are a few of our picks for bamboo outdoor shelving:
1. COPREE Bamboo Rolling 6-Tier Plant Stand
Sale
Bamboo Rolling 6 Tier Plant Stand Rack Multiple Flower Pot Holder Shelf Indoor Outdoor Planter Display shelving unit for Patio Garden Corner Balcony Living Room
🏡 Indoor Outdoor Flower Stands - 6 layers of exhibition space for your favorite plants,You can use this cute pot rack to display your succulents, daffodils, cactus, roses, lilies, tulips, daisies, etc
🏡 Wheel Design - This plant rack equipped with 4 casters (2 of them are locking wheels) for effortless movement
🏡 Simple & Practical - This planter shelf showing of your plants very well, and let your lovely plants enjoying the sunshine in a comfortable environment; Can be used in Hallway, indoors, outdoors, bedroom, living room, balcony, patio, garden, front porch, office and shop, as you wish
🏡 Fine Workmanship - Made of high quality bamboo, and easily can be assembled
🏡 100% Satisfaction Guaranteed - If you are not satisfied with our products or have any problems with the products received, please feel free to contact us, we will help you solve the problem as soon as possible
Last update on 2023-09-18 / Affiliate links / Images from Amazon Product Advertising API
The COPREE Bamboo rolling plant stand makes it easy to move your shelving unit from one place to another since the entire unit is on wheels. Its unique and contemporary design includes six tiers, which will provide plenty of sunlight to each of the potted plants that you choose to display. It could even double as a movable storage cart for your tools, a pitcher of lemonade, a stack of magazines, or your tablet, while you're working outside on your patio or deck. Made with 100% natural bamboo, this shelving unit is sturdy, as well as environmentally-friendly.
What We Like:
Bamboo is an exceptionally durable material
6 tiers mean plenty of storage for your plants
Easily portable since it's on wheels
The design is updated and modern
What We Don't:
On a windy day, it could roll, and your potted plants could fall off
Check Price and Reviews on Amazon
---
2. MallBoo Three-Tier Bamboo Ladder Plant Stand
MallBoo 3-Tier Bamboo Ladder Plant Stand,Plant Shelf with Foldable and Multipurpose for Outdoor/Indoor
HIGH QUALITY MATERIALS: The flower pot stand is made of high-altitude carbonized bamboo, which is healthy, environmentally friendly and durable. The polishing process and environmentally friendly varnish treatment make the surface smooth, waterproof and easy to maintain. Exquisite bamboo texture complements the natural tones.
HUMANIZED DESIGN: The 3-tier flower pot rack adopts multiple layers of high and low design, making full use of the space for placing flower pots, allowing plants to obtain more sunshine and better growth. The triangular structure enhances the stability of the plant holder and the bezel on the back prevents your flower pot from falling.
EASY TO INSTALL & SAVE SPACE: The rattan plant stand is easy to install. You can easily assemble it with the installation instructions and installation tools in the package without any other tools. You can easily fold it up when not in use, which will take up very little storage space.
MULTI-PURPOSE USE:If you just use it as a flower rack, you're too contemptuous of its use.It can also be used as a shoe rack, storage rack, display stand, etc.Expand your imagination, versatile use, there is always a way for you.
RELIABLE GUARANTEE: 100% of the quality of the product is recognized. Our 3-layer flower stand is built for continuous construction. If anything happens in the first two years, we will replace it with a new flower stand. There are no additional conditions to solve customer problems.
Last update on 2023-09-18 / Affiliate links / Images from Amazon Product Advertising API
The MallBoo Three-Tier Bamboo Ladder Plant Stand also has multiple shelving levels, which makes it ideal for plant storage. However, these shelves are in much different configuration. Since the three shelves are compact yet tiered, your plants will still receive plenty of sunshine to ensure optimal growth. This shelving unit is easy to assemble, but be sure to wear gloves during the assembly process. Although the unit is treated with varnish, you can still get splinters from some of the rougher parts in the bamboo. It also comes with a reliability guarantee, so if you have any problems, the manufacturer will replace it within a two-year window from the date of purchase.
What We Like:
Portable, foldable, and easy to assemble
Triangular shape provides additional stability
Can be used both outdoors and indoors
Bamboo material has a warm hue
What We Don't:
Bamboo is not completely weather-proof
Since this shelf is light and portable, it could blow over on a windy day.
Check Price and Reviews on Amazon
---
3. Gigantex Three-Tier Bamboo Plant Stand
Sale
Giantex 3-Tier Hanging Plant Stand Storage Shelf, Folding Flower Pot Organizer Display Storage Rack, Adjustable Hanger Rod, Bamboo Planters Shelves Potted Holder for Patio Garden Balcony Bathroom
🪴【Attractive Hanging Design】Equipped with an elegant hanging rod is a perfect design that allows plants to hang and provide plenty of space for display. The plant stand has three layers, each of which has a different height and width and can be placed with different sizes of plants. The triangular structure enhances the stability of the plant stand without shaking.
🪴【Adjustable and Foldable Design】When you don't use the plant stand, you can fold it quickly and save space. The portable design makes it easy for you to carry and move. The height of hanger rod can be adjusted as needed. According to the instructions provided, you can assemble easily in a short time.
🪴【Safe Detail Design】The back crossbar design prevents the plants from falling. And the hollow-out design of the bottom layer ensures good light, and has the functions of drainage and ventilation, which is beneficial to the growth of plants. Smooth surface and rounded corners protect your family from scratches and are easy to clean.
🪴【Multifunctional Application】 It can be used not only as a plant stand, but also as a storage shelf, display stand and clothes hanger. You can use it to put plant pots, shoes, books, toys and decorations, as well as hanging clothes, pants, hats and umbrellas.
🪴【Durable Bamboo】Our plant stand is made of natural bamboo with high hardness. After carbonization, the structure is stable and durable. You can put it in the living room, bedroom, balcony, courtyard, office and flower shop to meet your different needs.
Last update on 2023-09-18 / Affiliate links / Images from Amazon Product Advertising API
Similarly, the Gigantex Three-Tier Bamboo Plant Stand has three shelves for plant storage, plus an extra bamboo bar at the top for hanging plants. The bar can be adjusted for height, depending on the size of your plant containers. Overall, this unit is easy to install, easy to move, and easy to store. Simply fold it up when it's not needed, or keep your potted plants on it throughout the year.
What We Like:
It's portable, foldable, and easy to assemble
The tiered design gives your plants extra access to sunlight
Bamboo is hardy and blends well with other furniture
What We Don't:
Bamboo could become susceptible to mold, especially in humid or wet climates
Assembly can be tricky when aligning holes and placing screws
If you hang heavy plants from the top bar, the uneven weight distribution could tip the unit
Check Price and Reviews on Amazon
---
Firwood Foldable Shelving
Another great choice for functional outdoor shelving is a folding plant stand made of 100% Fir wood. With beautiful wood-grain tone, Firwood shelving will complement your greenery year-round. You can experiment with different displays, from brightly colored potted flowering plants to the soft, muted colors of drought-resistant succulents, to the rich, deep colors of winter topiaries filled with evergreens and vibrant berries.
Of course, you can also keep your shelving unit outdoors throughout the year. Try decorating your shelving unit with potted mums and pumpkins during the autumn months to create a festive display, then swap these out for evergreen garlands filled with berries to spruce things up during the wintertime. Come spring, you can change out your display again to include potted flowering plants, which will continue to look lovely all summer long.
4. Yaheetech's Fir Wood Foldable Plant Stand
Sale
Yaheetech Wooden Foldable Ladder Shelf 4-Tier Magazine Holder Book Rack Plant Stand Folding Flower Display Pot Decorative Storage Free Standing Indoors/Outdoors Rustic No Assembly Required Brown
🌷【Harmless Material】The foldable flower stand is crafted out of 100% solid fir wood, a sustainable natural resource known for its strength and durability, and covered with varnish paint. The solid plant stand is capable of holding up to 35kg/77lb.
🌷【Carbonized Treatment】Undergoing carbonized treatment, this wooden plant shelf increases the stability of the structure and prolongs the service life. High-temperature carbonized fir wood ensures a smooth surface and good deformation resistance.
🌷【Excellent Space Saver】This flower ladder shelf measures 42.5'' high, 17.7" long and 14" wide, and features 4 tiers, providing adequate space for more than 8 potted plants and sparing much space in your balcony. Perfectly for your living room, bedroom, balcony, or any other outdoor living space like a patio, garden, backyard, etc.
🌷【Better Stability】Our folding flower pot stand features an A-shaped sturdy wooden structure that is made for great stability and bearing capacity. The thickened legs (Thickness: 2.5cm/1.0") provide strong support for better stability.
🌷【Water-resistant Surface】The surface of this flower stand is covered with tasteless and harmless varnish, which can increase waterproofness. This wood flower stand is built to last without much care and maintenance. It can be clean with damp cloth.
Last update on 2023-09-18 / Affiliate links / Images from Amazon Product Advertising API
The convenient, triangular design of the Yaheetech Foldable Plant Stand makes it sturdy and its tiered design gives your potted plants maximum exposure to sunlight. This unit can be used outdoors as well as indoors, where it can be added to your hallway, foyer, or mudroom – anywhere that plants will help to brighten up a tight space. They are also well-suited to outdoor balconies as well as rooftop gardens.
If you decide to bring this unit indoors, you can try mixing your display of potted plants with other items, such as books, photographs, candles, and artwork. It would blend well with the furniture in a living room or bedroom, and work equally well in office spaces, too. Yaheetech offers a three-tiered option and a four-tiered option, depending on the height that you prefer.
What We Like:
Firwood has a beautiful appearance
Outdoor/indoor shelving option
Foldable, with no assembly required
Design is attractive
What We Don't:
Varnish might slightly rub off on your hands when removing the unit from the box
No assembly required, but you might want to tighten the bolts after unpacking the unit
Check Price and Reviews on Amazon
---
Portable Greenhouse Outdoor Shelving
Are you looking for outdoor shelves that function primarily as a nursery space for your plants, rather than as a decorative display area? Do you need a designated place to start your plants from seeds or seedlings within the protected environment of a portable greenhouse?
If so, we can recommend a few excellent options for outdoor shelving units, which also include protective polyethylene (PE) mesh coverings to guard against the natural elements. You can zip open the PE mesh covering to tend your plants, while also giving them plenty of access to sunshine to help them grow.
We think that you'll find portable greenhouses to be ideal for your planting needs, without the expense of a traditional glass-style greenhouse. Plus, some options are even large enough for you to walk inside. It's like a walk-in closet for your plants.
5. Gardman Extra Wide Four-Tier Mini-Greenhouse
Gardman USA 7600 Greenhouse, 4 tier, Green
Extra wide mini greenhouse
Easy to use
This product is manufactured in China
Quality construction and materials to last many seasons
Heavy duty reinforced polyethylene cover
Last update on 2023-09-18 / Affiliate links / Images from Amazon Product Advertising API
The Gardman Extra Wide Four-Tier Mini-Greenhouse provides four plentiful shelves for your seedlings and plants, along with a zip-door for easy access so that you can water your greenery as needed. Whether you are an advanced gardener whose backyard functions as an at-home nursery for plants, or whether you're a gardening newbie planning to make the first attempt at growing plants from seeds, this portable greenhouse can help you out. This outdoor shelving unit won't take long to put together, and it will look clean and tidy once it's assembled.
The green protective mesh covering also adds an important function. It will keep your plants from becoming overwatered by excessive rain, and it will also help to keep your plants cozy at night by holding in the warmth of the sun from earlier in the day. Since this is one of the main purposes of a greenhouse, your plants will be at an advantage if they're placed within a portable greenhouse shelving unit like this, as opposed to other types of open shelves with no protective covering.
What We Like:
Easy and quick assembly
Portable and lightweight
Zippered door with protective mesh
What We Don't:
The covering could come loose at the seams after a period of use
Check Price and Reviews on Amazon
---
Tips for Planting in Containers
Selecting the Right Soil
Growing plants in pots or containers has its own special set of requirements. For one thing, you'll need to purchase a potting mix that doesn't contain garden soil. This is because garden soil is actually too heavy for the roots of potted plants. Using regular garden soil risks cutting off the oxygen supply to your potted plants.
Potting soil mixes are actually comprised of peat moss and vermiculite, along with other ingredients. This ensures proper drainage of water, but it also helps to hold in moisture for your plant and gives them the right conditions that they need to thrive. Similarly, succulents need a special blend of potting soil to ensure adequate aeration and proper drainage.
Watering Your Potted Plants
A fair word of warning to all container gardeners: make sure that you do not overwater your potted plants. Excessive overwatering is an almost certain death sentence for your potted greenery. According to experts at the University of Missouri, improper watering kills or injures more potted plants than any other single factor. Although you might think that you are acting as a caring and attentive gardener by being vigilant with a watering can, your plant could be stuck in its pot begging for mercy.
Your plants will also prefer room temperature water rather than chilly water from the tap or hose, which can damage your plant's roots and leaves. And, unlike natural spring water or rainwater, tap water contains chemicals such as chlorine and fluoride. While these might not necessarily damage your plants, they aren't completely natural either. If possible, fill up a watering can or bucket with tap water, then let it sit for several hours. This helps to dissolve the chemicals first before exposing your plant to any potentially harmful compounds in the tap water.
When to Water?
The best time of day to water your potted plants is in the early morning. This provides enough time for any water droplets left on the leaves to evaporate with the sunlight. If you water your plants when you get home from work in the evening, the leaves could stay damp during the night, which exposes your plants to additional risks for disease, while also making your plants more susceptible to the colder temperatures after the sun goes down.
According to the gardening experts at Better Homes and Gardens, it's especially important for you to keep the leaves of your rosebushes and tomato plants relatively dry. Be sure to water these plants only in the morning.
To Water or Not to Water?
A drooping plant might not necessarily be a sign that your plant needs more water. Sometimes, the soil can appear dry on the surface, but below the surface the roots of the plant are waterlogged. This causes them to suffocate. Test the soil before watering your potted plants by poking it gently with your finger.
Again, don't risk overwatering your plant! You could end up losing the plant, and you'll ultimately be sending money down the drain, too. As an overall rule of thumb, it's better to water less often but more deeply, rather than frequently with only a light watering each time.
Of course, some plants will also need less water than others. Cacti and succulents are notoriously drought-resistant plants. These desert-loving plants can withstand dry weather and extreme temperatures without a fuss. Plants with waxy leaves, such as begonias, are also somewhat better able to survive with limited water supplies, at least relative to their counterparts with delicate leaves. Similarly, plants with fuzzy silver foliage, such as Lamb's Ear, are able to handle relatively less water compared to other species.
Meanwhile, it will probably come as no surprise that tropical plants such as Canna prefer constant moist soil, as they are used to high-humidity environments.
Good Drainage for Potted Plants
It's also necessary to provide drainage holes in your pots so that any excess water filters out naturally through the base of the container. Without holes at the bottom of your pots, your plants will be left sitting in soggy water every time it rains. This could cause their roots to rot and also threaten the health of your plants overall.
Since clay pots are more porous vessels than ceramic or plastic pots, they will require more frequent watering. The weather will always play a factor, and you will want to be responsive to the atmospheric conditions that your area is experiencing each day. And remember, your plants will probably each have different requirements depending on their type, size, and container.
How to Revitalize Wilted Plants
If you forget to water, or if you go away for vacation and come back to find your potted plants completely dried out, do not fear. Instead, implement an emergency resuscitation plan to revitalize your plant back to life by submerging its container in a bucket of water. Allow the water to go up to the ridge of the pot and let it sit for several hours.
This emersion method allows the plant to slowly absorb water from the bottom up, giving its roots a chance to adjust to the sudden provision of water after days or weeks of thirst. You might be surprised at just how hardy and resilient some plants actually are. Don't immediately give up on potted plants that look like they've keeled over. Chances are, they could fully revive after a good drink of water.
Final Thoughts
From folding plant stands to portable greenhouses, you'll love growing and displaying your plants in pots and containers thanks to our recommendations for the best outdoor shelving units. Plus, you can always mix your potted plants with other items to create decorative, festive displays, which gives you a lot to work with throughout the seasons. With several great options for outdoor shelving, we know that you'll be able to create a backyard space that is conducive to container gardening, while also making optimal use of the extra space to show off your greenery!