Whether you do a lot of gardening and you have a large number of tools that you use, or your house is cluttered with things that you need to put elsewhere to free up some space, there are many ways you can make use of the area in your garden to store all these things, all while maintaining the greens and flowers you care for.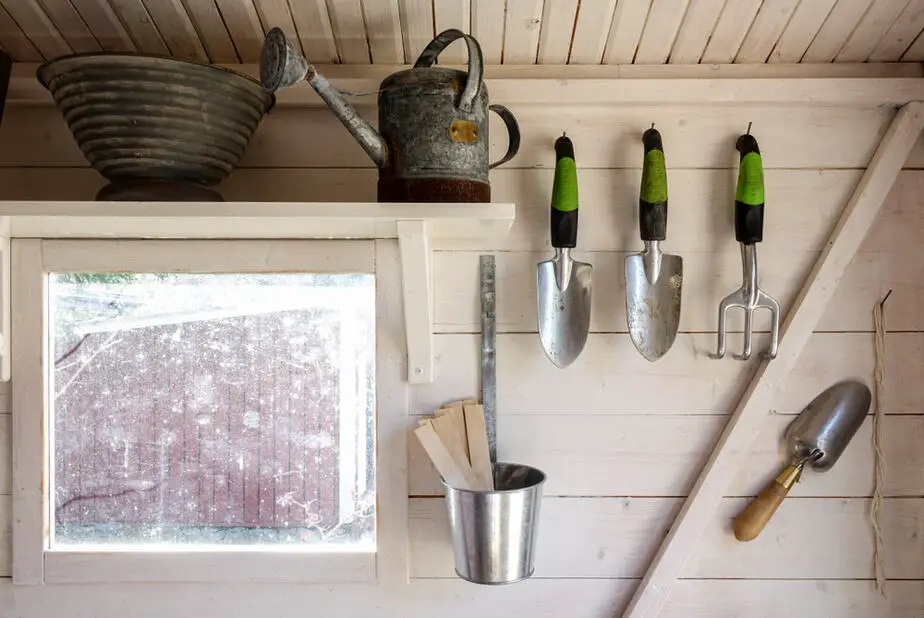 While there are a variety of ready-made garden storage ideas you can buy, there's also no lack of storage ideas and hacks that you can build and implement yourself. This could save you some money as well as allow you to customize your storage. You don't need to worry if your garden is a little small, these ideas will help you organize it in an efficient way.
You can use leftover wood to create all sorts of storage and organization mediums. Moreover, you can recycle different tools and objects in your house and garden to use them as well.
Before you begin, you need to know how many tools and objects you need to store in your garden as well as how much space you have available there, then choose the ideas that you feel are best for you.
It's easy to get lost with all the ideas out there, so here's a list of some great garden storage ideas that should easily fit any garden.
Bike Storage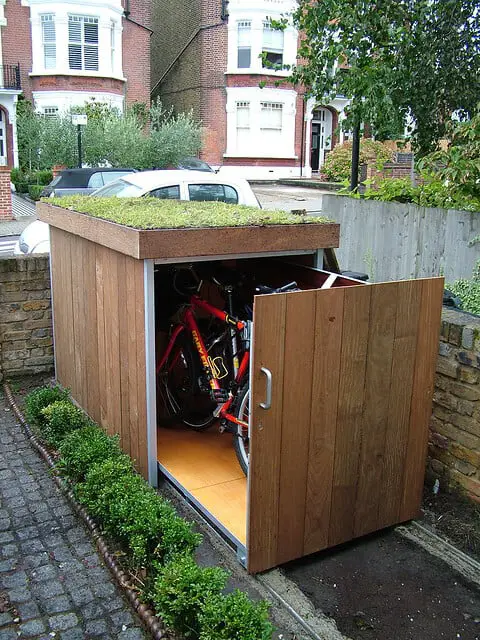 This sliding storage cabinet is a great idea to safely store your bikes. The wooden platform slides in and out to keep your bikes hidden when not in use. Moreover, the roof could be used to plant more green areas in your garden which makes it blend with the surroundings. This cabinet is easy to build and can also be used to store a variety of different things, not just bikes.
Outdoor Storage Bench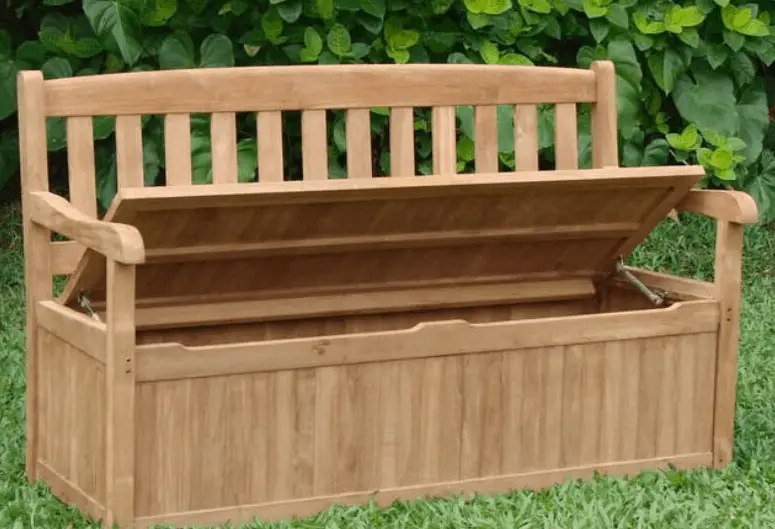 Outdoor benches take up a big amount of space, why not make use of them to create concealed storage areas. You can configure the seating to be lifted up and reveal the storage room. It's easily accessible and you can stack all sorts of stuff in there, all while saving space by using areas that are already occupied.
Garden Shed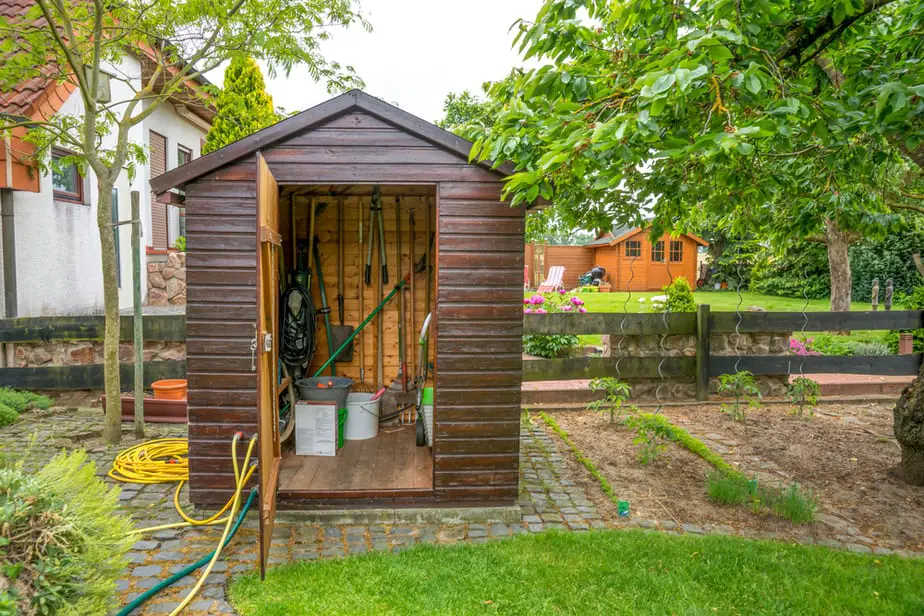 To make use of the space in your garden in an organized manner, you can build a shed that serves as a storage place for all your tools and includes a small workshop area. It could include shelves, racks, pallets, and boxes to easily categorize and store tools. You can also embed it with a greenhouse area to keep your plants in. This would give a great look to your garden.
Mailbox Storage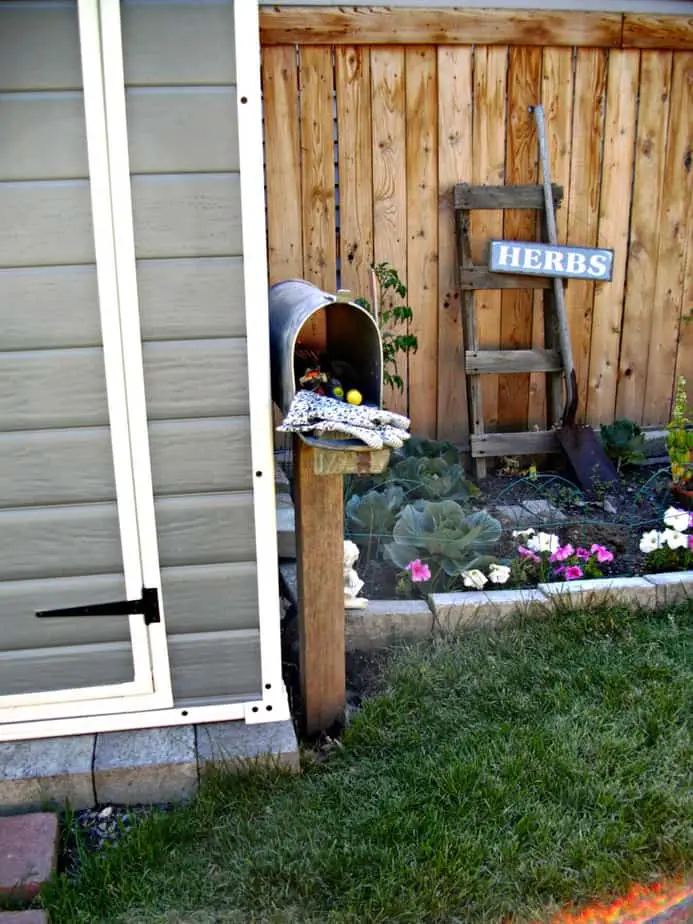 As you probably don't get any more physical letters the old way in your mailbox, it'd be a great idea to recycle it so you can make use of it in a variety of different ways. You could simply turn it into a vintage storage box for your garden tools. You could even decorate it the way you like to give it a new look that matches up with your garden. You can also put more than one in different areas of the garden to keep the relevant tools near the places you use them at.
Pallet Tool Organizer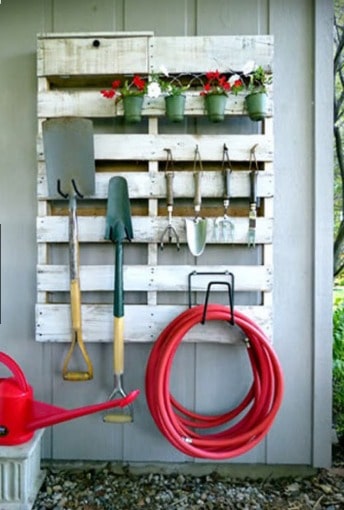 A hanging pallet tool holder is a nice way to keep your tools at hand in an easily accessible and totally organized manner. It saves a lot of space and you can hang all kinds of tools like the water hose and shovels. You can also add plant pots on it for a great look. It's widely customizable as it's made of wood so you'd simply attach different hangers to it to accommodate tools of different shapes and to change how they're organized whenever you want to.
Garden Planter Box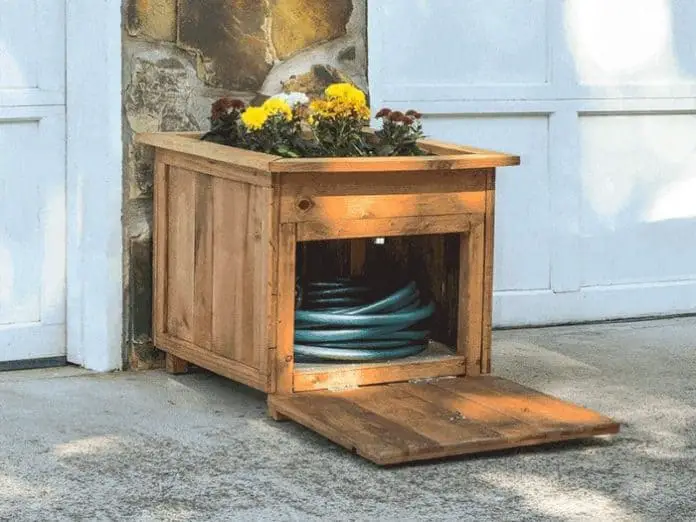 This hose hiding planter box is an easy DIY project that you can make for your garden. The top part is where you can keep your flowers and plants while you can use the bottom as a storage space for your water hose. You can even make a hole on the side as in the image to quickly access the hose when you need it. The box doesn't take much room and it blends with the surrounding plants. You could build several ones of it and use them as storage all over your garden.
Outdoor Storage Table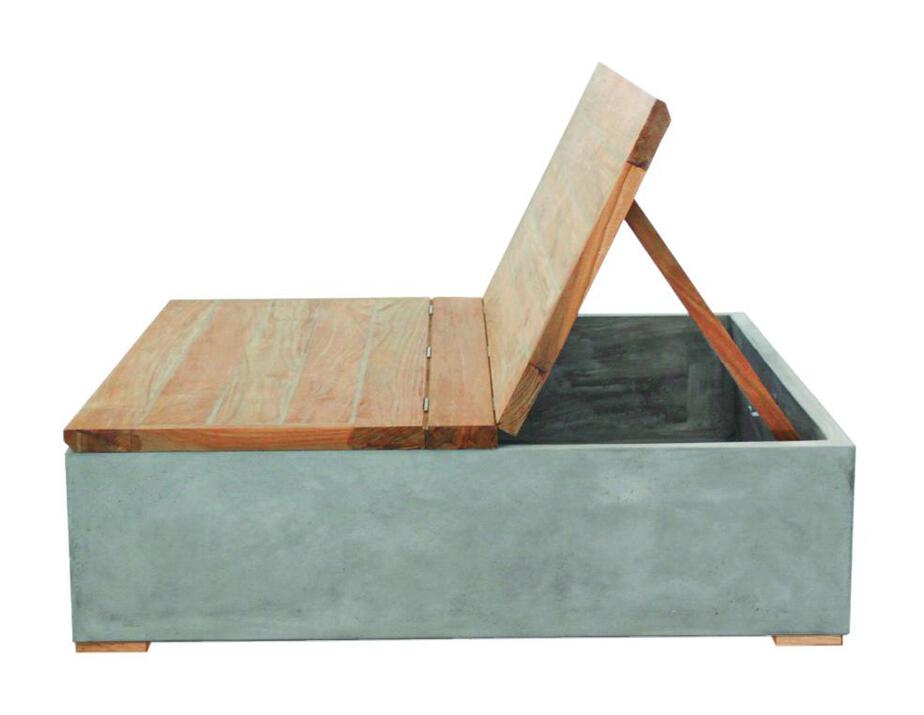 Outdoor tables in your garden are another type of furniture that you definitely need but take a considerate amount of space. Along with the storage benches, a storage table will increase your capacity. It could be built in different ways using leftover wood from other projects and it can be home to a lot of stuff. You can use it to stack pillows and blankets, store the kids' toys, or even the table utensils that you frequently use. It's also possible to divide it into several drawers to keep things organized and within reach.
PVC Tool Storage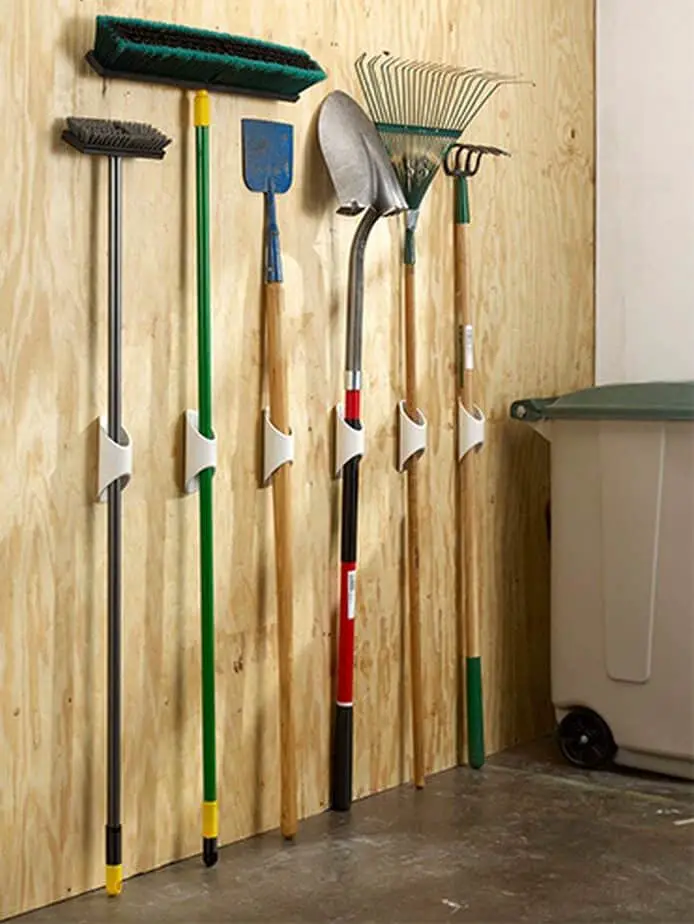 Having your gardening tools scattered all over the place is a big hazard that could turn into a dangerous situation. An extremely nifty solution for this problem is to use the PVC pipes hack to arrange your tools. You probably have excess PVC pipes that you can cut into different sizes, attach them to walls in your garden shed or cabinet and use them to hold your tools. They're great for long tools but could be used as efficiently for small ones. They could even be labeled so that you would immediately know which tool goes where.
Hanging Tool Racks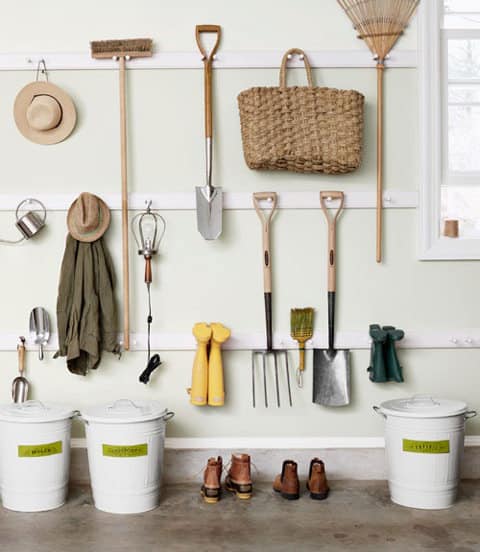 Another practical idea to store your tools in your garden shed is to use these racks at different heights to hang all sorts of stuff. This idea makes everything clearly visible at a glance and it frees a lot of space for you. Make sure to use hangers that are firmly mounted to the racks to hold your tools securely in place.
Trash Bins Storage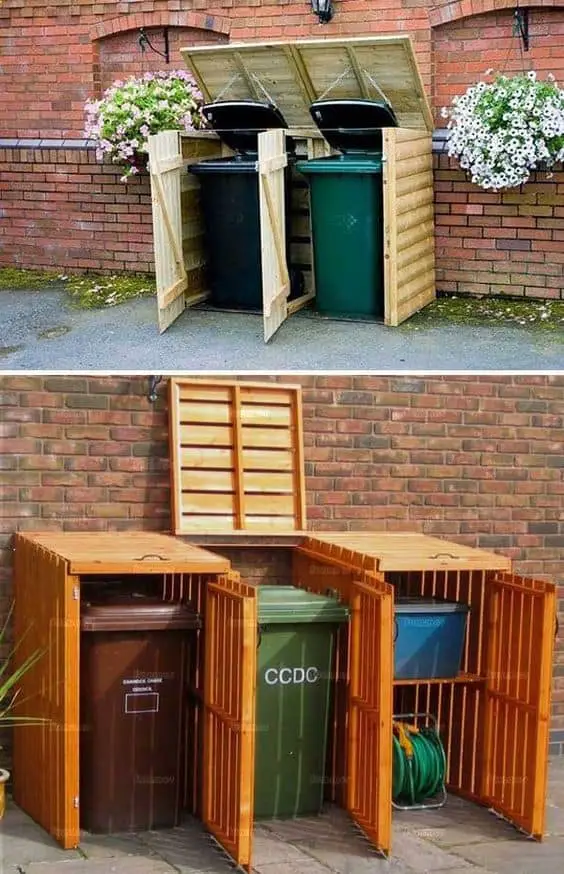 Leaving your trash bins visible around your garden isn't a pleasant sight. Instead, you can benefit from this hack to hide them in an aesthetic fashion. These storage boxes not only look nice, but they could also be used to store other stuff. You could add shelves to them and stack boxes. They're easy to build in different sizes.
Garden Tool Truck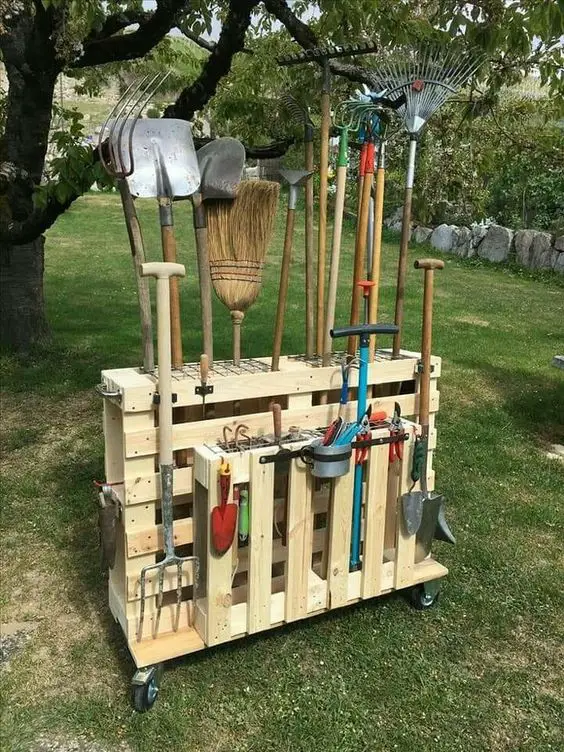 If you do a lot of gardening and you use many tools that need to always be nearby, a tool truck like this would be great to have. It's another DIY project to have fun with, it's like your garden cabinet on wheels. You could build it on your own and customize it with places for all the specific tools that you use. It's also easy to add more storage room to it later whenever needed. When you finish your work, it's easy to move it aside.
Hidden Storage Planter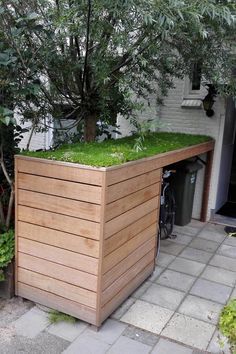 This is a good idea to increase your storage capacity without compromising on your green area. You can use the top to house the flowers and plants you like while using the area beneath it as a storage room. You can put your bike, trash can, and all sorts of tools and boxes. The nice thing about it is that it's all hidden underneath the plants so it wouldn't ruin the look of your garden. You could even completely conceal it with wall plants that you can grow on the sides of it.
Garden Tools Storage Cabinet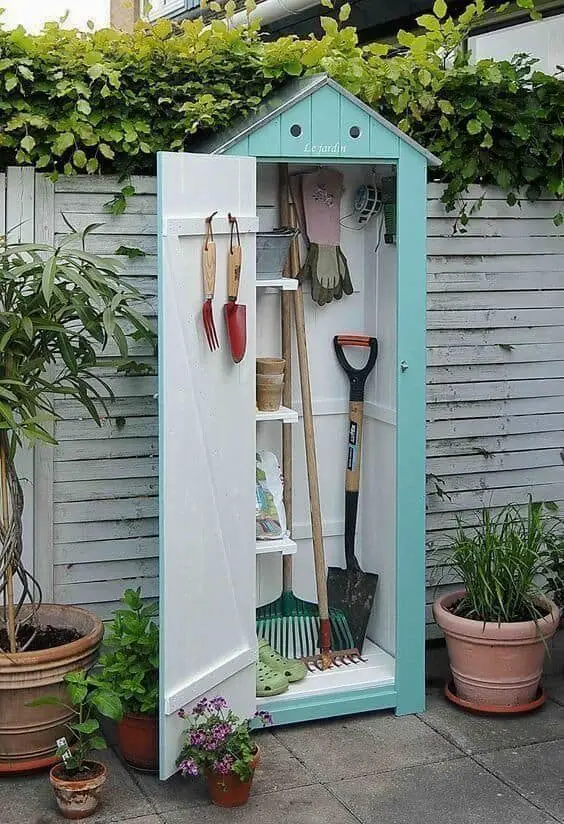 If your garden is a little tight and you don't have enough space to build a full garden shed, a good alternative would be a small tools cabinet that you could put in a little corner of your garden. You can stack it with shelves and racks to store your gardening tools and pots. Look for different designs that would match the look of your garden and build it according to the amount of free space you have to make the cabinet fit in nicely.
Vertical Tool Pallet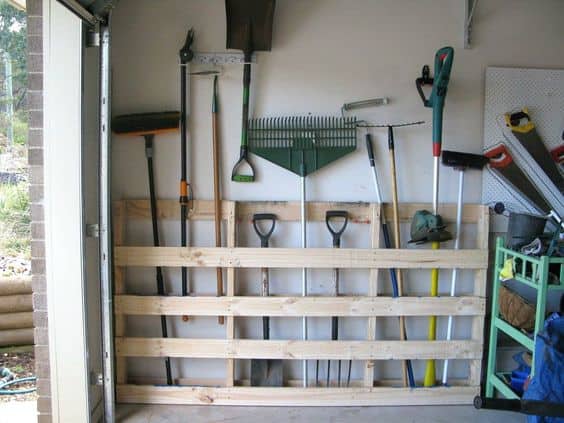 This vertical tool pallet really comes in handy when you need to store long tools. It's a simple idea that you can put up yourself in no time and it doesn't take much space at all. You don't even need a shed to put it in, you can just attach it to the outside walls of your house or garage.
Shoe Organizer Tool Storage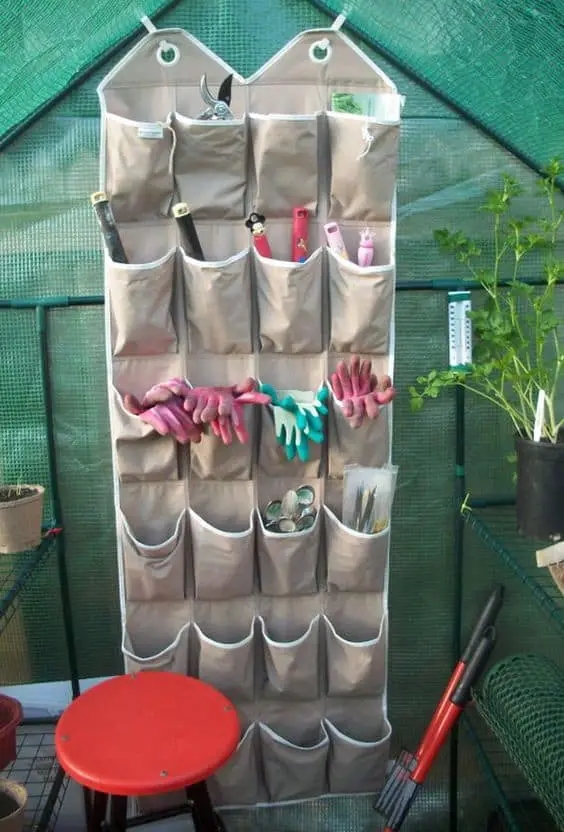 A shoe organizer turns out to be a really useful tool organizer as well. It can be hanged anywhere and it has lots of room to hold your gardening tools, gloves, and boots. You don't even need to buy a new one, you can simply recycle an old shoe holder that you have. You could even get ones of different sizes to hang at different places so that you'd have every set of your tools near where you usually use it.
Vertical Pots Hangers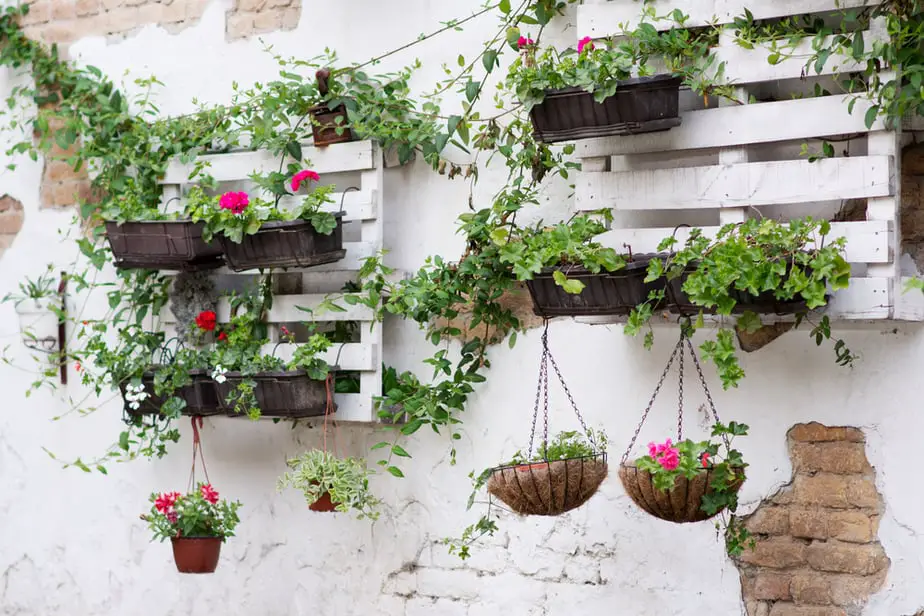 A clever way to have more storage in your garden is to make a vertical garden. Using different kinds of wall hangers, you can easily put your flower pots on the wall and free up space. You can make them in different sizes and shapes, and you can also include shelves for bigger pots. This gives a beautiful look to your walls as well.
Firewood Rack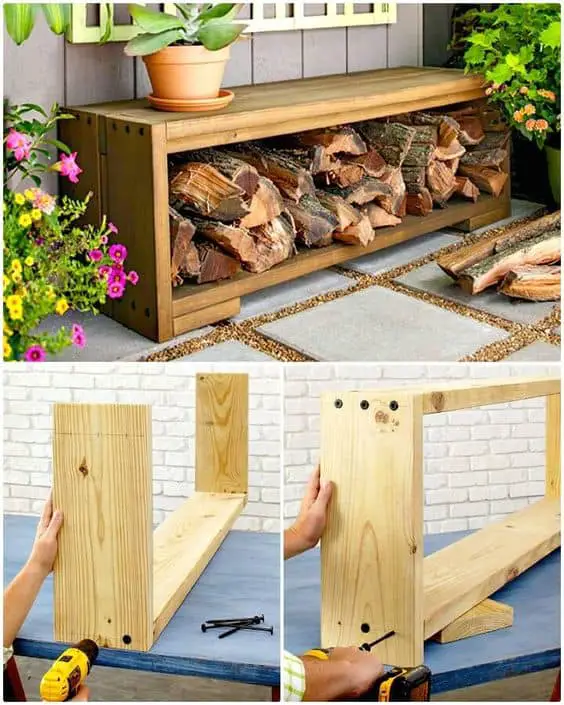 Stacking your firewood is a painstaking task. In order to avoid all this hassle, you could build a simple firewood rack to store it. It's easy to build and when it's empty, you can put in it other things than wood. You can even use the top for pots or as a table. This option is great if you store small amounts of wood, but for bigger stacks, you could make storage for them under large benches.
Garden Hose Basket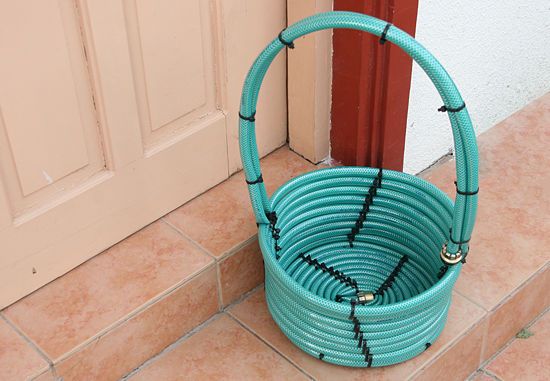 Keeping up with the recycling spirit, this is a good idea to make use of your damaged garden hose. This basket will look great in your garden and it could be used to hold gardening tools or toys. It could also be used as a pot for flowers. Instead of buying new baskets, you could make ones of all sizes, shapes, and colors for your garden.
Potting Bench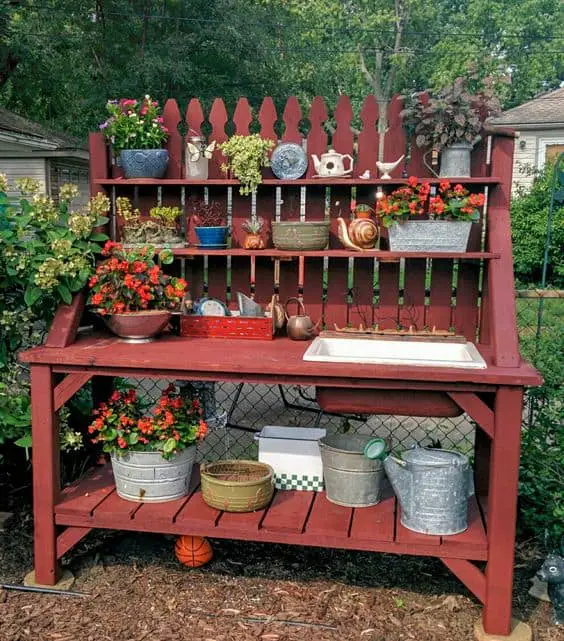 If you're into potting, it's a great idea to have a dedicated area by having this bench where you can store all your potting tools and pots. You can add a sink to it to make it easy to access water. It gives a nice look to your garden and provides you with a good way to present your flowers.
Wall Mount Storage
This wall mount storage is extremely useful as it gives you shelves to put your tools in as well as a space to work. It's easy to build and organize, and you can hang it anywhere to make it quickly accessible. When you're done using it, you can close the movable shelf to free up space and keep your tools safe. Instead of building big wall storage, you could build small ones and attach them together, which makes for great modularity.
Tools Pot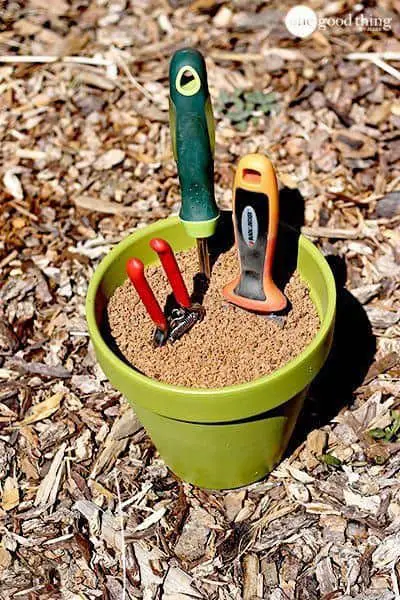 This one might seem awkward, but it's pretty efficient. As long as you have pots for gardening, why not use them as a storage medium for your tools. You can simply stick them in the pot like flowers. It's also beneficial to categorize your tools and label the pots so that you can quickly reach whatever you need using this organization hack.
Wrap Up
There are all sorts of garden storage ideas you can find, try to choose what works best for you and what makes you satisfied and comfortable when you're in your garden.
Know your stuff and plan your storage and organization accordingly. Do some DIY projects and build storage that's customized to your own need. It's also always great to recycle and repurpose things, so try to make use of what you already have to help with a sustainable environment.