If you live in an area where the winters consist of mountains of snow, freezing winds, and ice-covered roads, then you know just how important having firewood can be. Winters can be harsh. If strong enough, winter storms can knock out powerlines, causing the lights and heat to go out in homes. It's always best to be safe and have some sort of firewood supply gathered and stored before winter arrives, just in case the season takes a turn for the worst. Fires take little effort to start, they're easy to maintain and can warm up a room in an emergency.So, to get you started with your winter preparation, we've listed 21 practical (and a few aesthetically pleasing) firewood storage ideas for you to implement into your home!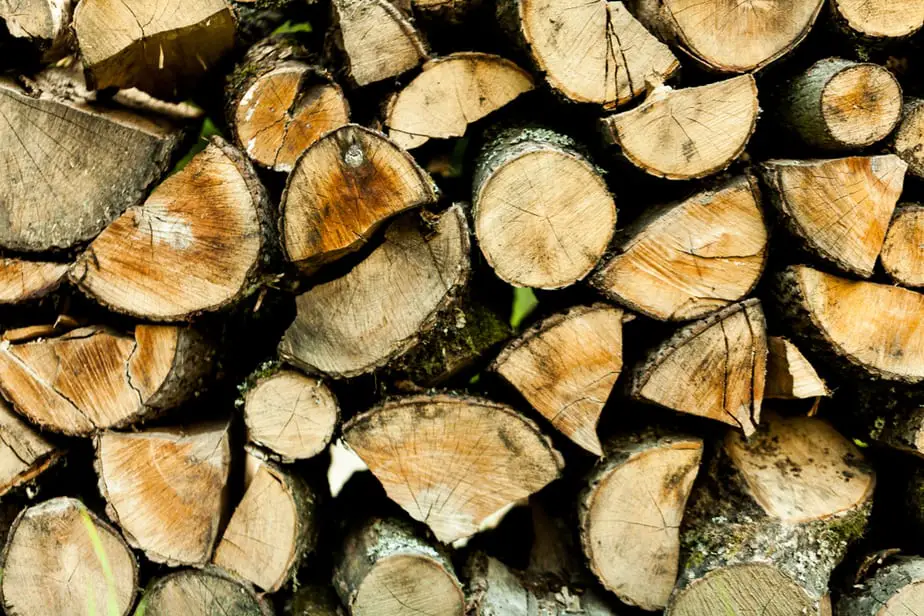 1. Unique Rustic Firewood Shack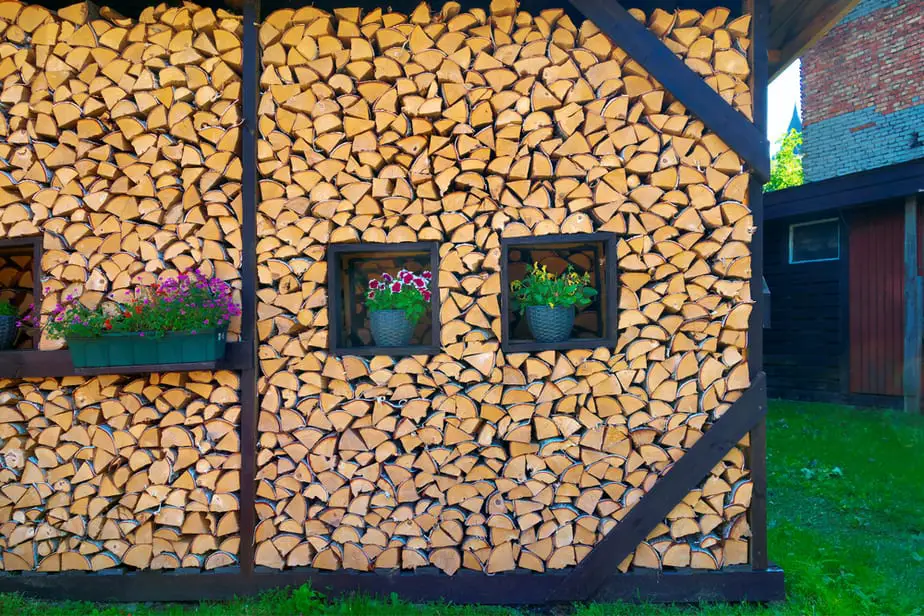 This rustic outdoor shack is made entirely out of firewood (with the exception of the stained wood frame and roof). It's the perfect setup for homes that are located in snowy winter areas that require an excessive amount of stored wood to sustain families during harsh months. During the springs and summers, the open square windows and outer ledges are the ideal places for colorful flowers to really brighten up your yard.
Because this is a shack, there is also additional indoor storage that could possibly be used to house logging tools such as chainsaws, extra chains, blade sharpeners and, of course, more firewood.
2. Ultra Modern Storage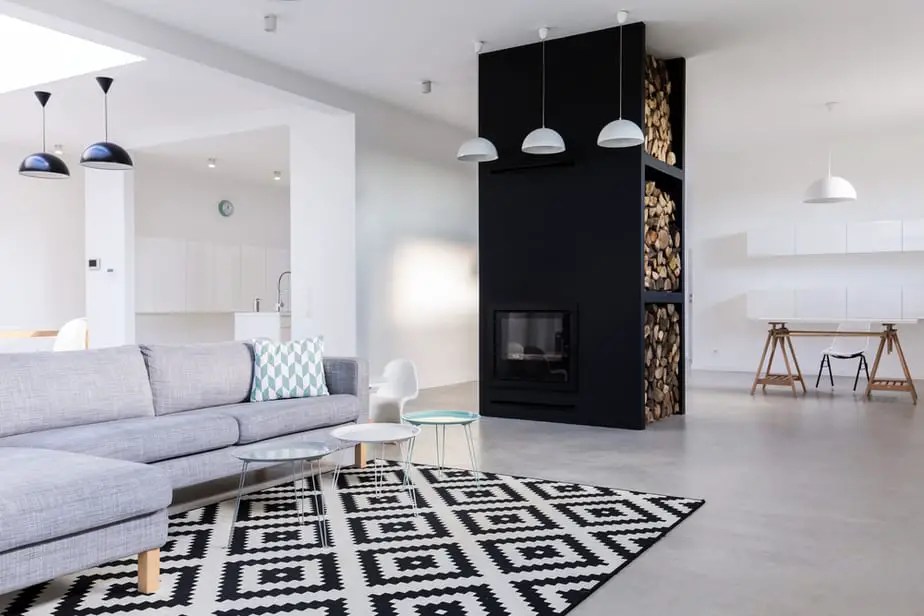 Monotone, static modern decor is all the rage. And with the modern style, there is often a single eye-catching, natural piece to off balance the area. The firewood storage in the side of the sleek black fireplace in the photo above is that single offputting visual piece that we just mentioned.
Not only is the wood going to keep you warm during the chilly (or freezing… or below freezing) nights but the natural appearance of the wood will also be aesthetically pleasing inside a contemporary setting, drawing the eye to one of the most unique modern pieces of your home – your massive centered fireplace.
3. Simple Cabin-Style Storage Building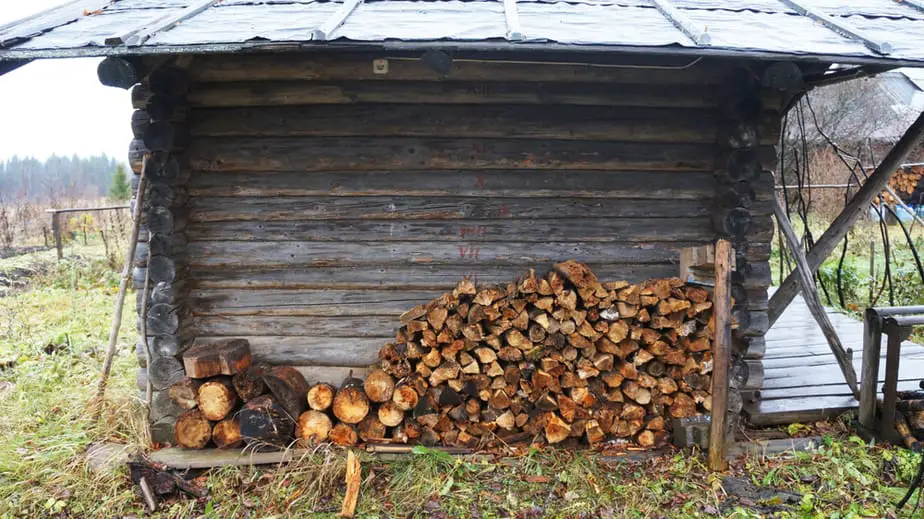 If you're into the deep woods, living off the land type of look, then this cabin style wooden storage shed may be the perfect addition to your property. Complete with side storage for easy access and internal storage, this (literal) log cabin will surely provide enough room for all your firewood needs. Not to mention the unique style of this building will give you that distinctive homestead appearance you've been dreaming of.
4. Artsy Circular Firewood Rack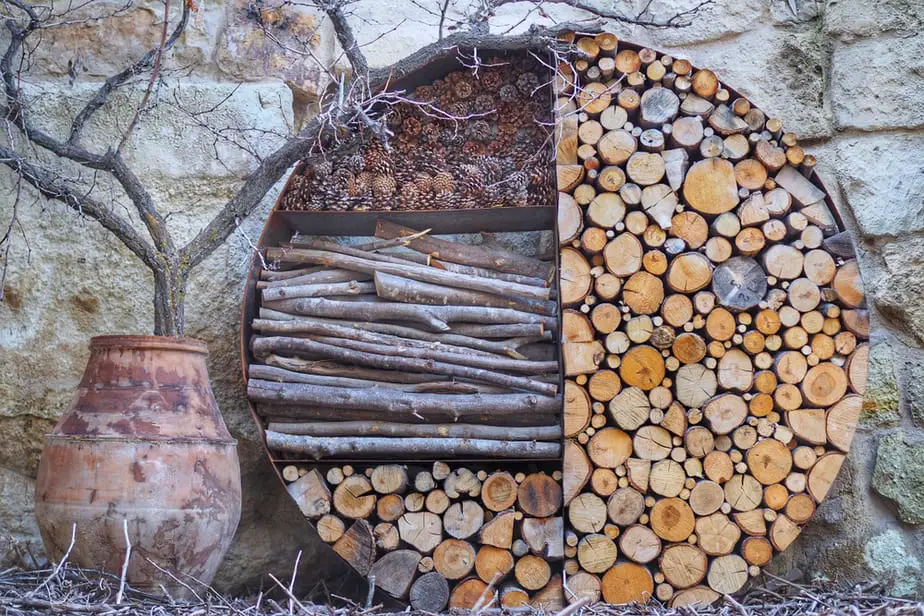 This circular firewood (and pinecone, apparently) rack is best suited for a home that isn't planted in the middle of a Tundra. This rack would be great if you're wanting to add a natural element to an outdoor or indoor space, or if you're certain you won't need a truckload of firewood to survive the winter.
The separate components of this circular rack are perfect for sectioning various types of wood or simply creating the look you want.
5. A-Frame Wooden Storage Building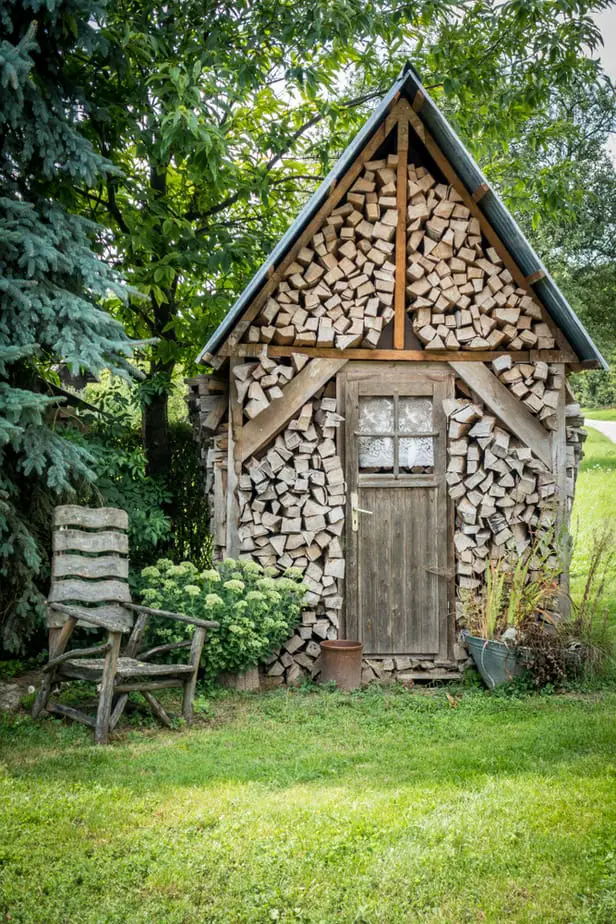 Similar to the first rustic firewood shack we covered above, this A-Frame firewood storage building is constructed with logs on the outermost part of the structure. There is also internal storage that can house anything you'd like to keep out of the elements.
What's unique about this structure, though, is the roof is designed particularly for snowy weather. A-Framed roofs are angled in a way that allows snow, hail, or other icy elements to roll off of the building, easing the pressure on the rooftop (pressure that can be incredibly dangerous). This storage building is also smaller in size, which means it would make a wonderful addition to a petite backyard.
6. White Brick Firewood Wall Space
If you're remodeling your home, this firewood storage area installed inside of a brick wall may be a handy inclusion next to your fireplace. White painted bricks are an extremely contemporary decoration piece that looks great when paired with darker furniture; or in this case, when paired with a black or darker-colored fireplace.
The ebony hue of the firewood also makes the white really pop in this space.
7. Practical Firewood Storage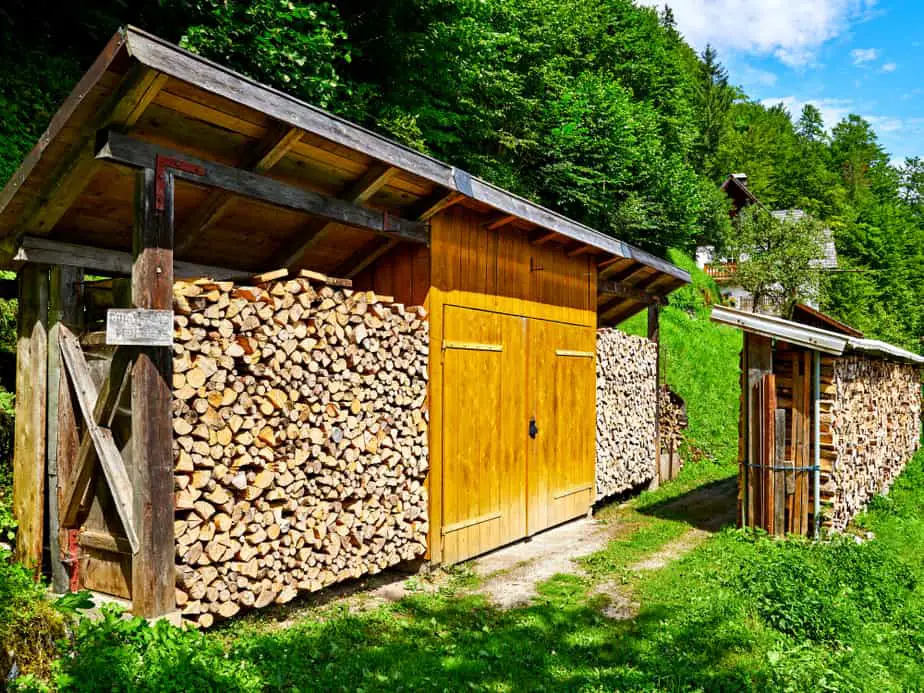 This setup is definitely less about the visual appeal and more about the simplicity and ease of storing necessities for the colder months. If you're handy with tools, this could be a pretty simple DIY build. This firewood storage building is made up of a slanted roof constructed specifically for the snow to slide off of, wooden panels behind and to the side of the building (to somewhat shield the firewood) and an enclosed center closet area for additional storage.
The wood is exposed from the front, but this is a very practical storage area that would be beneficial for those who may be on a tighter budget or those who just aren't looking for anything fancy to store wood in.
Here's a similar firewood storage idea building plan if you'd like to take a swing at building your own (pun definitely intended).
8. Gazebo Firewood Storage Space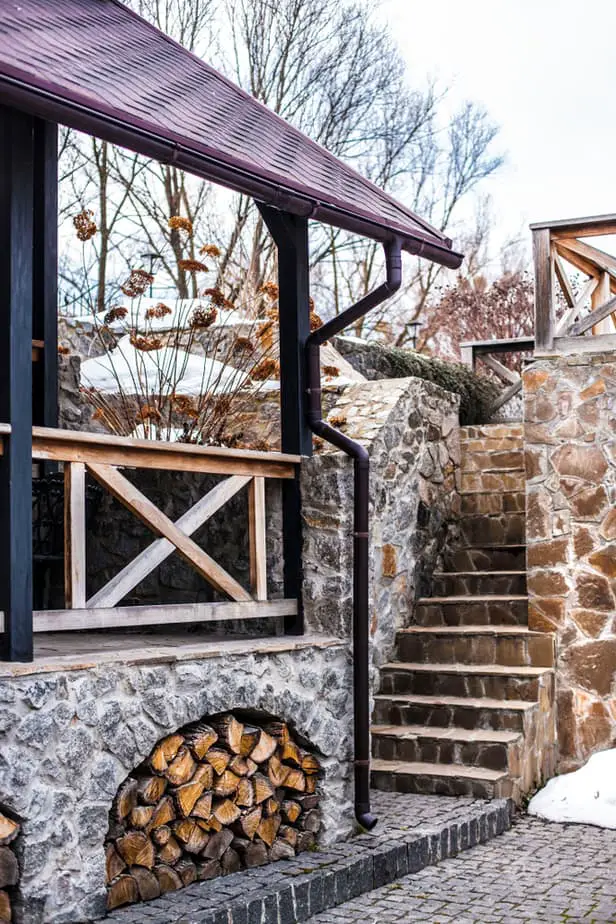 For those who love the finer things in life, this cobblestone firewood storage area underneath a covered gazebo might just be your speed. The stone contrasts beautifully with the dark wood of the raised gazebo seating area and is large enough to store a decent amount of firewood for whenever you're lounging outdoors.
The firewood is also stored beneath the gazebo floor, which means it isn't taking up any unnecessary space upstairs.
9. Pizza Oven Storage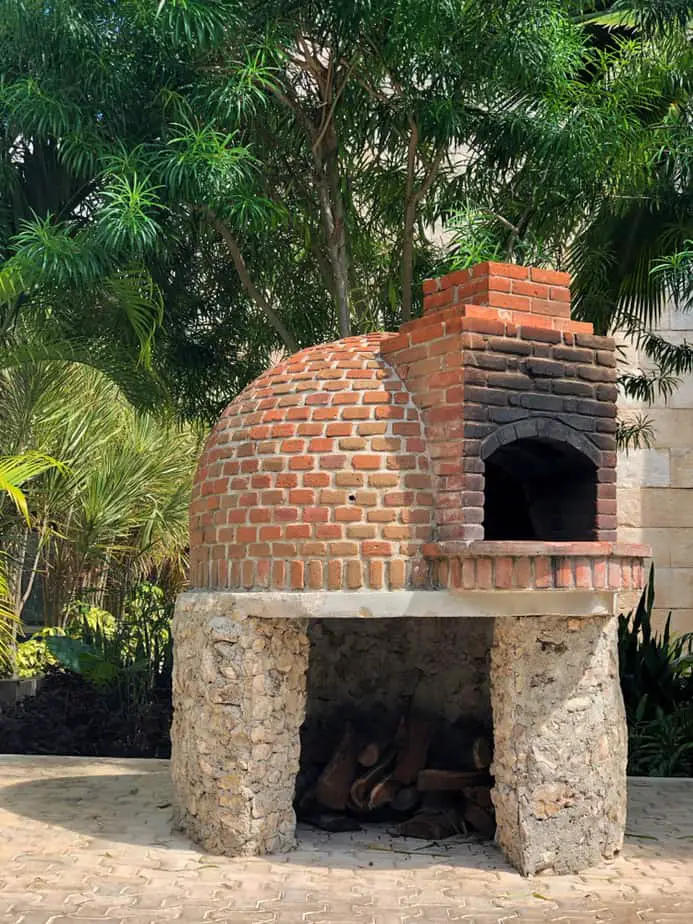 Attention pizza lovers and fire starters: we have the perfect outdoor addition for your home.
This isn't exactly necessary for enduring winter (or… maybe it is? You tell us, pizza-making extraordinaire) but this lovely domed brick pizza oven is complete with a circular enclosure underneath for firewood to call home. Because of the circular shape of the storage area, it's unlikely that any outdoor elements will come in contact with the wood inside, which is great if you need to preserve the life of your firewood for as long as possible.
10. Personalized Firewood Storage Idea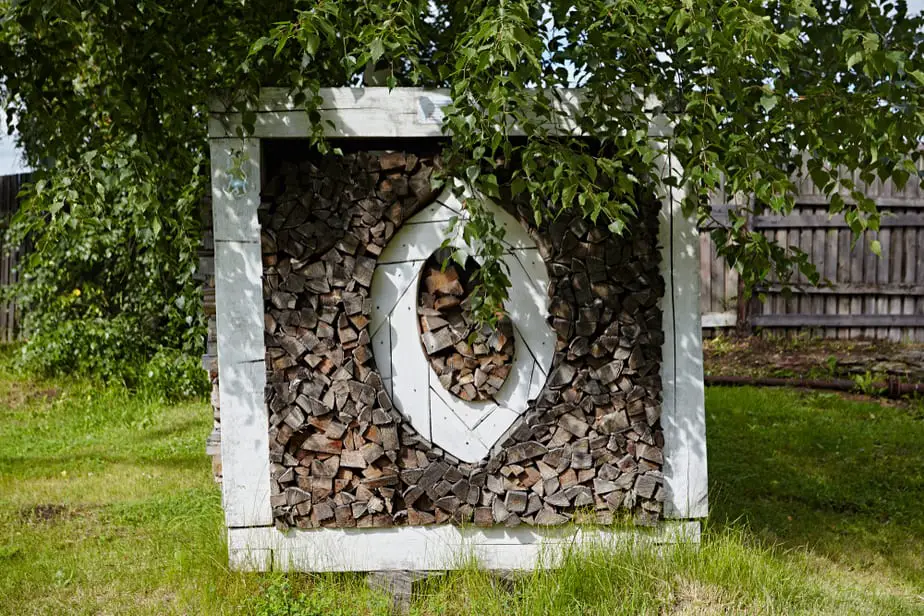 For the trendy among us, this firewood storage space is made whole with the inclusion of the creative "O" in the center. Putting bold initials or names into home decor has become a popular craze over the last few years – and this firewood storage space fits the fad perfectly.
11. Elongated Modern Storage

We already covered the importance of uniform, rectangular appearances in modern decor and this elongated firewood storage space is the epitome of the style. The sleek black appearance of this firewood storage area is a gorgeous opposition to the white and gray interior of the living room.
What's also great about the way the storage is implemented in the room is it's completely out of the way. The firewood is placed inside the wall rather than on the floor in a firewood rack.
12. Garden Top Firewood Storage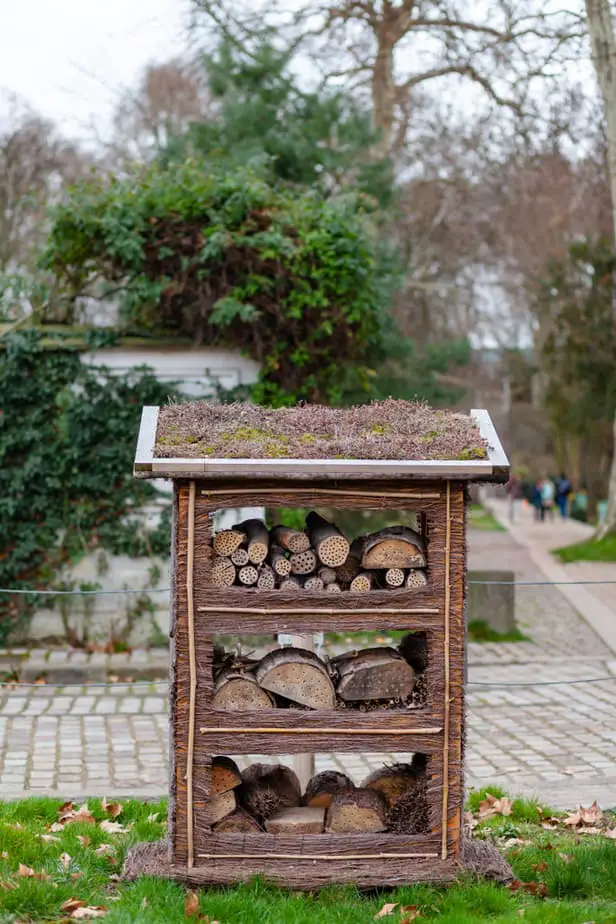 This odd firewood storage place was constructed with a garden rooftop. Flowers or mosses (like in the photo) can be placed on the roof to give it a really natural, bohemian aura. The small size of this storage area is also great for placing in yards with limited space or even indoors if you prefer.
If you need tips on how to create your own green roof, check out this helpful guide. The folks at Dwell have made it really simple!
13. Brick Firewood Box
We've seen a lot of distinctive firewood storage ideas on our hunt for the best, but this is one of the most unusual we've seen.
This firewood holder is made entirely out of red bricks and is without a doubt a permanent solution to your lack of storage problem. It seems to be an old style piece that would look absolutely stunning in a farmhouse.
14. Stair Storage
If all else fails, this is by far the most painless way to store firewood.
If you have a set of stairs indoors or outdoors, simply stacking firewood underneath them will shelter them from exposure to extreme weather. This is a quick and free way to store your firewood without the hassle of having to purchase or build a firewood shelter.
15. Abstract Firewood Holder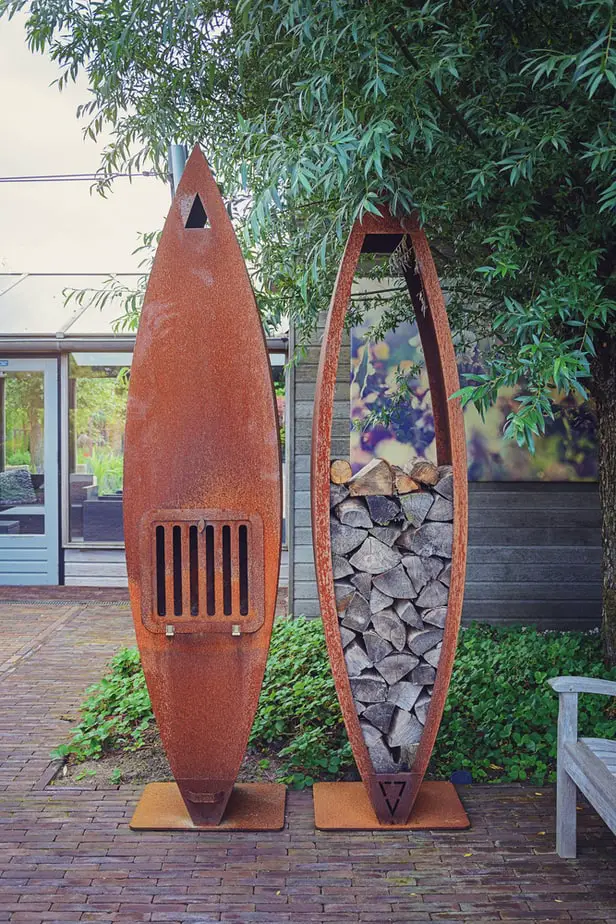 For the eccentric among us, this abstractly designed firewood holder is a wonderful talking point. The unique shape of this storage space is sure to turn some heads and add an artistic feel to your outdoor or indoor living area.
Though this firewood storage idea is more for visual appeal, it seems to be large enough to hold a good amount of firewood. Practical and eye-catching… what more could you ask for?
16. Cutesy Wicker Basket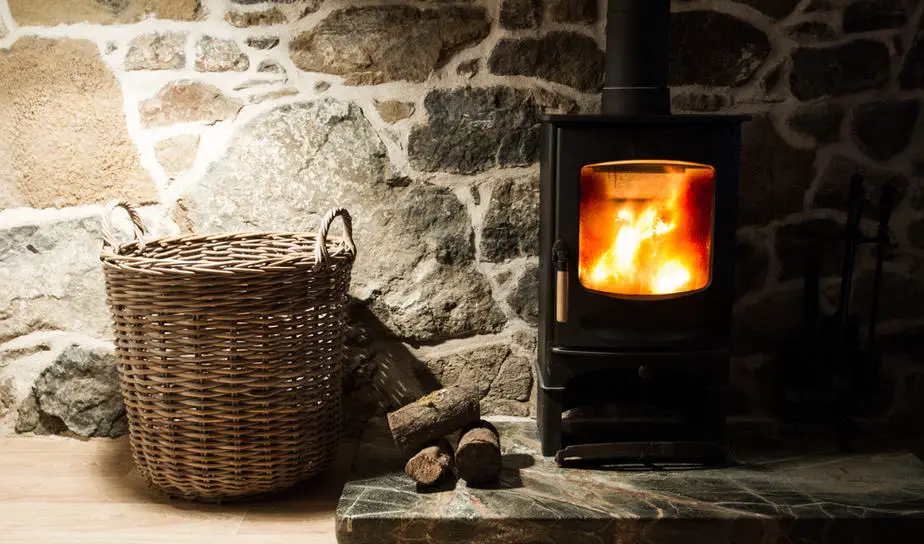 This is such a wonderfully cozy scene. With the wicker basket firewood holder and iron fireplace, how much cuter could it get?
Wicker baskets are an adorable way to add some appeal to your living space without breaking the bank in the process. Large wicker baskets, like the one in the photo, can also hold quite a few logs, which could last you a few fires. They don't take up too much space, either so as to not overcrowd the room.
17. DIY Wooden Pallet Storage Space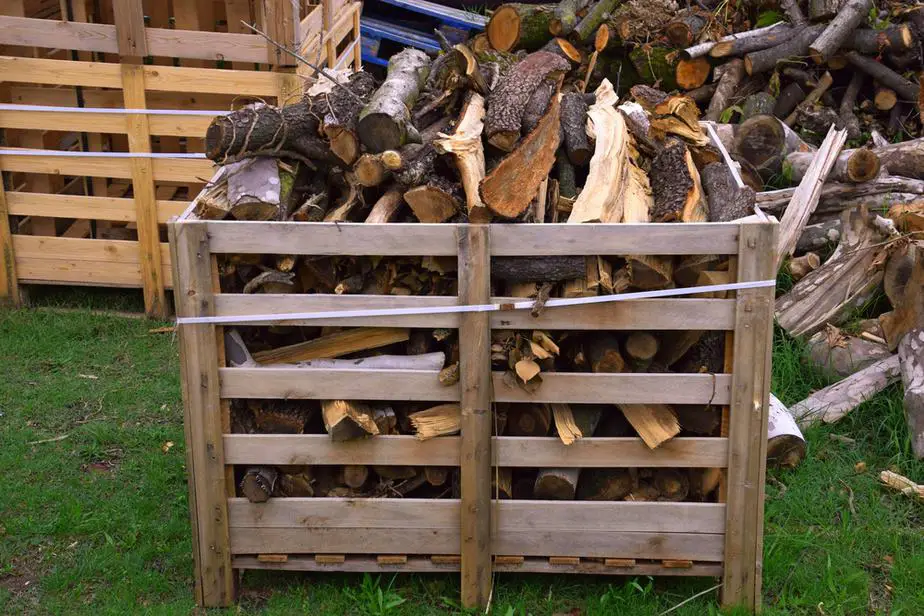 This nifty little firewood holder is made out of old wooden pallets. If you have wooden pallets lying around and have nothing to do with them, you might want to consider constructing this feasible do it yourself project.
For a more appealing look, you could also color the pallets with a durable outdoor stain or paint. If you're interested, here's a similar way to create your own pallet firewood rack.
18. Diamond Firewood Rack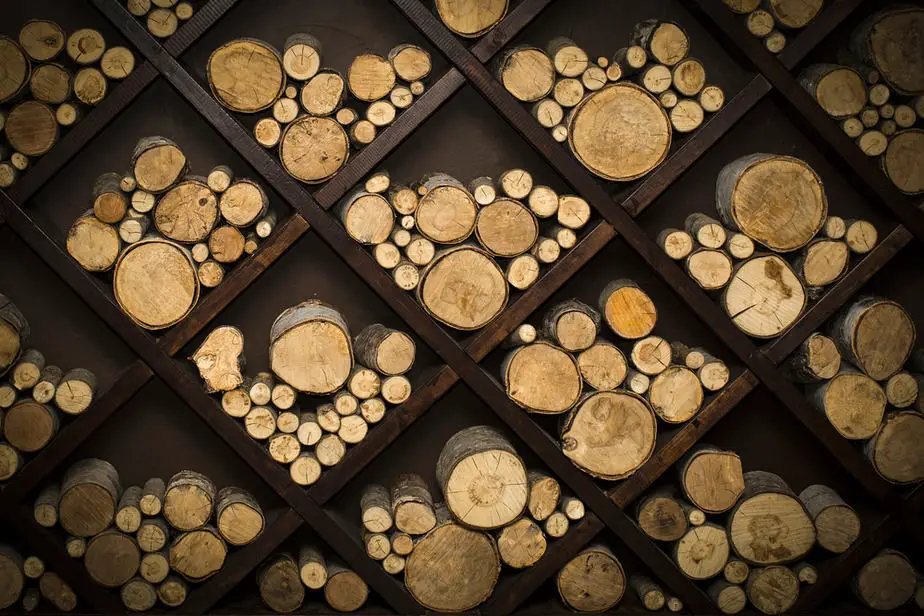 This designer style diamond firewood rack would make a gorgeous focal point in any home. Made of beautiful dark wood, the sophisticated coloring and structure are sure to create an elegant air that will impress your guests and store your much-needed firewood simultaneously.
19. Mailbox Firewood Rack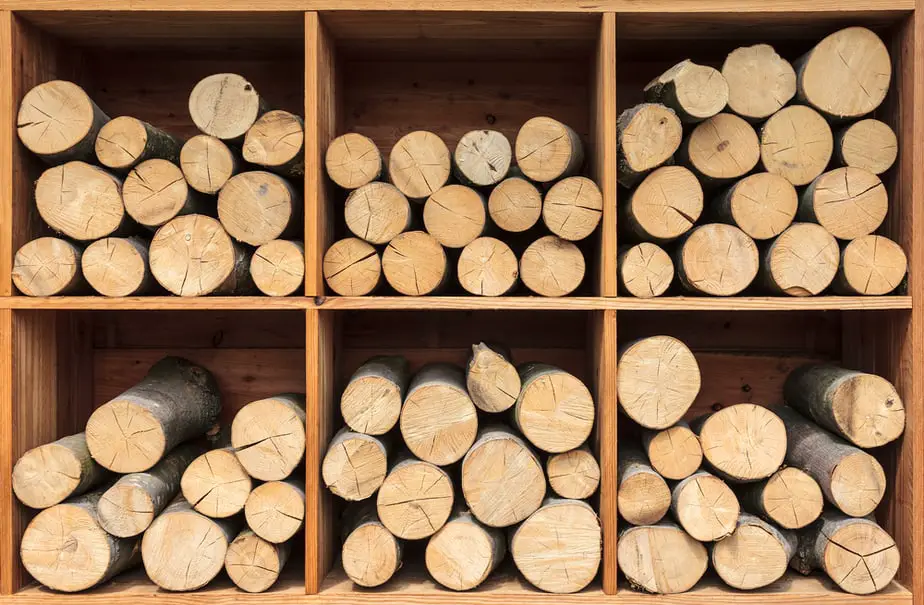 This firewood rack is divided into six identical squares for more practical storage and visual appeal. A rack like this could easily be hung on a wall or sat on the ground. We feel that hanging this firewood rack would make an excellent piece for a barren wall. But it truly depends on your preference.
20. Birdhouse Firewood Storage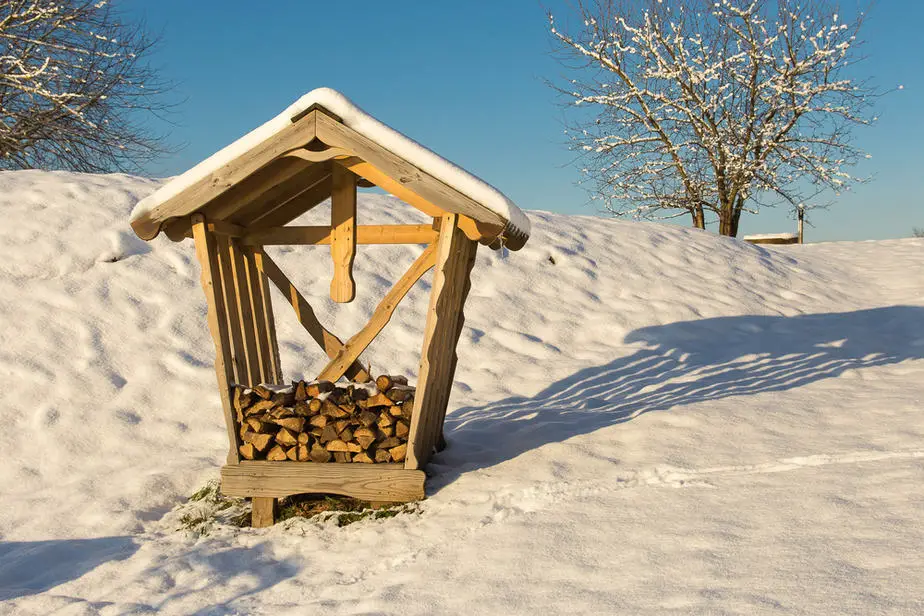 Reminiscent of a birdhouse, this firewood storage structure is perfect for airing out wet firewood while concurrently sheltering the wood from direct exposure to the elements. Plus it's cute, and we like that.
21. Hillside Shed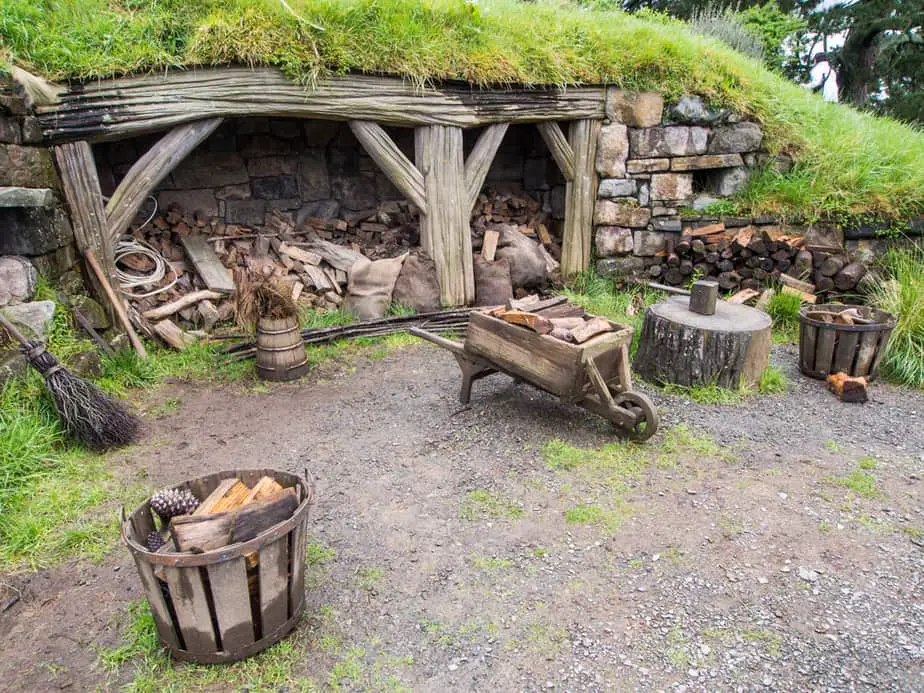 Last, but not least, we thought it would be interesting to include this hillside firewood storage area. If you're fond of an old world look (or you just have a hill on your property you'd like to experiment with) then this may be a great build for you.
To Conclude
Thanks for reading our article over our favorite firewood storage ideas! Having an area that you can store firewood in is a dream come true for those who live in extremely snowy places and can be helpful in case of emergencies. It's always good to be prepared. Whether it's for icy storms or simply for a cool evening by a fire, you'll be glad you had that extra firewood put aside.