Electric chainsaws have undeservingly been getting a bad rep over the last few years. Many homeowners consider them frailer and less durable than their gas counterparts. This is only partly true. Sure, an electric chainsaw is weaker than a similarly priced gas one. But that shouldn't bother most homeowners.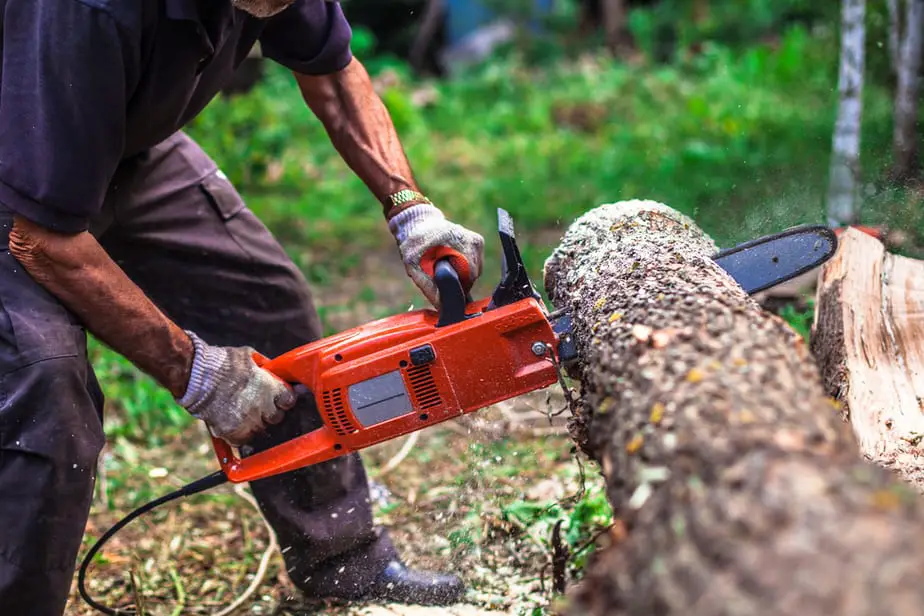 In fact, the power provided should be more than enough for all your limb-cutting needs. Additionally, electric chainsaws are much safer and easier to transport, making them better suited for homeowners.
In this article, we are going to introduce you to some of the best electric chainsaws (both corded and cordless) available, compare the performance of corded and cordless chainsaws with gas chainsaws, and provide some guidelines to follow when picking your next chainsaw.
In a Hurry? Here's Our Top Picks…
Best Electric Chainsaws
Gas chainsaws have been here for decades. This means that most of the products available today have been heavily optimized – maximizing cutting power as well as performance. On the other hand, electric chainsaws are still relatively new, and they don't have the same years of iteration as a gas chainsaw. However, with the advancements in battery technologies, electric chainsaws are rapidly improving. The odds are that a couple of years from now most of the chainsaws mentioned in this article would be replaced by even better models.
Electric chainsaws can be categorized into corded and cordless, and we'll be going into detail about each in this article.
Best Corded Electric Chainsaws
As the name suggests, corded chainsaws are connected to an electrical output through a corded wire. This allows them to have a constant supply of power and you don't have to worry about keeping them charged or making sure there is enough fuel. However, just like any other corded device, you are limited by how much extension cord you have available. Corded chainsaws also need an electrical output nearby. This could be a deal breaker for some buyers, however, most homeowners will have nothing to worry about.
Now, without further ado, let's get started with our favorite corded chainsaw picks!
Remington 12″ Corded Electric Chainsaw
No products found.
The Remington is a great budget buy and is the cheapest chainsaw on this list – a great choice for any cost-conscious buyer. But this means it is not as nice as some of the other saws on this list and has some significant disadvantages. This is still a pretty good saw and should work well for any small limb trimming you have planned. However, there are places where you can see that the manufacturer has cut corners to keep costs low.
For example, the saw relies heavily on plastic components such as a plastic sprocket and a plastic chain tensioning housing. This could cause some issues. Using plastic in your chain housing means that the chain may loosen more frequently. Plastic also negatively affects the durability of the saw. You could even find pieces of plastic breaking off the Remington chainsaw after long use.
On the other hand, the heavy use of plastic helps keep the saw light. It weighs just over 6 pounds, making it easy to handle and maneuver. Overall, despite the use of plastic and other compromises, the manufacturer stands behind the quality of their product. They even go so far as to offer a 2-year limited warranty.
The Remington also comes fully assembled with a 12-inch bar and is powered by an 8 AMP motor.
Another unique feature about the Remington is its push button oiling system. Personally, we found the device to be very unconventional. The oiler is controlled by the rotation of the sprocket. The manufacturer claims it makes the entire oiling process easier as you don't have to worry about oiling the chainsaw.
However, many users have reported that a lot of oil will still leak through the oiler even once you have stopped running the chainsaw, and this can be a hassle to deal with. We also did not like the lack of control you have on the amount of oil you can use on the bar.
The chainsaw does not have a safety feature installed in case of a kickback. We feel that this makes the saw a little less safe to use. However, the manufacturer also explicitly mentions that the odds of a kickback occurring are really low. Additionally, no other buyers have had any issues with the safety so our fears may just be unfounded.
What We Like:
Extremely cheap and value for money product. Making it a great option for homeowners who do not have much use of a chainsaw and are just looking for a convenient option
Gets the job done
Very lightweight and easy to store and carry
What We Don't Like:
Heavy use of plastic components which affects the quality and durability of the product
Strange oiling device
Lack of safety in case of a kickback
Conclusion
The fact that the Remington is corded gives it a huge advantage. Being a corded chainsaw means that it is connected to a constant supply of electricity which gives this saw quite a bit of power. However, depending on your setup and availability of an output plug, you may have to use an extremely long extension cord. Doing so means you will lose some power along the way.
Overall, this is a chainsaw that works great as a cheap option for all your small tree limbing needs. But with its plastic components and strange oiling device, you may find that you have to stop and troubleshoot the saw quite often as you are working.
Check Price and Reviews on Amazon
---
Makita 16″ Electric Chainsaw
Makita-UC4051A Chain Saw, Electric, 16 in. Bar - Sliver
"Tool-less" blade and chain adjustments for convenient operation and easy maintenance
Rubberized grip handles are ergonomically designed for comfort
Large trigger switch with soft start for smooth start-ups
Built-in current limiter helps protect motor from burnout by reducing power to motor when saw is overloaded
Large oil reservoir with view window allows operator to check bar oil level
Last update on 2023-11-19 / Affiliate links / Images from Amazon Product Advertising API
Makita is one of the biggest manufacturers of yard work tools so it comes as no surprise that two of their products have made it on our list of the best electric chainsaws. This is a review of their corded version and just like the Remington, this chainsaw needs to be plugging into an electric output before you can use it.
One of the most pleasing things about purchasing a Makita chainsaw is the emphasis on quality and customer satisfaction. This chainsaw comes with a 1-year warranty and a 30-day satisfaction guarantee. If you notice any damage to the product within 30 days, then Makita will repair or even replace your chainsaw at no cost to you.
While the previous chainsaw was very generous with its use of plastics on its parts, the Makita has a good blend of metal in there, too. It uses a metal sprocket which is much nicer than the plastic ones on the Remington. However, the chain tensioners are still made from plastic. This is very disappointing from a product at this price point. The use of plastic means that the chains may tend to loosen faster than on a chainsaw with a metal chain tensioner. Many users also complained about the quality of the plastic used. Some have had issues with plastic pieces getting lose and breaking off.
We love the extra efforts Makita goes through to make an exceptional chainsaw. On their own, these features may not make or break a product but they add to the overall experience of using the chainsaw. Some features include the rubberized grip handles which make it comfortable to grip and use this saw. Although it might seem like a small feature to add, you would be surprised at the number of chainsaws that lack even this basic luxury.
There is also a built-in current limiter. This helps protect the motor from burnout by reducing the power provided to it when the saw is overloaded or idling. The current limiter helps to increase the lifespan of the motor and ensures that it lasts longer than other chainsaws of the same price.
What We Like:
The use of a metal sprocket
Many users have raved about the longevity of the Makita
Comes with a fully backed 1-year warranty
What We Don't Like:
The use of a plastic in the chain tensioning unit
Despite costing a lot more than the Remington chainsaw, it is less powerful (although safer and more durable)
The Makita has an awkward feel when in the hand
Conclusion
One of the biggest things about a chainsaw is it's "feel". It is one of those aspects that is unique to every user and not something you realize until you use the saw for yourself. However, a good chainsaw will feel balanced for most people. Many buyers have found the balance on the Makita a bit off. This made it feel a bit awkward when used.
Overall, the Makita is not as powerful as the Remington and may struggle to cut through anything that is thicker than 5 inches. But it will still do its job very well when cutting small pieces or when cutting thinner limbs from a tree.
Check Price and Reviews on Amazon
---
Best Cordless Electric Chainsaws
Corded chainsaws are completely wireless, and powered by batteries inside the chainsaw. This is great as you don't have to worry about extension cords or being connected to a power outlet. Another underrated problem with using an extension cord is that you need to protect the wire from falling debris and this can be a huge hassle for many. You won't have to deal with any of this with a battery-powered chainsaw.
But even cordless chainsaws have their issues. Batteries available today do not have the charge to run a chainsaw for long. In fact, even the best cordless chainsaws can run for only about 30 minutes at a time. Additionally, the LI batteries used in these chainsaws are pretty pricey. This means that a typical cordless chainsaw will cost a lot more than your corded variant.
Makita Cordless 14″ Chainsaw with 4 Batteries
Makita XCU03PT1 18V X2 (36V) LXT Lithium-Ion Brushless Cordless 14" Chain Saw Kit with, 4 Batteries (5.0Ah)
Makita-built outer rotor BL Brushless motor direct-drive system provides high power efficiency equivalent to a 32cc gas chain saw
Variable speed trigger and high chain speed (0-3, 940 FPM) For improved cutting performance
"Tool-less" chain adjustment for convenient operation and maintenance. Chain pitch: 3/8 inch
Built-in lock-off lever helps prevent the chain from accidentally engaging. Large oil filling port with view window allows operator to easily add and check bar oil level
Built-in L. E. D. On/off switch with auto power-off function; automatically shuts the saw off when operation is delayed for extended battery life
Last update on 2023-11-19 / Affiliate links / Images from Amazon Product Advertising API
The Makita cordless uses two 18-volt LI batteries to power the machine. Both the batteries are manufactured by Makita themselves and can be used for many other tools. Additionally, they charge pretty quickly and take about 30 minutes to power from 0 to 100%. Sadly, the batteries don't last very long – only around 10-15 minutes of actual use. So you may want to carry an extra pair with you in case you run out of juice. Luckily, the manufacturer sells multiple variants of the chainsaw including one with an extra set of batteries.
One of the biggest complaints about this chainsaw is its lack of power. You could very well find yourself struggling to cut through a piece of wood when using this chainsaw. However, it still works really well for cutting thinner limbs so most homeowners have nothing to worry about.
Many reviewers have complained that the chainsaw has all the weight focused at its back. This makes it feel very unnatural. The uneven weight also affects how it cuts and you may end up having to apply a lot of pressure when cutting thick pieces of wood. This will likely cause you to tire out quicker than you would with other chainsaws.
We also advise against getting the larger variant of this chainsaw because of its awkward shape and price. The Oregon cordless and Greenworks (we review these later) are much better large chainsaws.
What We Like:
Easy to use and store
The fastest charging batteries in any cordless chainsaw
Makita Extreme Protection Technology helps protect this chainsaw and makes sure it lasts long
What We Don't Like:
The battery only lasts about 10-15 minutes on a single charge
The chainsaw has an uneven feel. This may tire you out quickly when using it
Even for a cordless chainsaw, the Makita is lacking in power.
Overall, the Makita cordless should work great for light backyard limbing – it is easy to set up, durable and safe to use. Additionally, the chainsaw is pretty easy to store with no problems of any oil leaks. But you will have to recharge the batteries quite often. This could be a deal breaker for those who need a chainsaw that can run for 20 mins or longer. It is also not a tool that can handle some heavy woodworking tasks.
Check Price and Reviews on Amazon
---
Oregon Cordless Chainsaw Kit – Our Top Pick
Oregon Cordless 16-inch Self-Sharpening Chainsaw with 4.0 Ah Battery and Charger
Brushless motor provides increased efficiency and power output
PowerSharp chain minimizes downtime by allowing you to sharpen your chain right on the saw within seconds. The chain stays oiled using the built-in Lubri-Tec oiling system which reduces chain friction and increases the saw's run time.
Lightweight for comfort and ease of use
Silent between cuts
Chainsaw starts with the pull of a trigger - no pull cords
Last update on 2023-11-19 / Affiliate links / Images from Amazon Product Advertising API
One of our favorite things about the Oregon Cordless is that it screams quality. It uses high-quality metal components including a metal chain housing unit and metal sprockets. This means the chains will not loosen up as much as they do with other chainsaws.
The Oregon cordless is powered by a single 40-volt battery that is manufactured in-house by Oregon. It has a running time of around 20 minutes which lies somewhere between the 10 minutes of the Makita and the Greenworks. This should be enough for most homeowners to get their yard work done. However one of the biggest complaints with this battery is the amount of time it takes to charge. Most reviewers have complained that it takes a long time to charge with some estimates saying that it takes about 2 hours to charge from 0 to 100%. This means that if you are planning to use this chainsaw for longer than 20 minutes at a time then you should really consider investing in a backup battery.
The oiler used here also seems to work very efficiently. Oilers on other chainsaws either provide too much oil (like the Remington) which then leaks off the chainsaw, or they do not oil the bar enough (like the Greenworks). However, the oiler used on the Oregon provides the perfect amount of oil needed for the chainsaw to run smoothly.
One of the biggest problems when manufacturing cordless chainsaws is accommodating for the weight of the battery. The batteries used in chainsaws tend to be heavy. This can affect the balance of the chainsaw and make it feel a bit off. Luckily, that's not something you have to worry about with the Oregon chainsaw. It has a good weight at the center which is very nice.
Traditionally, you would have to sharpen your chainsaw by hand. However, that's not the case with the Oregon chainsaw. It has a unique self-sharpening ability that lets you sharpen the chain with the press of a button. This means that all you need to do is press a button whenever you feel that the chain has gotten blunt and the stone inside the chainsaw will automatically sharpen it. It takes no skill at all.
The great thing about this feature is that it can actually sharpen the saw in a matter of seconds. There is a sharpening stone on the inside that will sharpen the chain from the top.
Personally, we are a little afraid of the self-sharpening feature. It makes it a bit too easy to hit the button whenever you feel like the blade could be sharper. This makes it easier for one to go through chains very quickly without some restraints. Ironically, Oregon is also one of the largest manufacturers of chainsaw chains. In fact, we have reviewed some of their chains in our Best Chainsaw Chains article.
In terms of durability, the chainsaw feels very sturdy and uses premium materials. This means that it should last much longer than most other saws. However, it is still not as durable as the Greenworks.
What We Like:
The chainsaw has a patented self-sharpening feature that lets you sharpen the saw at the push of a button. This reduces a lot of the menial maintenance tasks of owning a chainsaw
The Oregon Cordless Chainsaw has one of the best oilers available right now. It always delivers just the right amount of oil needed to work smoothly
The chainsaw has some great balance and has a nice sturdy weight to it
It also provides some of the best cutting power available from an electric chainsaw (matched only by a Greenworks)
What We Don't Like:
The batteries take forever to charge with many users reporting that it takes almost 2 hours to charge completely
The batteries will only last you about 20 minutes on a single charge and while it is not too bad, the amount of time the batteries take to charge means that you might have to get a backup battery
Overall, this is one of our favorite chainsaws available right now. It is powerful and works very well. The self-sharpening feature is also great and takes out a lot of repetitive work when maintaining a chainsaw.
Check Price and Reviews on Amazon
---
Greenworks Cordless Chainsaw
Greenworks 40V 14 inch Brushless Cordless Chainsaw, 3AH Battery (USB Hub) CS-140
40V 3Ah battery (recharges in 90 minutes) provides up to 90 cuts on 4x4 lumber
Brushless motor provides more torque, quiet operation, and longer life
14" bar and chain (low kickback) with chain brake for added protection. Replacement chain (2906802, 2906902)
Automatic oiler applies oil to the bar and chain for continuous Lubrication
Usb port in battery charges all portable electronic devices, including phones and tablets
Last update on 2023-11-19 / Affiliate links / Images from Amazon Product Advertising API
The Greenworks cordless has the best weight distribution out of all the electric chainsaws we have seen. The battery fits right in the center allowing the chainsaw to remain steady even as you are cutting. Many users have complimented its balanced feel. This excellent stability means you will find yourself able to use the machine for much longer without tiring out.
Greenworks is also responsible for our favorite lawnmower, making it a reputable brand to stand behind.
The chainsaw is powered by a single 40-volt battery manufactured by Greenworks. The battery takes about an hour to charge and provides some excellent usage time. Many users have reported that the saw will last about 40 minutes on a single charge. This is much more than any other electric chainsaw we have reviewed so far. With such a long usage time and the short recharge period, this has to be the best chainsaw battery available today. This means you will never have to worry about the battery dying when you are chopping wood.
The Greenworks provides some excellent cutting performance and should be enough for most homeowners. It works great for both limbing small branches as well as felling entire trees. Our biggest concern with the saw is the way it reacts to the binding. Unlike other electric saws, it responds negatively to the binding. While this may be normal for any kind of saw, the Greenworks will halt to a stop in such a situation. In such cases, you will have to take the saw out and readjust.
What We Like:
The battery lasts for a really long time and charges very quickly
Excellent performance that should work great for almost any kind of yard work
One of the most well-balanced chainsaws on the market today
Excellent value for the money
What We Don't Like:
The chainsaw comes to a complete stop in case of a binding
The oiler does not provide enough lubrication
Check Price and Reviews on Amazon
---
Comparing the Cutting Power of Various Chainsaws
Now that you have a good idea of each chainsaw, let's see how they compare with each other in terms of cutting power. In the table below, we have a list of all the chainsaws we have reviewed, along with the time they take to cut through a 12-inch tree.
| Chainsaw Model | Time to Cut Through 12-inch Tree |
| --- | --- |
| Ax | 12 Minutes |
| Typical Gas Chainsaw | 2-3 Minutes |
| Remington Corded | 4-5 Minutes |
| Makita Corded | 8 Minutes |
| Makita Cordless | 10 Minutes |
| Greenworks Cordless | 3-4 Minutes |
| Oregon Cordless | 3-4 Minutes |
Frequently Asked Questions
How does an electric chainsaw compare to a typical gas-powered one?
Both types have their own pros and cons. Electric chainsaws are still in their experimental phase and still haven't had the same years of improvement as gas saws. This means that each new iteration of an electric saw is going to be exponentially better than the last.
Petrol saws are easily available and easy to manufacture. This high supply drives down the price – that's why most petrol chainsaws are extremely cheap. You can also get going in a few minutes without much prior setup, like having a fully charged battery. Additionally, they will work indefinitely as long as you have enough fuel.
Electric chainsaws are tougher to manufacture, as they have some really complex machinery. This means they are a bit more expensive than a gas chainsaw of the same quality. You also have to worry about ensuring that the chainsaw will last as long if you decide to go cordless. Even corded chainsaws can be a problem when it comes to dealing with wires.
However, electric chainsaws still have many advantages over the gas chainsaw. Check out our answer to the next question where we talk about the advantages of using an electric saw.
Should I consider going electric?
Gas chainsaws have been here for much longer but going electric is the future of chainsaws. Not only are they environment-friendly but they also have many advantages that gas chainsaw cannot compete with. Let's look at some areas where an electric saw clearly outshines a gas chainsaw.
Noise
Like most people, you probably don't want to bother your neighborhood every time you are trimming the branches at home. Electrical chainsaws create considerably less noise (90dB to 102dB) when measured against a gas-powered saw (106dB to 117dB). This allows you to use the saw even on a Sunday or during other times of noise reduction.
Fumes
If you have ever used a gas-powered chainsaw before, you know the fumes don't readily blow away. Many homeowners often resort to wearing an asbestos mask to keep the fumes away. You might have even found yourself stop what you're doing and moving to a new area just to escape the fumes. This can be a huge issue with a gas chainsaw.
Starting Up
You will often find yourself in situations where you need the chainsaw for a minute or less. This can be a pain with a gas chainsaw as they take some time to start. There is no startup time with a battery-powered saw as long as the battery is charged. In fact, most battery-powered saws these days come with a push-button start.
Safety
There are always risks associated with using a chainsaw (even if you are a professional). All we can do is focus on minimizing the dangers and hope for the best. Electric chainsaws offer much greater safety on ladders as you can start it once you have climbed the ladder. With a gas saw you have to start it and then climb the ladder with a running saw. This is because on a gas saw, the chain continues for a bit after the gas is released. If the idle is set too high, the chain can be in continuous motion.
Gas saws aren't much safer when walking on the ground, either. Yardwork is a messy process and you may find that the aftermath often leaves a lot of debris around. It's possible to get tangled up on a branch and fall flat on your face. This could cause the gas saw to accidentally be given a shot of gas and start it.
Pro Tip: If you are ever about to fall with a chainsaw in your hand, toss the saw to the side and not in front of you. Many people have been seriously injured by falling on a running saw.
What's the problem with plastic chain tensioners?
Plastic chain tensioners are often used in cheaper saws. This is because they are much cheaper to make than a metal one. But this cost-cutting comes at a price. We have found that plastic chain tensioners will often loosen up with use. This will cause the chain to loosen up more often and your chainsaw will require more management with time. The plastic pieces are not as durable as metal, and this can cause the plastic pieces to break more easily.
How does the cutting time of an electric chainsaw perform for homeowners?
One of the most prevailing myths about electric chainsaws is their lack of cutting power. This is because most of this advice is given by professional lumberjacks. Cutting firewood professionally is very different from the landscaping jobs you might have around the house. Electric chainsaws usually have less power than their gas counterparts but they more than make up for it with their other advantages.
Most of the yard work around the house involves ladders, climbing and other acrobatics to get to the branches that need cutting. Most of your time is spent on setting up the ladder and getting yourself in a safe position. The speed of the cut has very little bearing on your overall productivity.
However, messing around with a gas chainsaw's pull cord requires both your hands. This can be very dangerous when you are on a ladder or hanging off another structure. This means many users will walk up the ladder with the saw idling in order to avoid going through the entire starting procedure at the top. In this type of setting, using an electric chainsaw is actually safer and will even save you time.
A 3-second cut might take 6 seconds when you go electric. This is extremely insignificant. You will lose more time avoiding the fumes of a gas saw until they blow away. Combine this with the constant starting and stopping and you waste far more time.
Overall, an electric saw has an advantage whenever you're cutting stuff under 6 inches in diameter.
Conclusion
Thanks for reading our guide on the best electric chainsaws! All the chainsaws reviewed in this list are excellent options and each of them has received hundreds of positive reviews and well-established brands to back them up.
However, our favorite pick has to be the Oregon Chainsaw. It might not have the longest battery life or the quickest charging time, but the battery will last long enough for single use. Most homeowners should not have any issues with battery life. Additionally, the superb oiler and its self-sharpening feature help reduce the amount of effort to maintain it.