High quality chainsaws can go a long way towards helping you get your yard just how you like it. But there's no worse feeling than seeing something you want, checking the price tag, and realizing it's wayyy out of budget! Here we're going to go over the best chainsaw under $300 for your unique situation. That's a high enough price to get a ton of quality while staying low enough to keep your wallet happy.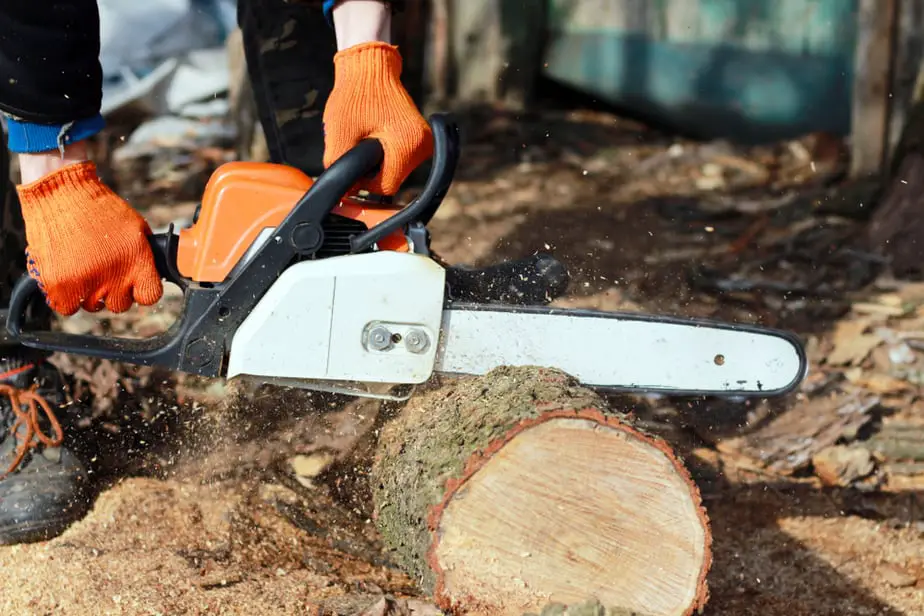 Let's get started with one of our favorite picks.
In a Hurry?  Here's our top picks:
Best Gas Chainsaw Under $300 (And Best Overall Chainsaw)
Remington Outlaw
No products found.
The Remington Outlaw is our favorite chainsaw overall because it packs a ton of features. Even with all these features included, it's sold at a good price for buyers looking to save a few dollars.
This chainsaw comes with 18″ of blade and that will be enough to get you through all but the biggest of trees. It's gas powered and the engine runs at 46 cc, so you can trust that this chainsaw comes with a ton of power.
Beside the power, one big perk of this lawnmower is that it's pretty easy to get going. The pull chain comes with a spring assist to make sure that you'll never need to spend more than a few minutes trying to start it up. If you've ever had a recurring nightmare about trying to start a chainsaw over and over, the quick start assist is a good substitute for therapy.
Remington's Outlaw includes a lot of comfort features as well. It has a 5-point anti-vibration system to make it easier for you to use for longer periods of time. The handle is wrapped in padding. Other neat features include a tool-free access to the spark plugs an automatic oiler for your chain.
This chainsaw may be a bit too strong for its own good; some buyers mentioned that it can get hot and overheat if its worked too hard. Remington includes a 2-year warranty, so you'll be able to get your money's worth even if you do have problems.
What We Like
Reasonable price
Lots of power helps you to get through thick trees with less work
Starting is easier with a spring assisted pull chain
Very comfortable to use with anti-vibration system
Easy access spark plugs
Automatic oiler
2-year warranty
What We Don't Like
Some buyers said that the chainsaw could overheat if worked too hard.
The Remington Outlaw is our favorite pick because it comes loaded with features and is sold at a reasonable price.
Check Price and Reviews on Amazon
---
Best Cordless Electric Chainsaw Under $300
WEN Brushless Chainsaw
Last update on 2023-11-11 / Affiliate links / Images from Amazon Product Advertising API
Wen's brushless chainsaw takes home our favorite cordless electric chainsaw pick. It doesn't require gas or an extension cord. You can charge the battery the night before and be off to the races the next day.
Wen's chainsaw is electric, but it still packs a pretty good punch. The chain runs at about 49 feet per second. Even though the engine is battery operated, you're only losing a little bit of power compared to a gas chainsaw. This is a great pick unless you have some enormous trees or are trying to cut through concrete.
The electric motor helps this chainsaw to run with a lot less noise than a gas mower and the overall maintenance is next to none. You'll get a 4.0 Ah lithium ion battery with your chainsaw. The battery will take about 2 hours to charge and will last for an advertised 100 cuts. Wen never specifies the tree thickness for these 100 cuts, but safe to say that this chainsaw will last a while on one charge.
There are less comfort features on the Wen, but electric chainsaws are often easier to manage by nature. With the battery in, the Wen weighs in at 12 pounds, a 25% decrease from both of the gas chainsaws on this list. Even so, anti-vibration systems would be nice.
The Wen comes with easy chain tension adjustment, tool-free blade change, and an automatic oiler. All of this comes under a 2-year warranty.
What We Like
Reasonable price
One button push start
Long lasting battery
Lightweight and easy to handle
Almost as strong as a gas chainsaw
Automatic oiler
Tool free blade change
2-year warranty
What We Don't Like
Not quite as strong as a gas chainsaw
A few more comfort features wouldn't hurt
The Wen brushless chainsaw is our favorite cordless electric pick. It is strong enough to get through a lot of trees, requires low maintenance, and has a lot of things that it gets right.
Check Price and Reviews on Amazon
---
Best Heavy Duty Chainsaw Under $300
Paolan Pro
Sale
Poulan Pro 20 in. 50cc 2-Cycle Gas Chainsaw, PR5020
With the OxyPower engine technology, you can get that extra power for virtually any task. This technology offers a more powerful engine, but also 70% less emissions and 20% lower fuel consumption
Effortless pull starting system reduces pull force 30% for easier starting and reduced wear on the starter mechanism
The combi tool is integrated into the rear handle, it's always there when you need it for maintenance
The purge bulb, which provides the carburetor with fuel and makes the product easier to start with fewer pulls, is protected, reducing the risk of damage
User friendly combined choke/stop control allows faster starting and greater reliability by reducing the risk of engine flooding
Last update on 2023-11-11 / Affiliate links / Images from Amazon Product Advertising API
The Paolan Pro takes home our favorite pick for heavy duty chainsaw. It's big, it's one of the strongest chainsaws out there, and it can get through almost anything you can throw at it.
Paolan's chainsaw comes with a 20″ blade and runs at a mighty 50 cc. This chainsaw eats through thick, hard wood and will save you a lot of work if you're having to cut bigger trees.
This chainsaw includes an easy pull system start that reduces the pull difficulty by about 30%. The technology used here should also prevent your pull system from wearing out for a good while. A combined choke/start system makes this chainsaw easier to get going and reduces the risk of engine flooding.
One area of strength for the Paolan is the engine itself. The engine's technology allows it to run on 20% less fuel than other chainsaws. It produces a whopping 70% less emissions. This is a good option for those who need a gas chainsaw but want to do as little environmental damage as possible.
You'll also find an automatic oiler with this chainsaw, but that's about it as far as miscellaneous perks go. There aren't a lot of comfort features included and you'll need tools to change the blade, spark plugs, or chain. The tools are included with the lawnmower, but it's still a bit more of a hassle than tool-free.
A 2-year warranty is included.
What We Like
Cutting down big trees is about as easy as it gets
Starting will be easier due to pull system
Requires 20% less gas and gives 70% less emissions than many other options
Automatic oiler
2-year warranty
What We Don't Like
Not much as far as comfort goes
Heavy
No bells and whistles some other options have
The Paolan Pro is our favorite pick if you know you're going to be cutting through big trees. It's strong, long, and will make that job a lot easier.
Check Price and Reviews on Amazon
---
Best Corded Electric Chainsaw Under $300
Makita 16″
Makita-UC4051A Chain Saw, Electric, 16 in. Bar - Sliver
"Tool-less" blade and chain adjustments for convenient operation and easy maintenance
Rubberized grip handles are ergonomically designed for comfort
Large trigger switch with soft start for smooth start-ups
Built-in current limiter helps protect motor from burnout by reducing power to motor when saw is overloaded
Large oil reservoir with view window allows operator to check bar oil level
Last update on 2023-11-10 / Affiliate links / Images from Amazon Product Advertising API
Makita's chainsaw is our favorite pick if you're wanting a corded electric chainsaw that comes with a lot of bells and whistles.
This chainsaw is about on the same level as Wen's cordless electric chainsaw. Whereas the Wen ran at 49 feet per second, the Makita comes closer to 48 feet per second. That's still plenty to take out any tree that the majority of people will encounter.
If you do give the Makita more than it's bargained for, then no fear. The motor has a built in current limiter to protect itself from burnout. If the saw starts to become overloaded, the motor scales back the power without any input from you. This could sound a little frustrating if you're working on getting through a thick tree, but it increases the Makita's lifespan by a significant margin.
The Makita is pretty comfortable to use, but not overly so. It has rubber handles that are designed to fit well in the hand. There aren't any anti-vibration features to increase your staying power, but the 16″ blade isn't designed for bigger, longer jobs anyways. You're best off using this one for smaller trees or a yard that won't need much chainsaw work.
Makita includes a lot of little features into their chainsaw. You have a tool-free access to the blade and chain. There is a dedicated measure of the oil level that shows you when you're running low.
This chainsaw comes with a 3-year warranty.
What We Like
Strong enough to cut through lots of different sized trees
Chainsaw lasts longer since motor protects itself from burnout
Pretty comfy in the hands
Tool-free access to blade and chain
You can see how much oil is in the chainsaw
Automatic oiler
2-year warranty
What We Don't Like
Short blade makes this best for smaller jobs
A little pricey
The Makita 16″ is our favorite option if you're looking for a chainsaw that is good for the environment, can cut through thick wood, and is easy to use/maintain.
Check Price and Reviews on Amazon
---
Best Budget Chainsaw Under $300
Worx Corded
WORX WG303.1 14.5 Amp 16" Electric Chainsaw
[AUTO-TENSION] Patented system prevents over-tightening and increases the life of the motor, bar, and chain
[AUTO-LUBRICATION] Keeps the chain running smooth and fast around the bar at 32 ft/s. And the oil-level indicator lets you know when you need to refill
[CHAIN BRAKE] Prevent accidental cutting with the quick-stop chain break. One of the many features that makes this a safer chainsaw
[FULL-WRAP HANDLE] The ergonomic front handle gives you leverage for both vertical and horizontal cutting. Find a grip that works for you
[DO IT YOURSELF. DO IT BETTER. DO IT WITH WORX.] WORX tools are engineered with cutting-edge technology, and above modern efficiency standards, so you can build a cost-effective tool collection that's been designed to last
Last update on 2023-11-11 / Affiliate links / Images from Amazon Product Advertising API
The Worx corded chainsaw is our favorite option if you need a chainsaw but don't want to pay the big bucks. It comes with a pretty good list of features while saving you several bucks.
Worx's chainsaw cuts at about 40 feet per second, which is a little lower than all of the other options on this list. The blade itself is 16″ long, so this chainsaw is best suited to smaller trees and smaller jobs.
The Worx has rubberized handles, but no vibration stopping features. The biggest comfort about using this chainsaw is how light it is. At 11 pounds, it is the lightest on the list by a significant margin.
Worx's chainsaw comes with several neat perks. It includes an automatic oiler and oil level indicators. Worx includes a patented feature that prevents overtightening on the chain, which can be a big help. It is a huge help if you aren't very comfortable with chainsaws and don't know how tight to get the chain.
This chainsaw comes with a built in oiler that shows you how much oil is left. No other neat little features are included.
A downside to this chainsaw is that Worx doesn't sell replacement parts. The chainsaw comes with a 3-year warranty, but will need to be replaced if any single part breaks. Once the warranty is up, there's no fixing this little guy.
What We Like
Great budget buy
Comfortable handles
Oil level indicator
Automatic chain tightener
Automatic oiler
Very lightweight
3-year warranty
What We Don't Like
Not suited to bigger jobs
Worx doesn't sell replacement parts.
The Worx chainsaw is our favorite pick if you're wanting to save as many dollars as possible. It sacrifices some and isn't great for heavy duty work, but it can get smaller jobs done with no problem.
Check Price and Reviews on Amazon
---
Things To Know Before You Buy…
Gas/Oil Mixture For Gas Chainsaws
If you're getting a gas-powered chainsaw, both of the options on our list will require a gas/oil mixture to run how they were meant to.
This isn't too tough to get down once you get the hang of it. You'll need to buy a bit of 2-cycle oil [affiliate link please :)] and mix it with gasoline at the amount specified.
Any chainsaw you buy will explain how much oil to mix with your gasoline in the user's manual. It is often 40 parts gasoline to 1 part oil (40:1) or 50 parts gasoline to 1 part oil (50:1).
40:1 would require 2.5 ounces of oil per gallon of gasoline. 50:1 would require 3 ounces of oil per gallon of gasoline.
The Remington works at 40:1 and the Paolan is 50:1.
What's the Deal With Amps, Gauges, and Cords?
The corded chainsaws mentioned above (the Makia and the Worx) will need an extension cord for use. Having the right cord is the difference between long life and an unexpected demise for your chainsaw.
Having a cord that doesn't allow enough power to get through will cause your chainsaw engine to strain and break sooner than it should. Many a once-happy buyer have been upset because their chainsaw stopped working too soon and many of these motors break for no other reason than someone didn't know that their cord needed to allow more power to get through
So how do we make sure that your cord is right for you?
First, we have to take a look at how cords work (and we're going to skip all the technical jargon so no worries).
Cords are a way to transport electricity from an outlet to something else (in this case, your corded electric chainsaw). Each cord is rated for a certain amount of electricity depending on how thick the wires inside the cord are. This is called a gauge. Gauges work backward, so the lower the gauge, the thicker the wire. The thicker the wire, the more electricity that can be carried.
You'll also want to keep an eye on how long your cord is and make sure that it's rated for a low gauge at a certain length. The lower the gauge, the more electricity your cord can carry. Extension cords that you can buy for your lawnmower will often have the gauges specified in the item description as numbers (16/3, 12/3, etc. where the first number is the gauge) or as AWG (12 AWG is 12 gauge).
Getting too high of a gauge will kill your corded chainsaw.
Another thing to look out for in your cord is color. It's best to go with a color that stands out from the color of your yard, like a red or orange. Green or brown cords can get lost and running over those with your lawnmower may give you a thrill you'll never forget.
For all the chainsaws listed, we recommend at least a 12-gauge, 100 ft wire. This one is a good option since it will be strong enough to power your lawnmower and will give you enough reach to get the far corners of your yard.
If you want to be extra safe, you can try this 10 gauge, 100 ft wire. It should be able to provide enough power to launch any nuclear rockets you're building in the backyard, too.
Whichever cord you use, make sure that it's rated at least a 12 gauge at 100 feet. Your chainsaw will thank you (and will last a lot longer). If you would like to read more about the science behind wires, amps, ohms, and gauges, you can do so here.
The good news is that any of the extension cords we have linked to above will also work on your corded electric lawnmower and your electric grass shears for complete lawn mastery.
Frequently Asked Questions
Do I need to get a specific oil for the chain and blade?
There's some debate about the best type of oil that you can use on your chains and blade. Some say that any motor oil will do the trick, but the general consensus is that a chainsaw specific oil is best
These chainsaw oils are often called blade or bar oils. Since all of the chainsaws we've recommend come with an automatic oil dispenser, you'll need to fill that with the oil. Once the oil dispenser is full, you're good to go.
Amazon has a good chainsaw oil option available if you don't have your own or know what to look for. [affiliate link please]
Best Brands
Remington
Remington was founded in 1921 by a man named Arthur Mall in Milwaukee, Wisconsin. Remington soon grew famous and spread wide due to the quality and dependability of their work. They are committed to keeping the quality of their work high today.
WEN
Wen was founded when Nick Anton wanted to start bringing tools and electricity together back in 1951. Within just 50 years of their beginning, Wen had sold over 50 million tools to people all around the world. Their goal is to help woodworkers and artisans all around the world execute their wildest imagination.
Makita
Makita was started all the way back in 1915 as an electric motor sales and repair company. Since then Makita has expanded their repertoire and expertise to include all sorts of powerful and useful electric tools. They want to help you own your yard by giving you just what you need to do so.
Poulan
When veteran lumberjack Claude Poulan decided to make it easier for his friends to cut their own lumber, he started his own company. Poulan's first invention was the 2-person chainsaw, a machine so heavy that you couldn't handle it on your own. We're thrilled that since then, they've cut the amount of people needed to run a chainsaw by an entire person. Poulan wants to serve any yard in any task.
Worx
Worx's mission is to push the boundaries of what is possible in helping people take care of their homes. They strive to make innovations so taking care of your home and yard is easier (and maybe even more fun) than ever before.
Conclusion
Thanks for reading our guide on the best chainsaw under $300! When it comes down to it, the best chainsaw for you is going to be the one that suits your needs best.
It's worth asking yourself what kind of wood you're going to be chopping. Are they hardwoods, softwoods? How often are you going to be using your chainsaw? If you're going to be using your chainsaw to cut through thick trees, the extra power provided by gas chainsaws can go a long way. If you want a machine that can last a long time, electric chainsaws tend do be a little bit more suited for endurance.
Next, take an honest assessment of how much comfort you want in your chainsaw. Go ahead and be honest, we won't laugh if you say that you enjoy your creature comforts (we do too). Electric chainsaws tend to be on the more comfortable end of the spectrum since they are lighter and easier to tote around. Gas chainsaws can be pretty comfy too if they have the right features (like the ones we recommended).
Once you've done some strategic thinking on the time of chainsawing you're going to be doing (and how you want to feel while doing it), it's time to take a look at budget. Some chainsaws are a little bit more wallet-friendly than others. But it is worth remembering that often, we do get what we pay for. Chainsaws that are more expensive often come with more features or can handle bigger tasks.
Our favorite chainsaw under $300 is the Remington Outlaw. It's loaded with features and lightweight. It is strong enough to handle the majority of yards and comes at a price that is very reasonable.