A chainsaw goes a long way towards helping any yard shape up, but it can sometimes seem like all the options are a little out of budget. Maybe you're just wanting to cut a few branches or will only use your chainsaw a couple of times each year. Whatever the reason, we're going to take a look at the best cheap gas chainsaw on the market today.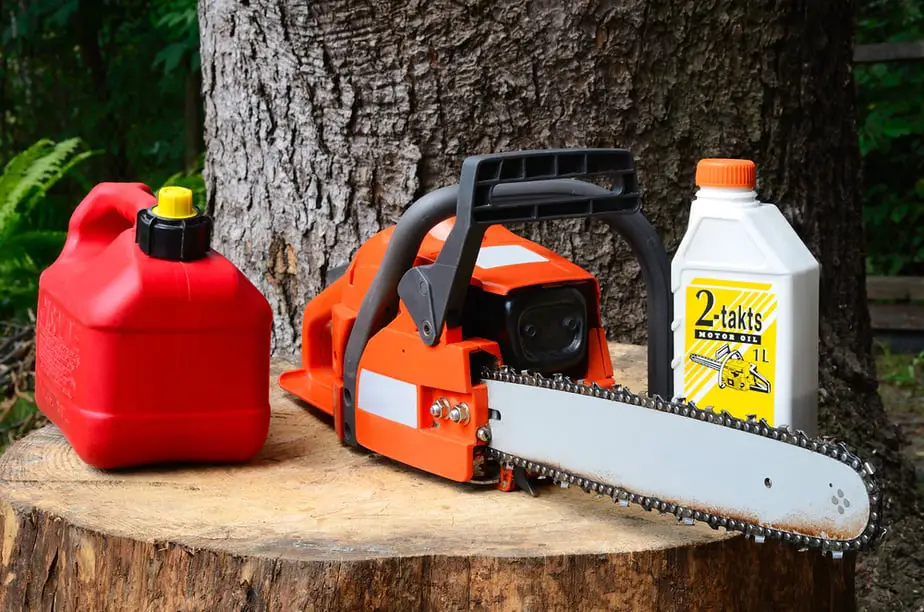 We've broken down our picks into what will be best for specific situations so you can know what will suit your unique goals. If you have a specific price in mind, you can look at our best chainsaw under $300. Let's get started with our best overall.

Best Cheap Gas Chainsaw Overall
Remington Outlaw
No products found.
The Remington Outlaw is our favorite chainsaw overall because it packs a ton of features. Even with all these features included, it's sold at a good price for buyers looking to save a few dollars.
This chainsaw comes with 18″ of blade and that will be enough to get you through all but the biggest of trees. It's gas powered and the engine runs at 46 cc, so you can trust that this chainsaw comes with a ton of power.
Beside the power, one big perk of this lawnmower is that it's pretty easy to get going. The pull chain comes with a spring assist to make sure that you'll never need to spend more than a few minutes trying to start it up. If you've ever had a recurring nightmare about trying to start a chainsaw over and over, the quick start assist is a good substitute for therapy.
Remington's Outlaw includes a lot of comfort features as well. It has a 5-point anti-vibration system to make it easier for you to use for longer periods of time. The handle is wrapped in padding. Other neat features include a tool-free access to the spark plugs an automatic oiler for your chain.
This chainsaw may be a bit too strong for its own good; some buyers mentioned that it can get hot and overheat if its worked too hard. Remington includes a 2-year warranty, so you'll be able to get your money's worth even if you do have problems.
What We Like
Reasonable price
Lots of power helps you to get through thick trees with less work
Starting is easier with a spring assisted pull chain
Very comfortable to use with anti-vibration system
Easy access spark plugs
Automatic oiler
2-year warranty
What We Don't Like
Some buyers said that the chainsaw could overheat if worked too hard.
The Remington Outlaw is our favorite pick because it comes loaded with features and is sold at a reasonable price.
Check Price and Reviews on Amazon
---
Best Cheap Gas Chainsaw For Heavier Jobs
Paolan Pro
Poulan Pro 20 in. 50cc 2-Cycle Gas Chainsaw, PR5020
With the OxyPower engine technology, you can get that extra power for virtually any task. This technology offers a more powerful engine, but also 70% less emissions and 20% lower fuel consumption
Effortless pull starting system reduces pull force 30% for easier starting and reduced wear on the starter mechanism
The combi tool is integrated into the rear handle, it's always there when you need it for maintenance
The purge bulb, which provides the carburetor with fuel and makes the product easier to start with fewer pulls, is protected, reducing the risk of damage
User friendly combined choke/stop control allows faster starting and greater reliability by reducing the risk of engine flooding
Last update on 2023-09-20 / Affiliate links / Images from Amazon Product Advertising API
The Paolan Pro takes home our favorite pick for heavy duty chainsaw. It's big, it's one of the strongest chainsaws out there, and it can get through almost anything you can throw at it.
Paolan's chainsaw comes with a 20″ blade and runs at a mighty 50 cc. This chainsaw eats through thick, hard wood and will save you a lot of work if you're having to cut bigger trees.
This chainsaw includes an easy pull system start that reduces the pull difficulty by about 30%. The technology used here should also prevent your pull system from wearing out for a good while. A combined choke/start system makes this chainsaw easier to get going and reduces the risk of engine flooding.
One area of strength for the Paolan is the engine itself. The engine's technology allows it to run on 20% less fuel than other chainsaws. It produces a whopping 70% less emissions. This is a good option for those who need a gas chainsaw but want to do as little environmental damage as possible.
You'll also find an automatic oiler with this chainsaw, but that's about it as far as miscellaneous perks go. There aren't a lot of comfort features included and you'll need tools to change the blade, spark plugs, or chain. The tools are included with the lawnmower, but it's still a bit more of a hassle than tool-free.
A 2-year warranty is included.
What We Like
Cutting down big trees is about as easy as it gets
Starting will be easier due to pull system
Requires 20% less gas and gives 70% less emissions than many other options
Automatic oiler
2-year warranty
What We Don't Like
Not much as far as comfort goes
Heavy
No bells and whistles some other options have
The Paolan Pro is our favorite pick if you know you're going to be cutting through big trees. It's strong, long, and will make that job a lot easier.
Check Price and Reviews on Amazon
---
Best Cheap Gas Chainsaw For Wide Trees
XtremepowerUS 22″
XtremepowerUS 22" inch 2.4HP 45cc Gasoline Gas 2-Stroke Chainsaw Cutting Wood Cutter Industry Engine Motor EPA, Orange
2-Stroke Engine - 45cc engine with two stokes is perfect for cutting jobs around garden or farm; Quick Release - Quick release air filter & Automatic chain oilier keeps the chainsaw in good working condition
Engine Clean Air-Intake System - Efficiently prevent the dust from entering into the engine can be remove easily for cleaning; engine for lower emissions, increased power & reduced fuel consumption
Anti-Vibration - Anti kick back chain and effective anti-vibration design
Starting System & Quick Stopping - Equipped with assisted Starting System & Quick Stopping Control for increased user safety
Durable Chainsaw - The chainsaw will make tasks like tree pruning, clearing land, preparing firewood or cleaning up after a storm easier; Gas Chain Saw will make tasks like tree pruning, clearing land, preparing firewood or cleaning up after a storm easier; EPA APPROVED
Last update on 2023-09-19 / Affiliate links / Images from Amazon Product Advertising API
XtremepowerUS's 22″ chainsaw is our favorite if you're looking to cut through trees with a big diameter. The extra few inches on this chainsaw compared to some others makes it a lot easier to go through big growth.
This chainsaw comes with a 22″ blade. It doesn't sound like a bunch, but the extra few inches can really increase your cutting power. The chainsaw runs at 45 cc so it should be able to cut through almost anything. It may start to bog down a bit if you're working on a hardwood and have all 22″ buried neck deep in the tree.
The engine on the XtremepowerUS is well designed. It makes any cleaning easier since it has a filtered inflow of air to reduce dust. The engine's design helps it to decrease fuel consumption and emissions. This is a good pick for those who want to help the environment more.
XtremePowerUS's chainsaw is pretty comfy to use because it employs an anti-vibration system. It's on the heavier side, so the anti-vibration helps to make sure that you can last longer while cutting down trees. The chainsaw also includes an anti-kickback feature on the blade for added safety and makes starting easier through an electric assist.
Some buyers mentioned that the exhaust wasn't placed well. It blows back onto the handle and, given enough time, can start melting the handle. This shouldn't be a problem unless you use your chainsaw for extended periods of time, but it's good to know.
We were able to find on the manufacturer's website that this chainsaw has a 30 day window where you can return it if you don't like it. That's quite a bit shorter than other chainsaws
What We Like
Enough power to get through almost all trees
Extra length helps with trees that have a wide diameter
Cleaning is easy with airflow filter for the engine
More comfort with anti-vibration systems
More safety with anti-kickback systems
Automatic oiler
What We Don't Like
Heavy
Exhaust isn't placed well
Short warranty compared to other options
The XtremepowerUS is our favorite option if you have trees that have a very wide diameter and will need an extra few inches of chainsaw.
Check Price and Reviews on Amazon
---
Best Cheap Gas Chainsaw With All The Bells And Whistles
Husqvarna 16″
No products found.
The Husqvarna chainsaw is our favorite pick if you are looking for a cheap gas chainsaw but want it to come with a few bells and whistles.
Husqvarna's chainsaw measures in at 16″, so it's not the best option if you have trees with a wide diameter. It runs at 40.9 cc and isn't the most powerful option but should be able to get you through most things that aren't a live oak tree.
This chainsaw wins when it comes to overall durability and comfort. It has a unique system that makes cleaning easier and maintenance less frequent. The engine has an air filtration system, but it also includes another separate system that catches larger dust and debris before they ever get to the filter. These systems combined make it easier than ever to clean and make these cleanings less frequent.
Husqvarna comes with a separate anti-vibration system that will help to reduce your fatigue and make cutting a little easier. This chainsaw weighs in at right under 10 pounds, so it's a good pick if you want something that's easy to maneuver. The light weight will help you to last longer while cutting as well.
Husqvarna's X-Torq technology makes this engine fuel efficient and light on emissions. This chainsaw's emissions are in line with some of the tightest environmental regulations on the planet. It's a good option if you like to keep your emissions low; even tree-huggers can love this chainsaw.
Other little features of this chainsaw include an automatic oiler and a gas gauge so you can see how much gas you have left.
This chainsaw comes with a 2-year warranty.
What We Like
Less cleaning and maintenance due to great engine design
More comfortable with anti-vibration system
Lightweight
Fuel efficient
Fewer emissions than many competitors
Automatic Oiler
2-year warranty
What We Don't Like
Not the most budget-loving option
Not best for trees with a wide diameter
The Husqvarna is our favorite option if you want a chainsaw that's comfortable, will require less maintenance, and has a few bells and whistles. This is a good pick if you don't mind paying a little more for a premium product.
Check Price and Reviews on Amazon
---
Things To Know Before You Buy…
Gas/Oil Mixture For Gas Chainsaws
If you're getting a gas-powered chainsaw, both of the options on our list will require a gas/oil mixture to run how they were meant to.
This isn't too tough to get down once you get the hang of it. You'll need to buy a bit of 2-cycle oil [affiliate link please :)] and mix it with gasoline at the amount specified.
Any chainsaw you buy will explain how much oil to mix with your gasoline in the user's manual. It is often 40 parts gasoline to 1 part oil (40:1) or 50 parts gasoline to 1 part oil (50:1).
40:1 would require 2.5 ounces of oil per gallon of gasoline. 50:1 would require 3 ounces of oil per gallon of gasoline. The options we've recommended require the ratios listed below:
Remington: 40:1
Paolan: 50:1
XtremepowerUS: 40:1
Husqvarna: 50:1
The Right Amount of CCs
When looking at the different specifications of different chainsaws, it's easy to get a little bit mixed up. 50 cc sounds more powerful than 45 cc, but how much more powerful is it? Is 45 enough to cut the trees in my yard?
The short answer is yes. None of the chainsaws we've mentioned on this list will have a problem cutting through a homeowner's trees.
The longer answer involves an analysis of what cc's are and where they come from. CC stands for "cubic centimeters" and cc's are a measure of the total volume of all cylinders in a combustion engine. The more volume an engine has (and thus, the more cc's), the more gasoline it can process and power that it can put out.
Many people try to relate cc's to horsepower. The two are similar but have a vital distinction. Horsepower is a direct measure of power whereas cc's are a direct measure of volume. If you're looking for a ratio between the two, 15-20 cc's = 1 horsepower. The more efficient an engine is, the lower the ratio will be. For a very efficient engine, 15 cc's can be 1 horsepower. An inefficient engine, 20 cc's will be 1 horsepower.
The important thing is that any chainsaw over 40 or so cc will be more than enough to get you through any trees that don't merit a professional lumberjack. A good rule of thumb is that if you can brag to your neighbors about bringing the tree down, it probably deserves 50 cc's worth of chainsaw.
Frequently Asked Questions
Do I need to get a specific oil for the chain and blade?
There's some debate about the best type of oil that you can use on your chains and blade. Some say that any motor oil will do the trick, but the general consensus is that a chainsaw specific oil is best
These chainsaw oils are often called blade or bar oils. Since all of the chainsaws we've recommend come with an automatic oil dispenser, you'll need to fill that with the oil. Once the oil dispenser is full, you're good to go.
Amazon has a good chainsaw oil option available if you don't have your own or know what to look for.
Best Brands
Remington
Remington was founded in 1921 by a man named Arthur Mall in Milwaukee, Wisconsin. Remington soon grew famous and spread wide due to the quality and dependability of their work. They are committed to keeping the quality of their work high today.
Poulan
When veteran lumberjack Claude Poulan decided to make it easier for his friends to cut their own lumber, he started his own company. Poulan's first invention was the 2-person chainsaw, a machine so heavy that you couldn't handle it on your own. We're thrilled that since then, they've cut the amount of people needed to run a chainsaw by an entire person. Poulan wants to serve any yard in any task.
XtremepowerUS
XtremepowerUS is a company dedicated to producing the weakest tools to ever grace the presence of man.
Just kidding.
As you can tell by the name, XtremepowerUS wants to give you all that you need to conquer your yard problems. They produce a huge range of tools ranging from landscaping to fitness to what they call "Big Toys". This is a company you can trust to equip you with all that you need to own the yard.
Husqvarna
Husqvarna is one of the world's leading providers in a variety of equipment. They produce snowblowers, lawnmowers, chainsaws (duh) and a variety of other tools to help you own your yard. They've been at the game long enough to have built a reputation as a solid company for all of your landscaping needs.
Conclusion
Thanks for reading our guide on the best cheap gas chainsaw! When it comes down to it, the best chainsaw for you is going to be the one that suits your needs best.
It's worth asking yourself what kind of wood you're going to be chopping. Are they hardwoods, softwoods? How often are you going to be using your chainsaw? If you're going to be using your chainsaw to cut through thick trees, the extra power provided by some of the bigger gas chainsaws can go a long way. If you won't be cutting much or will be cutting small woods like branches, a smaller chainsaw will suit you fine.
Next, take an honest assessment of how much comfort you want in your chainsaw. Go ahead and be honest, we won't laugh if you say that you enjoy your creature comforts (we do too). Some gas chainsaws are a lot more comfortable than others. Some include neat little features like tool free blade/chain maintenance while others have anti-vibration systems to help you last longer.
Once you've done some strategic thinking on the time of chainsawing you're going to be doing (and how you want to feel while doing it), it's time to take a look at budget. Some chainsaws are a little bit more wallet-friendly than others. But it is worth remembering that often, we do get what we pay for. Chainsaws that are more expensive often come with more features or can handle bigger tasks.
Our favorite cheap gas chainsaw is the Remington Outlaw. It's loaded with features and lightweight. It is strong enough to handle the majority of yards and comes at a price that is very reasonable.