If you've owned a chainsaw for some time then you understand how important it is to keep your chain sharp. Most owners take their chainsaw to the store and let the dealer sharpen it for them. This usually involves driving down to the store and paying the dealer. Instead, we recommend you sharpen the chain yourself as it is a lot cheaper and only takes about 10 minutes. In today's article, we are going to cover some of the best chainsaw sharpeners to help you get started.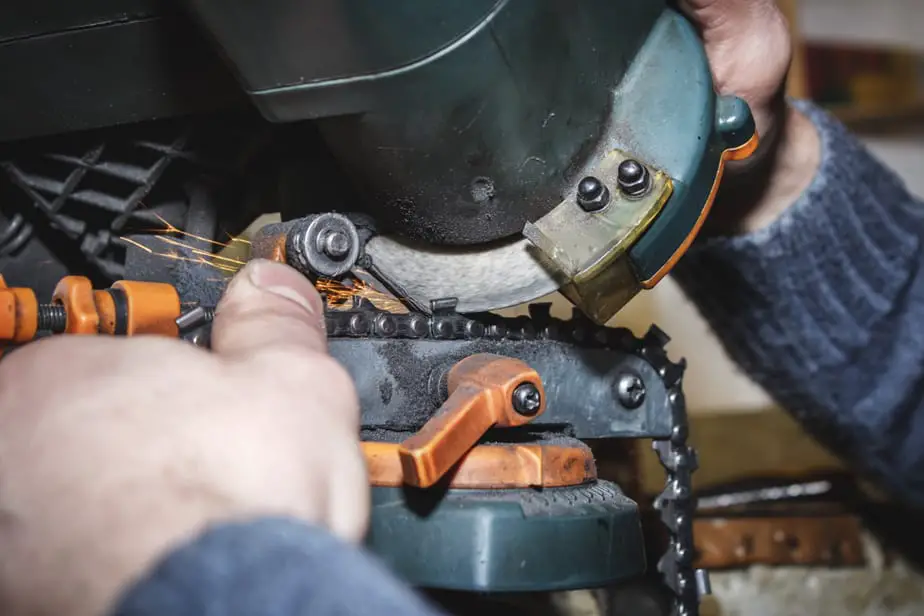 If you are looking to avoid sharpening your chainsaw at all costs then you should check out the Oregon Cordless. We have reviewed the saw in our Best Electric Chainsaws Article.
Best Chainsaw Sharpeners
There are two ways to sharpen your chainsaw  – grinders and files. A grinder is a lot more expensive but it is also much faster when you have to sharpen a lot of chains. This is why most stores use a grinder instead of sharpening the chain by hand.
We will be covering both grinders and hand file options for those looking to sharpen their chainsaw.
Dremel Chainsaw Sharpening Attachment
Dremel 1453 Chain Saw Sharpening Attachment
Compatible with Dremel rotary tool models 275, 285, 395, 398 and 781
Includes 3 sharpening stones for various saws
Made from durable plastic and metal construction
Includes sharpening attachment, 3 sharpening stones, gauge, 2 spacers and manual
Convenient, light weight of only 3-1/2-Ounce
Last update on 2023-09-25 / Affiliate links / Images from Amazon Product Advertising API
The Dremel Chainsaw Attachment works with most rotary tools. To use the attachment all you need to do is attach the tool to your rotary machine and get started. However, the attachment was designed to be used with Dremel's rotary machines and they work best on them. So if you have a Dremel tool we recommend that you stick to them.
The product comes with 3 sharpening stones which are designed to work on all kinds of blades. This is great as many grinders and other tools work only with a specific type of chain. Making this a very useful and flexible device.
With the purchase, you get an enclosed gauge, a spacer, and a 30-1/4 degree angle guide. The angle gauge is specifically designed to assure a custom fit to most saws. Additionally, since the attachment works with a cordless rotary tool you can use it in areas without convenient access to electricity.
Most people prefer to travel light when they are going out to fell trees. This is why many users are very careful about what they take with them. Even the best chain sharpener would be absolutely useless if it is too heavy to carry. Luckily for that's not the case here. The entire setup only weighs 3 and a half ounces and is very portable.
The attachment can look a bit confusing when you first unpack it. In fact, most users will not be able to use the tool from the get-go. However, the manufacturer has created an extremely detailed instruction guide that should answer all of your questions
We did notice that there were no threaded metal screw inserts in the plastic body. This makes us a bit unsure about how long the attachment will hold up before it strips out from the guide plate. This wear and tear will be further accelerated by the spacer screws being installed and removed repeatedly. But the product is inexpensive enough that you can replace it every couple of years if needed.
What We Like:
Works with all kinds of chainsaws
Extremely detailed instruction guide
Connects to almost every kind of rotary machine, making this a very flexible tool
What We Don't Like:
The attachment makes it very easy to accidentally make deep cuts into the chainsaw
The product takes some getting used to
There are no threaded metal screw inserts in the plastic body. This will dramatically decrease the durability of the attachment.
Check Price and Reviews on Amazon
---
Stihl 2 in 1 Chainsaw Sharpener
Last update on 2023-09-25 / Affiliate links / Images from Amazon Product Advertising API
There's a very popular saying in the woodworking community.
"Every couple of years there's a new tool that promises to revolutionize the industry. But 99 times out of 100 it is just snake oil"
That's what we were expecting when we first saw this product. However, this 2 in 1 chainsaw sharpener is the real deal. Stihl claims that this product can file the depth gauge and the chainsaw teeth at the same time. This is extremely revolutionary and will save us a ton of time.
Typically filing a chainsaw is a 2 step process. First, you go around chain-by-chain and file the teeth. Once this is done you have to repeat this entire process all over again with the depth gauges(also called raker). We need to make sure that the depth gauge is even with the teeth. If the depth gauge is too tall then the chainsaw will not cut properly else it will get stuck while cutting.
Filing the depth gauge is usually a drag. It is a tiring process where you end up having to file the chainsaw twice.
Stihl calls it the 2 in 1 because they claim that it can not only file the teeth but also the depth gauges(raker) at the same time. They use a proprietary file – it is a flat file intended for rakers, a file for the teeth and a 3rd file for the other side
Additionally, the manufacturer provides a marking on the file which suggests the angle at which we should sharpen the chains. But this is made for a full compliment chain only. For other chains, we urge you to ignore that marking and file the chain according to the angle provided on the box. Or just use your own discretion.
We have found that this is the fastest tool you can use to sharpen your chainsaw. We are sure that many other woodworkers and homeowners will agree with our decision. It is really quick with the initial cut and the fact you don't need to go over the entire chainsaw again to file the depth gauges makes this the perfect tool.
The tool takes some to get used to. But once you have filed 2-3 chains with this, it becomes almost second nature to use this file. Seasoned chainsaw sharpeners will probably notice that the tool offers a very aggressive cut. There is a strong variation between the top of the raker and the top of the tooth.
Chains cut with the Stihl 2 in 1 work very well even if you pull hard on them. This is really good news.
One of the biggest downsides with this tool is that it is very heavy. It weighs more than most other filing tools. However, you should note that you are getting rid of your depth gauge and extra flat files. So that makes the added weight a little more justifiable. Additionally, you will be using two files over here which should make them last much longer – only one file per side
What We Like:
Files the depth gauges and the teeth at the same time
Once you get a hang of this tool, it will quickly become the fastest way to sharpen a chainsaw on the go
Cuts the chains well and consistently.
What We Don't Like:
The tool is slightly heavy making it a bit difficult to carry
Offers a very aggressive cut which can reduce the lifespan of your chain
Check Price and Reviews on Amazon
---
Buffalo Tools Electric Chainsaw Sharpener
Sale
Buffalo Tools ECSS Electric Chainsaw Sharpener
Keep your chain in top condition and save money by sharpening your own saw
Mounts to bench, wall or vise for easy access and stability
Adjusts to most popular chain designs
4200 RPM grinding speed, 60 Hz, 85-watt, plugs into a standard 120-volt wall outlet
Uses a 4-1/4-Inch x 1/8-Inch grinding wheel with 7/8-Inch arbor
Last update on 2023-09-25 / Affiliate links / Images from Amazon Product Advertising API
Don't like using the above hand-files? Want something more sturdy and fixed? Then check out the buffalo chainsaw sharpener. It has a blazing 4,200 RPM grinding speed which should make sharpening your chainsaws extremely easy. However, the machine needs to always be plugged into an electric socket for it to work. It attaches to a standard 120-volt wall outlet.
When plugged in the machine runs at a constant speed of 4,200 RPM at a frequency of 60Hz.
Mount Structure
The machine is set up by mounting it to a bench, wall or some other stable surface. The mount holds the machine in place as you are sharpening the chainsaw. Since the device is fixed you cannot take it with you to the field. This restricts you to sharpen your chains only once you get home(or wherever this machine is mounted). However, it could be a blessing if you are a slob(like us), and have misplaced your tools before.
Grinding Wheel
We love the flexibility this sharpener offers. The manufacturer has designed the tool to work with most of the popular chainsaw designs available. In fact, you can even use the same grinding wheel for all chain sizes.  You get a single grinding wheel with a product and no spare wheels. However, this wheel can be replaced with any 4-1/4 inch by 1/8 inch grinding wheel. When purchasing a replacement you need to be sure that the new wheel has a 7/8 inch arbor or else it will not fit.
The factory wheel provided with the machine is pretty durable on its own. Many users have reported to sharpening multiple chains with little to no visible wear and tear on the stone. One reviewer has even mentioned that the stone looks just as good as new even after sharpening 3 chains.
Instruction
Since the buffalo is designed specifically for homeowners, it should have an extremely comprehensive instruction set. After all, most homeowners don't sharpen chains daily. Sadly, that's not the case here. The instructions provided by the manufacturer is extremely sparse and not very helpful.
Additionally, the response to this is very varied and has affected users differently. Tech-savvy users have been able to figure out this machine in 15-minutes or less. However, if you do not like to tinker around with things then you'll find yourself struggling to understand this device. If this is the case, then we recommended asking for some help from a neighbor or family member.
Quality
The quality of the sharpener feels a bit cheap(but you cannot expect much better at this price range). All the stops are made from plastic and seem very easy to break. This might make some users hesitant about getting this chainsaw. But if you know what you're doing then it shouldn't be a problem. Additionally, once the stops are set you will not need to touch them again unless you are sharpening a chain from another saw.
But if the quality of the stops still bothers you then you can have them replaced. Just go to your nearest hardware store and replace them with steel.
Overall, it should take you less than 5 minutes to sharpen a chain with this saw. You will also find that it is much less effort than trying to sharpen by hand. Many users, use multiple sharpeners – one for the road and the buffalo for home.
You can see the tool in use here
What We Like:
Makes sharpening chainsaw chains very easy
Much faster than using a hand file
The machine feels very stable when using it making it less likely to cause errors.
What We Don't Like:
Needs to be plugged to a stable electricity source for the device to work
The machine is not portable at all and needs to be attached to something permanently
The instructions are sparse and not too clear. However, some users have mentioned that they could figure out the machine on their own.
Check Price and Reviews on Amazon
---
Pferd 17301Pferd Cs-X
Sale
PFERD 17301 Saw Sharpener Chain Sharp CS-X, File 3/16 inch, Blue
PFERD sharpeners for manual sharpening of saw chains allows for flexible use and simple handling
The sharpener simultaneously sharpens the saw teeth and adjusts the depth gauge of the saw chain
Even unskilled users can obtain precise and uniform sharpening results with this compact sharpener
Both sides of the teeth can be sharpened by simply turning the device over – no conversion required
Included in delivery: 1 x CHAIN SHARP CS-X chain saw sharpener including 1 x depth gauge file and 2 x Classic Line chain saw files from PFERD / Fits chain saw file 3/16 inch / Depth gauge distance .025 inch / Chain pitch: .325 inch
Last update on 2023-09-25 / Affiliate links / Images from Amazon Product Advertising API
Does the Pfred look familiar? You're not alone. The Pferd sharpener was inspired by the Stihl 2 in 1. In fact, many users unofficially consider the two of them as the same tool.  They're both produced by German manufacturers too.
Similarity to the Stihl
The tool works just like the Stihl. This means that everything we've said about the Stihl applies here. It comes with 3 files, the sharpener can file both the depth gauges and the teeth at the same time etc. It is just as heavy as the Stihl and apart from the branding, you won't be able to differentiate between the two.
However, the Pferd is a bit cheaper than the Stihl thus making it the more popular choice. One of the biggest disadvantages of both these tools is that they only work with a specific type of chain. Any change in the file size requires that you use a different tool.
However, you can still switch file sizes to sharpen chains of other sizes. It ends up working just fine. You should be careful though that some files are longer than others. This means the handles will get in the way of your filing process. You can solve this problem by reversing the direction of the files so as to keep the handles out of the way as you are filing.
The overall file length should be the first thing to look for as you are picking a new file. Additionally, some files have the cutting surface over the majority of the length while others do not.
It took us about 10 minutes to sharpen a chain with this machine. While this is not as fast as the buffalo, you can use it anywhere. We believe that the Stihl and Pferd are the fastest portable chain sharpeners available today.
The only thing the user needs to do is align the gauge marks with the bar to file the proper angle. You'll need a vise or some method to hold your chainsaw steady while filing. Our major issue with the saw is the pre-set angle that the guide is set at. The pre-set angle does not match the 25-degree angle most chains need to be.
Overall, the Pferd is our top choice for a chainsaw sharpener on the go. Not only does it offer the same benefits as the Stihl but its much more economical too.
What We Like:
Cheaper than the Stihl
The Pferd 2 in 1 can accommodate both a non-branded file as well as a branded Stihl file. The Stihl could only work with branded files.
Files the depth gauges and teeth at the same time
What We Don't Like:
You will need a vise to hold the chainsaw in place as it is a 2-handed tool
You will need different files for chains of different sizes
The tool feels slightly heavy in your hand
Check Price and Reviews on Amazon
---
Best Chainsaw Sharpener Brands
Stihl
Stihl is a German manufacturer and one of the largest producers of chainsaws in the US. The founer Andreas Stihl designed and built the first chainsaw in 1926. During their early years the company prided itself on it's premium quality. They soon developed a reputation as one of the proponents of professional grade chainsaws – a reputation that stands to this day.
Oregon
Today Oregon is a part of Blount inc. A company with more than 3,000 employees all over the US. But in 1947, when the company was first founded there were just 4 employees and 1 product- the Cox chipper chain.
Back in those days, chainsaws required a lot of filing and maintenance time. But the Joe Cox(one of the founders) invented a new C-shaped jaw. These chains were much more durable and required less maintenance than their competition.
The basic design of Joe's original chain is still used to this day. You can check out our review of Oregon's chains in our Best Chainsaw Chains Article
Things To Consider
Here are some things you might want to consider before picking your next chainsaw
Grinding vs Hand filing
You probably know that there are two ways to sharpen a chainsaw – using a grinder such as the Buffalo chainsaw sharpener or through a hand file such as the Stihl.  But which one is better? Which one is right for you?
The grinder is undoubtedly easier, quicker to use. It is also more convenient especially if you have multiple chains to switch out. However many professionals have noticed that using a grinder will heat up the metal. This shortens the life of your chains.
Note: This only happens when you are really grinding hard. If you are careful with a grinder this is not going to be an issue.
Many users prefer hand files for these reasons. There is definitely more learning curve to hand sharpening but when you do master it, it can be done fairly quickly in the field.
Portability
How important is portability to you? Do you want the freedom to file your chains on the go or are you willing to wait until you get back to the workshop?
If you pick a hand-file like the Pferd or the Stihl you will still need a vise to hold the chainsaw. This is because you will be holding the tool in two hands and trying to file a chainsaw without a vise will not work so well.
On the other hand, if you pick a fixed file then you need a place to mount the machine. Preferably pick a stable and safe area such as a desk in your workshop. etc
Frequently Asked Questions
I don't know how to sharpen a chainsaw. Will this be an issue?
There are many great youtube videos which will teach you how to sharpen your chainsaw.
How Frequently Do I Need To File The Depth Gauge?
The depth gauge has to be the same height as the teeth. This gauge controls how far the chain will cut. If it is too short then the chain will take out too much wood. This will bog the chainsaw down and it will not work properly. If it is too tall then the wood will go skimming along the top of the wood and not cut properly. This is why we need to file the depth gauge every 2-3 times you sharpen your chainsaw to make sure they are even.
What Happens If I use A Dull Chain?
Sometimes it can get tempting to use a dull chain. "Just this once". After all, it looks like the only problem with using a dull chain is that they cut slow.  But we urge you to reconsider. Using a dull chain is a huge pain. As the chain is dull, your saw has to work a lot harder to cut the same amount of wood. This will cause your chainsaw to overheat thus damaging it. Many users have noticed that their chainsaw begin to smoke when used with a dull chain. Cutting with the dull chain also means that you will have to put in a lot more effort to slice through the same amount of wood.
Conclusion
We love hand-files, this is why our top choice has to be the Pferd chainsaw sharpener. It can file depth gauge and the teeth at the same time. Additionally, it is one of the most economical chainsaw sharpeners available in the market. We don't like the fact that you need a different device for different chains. However, most users are likely to just have a single chainsaw. So it should be much of an issue. What is your favorite chainsaw sharpener? Leave a comment below to let us know what you think.