Grass shears are a great tool to have if you need to get the cut of your grass just right and don't have a lawnmower that can do the trick. The right shears can help you get your grass the perfect height, can reach into awkward positions, and can help you to own your yard. The best electric grass shears for you may be different than the best for someone else: there are a lot of features and differences packed into these.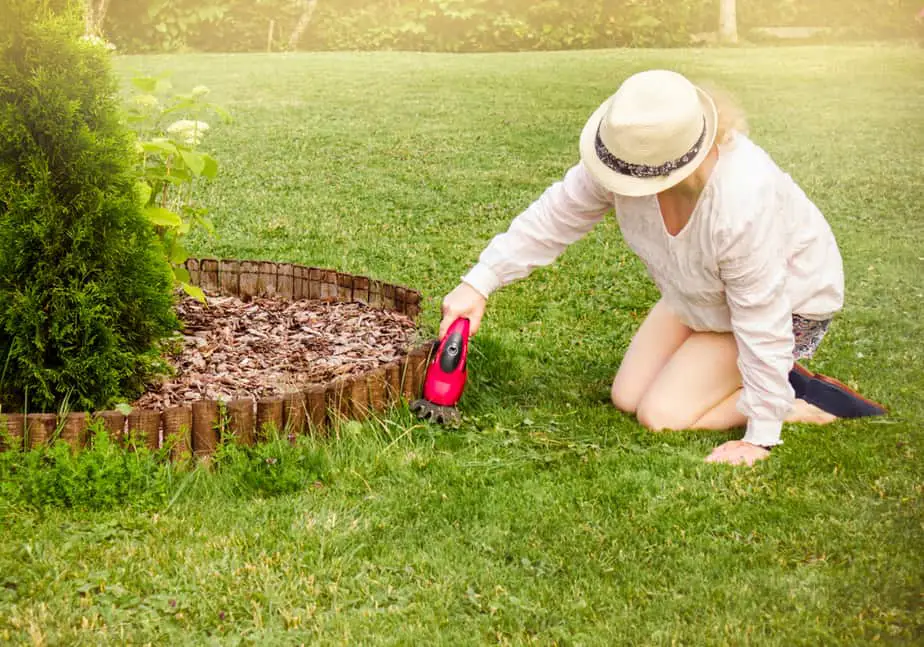 To help you figure out which options may suit you, we've broken down all the best picks to discuss the pros and cons of each as well as which one may solve your specific need.
We'll get started with our best overall.
Best Overall
Gardena Cordless
Gardena 8885-U 3-Inch Cordless Lithium Ion Grass Shears, Classic Cut
Powerful easy care lithium ion rechargeable batteries - High power for best cutting results.
LED display of the battery charging status
Complete with blade protection and charger
Replaceable high-quality blade with Gardena's innovative blade change -fast easy and safe - no tools required.
Operating time of approx 45 min. with a charging time of approx 6 hours for a full charge.
Last update on 2021-10-12 / Affiliate links / Images from Amazon Product Advertising API
The Gardena cordless grass shear is the best option if you're looking to purchase top quality.
These electric shears are able to cut through the thickest of grasses without giving out on you and are a good solution if you're wanting to trim a bit without putting in too much manual labor.
The Gardena shears come with a rechargeable lithium-ion battery. The battery takes a bit to charge (about 6 hours) but you can expect to get 45 minutes worth of grass-trimming time out of it. Unless you're cutting your whole yard with this thing (really a job for an electric lawnmower) then 45 minutes should be sufficient. The Gardena has an LED light that shows you how much battery you have left, so there's never a need to wonder.
If you ever need to replace the blade for any reason, the Gardena allows for a no-tools-required, easy blade swap. Even though the option is there for you to replace the blades if they need it, the blades are pretty durable and should last you a long time. Gardena built their tool to last.
The Gardena comes with a lot of perks: it's strong enough to trim thick grass, durable enough to last a long time, and includes a 25 year warranty. But, it is one of the less budget-loving options.
What We Like:
Comes with rechargeable battery
The LED light shows battery level
Lasts long enough to get the job done
Durable
Can cut through thick grass
Easy blade change – no tools required
25 year warranty
What We Don't Like:
One of the pricier options
Gardena's grass shear is a good option if you're wanting a fancier, more bells-and-whistles option.
Check Price and Reviews on Amazon
---
Best For A Combo Pick
Earthwise 2-In-1
Earthwise Cordless Rechargeable 2-in-1 Shrub Shear and Hedge Trimmer Combo
Cordless garden trimmer with a 6.3" hedge trimmer and 3" grass shear blades
Small hedge trimmer with 5/16" maximum cutting width
Small grass trimmer with mounting plates for easy blade change
Earthwise grass trimmer with easy blade changing that does not require tools
Includes 3.6V rechargeable lithium-ion battery & built-in charging unit
Last update on 2021-10-13 / Affiliate links / Images from Amazon Product Advertising API
The Earthwise 2-In-1 is our favorite option if you're looking to buy a grass shear that can handle some light shrub trimming as well. This is a pretty common feature among grass shears, but Earthwise does it best.
The Earthwise's wide blade makes it easy to get a lot done in a little time. The shear blade is about 3″ wide and the hedge trimmer portion is 6-1/3″ long. Both of these blades are built tough and made to last, so no worries about needing a replacement blade. These shears are pretty stout, but are best suited to lighter jobs or grass that isn't crazy thick.
The included lithium-ion battery is rechargeable, but you can expect that it will take you upwards of 5 hours to get a full charge out of it. These 5 hours will equate to about 40 minutes worth of cut time, so that should be plenty for most people.
It's not a hassle to switch from one blade to the other since Earthwise includes an easy blade change design. No tools are required to switch from the grass shears to the hedge trimmers and it can be done in just a few seconds.
Earthwise includes great safety features in their shears so these are a good option if you have children around. They have a dual-button start system and a safety key needs to be inserted before the shears can activate. The safety key is nice if you're wanting to make sure that your tools won't be a safety hazard for anyone.
These shears are very lightweight and clock in at just over a pound, so they are a good option for someone who gets uncomfortable with heavier shears. A 1-year warranty is included in these shears. That's nice to see, but it isn't as long as the warranty for some other shears on this list.
What We Like:
Comes with rechargeable battery
The LED light shows battery level
Lasts long enough to get the job done
Durable
2-in-1 shears and shrub trimmer
Easy blade change – no tools required
What We Don't Like:
Best suited for smaller jobs
Warranty isn't very long
Earthwise's shears are our favorite options if you're needing to do some grass and shrub trimming. The tools are solid and reliable but miss out on some bells-and-whistle type features.
Check Price and Reviews on Amazon
---
Best For Thick Grass
Makita Cordless
Makita XMU04Z 18V LXT Lithium-Ion Cordless Grass Shear, Tool Only
Makita-built motor delivers 2, 500 SPM for efficient cutting
Up to 200 minutes of run time with 5. 0Ah battery BL1850B (battery not included)
6-5/16" Cutting width for optimum performance
Dual blade action cuts with a shearing effect for improved results
Easy to operate 3 stage cutting Height adjustment (9/16", 3/4", 1")
Last update on 2021-10-13 / Affiliate links / Images from Amazon Product Advertising API
Makita's shears are the recommended option if you have grass so thick that you're afraid a small jaguar could pop out at any second. These shears were made to cut through a lot of grass.
The Makita shears have the widest blades on our list by a long shot: 6-5/16″ cutting width means that you'll need less than half of the work required as some other shears to cut the same amount of grass.
Even though you will need less than half the work, the battery that's compatible with Makita's shears will last up to 200 minutes on a full charge – almost 3 and a half hours. The compatible battery is fantastic, but it's not included with these shears themselves and has to be purchased separately.  That feels like a pretty big blow for shears that aren't so budget conscious to begin with.
If you have any Makita tools, these shears will work with any of the batteries you do have, but mileage may vary. 200 minutes of run time is the given specs for the 5.0 Ah battery.
Makita's shears come with some neat features on their wide blade. Their shears have 3 different cutting heights and can run at 1250 RPM to chop through grass that is very, very thick. These are a good pick if you have St. Augustine, Bermuda, or other grass that seems like it could double as a box fern.
Makita includes a 3 year warranty on their shears.
What We Like:
Very wide blade makes cutting faster
Includes 3 different cutting heights
Can cut through the thickest of grass
With the right battery, can run for up to 200 minutes – almost 3 and a half hours
What We Don't Like:
Battery is not included
Not kind to buyers on a budget
Makita's shears offer the highest quality and will save you a lot of work and effort if you're willing to pay a premium.
Check Price and Reviews on Amazon
---
Best For Long Reach
Sun Joe Extension
Sun Joe HJ605CC Cordless 2-in-1 Grass Shear + Hedge Trimmer w/Extension Pole, Green
VERSATILE: Best used for small gardens, Hedge grooming and areas your mower cannot reach
2-IN-1: Convert from grass Shear to hedger quickly and easily
BATTERY LIFE: Long-life, rechargeable, 7. 2 V lithium-ion battery for hassle-free, cordless operation (battery + charger included)
EXTENSION POLE: Convenient, detachable 3-foot Extension pole eliminates bending and back strain
Last update on 2021-10-13 / Affiliate links / Images from Amazon Product Advertising API
Sun Joe's trimmer is our favorite option if you aren't a big fan of squatting, kneeling, or bending to trim your grass and you want something that can alleviate some of that strain. It comes with an included 3-foot extension pole to make your yard work a little easier.
The blades on the Sun Joe are a little big larger than average: the width of the grass shear is 4 inches and the included hedge trimmers are 6 inches long. Changing out the shears for the hedge trimmers or vice verse is easy and requires no tools.
The grass shears allow you to change the angle of the blade and this is a great perk if you're using the extension pole. Changing the angle will allow you to get just the right cut you're going for. Some buyers mention that the adjustable head has a tendency to droop if you aren't careful and lock it in tight.
Sun Joe does include a battery with their shears, but it's nothing too special. It takes several hours to charge and you'll get about 45 minutes worth of run time out of one charge. That should be enough to do all the shearing you want to do so long as you don't live in the Amazon.
As we mentioned above, these shears come with a 3-foot extension pole. This extension pole is a brilliant idea because it will save you from having to squat, kneel, or crawl along the areas where you're touching up your grass. The extension pole is removable, so you can still get down and smell the roses if you're keen to. With or without the extension pole, these shears are pretty weighty.
Sun Joe includes a 2-year warranty on their shears.
What We Like:
Comes with 3 foot extension pole to make trimming easier
Interchangeable shears/trimmer
Wide shears
Rechargeable battery
2 year warranty
What We Don't Like:
Adjustable shear head may have a tendency to droop
Heavy
Sun Joe's shears are our favorite option if you are wanting to avoid stooping, bending, or crawling on the ground to trim your grass.
Check Price and Reviews on Amazon
---
Best For the Money (On A Budget)
Sun Joe Non-Extension
Last update on 2021-10-13 / Affiliate links / Images from Amazon Product Advertising API
Sun Joe's trimmer that doesn't include an extension pole is our favorite pick for buyers on a budget. It includes several features at a good price point while not missing out on too many bells or whistles.
Like it's longer brother, this Sun Joe's equipped with the tools to make trimming an easier job. The grass shears are 4 inches wide and the hedge trimmers are 6 inches long, so that should be enough to decrease your time working and increase your work achieved. Changing between the shears and trimmers is easy and doesn't require any tools.
Some buyers mentioned that this product is low power, so it's not suited to thicker grasses or bigger jobs.
Sun Joe includes a battery and charger with their shears. You can expect that the battery will last you about 40 to 45 minutes and that it will take several hours to charge. This is pretty standard among the industry and should be enough time to allow you to get the job done.
One thing you'll notice about these shears is that they aren't very light. Even though Sun Joe markets them as lightweight, the shears weigh 2.5 pounds and are on the heavier side of grass shears. Heavy they may be, but Sun Joe built their shears to last. A 2-year warranty is included.
What We Like:
Good budget buy
Interchangeable grass shears/hedge trimmers
Includes battery and charger
2 year warranty
What We Don't Like:
On the heavier side of grass shears
Not suited to tougher grasses or hedges
Sun Joe's grass shears are a great pick if you aren't concerned with bells and whistles. They are our favorite budget buy and will do great on any growth that isn't very tall or thick.
Check Price and Reviews on Amazon
---
Things To Know Before You Buy…
Shear Size
One thing you'll notice among several of our trimmers listed above are the differences in cutting widths. A wider grass shear or longer hedge trimmer isn't always better, but stockier tools can save you a bit of time. An inch (or 3) may not seem like a lot, but it can change the amount of time you spend cutting by a huge margin.
We recommend buying a smaller shear under some circumstances. If you need to trim in narrow spaces such as between two posts, then a smaller shear can be good for you. In general (though not always), smaller shears are more budget loving and will make less of a dent in that wallet of yours.
Smaller shears will also be a good option for you if you're a perfectionist and like to take care of every blade of grass with a personal touch. Smaller shears help you to maintain control and keep an eye on everything in the cutting path. Shears that aren't very wide are almost always lighter as well, so they are a good pick if you want a tool that is super easy to handle.
Wide shears can save a lot of time if you have a pretty sizable area you're trying to cut. We're gonna take a look at some simple math to show how this works.
Let's say you have a 3″ wide shear and it takes you 40 minutes to trim over the parts you want to take care of. With a shear that is 4″ wide, you would need 30 minutes. If you pull out the big guns and go for a shear that's 6″ wide, you'll need just 20 minutes to take care of everything.
A 10-20 minute difference doesn't sound like a lot, but let's say you trim over your grass once a week for a year. If you save just 10 minutes every time you trim, then you'll have almost 9 extra hours worth of time after a year. 9 hours is over half of an extra day to do whatever you want – play games with the family, relax, or spend more time owning your yard.
If a wider shear saves you 20 minutes each week, then you're looking at a full 17 hours worth of extra time by year's end. That is a full extra day worth of time to do with as you wish. And each time that you save yourself a little time, you're also saving yourself a bit of stress. You won't have to kneel, crawl, or walk for as long of a time as you would with a narrower shear.
If you're interested in precise cuts, have narrow spaces that need to be trimmed, or want a lightweight tool, we recommend going with a narrower shear. For a little more comfort and time saving, we recommend a wider shear.
Frequently Asked Questions
Do I have to press 2 buttons to make my tool work?
Yes. All the grass shears we reviewed (and all the grass shears we looked at but didn't review) required a dual-button start.
The dual-button start serves as a safety feature. The manufacturers want to make sure that you aren't starting your tool by accident. This safety feature is also nice since it makes the tools tougher for children to start.
Once the tool has been started, however, you won't need to forever hold down your 2 buttons. You can start your shears by holding both, but then can release the the button that isn't the trigger (almost always located on or near the top of your shears).
This makes starting safer and continual use easier.
How long does a charge last?
The charges on most of the products we reviewed will last between 40 and 45 minutes. The Makita is an exception – with the right battery, it can last up to 200 minutes, which is almost 3 and a half hours.
Can these shears cut through..?
All of the shears we've reviewed combine the best of cost-saving and power provision. All of the shears we've reviewed can cut through thick grass given enough time, but some do it better than others. The Makita is by far the strongest with the Gardena not far behind. Either the Makita or the Gardena could be trusted to get through anything that isn't diamond studded.
The shears we've looked at that provide the lowest power output are the Sun Joe Non-Extension. These shears are our budget pick and are handy, but are best suited to smaller jobs and grasses that can't hide small children (we're looking at you, St. Augustine).
Any of the grass shears we've reviewed above will be able to handle most grasses encountered by most people.
Best Brands
Gardena
Gardena's run started back in 1961 when they worked as a garden tools trading company. Since developing their own complete Gardena solution in 1968, Gardena has worked to make gardening easier and more fun for everyone.
Earthwise
Earthwise was born when parent company American Lawn Mowers wanted to make the world's best mower for smaller yards. Earthwise and American Lawn Mowers strive to be the best in the business and responsible towards the environment – a mission they've been pursuing for over 120 years.
Makita
Makita was started all the way back in 1915 as an electric motor sales and repair company. Since then Makita has expanded their repertoire and expertise to include all sorts of powerful and useful electric tools. They want to help you own your yard by giving you just what you need to do so.
Sun Joe
Sun Joe started as a Snow Joe: a company producing electric snow shovels. As the company began to fill a need for clean electric equipment, they began expanding their product line. Now offering the Snow Joe and the Sun Joe, this company has you covered come snow or shine.
Conclusion
Thanks for reading our guide on the best electric grass shears! When it comes down to it, the best option for you is going to be the one that suits your needs best.
We recommend asking yourself if you're looking for a wider or thinner option for your shears. Remember that thinner shears aren't always worse and are great for small spaces, people who want lighter tools, or perfectionists that like to get their grass a very specific way. Wide shears can save you time and energy.
Also take a moment to consider whether or not you want grass shears that come with a hedge trimmer attachment. Not everyone will need the extra attachment since dedicated hedge shears will do a better job than a grass/hedge combo, but buying both grass and hedge shears in a combo can save you some time, energy, and money.
Don't forget to take a look at your available budget and remember that often, we do get what we pay for. The pricier options may hurt a bit more at first but often are made of higher quality materials that can stay sharp longer, last longer, and have a few more features to them as well.
Our overall favorite option is the Gardena Cordless. It is on the narrower side, but includes a high quality battery, is lightweight, and is backed by an enormous 25 year warranty. The extra security included with the warranty means that you won't need to replace these shears or buy another pair for a long time.