Garden scissors can help you to really shape up your natural areas so you can be the envy of the neighborhood. Whether you're looking to just trim a little off the top, cut through thicker pieces of growth, or want something that provides maximum comfort, there are options for everyone.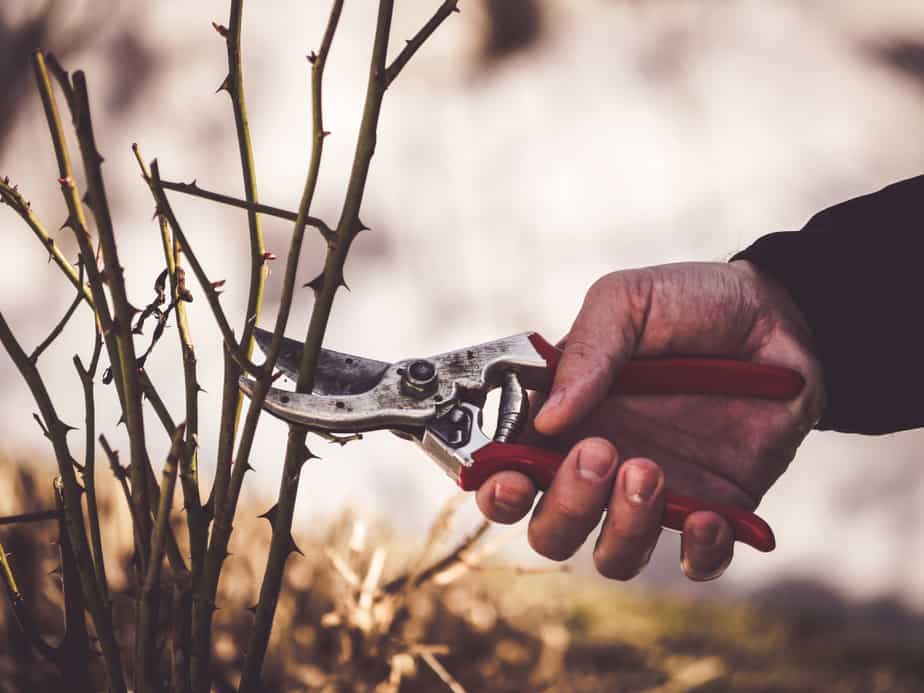 These tools have a lot of variety and it can be easy to feel a little overwhelmed, but there's no need to fear; we've taken all the best garden scissors, broken them down, and outlined which ones may be best for your specific situation. Let's get started with our best overall.

Best Garden Shears Overall
Gonicc Professional
gonicc 8" Professional SK-5 Steel Blade Anvil Pruning Shears(GPPS-1010), Cushion and shock absorber design, Ergonomically Design Handle
Ergonomic Design - The handle has ergonomically designed, lightweight and comfortable, can help you ease impact and protect the hand and wrist, reduce the hand soreness caused by prolonged use.
Shock Absorption - The cushion and shock absorber soften the impact upon finishing cutting. Provide a comfortable experience. And your hand and wrist will be protected better.
Quality Blades - Professionally built utilizing SK-5 Steel that meets the highest standards and gives you precision on each cut. Ideal use for cutting light branches of trees, rose bush, shrubs and hedges.
2 TIMES THE POWER - Double gear lever is a perfect design combined with the Labor-saving and one-time cut. The mechanism's settings multiply your hand's power and don't need to be like a ratcheting mechanism several times with cutting operation, ensure the smooth cutting experience.
Durable and Stable - The high-quality construction ensures that the products will last you for years to come.
Last update on 2023-11-04 / Affiliate links / Images from Amazon Product Advertising API
The Gonicc scissors take home our best overall prize because they pack a ton into their product.
The blades on these scissors are made of high-grade carbon steel so they should last a long time and will be able to make a lot of snips without needing to be sharpened. The blade is able to cut through most types of limbs, branches, and shrubbery that are under an inch in diameter, but this will vary depending on the type of flora you're dealing with.
The handles on the Gonicc make use intuitive and smooth; the Gonicc uses a double lever mechanic and make it easier to cut through thicker growth since you can apply power using your whole hand. The double lever also makes sure that you won't tire yourself out as fast and should stall off any aches or pains you may come across in your hand, wrist, or forearm while using garden scissors.
The handles have shock absorption features as well. This isn't as big of a perk for scissors as it is for hedge shears since the shock you feel when cutting with scissors is smaller than with shears. Even so, a little extra comfort never hurt anyone and it's better to have it and not need it than to need it and not have it. The handles are spring loaded, so you don't have to exert energy to open them up again after cutting.
Some buyers mentioned that the spring may not be situated well inside the scissors and can sometimes try to pop out. Other buyers mentioned a locking mechanism that was subject to a few flaws and didn't always work.
If durability is your main concern, then this may be a good option for you: Gonicc includes a lifetime warranty with their shears.
What We Like
High grade carbon steel blade should last you a while
Double lever mechanic makes it easier to cut
Shock absorption
Spring loaded to make opening easier for you
Lifetime warranty
What We Don't Like
Spring may have a tendency to pop out
Locking mechanism may not always be reliable
The Gonicc garden scissors are a good pick if you are wanting a buy that includes a lot of perks with only a few bugs and comes with a lifetime warranty to secure you if anything goes wrong.
Check Price and Reviews on Amazon
---
Best For Ultimate Comfort & Smaller Growth
Gardenite Ultra Snip
Ultra Snip 6.7 Inch Pruning Shear with Stainless Steel Blades
➥ Super grade stainless steel upper and lower blades for precision cutting up to 5/16 inches. The UltraSnip is designed for deadheading, pruning flowers, pruning small plants and shrubs and other light trimming duties.
➥ Chromed zinc allow handles with comfortable rubber grip.
➥ Long 6.7 inch handes offer easy grip and reduce hand strain.
➥ Ultra smooth chromed carbon steel spring designed to gently open blades after each cut to reduce hand strain.
➥ 100% CUSTOMER SATISFACTION GUARANTEE - Backed by the trusted Gardenite 100% customer satisfaction guarantee. If you are not happy with the pruner we will ALWAYS refund your purchase!
Last update on 2023-11-04 / Affiliate links / Images from Amazon Product Advertising API
Gardenite's grass scissors rank top on our list for ultimate comfort due to several perks that other products just aren't offering. These scissors are a great option for smaller growth that you're trying to trim back a little.
Gardenite scissors come with high grade stainless steel blades, but these blades aren't meant for much heavy duty cutting. The blades are able to cut through anything that is 5/16ths of an inch or smaller in diameter. If you aren't sure, it's safe to say that's pretty small. These scissors are best used for deadheading, pruning small flora, or other light trimming jobs.
The handles are where the Gardenite shines. The handles are longer than normal – about 6 – 3/4″ long. Longer handles help you to get more leverage on your scissors and reduce your hand strain so that your hands won't begin to ache. The handles are padded, slip resistant, and the spring opens the handles after each cut so that you have maximum comfort.
The Gardenite's lock mechanism is easy to use and secure: it sits between the handles to prevent them from opening when you aren't wanting to use them. You'll want to make sure that the lock mechanism is engaged when not you aren't using the scissors since they ship sharp and are pointed, so without a sheath these can be a little bit dangerous.
Gardenite includes a "Customer Satisfaction Guarantee" but never specifies what this is on either Amazon or their own website.
What We Like
High grade carbon steel blade should last you a while
Handles increase comfort by being longer than normal
Padded and non-slip handles
Spring makes handles open after each cut to increase comfort
What We Don't Like
Small blades are only suited to light trimming
Can be dangerous since the blades ship sharp and pointed
Vague guarantee
The Gardenite scissors are a great option if you have flora that isn't too much to handle, if you just want to trim a little, or if you are going for maximum comfort.
Check Price and Reviews on Amazon
---
Best For Big Cuts & Heavier Work
Fiskars Professional
Sale
Fiskars Professional Bypass Pruning Shears
Ideal for cutting stems and light branches
Blade tension can be adjusted to your hand strength and the materials you're cutting
Angled cutting head reduces wrist fatigue and makes it easy to prune at awkward angles
Maximum cutting capacity: 1 inch diameter
Last update on 2023-11-04 / Affiliate links / Images from Amazon Product Advertising API
The Fiskars Professional scissors are our favorite buy if you need to do a little bit heavier work, but aren't quite at the place where you need a pair of hedge shears or branch loppers.
The Fiskars is great at cutting through thick growth – even small branches aren't safe from this tool. It's max cut diameter is 1″ which should be more than enough for anything in your garden (and a lot of stuff outside of your garden).
The blades on these scissors are tilted at a bit of an angle. It's strange to look at if you've handled a lot of garden equipment in your day, but the angled blade makes it easier to cut at weird, difficult, or unnatural angles. The blades' tension can be adjusted to make it easier to cut through larger growth if you know you have a big trimming session ahead.
While the blade gets a bunch of points, the handles are very bare bones. There are no comfort features here and padding is nonexistent, so this should be a good pick if you often wear thicker gloves or if max comfort isn't too big of a concern for you. We can say that these scissors come with springs to open the shears for you and a locking mechanism, but that may not be enough for someone who wants to feel like they are heaven's personal gardener.
As with most Fiskars products, these scissors come with a lifetime warranty.
What We Like
Blades ship sharp and are high grade steel
Angled blade makes cutting easier
Big cut diameter
Adjustable tension
Spring opens handles after each cut
Lifetime warranty
What We Don't Like
No comfort features in the handle
Fiskars has made a product that may suit you well if you know that you have big cuts to make in your garden. If your targets for the day are trees, thick shrubs, or other big growth, the Fiskars can cut through it and be ready to cut more tomorrow.
Check Price and Reviews on Amazon
---
Best For Cutting Sappy Flora
Gonicc Garden
gonicc 8" Professional Sharp Bypass Pruning Shears (GPPS-1002), Tree Trimmers Secateurs,Hand Pruner, Garden Shears,Clippers For The Garden, Bonsai Cutters, Loppers
Drop forged body and handles, quality blade made of high carbon steel with Ultra-fine Polishing Technology.
Ideal for deadheading, trimming, shaping on tree, roses, annuals, vegetable, flower gardens, bonsai and other plants.
Ergonomically designed non-slip handles are strong,lightweight,and comfortable.
Sap groove design to help keep pruning shears from sticking by channeling off sap.
Pruners can cut up to 3/4" diameter size tree branches.This may vary depending on tree species.
Last update on 2023-11-04 / Affiliate links / Images from Amazon Product Advertising API
The Gonicc Garden is our favorite pick if you know that you're going to be working with gummy, sappy plants.
These scissors have a feature that no one else does: they are designed to channel off sap or other liquids so that the scissors won't get gummed up. Gonicc achieves this through the use of a special sap groove that will make sure you can keep on cutting.
Besides the unique sap groove, the blades on the Gonicc are top tier. They are made of high-grade carbon steel and are coated with what Gonicc calls an "Ultra-fine Polishing Technology". That sounds fancy, but it just means that your blades will go for longer without getting scratches and should do a good job of keeping their edge. You can expect to cut through flora that is about 3/4ths of an inch in diameter or less.
The handles are not equipped with very many comfort features: finger grooves make the handles non-slip, but comfort is another story all together. You won't find any padding included in these scissors, so delicate hands may be wise to use a pair of gloves with these.
The Gonicc Garden scissors do come with a strong, reliable spring but some buyers have complaints about the locking mechanism. Some say that the locking system has a bad habit of flipping backwards and getting in the way of the shears, but this doesn't seem to be a widespread problem.
You can expect a lifetime warranty with these scissors.
What We Like
High grade carbon steel blade should last you a while
Unique sap groove makes cutting through trees or gummy growth easier
Non-slip handles
Springs make opening easier
Lifetime warranty
What We Don't Like
No padding on the handles
Locking mechanism may give you a bit of trouble
Gonicc has a good option for you here if you're needing to cut through several smaller trees or branches without gumming up your garden scissors.
Check Price and Reviews on Amazon
---
Best Budget Buy
Vivosun Pruner
VIVOSUN 6.5 Inch Gardening Scissors Hand Pruner Pruning Shear with Straight Stainless Steel Blades Orange 1-Pack
Reduce Hand Strain: These micro tip snips are made to reduces hand fatigue which makes them great for those with arthritis, carpal tunnel, hand or wrist issues; Comfortable "grip" handles will make it easy to work for long-time use without making you feel hand pain
Ultra Sharp Blades: These quality snips come with stainless steel precision-sharpened blades and are ready to tackle all of your deadheading, trimming, and shaping jobs for your roses, annuals, vegetable, bonsai and small-flower gardens
Secure, Easy to Lock: These micro tip snips feature a safe and secure sideways locking mechanism that keeps your blades protected and closed when not in use; The design of these pruning snips are perfect to use whether you are right or left handed with ease
Make Precise Cuts: With these micro tip snips, you can easily get between plants to "clip and snip" only the area or part that you want to cut with one-hand, while not damaging the other vital stems and branches of your other plants; Note: Clean blades after each use
Applications: Trimming trees and flowers, cutting papers, opening boxes and so on
Last update on 2023-11-04 / Affiliate links / Images from Amazon Product Advertising API
Vivosun's scissors make for our favorite budget buy since they pack in a lot of features at a good price without skimping too much on quality.
These scissors are best suited for smaller growth: the blades are just 2″ long and the handles are about 4 – 1/2″, so these scissors are pretty small. You'll get the most out of them if you're just using them for deadheading, small pruning, or light trimming work. Anything thicker than a fraction of an inch will give these scissors some trouble.
The handles on the Vivosun are pretty good: they are padded, non-slip, and comfortable to use for long periods of time. A spring between the handles helps open the handles after each snip and reduces your overall hand strain. It's worth mentioning that the spring is a bit flimsy and may pop out.
The Vivosun ships sharp and the blades are pointed. Even though the blades are small, they could do some unintended damage if you're not careful. You can lock the blades, but some customers complained that the locking mechanism was a little less than perfect and prone to giving out.
There's no warranty with these scissors.
What We Like
Blades ship sharp
Padded, non-slip handles
Spring opens the scissors between each use
Great for budget shoppers
What We Don't Like
Spring may have a tendency to pop out
Locking mechanism may not always be reliable
Blades can get gummed up easy
The Vivosun is our favorite pick for anyone shopping on a budget. It isn't the highest quality, but it can get small jobs done without costing you too much.
Check Price and Reviews on Amazon
---
Things To Know Before You Buy…
A Little Clean Up
As with almost any tool used in the yard or for gardening, a little bit of maintenance can go a long way towards making sure that you get a long life out of your garden scissors.
The most common (and easiest) order of business is to make sure that your scissors are cleaned. With the exception of the Gonicc Garden we reviewed above, all garden scissors can get gummed up by sap or other sticky residues that are in a lot of plants. If the sap hasn't dried yet, hot water and a rag can often do the trick.
If the sap has dried and hot water isn't working, you can soak your tool in mineral spirits (a paint thinner) for a few minutes and go at the sticky residue with a sponge that has a scrubbing pad.
If your tools haven't been used for a while and you're needing to get rid of some rust, allow your scissors to soak in vinegar for several hours. You will see the vinegar turn into a rusty color and once the scissors have been allowed to soak, take them out of the vinegar to wipe them down.
After using a strong chemical such as mineral spirits or vinegar on your tools, it isn't a bad idea to oil your scissors down again so that they don't rust. Here's a video showing how you can do that and detailing the process to remove rust.
<iframe width="560″ height="315″ src="https://www.youtube.com/embed/VUrcJUmfYiE?start=12″ frameborder="0″ allow="accelerometer; autoplay; encrypted-media; gyroscope; picture-in-picture" allowfullscreen></iframe>
Sharpening
At some point, your precious garden scissors will get dull. Sharpening your scissors again will help you to save a few bucks by allowing you to continue using them and will make it easier to cut through things. This is even more crucial if you use your scissors to chop through thicker growth or small branches.
You can always use a file to sharpen your tools, but there are now special sharpeners that are just used for garden scissors. [NOTE TO EDITOR: affiliate links needed please] If you don't want to buy anything extra and have something to file with on hand, then sharpening is pretty easy.
You'll want to start with the larger blade if your scissors have one. Push your file into the blade and stroke up away from the handle. If possible, it's best to follow the angle that the blade is already sharpened into. You can often see that the blade is sharpened once the edge turns a slight silver.
You will need to sharpen the smaller blade as well if your scissors have one. Apply the same method by pushing into the blade and away from the handle at the same angle the blade was sharpened by the manufacturer. This side won't need much sharpening, but you'll see that it too turns a slight silver.
<iframe width="560″ height="315″ src="https://www.youtube.com/embed/1vvBkPQZzOU?start=114″ frameborder="0″ allow="accelerometer; autoplay; encrypted-media; gyroscope; picture-in-picture" allowfullscreen></iframe>
Frequently Asked Questions
Are my scissors safe to cut small flowers with?
Yes. All the tools we've reviewed in this list are sharp enough to cut through small stems and petals without harming the flowers.
Can I use mine if I'm left handed?
Yes. All scissors on this list can be used by southpaws too.
How does the locking mechanism work?
It depends on the brand you're buying. Some locking mechanisms are a plastic insert in the middle of the scissor that you place into a slot to lock the handles. Other scissors have a twisting locking mechanism and still others have a metal lock that slides into position. The products we've reviewed work as follows:
Gonicc Professional: Sliding metal lock
Gardenite Ultra: Plastic insert
Fiskars Professional: Sliding metal lock
Gonicc Garden: Metal locking rod
Vivosun Pruner: Plastic insert
Can my scissors cut through thick growth?
Different scissors and pruners are all rated to cut through varying thickness. In general, the curved blades are more useful for thick growth while straight blades are best suited to smaller jobs like deadheading or pruning flowers. In order of appearance, here are the thicknesses that each of the products we reviewed are rated for.
Gonicc Professional: 1″
Gardenite Ultra: 5/16″
Fiskars Professional: 1″+
Gonicc Garden: 3/4″
Vivosun Pruner: 1/4″
Best Brands
Gonicc
Gonicc was established in 2000 and in less than 2 decades could be found selling to over 20 countries. Their goal is to make it easier and more enjoyable for you to do the things you love. This company is dead set on your satisfaction.
Fiskars
Fiskars was founded all the way back in 1649 (and no, that's not a typo). Fiskars started as an ironworks shop in a Finnish village of the same name. Since then, they have expanded their product line to make it easier for people to do the things they love. Fiskars is well known for its tough products that don't wear out.
Vivosun
Vivosun is based on the principle that modern people can and should be brought closer to nature. They are a world leader in gardening supplies, outdoor tools, and hydroponics. They commitment is to be the best indoor gardening store you'll ever have to deal with and they promise nothing but the highest levels of customer service.
Conclusion
Thanks for reading our guide on the best garden scissors! When it comes down to it, the best option for you is going to be the one that suits your needs best.
We recommend taking a look at what kind of foliage you're going to be cutting. Different scissors are best for thick and thin growth, so take a moment to get an honest view of the job ahead of you. If you're going to be dealing with small branches or thick shrubs, we recommend going with one of the curved-blade options that are best suited for thicker growth.
If you are planning on deadheading or light pruning work, any of the options above will work but the straight-blade ones will be a bit easier to use and a little more precise.
It's also worth considering how interested you are in comfort versus functionality. Some of the options that can cut through thick foliage don't include a lot of comfort. If you do go with one of the lower comfort options, you can always wear a thick pair of gloves and you may never even know the difference.
Don't forget to take a look at your available budget and remember that often, we do get what we pay for. The pricier options may hurt a bit more at first but often are made of higher quality materials that can stay sharp longer, last longer, and have a few more features to them as well.
If we had to recommend a single option to you, we would recommend the Gonicc Professional. It has a great blade designed to do heavy duty and light trimming work, is comfortable, comes with a lifetime guarantee, and won't put a big dent in that wallet.