If you're looking to get the cut of your grass just right and are afraid that a great lawnmower can't handle the job, then a pair of grass shears will go a long way in helping you.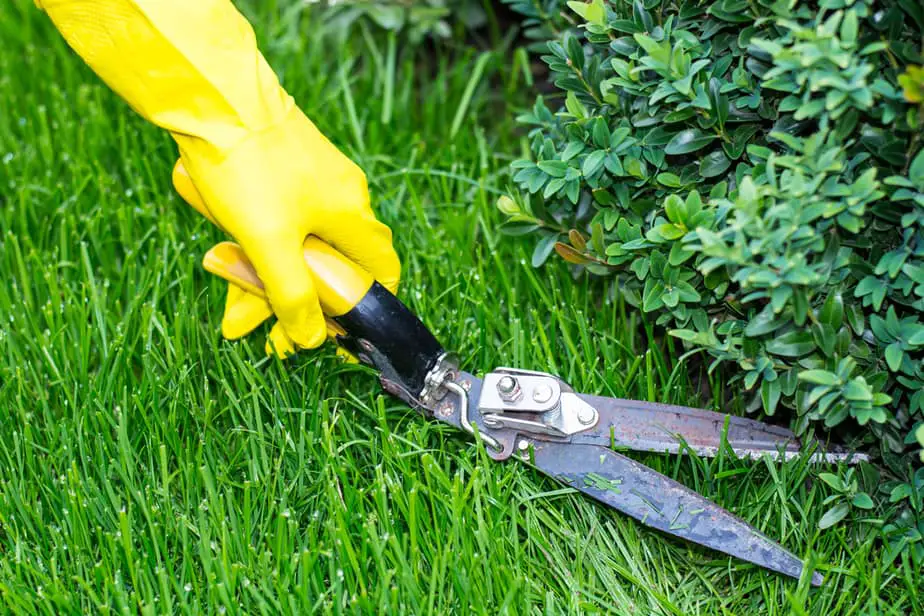 Grass shears are great for getting the yard to look just how you like it, but there are a ton of varying features between products! Some have long handles, some have short, others are electric – and who knows whether or not you need a serrated blade?
Well, we do. And we've taken all the best grass shears on the market, broken them down, and heard what other buyers had to say so that we could find which option is the one that fits your unique needs. Let's get started with our overall best.
In a Hurry? Here's Our Top Picks…
Best Overall
Fiskars Long Handle
Sale
Last update on 2023-05-28 / Affiliate links / Images from Amazon Product Advertising API
Fiskars's long-handled grass shears are a great overall pick or a great option if you don't have any needs that are too specific (if you do, we discuss options that might fit you better further down the page).
As is obvious by the name, the Fiskars come with a long handle. The long handle doesn't seem like it would be a lot, but it can make a big difference to not have to bend down and snip your grass. Bending down to use your shears can cause pain in even the youngest of backs so the ability to stand is a refreshing change.
Standing tall isn't without its downsides though; cutting while upright can cause some shoulder discomfort since you're holding the Fiskars out in front of you. Fiskars is aware that this could be an issue, so they've tried their best to solve it by making their long-handled shear lightweight. This shear clocks in at just 2 pounds, so any shoulder discomfort shouldn't be too big of an issue.
The blades on the Fiskars are ship sharpened and have a swivel range of 180 degrees. The swivel range is important since you can adjust the angle to the one you like while trimming the grass. Not to mention, this feature makes for far easier storage. Once you've found the blade angle that you like, the blade locks so it won't move out of position.
As with most Fiskars products, their long-handled shear comes with a lifetime warranty.
What We Like:
Long handle means you don't have to bend, stoop, or crawl to trim your grass
Lightweight
Wide swivel range useful for cutting and storage
Blades ship sharpened
Locking blade
Lifetime warranty included
What We Don't Like:
Standing and holding an item in front of you can cause shoulder discomfort if done for long periods of time
The Fiskars long-handled option is a great overall pick and one that gives you a good product for the money.
Check Price and Reviews on Amazon
---
Best Electric Grass Shears
Gardena Cordless
Gardena 8885-U 3-Inch Cordless Lithium Ion Grass Shears, Classic Cut
Powerful easy care lithium ion rechargeable batteries - High power for best cutting results.
LED display of the battery charging status
Complete with blade protection and charger
Replaceable high-quality blade with Gardena's innovative blade change -fast easy and safe - no tools required.
Operating time of approx 45 min. with a charging time of approx 6 hours for a full charge.
Last update on 2023-05-28 / Affiliate links / Images from Amazon Product Advertising API
The Gardena cordless grass shear is the best option if you're looking for an electrical shear and want to purchase top quality.
These electric shears are able to cut through the thickest of grasses without giving out on you and are a good solution if you're wanting to trim a bit without putting in too much manual labor.
The Gardena shears come with a rechargeable lithium-ion battery. The battery takes a bit to charge (about 6 hours) but you can expect to get 45 minutes worth of grass-trimming time out of it. Unless you're cutting your whole yard with this thing (really a job for an electric lawnmower) then 45 minutes should be sufficient. The Gardena has an LED light that shows you how much battery you have left, so there's never a need to wonder.
If you ever need to replace the blade for any reason, the Gardena allows for a no-tools-required, easy blade swap. Even though the option is there for you to replace the blades if they need it, the blades are pretty durable and should last you a long time. Gardena built their tool to last.
The Gardena comes with a lot of perks: it's strong enough to trim thick grass and durable enough to last a long time. But, it is one of the less budget-loving options.
What We Like:
Comes with rechargeable battery
The LED light shows battery level
Lasts long enough to get the job done
Durable
Can cut through thick grass
Easy blade change – no tools required
What We Don't Like:
One of the pricier options
Gardena's grass shear is a good option if you're wanting a fancier, more bells-and-whistles option.
Check Price and Reviews on Amazon
---
Best for Fine-Tuning
Coronoa ClassicCut
Sale
Corona GS 6750D ClassicCUT Grass Shear, Natural, 4 1/2 in
PROFESSIONAL SCISSOR CUTTING ACTION: Cuts tough sod and ground cover.
COMFORTABLE, NON-SLIP GRIP: Helps you grip the scissors even with sweaty hands and scissors stay comfortable to hold cut after cut.
DURABLE BLADES: Fully heat-treaed for strength.
FORGED STEEL ALLOY BLADES: Blades are resharpenable.
HANDLES ARE VINYL COATED FOR ADDED COMFORT AND DURABILTY: Tool has limited lifetime warranty.
Last update on 2023-05-28 / Affiliate links / Images from Amazon Product Advertising API
Corona's ClassicCut hedge shears are a good option for you if you like to get down nose-level to your grass and see every detail so that you can shape it just how you like it.
The ClassicCut shears don't have a long handle, so you'll either be squatting or crawling to snip your grass. This can lead to a bit of back pain if you aren't careful (we discuss how to alleviate some of that in the Things To Know Before You Buy section). Back pain aside, for now, getting that close to your grass really does allow you to see – and snip – every detail.
These set of shears come with durable steel alloy blades that should last you quite a while before needing to be sharpened. When they do need to be sharpened, you can just open the shears up and go at it. Sharpening isn't a difficult process.
Corona's handles are vinyl coated and padded. This means that they are comfortable, more durable, and easier to grip. You won't need to worry about these handles slipping out of your grasp after a few snips since they've been designed to stay where you want them to stay.
These shears come with a lifetime warranty but are higher-dollar than similar products. These are good shears if you want to be sure that your tool will last you for a long time and don't mind paying a little bit for that extra security.
What We Like:
Blades ship sharp
Durable blades
Able to be resharpened
Comfortable handles with a non-slip design
Lifetime warranty
What We Don't Like:
A little pricier than other options
The Corona ClassicCut is a great option for those who prize durability, consistency, and the ability to get up close and personal with their grass.
Check Price and Reviews on Amazon
---
Best if You're Looking for a Combo
Black+Decker Cordless
Sale
BLACK+DECKER Shrub Trimmer/Grass Shear Combo, Cordless, 3.6V (GSL35)
BLACK+DECKER's electric lawn and garden equipment releases zero emissions in your yard, helping to reduce your carbon footprint with this cordless hedge trimmer
The 3.6V lithium battery of the battery powered hedge trimmer stays charged and ready for up to 18 months.
At just 1.4 pounds, the lightweight design of the trimmers for plants is great for trimming grass and shrubs or for people who put a priority on lightweight tools.
It comes with a 6 inch trimming blade for detailed pruning of ornamental bushes and shrubs and a 4 inch grass shear blade for precision trimming of grass around flower beds, walkways, and posts.
Soft grip handle provides comfort and control during use.
Last update on 2023-05-28 / Affiliate links / Images from Amazon Product Advertising API
Black+Decker's grass shears come with a set of shrub trimmers as well, so this is a good option if you're wanting to explore products that can take care of a lot of things at once. If you're looking to get a set of hedge shears as well, we've already got you covered with a review of the best.
If you go with the Black+Decker option, you'll be on the receiving end of a shipment with a handheld, cordless tool. This tool has a feature where it can swap blades, so you can go back and forth between grass shears and shrub trimmer. It is worth mentioning that the shrub trimmer you'll get is pretty small and best suited to lighter jobs.
The Black+Decker comes with a rechargeable lithium-ion battery. As with the Gardena, we reviewed above, you can expect that the battery will take several hours to charge – somewhere between 6 and 8 hours total. A full charge will get you 23 minutes of run time with the grass shears or the shrub trimmer, so this is best suited for small jobs. The battery does have an included LED light to show you how much juice is left in the tank.
One gripe is that the battery on the Black+Decker isn't removable, so once it's gone, it's gone for good. Black+Decker realizes the problem with this, so a 2-year warranty is included so you can be sure that you can use your tool for a while before it needs replacing.
This shear makes for a good budget buy if you're looking for an electric solution to your problem. Even with both attachments, it comes in at a price that your wallet will be thanking you for.
What We Like:
Comes with rechargeable battery
The LED light shows battery level
Blades can be swapped between grass shear and shrub trimmer
Good buy for budget shoppers
2-year warranty
What We Don't Like:
The battery isn't replaceable
Not a long run time
Long charge time
Black+Decker's grass shear is a good option if you're wanting more of a package deal. It comes at a price point that is affordable for budget shoppers and can get the job done well.
Check Price and Reviews on Amazon
---
Best Budget Buy
Fiskars Short Handle
Sale
Fiskars 78206935J Power-Lever Grass Shears, small, Black
Ideal for trimming a wide range of ornamental grasses
Power-Lever technology multiplies leverage to make cutting up to two times easier than single-pivot tools
Serrated blade grips and holds grass up for precise, clean cuts
Blade length: 5 inch
Full lifetime warranty
Last update on 2023-05-28 / Affiliate links / Images from Amazon Product Advertising API
Fiskars's short-handled grass shears are our recommended budget buy since they offer several great qualities, only have a few sticking points, and have a very reasonable price point.
This is another one of those options that will allow you to get down and see every detail of your grass so you can fine tune it just how you like it.
The Fiskars short handle shears come with a high-quality blade that can rotate 360 degrees relative to the handle, so any cut can be made comfortable. Fiskars coated their blades with a no-stick technology that will prevent the blades from getting caught on each other or on the blades of grass that you're trimming up. The blades are also designed to stay sharp and last a long time.
The grip is the weak point on this item. It doesn't come with any nonstick material or technology, so some buyers complain that the shears can fall out of your hands if you aren't careful. There is a thumb-lock near the grip so that the blades won't move (a useful feature for safety and storage), but some buyers mention that it can be easy to touch the thumb lock while cutting, making the blades stick
Despite a couple of drawbacks, Fiskars does want you to know that they make tools to last for the long haul: their short-handled shears come with a lifetime warranty. At their price point, these shears are our recommended budget buy.
What We Like:
Ships sharp
Blades can turn 360 degrees to make all cuts easier
No-stick technology on the blades clears out all clipped grass
Thumb lock allows for added safety and easy storage
Good budget buy
Lifetime warranty
What We Don't Like:
No non-stick technology on the grip, so these can come out of your hand
Thumb lock could have better placement
The Fiskars short handle is the best option for you if you're looking to get the most budget-conscious option available that still comes with some great features and the stability of a lifetime guarantee.
Check Price and Reviews on Amazon
---
Things to Know Before You Buy…
How to Handle Pain During Use
During our search to find the best grass shears, we noticed a lot of users had questions, concerns, and complaints about body pain – so we thought this would be a good topic for us to briefly cover.
With all of the options we've reviewed above (and all of the other grass shears in the world), you will either be squatting down, crawling, or standing while holding something in front of you as you're snipping the grass. None of these positions will ever be detrimental to your health, but they can be uncomfortable. Here are a few tips to alleviate some of those pains.
Back Pain: Back pain can come from holding a shear in front of you while standing, from squatting, or from crawling around. It's tough to conquer, but can be done with a bit of hard work and a little extra caution.
Be sure to stretch and strengthen your back when you get a chance. There are loads of back exercises on the internet and Youtube is a great resource. If you notice your back starting to ache while working in the yard, take a minute to set down your tools, walk around a minute, and do some stretches.
Make sure your posture is upright, straight, and strong. Here is some more info, if you're curious.
Avoid stooping over. This goes back to bad posture, but make sure that your back is straight and when you lift something, you are lifting from the legs and not from your back.
Here's some more info on back pain and how to alleviate it.
Knee Pain: Knee pain is often caused by too much pressure on the knees whether you are standing, squatting, or crawling and many times has a pretty simple fix. If you've been squatting or crawling, take some time every few minutes to stand up and shake things out a little bit. It will feel nice to get that pressure off.
If your knee pain is caused while standing or from arthritis that prevents full movement in the yard, the solutions can be a little bit more complex. The best way to treat arthritis is to get moving, it may help a bit for you to walk around a little, even if that's not what you want to do.
If your knee pain flares up while you're standing but you don't have arthritis, it could be due to a lot of stress being placed on your knees. Try to strengthen your calves, quadriceps, and hamstrings so the muscles can bear a bit more of your burden.
While a few simple solutions can often go a long way, we aren't medical professionals here. If your pain seems to be chronic and unending, it's best that you consult your doctor.
Frequently Asked Questions
Should I get a manual or electric grass shear?
Both manual and electric shears have their own benefits and drawbacks.
In general, manual shears are better suited for someone who wants less of a hassle. Manual shears are easier to deal with and allow you to make a more finely-tuned yard since you control every single cut. Manual shears are often less pricey than their electricity-guzzling counterparts, as well.
Despite a few drawbacks listed in the paragraph above, electrical shears have a powerful advantage: they are easy. No need to snip every blade or care about every little spindle of grass. The electric shears cut through all of it while still maintaining the ability to make your yard look how you want it.
Each has distinct advantages and disadvantages, so it's worth taking a look at the things that are most valuable to you: do you want precision, less hassle, and more affordability or would you prefer fast powerful shearing? If you want precision, low hassle, and low overall cost we recommend manual grass shears. For fast and powerful shearing, we recommend that you go with electric shears.
Best Brands
Fiskars
Fiskars was founded all the way back in 1649 (and no, that's not a typo). Fiskars started as an ironworks shop in a Finnish village of the same name. Since then, they have expanded their product line to make it easier for people to do the things they love. Fiskars is well known for its tough products that don't wear out.
Gardena
Gardena's run started back in 1961 when they worked as a garden tools trading company. Since developing their own complete Gardena solution in 1968, Gardena has worked to make gardening easier and more fun for everyone.
Corona
This Corona is a gardening company, not a beer one. They've been a gardening company since the 1920s when a school teacher developed a tool to snip oranges off of their stems instead of pulling them by hand. Corona's impact was so powerful that they still produce this very same tool today. Along with a variation of other garden equipment for you to try out, Corona wants your yard to be made just how you like it.
Black+Decker
Black+Decker has been around since 1910 and started as a small machine shop. From there, they expanded their product line to all sorts of tools from machines that make milk caps, to power screwdrivers, to drill tips used on the moon landing. They've got NASA's seal of approval, so what more can we really ask for?
Conclusion
Thanks for reading our guide on the best grass shears! When it comes down to it, the best option for you is going to be the one that suits your needs best.
First, we recommend asking yourself if you're looking for an electrical or a manual option for your grass shears. Remember that the manual ones are often less of a hassle and a tad nicer to your wallet, but aren't quite as easy to use or as fast as the electrical options.
Next, ask yourself whether you're looking to get a standing or a smelling-the-roses option. The standing ones prevent you from having to get on your hands and knees to take care of your grass but may come at a hair higher price and will prevent you from seeing every detail. The smelling-the-roses options let you take care of even the smallest blades and will save you a buck, but can be uncomfortable since you'll be squatting or crawling.
Don't forget to take a look at your available budget and remember that often, we do get what we pay for. The pricier options may hurt a bit more at first but often are made of higher quality materials that can stay sharp longer, last longer, and have a few more features to them as well.
If we had to recommend a single manual and a single electric option to you, we would recommend the Fiskars Long Handle for our manual and the Gardena Cordless for our electrical. Both of these shears come with a variety of features that can help you own your yard.