Your lawn mower's performance is driven by its blade more than anything else. If it's running with a rusty or ill-fitted blade, you'll end up having ragged grass and a lawn that looks worse than when you tried to trim it! But the best lawn mower blades are well worth your time and money. There's no need to spend time researching the best blades for your mower; we've put this comprehensive guide together to provide you with some choice examples. Let's get started!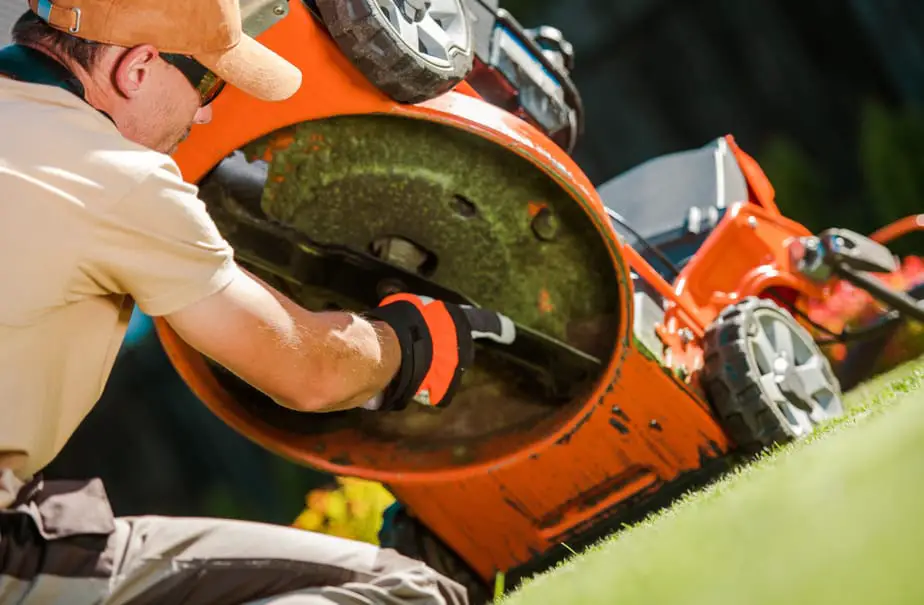 In a Hurry? Here's Our Top Picks…
1. MaxPower 331740S Mower Blade
MaxPower 331740B Blade for 22 in. Cut Craftsman, Husqvarna, Poulan Mowers, Replaces OEM no. 420463, 421825, 437601, 532437601, Black
Includes 1 mower blade for many 22 in. cut Craftsman, Husqvarna and Poulan mowers
Replaces OEM #'s 420463, 421825, 532-421825, 437601, 532420463 and 532437601.
Also fits Craftsman CMXGZAM100130
Measures: 22 in. L and 2-1/2 in. W
5 point star center hole
Last update on 2023-11-23 / Affiliate links / Images from Amazon Product Advertising API
This lawn mower blade fits a variety of mowing machines from several manufacturers, making it an excellent replacement for most commercial models. It's 22 inches long, so it's ideal for medium to large-sized lawn mowers. It also has a five-point star center hole, meaning it'll fit most modern lawn mowers without difficulty.
All in all, it's an exceptionally durable blade made of quality steel and manufactured right in the USA. This affords it supreme durability and exceptional cutting power once you've done the sharpening yourself. The blade may not be the sharpest right out of the box, but if you have a metal filer you'll be able to sharpen it to your specifications without too much trouble.
The blade also doesn't weigh too much, meaning you'll be able to use it for adjustable lawn mowers that can raise the lift level of their blades through internal mechanisms. This versatility is great for trimming your lawn at different times of the year while still retaining the ability to collect grass cut from the machine so it doesn't litter your yard.
The affordable asking price is another big bonus that makes this a great replacement blade if your current blades are starting to become dull or have broken recently. You can easily pick up a couple of these blades so you always have a replacement on hand in an emergency. Overall, it's a phenomenal lawn mower blade for most uses and should deliver quality performance no matter which machine you combine it with.
Things We Like:
Made of high-quality steel
Features a versatile mount for modern lawn mowers
Affordable asking price
Good length for most mowers
Things We Don't Like:
Has to be sharpened initially in most cases
Check Price and Reviews on Amazon
---
2. MaxPower 331737S Mulching Blade
MaxPower 331737B Mulching Blade for 21 in. Cut Craftsman, Husqvarna, Poulan Mowers Replaces OEM #'s 165833, 175052, 406712, 532175064,black
Replaces OEM numbers 165833, 175064, 189028, 406712, 176135, 159267, 008020, 175052, 406706, 406712X431, 531300765, 532 15 92-67, 532 17 50-52, 532159267, 532165833, 532175064, 532176135, 532189028, 532406712, 539111878 and PP23020
Also fits Craftsman CMXGZAM100129
Includes 1 mulching blade for many 21-in cut Craftsman, Husqvarna, and Poulan mowers
5/8-in center hole diameter
Manufactured to meet or exceed all OEM specifications
Last update on 2023-11-23 / Affiliate links / Images from Amazon Product Advertising API
As opposed to the last pick, this is a mulching blade from the same manufacturer and it's built to the same high quality we've come to expect from MaxPower. The blade is an ideal choice for mulching the grass that you've just cut and spitting it out the side of the lawn mower. It provides an instantaneous fertilizer for your soil.
It measures 21 inches long by 2 ¼ inches wide and is perfect for medium-sized machines used by most residential lawn mower owners. It's made in the USA and features a 5/8 inch center hole. Be sure to measure the mount currently used by your lawn mower before purchasing this mulching blade to make sure things will fit.
To make things better, there's an included list for all the blades or lawn mower models that it can work with included with the purchase or on the back of the main sticker. In addition to all these upsides, it's an incredibly affordable replacement blade that's even cheaper than the last pick we looked at from MaxPower.
However, this mulching blade is a dark steel color. While this doesn't affect its performance, it does make it a little more difficult to clean since locating dirt or grassy debris on the blade is more difficult, particularly in low light. Be sure to clean the blade in bright light to make sure you scour it of debris thoroughly.
But overall, we'd be hard-pressed to recommend a different affordable mulching blade for most commercial or residential lawn mower users. Pick up a pair to always have a spare on hand in case of an emergency.
Things We Like:
Very affordable mulching blade
Mulches grass effectively
Can fit a variety of lawn mower models
Center hole is well-cut
Things We Don't Like:
Dark color makes cleaning the blade difficult
Check Price and Reviews on Amazon
---
3. MaxPower 331040 Universal Replacement Mower Blade
Maxpower 331040B Universal Replacement Lawn Mower Blade, 20-Inch, Cut, Black
Includes (1) 20 in. universal replacement lawn mower blade
Measures 20 in. L and 2-1/4 in. W with a 1 in. center hole diameter
Includes a cover washer and 6 reducing washers in the following sizes: 3/8 in., 7/16 in., 9/16 in., 1/2 in., 5/8 in., and 3/16 in.
Fits MOST 20" cut mowers
Recommended for gas powered mowers - not battery powered or electric mowers
Last update on 2023-11-23 / Affiliate links / Images from Amazon Product Advertising API
For those of you that have a lawn mower of a unique make or model, or if you aren't sure if the other two blades we reviewed will fit perfectly, check out this universal replacement blade. It's designed to work with any lawn mowing machine that can take 20-inch blades with 2.25-inch width.
It does this by including six reducing washers that can alter the fit of the center cut hole, which is 1 inch in diameter by default. This is a little large for many modern washing machines but is appropriate for several older models. If the main hole doesn't fit your machine automatically, simply fit one of the included washers to its surface and you should be able to manage a fit.
The washers come in 3/8 of an inch, 7/8 of an inch, 9/16 of an inch, 5/8 of an inch, and 13/16 of an inch diameters. These should cover all of the major mount hole sizes used by most lawn mower manufacturers in the modern era. As a result, you can even switch this blade between different lawn mowing machines if you like to share blades for different sized mowers.
The blade is a dark color and comes well sharpened right out of the box, although a little sharpening when you receive it will never go unwarranted. The dark color does make cleaning the blade a little more difficult than with a silver-colored blade, but all in all, it's a versatile replacement that should make finding a new blade for your niche mower a less difficult task.
It's also quite affordable and is also made in the USA, like all of MaxPower's lawn mower products. The one downside we have to note is the looseness of the washers; you may want to make doubly sure that the blade is tightened properly before spinning it up. Especially at the beginning, the washers can shake or spin loose, causing havoc on the bottom of your lawn mower. Just be sure to tighten them well and you shouldn't have any trouble.
Things We Like:
Comes with six washers to alter its fit size
Is made of durable and long-lasting steel
Fits the vast majority of lawn mowers
Easy to swap the washers out
Things We Don't Like:
Sometimes the washers are a little loose
Check Price and Reviews on Amazon
---
4. Toro 22" Recycler Mower Replacement Blade
Sale
Last update on 2023-11-23 / Affiliate links / Images from Amazon Product Advertising API
This blade is a perfect mulching replacement that has two pairs of teeth on either end of its length. It's 22 inches long and is ideal for medium to large-sized lawn mowers. The teeth make it an exceptional mulching tool that can make short work of even thicker or tougher weeds and turn them into superb fertilizer for the rest of your yard.
The blade is made of quality and durable steel and has a dark paint finish that prevents it from corroding or accruing damage as easily as unpainted blades. This does make it a little more difficult to clean, but all in all, it's quite a long-lasting blade and it's a great choice if you don't like purchasing new replacements very often.
This blade features three mounting holes for you to choose between, so it'll fit on most modern lawn mowers without too much difficulty. Its height can also be adjusted if you have the right model of mower, so you'll be able to further customize the performance you get from this blade.
In terms of sharpness, it does a decent job of cutting through thicker or hardier grass but it should be regularly sharpened with your own metal file since the edges wear down pretty quickly. This is a bit of a downside since blade sharpening maintenance normally doesn't need to happen very often. But we're willing to give it a pass since this blade is ideally used for mulching thicker grass that puts up more of a fight anyway.
It's affordable and you get free shipping with your purchase, so pick up this mulching blade if you want something heavy-duty that can wrangle your yard into shape without much trouble.
Things We Like:
Very durable and long-lasting
Can mulch even thicker grass without issue
Is affordable and comes with free shipping
Features two pairs of teeth on either end
Things We Don't Like:
Needs to be sharpened frequently
Check Price and Reviews on Amazon
---
5. EGO Power+ AB2101 21-Inch Lawn Mower Blade
Last update on 2023-11-23 / Affiliate links / Images from Amazon Product Advertising API
This 21-inch lawn mower blade is a high lift variant designed for lawn mowers that tackle unwieldy yards and really tall grass. It's a phenomenal choice for high powered lawn mowers or larger machines that collect lots of grass into heavy-duty bags. In fact, this lawn mower blade has been designed specifically for use with lawn mowers that collect their clippings into a bag.
It uses a factory sharpened steel blade that provides excellent performance no matter what type of grass or weeds you are currently cutting. It does need to be sharpened from time to time but it normally delivers an exceptionally clean cut that can make short work of your yard's overgrowth.
For this reason, we think it's an excellent choice for heavy-duty lawn mowers or for professional mowers that have to take their machines into wild backyards frequently.
It also features a sloping arc on either of its arms. As a result, this lawn mower blade efficiently collects grass trimmings and throws them into the bag reliably. Lesser quality lawn mower blades will sometimes drop grass trimmings beneath the belly of your lawn mower, but this blade does a phenomenal job of not letting anything get away.
It features a circular mounting hole, but you can make it work with most modern lawn mowers, especially if you have some fitting washers to adjust the size of the hole. Be sure to measure your mount before purchasing, however.
The only downside is the relatively high asking price, which is a bit on the expensive side for a single blade. It's still quite a worthwhile purchase if you want something long-lasting and heavy-duty, but be aware that this is mostly designed as a primary-use blade that should work for a long time to come rather than a cheap replacement. Take good care of it to get the most bang for your buck.
Things We Like:
Very high quality steel
Sharp edges make cutting easy
Good collection edges for gathering grass trimmings
Works for most lawn mowers
Things We Don't Like:
Is a bit pricey for a single blade
Check Price and Reviews on Amazon
---
What to Look for in a Lawn Mower Blade
When choosing a lawn mower blade, focus on these major factors to make sure that you buy a blade perfect for your needs.
Mulching or Lifting?
First and foremost, consider the type of blade you're eyeing. Lawn mower blades will either lift grass away, making them perfect for residential use or for getting rid of grass quickly. Other blades may mulch, but both are distinct and suitable for different purposes.
Lifting lawn mower blades collect grass and funnel it into a bag at the back of your lawn mower for easy disposal.
Low Lift
Low lift lawn mower blades are great for trimming a typical back or front yard and are ideal for smaller lawn mowers that work with less space. They are particularly great for trimming residential grass rather than wild weeds. In addition, low lift blades don't require lots of maintenance and work well for casual use.
Low lift blades don't take as much gasoline or energy as other blades, as well, since they don't weigh as much or spin as fast.
Medium Lift
Medium lift blades are larger in size and are ideal for cutting thicker grass and some thinner variants of weeds. Because of their versatility, you can use medium-lift lawn mower blades for both commercial or residential mowing jobs.
This versatility also makes them among the easiest to find. You'll be able to find medium-lift lawn mower blades in most stores either online or in person. They are also ideal if you haven't mowed your backyard in some time but don't want to cause lots of damage to your grass or the yard's ground.
High Lift
High lift lawn mower blades are perfect for shearing through tons of grass second. They can clear away lots of grass and weeds much more quickly than other lawn mower blade types and can work for much longer since they tend to be made of more durable materials designed to withstand significant punishment.
Naturally, they do take more gasoline or electrical power to function on paper, but they may sometimes take less power overall since they can complete a mowing job in less time than the other two blade types. High lift lawn mower blades are perfect for commercial mowing purposes.
Mulching
Mulching lawn mower blades (also called "gator" blades) are useful for composting cut grass and trim it down to a fine degree. The grass is then tossed over your yard or outdoor space to act as a fertilizer. This can be advantageous if you want to use the same ground or help it grow more quickly.
Blade Length
Naturally, the length of your lawn mower blades will have a direct impact on how well they fit with your chosen lawn mower and how much grass they can cut at a time. Longer blades are better for larger machines and can quickly trim yards, but may be more difficult to use in tight quarters. Shorter blades are great for smaller lawn mowers and are more maneuverable but take more time to trim the same area.
All in all, it's a good idea to try to find replacement lawn mower blades of the same length as the blades that came with your mower's initial purchase. This ensures that the blades will fit your machine no matter what their make or model.
Mount Type
Finally, consider the type of mount that's fitted onto your lawn mower. Every lawn mower has a mount at the bottom of the machine which fits into a mounting hole, which is drilled into the center of all lawn mower blades. But some holes are designed for specific mounts.
There are two major types of mounts, although both of them are star-shaped. The major difference between the two is that one has five points and the other has six points. These carefully and make sure that your chosen blade at the right outline for your mower's mount.
Generally speaking, newer lawn mowers have mounts with five points and older lawn mowers have six points.
Best Lawn Mower Blade Brands
This company began over 50 years ago and has since grown to provide high quality and precision parts for a variety of machines and home maintenance tools.
This American manufacturer is one of the best in the business when it comes to providing quality maintenance equipment and home owner supplies.
EGO is in the business of toolmaking, ranging from lawn mowers to drills to leaf blowers. Their commitment to wireless products makes them stand out from the pack.
FAQs
Q: When Should You Change Your Lawn mower Blade?
A: This depends on the quality of your yard after you've mowed it. Lawns that look ragged or harsh even though you just run your lawn mower across the surface might be showing the signs of a subpar lawn mower blade. Lawn mower blades that aren't sharp enough to do the job need to be replaced.
But the timeframe for this effect can vary from blade to blade and depends on how often you mow your lawn. Generally, most lawn mower blades last for a number of months or years before needing to be replaced. This number will go up or down depending on mowing frequency.
Q: Can You Sharpen a Lawn mower Blade?
A: Of course! If you don't want to purchase a new blade since your current one is still mostly good condition, tilt your lawn mower over and remove the spark plug to ensure that you don't injure yourself. Remove your lawn mower blade using a socket wrench and wear gloves throughout this process to prevent you from cutting yourself.
Sharpening the blades requires that you clamp it in a vise since this will keep the blade steady as you do the sharpening. Take a metal file and run it along the edge of the blade from the inside to the outside. The cutting edge should look shiny and clean when you've done this properly. Make sure to follow the angle of the blade as you perform this task.
Reinstall the blade once you're finished and give it a whirl. Lawn mower blades don't need to be sharpened by a professional; just do the job yourself and save some cash!
Q: How to Clean a Lawn mower Blade?
A: Once again, remove your lawn mower blade carefully and use a garden hose to get rid of grass or dirt and debris. Higher pressure hoses are ideal as you clean off more dirt with less effort.
To go even further, soak a rag in vegetable oil and wipe the blade down on both sides. This will prevent the blade from degrading quickly over time and will keep it running smoothly for longer. It'll also prevent it from accruing as much dirt initially, though this, of course, will eventually wear off and need to be replaced.
Cleaning should happen regularly. Remember, a lawn mower is a tool; take good care of it and it'll take good care of your yard.
Conclusion
In terms of all-around useful blades, the MaxPower 331740S Mower Blade is a great choice for most modern lawn mowers and should work for residential or light commercial needs alike. Alternatively, you may appreciate the Toro 22" Recycler Mower Replacement Blade if you want a mulching blade that can effectively assist you in fertilizing your yard even as you trim it down to size.
Whichever lawn mower blade you choose, we hope this guide has been helpful and wish you luck on your next trim!