When springtime rolls around, it's usually time to aerate your lawn and make sure that its deeper layers can receive all the moisture and nitrogen necessary to nourish your plants for the following year. But manually aerating your lawn can be a painstaking task without the right tools. Why waste time with a subpar tool when you can check out the best manual lawn aerators in our comprehensive guide? We performed extensive research on each of these aerators so you know that each one is worth your time and money. All you have to decide is which aerator will work best for your yard and needs, and we can help with that, too!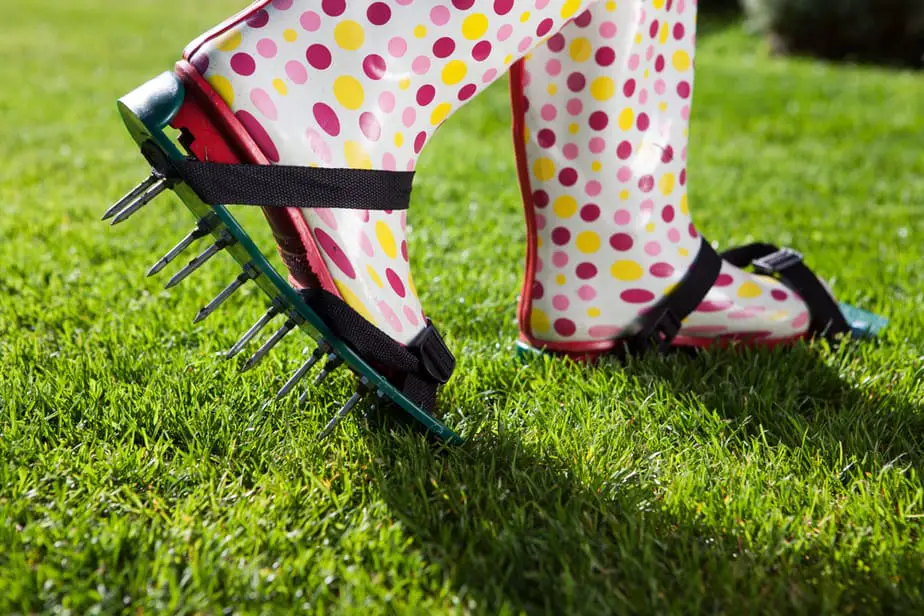 In a Hurry? Here's Our Top Picks…
Abco Tech Lawn Aerator Shoes - for Aerating Lawn Soil - 3 Adjustable Straps and Heavy Duty Metal Buckles - One Size Fits All - Aerator Lawn Tool for Gardening, Lawn Care | Aeration Shoes for Lawn
PROFESSIONAL-GRADE AERATION - Wear our Abco sport lawn aerator spike shoes and walk around to cover the entire length of your garden for a way greener, healthier, and more beautiful lawn and grass. Even better- wear them while mowing your lawn so that you accomplish two important tasks simultaneously!
INEXPENSIVE & FUN ALTERNATIVE - These lawn aerator shoes offer a superior alternative over professional gardening services which might cost you fortunes on lawn care and maintenance. However, these shoes are a one-time investment that's going to help you with several hundred cycles of yard aeration and, if maintained well, even for a lifetime.
SUPERIOR BUILD - Our aerators are made up of a sturdy plastic base with good heel support, 13 heavy-duty metal 48-mm spikes on each sandal, and 3 adjustable straps with strong buckles, designed to be highly anti-corrosive and durable. The shoes stay firmly on your feet, and the sharp nails make it easy to dig the soil and an effective core aerator.
EASY TO INSTALL & USE – Abcosport lawn aerator tool for gardening also come with a FREE small wrench to make the installation extremely easy. Once installed, the lawn aeration shoes can be strapped over any of your strong shoes, making you ready even for the most difficult-to-reach areas of your lawn.
SATISFACTION GUARANTEED - Abco aerator lawn tool shoes come with a 100% risk-free satisfaction guarantee to let you buy with confidence; no questions asked. However, we are quite sure that you will find these spike aerator shoes sturdy and functionally effective as you watch your lawn get greener.
Last update on 2023-11-13 / Affiliate links / Images from Amazon Product Advertising API
These manual lawn aerator shoes are a perfect choice for homeowners that don't want to spend lots of time hungering over a tall tool just to aerate their lawn. You simply fit these sandals beneath your boots or shoes and use the three adjustable straps and heavy-duty buckles to fit them into place.
Once properly fitted, the shoes can be used to aerate your lawn by stomping along whichever path you desire. Each shoe has 13 48 mm spikes, meaning that they can cover lots of ground with each step in properly aerate chunks of soil relatively quickly.
The spikes don't penetrate particularly deeply compared to handheld manual lawn aerators, but they do a decent enough job for ensuring that the soil will be nourishing for grass in the coming year. The spikes are made of heavy-duty metal, so they'll last for a long time and shouldn't have any difficulty penetrating soil that most lawns have.
The shoes are easy to install and come with a free wrench to make setting up the spikes and easy affair. They're also quite affordable, so even homeowners on a budget can take advantage of their benefits. To make things even better, the shoes come with a 100% risk-free satisfaction guarantee. The manufacturer will replace the shoes if you aren't satisfied with their performance.
Overall, the only downside we could see was the potential for accidentally over aerating your lawn. Be careful when stepping along whichever path you have planned out. Stepping too close to groups of holes can cause your soil to crumble in on itself and make it difficult for grass to properly root when it grows.
Things We Like:
Very affordable for all homeowners
Spikes are well-positioned relative to each other
Shoes are easy to install
Fit all shoe types with ease
Things We Don't Like:
Spikes can easily over-aerate if you step side by side
Check Price and Reviews on Amazon
---
2. Yard Butler M-7C Lawn Spike Aerator
No products found.
This manual lawn aerator is 36 inches tall and features a pair of cushioned grips to make using the aerator over a long period of time more comfortable for the operator. It utilizes four hardened spikes positioned in a single horizontal line to loosen your soil and allow for deeper watering and better nutrient spreading throughout.
All of the spikes are 3 inches long, which is a standard penetration depth for tools of this type. The spikes are also fairly wide. This can assist with growth across your lawn since the roots of various plants will be separated and will steal water or nutrients from one another.
This aerator also features a foot pedal to make using the tool easier on the user and to make it possible to plunge the spikes deep into durable terrain. The foot spike is fairly wide and is perfect for use with outdoor working boots.
To make things even better, this aerator comes with a lifetime warranty. If it ever breaks under duress or if it begins to rust prematurely you can get it replaced from the manufacturer. This is great value for money, especially when combined with the affordable asking price and free shipping that comes with the purchase.
The only downside to this tool is the spacing of the spikes. Since they are so close together, you run the risk of accidentally destabilizing your soil and making it difficult for new plants to take root. We'd recommend that you space your aeration points carefully to avoid this issue across your yard.
Things We Like:
Excellent construction
Food pad is nice
Comfortable to use
Comes with a lifetime warranty
Things We Don't Like:
Spikes are positioned a bit too close together
Check Price and Reviews on Amazon
---
3. Xmifer Aerator Shoes
Xmifer Aerator Shoes, Lawn Aerator Shoes with 26 Spikes and 4 Adjustable Straps Heavy Duty lawn aerator spike shoes Withstand Up to 400LB Ready for aerating Your Yard, Lawn, Roots & Grass
The Cheapest, Efficient Solution - Xmifer Aerator shoes are much cheaper than buying or rent a expensive lawn aerator and much easier than using a hand lawn aerator. It's easy and fast to poke through the deep soil, helps grass to absorb water, nutrients and air
Durable Spiked Sandals - Xmifer Aerator shoes are made of durable zinc alloy metal buckles, Polypropylene and HDPE base to ensure you are safe while using
Work in Any Soil - Each aerator sandal consists of thirteen 45-mm spikes arranged in a dense pattern for aerating the soil with efficient and perfect for any soil such as dirt, sand and clay.
One Size Fit All - Xmifer lawn aerator spike shoes are suitable for all kind of shoes of men, women. 8 adjustable straps will secure tightly the lawn aerating shoes to your boots with double layers straps
Easy and Fast Assemble - Xmifer spike aerator shoes require minimal assembly. You can use the included wrench to tighten the nuts that hold the spikes on the shoes. 
Last update on 2023-11-13 / Affiliate links / Images from Amazon Product Advertising API
This pair of manual lawn aerator shoes are a perfect choice for homeowners with small yards that don't mind stomping around their lawn to properly aerate it. The shoes feature 26 spikes between them both, making 13 spikes per shoe. This affords each boot plenty of coverage with each step without making your lawn too aerated overall.
The shoes are easy to use for most feet due to the four adjustable straps per boot. They allow for secure fitting on all men or women or you can loosen the straps if your feet are a little too large for their universal size. The shoes also require minimal assembly, as the aerating pads are basically strapped to the bottoms of the boots using the included wrench and nuts that come with the purchase. These hold the spikes in place, as well.
Each spike is 45 mm deep, so they don't go very far into the soil and are ideal for yards that won't be planting many larger plants. They are perfect for grassy lawns, however, since grass doesn't require very long roots and aeration at this kind of shallow depth will work perfectly for that species.
The shoes are made with durable zinc alloy buckles, as well, ensuring their durability and ability to be used for multiple seasons in a row. Since the shoes are already quite affordable, especially compared to other manual lawn aerator tools, this is a phenomenal purchase for homeowners that will be aerating their yards for a long time to come.
Things We Like:
Very easy to fit, no matter shoe size
Durable buckles insurers long-lasting results
Spikes are well spread out on each shoe
Very affordable overall
Things We Don't Like:

Spikes don't go very deep
Check Price and Reviews on Amazon
---
4. G-BAR Loose Soil Garden Aerator Sandals
Last update on 2023-11-13 / Affiliate links / Images from Amazon Product Advertising API
These lawn aerator sandals are a perfect lightweight choice for lawns that don't need very deep penetration of the soil. The shoes offer a large contact area since they have 26 2.2 inch nails across the two of them. This provides your lawn with plenty of variation coverage with every step you make.
The nails beneath both shoes are rather thin, however. This does work out for the best given how tightly packed together they are, as it lessens the chance of soil decompression or infrastructural failure. This means that the roots of the grass in your lawn shouldn't have too much trouble maintaining their stability even if they grow closely around the aeration holes.
The tips of the spikes are very fragile. Take care when using the shoes, as even a little extra pressure can bend the nails out of proper position. This will require you to take extra time to repair the shoes before you can use them properly again.
As you might expect, the shoes are not an ideal choice for yards that have lots of rocks or really hard soil. The nails are simply too fragile to be relied upon in this circumstance. But we think these are a great pick if you have a lawn with soft soil that just needs a little help aerating itself for the coming growing season.
The shoes use three buckles with durable metal clips that can be easily adjusted to fit over any size of shoe or boot. The green sandals themselves are made of durable plastic that should last for some time to come, although they're not as durable as full metal sandals.
Things We Like:
Spike spread is perfect
Nails are deep enough for decent aeration
Shoes are easily adjustable
Affordable asking price
Things We Don't Like:
Nails are a bit too fragile for harder soil
Check Price and Reviews on Amazon
---
5. Best Choice Products 18-Inch Rolling Lawn Aerator
Last update on 2023-11-13 / Affiliate links / Images from Amazon Product Advertising API
This is a manual lawn aerator that is a little easier to use than other standing tools. It features a rolling design where all of its spikes are positioned along a rotating cylinder stretched between both wheels of the device. You simply hold of the tool from its tall handle and push it forward across your yard as if it were a broom.
This unique design allows you to cover lots of territory in quick succession. It features a 50-inch handle that offers lots of space for shorter and taller individuals alike to comfortably aerate your yard without discomfort. The wheels are made of steel and plastic to promote durability and easy motion across bumpy yards.
Meanwhile, the spikes are made of heavy-duty steel and drive about 2 inches into the ground. This is a perfect depth for grass and other small shrubs, although it's not quite deep enough to promote good soil health for some other species of plants. Still, most homeowners will find this tool's ease-of-use to be particularly valuable, especially for routine aeration that has to happen each year.
The handle is a dark green color like many rakes, and it features an ergonomic tip to make gripping it and thrusting it away from your body easier than you might think. The wheels and the spikes cylinder are robust enough that you shouldn't have trouble driving the spikes into the ground even if the soil is a little tougher than you remember.
It's affordable and you get free shipping for your purchase. The only downside is that you don't have much of an opportunity to bring your own muscle power to bear to drive the spikes into the ground. As a result, this tool can be difficult to use effectively with soil types that are hardier than usual. We wouldn't recommend it for lawns that have lots of clay or stones.
Things We Like:
Long-handled for comfortable use
Easy to roll it across your lawn quickly
Wheels and spikes are fairly durable
Can move across terrain rapidly
Things We Don't Like:
Can't drive it into harder ground easily
Check Price and Reviews on Amazon
---
What to Look for in a Manual Lawn Aerator
Before you fully decide on a manual lawn aerator, consider these factors to ensure that you pick something that's perfect for your yard.
Spike or Core?
First off, consider whether a chosen manual aerator uses spikes or core aerators. Spike aerators are simple and punch holes in your soil in order to create space for aeration. Core aerators, sometimes called plug aerators, remove a little bit of soil when they retract from the ground. This leaves even more room for aeration.
Both types of aerators are ideal for different lawns. For instance, spike aerators are ideal for light soil that doesn't need lots of extra space already. In fact, some light soil would suffer from having too much space removed by core aerators.
But core aerators can be helpful for tightly compacted soil, and especially yards that have lots of clay. Compacting clay even further can have negative effects on your lawn's nutritional spread, so plug aerators are a clear choice.
How Deep Do the Spikes Go?
Obviously, the depth of the aerators matters a great deal. Be sure to pick a manual lawn aerator that has spikes long enough to penetrate as deep as you require for your soil. Typical manual lawn aerators have spikes that are about 3 inches long, which is suitable for most lawns.
Depending on which plants you plan to place in your yard, however, you may wish for longer or shorter spikes accordingly. Check the ideal planting and nutritional depths for your plants in question and choose spike lengths based on this number.
Spike Width
Also, consider how wide the spikes of your chosen aerator are. Spike width can translate into greater nutritional spreading for your yard with each plunge or step. In most cases, thinner spikes aren't worth as much since they don't make as much space in your soil as wider ones.
Material
Many manual lawn aerators will be made of either plastic or stainless steel. Of the two, plastic is more affordable and is ideal for short term aerators that aren't meant to last for a long time.
Stainless steel aerators or aerators made of a similar metal are usually much better bang for your buck. They last a lot longer and can aerate your lawn for many seasons. Stainless steel doesn't take corrosive damage and is fairly durable without being too heavy.
Still, plastic aerators are even lighter and maybe a suitable choice for handheld aerators that you have to operate manually. Try to find stainless steel manual aerators to mix durability and ease-of-use.
Handheld or Boots
Manual lawn aerators come in either a handheld or boot types. Handheld aerators can be pushed in front of you, pulled behind you, or stabbed into your lawn like a bike. These allow for precise aeration and can be ideal if you only want to aerate a particular section of your yard.
Boot aerators are really handy in terms of ease-of-use and retaining your energy. Simply walking around your yard, aerating as you go, takes less energy than handling a stick-shaped aerator the whole time.
Neither is better than the other, but you may prefer one over the other based on your experience or energy levels.
Best Manual Lawn Aerator Brands
When it comes to hard-core lawn and home maintenance tools, Yard Butler has you covered. They produce exceptional gardening tools and lawn gear for over 60 years and offer a wide variety of appliances and specialty tools to make your yard work easier.
Abco tech creates gear and equipment for a variety of purposes, ranging from home maintenance to camping. Whatever you purchase from them, you can rest assured that it's made with a high standard of quality and likely contains a warranty.
This home and yard product manufacturer is known for its easy-to-use products. They design things that men and women of all ages can use and enjoy.
FAQs
What is Aeration?
Put simply, aeration creates space in your soil to prevent it from becoming too compact or pressed together. Soil that is too squished together doesn't allow water for nitrogen from the air to penetrate into its deeper sectors. This is critical for allowing healthy soil to flourish and become a good incubator for plants or grass.
To properly grow, all plants must be able to reach water and nutrients deep within the soil in which they are planted. Lawn aerators force water and air deeper into the soil by creating small puncture holes in the soil up to a specific depth, usually about 3 inches.
This also helps to spread certain nutrients through soil that would otherwise be trapped at the top layer or which wouldn't spread to the lower reaches.
Aeration can be accomplished through either electric or manual aerators, though electric aerators cost more money and may not be efficient for smaller yards or lawns.
What Types of Lawns Need Aeration?
Not all lawns need to be aerated, but any lawn that has exceptionally compacted soil is a valid candidate. In addition, lawns with compacted soil which you want to use to grow grass or flowers should be aerated to ensure proper nutrient spreading throughout the soil.
In addition, lawns that are frequently waterlogged during the rainy seasons of the year should be aerated as soon as possible. This keeps the water sinking into the ground deeper than the topsoil layers and will help to nourish the entire yard. It also makes your lawn look a lot better than having huge puddles everywhere each time it rains.
You can also aerate your lawn to make your grass or plants look more attractive if you are preparing to sell your home or property. A green, lush lawn is much more appealing than a dirty, waterlogged, or grassless one.
On the other hand, if your lawn is made up of loose soil or doesn't have a lot of clay, aeration may not be necessary. In fact, aerating an overly loose lawn could cause structural instability in the soil and make it difficult for plants or grass to properly take root.
How Often Should I Aerate My Lawn?
Your lawn aeration rate depends on how frequently you plant new grass or plants. Frequent lawn users, or those who like to switch up different plants throughout the year, should aerate their lawns about twice a year to ensure proper nutrient spreading and water sinking. However, other lawns are probably fine with yearly aeration in the springtime, before the growing season truly begins.
Of course, consider your unique lawn and go with what feels best for your needs. Aeration shouldn't be overdone, but the rate of aeration is ultimately up to you.
Conclusion
Aerating your lawn with a manual tool can be a tiring task, but only if you don't have the right manual aerator to help you along. The Xmifer Aerator Shoes are among the best of the best if you prefer to tackle your aerating tasks with nails beneath your shoes. They're a great choice for homeowners that have lawns primarily dedicated to growing lush, green grass.
But the Yard Butler M-7C Lawn Spike Aerator is a phenomenal choice if you want a taller manual aerator that can remove lots of soil with each plunge and handle topper soil varieties without trouble.
Whichever tool you pick, remember to consider the kinds of plants you grow in your new lawn and you're sure to purchase a great aerator to last. Thanks for reading!