Whether you're trying to beautify an ugly lawn or just maintain your existing lawn, an effective aeration routine is essential for keeping your grass well-fed, well-oxygenated, and properly fertilized. Aeration works by loosening the soil, which allows air, moisture, and fertilizer to more easily penetrate down to the roots of your grass. But if you're going to do this effectively, you need the right tools, which is why we searched far and wide for the best lawn aerator machine available. Whether you're looking for a towed machine, a powered machine, or wearable aerator spikes, we've got you covered. Let's dig in!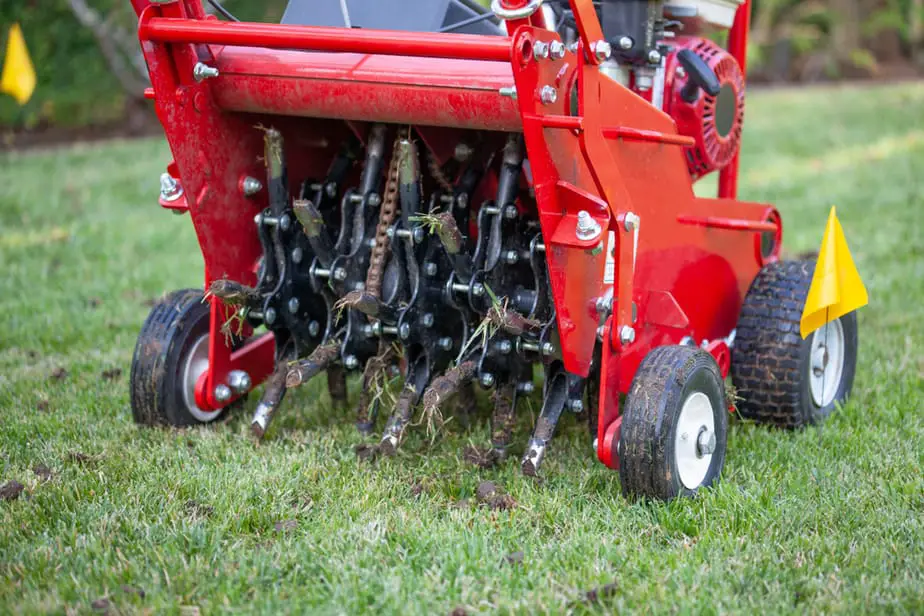 In a Hurry? Here's Our Top Picks…
1. Agri-Fab 45-0299 48-Inch Tow Plug Aerator
Sale
Agri-Fab 45-0299 48-Inch Tow Plug Aerator,Orange & Black,Large
32 galvanized knives to penetrate the soil easily.
Pulls plugs up to 3 inches deep for thicker and healthier lawn.
Flat free tires for smooth transport.
Simple-to-use cantilever transport handle for easy raising and lowering.
3 Year Limited Consumer Warranty; Made in the USA with some imported materials
Last update on 2023-09-27 / Affiliate links / Images from Amazon Product Advertising API
The Agri-Fab 45-0299 is a tow-behind aerator that's designed to connect to your lawn tractor or riding mower. It measures 48 inches in width, so it can easily aerate wide strips of your lawn, obliterating even the biggest backyards in no time at all. It utilizes a set of 32 blades, which pull up 3-inch plugs of soil.
The construction is very heavy duty. A large weight tray on top is designed to support up to 175 pounds of ballast. This allows you to adjust for different types of soil. In dense, clay-packed soil, you may want to run the aerator with several sandbags piled on top. In softer soil, you'll want less weight, and possibly none at all.
The Agri-Fab is manufactured in the USA, and all the parts are well-machined. However, you should be aware that it requires some assembly, so make sure you have a pair of adjustable wrenches or a socket set handy. The more serious concern is the large, 4-foot, 6-inch total width. It's going to take up a lot of floor space, so make sure you have a place to store it before you pull the trigger.
The aerator blades themselves are exceptionally sharp. This makes it easy for them to penetrate the ground, but you'll want to wear a pair of leather gloves while you're installing and cleaning them. They're constructed from galvanized steel, which is impervious to rust and won't wear out easily from use.
Pros:
Rugged construction
Extra-wide design
Three-year manufacturer's warranty
Cons:
Check Price and Reviews on Amazon
---
2. Yard Butler ID-6C Lawn Coring Aerator
Sale
Yard Butler ID-6C Manual Lawn Coring Aerator - Grass Dethatching Turf Plug Core Aeration Tool - Grass Aerators for Small Yards - Loosen Compacted Soil - Gardening Hand Tools - Gray, 37 Inches
LAWN DETHATCHER: The Yard Butler Lawn Coring Aerator revitalizes old lawns while using less water and fertilizer. By removing two 3-1/2 inch cores, the Lawn Coring Aerator reduces compaction and dethatches your lawn while letting air, water and fertilizer get down to the roots of your yard.
DURABLE: The Yard Butler lawn aerator tool was built to last with durable steel construction. The powder-coated steel is heavy-duty and rust-resistant. Cushioned handles provide additional grip. Yard Butler Pro Tools are designed to last a lifetime.
PRODUCE STRONG & HEALTHY ROOT SYSTEM: It is a high-performance tool that will make a big difference in the vital health and survival of grass. It promotes vigorous root growth, reduces water runoff, strengthens tolerance to drought and heat stress, and helps avoid using excess grass supplements or fertilizers.
EASY TO USE: Our 37-inch yard aerator lets you tend to your lawn without back strain. The foot bar provides extra leverage for quick and comfortable push so you can aerate your whole yard efficiently and easily. This type of lawn aerator works best when you pre soak the lawn before using it if you have hard, dry soil.
LIFETIME GUARANTEE: Stop buying plastic or cheap metal products that don't hold up over the years. Yard Butler products are designed to last a lifetime and if you have a problem with our tools we make it right.
Last update on 2023-09-26 / Affiliate links / Images from Amazon Product Advertising API
The Yard Butler ID-6C is a unusual creature, because it's a stand-up manual aerator that also removes cores. This isn't completely unheard-of, but it's hard to do well. Part of the problem is that a core aerator requires more effort to operate than a simple spiked aerator, and without any machinery or added weight it can be difficult to press into the ground.
The Yard Butler alleviates this problem with a saddle-style design. The two core blades are located on either side of a flat bar where you can press down with your foot. There's also a 36-inch handle with plenty of padding for your hands, but that's really just for setting the aerator in place. The bulk of the work should be done with your legs and shifting your weight.
The core blades remove up to 3 ½-inch plugs with a ½-inch diameter. The tops of the blades are open as well as the bottom, so you don't need to worry about removing the dirt plugs manually as you go. Instead, each time you press down, the new plugs will dislodge the old plugs from the top openings. Sometimes, if the soil is too dry, the old plugs may fail to dislodge, so make sure the soil is moist before you aerate.
The obvious downside to the Yard Butler is that it's very small, and removing 2 dirt plugs at a time is not a very efficient way of aerating your lawn. That said, it's a useful tool if your lawn is only a narrow strip, or if you have small, isolated patches of grass that also need to be aerated.
Pros:
Quality construction
No assembly required
Lifetime manufacturer's warranty
Affordable
Cons:
Requires a lot of effort
Not very efficient
Check Price and Reviews on Amazon
---
3. Abco Tech Aerator Shoes
No products found.
Abco Tech Aerator Shoes are another great option for aerating small patches of grass. They're designed to be worn over a pair of boots, and fasten to the bottom of your foot with three adjustable straps. The straps are stitched from tight-woven nylon, with sturdy steel buckles that are easy to adjust but won't let go easily.
The "shoes" themselves are really just tough PVC plates with a textured finish and a back plate for your heels. On the bottom of each shoe, a set of thirteen 2-inch steel spikes are pointed directly downwards to penetrate into the soil. These spikes need to be installed upon arrival, but assembly is easy. Just insert each spike through one of the molded holes in the bottom of the shoe, and screw the mounting nut onto the bottom. The upside of this design is that you need to replace one or two spikes, you don't need to replace the entire shoe.
The Abco Tech shoes provide an element of fun to what can otherwise be a mindless chore. And as a side benefit, they make it almost impossible to slip or trip while you're aerating. But realistically, you're not going to aerate an entire suburban lawn with a pair of these shoes. They're still good for spot treatment, though. And the spikes are of excellent quality, forged from corrosion-resistant steel that won't rust or wear down quickly.
Pros:
Great for small patches
Sturdy design
Inexpensive
Cons:
Check Price and Reviews on Amazon
---
4. Brinly SA-40BH
Brinly SA-40BH Tow Behind Spike Aerator, 40"
Please Note: Amazon is the only Authorized Seller of this Brinly product on Amazon, all other marketplace sellers are unauthorized. Purchases from unauthorized marketplace sellers may not be covered by Brinly's product warranty.
Last update on 2023-09-27 / Affiliate links / Images from Amazon Product Advertising API
The Brinly SA-40BH is a towable aerator that's designed to be as maneuverable as possible. Instead of core removal blades, it features a set of 10 star-shaped blades that all move independently. Because the blades aren't locked to the axle, they're able to turn at different speeds to easily maneuver through tight turns. If you've got a mid-sized yard but want the convenience of a towable aerator, the Brinly is an excellent choice.
However, some of the design decisions Brinly made to maximize the aerator's maneuverability have also made it slightly less effective than some other tow-behind aerators. To begin with, it has a 40-inch width, not 48, which helps it turn more tightly and clear more gates, but which can slow you down if you're aerating in long rows. More importantly, because the stars aren't locked to the axle, they can potentially drag if the ground is hard, failing to penetrate.
The Brinly has a galvanized steel weight tray, which is designed to support 110 pounds. We would have liked to see more capacity, but that much weight should be sufficient in most cases. If you find that you're going to need more than 110 pounds, it would be worth considering watering your lawn before you aerate. That said, the Brinly is not ideal for dense or clay-rich soil.
When used in the right circumstances, the star blades on the Brinley will penetrate as far as 2 inches. Many manufacturers advertise deeper depths, but in practice this just isn't necessary. 2 inches is plenty for maintaining residential grass species.
Pros:
Easy to maneuver
Corrosion-resistant tines
2-year manufacturer's warranty
Affordable
Cons:
Relatively flimsy construction
Check Price and Reviews on Amazon
---
5. Ohio Steel 48CP
Last update on 2023-09-27 / Affiliate links / Images from Amazon Product Advertising API
As its name implies, Ohio Steel's 48-inch lawn aerator is manufactured in the United States. Its frame is constructed from tough 11-gauge steel that's powder-coated to resist rust and abrasion. And a fat, ¾-inch axle adds additional durability to a frame that's already designed to stand up to heavy-duty use.
The tires on this aerator are pneumatic, which means you'll probably need to top them off before you use the machine in the spring. However, they deliver a very smooth towing experience. The bottom of the frame also has a spring-assisted design, so it can float a bit as you go over any rough patches or traverse any roots. This actually helps ensure consistent penetration, since your aerator won't suddenly slam into place.
If you should happen to strike a root or a rock with the 48CP's tines, you won't need to worry about serious damage. They're constructed from heavy duty steel, and the 40 core blades will continue to cut to 2 ½ inches of depth for years on end.
One thing that we did notice is that the packaging isn't very well cushioned. Given how reliably package handlers throw boxes around, it's easy to receive an aerator where the powder coated finish has been chipped during shipping. Inspect yours carefully upon arrival.
Other than that small complaint, there's a lot to love about the 48CP. Not only is it extremely sturdy, but the weight tray can support 200 pounds, making it an ideal choice for dense soil.
Pros:
Smooth-operating pneumatic tires
Heavy-duty frame and axle
Large weight capacity
Cons:
Poor packing leads to chipped paint
Check Price and Reviews on Amazon
---
Lawn Aerator Buying Guide
So, you've seen our recommendations. But which lawn aerator is the best for you and your lawn? Here, we've put together a little more information, so you can have a better idea of what to look for in your aerator.
Different Aerator Types
The most important thing to understand is that not all lawn aerators have the same design. As a matter of fact, they oftentimes look nothing alike. There are four main varieties.
Walk-behind aerators
These aerators generally need to be pushed, although some newer models are motorized and self-driven. We haven't listed any of this type of aerator, since the cheapest powered walk-behind aerators run in the thousands of dollars. And as for unpowered walk-behind aerators, we wouldn't consider any of them the "best". They're too much work, and there are better options out there that are differently designed. If you really want a walk-behind aerator, your best bet is simply to rent one for the day.
Tow-behind aerators
For aerating a large lawn as quickly as possible, a tow-behind aerator is the way to go. Provided you own a lawn tractor or a riding mower with a tow hitch, you can easily tow one of these units around your lawn, and you'll get the job done much faster than any other method. Some tow-behind aerators are upwards of 3 feet in width, so you can cover a wide swath of lawn in a single pass. The downside of a tow-behind aerator is that they're fairly large, and you need to have somewhere to store them when they're not in use.
Stand-up aerators
Stand-up aerators, sometimes called long-handled aerators, are essentially modified pitchforks that are designed to be driven straight down into the lawn. Most varieties have a cutout below the tines with a foot bar, so you can press down more easily if you're working in tough soil. This is important, since you'll need to press down all the way in order to get the full benefit of aeration.
Overshoe aerators
Overshoe aerators are strapped to your feet, similar to crampons. Except instead of walking on ice, they're designed with long vertical spikes that punch holes in your lawn. These aerators require you to walk over every inch of your lawn, which can get tiring if you own a large property. However, they're a great choice for small yards, as they don't require you to own a tractor.
Different Types of Tines
Another decision you'll need to make is what type of tines your aerator uses. For many types of aerators, such as overshoe aerators, you'll be limited to straight tines. These work by simply punching holes in your lawn, so the soil will be loosened up.
However, some larger aerators utilize plug-style tines. Rather than simply punching holes in your lawn, these machines remove little round cores of soil, which is even more effective than punching holes. This is because when you punch holes, you create channels for water and fertilizer, but you don't actually remove any soil, so it's mostly still compact. By removing cores, you're taking some of the earth out and tossing it on top. When the rest of the soil spreads out to fill the gap, it will all be looser, so water and fertilizer can be distributed more evenly.
This style of aerator is also tougher to clean, since the plug-style tines often end up getting clogged with dirt. So instead of spending one minute cleaning a set of spiked tines, you'll find yourself spending five or ten minutes hosing out the tines.
Different Lawn Sizes
Another important thing to consider is how big your actual lawn is. For example, if you're aerating a large, 10-acre plot, you need a tow-behind aerator. Any other variety just isn't going to get the job done quickly enough to be worth your while. This will also require a tractor or riding mower, although you probably own one of those things already if your property is that large.
Conversely, a large aerator can be a poor choice if you've got a small lawn. It can make tight corners difficult to navigate, and you'll end up needing another variety of aerator to come along afterwards and clean up around trees, sidewalks, and flower beds. This can actually be more work than just using a small aerator to begin with. Not to mention, if you have a small lot, where are you going to keep some giant, tow-behind aerator?
Quality and Durability
Before you buy, keep in mind that just because two lawn aerators have the same features doesn't mean they're equivalent. For example, two aerators might both be 24 inches in width, but one might have stainless steel tines while the other one uses aluminum tines. One may have plastic wheels, while another has heavier-duty aluminum wheels. This makes a big difference when it comes to pricing.
In addition, some models have replaceable parts. The difference in cost between replacing a single broken tine and needing to replace the entire assembly is significant. Replaceable, air-filled tires are also a plus, since you can often pick up a replacement at your local home and garden store.
Finally, you'll also want to look at how long the warranty period is, and what it covers. An aerator that's truly worth buying will come with a comprehensive warranty.
Lawn Aerator Ergonomics
The final consideration you'll need to think about is ergonomics. This isn't a concern for a tow-behind aerator, but for a handheld aerator it's key. Look at the quality of the finish and the angle of the handles. If they're padded, that's a huge plus, since you'll need to be absorbing a lot of shock as you work your way across your lawn.
Best Lawn Aerator Brands
To help you make a better decision, here's a little more information on the companies who manufactured these aerators. By knowing more about their background, you'll know more about their quality and reliability.
FAQ
Now that we've come this far, it's time to address a few lingering concerns. Here are some of the most commonly asked lawn aerator questions.
Q: How Does a Lawn Aerator Work?
A: We've already touched on this, but the purpose of a lawn aerator is to give your grass' roots better access to water and other nutrients. Over time, particularly with foot traffic, your lawn can get compacted, which can lead to sparse or unhealthy grass. By punching holes in the ground, an aerator gives water and fertilizer an easy path to penetrate the ground.
Q: How Often Should I Aerate My Lawn?
A: At a bare minimum, you should aerate at least once a year, preferably in the spring. Do this right before you spread your spring fertilizer, and you'll notice a significant increase in growth. If you want even more growth, or if your soil is particularly dense, the second aeration in autumn is a good idea. Once again, make sure to fertilize after you've aerated. For more information on when to aerate, read Scotts' handy aerating guide.
Q: How Should I Prep My Lawn For Aeration?
A: As with any process, preparation is key. The first thing you'll need to do is cut your lawn, preferably on your mower's lowest setting. If you do this the day before you aerate, you'll end up with fewer pieces of grass caught in your aerator tines.
You'll also need to wait for the right weather conditions. This is because different soil conditions will affect your aerator's performance. If the soil is too dry, it will be much harder for the tines to penetrate. And if you're using a manual aerator, this will mean putting significantly more exertion into your job. Conversely, if the soil is saturated, any holes you create will quickly become filled with mud.
Ideally, you should aerate when the soil is moist, but not totally saturated. If it's soft to the touch but not wet, it's just about perfect. Aerating at the peak of the growing season is also important. In most of the US, this means the early spring and the late fall, but this will vary depending on your local weather conditions and the variety of grass on your lawn.
Q: How Deep Do I Need to Go?
A: The ideal aeration depth will depend on your aerator's design and manufacture. In general, anywhere from 1 to 2 inches is deep enough, since that's the depth where grassroots grow. Anything beyond 2 inches is generally overkill since there's nothing beyond that depth to fertilize.
Some stand-up aerators will advertise depths as deep as 6 inches. This makes them useful for light lifting and turning tasks, like turning over a compost heap. However, they're not really designed for that, and you're liable to damage them if you use them as a pitchfork. Once again, 2 inches is more than enough.
Wrap Up
If you're judging the best lawn aerator machine on build quality alone, it's hard to argue against the Ohio Steel 48CP. Its rugged frame is very well constructed, and the spring-loaded suspension is a significant improvement over your run-of-the-mill tow-behind aerator.
Then again, the 48CP is a bit pricey, and you may not be prepared to spend that much. In that case, the Agri-Fab is a great alternative. It's still 48 inches wide, and while the ride is a bit rougher than with the 48CP, the end result is nonetheless very consistent.
And for very small spaces, the Yard Butler is a great choice. Even if you decide to buy the 48CP, there are going to be nooks and crannies where the bigger aerator can't reach. The Yard Butler gives you an easy way to follow up and spot-treat those troublesome areas.