Whether you're installing a vegetable garden, planting a flower garden, or just need to loosen the top layer of soil, a cultivator or a roto-tiller is critical to your success. Unless you're working in a very small area where a shovel is just as convenient, there's no better tool for turning over your soil and loosening it up.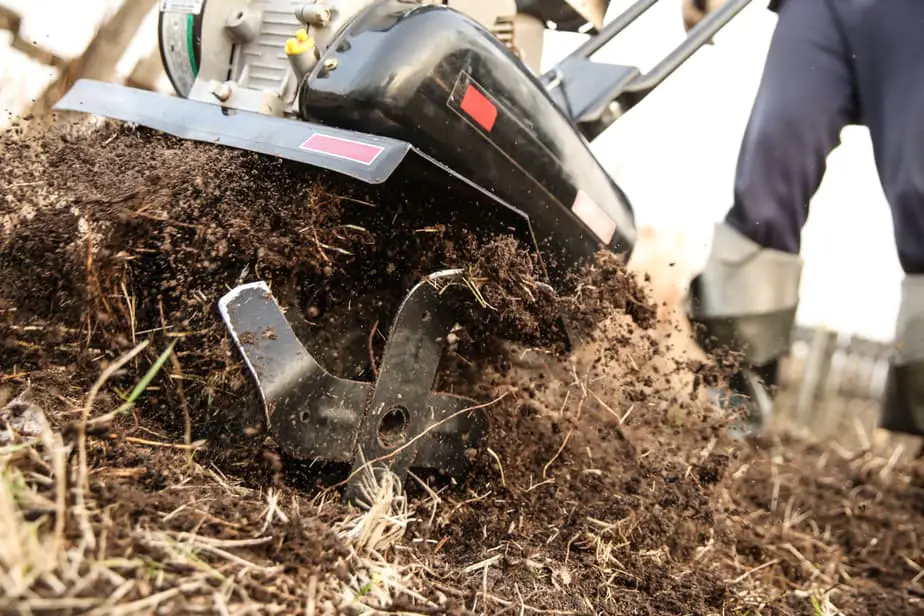 Tilling your soil is essential for good aeration, for mixing compost into the soil, and for allowing water penetration. And since you need to till your garden annually, your cultivator is an investment that you'll be using for years. To help you find the best gas cultivator available, we've put together this helpful guide.
In a Hurry? Here's Our Top Picks…
1. Schiller Grounds Care Mantis 7920
Sale
Last update on 2023-10-02 / Affiliate links / Images from Amazon Product Advertising API
The Schiller Grounds Care Mantis 7920, sometimes called the Mini Mantis, is a gas-powered tiller that's about as compact as they come. It weighs just under 20 pounds, and has a lightweight, collapsible handle and a sturdy grip on the back for hanging from your garage wall.
Don't let the Mini Mantis' small size fool you. While it's just as compact as any lightweight tiller, it's exceptionally powerful. The tines will power through tough clay and hard-packed dirt, and can till as deep as 10 inches beneath the surface. This is twice the depth of the tines themselves, so you're talking about a pint-sized tiller that can run even when the motor is halfway buried. The tilling width is 9 inches, though, which does limit its usefulness for larger areas.
The Mini Mantis has a 2-cycle engine that outperforms similarly-sized 4-cycle engines. On the one hand, this provides you with a significant power boost for the weight. On the other hand, 2-cycle engines can require more frequent tune-ups, and you'll need to mix your own 40:1 fuel to oil mixture. If you run this engine with regular gasoline, or with the wrong mix, you can quickly burn out the cylinders or foul them.
That said, 40:1 pre-mixed fuel is easy to find, as are the pre-measured bottles of oil for making 40:1 fuel in a 1-gallon fuel can. And without a 2-cycle engine, you're just not going to get enough power out of an engine this size. Schiller offers a 5-year limited warranty on the Mini Mantis, so even if something goes wrong, you'll be protected from any manufacturing errors.
Pros:
Compact and lightweight
Powerful for its size
Comfortable, padded handles
Cons:
Handle needs frequent tightening
Check Price and Reviews on Amazon
---
2. Schiller Grounds Care Mantis 7940
Sale
Last update on 2023-10-02 / Affiliate links / Images from Amazon Product Advertising API
The full-sized version of the Mantis represents Schiller's best effort to make the tiller more friendly for people who aren't mechanically inclined. They've achieved this by building the Mantis with a standard, 4-cycle motor, instead of a 2-cycle motor. This means that it can accept regular gasoline, not a 40:1 mix. However, it also means that it requires a larger motor to deliver the same power; the full-sized mantis tips the scales at 24 pounds.
With that being said, the motor is still very powerful for its size. At only 25cc, it can reach speeds of 240 RPM, powering the dense, razor-sharp tines through virtually any soil. The throttle is also adjustable. If you prefer to take it easy, rather than to power through your job as quickly as possible, just don't pull the trigger all the way, and you'll receive proportionally less power to the motor.
In terms of actual capacity, the full-sized Mantis is virtually identical to the Mini Mantis. It can till as deep as 10 inches, with a 9-inch width, which is very impressive for a small tiller. It's also small enough for compact spaces, so it's a good choice if you simply need to cultivate a flower bed or a hedge border.
One thing that does disappoint us about both the Mantis and the Mini Mantis is the handle assembly. It's nice and stiff, but the flex joint utilizes a butterfly bolt to keep it in place. Over time, the joint can easily wobble loose, which will cause it to get bent. In turn, this will keep the bolt from working, and you can end up needing to order a new handle assembly if you're not careful.
Pros:
Powerful motor
Sharp, tightly-packed tines
Comfortable, padded handles
Cons:
Check Price and Reviews on Amazon
---
3. Husqvarna FT900-CA
No products found.
If you're looking for high-quality European design, it's tough to do better than Husqvarna. They've been in operation since the 1600s, and they bring premium Swedish machine work to all of their lawn care products. The FT900-CA is no exception, with a tough, durable frame, engine and tines that can stand up to years of heavy use without failing you.
First released in 2016, this tiller is 26 inches wide, and is driven by a powerful, 208cc Briggs & Stratton engine. This provides a significant amount of horsepower, more than you'd typically expect from a front-tine tiller. The 100-pound total weight also helps out, pressing the tines into the ground with every step. However, it's also on the heavy side if you need to navigate your tiller across pavers or up and down steps.
The nominal working depth of the FT900-CA is 6 ½ inches. However, this can be adjusted up or down using the drag bar and counterweight, and you can ultimately power through soil as deep as 10 inches. This assumes relatively light soil, though. The heavier the soil, the shallower you'll be able to run on your first pass.
When the going gets tough, the FT900-CA does have an ace up its sleeve: a reverse gear, which is a very unusual feature on a front-tine tiller. This allows you to easily pass back and forth over the same area without having to turn your tiller around each time.
Pros:
Wide tilling width
Adjustable tilling depth
Tough, durable construction
Cons:
Large and difficult to maneuver
Check Price and Reviews on Amazon
---
4. YardMax YT4565
Last update on 2023-10-02 / Affiliate links / Images from Amazon Product Advertising API
If you need to break through sod or till heavily-packed soil, the YardMax YT4565 will be an ideal tiller to meet your needs. It has a rear-tine design, with the fat, chunky tires located just beneath the motor. This means that the tires pull the machine forward, so the tines can remain focused solely on ploughing up your soil.
Another advantage of the rear-tine design is that the tines don't have to turn in the same direction. This tiller features dual rotating blades, which spin in opposing directions to make quick work of sod, roots, and other obstructions. They're equally efficient at obliterating clay, which is one of the more stubborn impediments facing aspiring gardeners.
Make no mistake, the YardMax is expensive, but it's worth every penny if you need to break through hostile ground. It measures 18 inches in width, with a 6 ½-inch maximum working depth. It also features 7 different levels of depth adjustment, so you can run it shallow if you're just trying to clear sod efficiently.
As you'd expect from a pricey roto tiller, the YardMax is very sturdily constructed. The rectangular handle is bolted into the frame at four different places, providing plenty of strength and rigidity. And in front of the machine, another piece of tubing extends upwards, functioning as both a protective bumper and a grab bar for loading the tiller onto a trailer or truck bed.
Pros:
Great for breaking sod or packed dirt
Powerful, dual rotating blades
Heavy-duty frame
Cons:
Check Price and Reviews on Amazon
---
5. Southland SFTT142
Sale
CHAMPION POWER EQUIPMENT 22-Inch Dual Rotating Front Tine Tiller with Storable Transport Wheels
Efficient- a variable 16 to 22-inch tilling width and up to an 8-inch tilling depth make this Tiller ideal for preparing large flower beds and vegetable gardens, and weeding between rows
Convenient - 8-inch storable transport wheels make it easy to transport your Tiller from storage to your garden and back, plus they increase balance and maneuverability in loose soil
Versatile - four 13.8-inch heavy-duty hardened Steel tines with dual rotation make it easy to till narrow spaces or wide rows
Powerful - the 212cc engine provides the power to transform the toughest ground into perfect planting soil
Champion support - includes 2-year limited Warranty with free lifetime technical support from dedicated experts
Last update on 2023-10-02 / Affiliate links / Images from Amazon Product Advertising API
The Southland SFTT142 is an excellent compromise between maximum power and easy storage. This is a 150cc front-tine tiller that digs in like a rear-tine, powering through sod, clay, and other tough conditions without getting bogged down like most front-tine tillers will in dense or heavily-rooted soil. Then again, you'll want to be careful. While the motor is certainly capable of handling rough conditions, it doesn't have the heavy frame and engine block of a rear-tine tiller. So in rough conditions, this tiller will buck and bounce a lot, so prepare to wake up sore the next day.
The main attraction of the SFTT142 is the adjustable tilling width. While it comes with 21-inch tines, you can remove the outer sections to slim the tilling width down to 16 or even 11 inches, which is a great feature if you want to use the same tiller for cultivating your vegetable garden and your flower beds. The 11-inch tilling depth is also impressive for the size. Essentially, you can run this tiller so deep that the tines are fully submerged, and they'll keep on churning.
The tail of this tiller features a weighted drag bar. If you're going to be tilling tough soil or digging very deep, we recommend using this bar to make two passes. Run a first pass with the bar set low, so the tines will only have to chew through the toughest top few inches of soil. Once that's done, your second pass will be much easier.
Pros:
Adjustable tilling width
Deep tilling depth
Tough enough for breaking through sod
Cons:
Can be rough on your back
Check Price and Reviews on Amazon
---
Gas Cultivator Buying Guide
Now that we've looked at the five best gas cultivators on the market, it's time to explain some of the terms we've been using. After all, you want to buy a cultivator that's ideal for your needs and your garden. Here's what you need to know.
Different Types of Cultivators and Tillers
The first and most important decision you'll need to make is what design you're going to need. Typically, this will depend on the size of your garden, and on how deep you need to till the soil.
Cultivators
A true cultivator, as opposed to a tiller, is a small, lightweight machine that's designed more for mixing up the soil than it is for breaking new ground. Cultivators are a good choice for gardens that have already been properly tilled, as well as for small flower beds where a larger machine would be overkill.
The main benefits of a cultivator are weight, size, and ease of use. Because they're smaller than larger tillers, they require smaller motors and weigh considerably less. This makes them easy to store, and most models are small enough to hang on a heavy-duty storage hook. Finally, because they're small and lightweight, they're easier to operate, especially if you suffer from back pain or arthritis.
Front-tine tillers
Front-tine tillers are typically designed with a wheel or set of wheels to the rear of the unit, and the tines towards the front under the weight of the engine. This weight helps you press the tines deeper into the soil than you can press the tines of a smaller, more lightweight cultivator.
Typically, a front-tine tiller will have an engine size of 150cc or larger, which makes it suitable for tilling over weeds that have grown up in last year's soil. That said, they're still not well-suited for breaking new ground, and they won't cut through sod or heavy roots.
Rear-tine tillers
Rear-tine tillers, as their name implies, are built backwards from the way a front-tine tiller is manufactured. The wheels are towards the front, and the tines are at the back. The benefit of this design is that the wheels, rather than the tines, propel the tiller forward. This allows for the tines to rotate in different directions.
Rear-tine tillers are ideal for breaking new ground, since they can cut through sod, roots, and other obstructions with ease. The configuration also allows you to lean down when you're in hard ground, adding your weight to the machine's. That said, rear-tine tillers are generally awkward to control, and take up a lot of space in storage.
Vertical-tine tillers
Vertical-tine tillers are a bit of an oddball. The tines rotate along a vertical axis, rather than a horizontal axis, and are positioned in front of the machine. This is a relatively new design, and none of our choices fell into this category. That's not to say that a vertical-tine tiller is a bad choice. They're tough enough to cut through just about any soil if they've got a powerful enough motor. But we haven't seen a vertical-tine tiller with a long enough track record to make a confident recommendation.
Other Considerations When Buying a Tiller
Hopefully, at this point, you have a good understanding of the different types of tiller. But how do you choose between them? Here are a few factors to keep in mind.
Why are you buying a tiller or cultivator?
Are you doing a major landscaping project, or starting a new vegetable garden? In this case, you're going to need to break through sod and roots, and a rear-tine tiller is going to be best. Are you trying to maintain an existing vegetable garden? A front-tine tiller will be a better choice for your needs. And for a small patch like a flower bed, a compact, lightweight cultivator is going to be a better decision.
Similarly, the size of your garden is going to be a concern. Even for light-duty work, a large garden can take a long time to till with a small cultivator. So even if you're only planning on regular yearly maintenance, not on expanding your garden, you might want to go with a tiller that has a wider width.
What type of soil are you dealing with?
One thing many people forget is that soil in different areas has widely differing properties. For example, New Jersey tomatoes aren't famous because they're a special species. They just happen to grow well in New Jersey's loose, sandy soil, which is incidentally very easy to till.
Conversely, soil that's rich in clay can be just fine for growing, but requires a heavier-duty tiller to manage the more dense material. You'll also want to use peat moss or other loose, light material to help with aeration and water penetration in this type of soil. And if your soil has a lot of rocks, you'll need a tiller with a chisel tine to properly manage those conditions.
Storage and ease of use
Finally, you'll need to keep in mind that your tiller or cultivator doesn't simply cease to exist when you're not using it. You have to find somewhere to store it. But keep in mind that that while that powerful rear-tine tiller can make quick work of tilling your new garden, it has roughly the same footprint as a riding lawnmower. And unlike the riding mower, you're only ever going to use it once a year. Unless you have a barn or a very large storage shed, it's probably going to be more convenient to go with something a little smaller.
That said, there's a weird gap in the middle of tiller sizes where they become more difficult to use. Small cultivators are easy to use because they're small and lightweight. Even if you have a bad back you don't need to worry about needing to exert a lot of force. Conversely, while rear tine tillers can be awkward and bulky, they more or less drive themselves. However, front-tine tillers, while smaller than rear-tine tillers, require you to put your back into the operation. So keep in mind that while any tiller is easier to use than a shovel and a hoe, tilling your garden can still be a workout.
Best Gas Cultivator Brands
A quality gas cultivator is an investment, just like a lawnmower, a snow blower, or any other piece of lawn maintenance equipment. And since you wouldn't buy a riding mower from some no-name brand, we thought we'd give you a quick look at the brands we've listed.
FAQ
So, you still have a few questions about garden cultivators? Here are the answers.
Q: What is Tine Rotation?
A: Tine rotation is a feature that applies to rear-tine tillers only. Because these models are driven by wheels on the front of the tiller, they have more freedom in terms of which direction the tines can rotate. This can make a difference, depending on what kind of soil you're dealing with.
Standard rotating tines turn forwards,much like the tines on a front-tine tiller. They're ideal for shallow soil, or for deeper soil that's been tilled on a regular basis and kept loose. Counter rotating tines are the opposite. They rotate in the opposite direction of the wheels, digging deeper into the soil and keeping the tiller running slowly to maintain a deep depth. Dual rotating tines are the best of bost worlds. They can rotate in either direction, so you can till new or old soil with equal ease.
Q: What Kind of Maintenance Will I Need to Perform?
A: Maintenance will depend on the exact machine you buy. Still, there are a few general rules that are going to apply.
First, you need to change the oil at least once a year. This is necessary even if you only use your machine once a year, and motor oil breaks down over time even if it's not being used. On a similar note, check your spark plugs regularly. If they're dirty or corroded, your engine isn't going to run smoothly.
Another important aspect of maintenance is keeping the tines themselves in tip top shape. Check them before use to ensure that all shear pins are in place and haven't broken off, and that all the locking pins are undisturbed. You'll also need to make sure the tines are sharp. If they've gotten nicked or dented from hitting rocks and roots, they could probably use attention from a file before you expect them to perform as expected.
For more information, check out HowStuffWorks' guide to small engine maintenance. They offer several helpful tips and tricks, which can be applied not just to your cultivator, but to all of your lawn equipment.
Q: What Safety Rules Do I Need to Follow?
A: When you're using any power equipment, it's important to follow the requisite safety rules. With a tiller, it's important to wear long pants and heavy boots to avoid getting your legs scratched from any thrown debris. It's also important to wear a good pair of safety glasses. And if you're operating your cultivator or tiller for a long period of time, you would be wise to wear a set of ear plugs for hearing protection.
Q: Are Electric Cultivators Any Good?
A: While this guide is about gas cultivators, electrical versions are still an option. These cultivators are typically very small and lightweight, better suited to small flower beds than they are for a full-sized garden. Still, electric cultivators require less maintenance than gas machines, and they tend to weigh less. If you're working in a small area nearby your house, an electrical machine may be the right choice.
Wrap Up
If you're going to choose a single best gas cultivator that's well-suited for a variety of tasks, we recommend the Southland SFTT142. The adjustable width makes it a solid choice for large or small plots, and the powerful engine is tackling even the toughest jobs should that become necessary.
That said, if you're willing to spend a bit more to get the absolute most powerful tiller available, the YardMax YT4565 is an excellent choice. Its rear-tine design allows it to churn through even the most densely packed, heavily rooted soil, while the fat tires keep the strain off your back.
Finally, if you just want a lightweight cultivator that's going to last, the Mantis 7920 is the best on the market. It's light enough to hang on a wall hook, and still powerful enough not to get bogged down if your soil is densely packed.