Preparing your backyard, garden or farmland for planting and fertilizing can be a daunting prospect if you aim to do it by hand. In fact, tilling or prepping your soil for the coming growing season can be impossible if you have a plot of land larger than a few square meters. Tillers and cultivators are mechanized tools that do all this hard labor much more efficiently.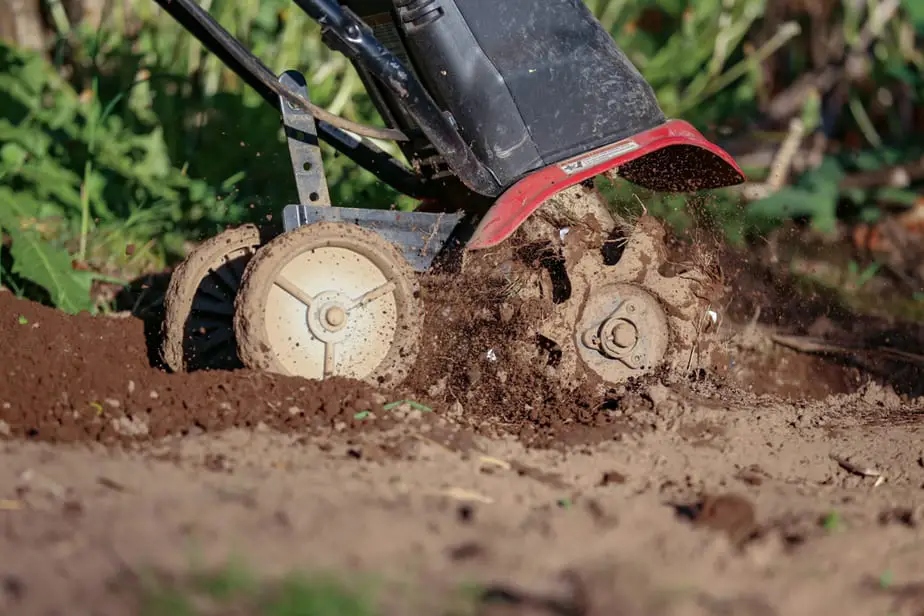 They're built to break and mix soil beneath your boots, loosening it up and prepping it for planting in just moments. But finding the right tiller or cultivator can be tricky, and lots of people don't even know the difference between the two tools. In this guide, we'll explain what's what when it comes to tiller vs cultivator and help you find a perfect tool for your backyard garden. Let's get started.
In a Hurry? Here's Our Top Picks…
1. Earthwise TC70016 Corded Electric Tiller/Cultivator
Last update on 2023-05-27 / Affiliate links / Images from Amazon Product Advertising API
This fantastic tool is actually a tiller/cultivator combo, meaning it can be used for both purposes. This allows you to purchase a single tool and use it on your land or back yard whenever you need it, regardless of whether it's been tilled before. You can roll it along bumpy or smooth ground quickly thanks to its twin, rugged wheels.
It features a powerful, 13.5-amp motor, plus adjustable working depths that alternate between 11" or 16" for width and down to 8" for depth. The ergonomic handle is comfortable, too, making it easy to use for longer stretches of time or bigger plots. It's lightweight, easy to operate, and very easy to store. It has a safety switch and cord retention hook, so starting the tiller up takes only a little effort.
The tiller uses 6 steel tines that are built for durability and a long lifespan. You can replace them as you wear them down, as well, while still keeping the excellent main motor and rest of the machine intact. Once you have this tiller's tines running, you'll be able to handle any soil in your hard without a problem.
Things We Like:
Tine depth can be adjusted
Can be used as tiller or cultivator
Ergonomic handle
Very easy to start
Things We Don't Like:
Cord can dangle/get in the way
Check Price and Reviews on Amazon
---
2. Sun Joe TJ603E Electric Tiller and Cultivator
Sale
Last update on 2023-05-27 / Affiliate links / Images from Amazon Product Advertising API
This is another tiller/cultivator combo unit, allowing you to break your soil initially without trouble, then continue using the same machine to churn the dirt and fertilize it for years to come. It features a powerful 12-amp motor that's only a little slower than our last pick, and still powerful enough to handle most backyard or basic farm soil without an issue.
It can drive its 6 steel angled tines in spaces up to 16" wide or 8" deep. With a three-position wheel adjustment, you'll be able to maneuver this smaller tiller across tight or compact gardening plots easily. The small, narrow design of its chassis makes it easy to fit through narrow spaces or store in a garage without it taking up too much space.
It also features an excellent ergonomic handle, which can fold to improve its storage ease even further. This also features an easy-start button and a cable carrier to prevent the cord from dangling too much in front of your hands. The best way to think of this tiller is a more affordable, more maneuverable alternative to our first pick.
Things We Like:
Very easy to move around a yard
Starts easily
Wheels can be adjusted
Handles are comfortable
Things We Don't Like:
Motor isn't quite powerful enough for super-thick soil
Check Price and Reviews on Amazon
---
3. Garden Weasel Cultivator
Sale
Last update on 2023-05-27 / Affiliate links / Images from Amazon Product Advertising API
This is a manual cultivator, which is a rarity in a market that's full of electric or gas-powered gardening tools. Still, its manual nature means that it costs far less to purchase one of these tools compared to its counterparts. Of course, it doesn't cover as much ground as electric cultivators, but it's still quite a potent tool for smaller gardens or backyards in need of some soil shifting.
This is a durable and easy to use cultivator that basically cleans itself each time you roll it forward. This motion will turn the cultivator tines, shifting dirt and mixing things capably. The tines are designed to slide the soil off the blades, keeping them relatively clean and sharp for longer. All you have to do is gently move the cultivator in back-and-forth motions and you'll cultivate your soil in no time.
The entire thing is made from carbon steel, which is rust-resistant and which won't falter in bad weather. To make things better, the manufacturer includes a lifetime warranty, so you can rest assured that you're getting a quality product. All in all, this manual cultivator is a good pick if you have a really small plot you need mixed, or if electric cultivators are too hard to maneuver to your gardening spot.
Things We Like:
Doesn't need power to run
Made of durable carbon steel
Blades last a long time
Relatively affordable
Things We Don't Like:
Takes more manual power to cultivate soil
Check Price and Reviews on Amazon
---
4. Schiller Grounds Care Mantis Tiller/Cultivator
Last update on 2023-05-27 / Affiliate links / Images from Amazon Product Advertising API
This gas tiller features a 25cc engine that spins its equipped tines twice as fast as most other tillers on the market. This brings its tine speed up to 240 RPM, allowing you to churn through rough soil across larger backyard or garden plots in no time at all. Despite all this power, it only weighs 24 pounds, making it easy to move from place to place or push across your soil.
It's designed with a compact, 9-inch wide shell. This allows the tiller to reach smaller gardens or soil plots. The tines equipped with this tiller can be used down to 10 inches, a little longer than most other electrical tillers can manage. There's also an alternative setting that allows you to cultivate the top two or 3 inches of soil, giving it some through cultivating functionality.
Storing the tiller is also easy since it folds up. There's also a kickstand included with the purchase that lets you keep it steady when it's not in use or when you are refilling the tiller with gas. While it's an overall expensive purchase, this is a fantastic choice for those who need to till larger spaces in short order.
Things We Like:
Tills lots of dirt quickly
Includes kickstand
Very powerful
Can also cultivate top layers
Things We Don't Like:
Check Price and Reviews on Amazon
---
5. Black and Decker LGC120 Cordless Garden Cultivator/Tiller
Sale
BLACK+DECKER 20V MAX* Tiller (LGC120)
Powerful transmission with dual tines break up soil to allow water and nutrients to reach plant roots
Powered by 20-volt MAX lithium-ion battery, with longer lifespan and charge retention than NiCad batteries
Cultivates up to 325 square feet per charge
Counter-oscillating tines prevent weeds from tangling
2-year limited warranty; includes battery and Energy Star-qualified charger
Last update on 2023-05-27 / Affiliate links / Images from Amazon Product Advertising API
This cordless model is powered by a 20 V lithium-ion battery that provides a longer lifespan and excellent charge retention compared to most other cordless batteries. This power allows the cultivator to affect up to 325 ft.² per full charge. As a result, it's a decent
cultivator for small to medium-sized garden
plots or for side areas of your main back yard.
It uses counter oscillating tines to effectively turn your soil and prevent any weeds from tangling around each other or the tines. This keeps the tines functional and rotating properly, minimizing the amount of time you have to spend on maintenance or cleaning. The cultivator has a powerful transmission to improve its efficiency and power, granting it some light tilling capabilities. The handle is quite comfortable to grip for longer periods of time, and starting the cultivator is as simple as pulling the trigger.
It also comes with a two-year limited warranty, plus the battery and charger you need to start cultivating right away. Given the affordable asking price for all three, this is an excellent budget choice if you want an electric cultivator that can tackle larger jobs without any hiccups.
Things We Like:
Very easy to start
Comfortable use for long stretches
Battery is fantastic
Decent power and depth for cultivator
Things We Don't Like:
Not a very wide cultivator, can't do larger sections quickly
Check Price and Reviews on Amazon
---
What to Look For in a Tiller or Cultivator
Keep these primary aspects in mind and you'll be able to find a tiller or cultivator for your needs.
Tiller vs Cultivator
Let's cover the main differences between these two types of gardening tools so you know which will be best for your purposes.
Tillers are the main version of the tool from which cultivators are a sub-type. Tillers are primarily used to break up hard soil or dirt that will later be fertilized or planted. They are equipped with durable blades that can churn or crack hard soil and effectively mix it together.
This both loosens the soil to make it easier for fertilizing or planting and helps to distribute nutrients from the bottom and top of the soil around to the middle. As many gardeners can attest, this may be important depending on the types of crops or plants you want to nurture.
In addition, a garden tiller can successfully aerate your soil, eliminating the need for a manual aeration tool in some instances. Tillers are usually larger and heavier than their cultivator counterparts and are a little harder to maneuver in tight gardening spaces. However, they last a little longer than many cultivators since they are often built with more durable materials and have blades that are less likely to degrade with heavy use.
Cultivators are a sub-type of tillers. They are usually smaller and easier to maneuver in smaller gardens or lawns and have smaller and lighter blades. As their name suggests, cultivators are usually utilized to mix or churn already loosened soil. Rather than break through the hard topmost layer of new soil, these tools are best for mixing loose dirt for the purposes of aeration or fertilizer spreading.
They can be just as effective, or even more effective, then tillers of this purpose thanks to the design and orientation of their blades. Their smaller size also makes them a great choice for smaller gardens or lawns. In addition, they can be used many years in a row after you've prepared a section of soil for initial planting.
In many gardens or farms, the topmost soil layer is difficult to churn up. But once this is done, a cultivator can handle the fertilizer mixing or aerate by itself without the need for a tiller's assistance.
Ultimately, both tools are needed to successfully prepare a plot of land for farming or gardening during the initial stages. However, cultivators become more useful the more you farm or garden that same plot of land. But they can't hold a candle to the tilling capabilities of the other tool type.
Gas Powered or Electric
Tillers are almost always gas powered because of the energy required to successfully break through the rough topmost layers of some soil plots. This means you constantly need to feed more gasoline into a tiller the more you use it. But you can occasionally find some electric powered tillers, these are few and far between.
Cultivators can be powered by gas or electric energy. Gas-powered cultivators are usually a little heavier duty than their electrically powered counterparts, but electrical tillers are often easier to use consistently, especially if they are a corded tool. Simply plug them into a power outlet in your garage and you're all set.
There are also cordless electric cultivators. These rely on batteries that are recharged before being inserted into the main tool. They generally last for several hours of use before requiring a recharge. While these are convenient, they aren't as powerful as the other types of tilling tools.
Type
There are three main types of tillers and/or cultivators that you might find.
Front Tine
These types of tillers have tines that are located toward the front of the machine. The engines of these types of tillers are usually slightly above or behind the tines. Because of this orientation, front tine tillers are typically compact and easy to maneuver, making them a good choice for smaller soil plots or gardens.
These types of tillers usually run with two wheels on the back. They normally rely on human power to move around the yard or soil, although their tines will also slightly pull the machine forward if you allow it to rest. These killers are best for breaking through moderately hard soil or loosening firm soil. They also don't cover a lot of space quickly, making them poor choices for larger plots. Their affordability and maneuverability make them a favorite choice for home gardeners.
Mid Tine
The next tiller type isn't nearly as common as the other two. It features tines that are set up directly beneath the main chassis of the tiller. Wheels can be positioned both behind or in front of the main motor, which is normally positioned right above the tines themselves.
The resulting machine is easy to use and is quite stable, although it doesn't have as much depth variability as front tine tillers. These types of tillers are usually larger and heavier, as well, and require a little more forward force on your part to maneuver them quickly around the space.
To enable some depth variation, many mid tine tillers will include settings that can be altered before you turn the machine on. As a result, the best mid tine tillers can handle soil of various thicknesses depending on which setting you lock it on. They're also great for larger plots of soil, being capable of handling medium to large-sized gardens without too much trouble.
Rear Tine
Finally, rear tine tillers have their tines at the back of the chassis. The motor is usually positioned in front of the tines, protected by the spinning blades with a thick metal shield. These types of tillers are usually larger and heavier than any other kind, offering wide or deep tilling functionality that is perfect for larger gardens or farm plots.
Rear tine tillers are also a little easier to use since they typically self drive, meaning that you only need to direct their motion rather than put your back into it. You can usually set the speed or gear that the tiller moves at, allowing you to customize a perfect depth for your soil. However, their large size makes them a poor choice for smaller gardens, even though they can knock out larger plots of soil in short order.
Ease of Use
You'll also want to consider how easy an individual tiller is to use before purchasing. Many of the best tillers and cultivators will have rubberized or softened handles that can reduce the vibration from the motor and make it more comfortable to use the tools over a long period of time.
Others might have the additional depth or speed settings to let you customize their performance. Still, more will have adjustable wheels that can help you push the tiller cultivator across your yard without as much effort.
Size
We went over the rough sizes of tiller cultivator types above, but keep in mind when thinking about where you'll primarily be using these tools. Larger tillers or cultivators can prepare huge amounts of soil quickly, but they're more difficult to maneuver around smaller areas. The reverse is true for smaller machines, which are more maneuverable and easier to handle but which take longer to prepare the same amount of soil.
Best Tiller and Cultivator Brands
This lawn mowing company has expanded to other lawn care machines, creating a subsidiary brand called "Earthwise". This reflects their commitment to greener technologies and sustainable tools that still deliver great performance.
Sun Joe creates outstanding outdoor tools for folks of all backgrounds. Although they were founded only in 2004, they've quickly become a big player in the market.
This garden tool company has gardening and lawn care solutions for practically every need you can imagine. All of their tools emphasize durability and most have lifetime warranties.
Established in 2009, Schiller Grounds Care has quickly become a well-known name in the landscaping market. Their workforce has a combined 100 years of engineering and manufacturing expertise.
Black and Decker is a Fortune 500 company that manufactures tools and hardware right in the USA. They're well known for their durability and reliability.
FAQs
Q: Which Should I Use: Tiller or Cultivator?
A: The choice of tool should be determined based on how prepared your soil is already. If you've already tilled your soil, a cultivator is a better bet since it will be easier to use and more efficient at mixing fertilizer into pre-prepped soil. The opposite is true if you haven't yet prepped a plot of land for farming or gardening. Harder topsoil necessitates a more durable and high-powered machine, so it tiller is a better choice.
However, serious gardeners or farmers will likely have one of each in order to handle any scenario.
Q: What Direction Should Tiller Tines Rotate?
A: Your tiller or cultivator may have blades that rotate in one of two ways. Counter-rotating tines are ideal for hard-core tillers that need to break up new ground. These tines rotate in the opposite direction of the wheels, which breaks up clay or hard soil much more easily.
Forward-rotating tines rotate with the wheels and are better for mixing soil or aerating ground that's already tilled.
Conclusion
Overall, the best tillers and cultivators will likely be able to do at least a little of both. That's why we think the Schiller Grounds Care Mantis Tiller/Cultivator is a perfect pick, as it can both prepare your soil for work and keep it cultivated year after year. Alternatively, the Black and Decker LGC120 Cordless Garden Cultivator/Tiller is another great choice if you're primarily here for cultivating or softening soil you've used before.
Whichever you choose, we're confident that any of the above tools will help you plan the best garden or backyard display you've ever seen. Thanks for reading!