If you're starting a garden in your yard, then you need the right equipment. A cultivator is a great tool to aerate the soil and ensure that your plants get enough oxygen. In today's article, we'll be taking a look at some of the best small cultivators available on the market.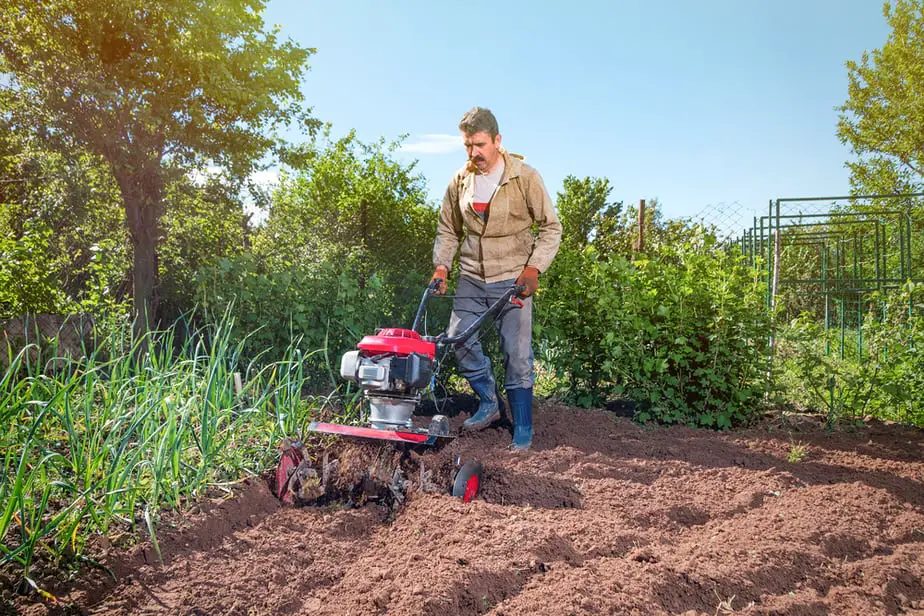 Keep in mind that this article only covers mini cultivators. If you need something with a bit more oomph to it, then take a look at our article on The Best Electric Cultivators. These machines are generally more powerful and are better suited for larger gardens.
With that said, let's get started!
In a Hurry? Here's Our Top Picks…
Best Small Cultivators Available Today
As we look at the best cultivators available today, we'll be going over each of their design features and how they work in certain soil types. Not all of these machines will be suitable for your yard but we're sure that you'll find one that you love!
1. GardenTrax 4 Cycle Mini Cultivator
Last update on 2023-11-04 / Affiliate links / Images from Amazon Product Advertising API
The GardenTrax is a lightweight cultivator with a powerful form factor. It comes with many edgy attachments and even an optional aerator. This makes it a great option for novice gardeners looking to purchase an easy-to-use machine.
Operation and Control
This small cultivator features a top handle control which offers easy operation. Many users have reported that using the machine feels like you're playing with a toy, augmented by the small size. You could carry the machine in one handle with little to no effort.
What's surprising about this cultivator is the power that it brings for a machine of its size. It's very powerful with the blades spinning at 250RPM easily cultivating your soil up to 4″ deep.
Engine
This cultivator features a 38cc 4-cycle engine, running primarily on gas. Additionally, the variable speed control lets you regulate the power so you always get the exact output you need.
Warranty
It's always nice to see when a manufacturer believes in the quality of their products. The GardenTrax mini-cultivator comes with a 2-year warranty. This means the Company will fix any issues you face in the first 2 years at no additional cost to you.
Likes:
Lightweight
Powerful
Comfortable to operate
Smooth finishing
Check Price and Reviews on Amazon
---
2. XtremepowerUS Mini Gas Cultivator
Earthwise TC70001 11-Inch 8.5-Amp Corded Electric Tiller/Cultivator
Earthwise tiller with a powerful 8.5-Amp electric motor with superb run time and service life
Corded electric tiller ideal for small to medium-sized gardens
4 tine cultivator long handle that can cultivate and till up to 11" wide and 8" deep
Lightweight and maneuverable 11-inch cultivator with single lever switch
Cultivator machine with a soft ergonomic grip that is an planet-friendly alternative to gas-powered lawn and garden equipment
Last update on 2023-11-04 / Affiliate links / Images from Amazon Product Advertising API
This mini-cultivator works great if you're dealing with weed trouble in your garden. We loved the variable speed mechanic which allows for a lot of control on the power output of this mini-cultivator.
Features
The XtremepowerUS is loaded with some must-have features. For instance, it comes with a specially designed air filtration system. This helps keep your engine running more efficiently and for longer.
The heavy-duty agricultural tires keep the machine grounded and allow for better maneuvering as you're cultivating your garden. The tires are also great for minimizing bounce when the machine hits a rock or uneven ground. Additionally, the wheels are positioned at the back, making it easy to move.
Operation
The cultivator comes with an ergonomic handlebar design that offers reduced stress for the operator.
Blades
The tines are made from high-quality steel. Buyers have reported that this cultivator can easily slice rows between 4 and 10 inches deep. Additionally, the adjustable locking system enables a tilling width of between 6 and 9.5 inches.
Engine
It comes with a 43cc engine and offers powers up to 1.3kw. However, since this is a 2-stroke engine it may not have the same power as some of the other devices on our list.
Likes:
Includes speed controls
Adjustable lock to keep it secure and handy
Efficient. Designed specially to keep the engine running smoothly for long periods
Check Price and Reviews on Amazon
---
3. Honda FG110 Mini Cultivator – Our Favorite
Sale
Last update on 2023-11-04 / Affiliate links / Images from Amazon Product Advertising API
The Honda FG110 is a great option for both the weekend gardener and industrial owners. This cultivator has some really impressive perks and features. One such feature is that it's manufactured by one of the biggest companies in the world. This means they have a much larger R&D budget and better equipment than smaller cultivator manufacturers. Though, the engine was our favorite part of the latest Honda FG110.
Engine
The engine on the Honda FG110 is by far the lightest and quietest engine available today. Many homeowners are often afraid that running their cultivator may disturb their neighbors – and with this cultivator option, obnoxious noises aren't an issue. Another really impressive detail is the positioning of the engine. The cultivator is designed so that the 4-stroke engine is positioned perfectly in the middle. It makes the cultivator feel very balanced thus making it much easier to use.
Using a 4-stroke engine also means there are fewer vibrations than a comparative 2-stroke. Honda claims that this is the most fuel-efficient engine on any cultivator available and looking at the reviews makes us inclined to agree.
It's also a pretty environmentally-friendly gardening tool with minimal fuel emissions. The controlled emissions mean you won't have to deal with the bad odor from the fuel that's typically present in many electric machines. You also save some time as the engine is designed to work on gas alone. There's no need to prepare the fuel by creating a blend of gas and oil before use.
Operation
Honda machines are famous for their dependability. Like Honda's other machines, the FG110 is very easy to start and operate, making it one of the more dependable cultivators available. The machine only weighs around 29 pounds and – combined with its balanced design -this makes the Honda extremely easy to maneuver.
Additionally, the lightness of this cultivator make it easy to carry the machine around. We found that it had the right balance of lightweight-ness and stability. There are lighter cultivators available but none of them offer the same operation quality. And while there are many sturdier options you can buy, they can be a hassle to carry around and put away for storage.
Accessories
Industrial users typically stay away from cultivators designed for homeowners. This is because cultivators designed for home use tend to sacrifice power in favor of ease of use. But honda tries to satisfy both markets at the same time. It has built a machine that can offer commercial-grade power transmission with the ease of use a homeowner would need.
Tiller and Cultivator in One
The Honda FG110 can also double as a tiller, making it incredibly versatile. Traditional tillers are too aggressive for soft soil while a cultivator can't dig very effectively on hard ground. But most homeowners live on lands that are somewhere in between (some parts of the ground are hard while other parts are soft).
Keeping the above in mind, Honda specially designed cultivated tines on the FG110. Half of the tines are angled for cultivating while the other half are angled for tilling. When you want to cultivate the soil, you simply use the regular tines. On the other hand, whenever you need to till the ground, remove the regular tines and adjust the setup to a tilling position.
Additionally, the adjustable depth bar prevents the cultivator from moving forward on its own. The makes it easy to operate as you don't have to fight against the engine to keep the cultivator in place.
Likes:
Great to use for both home and commercial projects
Has a compact size, making it easily movable
Adjustable depth bar and adjustable speed
Extremely versatile
Check Price and Reviews on Amazon
---
4. Mantis 4-Cycle 7940
Sale
Last update on 2023-11-04 / Affiliate links / Images from Amazon Product Advertising API
The Mantis 4- cycle is very quiet and easy to start, requiring no fuel mixing. This lightweight power machine, weighing in at just 24 pounds, is strong enough to till through dirt and compacted sod, but as it weight suggests, is easy to carry and use. It also has adjustable speed so that you can power it up as needed to suit your specific situation.
Mantis comes from the Southampton, PA facility and is built with the lifetime service of the user in mind. As previously mentioned, it's very powerful, coming with a 25cc engine that spins and tines twice as fast as competing cultivators. The speed at which it broke the dirt chunks really impressed a lot of reviewers.
Changing direction was a smooth and effortless event, and storage is pretty convenient. However, we found that the machine works best when pulled backward. The finger controlled throttle is a great feature included for controlling infinite speed and ease to use.
Another feature that we love is the option to turn this cultivator into a power-weeder. All you have to do is turn the tines around and the machine does an excellent job at mechanical garden weeding.
Issues
One thing that users complained about is the power button. The power button is positioned awkwardly on the handle, making it pretty challenging to avoid pressing it when using the cultivator. Some users have even mentioned that the switch turns off during cultivation.
Likes:
Lightweight/Foldable – easy to transport and store
Adjustable speed
Reasonable price
Turns into power-weeder when the position of the tines are reversed
Check Price and Reviews on Amazon
---
5. Cub Cadet 4-Cycle Gas Cultivator
Echo Professional Tiller/cultivator Gas Forward Rotating
21.2 cc professional-grade, 2-stroke engine
Kickstand for easy storage
Worm gear-type transmission (42:1) reduction) provides high tine rpm and high torque
Four, 10-tooth reversible, hardened-steel tines feature a lifetime warranty and provide smooth tilling action for up to 9\
Waterproof stop switch and throttle control located at operators fingertips
Last update on 2023-11-04 / Affiliate links / Images from Amazon Product Advertising API
The Cub Cadet has been praised for its top-notch performance, professional appearance and reliable durability.
Versatility
This cultivator can tackle most jobs in the garden. It makes minimal noise and runs super clean (who doesn't want that?), and it uses less fuel than competitors while not requiring the mixing of oil.
Since it's a mini cultivator, it is designed for maintaining smaller gardens and flower beds and can cultivate at adjustable widths – from 6 inches to 12 inches. The depth can also be adjusted up to 5 inches deep.
Commercial Usage
For those who are planning on using this for commercial or industrial use, this is a great tool that is half the price of larger cultivators aimed at large-scale farms.
Overall, Cub Cadet stands out. The motor, the power, the affordable cost, and the ease it provides are hard to beat.
Likes:
A baby beast, so light yet very powerful
Different sizes available
A bit expensive, but worth the cost
No need to mix oil and fuel
Check Price and Reviews on Amazon
---
Consider This
It can get overwhelming to pick the right cultivator when you're presented with endless options on the market. But, not to fear! In this section, we'll be going over a few things to help make your buying decision a little easier.
Soil Type
Knowing the type of soil you have at home is essential to deciding on a cultivator. The cultivator you choose will be dependent on if the ground is stone-filled, hard or very soft. This requires some prior research and understanding of the soil in your garden before making your final decision.
Garden Size
Most homeowners have pretty small yards. This means there is no need for an industrial quality machine. This might seem like an inconsequential factor but we recommend that you buy a cultivator that is appropriate for your garden size. After all, there's really no need to spend a fortune on a huge cultivator that you don't really need.
Blade Features
The blade should be one of the first things you focus on when picking the right cultivator. You need to account for how sharp and fast the blade is as it runs. The number of blades often determines how efficiently the cultivators crop out weeds and break up dirt.
The depth of the blade will be determined by the diameter (or more accurately through the radius) of the blades. The depth determines how well the soil will be penetrated by the cultivator.
Ease of Use
Ease of use is another important factor to consider. Using a cultivator might be tricky for first-timers, which is why we urge novice gardeners to pick a comfortable choice when they're starting out.
Corded or Cordless
You'll also have to decide between a corded or cordless cultivator. While a cordless cultivator gives you more freedom, it also needs to be regularly recharged and has a limited run time.
Cycles
Different cultivators offer different cycles. Currently, most cultivators offer two variants: 2-cycle and 4-cycle. While the 4-cycle variant is better than the 2-cycle, it's also a bit pricier.
Safety
Most machines these days have some kind of a security mechanism to protect the user from kickback or other accidents. Additionally, you can refer to the safety ratings on Amazon as you shop around. This will give you a better idea of how safe the machines are to operate.
Best Cultivator Brands
Let's look at some of the biggest names in the backyard cultivator market. These brands create great products and offer excellent customer service.
GardenTrax: GardenTrax is a young company with just 2 products. They have built a reputation for selling the highest quality mini-cultivators at a great bargain.
XtremePower USA: The XtremePowerUSA website doesn't reveal much about the company or its history. It might not be the most recognizable brand. However, its popularity is growing pretty rapidly. Today, you can hear about Xtremepower being discussed in corners of the internet on Outdoor Gardening and Homeowner forums. They have carved out a niche for individuals looking to purchase durable equipment at a high value.
Honda: The Honda Motor Company Ltd. is a Japanese corporation known for its automobiles, motorcycles, and countless other industrial equipment. The cultivators and tillers manufactured by Honda come under their power equipment subsidiary. The parent company is the world's largest manufacturers of internal combustion engines and produces more than 14 million internal engines each year. Honda first entered the tiller market in 1953 followed by a launch in the US market 20 years later.
Frequently Asked Questions
Q: Will a mini cultivator work as good as normal cultivators?
A: There is a common misconception that the mini-cultivator is just a toned-down version of the regular cultivator. While this is partially true, there are a few notable differences. For instance, the blades of regular cultivators are tucked away behind the wheels. But since mini-cultivators are hand-driven, there are usually no wheels to support the machine. Instead, mini-cultivators feature a mechanism to help drive the machine forward using the blades themselves.
To answer the question, and generally speaking, yes. Mini cultivators will work as well as regular cultivators – just using slightly different mechanisms.
Q: What's the difference between a Cultivator and a Tiller?
A: If you're just getting into home gardening then you've heard the terms cultivator and tiller thrown around a lot. Since we've discussed cultivators quite extensively in this article, you should have a rough idea about them and what they do. However, just to recap – a cultivator is used to mix up the soil. Doing so lets plants grow better.
On the other hand, tillers can do much more. While their primary purpose is similar to the cultivator – aerate the soil – they serve another purpose, as well. Tillers can also be used in large garden beds to break up clods and lift up the soil.
Tillers are generally more heavy-duty, while a cultivator is usually more affordable and lightweight.
Final Thoughts
Each cultivator reviewed above has its own advantages. The best small cultivator for one gardener will be different for another depending on their situation and their preferences. However, the Honda FG110 Mini Cultivator was our top pick. It offers the perfect balance of power and control. This versatile machine is the personification of the phrase "Jack of all trades".