There's been a lot of talk about no-tilling methods to grow plants. The logic behind it is that the soil should be disturbed as little as possible. However, this is not really practical for backyard gardeners. The best way to grow a rich and healthy garden is to aerate the soil through tilling. In this article, we will be sharing insights on the best electric garden tiller available in the market today.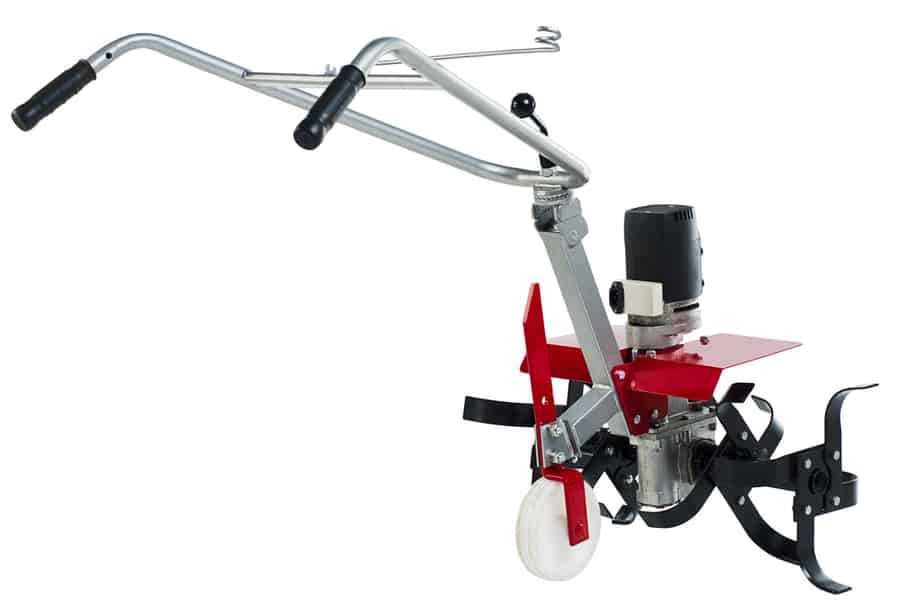 If you are looking for the best electric cultivators then check out our article on Best Electric Cultivator: Complete Buying Guide with Reviews
Top 5 Electric Tillers
Earthwise TC70001 – Our Top Choice
Earthwise TC70001 11-Inch 8.5-Amp Corded Electric Tiller/Cultivator
Earthwise tiller with a powerful 8.5-Amp electric motor with superb run time and service life
Corded electric tiller ideal for small to medium-sized gardens
4 tine cultivator long handle that can cultivate and till up to 11" wide and 8" deep
Lightweight and maneuverable 11-inch cultivator with single lever switch
Cultivator machine with a soft ergonomic grip that is an planet-friendly alternative to gas-powered lawn and garden equipment
Last update on 2023-11-22 / Affiliate links / Images from Amazon Product Advertising API
Earthwise the classical American tiller. In fact, it is one of the best budgets tillers we have seen in a while. Additionally, the manufacturer provides an extended 4-year warranty for an added cost of $11. So if the product doesn't work as intended you can get it replaced. No questions asked.
One of our favorite things about this tiller is its ease of use. The Earthwise is very easy to maneuver. If you are someone who has only used gas tillers until now then you will appreciate the nimbleness of the Earthwise.
Assembly & Operation
It might take you a while before you can comfortably operate this electric tiller. This problem is only exacerbated by the quality of the user manual. We found the user manual to be confusing and poorly made. In a machine as good as this, the user manual stands out as an afterthought. Something the interns had to create in a hurry. This means you are on your own when assembling the machine
It comes in 3 part assembly: – the engine, the handle, and the foot wheels. You will have to assemble the machine yourself. However, this should be pretty easy and we reckon you can get it done in about 10 minutes.
The lightweight makes it easy to till at any spot of your garden while keeping your other plants safe. Since the machine is corded you need to be mindful of wires when tilling the soil. Ensure that the cord does not come in between or you might damage the machine
Cleaning And Maintenance
Maintaining garden tools is always a pain. It is a menial repetitive task and your clothes always end up with grease on them. Luckily, maintaining the Earthwise TC70001 pretty simple. We recommend using one of your old brushes or purchasing a soft brush to take out the mud. This will keep the adjustable tines protected as you are cleaning the tiller. For additional cleaning, you can grab a piece of moist cloth and clean the underside of the machine. Do not hose the tiller with water or else it might rust.
The motor comes with a self greasing system so this is something you can overlook. However, many users have reported that the system stops working after about 2 years. If you see a need for greasing after that then you can refer to the manual for instructions
Pro Tip: After every till we urge you to brush over the mud as there might be hard cliffs leftover. These could cause problems if left alone
What We Like:
Comes with 6 adjustable tines with a cultivating depth of about 8 inches
The foldable handles and wheels make this tiller extremely portable and easy to store
Very easy to maintain
What We Don't Like:
The self greasing system often leaves the motor with an extra layer of grease.
Poorly made instruction manual. The manual leaves out some basic instructions and you are left figuring out how to set up the machine on your own
It is corded
Check Price and Reviews on Amazon
---
Greenworks Cordless Cultivator
No products found.
This tiller is one of the very few cordless electric tillers available in the market. The problem with cords is that it is easy for them to get tangled up and come under the blades. You might also find yourself without a stable power supply. This is where cordless tillers come in.
The first thing that stands out when you see this product is the design. The Greenworks 40V has a sleek design which stands out in a sea of electric tillers.
Blades
The Greenworks cordless use 4 adjustable blades. Each blade is about 8 inches long which can create a cultivating depth of up to 5 inches. This is good enough for a raised bed. Each blade is also adjustable so you can adjust the cultivating width and depth as per your needs. You can vary the cultivating width from between 8 inches using 2 tines to up to 10 inches when you use 4 tines. The tines feature a forward rotating design which is pretty similar to most generic electric tillers
It is better to go through the manufacturer's video as you are setting up the tiller. This will help you get a better idea of setting the tines the right way.
Battery
The Greenworks cordless is powered by a 40v lithium ion battery and has a push to start button. We should note that the battery is not fully charged when it shipped. We recommend that you fully charge the battery before using it for the first time.
The lifetime of the battery is pretty great; taking about 2 hours before it discharges completely. The rapid charging technology also allows the battery to charge very quickly. Many reviewers have noted that it took them about an hour for a complete charge.
Additionally, the manufacturer has provided us with a 2 step safety switch to prevent any accidents. A common problem with electric tillers is that they bounce while tilling.  This is not an issue with the Greenworks. The tiller will still bounce when it hits a hard rock but it isn't as extreme as with other electric tillers
Overall, The Greenworks should be your go-to choice if you are looking for a cordless electric tiller that performs well and is easy to handle
What We Like:
It is a cordless tiller. The lack of chains when using this tiller is extremely liberating
The batteries are very well made. They charge rapidly and have a relatively long run time
Works great on any type of soil.
What We Don't Like:
The Greenworks cordless is slow compared to its gas and corded counterparts.
You need to constantly monitor its charge levels as the chainsaw is powered by a battery
Check Price and Reviews on Amazon
---
Troy-Bilt TB154E
No products found.
If you own a small garden then you should check out the Troy-Blit TB154E. It is a cheap tiller that is designed for small areas. The tiller is powered by a 6Amp motor which is considered weak for most purposes. However, since this tiller is only intended to be used on small gardens a 6Amp motor should be enough.
Blades
The 6-amp motor helps power 8 bladed tines that will dig up your soil. The blades work well to break up chods in your garden as well as separate any rocks that are present. Additionally, there are 4 forward rotating tines are ideal to cultivate and till your garden. The blades are long enough to turn up the soil up to 5 inches deep.
Compact Design
Tilling around the edges is always a pain, but the compact design makes it very easy till the corners too. Additionally, the small size makes it easy to operate. If you find it difficult to use a regular tiller then you may want to check out this product. The small size is a great advantage for gardeners who are older and not as strong.
However, our favorite thing about this tiller is the "silence" when using it. This thing doesn't make a sound. It is very quiet thus allowing you to work comfortably on your backyard without disturbing the neighbors.
Overall, we found that while this tiller has its issues it is the best option for a home garden. However, this may not be the best choice if you have a big garden, hard ground or a field of large rocks to plow. It is too slow and weak for that kind of work.
What We Like:
It is lightweight and versatile. The setup allows you to adjust the width of your till which is great.
It is a perfect tool for any home garden. Quiet Operation, light and easy to use
Tilling depth accurate as needed.
What We Don't Like:
The tiller is designed specifically for small areas. This makes its construction really odd when you are using it in a large field
Doesn't cut through hard ground well
Cord dependent.
Check Price and Reviews on Amazon
Mantis 7250-00-03 Electric Tiller
No products found.
The Mantis is extremely light and weighs just 21 lbs. This makes it the lightest electric tiller in the market. But don't think that it lacks the power required. When it's all said and done, this tiller can hang with the best of them. The 7250-00-03 comes with a built-in 3-speed control that is powered by a 540-watt motor.
Blades
The manufacturer has focused on keeping a simplistic design here. This helps add a lot of versatility to the product.  Additionally, the tines are long enough to let you till up to a depth of 10 inches. You can switch between speeds and even the depth according to the amount of the tilling your raised bed will need.  So if you just want shallow cultivation, then all you need to do is reverse the tines.
The specialty of controlling the speed lies in the innovative tine designs, they are curved at the bottom. This allows them to get more friction and till deeper than regular tines. Mantis completely stands behind the quality of their product. They offer a lifetime guarantee against any chipping or damage to their blades
Other Features
Tilling near the corners can be difficult. Most owners stick to only tilling the center thus leaving the edges untilled. The 7250 is designed to fit into tight spots; making it easier to till small gaps where not even a gas tiller can fit in.  However, you want to be careful as you are doing this. The tines move at 240rpm and it can be dangerous.  You want to be alert while lifting the tiller.
We should note that there is a manual throttle so that the tiller does not move forward by itself. This means that even if the start button is on you don't have to worry about the tiller going out of control in your garden.  But this is just a fallback option, and nothing makes up for being cautious when using a tiller
To get the best results you should maneuver the tiller on previously worked out the ground. If you feel that the ground is pretty hard, then hold the 7250 steady till it digs in well. Once you know the tiller has dug into the soil you want to slowly move backward. This will make your life much easier.
What We Like:
This is the lightest tiller available(weighing just 21lbs)
Beats the gas tillers when it comes on working over the border lines of the fence
Adjustments on the cultivating depth from 2 inches to 10 inches
What We Don't Like:
Tough to clean the roots which get tangled in the tines.
It takes longer to till the soil
This is a corded tiller, so you are dependent on a consistent power supply
Check Price and Reviews on Amazon
---
Sun Joe TJ603E
Sale
Sun Joe TJ603E 16-Inch 12-Amp Electric Tiller and Cultivator , Green
[DURABLE]: 6 Steel angled tines for maximum durability and performance.Voltage (V) : 120. Maximum Extension Cord Length (ft.) : 100..Start Type : Switch. Rust Resistant : Yes.
[EASY STORAGE]: Handle folds for convenient storage and easy transport
[WHEEL-ADJUSTMENT]: 3-position wheel adjustment. Maintenance free
Last update on 2023-11-22 / Affiliate links / Images from Amazon Product Advertising API
Aeration is one of the most important aspects of rich and fertile soil. However, the buildup of foot traffic from family and pets can cause the soil to become compacted. This means less space to hold oxygen. And without oxygen, a plant's vascular systems may not function properly. On the other hand, if the soil is too loose. It cannot provide a strong foundation that a plant needs to grow well. This means we need to regularly aerate our soil.
We have found that the Sun Joe TJ603E is one of the most efficient aerating tillers available. Their setup ensures that there's always the right amount of oxygen present in the soil.
Blades
The TJ603E uses 6 durable tines that run at 340prm.  The tines have an angled in design which works great when tilling. We found that this tiller is able to slice up a 50X50 area decently. The blades are about 16 inches in width and can dig up to a cultivating depth of 8 inches. Additionally, the power provided by the 12 amp motor is more than enough to effortlessly pull up large rocks and cut through roots(This is not as easy when you use an 8amps or 6amps model).
The handles come with wheel position adjustments so that you can adjust the angle until it is right for you. The wheel position adjustments will also help a ton as you are transporting the tiller.
Weight
One of our biggest problems with this tiller was its weight – the lack of it in particular. The light-weight and large power supply make the tiller vulnerable to bouncing over hard rocks. This is why we recommend buyers to use hose clamps to make it more sturdy as you are tilling the soil
What We Like:
The 12amp motor provides more than enough power for most tilling needs
The high rpm easily tosses out the stones and takes out the weed.
Wheel position and handlebar adjustments help in hassle-free transporting and storage
What We Don't Like:
It does not have much variable speed
Since this is a corded tiller, you need to be careful of cords being run over by tiller tines
Check Price and Reviews on Amazon
---
Best Electric Garden Tiller Brands
Earthwise
Earthwise is a subsidiary of the American Lawn Mower Company They has been serving Americans for over 120 years. The American Lawn Mower Company was founded in 1895, since then it has been manufacturing tillers for Homeowners with a focus on being the "clear air choice" for America. Earthwise sells its products at extremely reasonable prices. Every machine offers lots of power, fast line speed, and wheels which get out of the way so you can dig deep.
This has helped Earthwise become one of the top Electric Tiller brands in America
Mantis
Mantis is an extremely reputable brand that has prided itself on its engineering. The company motto is "Big Things Come In Small Packages". This is clearly seen in all their products. Mantis has spent the last four decades manufacturing compact lawn and garden products. Their machines are famous for their high quality and extreme power specs. However, we found their products are far too costly for the average homeowner – you can get 2 Earthwise machines for the cost of a single Mantis( this does not even include the price of accessories).
Troy-Bilt
Tory-Bilt is known for its innovation. The company is famous for pushing the boundaries of what is possible with an electric tiller. As of recently, they have begun to sync their machines with your Smart assistant(Google Home, Alexa) and integrating their features. When it comes to bed maintenance and cultivation, their best electric tiller makes it easy. It has got a slower tine speed, but solid performance. It's the best choice available if you value top dressing/blending in compost tasks more than deep tilling.
Greenworks
Greenworks Tools is the leader in battery-powered outdoor power tools for DIY- consumers and landscaping professionals.  They have an extremely large line of outdoor tools so you are guaranteed to find the appropriate Greenworks tool for any job you had in mind. They have some of the best technologies in the industry. Greenworks tools deliver the power and performance of comparable gas-powered tools without the problems associated with them.
Sun Joe
Sun Joe has been in the market since 2009. But don't take their youth for inexperience. The brand has already been awarded multiple times for its innovation. They are most popularly known for their two-handle design. However, we found products are very uncomfortable to use. But since ergonomics vary from person-to-person, you may want to try one out to see if the two-handle design works for you.
Things to consider
Feeling a bit too overwhelmed with the choices? Hopefully, the below sections will help you understand your situation better. Depending on which segment you lie, you can pick the appropriate tiller for yourself.
The Type Of Clay
Soft Clay
If you are tasked with tilling soft clay
Mixed Clay
If you are gardening on mixed clay then rototilling is not going to be easy. We suggest you to use sprinklers to moisten the clay first before you till the soil. This is a very messy process and you are going to get your clothes dirty.
On the other hand, the Earthwise TC70001, will work great even on mixed clay. In this case, we recommend you to till at the highest cultivating depth(should be around 8″). Once this is done you want to manure the soil before proceeding to till it again at a 2-inch depth.
High Clay Content
However, if the clay content in your soil is too high, then tilling becomes a royal pain. Even the slightest hint of moisture and the soil is going to turn into big stick clumps. In this case, the Mantis is a great choice. The demure size might give you the impression that the machine is too weak for hard tilling but that's simply not true. The mantis electric tiller is capable of breaking up even the hardest of soils. With the size and weight advantage, it is the best choice for areas that are typically tilled using a gas tiller.
If you are interested in learning how to deal with soil with high clay content then check out this article
Area Of Cultivation
How large is the area you plan to till?
If you have a very large area and the cost is not really a limitation then we urge you to pick the Sun Joe. The machine is perfect for tilling the compost on large areas very quickly. However, if you are only planning to till a small area then the Troy Bilt is a great choice.
Corded vs Cordless
When picking an electric tiller you have a choice between a corded or cordless tiller. Corded tillers tend to be easily available and are generally cheaper while cordless are quieter when operational. We have discussed the pros and cons of using each in the following sections.
Corded Tiller
One of the biggest advantages of a corded tiller is the convenience. All you need to get a corded electric tiller started is a household power outlet. This makes the process as simple as charging your phone. Most corded tillers also have an adjustable tilling width. This lets you quickly and easily take on different styled jobs with a single convenient tool
They are also a bit cheaper than cordless tillers as they are more easily available. If you plan to spend more than 45 minutes at a time working on aerating your garden then the corded model is the right choice for you.
Cordless Tiller
Cordless tillers are much easier to use as you don't have to deal with wires or cords anymore. They are also a great choice if you don't have a power outlet nearby. However, since these machines are powered by a battery you can only use them for a limited time before you need to charge them again. Most cordless tillers work for about 45 minutes on a single charge.
If you are going to operate your tiller far away from an electric source then a battery-powered model is an excellent choice.
Pro Tip:  For the best performance, look for a model with a Lithium-ion battery. They last much longer and maintain consistent power throughout the charge.
Conclusion
Hopefully, by now you have a rough idea about the tiller that is right for you. Our favorite option is the Earthwise TC70001 electric tiller. The machine is backed by a brand that has been in the industry for a while now and knows what they are doing. We are suckers for a good deal and the Earthwise is one of the best value for money tillers you can purchase today. If you have any suggestions we would love to hear them in comments below!