Our homes and yards should be places of safety for our friends and family. We all want our backyards to be private and kept out of the influence of people who are unwelcome to our property, but sometimes creating privacy can be an unsightly task. In this article, we'll be going over 21 of our favorite backyard privacy ideas that keep your belongings to yourself and add to the beauty and sophistication of your home!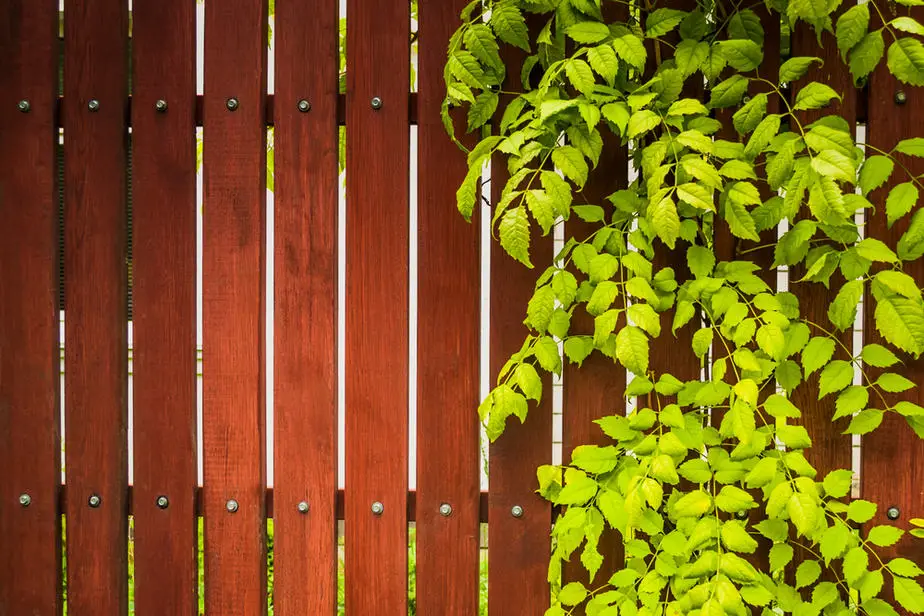 1. Wall of Bushes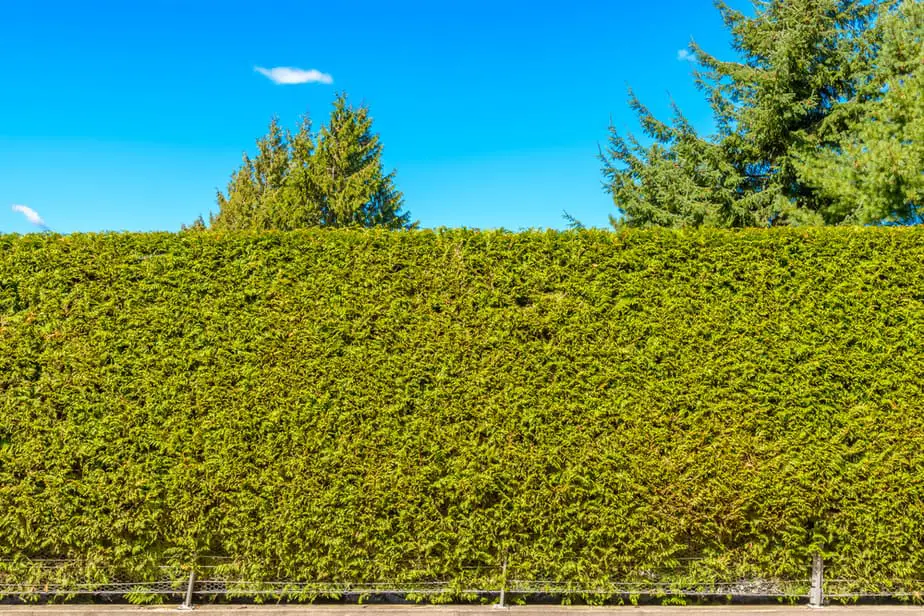 A wonderful alternative to stone walls and wooden fences, this wall of bushes is a beautiful and lively way to create privacy in your backyard. Unlike rock walls and fences, weathering of materials is never a problem, and bushes can be easily replaced if part of the plant dies.
2. Green Pillars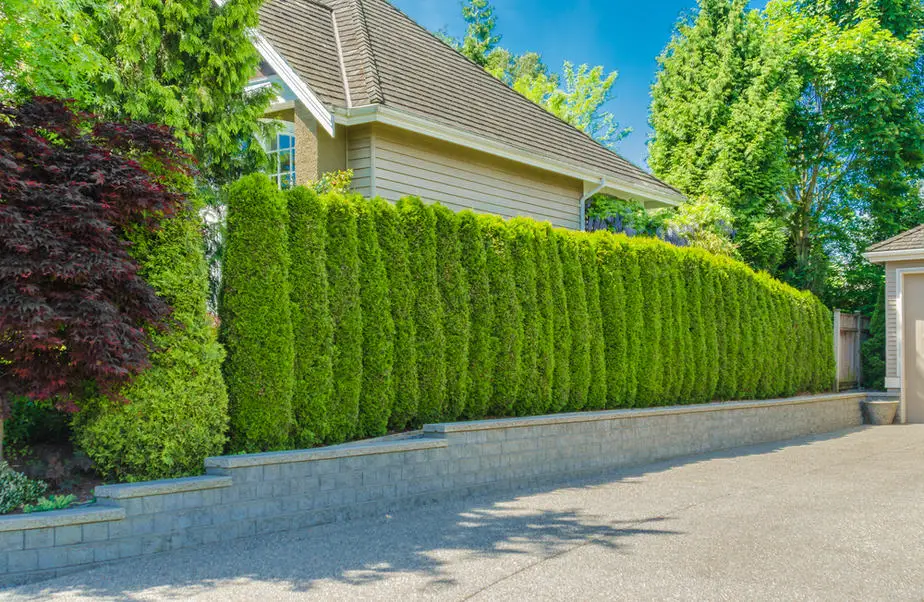 Another green wall, this group of individual pillar-like bushes work together to separate the sanctuary of your property from the outside world. These create a unique appearance of single bushes forming into one large bush, contrary to the uniform appearance of bush walls like our first example.
3. Shrub Wall with Picket Fence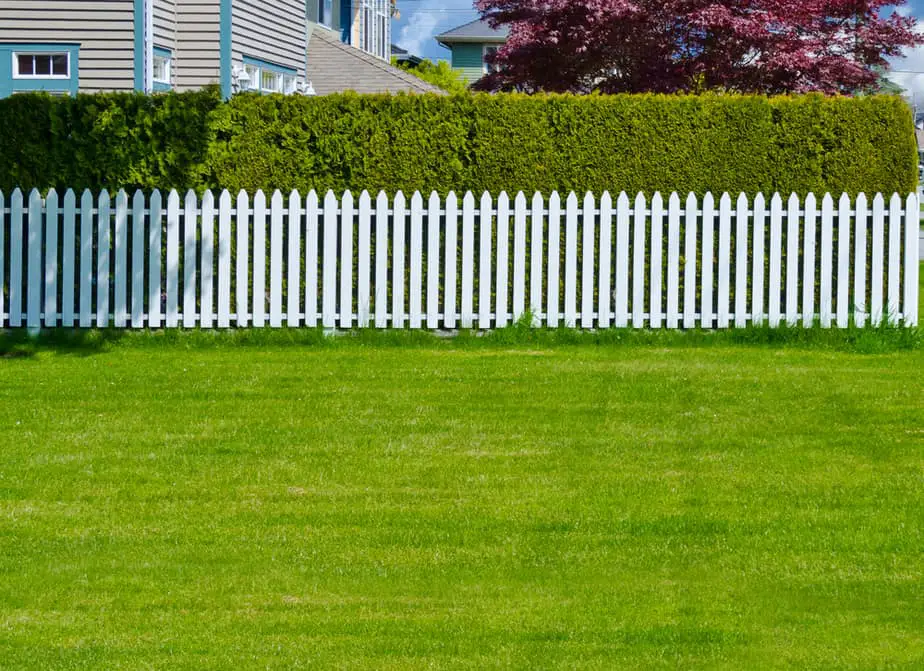 A traditional style of American neighborhoods, this separation between you and your neighbors is a classic. A towering shrub wall lined with a quaint white picket fence is reminiscent of television family homes from The Dick Van Dyke Show (and others like it) that represent our own; bringing that perfect, happy-go-lucky feeling to our properties.
4. Basket-Style Fencing with Gate and Overgrown Plants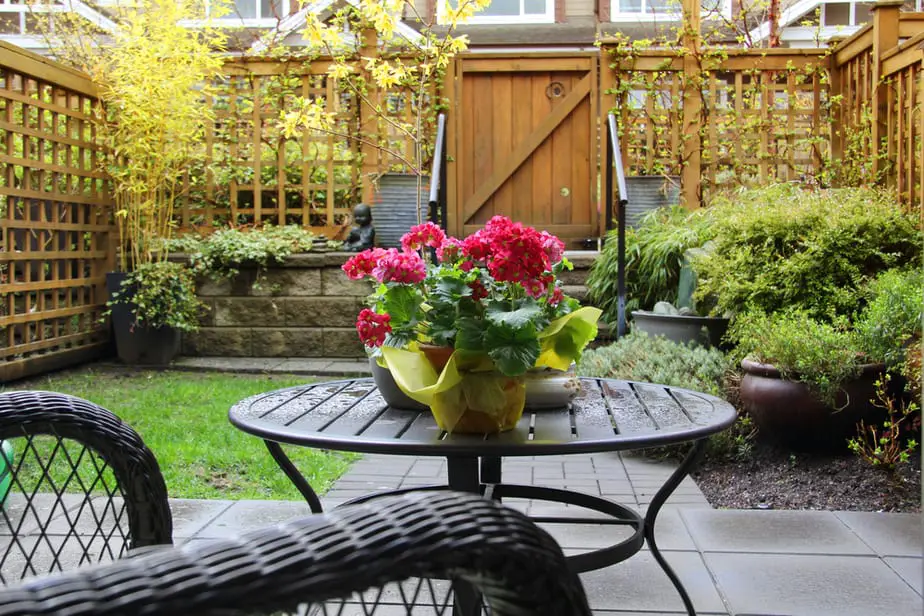 The basket-weave style of this fencing and additional coverage from the plants is the perfect privacy for small backyards, without making the outdoor space feel too enclosed.
5. Common Wooden Fence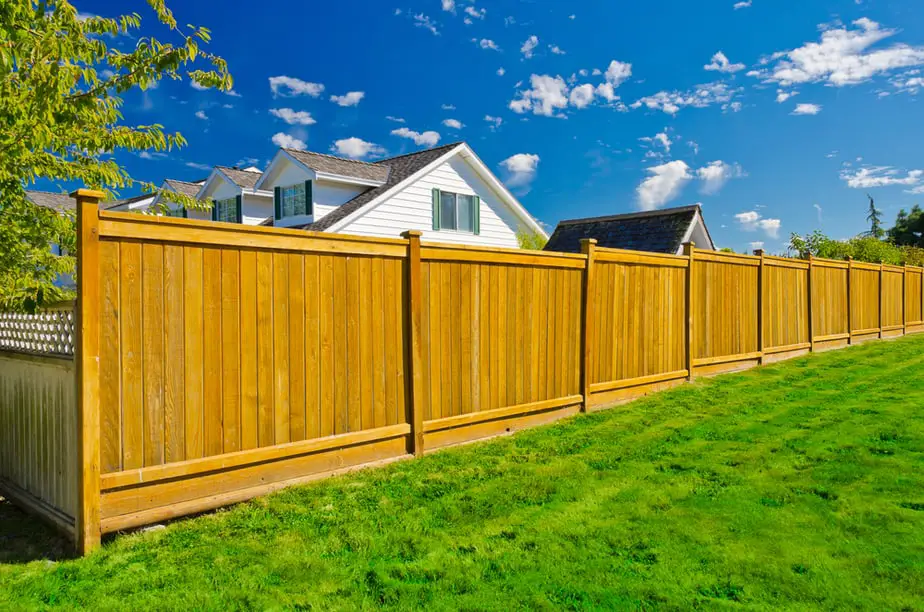 As a common measure of privacy, these towering wooden privacy fences are often seen in crowded neighborhoods with close neighbors. The massive size of these fences is great for keeping strangers out and your belongings.
6. Curtains for Keeping Out of Sight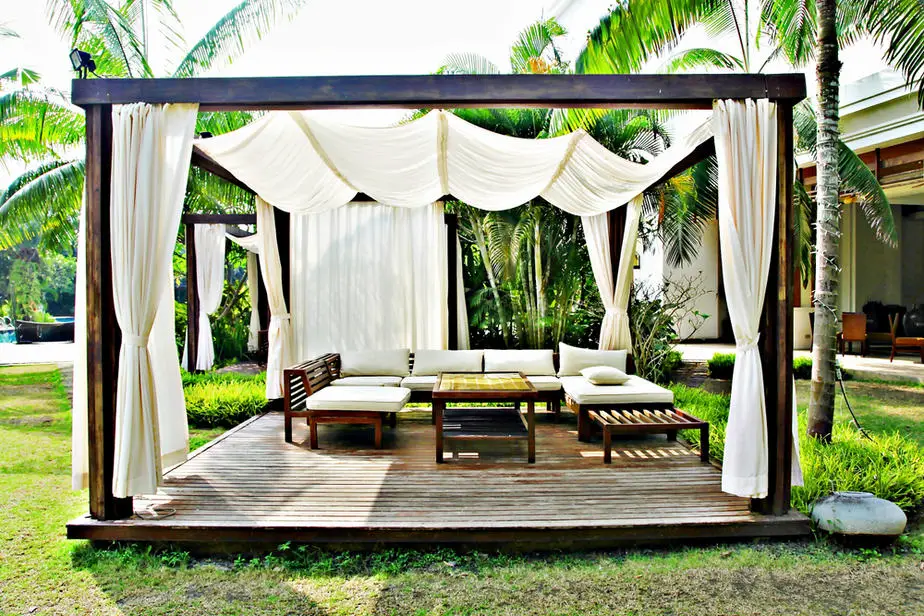 For large yards, adding a pergola with a raised deck would be a relaxing outdoor area. As with all large properties, it's nearly impossible to keep private. Putting curtains on a pergola is a great way to conceal the area from those who may be able to see into your yard.
7. Modern Garden Wall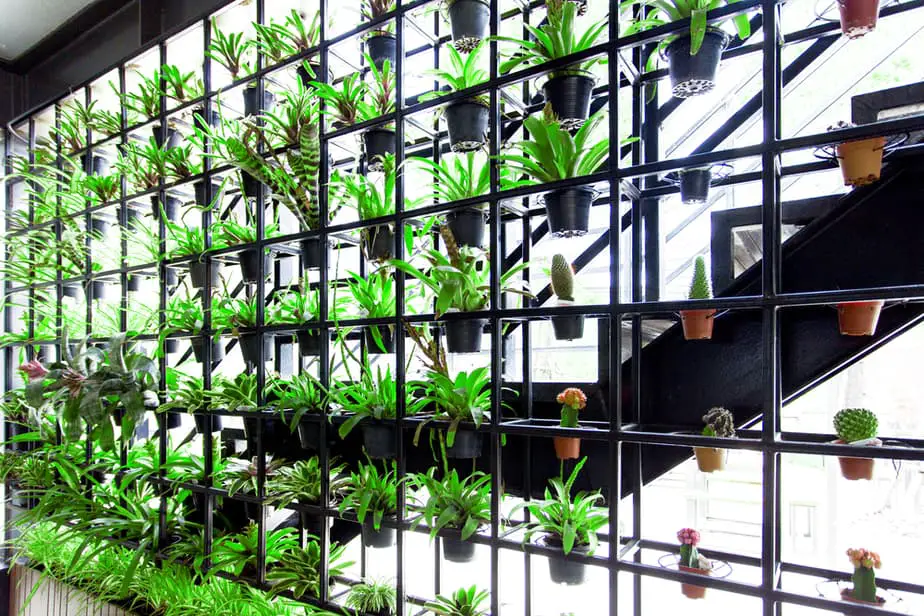 If you don't wish to be completely isolated from the outside world, but still want some backyard privacy, this modern garden wall may be something to consider. The small plants hide the area just enough to keep the property from being completely open to outsiders but still allows for some openness.
8. Stone Wall with Irregular Stones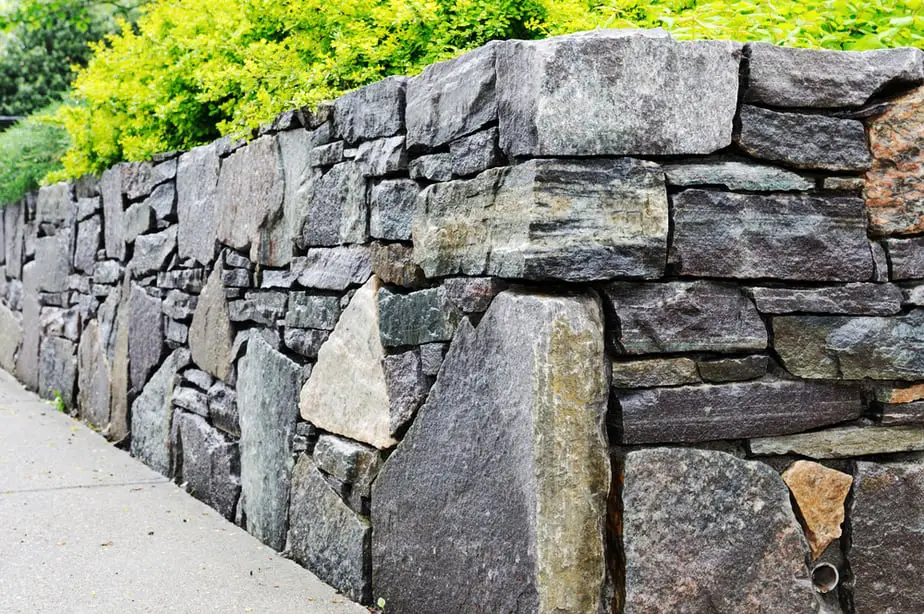 Stone walls have been a beautiful addition to homes and communities for centuries. Not to mention, they're a surefire way to keep strangers out and your property separate from the outer world. This wall brings the ancient sophistication of stone barriers to the modern world with its unique variously shaped and sized stones.
9. Gazebo With Floral Wall and Barrier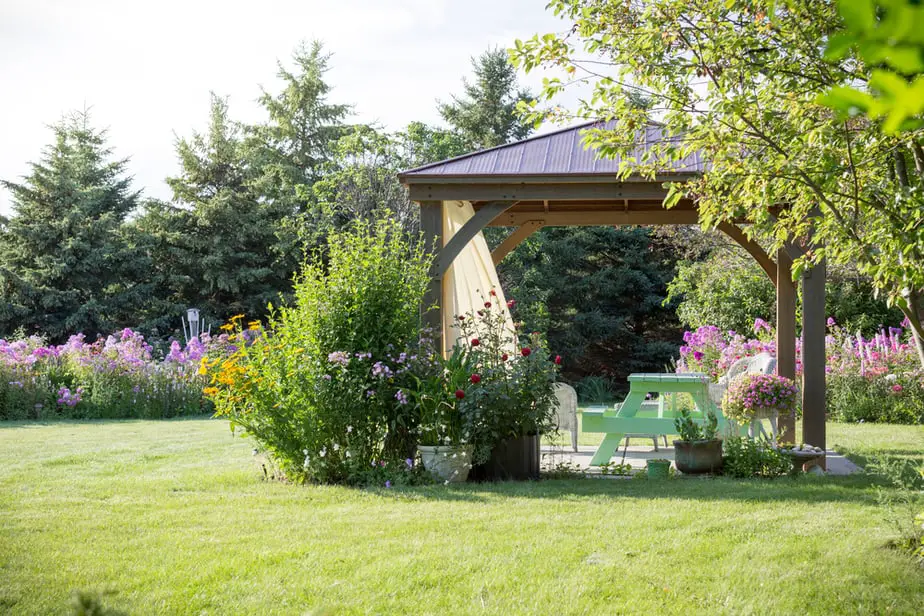 Homes with large properties are often difficult to keep private. A small, concealed space similar to in the photo would make the perfect partially hidden lounge area for properties with many acres. The towering flowers lining the property line create a natural fence, and the overgrown wall of plant life covering one side of the gazebo obscures the view from afar.
10. Garden Trellis with Vines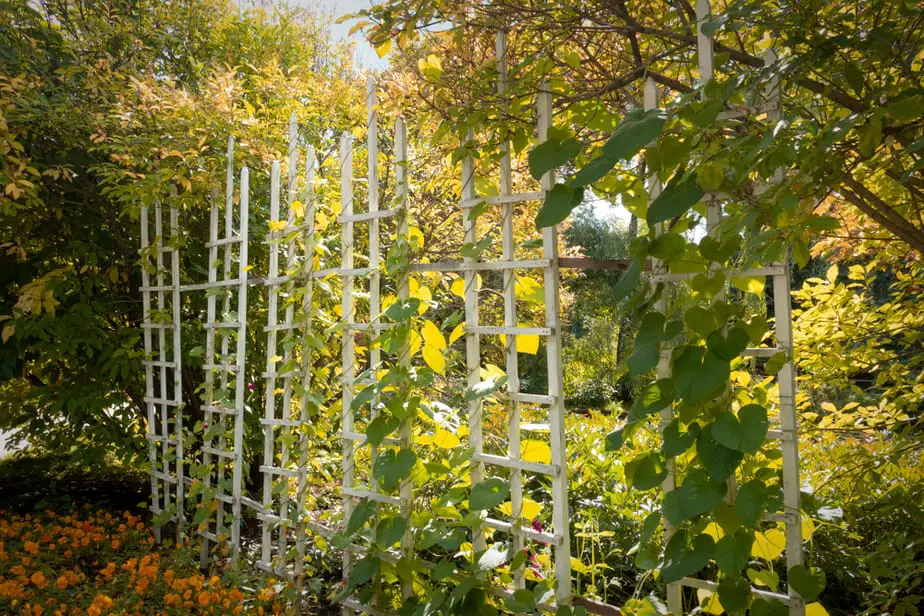 These white panels are affordable and great for covering a small area of open space in any home garden. The vined plants act as a screen, letting light through and dividing the property, but without obstructing the view.
11. Put an Emphasis on Large Plantlife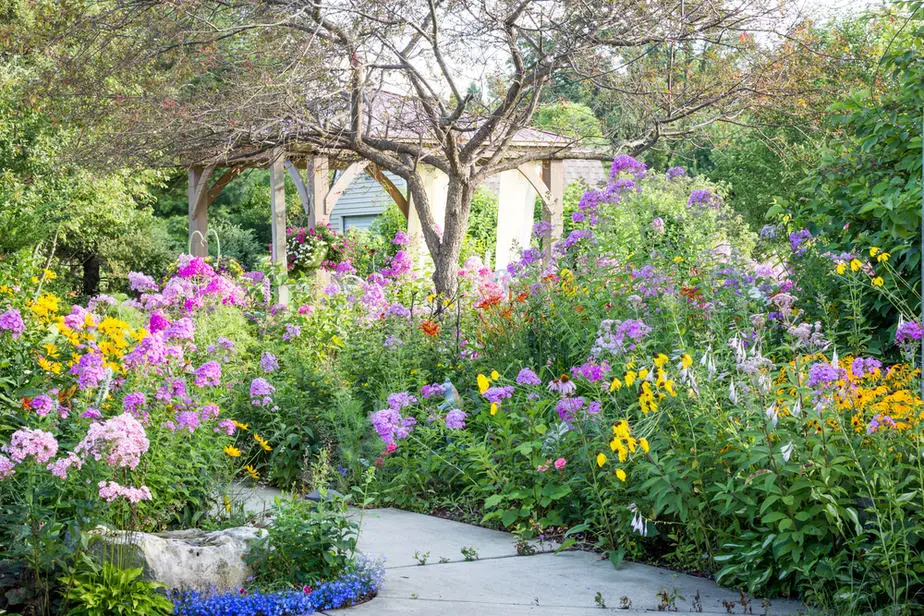 Lining the walkways of your front or backyard with thick shrubs and flower bushes is a wonderful way to turn the attention away from your home or activities on your property and turns it towards the colorful leaves and petals. The plants in the photo add a fullness to the yard that would otherwise be open and public.
12. Awning Over Balcony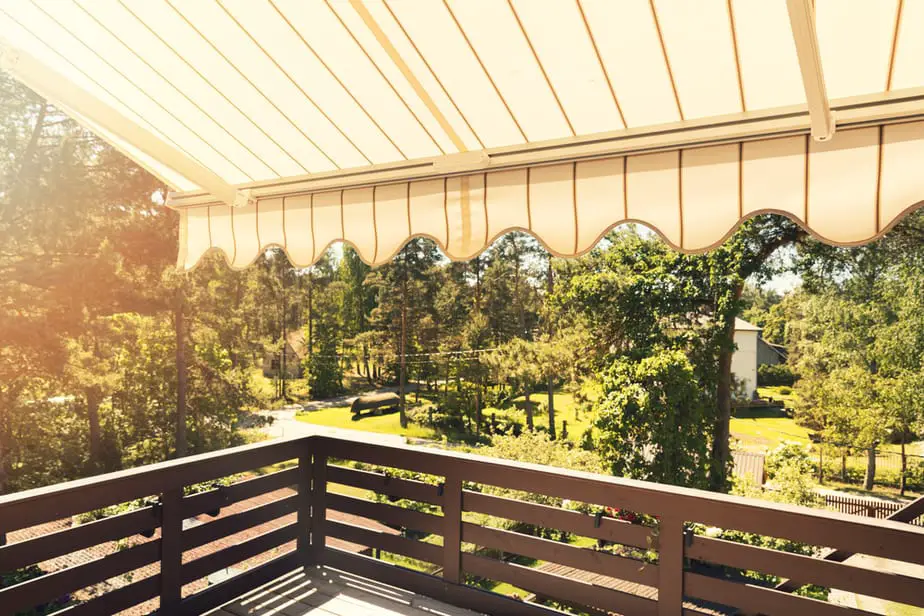 This open balcony facing the street is covered by a lovely cream and brown striped awning. Awnings are one of the best ways to enclose a deck or balcony and are often moveable for either more or less privacy, depending on your preference.
13. Add Forest-Like Landscaping and a Waterfall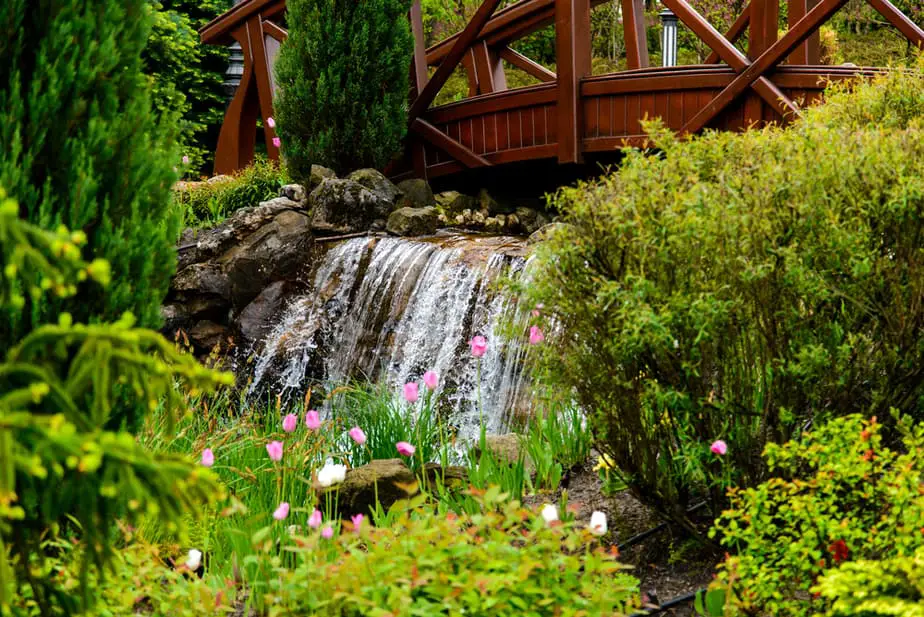 Similar to putting an emphasis on large plantlife, adding natural, full landscaping and a waterfall is a way to divert the attention away from your home and home activities. Additionally, the sound of the running water adds to the privacy of your property by drowning out any noise coming from off of your land.
14. Layered Stone and Plant Walls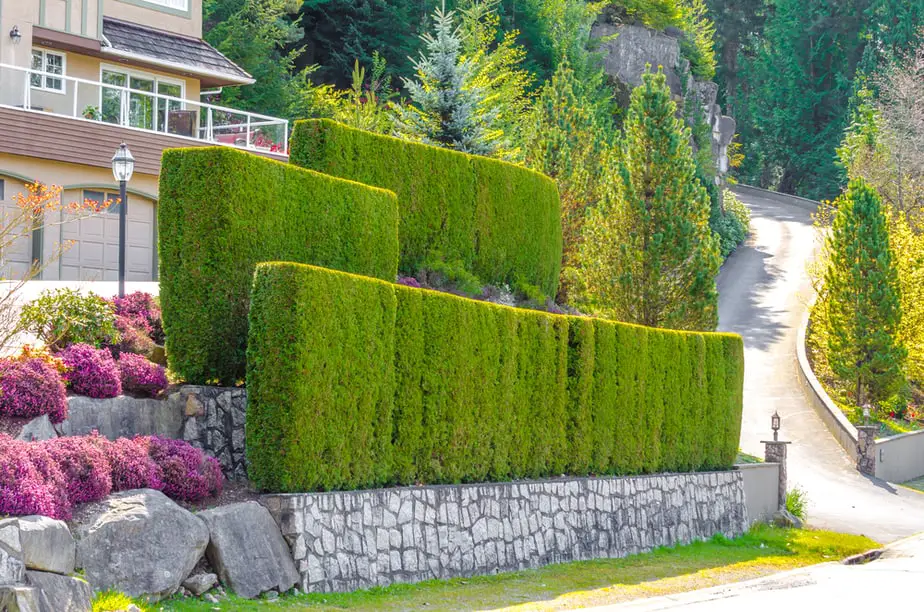 This home sat on a hill is partially hidden by the bush walls with stone bases. The green walls are layered and each increases in height to conceal various areas of the home and driveway.
15. Modern Stone Wall Waterfall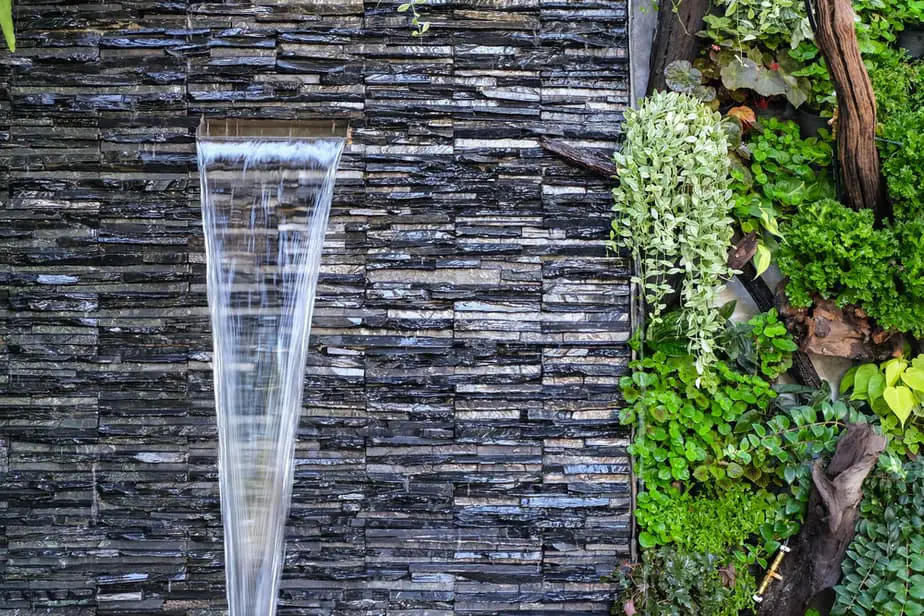 This modern-style stone waterfall would be a stylish addition to the front of a home and a way to cover your belongings from the view of the road or other things on the other side of the property line. Like the natural-style waterfall, this modern waterfall would likely drown out some of the outside noise, as well.
16. Hot Tub Concealed by Green Wall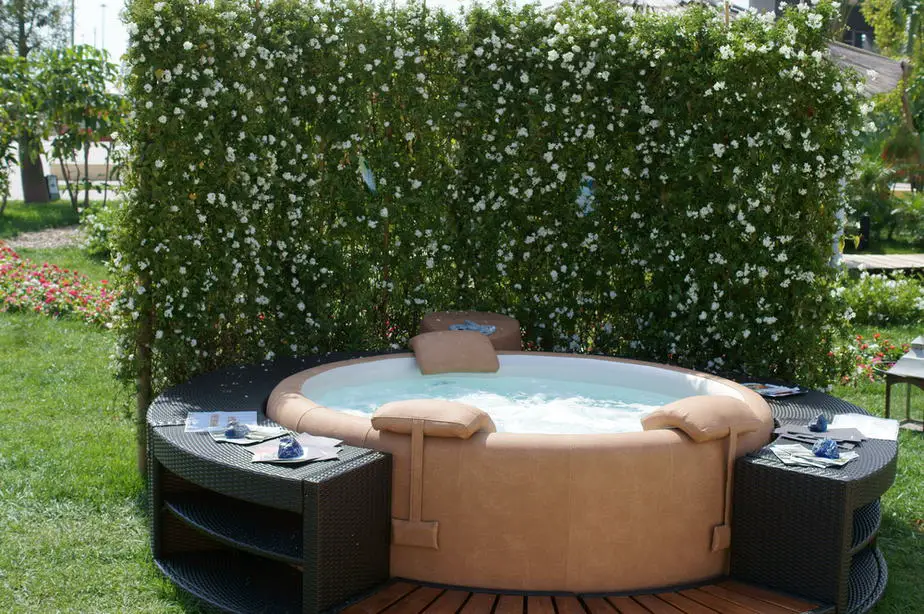 The last place we want our privacy to be invaded is the hot tub. If you have a decked hot tub in the open space of your yard, concealing it from your neighbors with a sweet-smelling flowered bush is an appealing way to relax in solitude.
17. Wall of Firewood Next to Fire Pit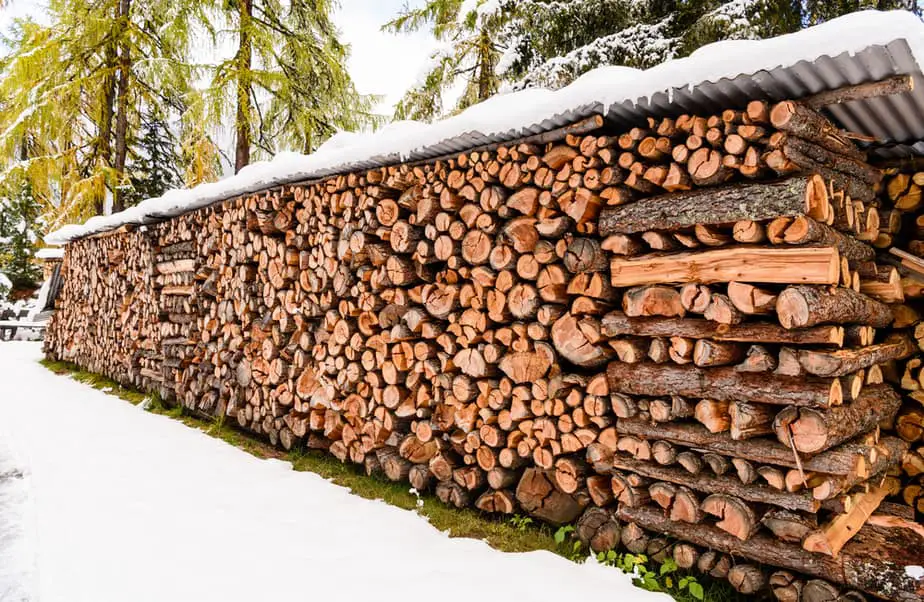 Though there isn't a firepit in the photo, a firewood storage area next to a firepit would be a clever and useful way to privatize the nights you spend by the fire.
18. Layered Plant Life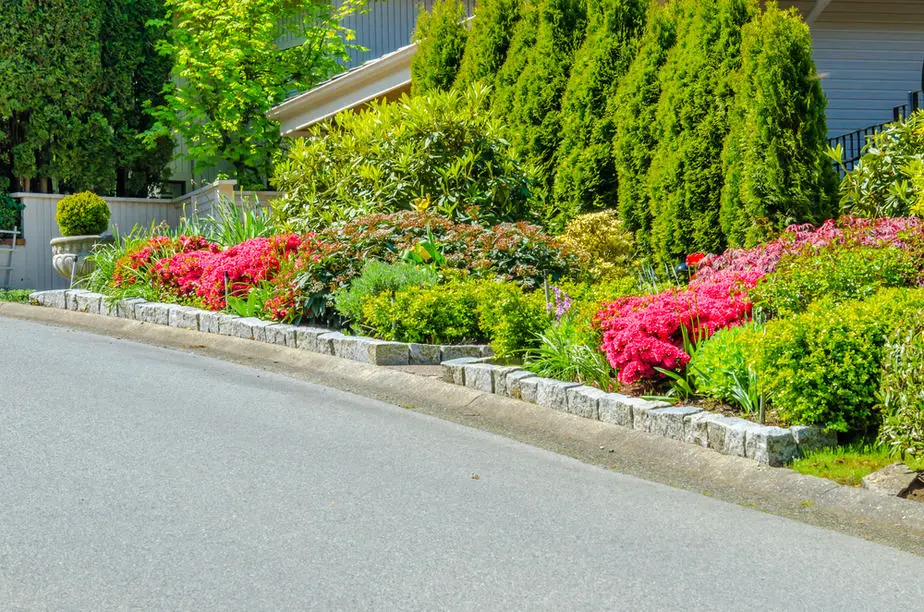 The front yard and entrance area of this home are concealed by layers of variously sized plant life to create a colorful prospect that distracts from the rest of the property and its belongings.
19. Brick Wall with Gated Entrance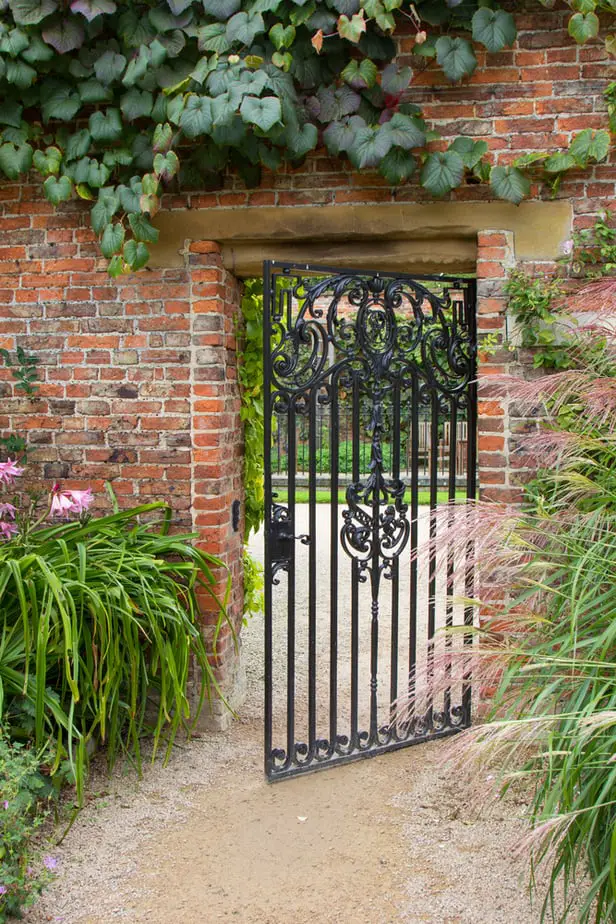 If you'd really like to wall off your personal world from outside influence, adding a brick wall with a sturdy iron gate to the front of your property is probably the best way to do that. The brick and detailed iron gate give off the classic aura of old-school sophistication and wealth.
20. Sunflowers Behind Picket Fence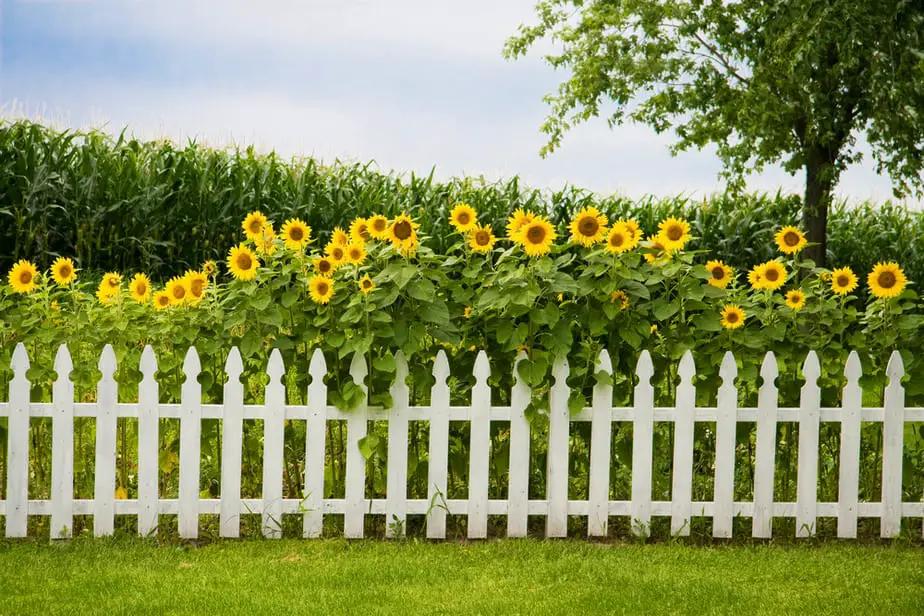 Yet another way to use massive plant life to privatize your property, sunflowers make an adorably bright and towering distraction from your home. The white picket fence also adds to the cuteness of this scene and would be the perfect barrier for a small cottage or otherwise ranch or country-style home.
21. Vine-Covered Pergola Driveway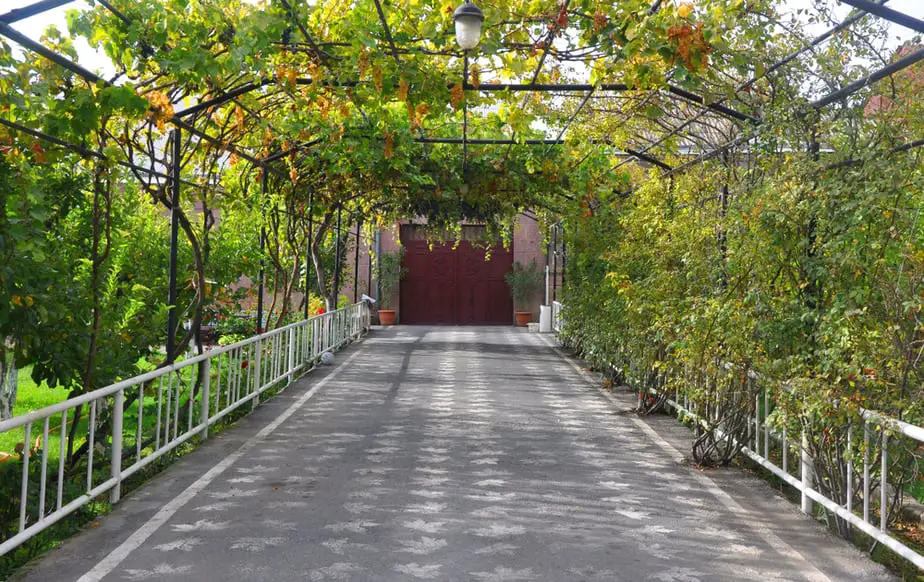 This vine-engulfed pergola is a beautiful way to conceal your driveway and home entrance without walling off the entirety of your property. This would be great for keeping wandering eyes from your personal business and adding to the feeling of security to your home.
Privacy and safety are essential for each and every home or property. Not only can objects of privacy keep your belongings out of the sight and influence of strangers, but can also add to the charm of your home. We hope you enjoyed our article covering our favorite backyard design and privacy ideas!