A gate can provide privacy, security, and dress up the look of your house or property. Here are 29 fence gate ideas that will inspire you to create a unique gate that will stand out from the rest.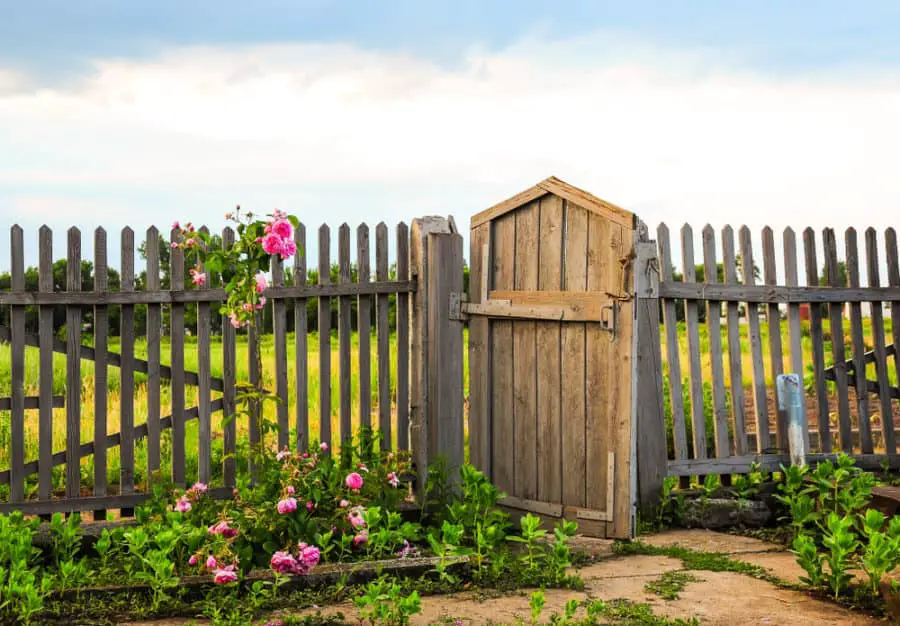 When building your own gate, pay extra attention to the supports, the posts, the gate hinges, and which way you want your gate to open.
There seems to be almost a 50% chance that first-time gate builders will install part of the gate backward, so be sure to pay special attention to this aspect.
You don't have to build your own gate to be part of the design process. Some details that can make a gate unique include the material, stain, color, and design accents. Color can be a great way to customize the look of your gate. Different colors can even have an affect on your mood. Fancy latches and hinges are also a great way to update the look of your gate.
A new or updated fence and gate will not only make your house look great, but it improves home security. Your gate creates one more barrier to entry. It is also a great way to create boundaries for children, a dog or cat, or any other pets. No matter what your reason for building a new gate, hopefully, these ideas will help provide inspiration.
There are many options for adding a new fence gate into the overall design of your outdoor area. This article will take you through many of our favourite options. However, it really comes down to your personal preference. So take a while to find out what you want, and how you can choose the gate that is best for you.
Read on for more details aboutour choices for 29 fence gate ideas that might inspire you.
Traditional Picket Fence Gates
White Picket Gate Surrounded By Shrubs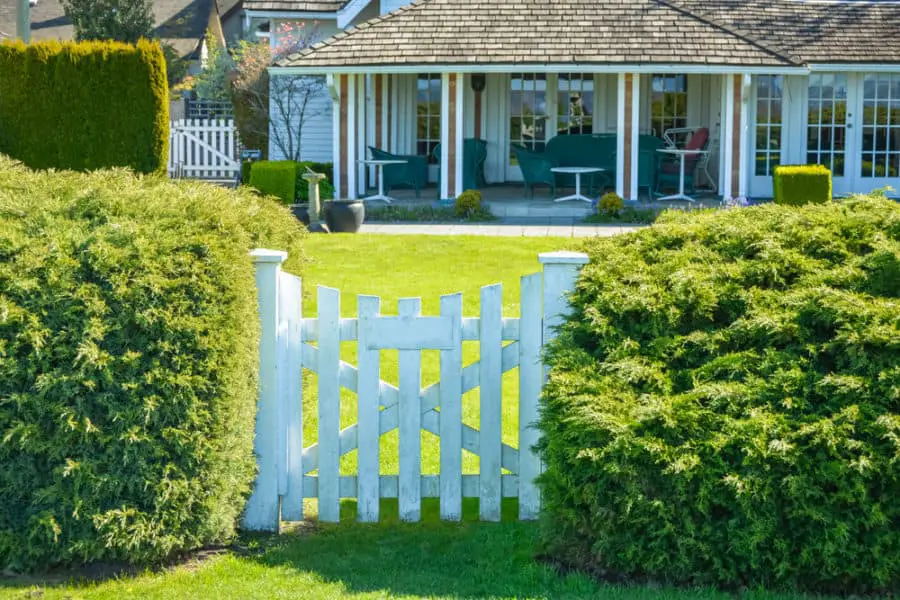 This traditional white picket fence gate reminds us of the English countryside or maybe a trip to grandma's house. Nothing says home like a white picket fence. This one can easily be duplicated with white pickets, cross boards and a couple of fancy posts. The shrubs are optional. If you want a classic/nostalgic look, a white picket fence is about as vintage and as it gets.
Arched Picket Gate with Brown Posts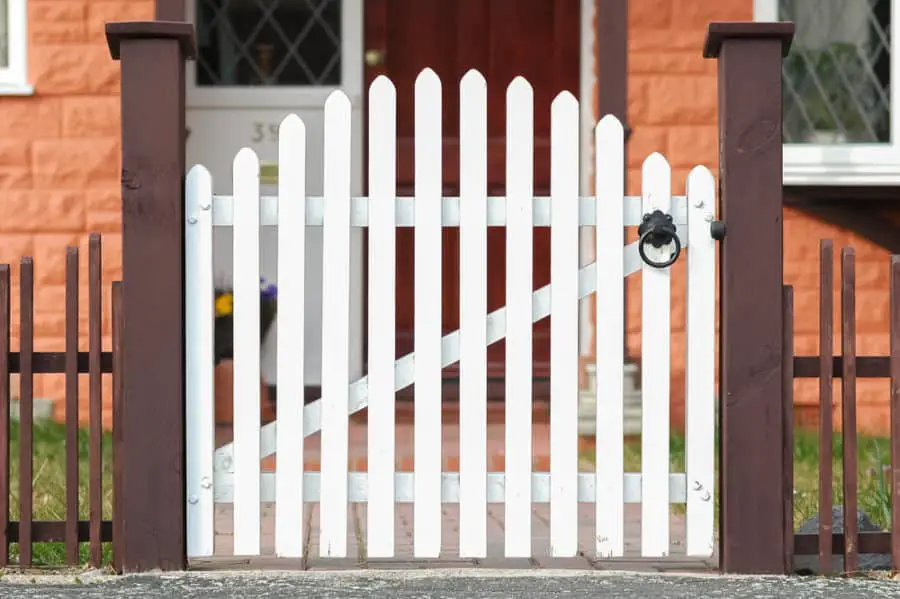 Here is another white picket gate. This one has the pickets trimmed to an arch shape and z pattern supports. It comes complete with a fancy looped gate handle. It is supported by brown posts with an interesting brown wood fence design. This just goes to show that any gate and fence can be combined to create a unique entrance to the yard. In fact, having your gate stand out from your fence might be the perfect way to add your own unique twist to your outdoor space!
Archway Gate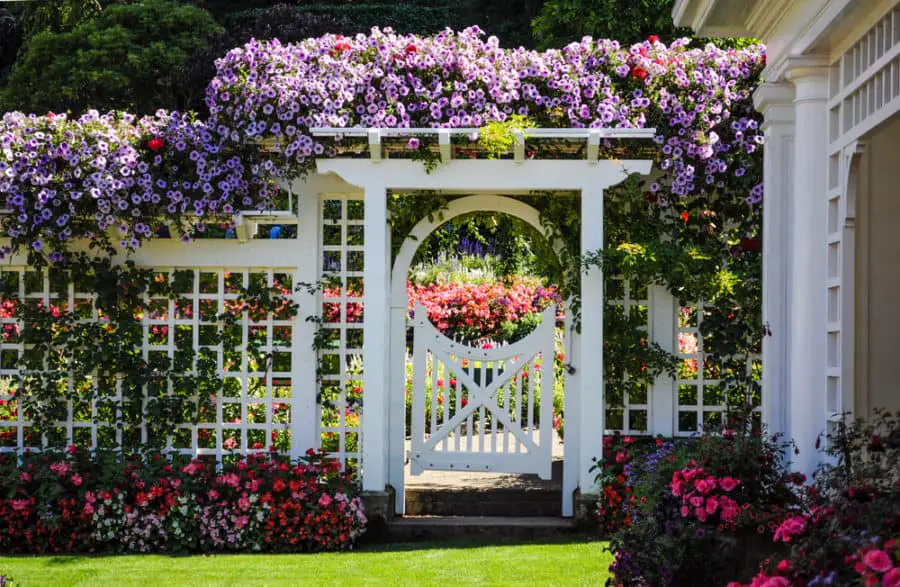 Here is a beautiful ornate white wood gateway. The gate itself is relatively simple with a u-shape curved top, x supports and straight pickets. Then it is set into arched posts and attached to a pergola shaped frame. The fence has a square lattice pattern. To top it off this elegant gate and fence are painted white and surrounded by colorful flowers and vines. This might be a bit complicated to build, but it certainly has that classic appeal and the gate commands attention.
Vinyl Fence Gates
White Vinyl Railed Gate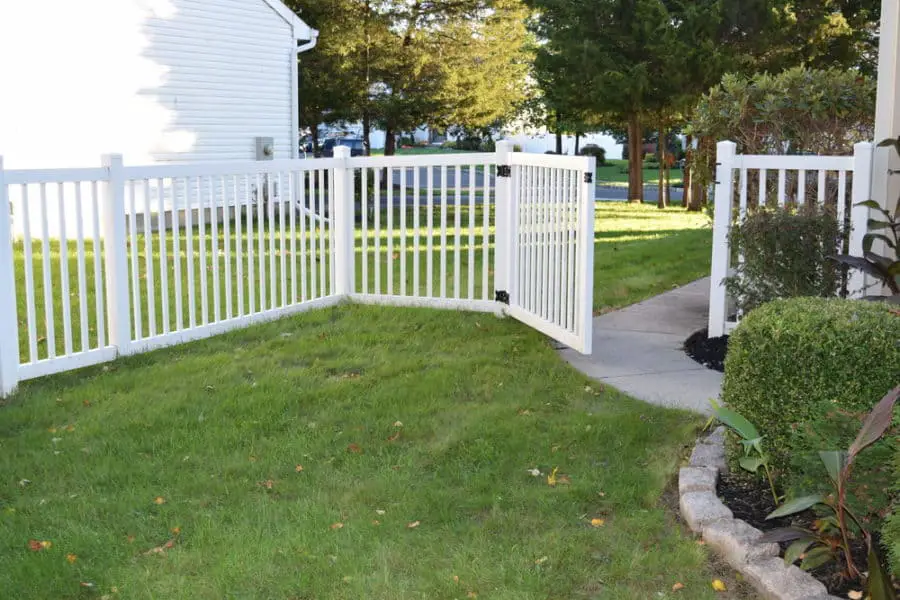 Vinyl fences have come along way. These fences are sun and weather resistant and can be brought back to life with a simple spray of the house. They last much longer than traditional wood fences and look as good or better. This design is a straightforward up and down picket in a railed frame.
A vinyl gate is a great idea if you want something that will hold up to the elements, but don't want to sacrifice that classic look. This kind of fence gate might cost a bit more, but it also lasts longer, making it a great investment.
Double White Picket Vinyl Gate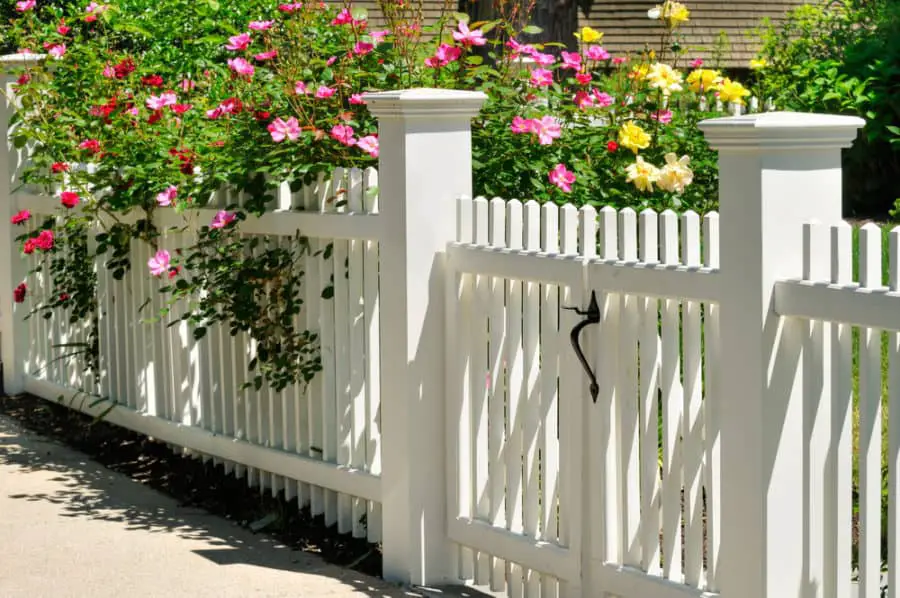 Here is a fancier vinyl option. This is a double gate with up and down pickets on a z patterned support frame. It has a large decorative latch and handle. The posts are large and detailed. They really set off the fence in this beautiful flowered yard and garden. This is an excellent option if you are looking for that classic style with all the benefits of vinyl.
Privacy Vinyl Gate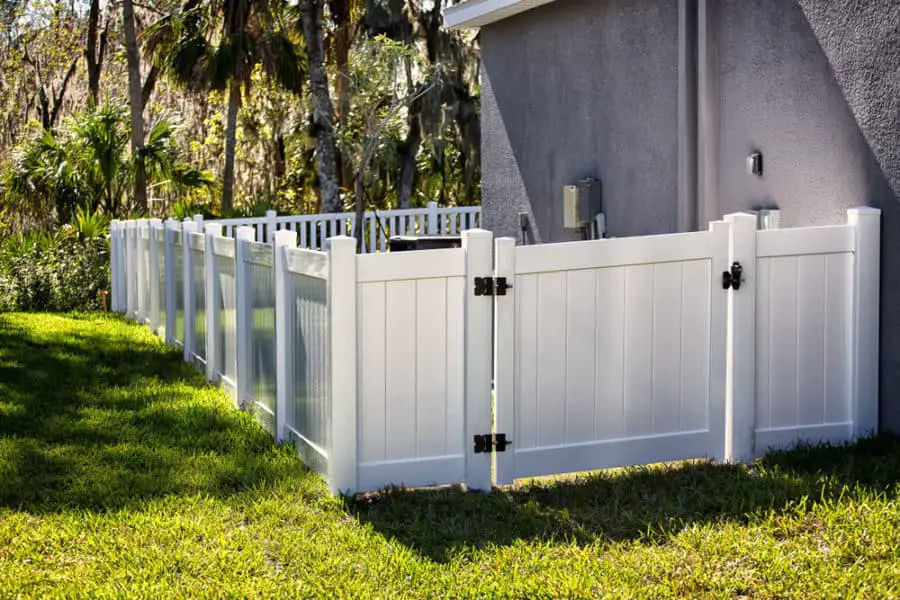 This vinyl gate and fence uses touching slats between the frame and posts creating a privacy fence. This is the perfect option to block off unsightly utility areas or to contain pets. The black hinges and latch against the white make the fence standout and looks great in a well groomed yard. If you're struggling to come up with privacy fence gate ideas, then this vinyl option might just solve your problem.
Wooden Fence Gates
Wooden Pole Gate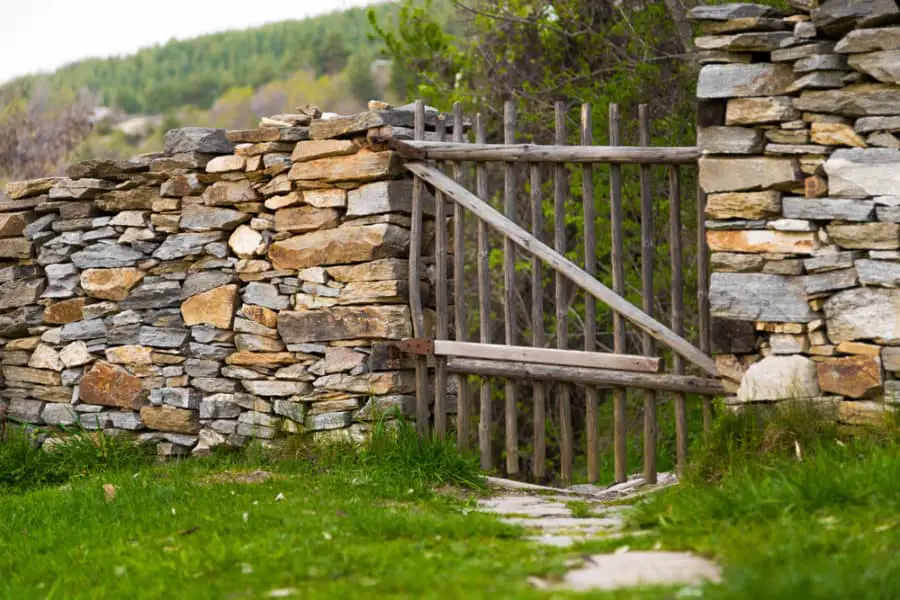 Here is a rustic looking gate made from natural poles and branches. Even the z shaped supports are natural poles. It has metal hinges and a staggered top. The gate is set in a stacked stone fence giving it that rustic fairytale look. This just goes to show that fences can be made with whatever you have to work with. This is certainly a low-cost DIY option, and sometimes the simpler materials actually make a fence gate look even more appealing.
Solid Wood Gate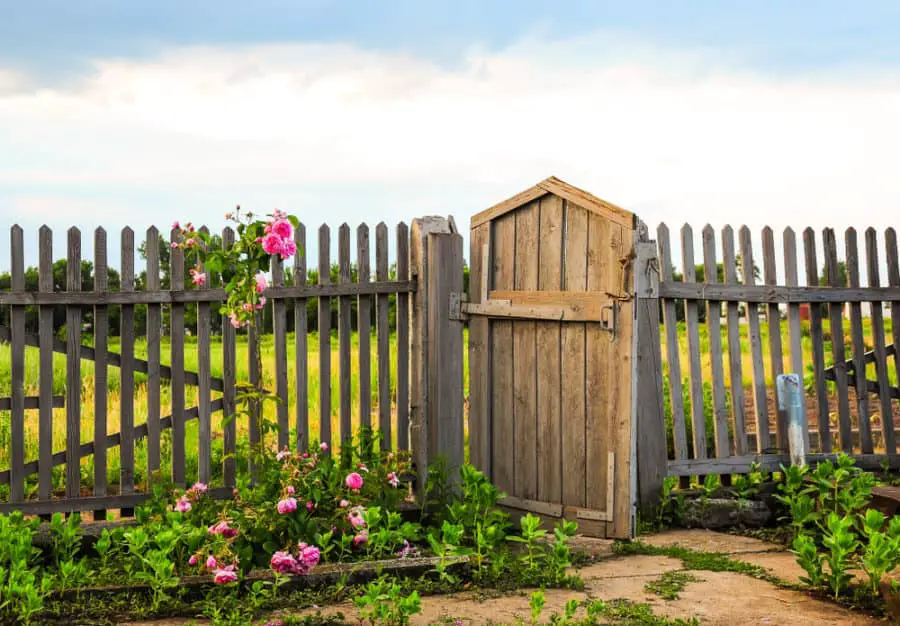 This is a beautiful solid wood gate. The rectangular frame forms a point at the top creating a unique twist on the typical arched fence gate. The posts are sturdy, and it really offsets the old natural wood pickets in the fence. This gate style can be finished with a built-in sliding wood latch or a fancy brass or metal latch.
Vintage Fence Gate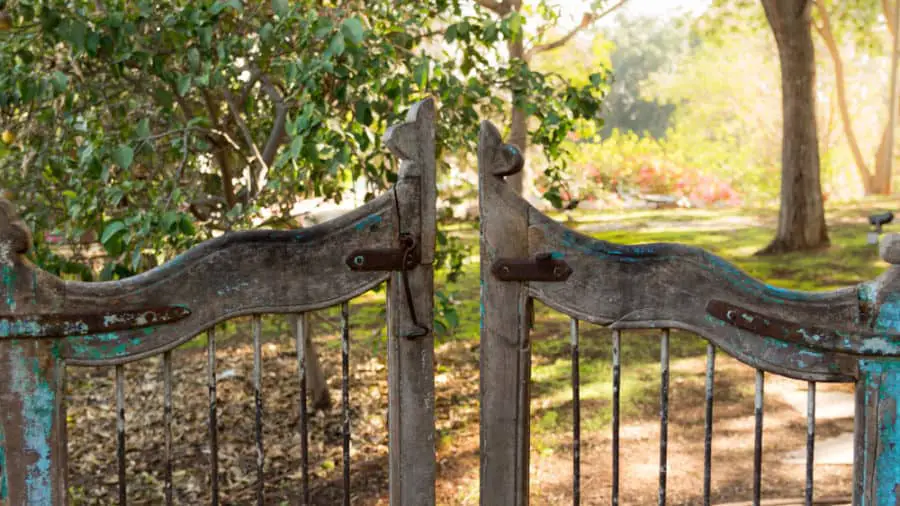 Finding a gate like this would be an awesome thrift store or antique shop find. This is a vintage saloon door swinging-gate with a stylized wood pattern and metal bars. The chipped paint, rust on the hinges, and remnants of colors of the past only add to its character and charm. You could certainly replicate this style if you are an experienced woodworker, but sometimes age gives a gate the charm that is impossible to replicate.
Slatted Wood Gate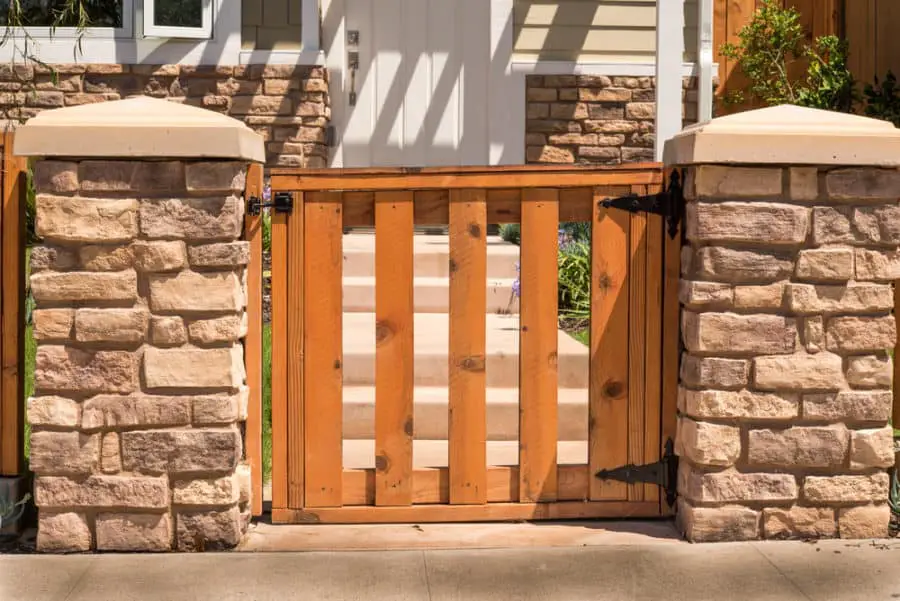 The simple design of the slatted wood gate not only makes building it easy, but it is strong and durable. Create a wooden frame, then add slats with a top and bottom support board. Mount it to fence boards and add a nice matching black latch and hinges. The stone pillars only add to the strong appearance of this gate and fence.
Decorative Wood Gate with Metal Supports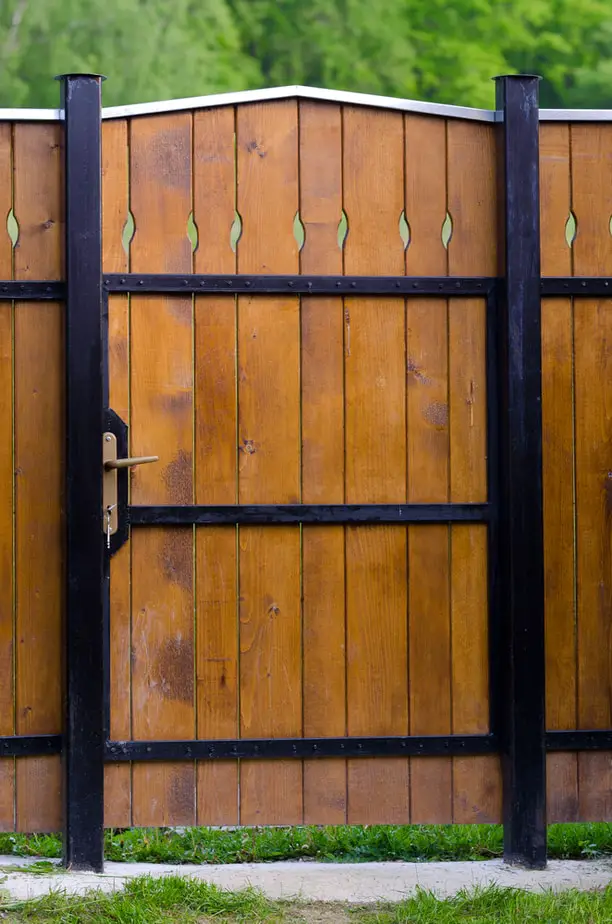 Here is a unique and functional design. First it is a very strong privacy fence with solid wooden boards and black metal supports and frames. If you look closer, you will notice that the width of the slats is staggered and there is slight design element cut into the top. There is a white board on top of the pointed arch.
This is an example of how a small change can make a big difference in terms of overall design. There are many small ways to alter your fence boards that make a noticeable change to the end result.
Backyard Privacy Gate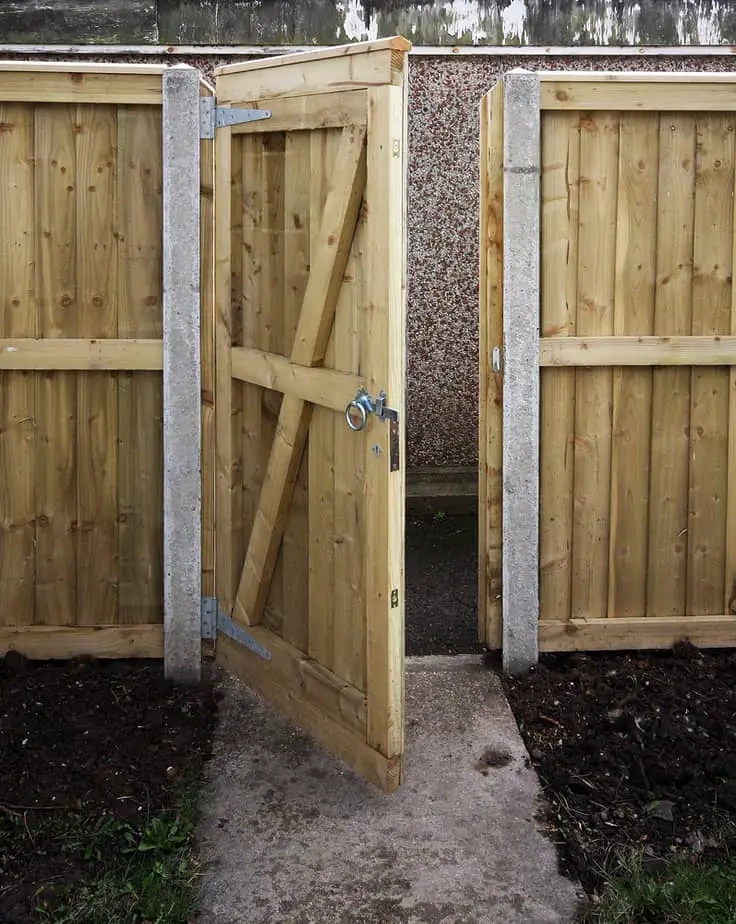 This is a solid wooden privacy gate and fence made from wooden pickets in a rectangular frame. It has a simple cross support and an extra diagonal support. It's set off with simple silver hinges and a looped latch. This will keep your yard or garden secure from prying eyes, wandering people, and keep your dog from escaping!
Arched Gate with Pergola Frame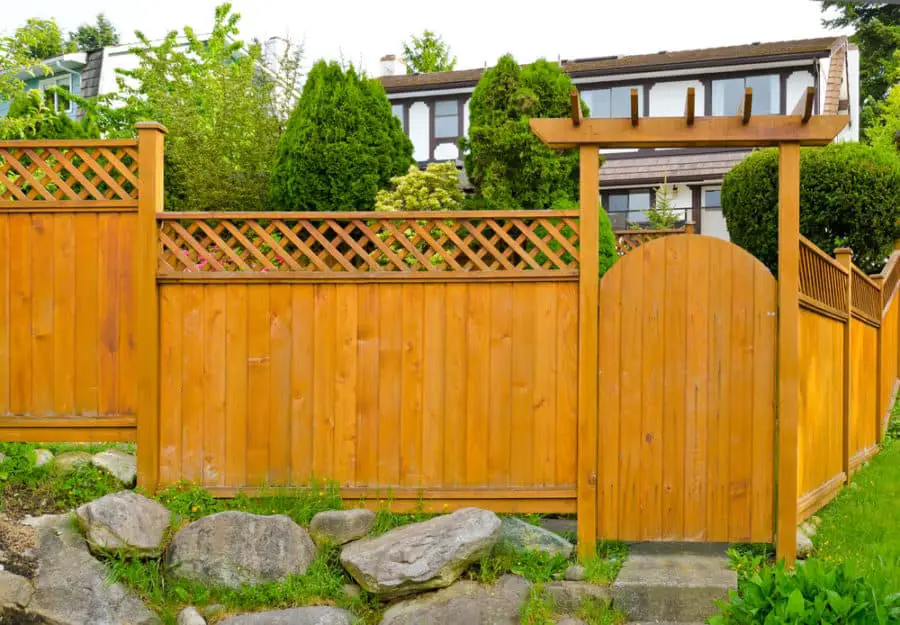 This is a decorative arched gate made with wooden slats. What sets the design off is that it is in a fancy pergola frame with decorative beams on top. The fence itself is a stained lattice fence that adds to the overall look of the landscape design with its offset heights and rock accents. Sometimes, the proper frame can draw the eye to your gate in a very tasteful way.
Stately Wooden Gate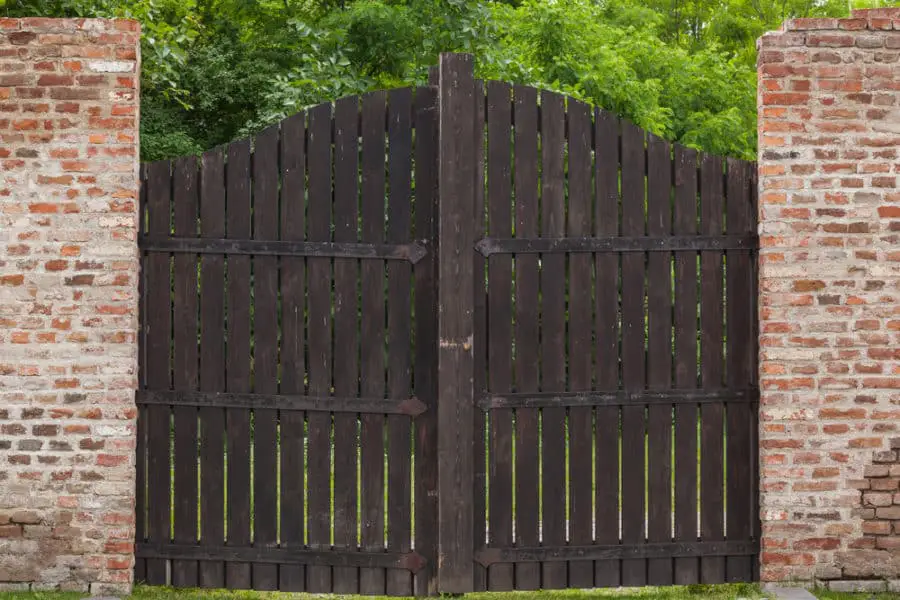 Here is a large double gate made from different materials, including painted brown wood and iron accents. This stately gate opens inside brick pillars giving it the look of an impenetrable fortress. This is a gate that will make trespassers think twice. This design could be a great option if you have a very large fence and need a large gate opening.
This gate is a very bold choice, but sometimes you want your design choices to stand out. These large gates are often used as driveway gates, as a gate for a perimeter fence, or as a privacy gate.
Natural Log Gate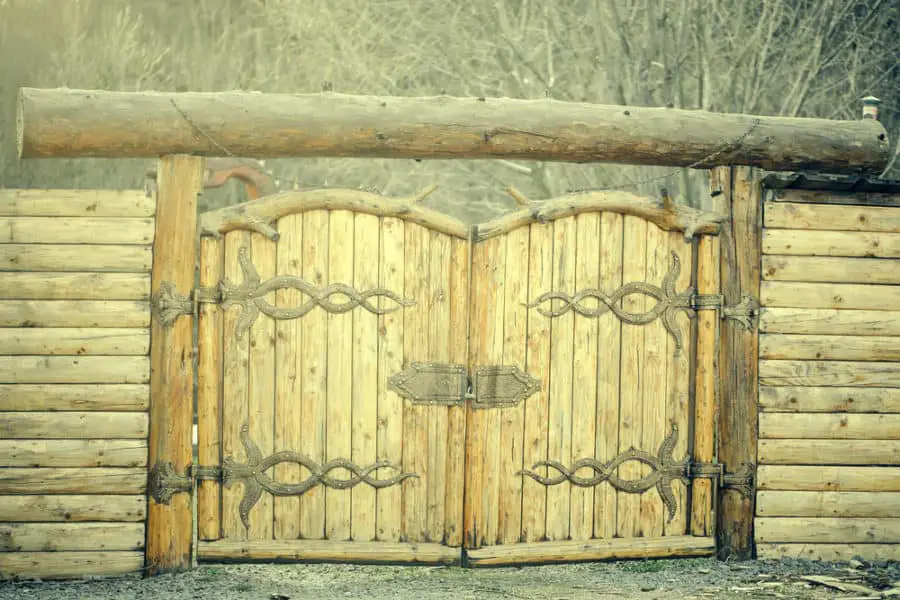 Here is a unique design that would be perfect for a mountain home, lake house, or ranch. This gate is made of natural timber slats and logs. The arch and posts are made from large logs and there are decorative accents continuing from the hinges. If log cabin living is for you, this gate may be an option.
Driveway Gate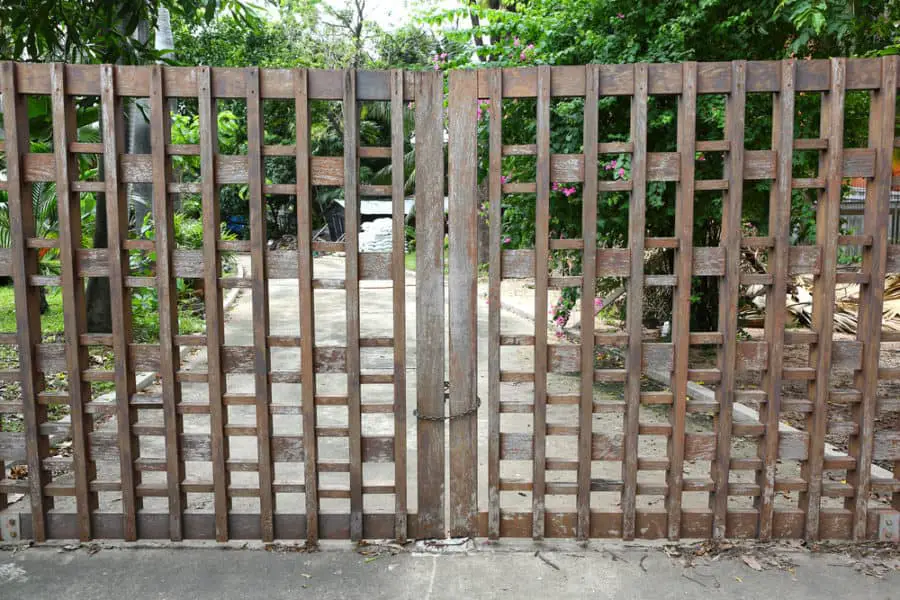 Here is a gate design that could be used for a driveway or large fence opening. The double fence is made from a wooden frame interwoven with smaller pieces of wood, creating an intricate checkered design. This gate is secured with a wrap-around chain and padlock, but a fancy latch could be used to really dress it up. Simply secure a latch with some screws and your gate becomes instantly more appealing.
Bamboo Gate
Bamboo is a great material for gate building, and also has that unique, tropical appeal that you may be looking for. Bamboo is very strong and your gate will be secure and long-lasting. It can also make a great gate for a privacy gate as the bamboo is solid and thick. One of the main appeals of bamboo for most people is the unique look, but it is actually a very practical material as well. Just make sure your winters aren't too harsh, as cold weather can damage bamboo.
Ivy Gate
A wooden gate is a great surface for climbing plants and vines. Add even more nature to your outdoor space with vines that climb your fence, your gate, or both. There are many types of ivy and vines to choose from, so do some research and pick one that best fits the style of your garden, and your climate.
Wicket Gate
A wicket gate is a handy door that is built into a larger gate. It can be built into abigger gate, such as a driveway gate, and allow a person to access the door without going through the trouble of opening the entire gate. It requires an extra bit of craftsmanship, but if you find yourselfcoming and going a lot, it can save you a major pain. Be sure to take your time and have this built properly, as a wicket gate that doesn't function as intended can be a major headache over time.
Moon Gate
Maybe the most unique gate on our entire list! A moon gate can be made of wood, but is also often made of stone or other materials. A moon gate is hardly a gate by traditional standards, but might be what you are looking for nevertheless.
A moon gate is essentially a round entryway to a yard, garden, courtyard, or more. While not technically a "gate", as it does not stand in someone's way, it still serves as an entryway and a great way to clearly mark an entrance. If you are really looking for the boldest option on this list, then look no further than the moon gate.
Farm Fence Gates
Log Farm Fence Gate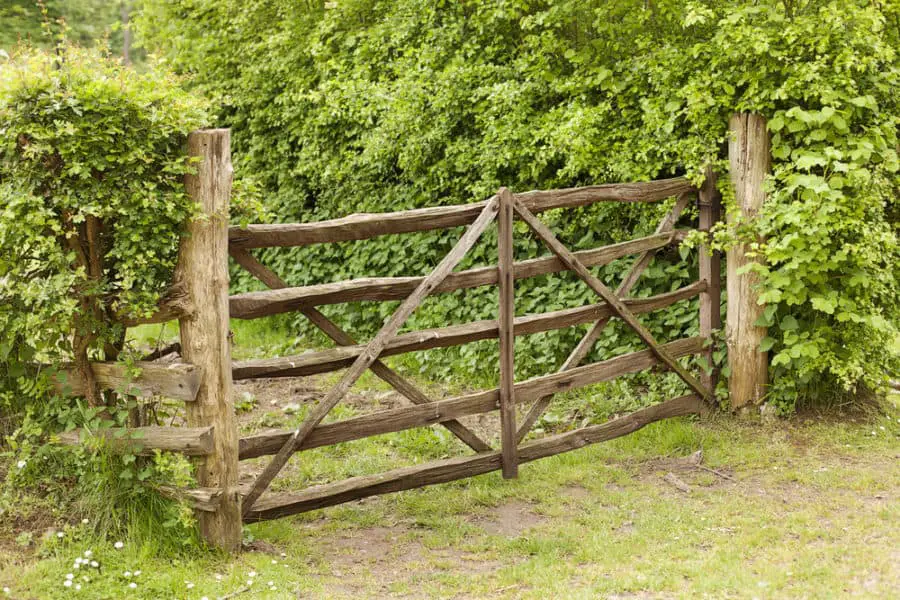 A driveway gate is a necessity out in rural areas. Here is an example of a large driveway gate made from natural logs put in an a-frame with slats going across it. This would be a great addition to any farm or cabin area, and it's really set off by the large log gate posts. This gate is great because the materials are accessible, it is easy to make, and it can cover a large area. It has that rustic look without all the extra effort.
Wood Slat Farm Fence Gate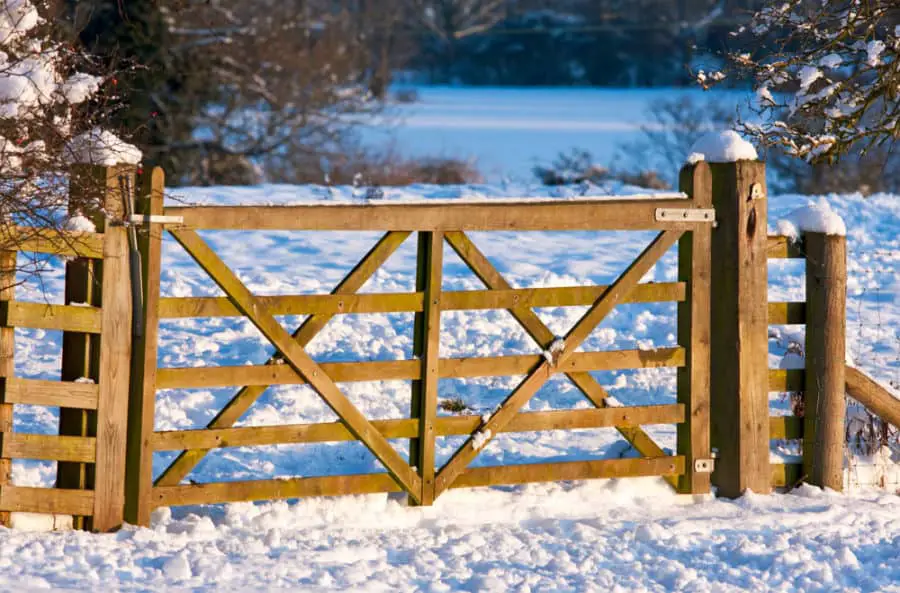 Here is another variation of the farm fence gate made from wooden slats. It is a simple design with a rectangular frame and vertical slats. Diagonal support slats create the a-frame look. It is set in sturdy support posts with metal hinges and a metal latch. This is a simple and useful gate design. The snow is optional.
Once again, a great fence gate idea that is quite easy to build and covers a lot of ground. It is an ideal match for the type of fencing that covers a large outdoor space with maximum efficiency.
Simple Square Gate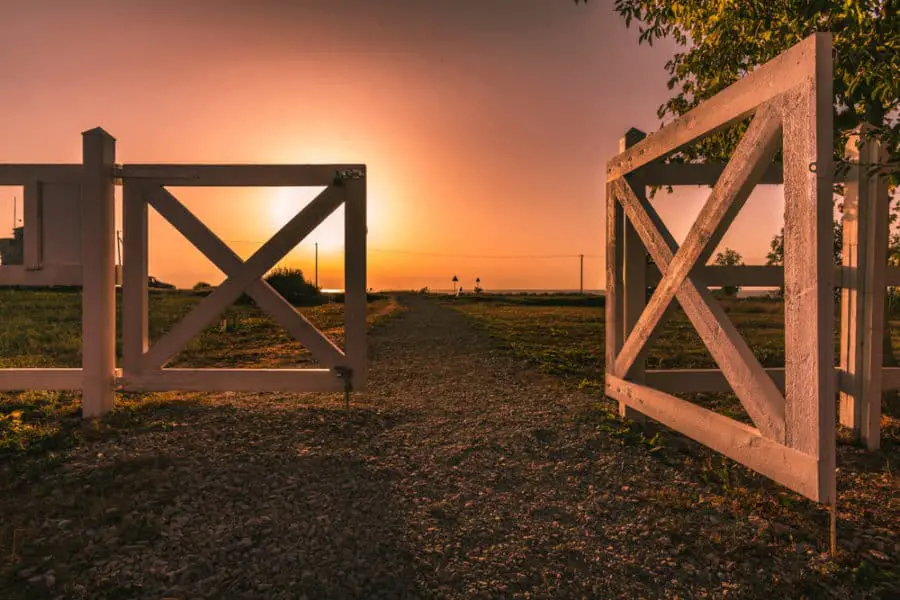 Here is a simple square gate made from a square frame with diagonal supports. This double gate is mounted on a post on each side. This simple design would look great on any ranch, horse corral, or your backyard. Even without the sunset this gate is a beauty. This is another gate design that is function over form. A simple design, with affordable materials, to cover and enclose a large space. Perfect for the purpose that it serves.
Colored Fence Gates
Pretty Red Gate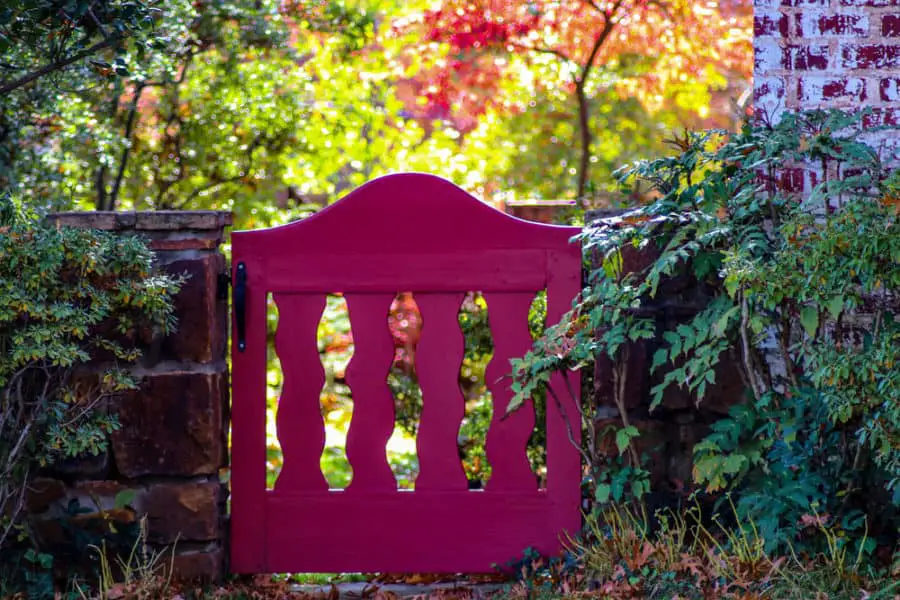 A rounded top and slats cut in rounded shapes create the perfect design for this colorful red gate. Get out the woodworking tools and let your imagination run wild. Decorative gate patterns assembled and painted will make your gate stand out from the rest. You can form the slats however you want, so it's really up to your imagination. This is the perfect gate for adding your own tastes and making something that will stand out.
Blue Picket Gate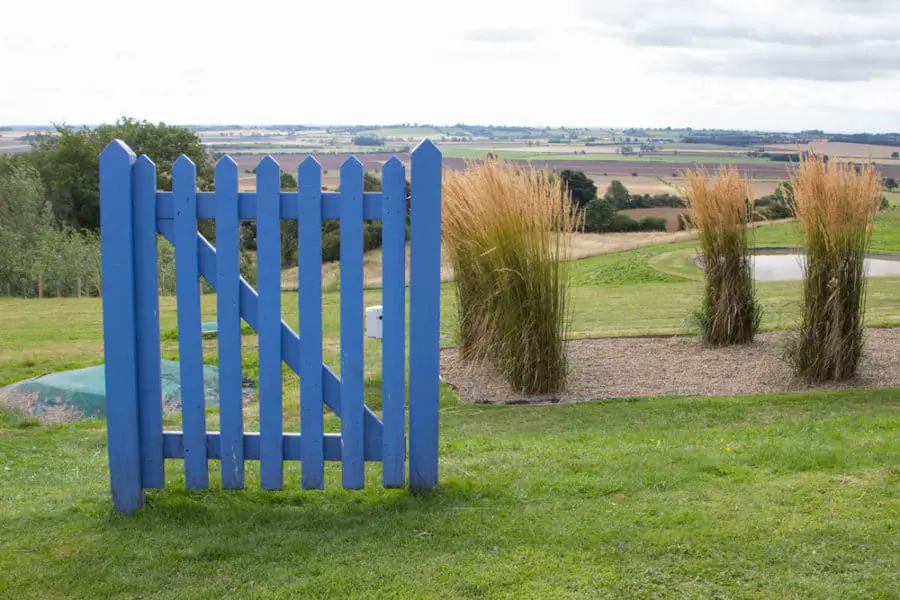 If fancy woodworking isn't your thing, you can still have a unique look to your yard and gate just by adding a splash of color. This simple picket gate really stands out with a nice coat of blue paint. Paint can make an old house look new and can breathe new life into your old or new gate. We like the blue, but you can go with whatever color you want, just be sure it matches your fence!
Purple Picket Beach Gate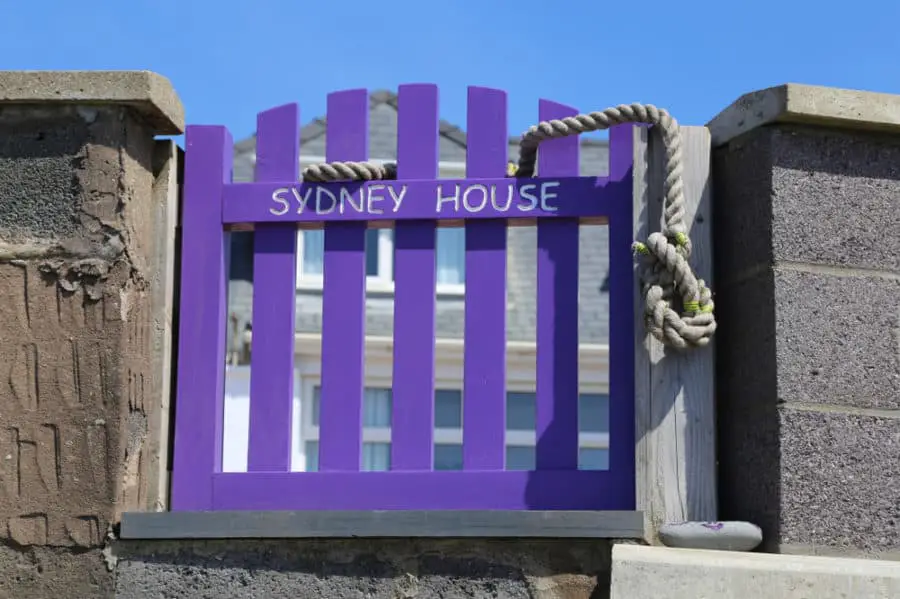 If you can't go to the beach, bring the beach to you. Here is an example of a simple picket gate painted a pretty purple, monogrammed with the homes name, and adorned with a rope latch for that beach look. Colors and accessories can help your gate look unique and add your personalized touch. It might also help new friends to identify your house if you are thinking of having a party.
Green Ranch Gate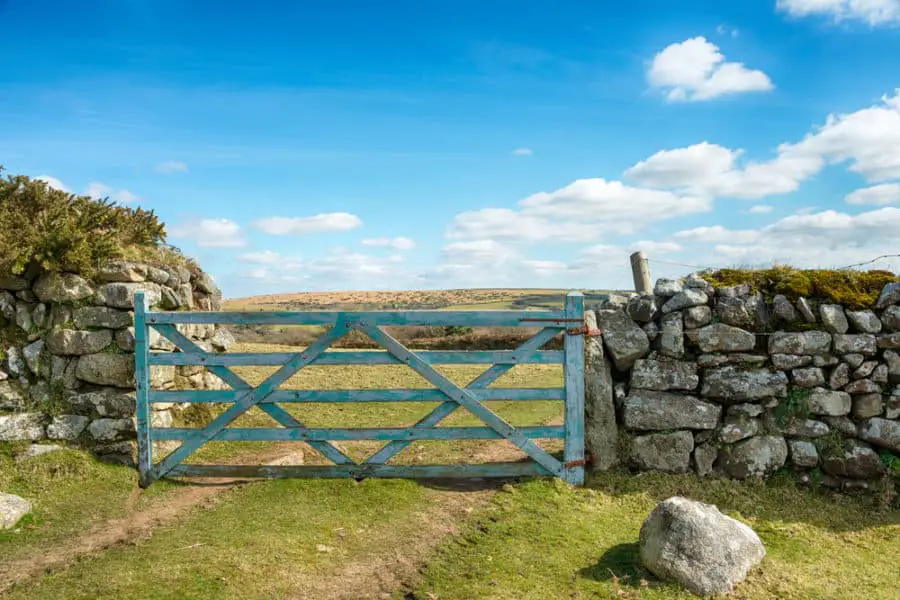 Here's a splash of color if you live in Ireland, or if you just want a nice wooden farm, ranch, or driveway gate. This one is set in a stone fence, but you can use this gate design with a simple wooden fence or let your imagination run wild. It's a simple slatted frame with diagonal supports painted a rustic blue-green color. The fence is wide and ideal if you have animals or a big truck.
Texas Spirit Gate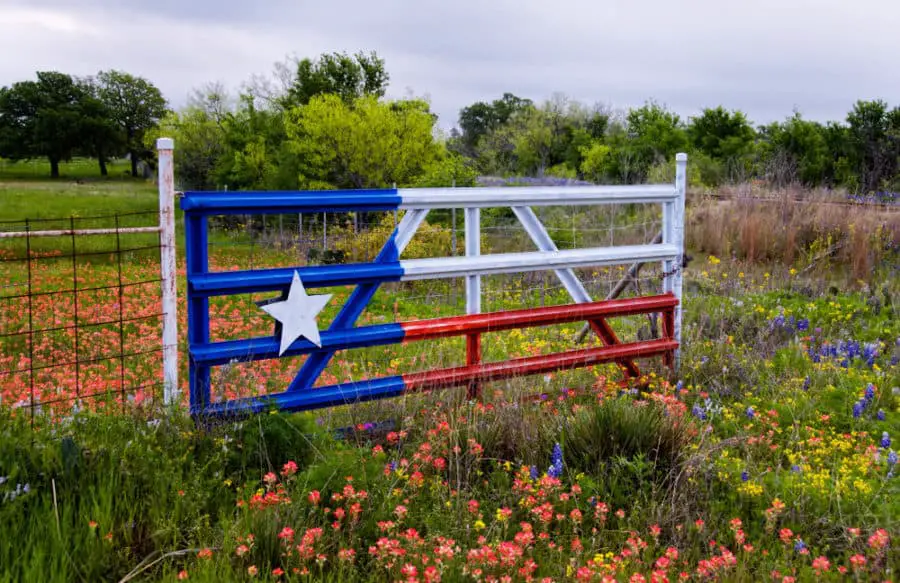 Whether you are creating a new iron fence gate or already have one that needs dressing up, this is a great example of customizing a gate to make it your own. This red, white, and blue lone star state gate just screams we live in and love Texas. This is great example of how a little paint and imagination can go a long way. Of course, if you aren't from Texas you can paint this gate to show your pride for wherever you want to represent.
Green Farm House Gate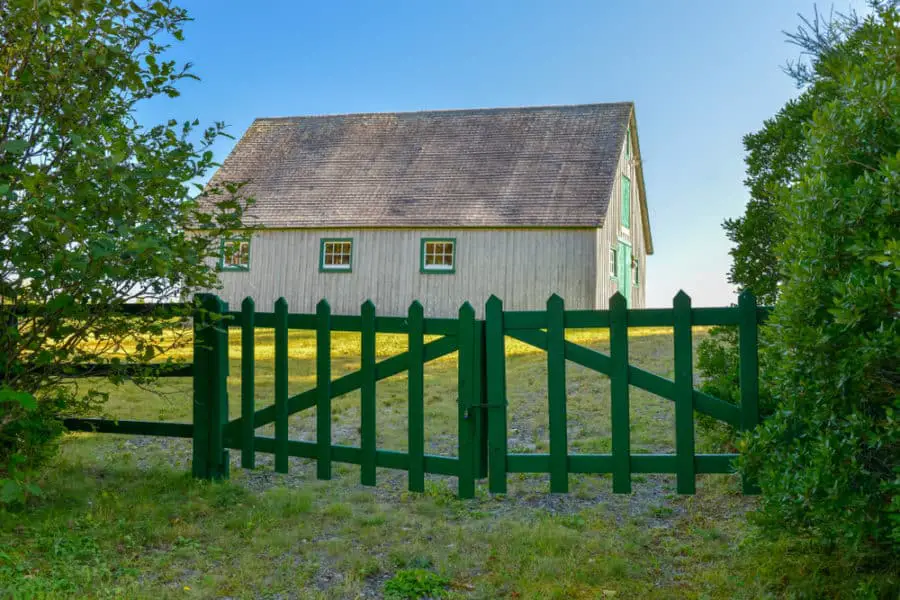 Green fields, green barns, and green gates make us think of the country and life on the farm. A splash of green paint can breathe new life into your old gate and bring a splash of country to the city. This traditional slatted double gate with diagonal supports is a great example of this. A very simple gate, and it is also quite functional andevokes that traditional farm nostalgia.
Wrapping Up
We hope some of the fence gate ideas above have given you a bit of inspiration to create a new gate that fits your individual lifestyle. Added privacy, security, and improved value can all be benefits of a new fence and gate system.
As with any decision of this nature, it will really come down to what you need a gate (and fence) for, and your individual tastes in design. Whether you have a simple chain-link fence or a complicated privacy fence, a gate can be the perfect thing to tie the design of your outdoor area together.
It doesn't matter if you have a large backyard, a small front yard, live in the city, or the country, having a unique gate can make your home standout and express your unique personality. Hopefully these gate options have inspired you to get started on a design of your very own.