Big or small, short or tall, there are dozens, if not hundreds, of different ways to build a basketball court in your yard. While some backyard basketball court ideas may be out of your budget, for every expensive idea, there are several low-cost or DIY options that can be equally functional and just as fun.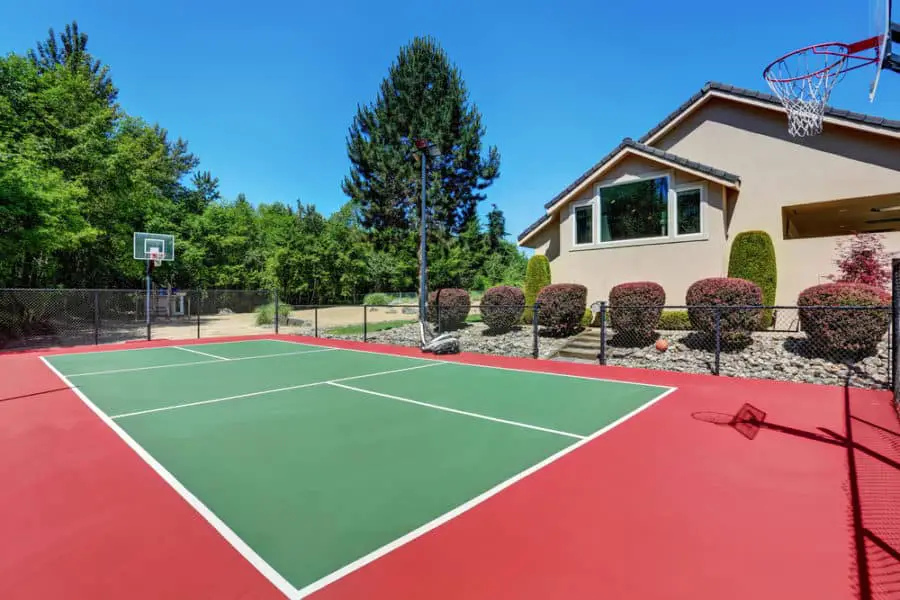 Some may prefer the bounce that a concrete or asphalt court provides, but grass, dirt, and even clay courts aren't entirely out of the question. A home court can be outdoors, but it can also be covered or even indoors if you're garage or barn is large enough. It all depends on what you have at your disposal and the amount of passion you have for the game.
In terms of hoops for an at-home basketball court, the options are as various as the courts themselves. From homemade rims welded to metal backboards to store bought hoops mounted on garages, there are definitely several ways to skin a cat when it comes to basketball hoops at home.
So grab a ball pump, throw on your Jordans, and we'll dive on in to discover some awesome backyard basketball court ideas.
21 Backyard Basketball Court Ideas
Classic Concrete Court With Suburban Flair
This modern adaptation of the urban concrete court is both functional and aesthetic. The concrete ground provides the perfect surface for bouncing a basketball, while the classy wooden fence and shrubbery help to control errant balls and give the court a more homey feel.
Full Court Luxury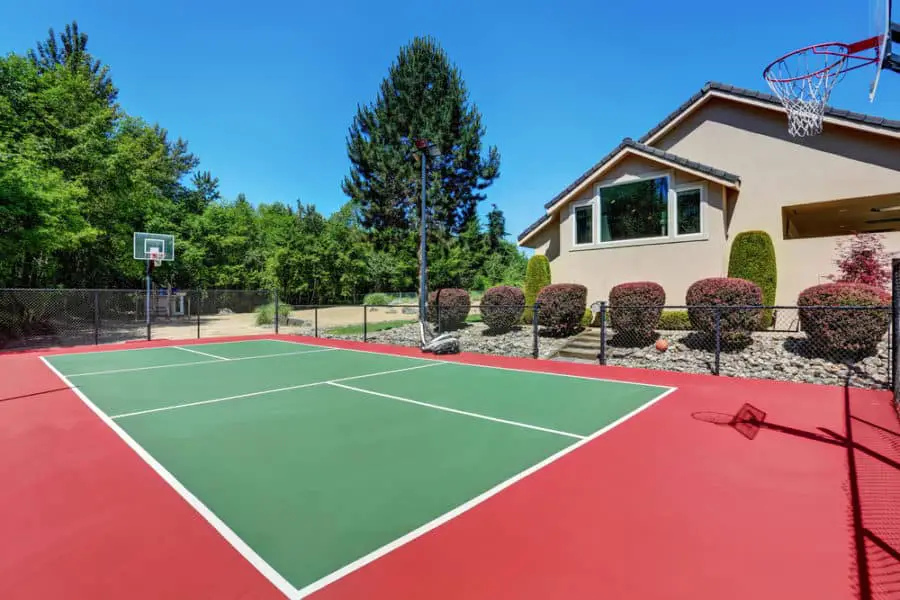 If you have the space, desire, and warewithall, a full-on backyard basketball court is within the realm of possibility. The one above has two hoops, allowing for actual gameplay. And if you look closely, you'll see the space can also function as a tennis court as well.
Courts like these are typically asphalt or concrete with a protective acrylic layer on top to add cushion, seal out water, and mark areas in different colors on the court.
Poolside Balling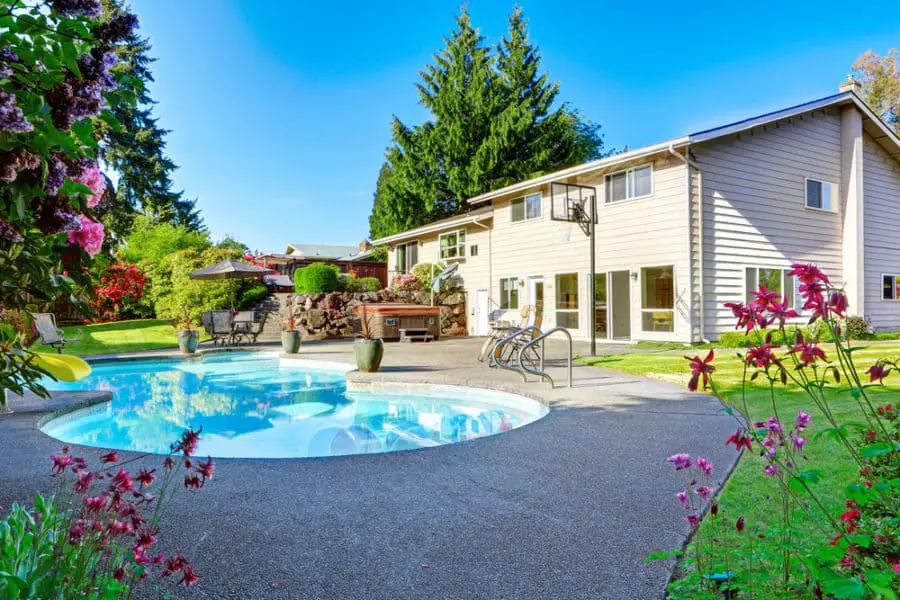 You don't need a full size court to have fun. And in some instances, the space can be put to better use anyways. What could be better than shooting some hoops then cooling off in the pool when you're done? You could even take a few shots from the pool itself! Just take care not to break a window.
Barnyard Basketball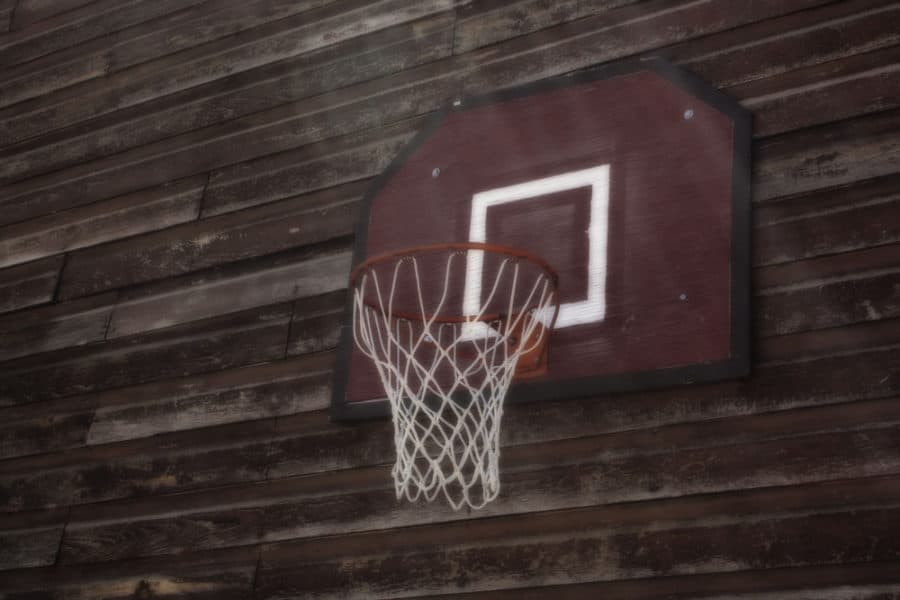 Does your yard lack the space for a basketball court? No problem. Do like these guys did and mount a hoop right on the wall of your barn/garage. Even if the ground below isn't optimal, you can still practice your jump shot at the very least.
Rim Is All You Need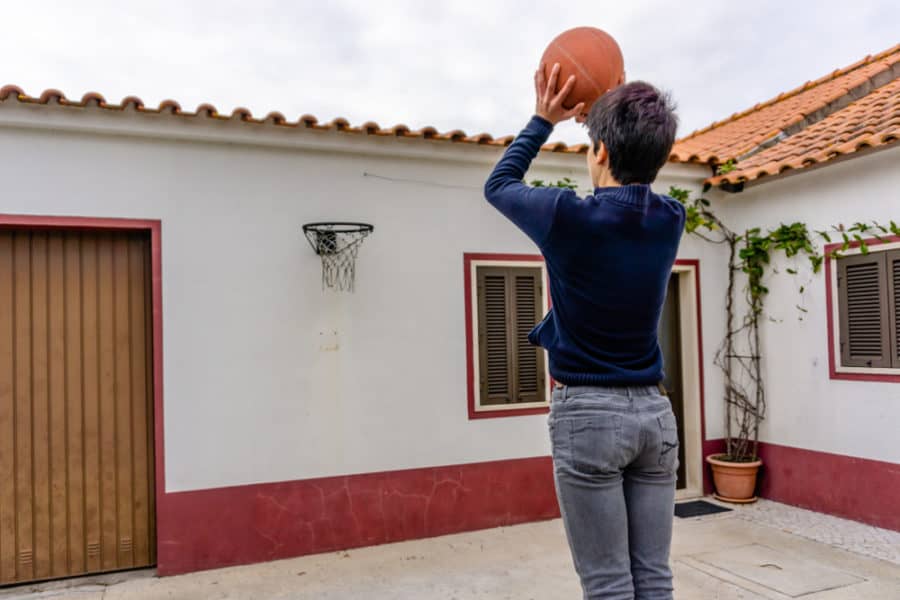 Heck you don't even need a backboard to be a baller. Simply bolt a rim onto the wall and you're good to go. If you're really into DIY projects, you could paint a backboard — or at least the box — to help you align your bank shots!
The rebound likely won't be the same as acrylic, glass, or polyethylene backboards, but if you hit nothing but net, it doesn't even matter.
Driveway Hero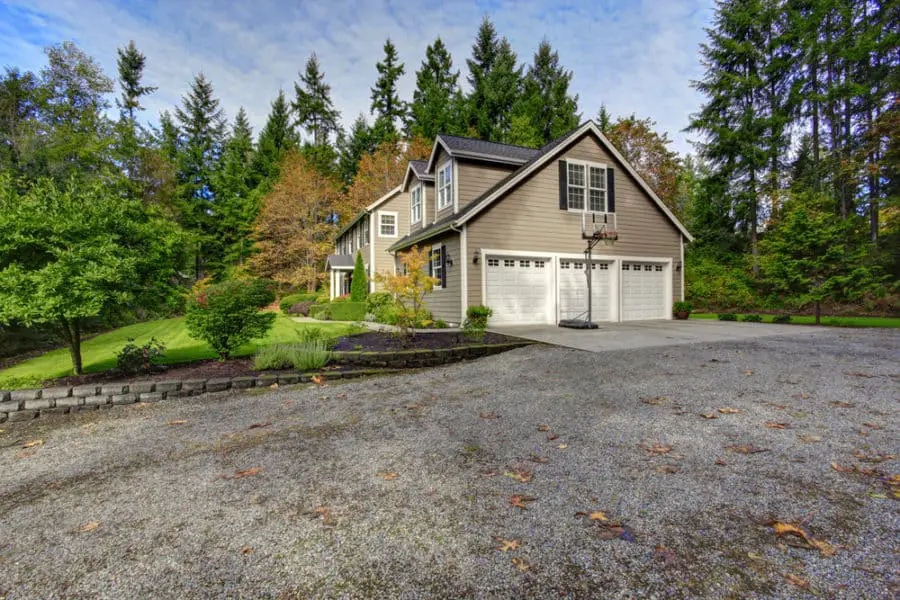 Driveways are perfect places to hone your basketball skills. If you have a portable basketball hoop, you can easily bust it out when it's game time, then roll it back into your garage or storage area should the weather take a turn for the worse.
Roadside Hoop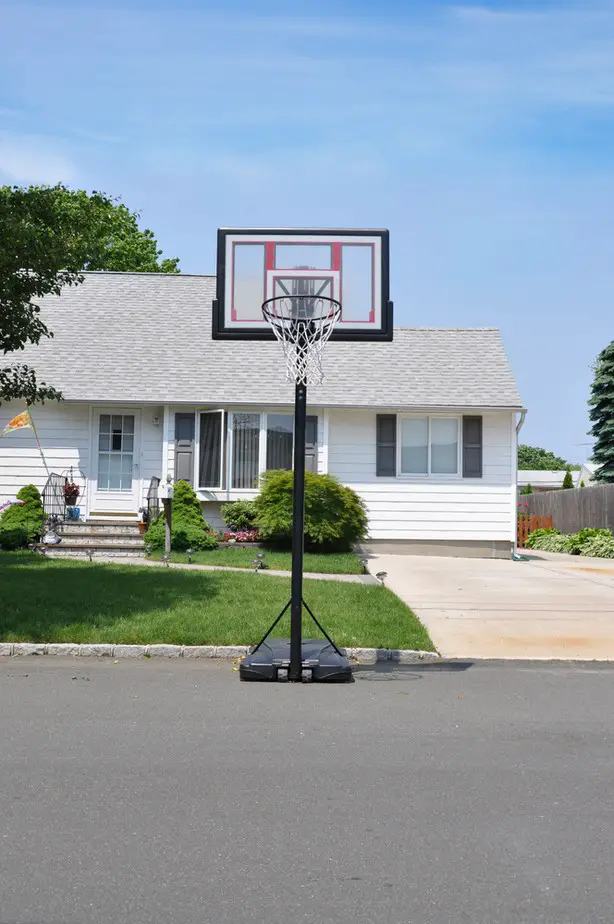 If you live on a cul de sac or a quiet street, you can move your hoop to the road for ultimate playability. So even if you don't have a paved driveway or patio, you can still use the asphalt on the street as a basketball court. If your neighbor has a hoop as well, you can put up two hoops for a full court game!
Homegrown Hoop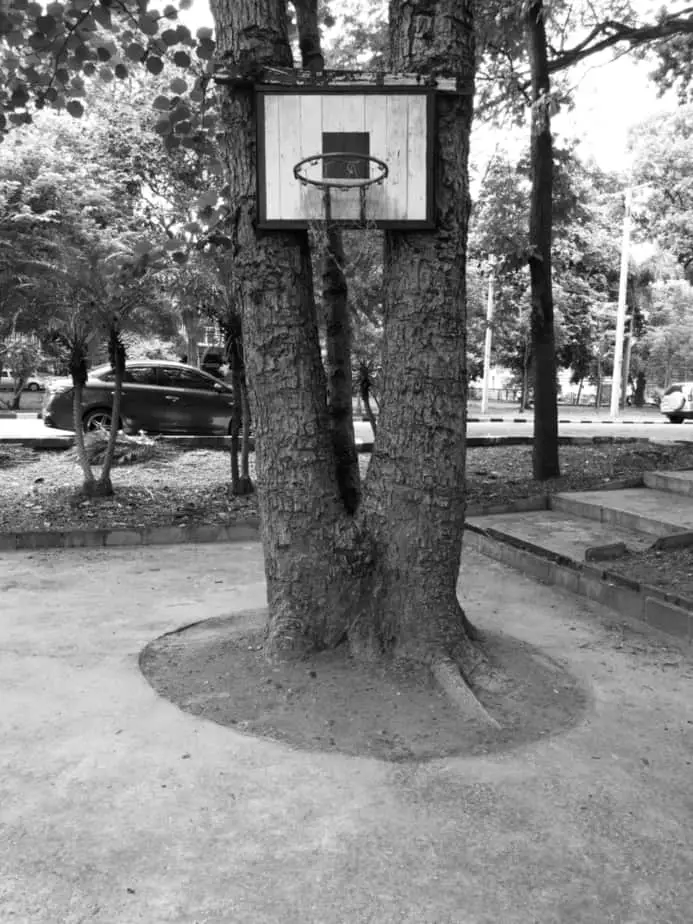 With a little creativity, almost anywhere can be turned into a basketball court. Case in point, the tree hoop. Although the roots might affect rebounding, this unique tree hoop could be an option for you to replicate in your own yard. Be warned, though, it will grow over time, causing the height of your hoop to be above regulation specifications.
Homemade Hoop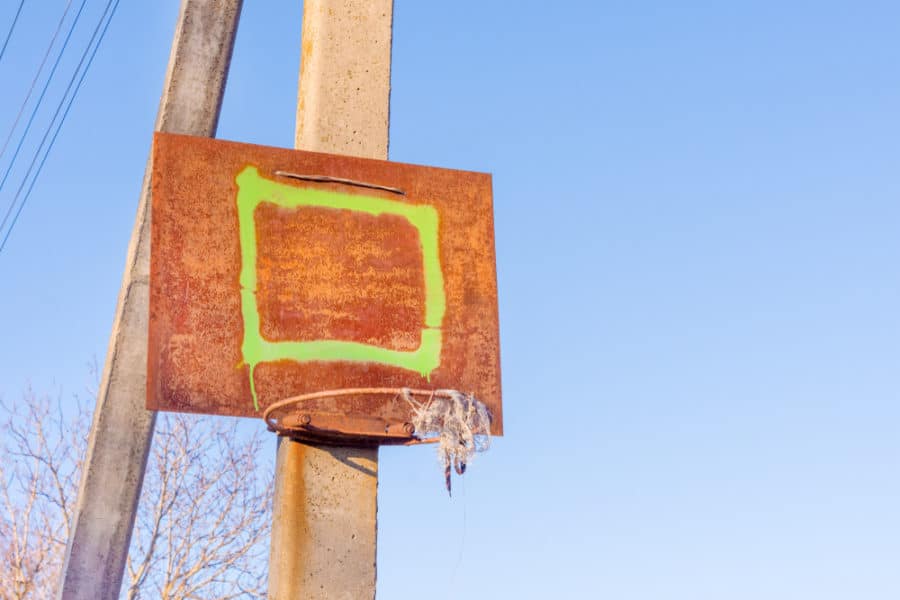 Continuing with the DIY theme, this hoop tied to a telephone pole is about as amateur as they come; yet effective no doubt. The welded-on rim and spray painted backboard lines could come off as redneck to some, but like the ancient Japanese philosophy of wabi sabi tells us, a great deal of beauty can be found in the aged, the imperfect, and the worn down.
Earthy Dirt Patch Court
Who needs concrete when you have a lovely patch of dirt? True your ball might get dirty, but hey, a dirt court is better than no court. Besides, if you tamp it down and make it nice and packed, your ball will bounce right off of it just like concrete.
Pot of Gold
Who says basketball hoops have to be boring. Black, white, and grey… nah. This striped rainbow design does the trick for me. With the cacaughay of colors, this hoop provides a nice reprieve from the monotony of suburbia. Just make sure that it's within the guidelines of your local homeowners association.
Postmodern Abstract Expressionism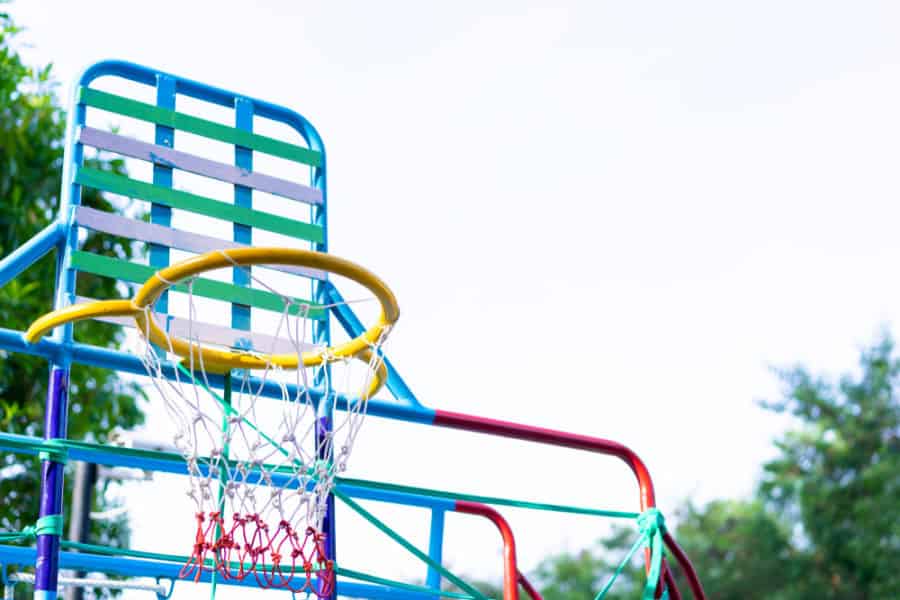 Taking it a step further than the rainbow hoop, this piece of abstract hoop art is not only interesting to look at, but it's functional as well. Sure it doesn't adhere to regulation standards, but who cares? The metal bends and curves are an homage to the industrial days of old, before the invention of plastic and its prolific takeover.
Garage Basketball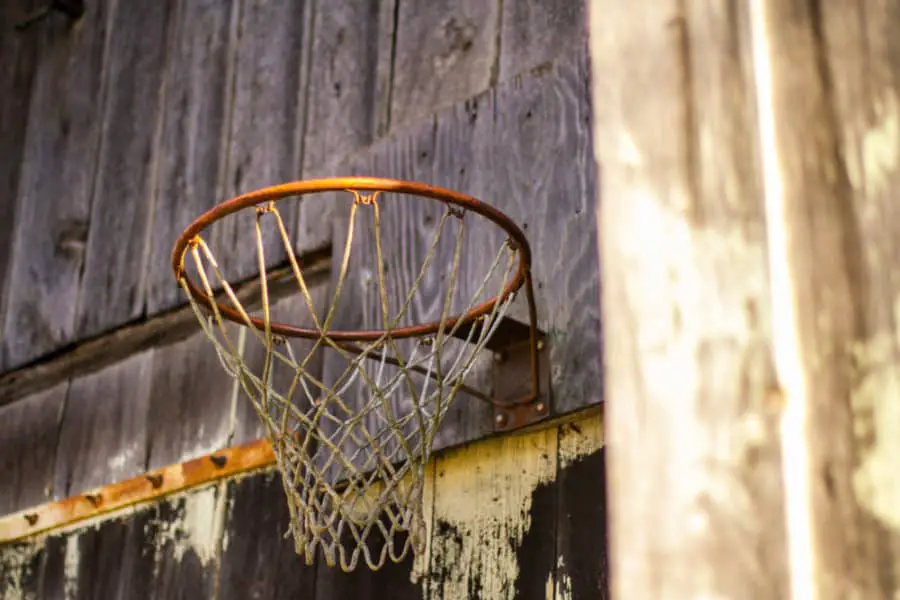 By the looks of it, this hoop has been in place for decades, attached to the inside of an old garage in the heart of the rust belt. The dedication they must have had, I can't even begin to imagine what it must have been like. Even in the pouring rain or the dead of winter, this indoor court would have been in full swing.
Full Service Basketball Court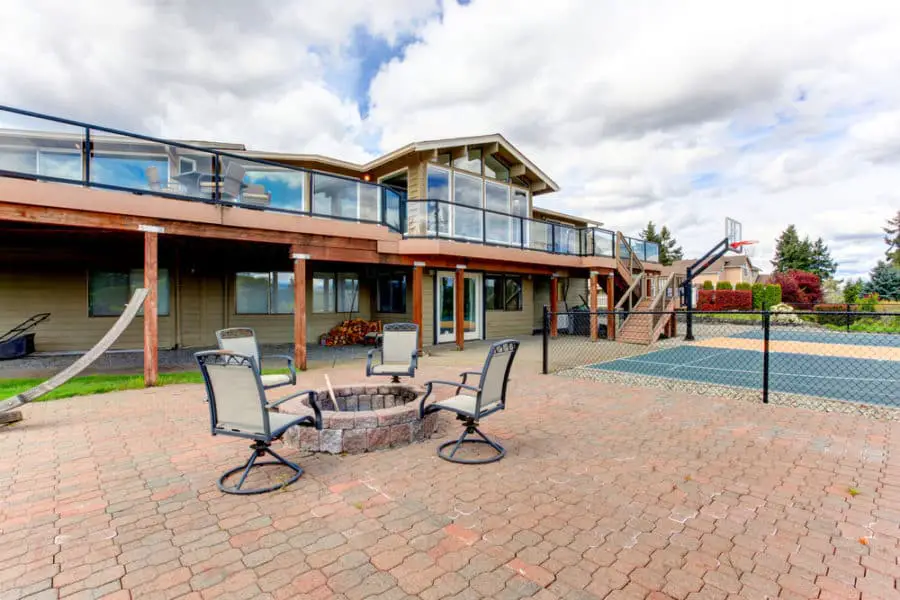 From rustic to rich, this court idea may be out of reach for many. But if you have the funds, it looks like you would surely have a ball. Shoot some hoops till you've had your fun, then relax by the fire pit and roast some marshmallows. What else could you ask for in life?
Basic B-Ball Apparatus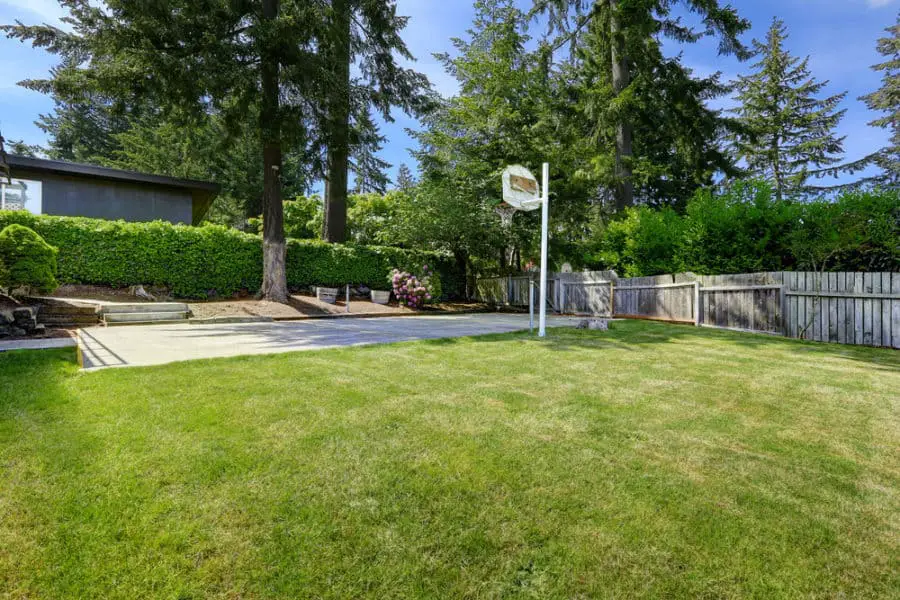 A step down in luxury from the previous court but no less fun, this court is a little more attainable for the average person. And with the large adjacent grassy area, you can go from basketball, to soccer, and then to baseball without leaving your yard.
Lush Backdrop Court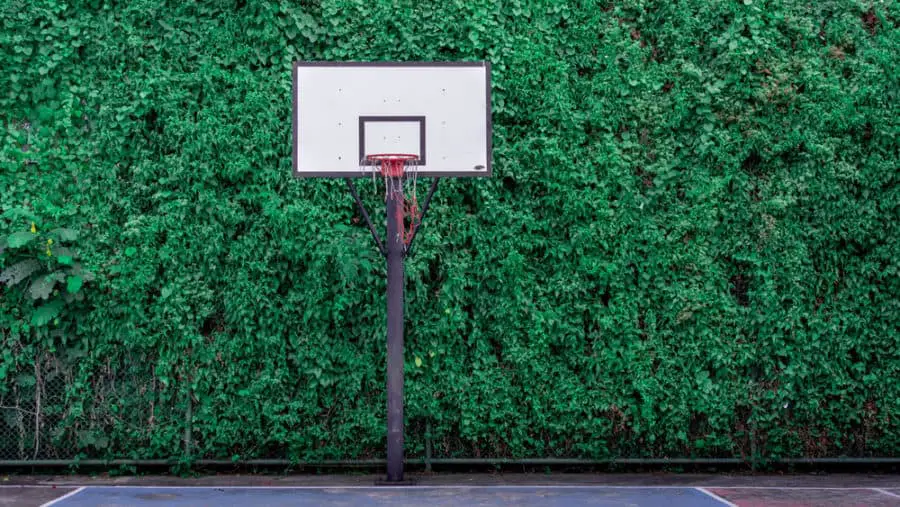 This backyard basketball court comes with a dense vegetative backstop. Overshoot the hoop? No problem, plants got your back. And because of the cooling effects of photosynthesis, this court has an organic air conditioner!
Multi-Sport Court
Mixing elements of various sports, this court has a basketball hoop as well as a soccer goal. You can shoot a few free throws then practice your free kicks. Shoot the soccer ball then kick the basketball, we won't judge. So long as you're having fun and staying safe, everything else is secondary.
Countryside Court
Who says you need a net? Not this guy. He's practicing his three-pointers on this countryside court in perfect peace and tranquility. I can't think of a better way to unwind after a long and stressful day at work.
Basketball Court With a View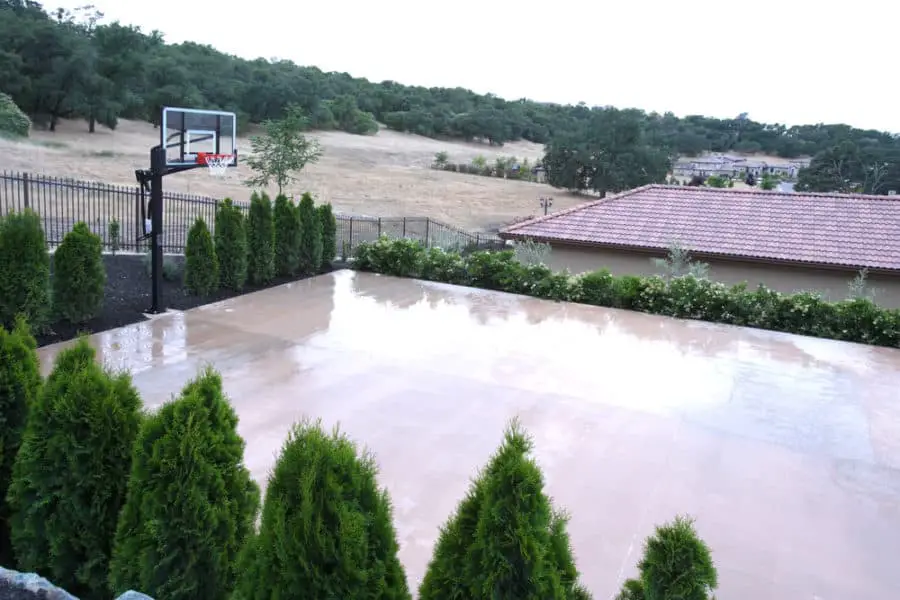 This court may not be the best when it rains, but the view is great — even in the worst of the weather conditions. Large enough for a full game of five on five, I'm sure the owners of this court enjoy the heck out of it on a regular basis.
Swimming Pool Court
You don't necessarily need a solid court to have a good time playing basketball. While this court may not be the best for improving your game for league play, it's wicked fun and a splendid way to pass the time during those hot summer days.
Playground Court
The perfect way to integrate a jungle gym with a basketball court, this playground is fully equipped and ready for action. Your young ones can hit the monkey bars, climb the cargo net, then shoot some baskets before nap time. A great way to promote exercise while being entertained. Recess has never been so fun.
Wrapping Things Up
Ant there you have it, 21 backyard basketball court ideas to awe and inspire. Some of the ideas may be a bit too pricey for the average consumer, while others won't be congruent with everyone's sense of style and beauty. But regardless of your budget and your views on beauty, if your space is limited or you have acres to spare, there are endless ways to incorporate a basketball court into your yard to make the sport an integral part of your daily life.