Want to work on your cannonball and jump shot at the same time?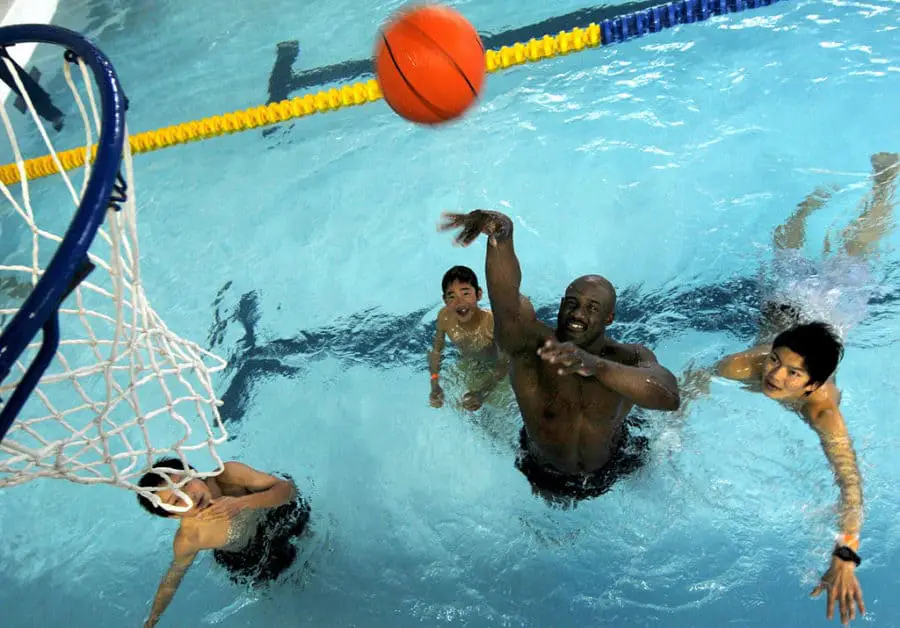 Maybe you want to make an excellent dunk compilation or get your kids to spend their summers outside. Doesn't matter, we have a pool hoop for everyone.
Today we are going to look at some of the best pool basketball hoops you can buy.
Note: If you are looking for a regular basketball hoop, check out our blog post on The Best Basketball Hoop: 6 Reviews And Complete Buying Guide
In a Hurry? Here's Our Top Picks…
6 Excellent Pool Basketball Hoops Of Every Type
You have a lot of options when it comes to picking a pool hoop; this gets overwhelming especially when you are unsure about what you need.
This is why we divided our list into three sections:
In-ground Hoops
Portable Hoops
Inflated Hoops
For every category, we are going to review two variations – a high-end version and a budget-friendly one.
If you already know the kind you want, then feel free to skip to that section.
But if you are still unsure about the hoop that's right for you then keep reading. By the end of this article, you'll know exactly the kind of hoop you want and how much you can get it for.
In-Ground/ Deck Mounted Hoops
In-ground (also called a deck mounted) hoops are directly attached to the ground.
Compared to portable hoops which can be moved anywhere, deck mounted hoops are generally fixed to one spot and are much sturdier. Deck mounted hoops are also the most expensive kind and are a long-term investment.
Clear Swimming Pool Basketball Hoop-The BEST DECK MOUNTED HOOP
Last update on 2023-09-20 / Affiliate links / Images from Amazon Product Advertising API
Looking for a basketball system that's not going to fail you? The Dunnrite clear In-ground hoop might be the one for you.
While some may be pushed away by $500+ price tag for a pool hoop, those who have bought it know that it is worth every penny.
One of the biggest problems with pool hoops is rust, that's why you will be glad to know that this hoop comes with high-quality 100% stainless steel. This makes it completely immune to rust.
Thousands have already purchased this hoop, and not one of them has noticed any rusting. Even after many years of use.
The manufacturer has clearly gone to great lengths to create the perfect basketball system. This can be seen with the amount of effort put into even the smallest things like the design.
The white and blue backboard fits masterfully with the sleek steel poles to create a minimalistic design that will up your pool decor game.
This hoop even comes in 3 sizes
A regulation size hoop with a 2(3/8)" pole which perfect for most people
A Jr size hoop with a 2(3/8)" pole if you are going to be playing with a small pool ball
A Jr. sized hoop with a 1.9″ pool, perfect light casual games with kids
What we like:
Basketball hoops this beautiful are rarely(if ever) this durable
Completely rust proof even after many many years of use
Acrylic material is the same kind used in most regulation backboards
What we don't like
The ball you get with this hoop is not very good
Installing the hoop is a lengthy procedure, and you'll probably need to hire some help
This is one of the best pool basketball system available, and they tend to sell out quickly at the start of summer
Check Price and Reviews on Amazon
---
First Team Hydroshot Select – For Professional Pool Ballers
Last update on 2023-09-20 / Affiliate links / Images from Amazon Product Advertising API
Okay, I have to admit. This hoop might be a bit of an overkill. But if you ever wanted to throw down some mean looking dunks on a pool hoop.
You got it.
The first team hydroshot select is a one-of-its-kind hoop that's built to handle all kinds of abuse. It even has a breakaway mechanism built directly into its rim, that's exactly like the ones you see on regulation hoops.
What we love
If you want a ring, you can dunk and hang on. This is perfect for you.
Built to handle even the most aggressive kind of basketball play
The powder coated vinyl coating makes this rim completely rust proof
What we don't like
At the $4000 price tag, this is not a hoop for everyone
It is a really really heavy system, and you are not going to be able to move it once it is set up.
The entire system has a bulky appearance that will look out of place on your deck.
Check Price and Reviews on Amazon
---
Portable Hoops
If an in-ground system might be a bit too permanent for you. You should check out a portable hoop.
A portable basketball hoop is not fixed to the ground. It is held in place with some weight. You just have to fill the base with water and you are good to go.
Because a portable hoop is not fixed to the ground, it is much easier to setup compared to an in-ground hoop. You can even stash it in your storage when it's not in use.
This makes it perfect for families looking to add some fun to their summers in the pool without investing a ton of money.
Since the hoops are completely portable you can place it in your storage unit when it's not being used. Making it perfect for families who have guests over often.
Dunrite Poola Hoop- COOLEST NAME
Dunn-Rite PoolSport Swimming Pool Basketball & Volleyball Combo for Adults & Kids
POOL BASKETBALL & VOLLEYBALL: Pool basketball and volleyball combo set offers endless fun; includes all components to play either basketball or volleyball (water-filled bases, posts, nets, rims, balls, etc.)
HEAVY-DUTY BASES: Two rotational molded bases hold 115lbs. of water each when filled for sturdy play.
BASKETBALL COMPONENTS: heavy duty base, poly reinforced 31" x 22" backboard, stainless steel 13.5" diameter rim, stainless steel hardware, net and color matching waterproof basketball.
VOLLEYBALL COMPONENTS: Two heavy duty bases, 16 feet volleyball net (spans pools up to 22' wide), stainless steel hardware, and high-visibility hot pink waterproof volleyball.
MADE IN THE USA: this product is made in Indiana, USA using high-quality components and craftsmanship
Last update on 2023-09-20 / Affiliate links / Images from Amazon Product Advertising API
I'm not gonna lie. The dunrite caught my eye mainly because of its name. As a fellow connoisseur of puns, I had to respect the joke.
But when I looked into it I was pretty impressed with its features and reviews. The system comes with a 13.5-inch stainless steel rim meant to withstand even the saltiest pool waters.
The cool thing is that this rim is especially vinyl coated as an extra layer of protection against rust.
The base can hold over 100 pounds of weight which makes it one of the sturdiest portable pool hoops you can buy
To make sure the hoop lasts for a really long time Dunnrite(the company behind the hoop) has made the entire structure from high-quality plastic( polyurethane)
What we like:
The hoop comes with a 3-year warranty. Shows that the manufacturers believe in the durability of their product.
The rim is made from stainless steel AND then vinyl coated to prevent rust
Has an awesome name
What we don't like:
The rim height is fixed at 35 inches and cannot be adjusted.
The white color of the plastic loses its hue over time
Despite precautions, some parts of the hoop may still rust after a couple of years
Check Price and Reviews on Amazon
---
Dunnrite Splash And Shoot Swimming Pool Basketball Hoop
Dunn-Rite Splash & Shoot Outdoor Adjustable Height Swimming Pool Basketball Hoop w/Ball, Base, & 18 Inch Stainless Steel Rim for Adults & Kids, White
POOL BASKETBALL HOOP: Pool basketball hoop offers endless fun; includes water-filled base, pole, rim, backboard, net, and 9-inch basketball
HEAVY-DUTY BASE: Rotational molded base with brass anchor kit and tightening wedge holds up to 25 gallons of water, weighing 200 pounds when filled
ADJUSTABLE HEIGHT: Powder-coated aluminum pole adjusts up to 53 inches high with minimum height of 23 inches high
REINFORCED RIM & BACKBOARD: Vinyl-coated 18-inch stainless steel rim and 29 x 43-inch polypropylene silkscreened white backboard withstands intense games
MADE IN THE USA: this product is made in Indiana, USA using high-quality components and craftsmanship
Last update on 2023-09-20 / Affiliate links / Images from Amazon Product Advertising API
With 3 pool hoops by dunnrite, you might start to think that this is a sponsored post. But we can't help it. Dunnrite creates pool hoops so good we cannot get enough.
The splash and shoot comes with a height adjustment feature that is must for most families.
What we like:
A beautiful color scheme and minimalistic design that goes well with any kind of outdoor pool.
Comes with a pretty good basketball. Although the ball is a bit smaller than a regulation size ball. It has got a pretty good grip and holds air well
You can adjust the height of the rim, so both kids and handles can enjoy this hoop
What we don't like:
The rim shows signs of age after a couple of years
Setting up the system is a bit tricky and you might need some help from a friend
Dunking too hard on the ring might cause it to break
Check Price and Reviews on Amazon
---
Inflatable Basketball Hoops
Compared to in-ground and portable hoops an inflatable basketball hoop is actually inside the pool with you and floats on water.
Purchasing an inflatable hoop is a great option if you have young kids and want to have some great pool fun that isn't necessarily basketball related.
Floating Hoops By Intex- A STEAL for under $10
Sale
Last update on 2023-09-20 / Affiliate links / Images from Amazon Product Advertising API
The hoop comes in a brilliant yellow and green color.  This is a great hoop if you are looking for a fun game in the pool with your kids.
One of the biggest problems with inflatable hoops is how easily they tip over. The Intex floating hoop allows you to fill it's base with water to keep it stable. This helps make the hoop a lot more fun to play on(since you don't have to stop your game every 2 mins to set it up)
What we like:
This thing is a trooper, it can withstand a ton of abuse
Water base makes the entire hoop really stable and less likely to fall over
Very Budget Friendly
What we don't like:
The ball provided feels really cheap.
The hoop deflates really quickly
The entire system is pretty small(ideal for young kids, not for adults or teenagers)
Check Price and Reviews on Amazon
---
Swimline Giant Shootball Basketball Pool Toy- A Massive Hoop
Sale
SWIMLINE Inflatable Pool Basketball Hoop Floating Or Poolside Game Giant Shootball Multiple Scoring Ports For Kids & Adults Swimming Splash Hoops With Water Basketball Pools Toy Outdoor Summer Hoops
MULTIPLE SCORING PORTS- Test your basketball skills and shoot the ball through the middle hoop or shoot through the various side compartments with various scoring options. Scores include 10, 25, 50, 75, 100, 500, and the top hoop jackpot.
VERSATILE PLAY- Perfect for all basketball games - challenge your friends to a game of 2 on 2, play some H.O.R.S.E, or get creative with a slam dunk contest. The possibilities are endless with Swimline's Original Giant Shootball.
ORIGINAL GIANT DESIGN- The Giant Shootball is a classic original developed by Swimline and has set the standard for floating pool toys for years. The gigantic game measures 36 inches tall and 48 inches wide.
DURABLE INFLATABLE DESIGN- Constructed with high quality durable UV resistant vinyl with a patch kit included. It's easy to wipe down inflate deflate and store.
MINI LOUNGE- Doubles as a partly shaded inflatable lounge for the kids to lay on and relax. Just slightly deflate the middle compartment to create a flat, cozy lounging station.
Last update on 2023-09-20 / Affiliate links / Images from Amazon Product Advertising API
This hoop stands at a massive 45-inches and is almost 36-inches wide. The entire system is made from a really durable vinyl that should last you at least a summer.
Even though it's tall, the hoop doesn't tip over like other giant inflatable hoops. This is thanks to it's large base that keeps it pretty sturdy.
Another nice touch is the scoring numbers on all sides. The manual doesn't explicitly mention how you can incorporate them into a game but we are sure your kids will invent new games using them.
What we like:
Extremely large size, It's almost like a floating castle in your pool
The entire system is divided into sections so you can even blow it up without a pump
Very durable
What we don't like:
Inflating and deflating the toy takes a ton of work
Some people have mentioned getting the toy with defects so inflate your hoop as soon as you get it to ensure everything is in tip-top condition
Your kids will never willingly leave the pool
Check Price and Reviews on Amazon
---
Things You Should Consider Before Buying A Pool Basketball Hoop
Now that we have discussed the best pool hoops of every kind. Let's drill down to the exact system that is right for you.
Who is going to play?
Children need a hoop that's a bit lower. I'd recommend you to go for an inflatable hoop if you have kids younger than eight. You could also opt for a hoop with some height adjustment mechanism for some flexibility although these hoops tend to cost a bit more.
On the other hand, adults and teenagers should focus on a sturdy basketball hoop that can handle some rough use As a rule of thumb, the younger your kids the less you spend on the hoop.
Is it anti-rust?
Rust is one of the most common issues with pool hoops and surprisingly not many buyers account for it. That's because the entire pool hoop market is based on selling features you don't need rather than focusing on what is important.
Ask yourself are the bolt and metal on your system rust proof? Rust is one of the main reasons people are forced to throw away their old hoops. You don't want your deck and pool full of rust stains and saltwater is particularly harmful to metals.
If your system does not come with an anti-rust coating you should use at least use rust guard spray to keep it protected.
How portable is the system?
Do you prefer a portable system or one that's bolted to your deck? Portable rims are flimsier than their in-ground counterparts. This is a trade-off you are going to have to make.
If it's a portable system, how easy is it to move? Would you be able to move the hoop into the garage during winters?
How much does it cost?
What's your budget? Depending on how much you are willing to spend the kind of hoop you can buy will change. Inflatable hoops are generally the cheapest costing around $50 while in-ground hoops cost over $1000
How safe is the hoop?
Let's face it. You're going to dunk on this hoop. Just be safe while doing it. You don't want your system to break and injure someone.
How safe is the system you are purchasing? Can it handle the kind of abuse it is eventually going to face?
How does it look?
You spent a boatload of money on a house with a pool. Do you really want to ruin its appearance with an ugly hoop just because you didn't want to spend an extra $10 on a better-looking one?
What should you look for in an inflatable hoop?
Is the height appropriate for your kids?
In case of inflatable hoops, bigger is not always better. Pick a size that's appropriate for your kid(or whoever is going to be playing).
Does the hoop stay upright after a hit or topple over easily?
It's a buzzkill to play on a hoop that topples over after even a little bit of contact. You then have to stop the game to set-up the hoop before you can continue.
Pick an inflatable hoop that's pretty stable. The intex floating hoop and Colonel Pickles Novelties Giant are both extremely stable options
Best Pool Basketball Hoop Brands
Dunnrite is the boss when it comes to pool toys. In fact, they have been creating pool toys since 1983 and also own some of the most popular basketball hoop models in the world.  But you would be surprised to know that they are a family-owned company based in Indiana.
Swimline is the story of the American dream, a young man( Herman Schwimmer) moved to the US after the world war 2 in 1948.
Starting with nothing, he founded swimline which has now become THE name in the swimming pool industry. They own one of the biggest manufacturing facilities in New York which is over 125,000 square feet.
You can read their entire story in this article here
Frequently Asked Questions
Can I Hang On The Hoop?
NO NO NO.
Hanging from the rim of a portable hoop is forbidden. It doesn't matter how much you spend on your basketball system or what the manufacturer says. No portable rim can hold the weight an adult for a long time.
If you decided to ignore my warning, one of the 2 things WILL happen
The entire system is going to fall on you into the pool
The rim is going to snap and you're going to hurt yourself.
Can I install an In-ground Hoop by Myself?
While you can install a deck-mounted hoop all by yourself. I'd recommend you to go get some professional help unless you're in construction. Your time is better invested enjoying the summer rather than drilling holes in your deck.
One of the risks with doing it yourself is that you may mess up the size of the hole you drill and this could really complicate things.
Conclusion
The kind of hoop you will want really depends on your situation.
If you are looking to purchase a pool toy for your young kids without spending too much. Then I'd recommend you to go for an Intex floating hoop. It's cheap and surprisingly fun to play.
But if you are looking for a fun, casual inflatable hoop both adults and kids can enjoy. Then you should get the Swimline Giant Shootball Hoop.
Do you have teenage kids who are looking for some competitive games, go for a portable hoop or even an in-ground option.
An in-ground hoop is a long-term investment but it takes a lot more work to install. Our favorite hoop is the Dunnrite Clear Swimming Pool Hoop.
Not only is it extremely durable and rustproof, but it's also minimalistic design fits almost every pool environment.
If you are looking for some other non-pool based summer games check out our post on Best Cornhole Boards: Reviews and Complete Buying Guide