Getting a hoop in your backyard is more than just about basketball, it is an investment in your child's happiness. Some of my fondest memories growing up was playing one on one with my dad on our driveway.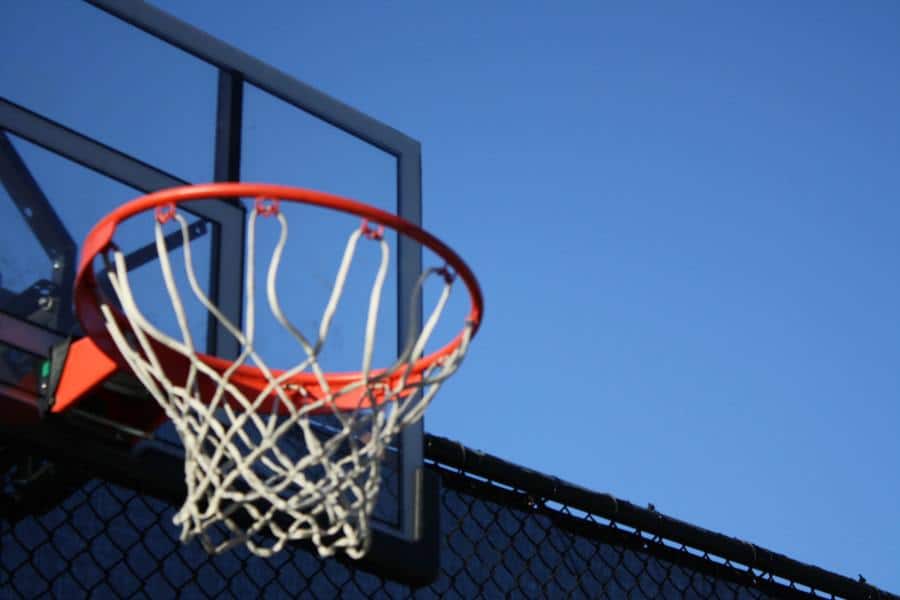 This is why I always say that every family needs to have a hoop (even if they have toddlers, as we describe in our Best Toddler Basketball Hoop article)! Today we are going to look at the best basketball hoop for your home.
In a Hurry? Here's Our Top Picks…
6 Great Basketball Hoops for the Money
We're going to take a look at some of the best hoops you can buy. Some of these have achieved a legendary status while the others are hidden gems known only to a select few in the amateur basketball community.
If you have your mind set on purchasing an in-ground hoop, check out our blog posts on the Best In-Ground Basketball Hoop: Reviews And Complete Buying Guide.
Goalrilla GS54- My TOP PICK
Goalrilla GS54 In Ground Basketball Hoop with Adjustable Height Backboard and Pro-Style, Breakaway Rim
BACKED BY LIMITED LIFETIME WARRANTY - Adjustable height in-ground basketball hoop offering a limited lifetime warranty
MOVE YOUR HOOP WITH YOU - Strength of concrete anchor system with option to unbolt and move goal. Anchor Kit Included.
TEMPERED GLASS BACKBOARD - 54"-wide tempered glass backboard for ultimate performance and strength
ADJUSTABLE, IN-GROUND HOOP - Adjust height of pro-style, breakaway rim from 7.5' to 10' using crank actuator
ARENA-STYLE LOOK - Powder-coated steel pole construction is durable and rust resistant.SHIPS IN 3 BOXES
Last update on 2023-09-21 / Affiliate links / Images from Amazon Product Advertising API
Starting with the legend of driveway hoops, this is one of the best basketball systems you can ever buy. If you are looking for a basketball rim that is extremely stable but is not cemented to the ground the GS54 should be your only option.
The main pole gets bolted to the ground with screws. This gives the system extreme stability while maintaining some portability if you decide to switch homes.
Installing it can be kind of tricky and unless you have some help I'd recommend hiring someone to do it for you. When I first installed it for a friend, we needed 3 people to hold the pole upright while a 4th friend worked the bolts.
But once you install it, the ring plays just like a regulation hoop. My friend has had his GS54 for the last five years, and we have slammed and ripped at it every year, and It is still as good as new. This is because the system comes with a breakaway rim( the same kind you see in the NBA) so even if you dunk like Shaq this ring ain't breaking.
What we like:
The main pole has a powder-coated steel construction making it completely rust-proof
A height adjustability actuator allows you to change the height of the rim
A 3/8 inch thick tempered reinforced glass that can withstand any bank shot you take without any vibration
The seller also provides rebar steel rods to strengthen the concrete for installation
What we don't like:
It is pretty expensive and not many people would be willing to spend as much on a basketball ring
It is not easy to install, and you might need help
Since the hoop has a high demand, it is usually out of stock
Check Price and Reviews on Amazon
---
Spalding Hybrid Portable Basketball System – The Portable Rim For Serious Ballers
Last update on 2023-09-13 / Affiliate links / Images from Amazon Product Advertising API
The problem with most portable systems is that they prioritize mobility over what really matters – being fun to play basketball.
Luckily for us, Spalding has created a unique hoop that focuses on all the right things. The system is built with the primary focus of supporting aggressive use. So you can throw down all those monstrous dunks without having to worry about wrecking your rim.
What we like:
One of the most durable portable rims you can purchase
The acrylic backboard is very stable and is not one of those where every bank shot goes in.
The base can store up to 200lbs of sand making it extremely sturdy
What we don't like:
The instructions are a disaster; they don't match the actual parts you're given. You are better off watching this video on how you can actually install the system
One of the more expensive portable rims you can buy
 The Acrylic Backboard begins to look duller with time as it collects scratches, but this is something you're going to see with every other backboard of that type.
Check Price and Reviews on Amazon
---
Lifetime 1269 Portable Basketball System – Ballin' on a Budget
Sale
Lifetime Height Adjustable Portable Basketball Hoop Pro Court System, 44 Inch Backboard, Red/White
Enjoy the game at your level with a telescoping pole that adjusts rim height from 7.5 to 10 feet in 6-inch increments
The Shatterproof Fusion Backboard integrates a shatterproof polycarbonate playing surface. Graphics are screen-printed with UV-protected inks for superior color and protection
The 3 pc. round steel pole is protected with a powder-coated, weather-resistant finish. The system is supported by a heavy duty portable base. Just fill with sand or water and play
The original classic basketball rim features a 5/8-inch solid-steel ring supported by 1/2-inch braces and an all-weather nylon net
44 in. x 30 in. x 2 in. Shatterproof Fusion Backboard
Last update on 2023-09-21 / Affiliate links / Images from Amazon Product Advertising API
Are you looking for a basketball system for some family fun, that won't cost you a fortune? This lifetime 1269 system might be the right solution for you.
It is not too heavy on the wallet and comes with a ton of useful features that you usually don't get at this price. Being a portable system lifetime has clearly focused on keeping mobility as a priority.
This means the system is really easy to set up and you can even do it all by yourself in a single afternoon.
What we like:
Very easy to set up and most people are going to be able to put this system together in under an hour
Costing less than $200 this is one of the most budget-friendly rims you can buy
The pole is comparatively stable for a casual pickup game(although it does vibrate a little)
What we don't like:
This rim is relatively light and could tip over under heavy winds. we recommend you to bring the hoop into the garage on a windy day
There are no springs in the rim, so dunking should be discouraged. This is really just a rim for shooting and layups
If the base is not held by enough weight there's a good chance that the rim might topple over and total your car
Check Price and Reviews on Amazon
---
10FT Portable Basketball Hoop by Giantex- The Hidden Gem
Giantex Portable Basketball Hoop Stand, Adjustable Height 6.5-10 ft, 43Inch Backboard, Portable Basketball Hoop & Goal Basketball System Stand for Kids Youth Indoor Outdoor Use
🏀 Sturdy & Durable Material: This adjustable basketball stand is constructed of anti-rust and heavy-duty steel post measured 3.5" in diameter, strong PE backboard and base and all-weather nylon net. The hoop is firmly assembled on the top of the main pole and make your kids enjoy a passionate basketball game.
🏀 Adjustable Height for Adding Versatility: Features 4 holes in the poles and 5 holes in the rim bracket for height adjustments, the telescoping post can be easily adjusted from 6.5' to 10'. It is easy to operate and you only need to align the knobs, which is suitable for adults and children to play.
🏀 Easy Carrying Wheels: Equipped with two wheels for effortless moving even when the base is weighted by stuffing. And the basketball hoop is easy to move to the yard, the grassland or even play indoor the house in a lower setting. Great for kids to score baskets training and shooting.
🏀 Upgraded Stability: The base of the basketball goal can be filled with 65 lbs of water or 88 lbs of sand to guarantee good stability and safety for your every shot. Thus it can allow you to play big rebounds or dunks. Plus, the bottom metal bracket and the base form a rugged triangular structure for extra stability and durability.
🏀 Outdoor Activities with Fun & Health: The basketball hoop system provides you with an easy and professional way to practice your basketball skill. Children can learn basketball without any pressure in anywhere. Perfect for family activity, sports game and school activity with your family and friends. Recommended age of users: 3+
Last update on 2023-09-21 / Affiliate links / Images from Amazon Product Advertising API
If you have never heard of this company. I don't blame you. In an industry dominated giants like Spalding and Nike, Giantex is the dwarf looking to make a name for itself.
They have carved a niche for themselves by selling budget friendly hoops that focus on affordability. The base can be held down with 88 pounds of sand so it will stay relatively stable.
If you are looking for a hoop on a sub-$100 budget. This is the only option you should be considering. Although it's not nearly as good as some of the other rings we have talked about but you shouldn't be complaining at this price point
What we like:
Very very easy to set up. This is one of those systems you take out when the kids want to play and put it back in when they are done.
The base is positioned behind the pole. One of the most annoying things about many portable systems is that the base protrudes into the playing area(Not with this rim)
Adjustable height
What we don't like
There's a ton of vibration when you take bank shots
It looks super fragile and feels like the rim might break off on every shot
Really only meant for casual play and even then just for shooting
Check Price and Reviews on Amazon
---
Lifetime 90020- Budget In-ground Hoop
Lifetime 90020 Height Adjustable In Ground Basketball System, 48 Inch Shatterproof Backboard
48" Shatterproof Fusion backboard with a Makralon playing surface and fade resistant graphics provides a durable pro-glass look!
Action grip adjustment mechanism provides easy adjustment with only one hand; Adjusts from 7.5' to 10' in 6" increments
Rust-resistant powder coated pole and all weather nylon net make this suitable for indoor and outdoor use
18" Slam-It Rim is build with a 5/8-inch ring of solid steel, with 1/2" steel braces & double compression springs let you slam it like a pro
Includes pole pad; backed by a 5-year limited manufacturer warranty
Last update on 2023-09-21 / Affiliate links / Images from Amazon Product Advertising API
The 90020 is a great option as a first rim you can buy for your kids. Compared to the other in-ground hoops, the stability of this system can be a bit disappointing. The rim will rattle for a few seconds especially after a long-range shot.
But you can't expect much more at this price point.
What we like:
Comes with a 22-inch overhang(the distance from the rim to the pole) which allows you a lot of under the basket play without worrying about crashing into the goal post
Easy to set up and adjust the height
Comes with a 5-year limited warranty
What we don't like
Ring rattles a bit after every shot
The backboard is only 48″ wide compared to the 72″ of a regulation rim
The backboard is made from cheap polycarbonate
Check Price and Reviews on Amazon
---
Pro Dunk Hercules – The best In-ground Hoop
Goalrilla Basketball Hoops with Tempered Glass Basketball Goal Backboard, Black Anodized Frame, and In-ground Anchor System
PRO-STYLE LOOK AND PERFORMANCE - Clear View tempered glass backboard delivers pro-style look and rebound performance
POWDER-COATED STEEL - Black anodized frame creates a professional, arena-style appearance
MOVE YOUR HOOP WITH YOU - In-ground anchor kit system cured in concrete with the option to unbolt and move goal, anchor kit included
INNOVATIVE STEEL POLE DESIGN - Uncompromising strength and stability supported by Three-Point Technology. Includes anchor kit system.
INCREASE STABILITY - Foundational strength of 1-piece main pole mounted to concrete anchor. SHIPS IN 3 BOXES
Last update on 2023-09-21 / Affiliate links / Images from Amazon Product Advertising API
This is where things get real. The pro dunk Hercules is the Lamborghini of basketball hoops. It's one of those rims Kobe probably has at his home.
It comes with an NBA size 72″ X 48″ backboard made from thick 1/2″ tempered glass. No other system you buy is going to give you these specifications.
Pro Dunk, the company behind this board has gone all in to create the ultimate system. In fact, they are so sure of its quality that they offer a lifetime warranty which includes dunking and hanging on the rim.
The pro dunk is a great way to go if you have the space and are looking to play professional style basketball on a hoop that's will last for the rest of your life.
What we like:
A 4- feet overhang which probably greater than that of any other rim in your neighborhood
NO vibration at all. Literally. Not even a teensy bit of vibration
Massively large backboard made from tempered glass that's half an inch thick
What we don't like:
It is extremely heavy and weighs almost 350lbs. This is mostly because of the weight of the backboard
You cannot adjust the height, the pro dunk platinum cost $100 more and allows you to adjust the height as well
Assembly is difficult and the backboard is really heavy
Check Price and Reviews on Amazon
---
Things you should consider when buying a basketball hoop
The best kind of system depends a lot on your specific needs. This is why what is right for us may not necessarily be the right system for you. Here  are some things you need to know before you purchase a basketball hoop
How big is your driveway?
Measure the size of your driveway or backyard. Each system comes with a specific amount of overhang. Most people usually ignore this when purchasing a basketball system. Let's say you have a 20 feet long driveway and the overhang of your system is 3 feet, plus another 2 feet of space behind the hoop for the height adjustment mechanism. You are only left with a 15 feet long court( the NBA 3-point line is between 22-24 feet away from the basket)
Here's a nice equation you can use to calculate the playable length of your Court:
Playable Length: Actual length of the area-Overhang of system + 3FT (space occupied by the system)
If you don't have much space, it makes sense to get a hoop with a smaller overhang or even a wall mounted system. This way you don't reduce the size of an already small space.
What are the rules in your neighborhood about basketball hoops?
If you are planning to purchase a hoop for your background make sure that you are legally allowed to do so. Many neighborhoods don't allow residents to install certain structures that may cause a disturbance to the community. You don't want to spend a ton of time and money to set up your system and then get a notice asking you to remove it.
Ask neighbors who already have a hoop installed about any rules you need to follow. If none of your neighbors have a basketball hoop, ask someone who is actively involved in the community.
Setting up an in-ground hoop requires you to dig a pretty deep hole for the goal post. Make sure there are no underground utility lines where you plan to put the hoop. There is a government service you can use that will tell you of any underground lines near your home (just dial 811)
Do I Need Height Adjustment?
Almost every hoop on this list (except the pro dunk) supports some kind of height adjustment. This works great for kids who don't have the strength to shoot at a 10ft rim. It is also super useful if you are planning to host a dunk contest anytime soon.
But rims with height adjustment generally cost a bit more and also have a degree of instability. This is why the best hoop on this list does not have any height adjustment. Whether you want height adjustment or not depends on your personal preferences. If your kids are young, I'd say go for a rim with some kind of height adjustment otherwise you're better off with a fixed height rim.
How to Select the Right Backboard For You?
There are many factors you should look at when selecting the right kind of backboard for yourself. Things such as the size of the backboard or the material will really depend on the price of the system.
Size
The backboards you see on TV or during college games are 72 inches wide and 42 inches high. But these mythical backboards weigh a ton and you are going to need a full team of players just to set it up. They are also super expensive. This is why most backboards you buy will be around 60 inches wide, a budget hoop like the Lifetime 90020 has a width of only 48 inches.
But there's no need to spend a ton of cash on a 72-inch backboard. Most backboards provide enough space for layups and bank shots. The 72-inch boards are only necessary if you're training professionally.
Material
The kind of backboard you get with your system will depend primarily on its price. There are 3 major kinds of backboard materials.
Polycarbonate ($)
You have probably seen these kinds of backboards on entry-level hoops. Mostly because they are very cheap to make. However, polycarbonate backboards are pretty durable and relatively light especially for something so cheap. This makes them a good option for portable basketball systems. But the biggest problem with polycarbonate is that the rebounds don't feel right.
When the ball hits the backboard, it just falls down rather than bouncing off the board. This may be a problem for people used to playing on high-quality rims.
Another point to note is that if you own a polycarbonate board for long enough you will notice a yellow tint. This is because polycarbonate gets discolored when left out in the sun.
Acrylic ($$)
Spend over $200 on a hoop and you're likely going to get an acrylic backboard. They provide a much better rebound response than polycarbonate. The ball bounces much further when it hits the board but not as far as in a glass backboard. A problem with acrylic is that get scratches with time and being to look dull.
Tempered Glass ($$$)
Tempered glass is used as backboard material in the NBA and NCAA. It is also super expensive that's why only the most expensive systems even use a tempered glass backboard.  The NBA uses a backboard that is half an inch thick, like the one in the pro dunk.
The main problem with playing on anything other than tempered glass is that bounce is not strong enough. This means bank shots are much more likely to go in. While it doesn't seem like such a big deal, it's going affect your child's game and stuff like this might happen.
Here's how the 3 rims tested against each other when dropped from a height of 6ft
| Material | Height Of Bounce |
| --- | --- |
| Polycarbonate | 1.2ft |
| Acrillic | 2.28ft |
| Tempered Glass(3/8th inch) | 3.6ft |
*As the thickness of the tempered glass increase so does the height of the bounce
If you prefer watching videos the guys over at pro dunk hoops have conducted a similar experiment
One of the major problems with tempered glass is their weight, so if you are looking for some kind of portability. This may not be the choice for you.
Do Tempered glass backboards break easily?
There's a very popular myth that tempered glass backboards have a high chance of breaking and drown you in a shower of glass. This is just not true. While it's true that early backboards in the 70's would break if someone dunked too hard. The new technologies used in the rims these days have made them much safe(you are more likely to break the pole than the backboard).
You  can even check out this video by ESPN Sports Science where they test the limits of a tempered glass backboard
Overhang of the backboard:
The overhang is the distance between the backboard and the baseline. The advantage of having a large overhang is that it allows you to play the game without worrying about crashing into the pole. One of the major problems we have with portable rims is the fact that there is almost no overhang. In fact, some portable system even has the support creep into the court.
On an official NBA court, the distance between the baseline and the backboard is 4 feet. Cheaper hoops like offer a small overhand. However, depending on the size of your driveway this can actually be an advantage. The more expensive hoops like the Pro Dunk offer an overhang of up to 4 feet and allow you to play under the rim without worrying about injuries.
What should you look for in a Rim?
Almost all the basketball hoops these days come with breakaway rims, a breakaway rim make sure that the ring doesn't break when being dunked on.  They also absorb the impact of the shot much better.
If the system you are buying as a breakaway mechanism, make sure that the springs are covered. Otherwise, your springs will rust pretty quickly.
In-ground vs Portable vs Wall Mounted
Wall-mounted
If you are a keen reader, you might have noticed that there's no wall-mounted rim on this list. That's because wall mounted systems are really noisy. You are going to hear every single shot that hits the backboard inside your house.
I really don't recommend a wall-mounted hoop unless you have a really small driveway.
In-ground
The biggest advantage of getting an in-ground hoop is that it allows your kids to play under the basket without worrying about getting hurt by running into the pole. One of the many problems people have with in-ground systems is that you cannot take it with you when you move homes but with some clever planning this should not be an issue. Put your pole in a  sleeve as you lower it into the ground. This will allow you to move the rim when you switch homes.
Portable
If your kids are going to be playing mostly in the gym or the park and will only use the rim at home to practice their shots, I'd say you should go with a portable system. This should be the ideal situation for most people as kids tend to play basketball in the gym after grow older anyway.
When purchasing a portable hoop you want to keep in mind that there are 2 kinds of bases:
The base goes back, and away from the basket
The base comes forward towards the basket and into the playable area. These kinds of systems tend to form a triangle with the thickest part being around the pole
You should try to buy the first type as far as possible. The problem with the second type of system is that it creeps into the playable area and some even end just under the ring. This increases the chance that your child could trip and hurt themselves on it.
Best Brands When Buying Basketball Systems
Lifetime has created a name for itself by producing high-quality yard products for people on a budget. They have maintained this reputation as they moved into the basketball hoops market. Lifetime systems are known for being durable yet affordable
Spalding is the largest sports equipment manufacturer in the world. They invented the modern day basketball and are also responsible for creating the hoops used during official NBA games. Is it any surprise then that Spalding creates the best basketball systems in the world?
They even help push the innovation of the basketball rim with a dedicated R&D team focused specifically on creating a better hoop system.
Pro Dunk has been manufacturing basketball hoops for the last 34 years. They are a family owned business with a primary focus on creating the best basketball rims you can ever buy. This is why they don't cut costs. They even sell directly to the manufactures to keep the cost of their good manageable.
Although they are kind of expensive, purchasing a pro dunk hoop is a one time expense. They will last you long after your kids have grown up(maybe even your grandkids)
Frequently Asked Questions
We are going to answer some of the most common questions people have after they buy a basketball hoop
Why does my system vibrate so much?
There are two possible reasons you have a hoop that vibrates after every shot
The quality of the system is not good enough
There's a problem with your installation
for the first problem check out other reviews for your product see if other owners are having the same experience. If this is a common occurrence, there's not much you can do. However, if you are the only one facing an issue with the system it is likely that there's an issue with the installation.
Portable Systems: make sure there's enough weight in the base to keep the system stable.
Goalrilla Systems: Take a look at the bolts, are they tight enough to support your pole?
In-ground Systems: Make sure the concrete base is deep enough to have a strong enough foundation for the pole. Most in-ground systems require a base that is 48″ deep. You can read more about in-ground systems in our blog post here
What's the best base I should use for a portable hoop
When you purchase a basketball hoop you are required to fill it with some kind of base. This helps keep the system stable. The kind of filling you choose is very important as it decides if how you well your hoop plays. If you don't put enough weight in then there's a chance some strong wind might topple the entire ring but if it's too heavy you're not going to be able to move it. Or worse it will damage the base.
Water
One of the most common ways to fill the base of a basketball system is to weigh it down with water. After all, water is easily accessible and free. But if you are using water as a base for your system remember to empty it during winters or the water will freeze and damage the base. One way to prevent this is by mixing the water with salt.
If you stay somewhere like California where it's always sunny, you're gonna have other problems. On hot sunny days, the water can evaporate and make the unit less stable. So make sure to constantly check the water level on your system
Another problem, you will face with time is that your base will crack. This is inevitable and even a small crack will cause all the water to leak out and make the system unstable
Sand
While water weighs just 8 pounds per gallon, sand is a lot heavier at 13 pounds per gallon and considering that most bases hold up to 35 gallons. You get over 450 pounds to support your system by just using sand.  Another cool thing about using sand is that when you base cracks you can notice where the crack is located and the sand will not leak out like water.
However, the cost of filling the base with sand is more expensive and it makes the system really heavy. This becomes a problem when you want to move it later.
Gel
Some of the major problems with using water as a base is that water may leak when the base cracks or freeze during winters. You can now use a product called basegel which makes water into an extremely efficient base. Basegel converts water into a thick leak proof gel and reduces its freezing temperature. You can even turn the gel back into a liquid by adding salt making the base easy to drain as well.
Last update on 2023-09-21 / Affiliate links / Images from Amazon Product Advertising API
Conclusion
If you want to buy your kids their first basketball hoop, then I'd definitely recommend Lifetime 90020. It's cheap, flexible and will last you a decent number of years
I'm personally more of an in-ground hoops guy but there are also a ton of people who have bought high-quality portable hoops and are extremely happy with it. If I had to do it again I would purchase a Pro Dunk Platinum. Although It might seem silly to spend $800+ on a basketball hoop when you kids aren't basketball phenoms but think of it as a long-term investment.
Want more?  Read here about other backyard games you can play.