Whether you're hosting a picnic, barbeque, party, or wedding, nothing brings fun and laughter to the atmosphere quite like setting up an oversized game of giant Jenga as your centerpiece. It's a fun and easy twist on a classic childhood activity for people of all ages to enjoy. This guide will show you the best giant outdoor jenga sets on the market and help you choose which one is the best fit for you!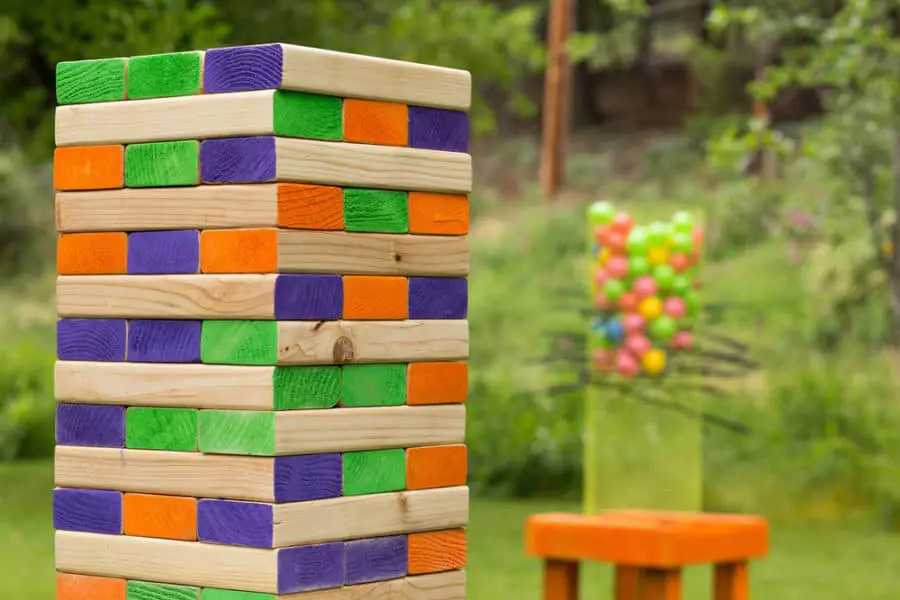 In a Hurry? Here's Our Top Picks…
1. Yard Games Giant Tumbling Timbers
Sale
Yard Games Giant Tumbling Timbers with carrying case starts at 2.5-feet tall and builds to 5-feet
Giant size timbers include 56 timber blocks measuring 7.5 x 2.5 x 1.5 inches and stacks 19 levels high! Includes two extra blocks for added height and best packing arrangement.
Fully set up game starts at 7.5 x 7.5 inches and is 2.5 feet tall! Game can grow to over 5 feet while playing based on skill level.
Comes with 56 sustainable sourced New Zealand Pine wood blocks hand sanded smooth for easy setup and game play. Perfect for indoor or outdoor events such as parties, BBQ's, tailgating, group events, camping and much more.
Includes high-quality and high-strength nylon carrying case for easy storage and transport and makes the perfect sized gift! Provides hours of fun and entertainment for the entire family. Anyone can play and create lasting memories.
100% Satisfaction Guaranteed. We are a US based company and will replace any piece of this game if you are not satisfied. Or if it's just not working out, send it back for a full refund.
Last update on 2023-09-19 / Affiliate links / Images from Amazon Product Advertising API
The Yard Games Giant Tumbling Timbers is one of the best options on the market right now. It has some of the biggest blocks, with its 56 solid pine pieces clocking in at 1.5" x 2.5" x 7.5". That's enough for the game to start with the usual 18 rows plus an additional two pieces to set up as the bottom for added height and stability. The blocks are kiln-dried and hand-sanded for durability and easy play. This one also comes with a high-strength carrying case so you can bring your game with you wherever you go!
When it's fully set up the game stands 2.5' tall – and that's before the game has even begun! In-play it can grow to over 5 feet! The Yard Games Giant Tumbling Timbers is currently the top giant Jenga set out there, and for good reason. If it's rave reviews and my recommendation aren't enough to convince you, you can check out this set in action here!
Things We Like
Blocks are sanded smooth so they fit together well for play
Extra blocks for a sturdy base layer
Hard pine blocks don't dent easily with use
Check Price and Reviews on Amazon
---
2. Jenga Giant JS7 Hardwood Game
Sale
Jenga Official Giant JS7 - Jumbo Large Size Stacks to Over 5 feet, Includes Heavy-Duty Carry Bag, Premium Hardwood Blocks, Splinter Resistant, Precision-Crafted Known Trusted Brand Game
Original Giant Jenga Game - For 10+ years, this officially licensed company has created over-sized Jenga brand games - the family favorite, building & balancing, wooden block, stacking and crashing game trusted and loved by kids & adults for generations
Largest Outdoor Yard Game - Build & design your own giant wooden tower with the biggest authentic hardwood Jenga game set ever sold! At setup, starts at 26 inches high, and can stack to over 5 feet high in play!
Event Game - Whether you're with friends, at a party, at work, at the bar, in your backyard, on the lawn, or by yourself, build Jenga blocks with any party size. Perfect for indoor or outdoor use. It's a game that builds anticipation to a crashing climax!
Jumbo Party Game - Fun to play, exciting to watch… now it's a sport! Jenga GIANT is great for giant outdoor games and can liven up family game nights and birthday parties. It's an ideal activity for kids, teens, and adults.
Includes - 54 precision crafted premium hardwood 7.15" X 2.38" X 1.43" blocks, Each one nearly 15 times the volume of a classic Jenga block and a Heavy-Duty Jenga GIANT Carry Bag for easy transport and storage.
Last update on 2023-09-20 / Affiliate links / Images from Amazon Product Advertising API
The Jenga Giant JS7 is the largest hardwood stacking game you can get that is also an officially licensed Jenga product. It's worth mentioning that the price tag shows that you're getting an authentic Jenga branded game, as it's a bit more expensive than the other options on this list. That said, these hardwood playing blocks are precision-crafted and polished, featuring the Jenga logo. Though the blocks are a little bit smaller than the other games on this list, measuring 7.12" x 2.38" x 1.38", they're still nearly 15 times the volume of a traditional Jenga block!
The Jenga Giant JS7 Hardwood Game starts at 2 feet high and can go over 5 feet during gameplay! It also comes with a heavy-duty travel bag and Jenga SPORTS Tournament Charts so you can battle to be the giant Jenga champion of your backyard!
Jenga also offers a much larger set (seen here on The Ellen Show!), which is made from cardboard. In terms of durability, this won't last as long as a hardwood set and is more in danger from wind and water if you're playing it outdoors, but this game starts at 4 feet and can build above 8 feet tall during gameplay. It's only available on the Jenga website, so if you're interested, you'll have to check that out, but I'd recommend sticking with a much longer-lasting, and somehow cheaper, giant hardwood set.
Things We Like
Includes tournament sheets for competitive play
Classic Jenga brand and quality
Check Price and Reviews on Amazon
---
3. Tailgating Pros Giant Wooden Tumbling Timbers
No products found.
The Tailgating Pros Giant Wooden Tumbling Timbers game is another great option if you're looking for the perfect giant Jenga game. This jumbo-sized Jenga set comes with 60 7" x 2.5" x 1.25" blocks made from high-quality pine. The wooden blocks are smooth and I really like the natural look of them. You also have the option to get a beautiful stained version of the game.
At first set up the Tumbling Timbers stand 2 feet off the ground and can grow to over 5 feet during gameplay. It also comes with a black canvas bag to transport your game wherever you want to take it. While it's a good option, with all the other choices out there, it doesn't really distinguish itself from the rest in terms of quality or add-ons.
Things We Like
High-quality wood with a beautiful natural look
Heavy-duty carrying case
Check Price and Reviews on Amazon
---
4. GoSports Giant Wooden Toppling Tower
GoSports 5 ft Giant Wooden Toppling Tower - Includes Bonus Rules with Gameboard - Choose Your Style
STAINED WOOD: Stained solid pinewood blocks inspired by rustic barnwood give the set a unique look
GIANT SIZE: Tower starts at 2.5 ft tall and grows to over 5 ft during play - Includes 54 Giant Blocks (18 rows), Carrying Case and Custom Rules Board
DRY ERASE BOARD: Includes dry erase board to make your own optional party rules, goofy rules, adult themed rules, and more
PREMIUM QUALITY: Flat kiln dried pine blocks that are hand sanded
Last update on 2023-09-20 / Affiliate links / Images from Amazon Product Advertising API
GoSports frequently makes high-quality outdoor gaming products and they've done it again with their Giant Wooden Toppling Tower. It's beautifully made with 56 solid pinewood blocks, with different colored staining you can choose between to give them a rustic and outdoorsy appearance. The blocks are kiln-dried and hand-sanded for snag-free gameplay.
This game set comes with a well-made carrying case to pack up and store your game neatly or take it along with you anywhere you go. If you like more variety in your yard games, this is the perfect option for you; it also comes with a whiteboard for creating new house rules on the fly. Many of the blocks have numbers on them, so whenever a numbered block is drawn, players have to follow the rule that's been established. Each game can be unique, whether you're playing with kids or by more adult rules!
Things we like
Assorted colors let you customize your game
Added white board and numbered blocks for varied gameplay
Kiln dried and hand sanded pine for ease and durability
Check Price and Reviews on Amazon
---
5. Splinter Woodworking Co Giant Tower Game
SWOOC Games - Giant Tower Game | 60 Large Blocks | Storage Crate/Outdoor Game Table | Starts Over 2.5ft Big | Max Height of 5ft | Genuine Jumbo Toppling Yard Games | Jumbo Backyard Set
🔝 60 GIANT BLOCKS: That's 6 extra blocks versus the classic board game (Hint:Rhymes with Zenga). Starts over 2.5ft tall (24in blocks and 8in game table = 32in total). Max height of 5 ft during game; Each block is (L) 7in x (W) 2.31in x (H) 1.12in
📐 LIGHTWEIGHT & GREAT HEIGHT: Perfect size for both indoor and outdoor fun . Entire lifesize lawn game only weighs 25lb with wooden crate. Easily stores under benches, coffee tables, outside patio furniture, etc.
📤 STORAGE CRATE / GAME TABLE (Light Assembly Required): No more bags that rip or tear. Easy to carry; Becomes table to play on wherever you are. Perfect for indoor or outdoor stacking fun, backyard, bbq, tailgating, beach trips, camping, bars, etc.
🌲 PREMIUM QUALITY WOOD: ♻ Sustainably Sourced from genuine kiln dried New Zealand Pine. Oversized blocks and crate have meticulously rounded edges with an extra smooth finish. Lifetime Warranty covers splitting, cracking, twisting, and warping.
📝 BLANK BLOCKS FOR CUSTOMIZING: There is no writing on the plain timber blocks, and it is not sealed. Ready to custom paint or stain. Can be for a wedding guest book alternative, birthday party, shower, group gift; easy to personalize.
Last update on 2023-09-20 / Affiliate links / Images from Amazon Product Advertising API
If I had to choose only one giant Jenga game to recommend, it would be this one! Even with all of the fierce competition, this Giant Tower Game sets itself apart from the rest. It comes with 60 7" x 2.31" x 1.12" blocks made from sustainably sourced New Zealand Pine, kiln-dried with an extra smooth finish and rounded edges. That's six blocks more than the original game!
The blocks themselves are a little bit lighter than many of the other brands out there, weighing only 20 pounds altogether, so the game is more family-friendly and less likely to cause any kind of injury when the tower tumbles. These blocks come unfinished so you can write on them or stain them to look however you'd like them to!
My favorite feature with the Giant Tower Game is the beautiful pine storage crate that it comes with (though some minor assembly is required), which doubles as a game table, bringing the starting game height up to 32" of fun! It's also a great way to carry your game from place to place without straining your muscles!
Things we like
Sustainably sourced kiln-dried pine
Smooth finish and rounded edges
Lightweight blocks
Carrying crate doubles as a game table
Check Price and Reviews on Amazon
---
Why Outdoor Jenga Sets?
The original table-sized version of Jenga is a game that's guaranteed to be a good time for all involved and these jumbo versions are the oversized next step. It's great for parties no matter how old you are and brings people together to have a great time. There may not be a ton of strategy involved, but with practice, you can learn how to pull blocks like a pro and impress all of your friends with your top-rate Jenga skills!
How To Play With Outdoor Jenga Sets
Giant Jenga is played with the same rules that the traditional tabletop game is played with. It's an easy game to learn if you've never played before and will keep you on edge with excitement!
Jenga is played by drawing blocks out of the tower one at a time and putting them on the top. It's not a game you can win, so much as a game you try not to lose, which you do by knocking over the Jenga tower.
If you're a visual learner, you can check out this video on how to play here! It's designed for tabletop Jenga, but the game is played the same with your new giant set!
The game is set up by stacking the blocks in rows of three, with each row built at a right angle to the one below it. This gives the tower its classic appearance and once your game is set up, it's time to play! There are only a few rules you need to keep in mind.
On each turn, you take one block from anywhere on the tower except the incomplete top level and the level directly below it. They're off-limits.
You have to put your block back on the top level to complete your turn, but you can only use one hand at any time.
That's it! You're ready to play!
If you want to read the rules a little more in-depth, you can check out the official Jenga website rules here.
Strategy
Every time you build the giant Jenga tower, you're playing an entirely different game from previous towers. Like I said before, it's not a game you win, so much as a game you don't want to lose. Because of this, there aren't really long-term strategies for giant Jenga like there are with a game like chess, but there are a few tips!
In giant Jenga, you want to focus on your individual moves. Where can you take a block that won't knock over the tower? On your turn, you're allowed to tap on blocks to check them. This lets you figure out how easy they'll be to extricate from the tower, but dexterity is key. You can only use one hand, but you can swap to your other one whenever you need to!
Breathe. Take your time. Your heart may be beating quickly, the tower may be wobbling back and forth, your friends may be cheering (or maybe jeering), but don't let it get to you. Don't try to pull a block that's still firmly in place. Don't rush in pulling your chosen block out. You got this!
Things To Look Out For
Keep in mind who you plan on playing with. If you want to pick up giant Jenga for the kids, you might want a set with lighter-weight blocks to make sure no little ones get hurt when the tower falls. Adults may be hardier, but everyone will need to watch out for their toes when it comes down!
If you're planning on bringing your fun new game out with you to other people's houses or to the park, you want to make sure the version you buy comes with a carrying case to make transporting it as easy as possible! You have several options here and you should think about how frequently you'll be traveling. Most of the sets come with canvas carrying bags which are easy to carry but also will break more easily than say, a wooden carrying case.
If you live in a humid area, you want to get a set that has stained and protected wooden blocks, instead of unfinished ones. If there's too much moisture in the air, or if the blocks are exposed to a lot of water, they may absorb it, causing them to become misshapen and unplayable.
DIY Giant Outdoor Jenga Sets
If the sets you can get on Amazon aren't quite big enough for you, there are lots of handy tutorials and how-to guides online for making your own massive block tumbling game! Here's a great video showing someone making one! Homemade towers tend to be even taller than the ones you can buy, but make sure to get high-quality wood or your blocks will dent with play, making the tower less stable and less aesthetically pleasing!
Customizing Your Game
Whether you've built your own DIY set or purchased an unfinished giant Jenga game, part of the fun of playing lies in customizing your set of blocks. There are many different variations of this that you can use, depending on who you're playing with. Lots of people choose to write on the blocks they're playing with, so whenever you draw a block it determines what happens next in the game.
This can be done in tons of variations, whether you're playing with your kids at a picnic or with your friends at a party. Here are some ideas for things you could write on the blocks!
-Scavenger Hunt! The first person to find (choose random objects you have around the house) first, wins!
-take an extra turn
-play never have I ever
-throw this tile across the room
-argue with everything the person next to you says for the rest of the game
-do a dance!
Here are some more ideas for you!
I've also seen people use giant Jenga as a guest book during their wedding receptions, where guests draw blocks and write their favorite memories of the couple. It's a great and unique way to keep your memories. Or you can use it as an icebreaker with new people, each block can have a "getting to know you" question on it that you answer when you pull it.
Best Outdoor Jenga Sets Brands
Jenga is the quintessential brand, the progenitor of all other giant Jenga games. They've been making Jenga games since 1982.
GoSports has a well-earned reputation for making high-quality yard games. We frequently recommend their games here at Own The Yard!
Splinter Woodworking Co is dedicated to making handcrafted, high-quality, and sustainably sourced family games. They're a company that you can feel good supporting!
Yard Games is one of the foremost manufacturers of outdoor games, such as outdoor jenga sets, with specialties in oversized fun.
Tailgating Pros got started creating custom cornhole boards and has expanded into other yard activities, maintaining its small business and high-quality feel and support.
FAQ
Q: How many pieces are there in outdoor Jenga sets?
A: In the original Jenga game there were 54 blocks and most games today have the same number, but some of the sets have more blocks for more fun and height.
Q: How big are giant outdoor Jenga sets and their blocks?
A: They range in size depending on which set you order, but typically average out around 7" x 2" x 1" in size.
Q: How to make giant Jenga?
A: There are lots of great guides out there for making your own giant Jenga set, like this one!
Q: Are giant outdoor Jenga sets dangerous?
A: The biggest danger in giant Jenga is falling blocks landing on your toes, but if you're playing with little ones you should be aware of them as you play so the blocks don't land on them!
Wrap up
You have lots of great options to choose from when you're deciding which of the best giant outdoor jenga sets to add to your backyard arsenal. I think the Splinter Woodworking Co Giant Tower Game is the best one on the market right now. It's large, it's sustainably sourced, and it comes with a beautiful wooden crate that doubles as a playing base to add even more height to your game. If you have doubts, take a look at the reviews! And happy stacking!