One of nature's most delightful sights is the changing of leaves as fall comes, but just because the trees are losing their leaves doesn't mean you need to lose your mind trying to keep your yard free of debris. Instead of spending hours raking your outdoor space, upgrade to a backpack leaf blower to save time and stress. When it comes to choosing the best backpack leaf blower, we've got you covered with this buying guide!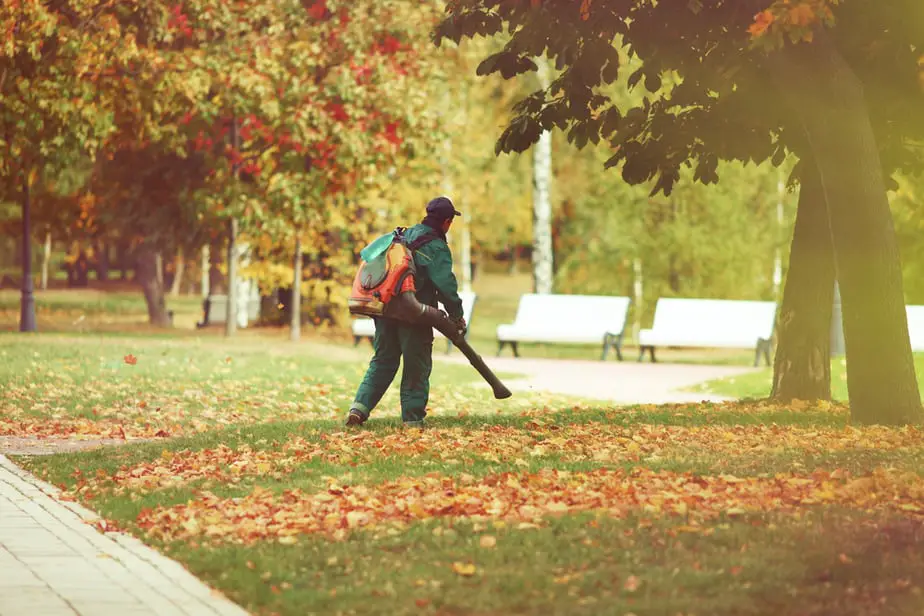 Here's a Quick Summary of our Top Picks
Echo PB-580T Backpack Blower
Sale
Last update on 2023-11-27 / Affiliate links / Images from Amazon Product Advertising API
This blower packs a mean punch and will have your yard leaf-free in no time. The 58.2cc professional-grade, 2-stroke engine has an output of 215 MPH. That's on par with professional grade equipment! This tool is designed to be durable and effective, with a metal wear ring and Posi-loc pipes that keep your connection secure. It's so effective that it can even handle wet leaves with ease.
The pleated, automotive style air filter keeps the engine running comfortably for a longer time by providing superior air filtration and the leaf-guard keeps debris from getting into the fan intake. Plus, the attached fuel tank is translucent, so you can keep an eye on how much fuel you have remaining without any effort.
The Echo PB-580T is designed to be as comfortable as possible, weighing in at only a little over 22 pounds. The 4-point vibration reduction system keeps it from jarring you too much as you work. It features a vented back pad that allows air to circulate around you, keeping you cool even if you're using it on a steamy day, as well as a comfortable padded backrest and shoulder straps to prevent chafing as you operate it.
Things We Like
Extremely powerful output can deal with any and all debris without a problem
Automotive Style air filter helps this blower to run longer while needing less maintenance than similar blowers
4-Point vibration system keeps the Echo from causing you too much discomfort
Ventilated back pad is comfortable and cooling on the hottest days.
Check Price and Reviews on Amazon
---
Troy-Bilt TB4BP EC
No products found.
The Troy-Bilt Tb4BP is a great option for those of you who want to keep your yard free of leaves but are looking for a blower that's a little more accessible for those with physical difficulties. Weighing just under 22 pounds, it features a 32cc 4-cycle gasoline engine that can kick up a mean 150 MPH air speed, which will blow through leaves and debris without a problem, though it's a little less powerful than many of the other options on this list.
This backpack blower has an incredibly ergonomic Coolflex design with a fully-tensioned multi-material suspension system that distributes the tool's weight evenly between your shoulders and hips to reduce pressure on your back and circulates cool air to keep you from overheating while you work. The padded hip belt and backpack design are designed to be comfortable and reduce stress on pressure points.
One of the Troy-Bilt TB4BP's most unique features is its flex tube, which allows you to maneuver under and around objects and plants to clear your space more easily. To make things even easier, it comes with a SpringAssist starter and JumpStart capability, though the JumpStart set is sold separately.
Things We Like
Flexible tube is ideal for working in an environment that has many obstacles or plants that need to be navigated around
SpringAssist starter makes this blower easier to start up than some of the other gasoline models
Extra attention to ergonomic design makes this the most comfortable option to wear
Ventilated back pad is comfortable and cooling on the hottest days
Check Price and Reviews on Amazon
---
Greenworks PRO 80V 580 CFM Cordless Backpack Blower
Last update on 2023-11-27 / Affiliate links / Images from Amazon Product Advertising API
If you're looking for a more environmentally conscious option, the Greenworks PRO 80V is one of the best cordless electric backpack leaf blowers you can get. In the company's words, this blower comes with "zero gas, zero emission, and zero maintenance."
It features a brushless motor that works just as hard as its gasoline counterparts, without needing to be checked on every month. with up to 580 CFM, this tool can output up to 145 MPH and the variable speed trigger and turbo button give you added control over your work.
The Greenworks PRO Cordless Backpack Blower is ultra-lightweight, weighing only 8.12 pounds without the battery and around 14 pounds with the battery in. That's a base weight of less than half of a gasoline backpack blower. It's also ergonomically designed to sit comfortably on your back so you can clear your yard without the fatigue associated with a handheld blower. Plus, you'll feel almost no vibrations as it runs.
It's important to note that this model comes as a bare tool package, so you'll need to pick up the battery and charger separately if you don't already have one.
Things We Like
Lithium ion battery power source is environmentally friendly
Brushless motor requires minimal maintenance and upkeep
Half the weight of gasoline powered alternatives
Check Price and Reviews on Amazon
---
Ego Power+ 600 CFM Backpack Blower
Last update on 2023-11-27 / Affiliate links / Images from Amazon Product Advertising API
The Ego Power+ 600 CFM Backpack Blower is another great electric alternative if you want to lower your carbon footprint while keeping your yard free of leaves and debris. Turbo fan engineering allows you to get up to 600 CFM, with a max output of 145 MPH. The high-efficiency brushless motor is 8 times quieter than comparable gas blowers and weights half as much.
With durable, weather resistant construction, an adjustable harness with a waist belt, and an adjustable tube length, this powerful little machine is ready to clear out your yard in record time with none of the required maintenance and fuss of a gasoline powered blower. It's easily the most powerful electric option out there and since it isn't using a combustion engine, you'll get minimal vibration for a much more comfortable work session.
This blower includes the lithium ion battery and charger, but if you already have a compatible battery for another tool, you can also find a bare tool version that comes much cheaper and doesn't include a battery/charger combo.
Things We Like
Lithium ion battery power source is environmentally friendly
Brushless motor requires minimal maintenance and upkeep
Half the weight of gasoline powered alternatives
Check Price and Reviews on Amazon
---
Husqvarna 350 BT
Sale
Husqvarna 350BT Gas Leaf Blower, 50.2-cc 2.1-HP 2-Cycle Backpack Leaf Blower with 692-CFM, 180-MPH, 21-N Powerful Clearing Performance and Ergonomic Harness System
Husqvarna 350BT Gas Backpack Leaf Blower combines a high powered gas leaf blower with state-of-the-art ergonomic design, perfect gifts for dad
Powerful Clearing Performance: 2-cycle, 50.2-cc, 2.1-HP X-Torq engine has a powerful blowing force (180 MPH, 692 CFM, 21 N), reduces emissions up to 60%, and increases fuel efficiency up to 20%
Ergonomic Features: Gas leaf blower backpack features an ergonomic harness system and an adjustable offset handle that makes the blow forces easier to control by preventing the arm from being pulled downwards
Easy Starting and Operation: Air purge system removes air from the carburetor and fuel system for trouble-free starting and LowVib technology significantly reduces vibrations so you can work more comfortably
Gas Blowers for Lawn Care: These gas leaf blowers feature cruise control and tube-mounted throttle controls for easy operation, whether you're clearing leaves, grass clippings or hedge trimmings
Last update on 2023-11-27 / Affiliate links / Images from Amazon Product Advertising API
If you're looking for the best gasoline powered backpack leaf blower on the market, this is it. The 2.1-horsepower engine can generate winds of up to 180 MPH and it's unique X-Torq technology gives you all the power you need while using up to 20 percent less fuel and producing up to 60 percent less emissions. That makes this blower both high-performance and environmentally friendly compared to other gasoline powered options.
The integrated harness is ventilated to keep you cool while using your blower and features a hip belt designed to fit your body and wide shoulder straps to distribute weight evenly and comfortably. Keeping comfort in mind, the handle has a soft and adjustable grip to keep you from wearing out your hand while you work.
The Husqvarna 350 BT comes with a high-volume 42-ounce tank that provides enough fuel to keep this puppy running for hours. The cruise control function allows you to set a fan speed without having to keep on top of the blower's air speed the whole time you're working. With its intuitive controls, the Husqvarna 350 BT is easy to use. When you've finished, the air purge function clears air out of the carburetor and fuel systems to make it easier to start up the next time.
Things We Like
Energy efficient and environmentally friendly X-Torq engine design
Extra attention to ergonomic design results in a comfortable, even weight distribution
Ventilated back pad is comfortable and cooling on the hottest days
Check Price and Reviews on Amazon
---
Is a Backpack Leaf Blower Right For You?
That depends. If you have a large property to keep leaf and debris free, then yes. Small yard owners may only need a handheld version, but a backpack leaf blower tends to be easier to use for prolonged periods of time, as it takes the pressure off of your arms to carry the machine and instead distributes the weight over your shoulders and waist, reducing fatigue ( and generally being more fun to operate).
Types of Leaf Blowers
When you step out into the world of leaf blowers, you'll quickly learn there are three main styles of leaf blower: handheld, backpack, and walk behind. Here's a great video with examples of each kind to break it down.
Handheld Leaf blowers
Handheld leaf blowers are the most common type and are a great option if you have a smaller yard to keep clean. We're talking under an acre or so. They're quieter, cheaper, and easy to use, although you can develop some fatigue if you have a yard on the larger side of under an acre.
Backpack Leaf Blowers
If you've got a larger area to keep clean, then backpack leaf blowers become a great option. These put the machinery onto your back, like a backpack, while you direct the airflow with a tube. They're super easy to use and tend to be designed as ergonomically as possible so the weight of the blower, which ranges from 14-23 pounds, is distributed comfortably. They may have a little more power than the small yard owner needs, but if you're dealing with a large yard or driveway, they're great and more comfortable than a handheld blower.
Walk Behind Leaf Blowers
Picture a push lawnmower that blows leaves out instead of cutting grass and you're on the right track here. Unless you're dealing with a really large space, these aren't necessary for most homeowners. While they're high powered and can deal with a lot of debris, they're also cumbersome, expensive, noisy, and take up a lot of storage space the rest of the year.
Types of Power
Gasoline Powered Leaf Blowers
Gasoline powered leaf blowers tend to be the most powerful choice in terms of sheer force, which can make them the most effective way to get your yard clean.  In exchange for being more powerful, gas leaf blowers are louder, have higher vibration levels, and require significantly more maintenance than electric alternatives.
Most gasoline leaf blowers have two-cycle engines. If you've never owned a tool like this before, it's important to understand that you'll need to fuel your new leaf blower with the proper mix of gas and oil to keep it running smoothly and prevent catastrophic meltdown.
Electric Leaf Blowers
We're talking specifically about battery powered leaf blowers here, as they're a better option for backpack leaf blowers. Battery powered blowers are much easier to start (at the press of the button instead of by pulling a cord), easier to fuel (charge up your battery instead of playing chemist and mixing up the correct gas/oil ratio), and require nearly no maintenance between uses. Plus they're environmentally friendly! Here's some more information about the advantages of electric leaf blowers!
When you're shopping for an electric leaf blower, keep an eye out for the words "bare tool package" because this means you'll be buying just the blower itself, without a battery or charging pack. If you don't already have an appropriate battery, you'll need to purchase one separately and should factor that into your budget.
Caring for Your Leaf Blower
Gasoline Powered Leaf Blowers
Gasoline powered leaf blowers need a fair bit more caretaking than their electric counterparts, both before and after use. In spite of this, gasoline powered leaf blowers are the most common type on the market. They're also more powerful than their battery powered counterparts to make up for the extra maintenance work.
Mixing Fuel
Making sure to use the proper mixture of gas and oil is probably the most important step in keeping your leaf blower running smoothly for a long time. Most gas leaf blowers use a mixture of gas to oil of 40:1, so for one gallon of gas you would want to mix approximately 3.2 ounces of 2-cycle engine oil. Be sure to check your owner's manual for the exact mixture that will keep your particular leaf blower running well.
Once you've got the mixture, shake it up to mix the two together and you should be good to go. If you're not exactly sure how much to use, it's better to err on the side of more oil, rather than less.
Here's a step by step walkthrough to help you through the process. Many companies provide information on mixing up the proper fuel for your blower. You can see one for Husqvarna and one for Echo if you go with either of those models!
Maintenance
Aside from needing a special fuel mixture, gasoline powered leaf blowers also require a higher degree of maintenance to keep running well. You'll want to give it a once over after each use, just to be sure everything continues to do its job well.
You'll need to check your leaf blower's air filter, spark plugs, fuel line, fuel filter, cables, and connections for issues, repairing or replacing them as needed. The fan blades and carburetor will need to be cleaned, and you'll want to flush the old fuel out of the gas tank. If you let the fuel sit it can become gummy and cause problems the next time you need to use it.
Here's a video from Husqvarna about proper maintenance!
Electric Leaf Blowers
Unlike gasoline powered leaf blowers, battery powered leaf blowers don't require much upkeep at all. As long as you charge the battery and don't run into unexpected problems, your electric leaf blower will be good to go.
Extending your battery life
The main way you can get the most out of your electric leaf blower is by making sure the battery is well taken care of and remembering that, because you're relying on a battery which takes up to 40 minutes to charge, you don't have the same amount of power as a gasoline powered tool.
As much fun as it may be to keep your blower on turbo and watch the leaves and debris go flying, you'll get more bang for your battery by finding the lowest setting which still gets the job done efficiently and working on that.
There are many other techniques for keeping your batteries running smoothly and as long as possible. You can find them here!
Safety Tips
Like any power tool, there are safety tips you can follow to make sure that your leaf blowing experience is as safe as possible. It's a good idea to tie back your hair if it's long and remove any loose clothing or jewelry.
You'll also want to wear safety goggles to protect your eyes and, if you're using a gas powered blower especially, wear noise cancelling headphones. It's not a bad idea to wear a dust mask over your nose and mouth as well.
Take a look at the area you'll be using your leaf blower on before you start to identify any rocks or debris that could be a hazard if they go flying unwittingly so that you can be sure to avoid them.
Best Brands
Echo
Echo has spent the last 40 years establishing itself as a worldwide leader in manufacturing hand held outdoor power equipment. They make high-quality tools that speak for themselves.
Troy-Bilt
Troy-Bilt is an American company who got its start in the 1930's by revolutionizing the rototiller and has maintained its name as a revolutionary producer of outdoor tools.
Greenworks
Greenworks is a phenomenal company on the cutting edge of designing and producing environmentally friendly power tools. They make some of the best battery powered tools on the market.
Ego
Ego is another company with an environmentally friendly focus to their products. With their ecologically empowered mission, they're one of the largest tool manufacturers in the world.
Husqvarna
Husqvarna has a 325 year history of innovation. Its reputation for making high-quality and environmentally sustainable outdoor tools precedes it as Husqvarna leads the way in robotics and low-emissions engines.
FAQ
Q: How do I start my backpack leaf blower?
A: Depending on what type of leaf blower you have, it could be as easy as pressing a button. That's for an electric leaf blower. If you have a gasoline powered leaf blower, you'll need to pull the starter cord, much like on a lawnmower. If you're a person with limited upper mobility, this is another thing to consider when purchasing.
Q: How should I store my backpack leaf blower?
A: If you're using a gas powered leaf blower, be sure to perform routine maintenance and clean your blower before storing it. Cleaning out the fueling system is the most important thing to do before storing it for a prolonged period of time by adding a fuel stabilizer into the gas tank. For electric leaf blowers, make sure to not leave your battery on the charger beyond the amount of time it takes to charge it and, if you have other compatible tools, use it regularly to keep it robust. Other than those steps, keep your leaf blower stored in a cool dry place and it should be ready for its next use!
Q: Are backpack leaf blowers even worth it?
A: If you're keeping a large outdoor space free of leaves and debris, it can absolutely be worth it. They're significantly easier to use for long periods of time than handheld blowers because they don't cause fatigue in your arms. Backpack leaf blowers are powerful and effective tools that will make your life much easier.
Wrap Up
Like we said above, if you're looking for the most effective and best backpack leaf blower on the market, you're going to want to get the Husqvarna 350 BT, which combines the sheer power of a gasoline powered tool with a degree of ecological sustainability that's rare in gasoline tools. It's the most eco-friendly option you can get without buying an electric blower. It's comfortable to use, designed to be effective in all situations, and a tool you can feel good about using.
Check Price and Reviews on Amazon