Whether you're hosting a barbecue, party, or general get-together, you're going to need some games to keep your guests entertained. And if you're hosting an especially large group of people, you'll want games that everyone can play. There are dozens (if not hundreds) of options to choose from, including kid-specific games, season-specific games, and classic games. We've sorted through these options and compiled a list of our top picks for fun outdoor group games!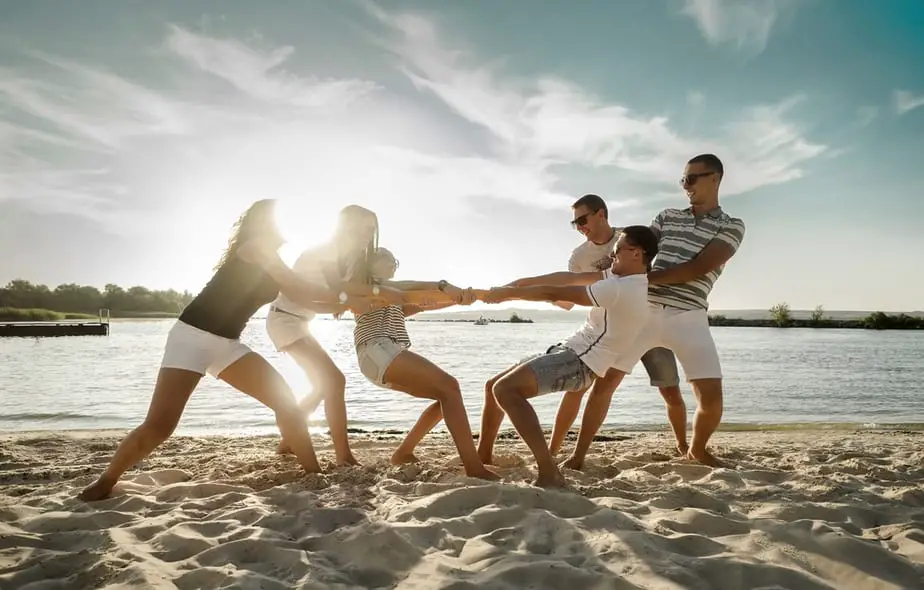 Let's get started!
GIANT-Sized Games
If you're having a giant-sized group over, why not have some giant-sized games to play? These outdoor games for large groups are a fun twist on the originals, and they're sure to be twice as fun as the normal-sized versions.
1. Yahtzee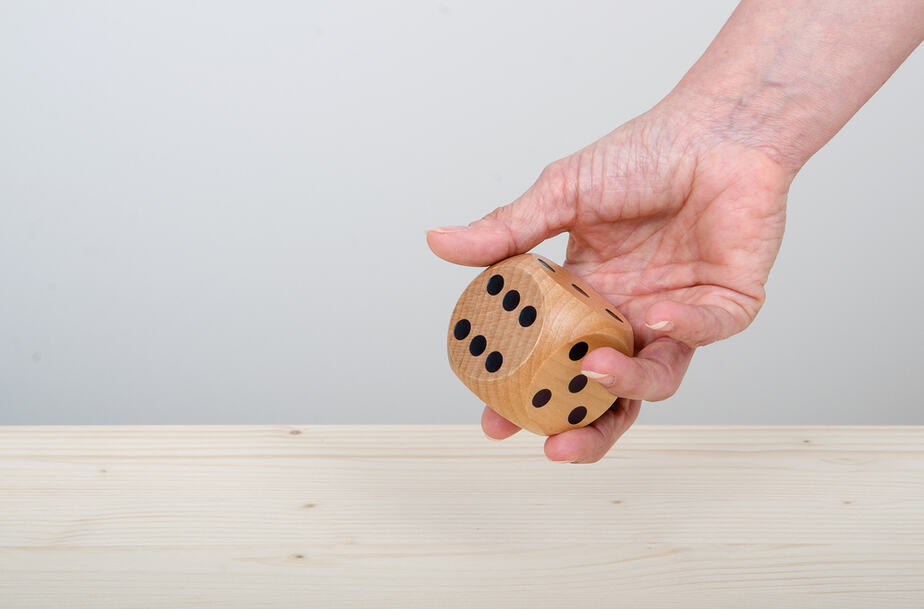 A classic in outdoor group games, Yahtzee is a classic fun game that you can play with as many people as you want. Learning to play is easy, and since you can buy your set online, the setup's a breeze!
SWOOC Games - Yardzee, Farkle & 20+ Games - Giant Yard Dice Set (All Weather) with Collapsible Bucket, Lid, 5 Big Laminated Score Cards & Marker - Backyard Lawn Game - Indoor/Outdoor
✅ ALL-IN-ONE - All equipment included for Yardzee & Yard Farkle for up to 5 players. Includes 6 solid wood jumbo dice, 5 large reusable score cards, collapsible bucket (red or green), lid, & marker for a complete yard dice set.
🎲 INCLUDES 20+ GAMES - Never get bored with this life sized game. Includes everything necessary to play over 20 different huge dice games.
💦 WEATHER & WATER RESISTANT - Polished and sealed to withstand the elements. Take to the beach, pool, camping, picnic or to the lake. Great for indoor and outdoor use.
🌲 SUSTAINABLY SOURCED NEW ZEALAND PINE - These extra large wooden dice are guaranteed not to split, crack, twist or warp. And no more bags that rip and tear with our durable bucket.
🔝 GIANT SIZE - More than 150 times the size of regular dice! Each oversized die is 3.5" x 3.5" x 3.5". Bucket is 10" tall and can collapse down to 3". Despite the huge size, the entire set only weighs a family friendly 6lb.
Last update on 2023-09-18 / Affiliate links / Images from Amazon Product Advertising API
---
2. Jenga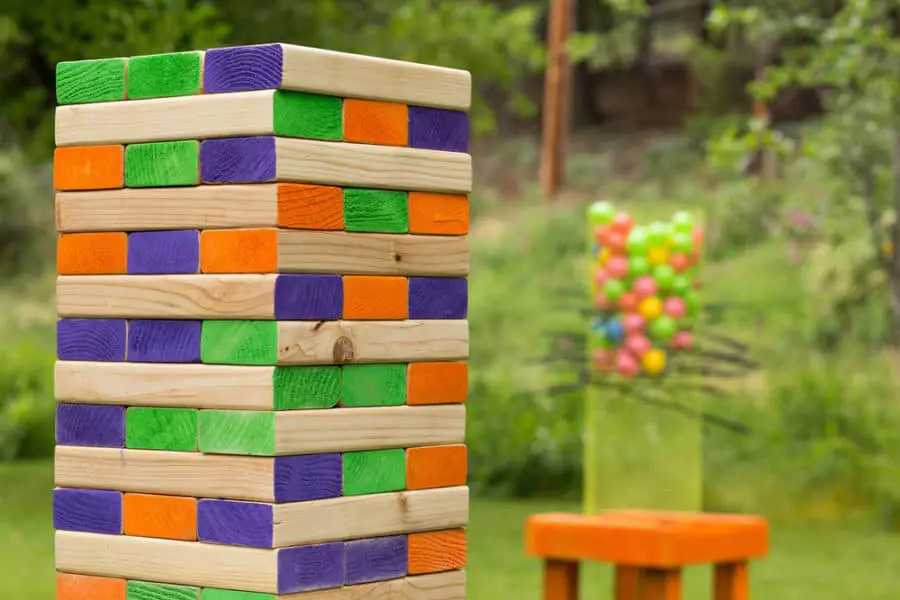 If you like normal Jenga, you're going to love oversized Jenga. The rules are essentially the same: players each try to remove a Jenga block without causing the entire structure to fall. Like with Yahtzee, you can buy your Jenga pieces online and assemble them on your own.
GoSports 5 ft Giant Wooden Toppling Tower - Includes Bonus Rules with Gameboard - Choose Your Style
GIANT SIZE: Tower starts at 2.5 ft tall and grows to over 5 ft during play - Includes 54 Giant Blocks (18 rows); Each block measures 7.75 x 1.5 x 2.5 inches
DRY ERASE BOARD: Includes dry erase board to make your own optional party rules, goofy rules, adult themed rules, and more
PREMIUM QUALITY: Hand selected knot free pine blocks
CARRYING CASE: Includes robust canvas carrying case for easy portability and storage of blocks and accessories
CLASSIC GAMEPLAY: Pull blocks out of the body of the tower and replace them at the top without the tower falling over
Last update on 2023-09-17 / Affiliate links / Images from Amazon Product Advertising API
---
3. Chess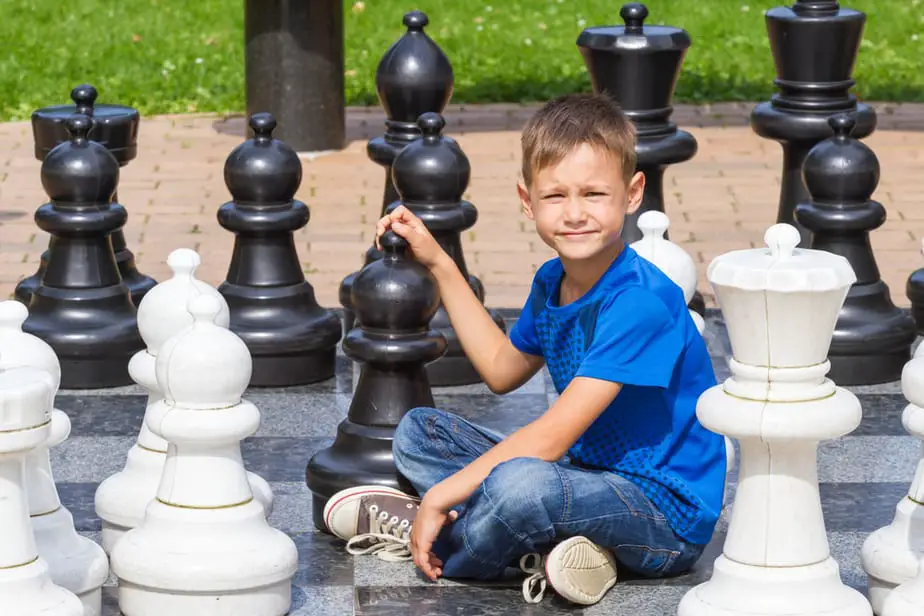 Giant-sized chess is great for an especially competitive group. Players divide into two teams and strategize to determine the best moves for this yard game. Teammates won't always be in agreement, so get ready for some intense gameplay!
MegaChess Giant Oversized Premium Complete Set of Chess Pieces with 25 Inch Tall King - Black and White
MOST POPULAR SET: The Premium 25-Inch Plastic Giant Chess Set is the most popular set from MegaChess. It includes 16 black and 16 white pieces. The Giant Chess Pieces range in height from a 25-inch king to a 16-inch-tall pawn. The set can be used both indoors and outdoors and is made with high-quality, long-lasting materials. Chess can become a communal experience and bring together family and friends when played out in the open on a lifesize set. Chess board is sold separately.
HIGHLY DURABLE MADE TO LAST: These jumbo plastic chess sets are displayed all over the world, in various climates and environments. They can stay outdoors for extended periods without maintenance, staining, or fading, making them a great addition to any lawn, backyard, or garden. Made of high-density polyethylene (HDPE) injection-molded, hollow, recycled plastic, they are waterproof, resistant to UV rays, and will retain their huge shape and color regardless of weather.
ADJUSTABLE WEIGHT AND HEIGHT: Standing at 25 inches tall, these mega lawn chess pieces are surprisingly light enough for even the youngest of players to move easily, yet large enough to resist the wind. Our unique modular construction gives you have the option to increase their weight and height by adding add up to seven pounds of sand, water or weight to the bases. Additional inserts can be purchased to increase the height of the chess set to 37 or 49-inch-tall chess sets.
COMMERCIAL OR RESIDENTIAL: This king-size yard chess set can be displayed anywhere - big open floors, backyards, parties, campgrounds, shopping malls, schools, university and corporate campuses, cruise ships, local parks, museums - for groups of people to enjoy the complex and entertaining strategy implementation in a game of chess.
MEGACHESS QUALITY: Each MegaChess item is meticulously handcrafted by artisans to ensure it maintains its appearance and integrity in all weather conditions and with long-term frequent use. We have been in the business of manufacturing large chess and checkers sets, boards, mats and other accessories using the highest quality standards since 2002.
Last update on 2023-09-17 / Affiliate links / Images from Amazon Product Advertising API
---
4. Dominoes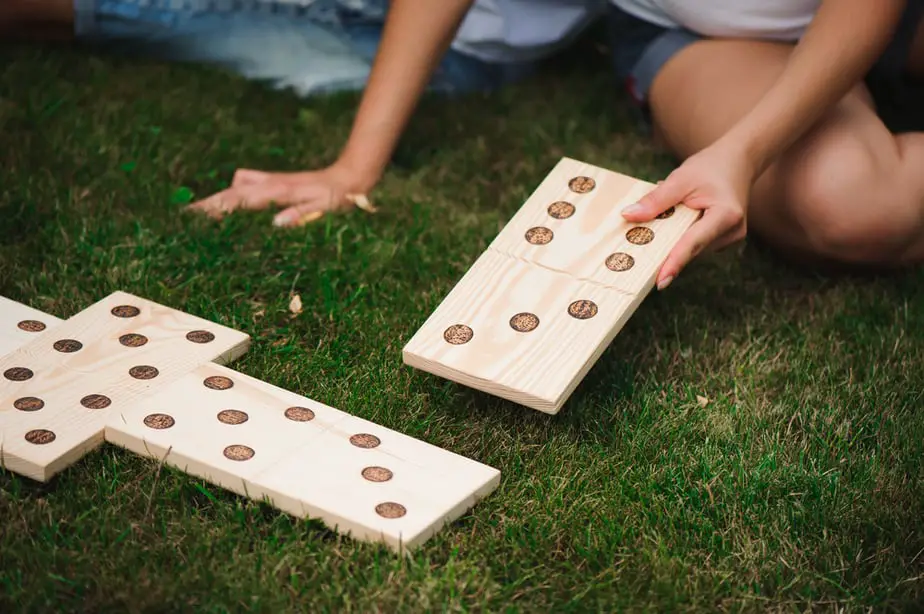 There are several different games you can play with dominoes, and each is more fun than the last. These games can be played by multiple people, and they're also a great option for smaller groups of two to four. Plus, if your child wants to play, they'll be able to pick up the game in no time.
Matty's Toy Stop Deluxe Giant Wooden Dominoes Double Six (5") Color Dot, 28 Piece Set with Storage Bag
Matty's Toy Stop Deluxe Giant Wooden Dominoes Double Six (5") Color Dot, 28 Piece Set with Storage Bag!
This superior set of 28 giant wooden double six dominoes will add a new dimension to your gaming.
Each Domino measures 5" Long x 2.5" Wide x .5" Height. Set is made of high quality wood construction, along with a storage bag!
Makes a great gift & is perfect for the holidays, travel, beach, schools, backyard, the lake, indoor, outdoor & promotions and so much more!
For Ages 5 and up - Fun for the whole family! - Makes a Great Gift!
Last update on 2023-09-17 / Affiliate links / Images from Amazon Product Advertising API
---
Games for Groups of Children
We've already made some suggestions for fall-specific children's games, but if you have several children (or they have several friends over), you might need some more ideas. And while these fun outdoor group games are intended for kids, there's no reason adults can't join in, too!
5. Tag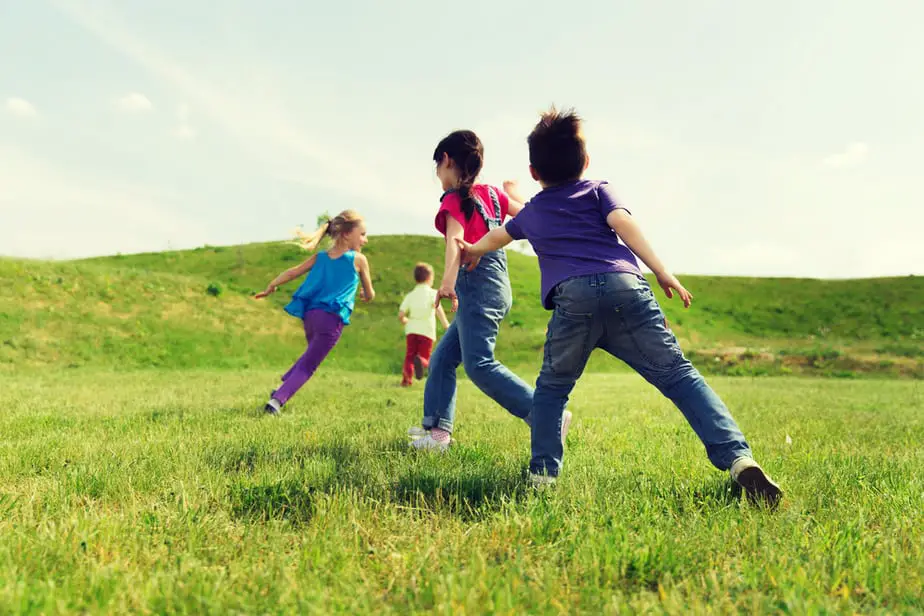 Every child likes tag – that's practically a rule of being a kid! The nice thing about tag is that it requires no setup or extra supplies, just some active kids and an attentive parent.
To play tag, one child will be chosen as "It", and they'll run around trying to catch and tag others by tapping them on the shoulder. Whoever "It" tags become the new "It", and then it's up to that new "It" to tag someone else!
6. Freeze Tag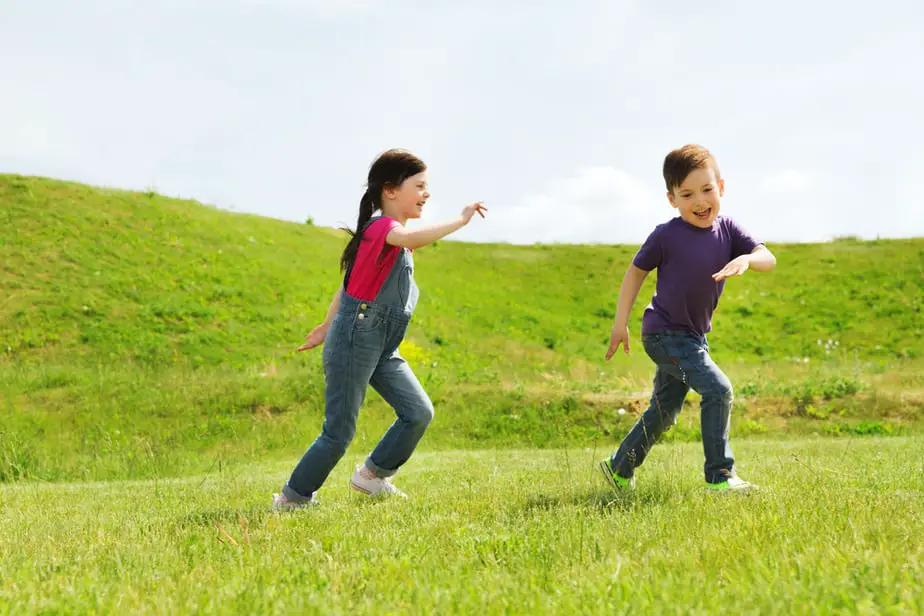 Freeze tag is similar to normal tag, but the difference is that whoever is tagged by "It" must stop right in their tracks and freeze. They can then be unfrozen by another player simply by being tapped on the shoulder. If "It" freezes all the players before time runs out, they win – but if the players can wind down the clock, then everyone but "It" is victorious!
7. Hide and Seek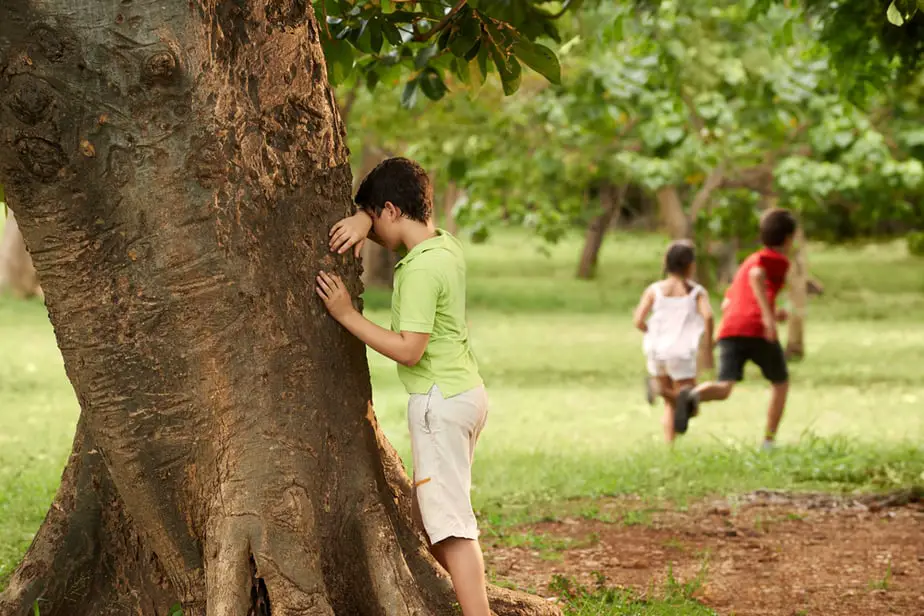 Along with tag, hide and seek is a classic kids' game that can last for hours. You can play a traditional version or try a version with multiple seekers. Either way, this game allows for a huge number of players (though they might have to get creative with hiding spots).
8. Simon Says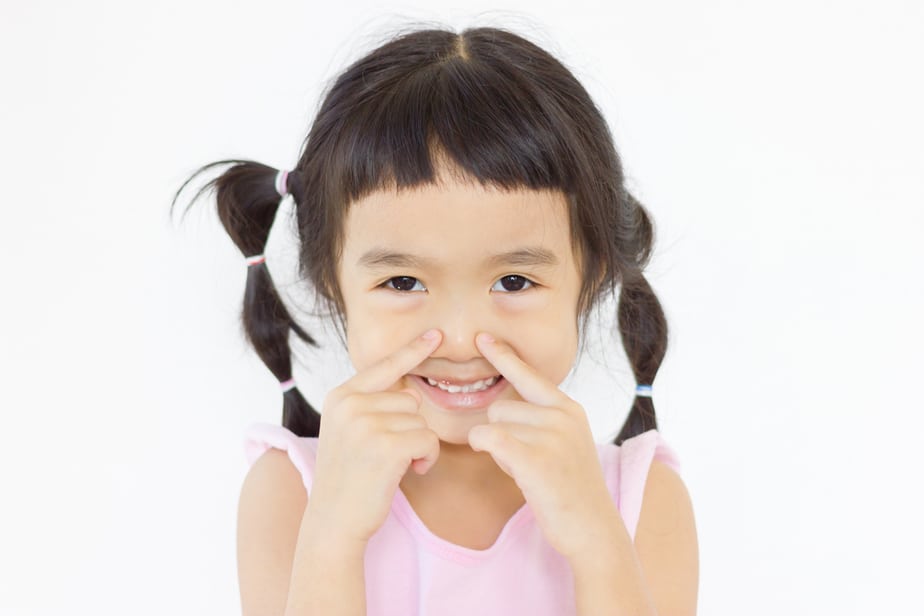 For Simon Says, you'll need at least three players, though more players tend to equal more fun. One person will be Simon, and everyone else will have to do the action after "Simon says…". For instance, if player Simon says, "Simon says, touch your nose!", then the players must touch their noses until Simon says to do another activity.
If a player performs an action without hearing, "Simon says," then that player is out. Whoever stays in the longest wins and gets to be the new Simon.
9. Red Light, Green Light (Mother, May I?)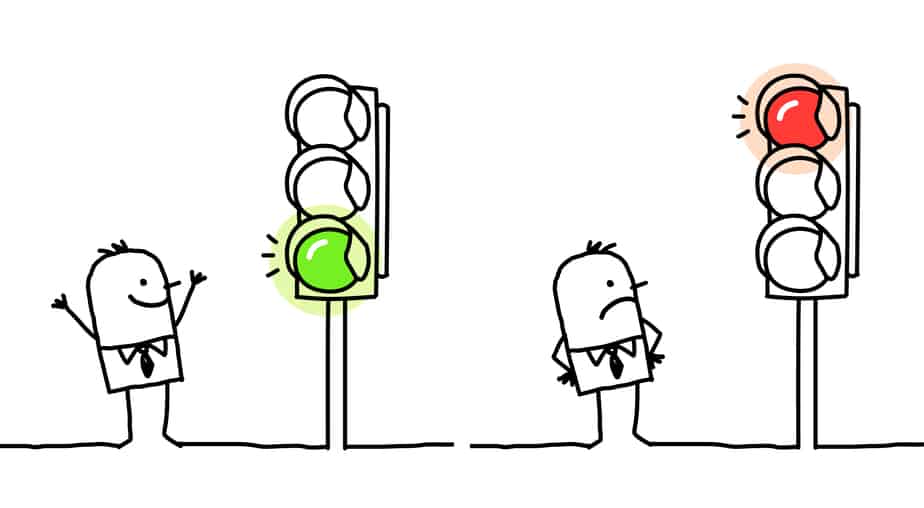 This next game is often played at camp and recess, which already shows it's a hit with kids. One player will be chosen as the traffic cop. When the traffic cop says, "Greenlight!" everyone must run toward them! At any moment, the traffic cop could say "Red light!" – and when they do, everyone must stop in place.
If someone moves whenever they hear "Red light," that person is out and must start over. But if someone can manage to tag the traffic cop without being spotted, they'll become the new traffic cop and start the next round.
Another variation of the game, Mother May I?, involves one player serving as "Mother" while the other players serve as her "children." The goal of each child is to reach Mother without being caught, and they do so by asking, "Mother, may I…" followed by an action. Mother can respond, "Yes, you may," or "No, you may not," and the children must abide by her decision. If a player is caught moving when they aren't supposed to, they're out and has to start all over.
10. Red Rover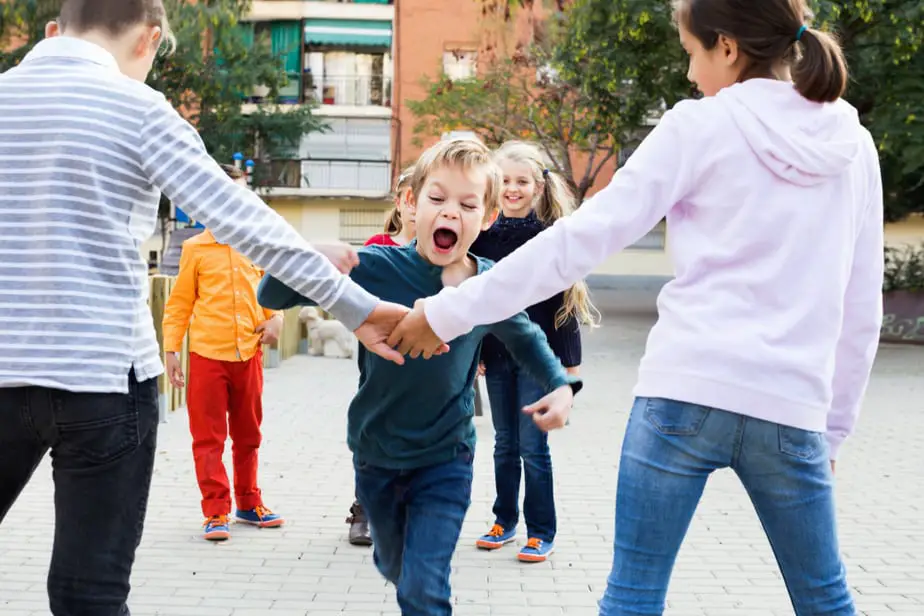 Red Rover requires at least three people per team, though more can always join in. Each team member will grab another team member's hand and create a chain. They'll then call over an opposing player who will try to break that chain.
If the opposing player breaks the chain, they return to their old team. But if they can't break the rival team's chain, they'll leave their old team and become part of the chain. The game will continue on in this fashion until one team has only a single member left.
11. Musical Chairs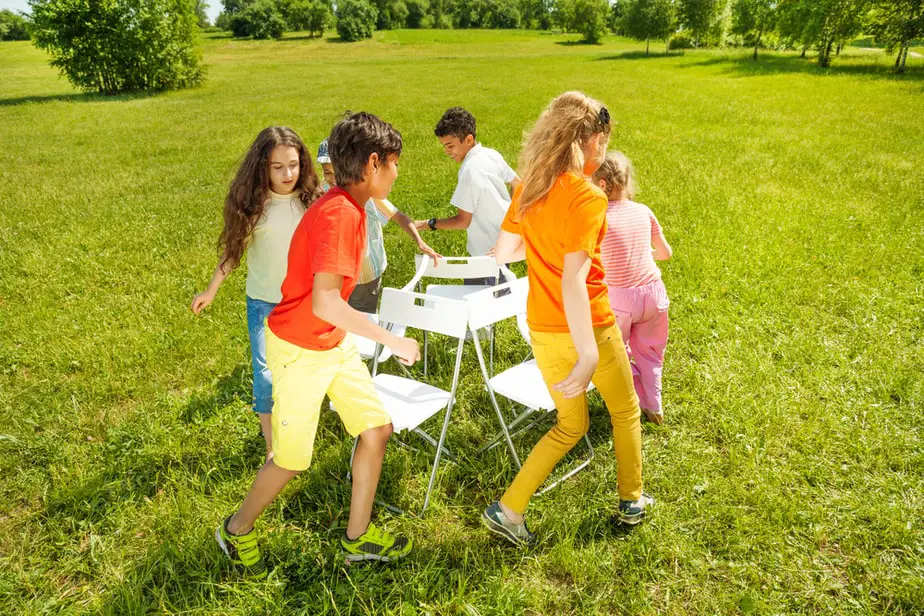 Most kids have played musical chairs before, and if they haven't, it's easy to learn. An adult will turn on a music player, and the children will run around a set of chairs. The set of chairs should have one less chair than the total amount of players. When the music stops, each child must sit in a chair. Whoever is left without a chair is out.
As players bow out, remove one chair until there is only a single chair (and two players) left. The last standing player wins!
12. Crab Soccer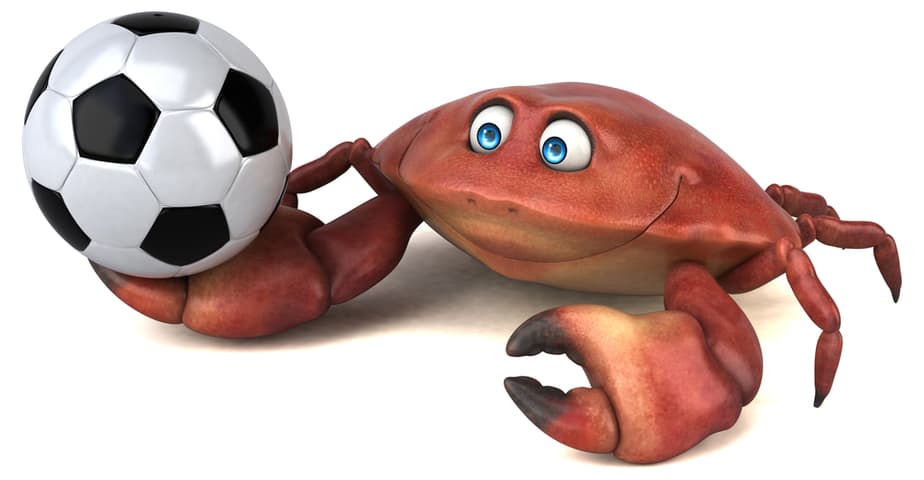 Crab soccer is like regular soccer… kind of.
Players will start in a "crab position" with their feet and hands on the ground, and they'll try to kick the ball into a goal. They can't use their hands, and they'll have to walk in the crab position in order to get around. You can divide all players into teams or make it a free-for-all and have one goal for everyone to shoot at. Either way, this game will likely lead to laughter, several falls, and a good time for all who play.
Mainstream Sports
Sports always make for fun outdoor group games. They encourage exercise, teamwork, and competition, and you can easily adjust team sizes so that everyone can play! While there are a large number of sports to choose between, some work especially well for bigger groups. Here are the ones we most recommend:
13. Bocce Ball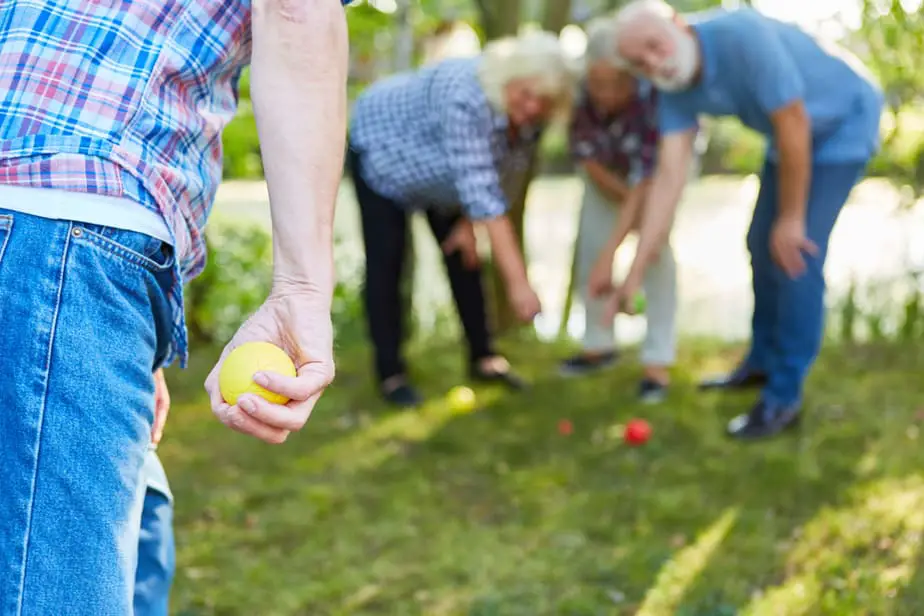 If you've never played bocce ball, here's your chance to learn about one of the world's oldest and most fun games. (And if you've already played before but need a new set, we have some suggestions for your next event).
Players will divide into two teams, and each team can consist of up to four players. Players will set up the foul line and flip a coin to determine which team starts. Once decided, go over the rules, and let the game begin!
14. Kickball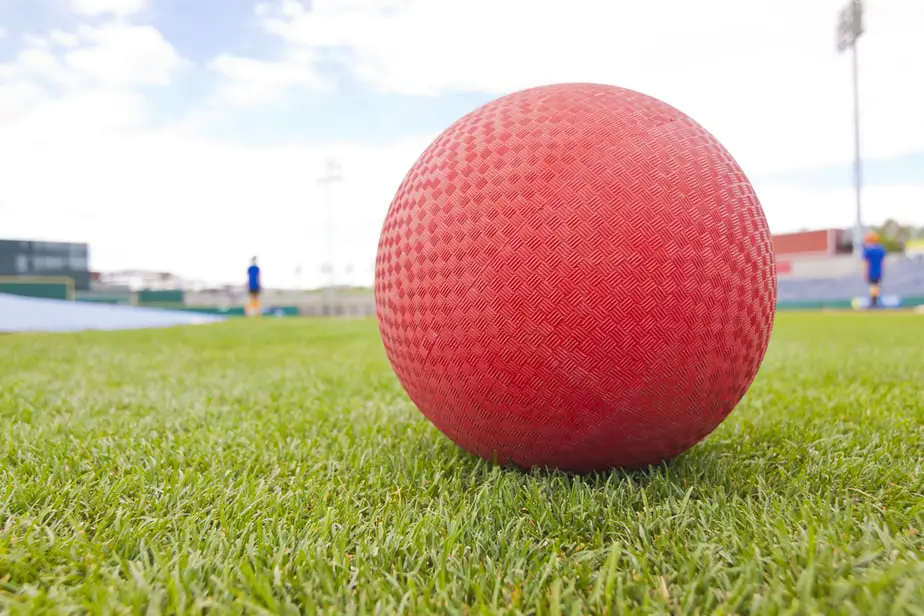 Kickball is a classic sport for kids and adults alike, and it's a great choice for bigger groups. All you'll need is a ball, four bases, and around eighteen players. You'll have to be careful not to kick the ball into your neighbor's yard, but an easy fix is to invite the neighbors over and have them play, too!
15. Badminton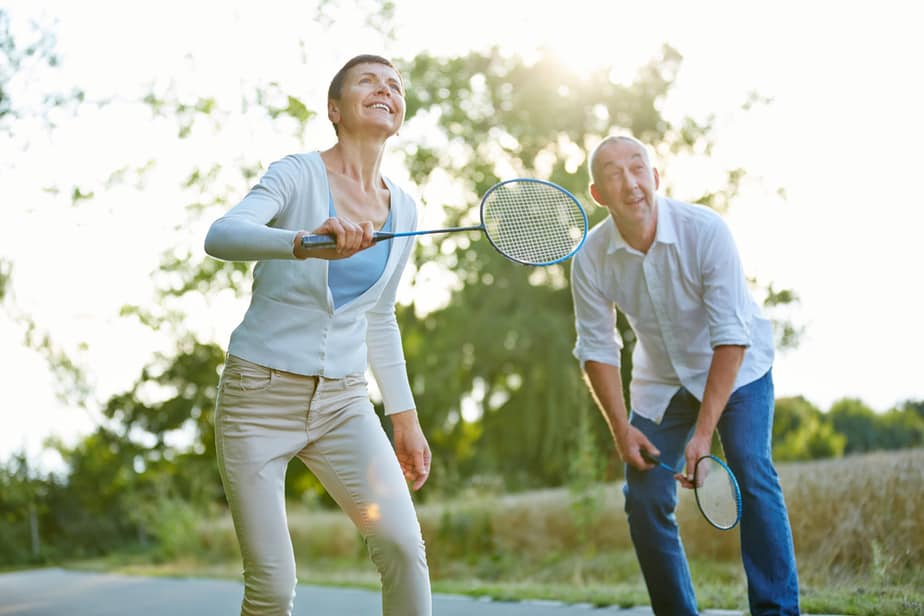 Although you can play badminton with a smaller group, having more people means more of a challenge, which can make the game even more fun. If you've never played badminton before, take a look at some of our suggestions for rackets and shoes, and if you're a seasoned player, here are some tips to brush up on your technique.
16. Volleyball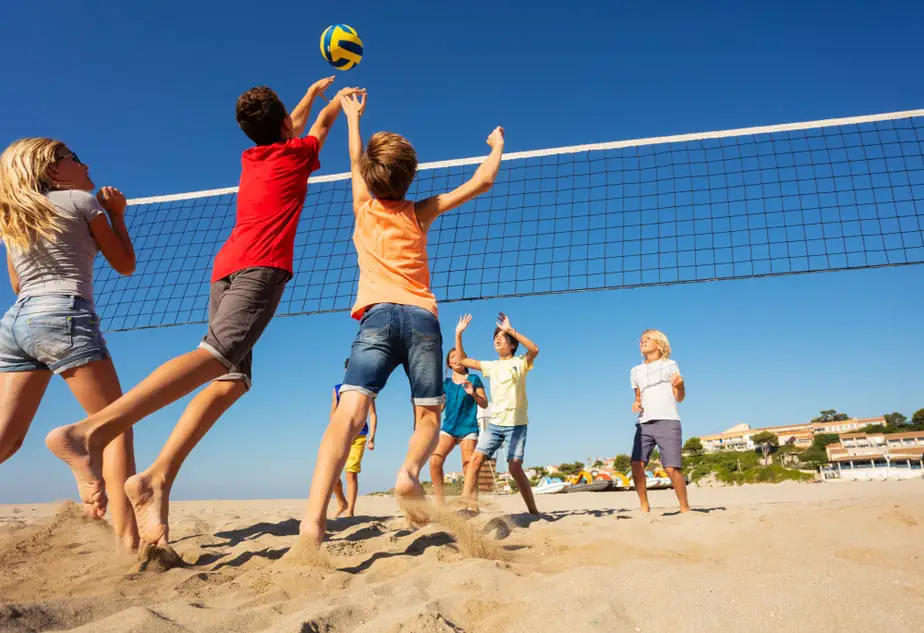 If you have a volleyball net and a volleyball, you have all you need for this fun outdoor game for large groups. Although the preferred number of players is twelve – six players on each team – you can play with more or fewer people and make slight rule accommodations.
You can even lose the net and simply hit the ball around with your guests. Whichever version of volleyball you pick, it's sure to be a fun outdoor game for all who play.
17. Flag Football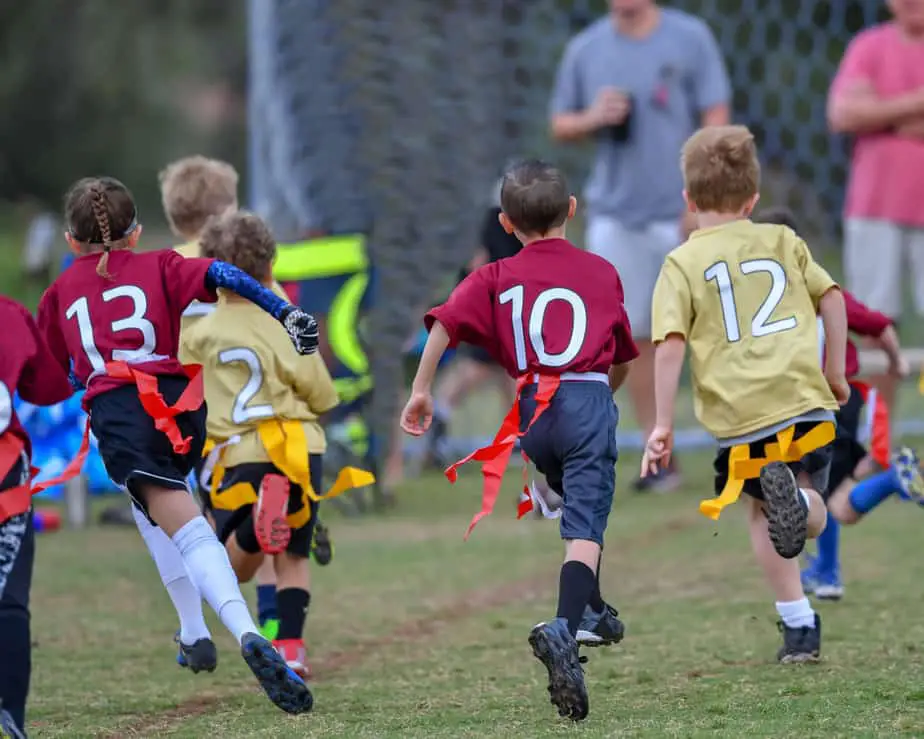 Flag football is another fun outdoor game for large groups. It's a safer alternative to normal football, but you can play it with just as many people. With multiple ways to play for different ages and skillsets, there's certain to be one version that's perfect for you and your guests.
18. Basketball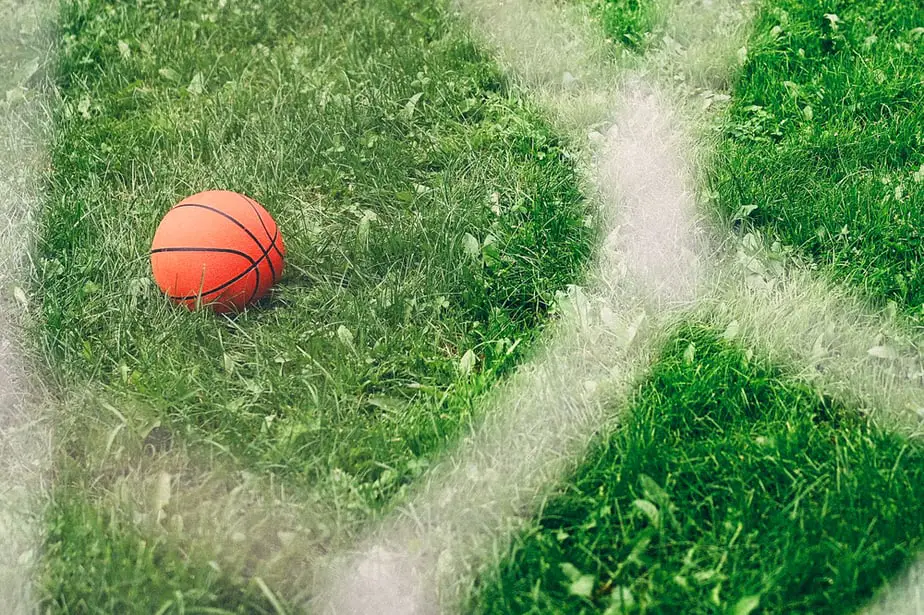 If you have a basketball, you have several options for fun outdoor group games. You can play HORSE, Knockout, or even have a scrimmage in your driveway. And like with volleyball, you can even pass the ball around and make a game out of not dropping it.
Whatever option you choose, prepare for a fun, competitive game that might lead to several more games.
Light Competition Games
Sports have a tendency to bring out our competitive side, which is great – but sometimes, you'll want to play something more relaxing and less intense. These next games tend to be more easy-going, making them ideal for casual gatherings. So if you want games that your guests will enjoy and be able to play more leisurely, here are some options:
19. Cornhole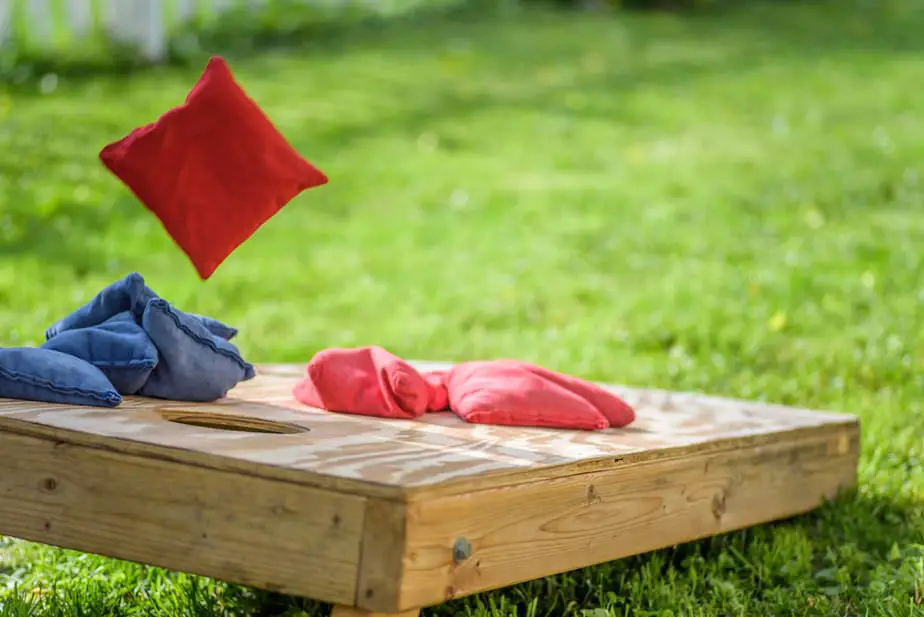 Cornhole is a classic game that you and your guests can play for hours. If you need to stack up on some cornhole bags, take a look at our top picks. We also have some ideas for boards.
All cornhole involves is throwing small bags into wooden platforms. You can play against another team or simply toss the bags without keeping score. Or if you have an especially large group, set a time limit and see how many people can land their bags before time is up.
20. Horseshoes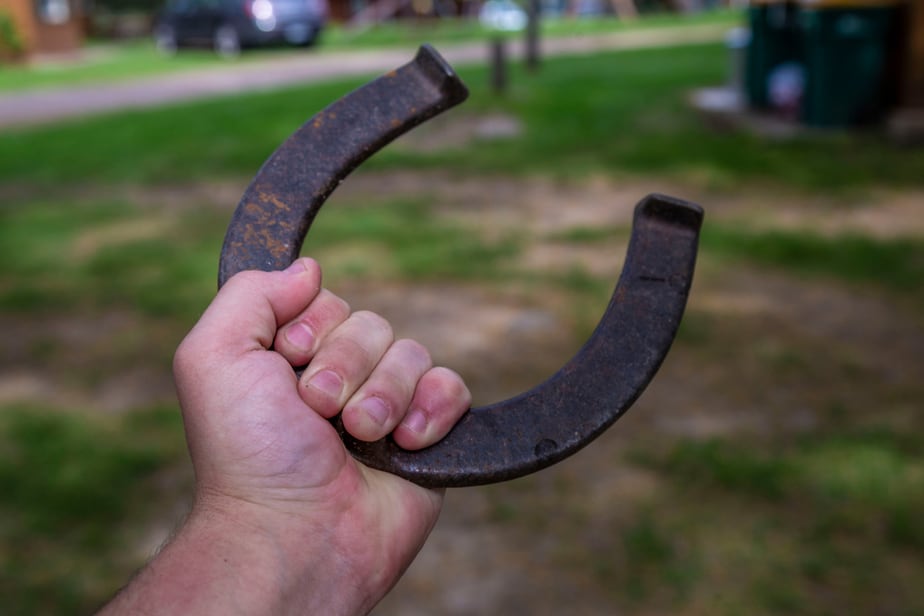 Horseshoes is a game that you can easily play by yourself or with others. We can help you find the best horseshoe set for any event, and if you use some of these horseshoe throwing tips, you're bound to impress your guests.
Like cornhole, horseshoes is a relaxing game. The rules are simple: grab a horseshoe, throw it, and try to hit a target. If you miss the target, try again, and keep throwing the horseshoes until you score. Trade with a partner or compete with friends and see which players emerge victoriously.
21. Croquet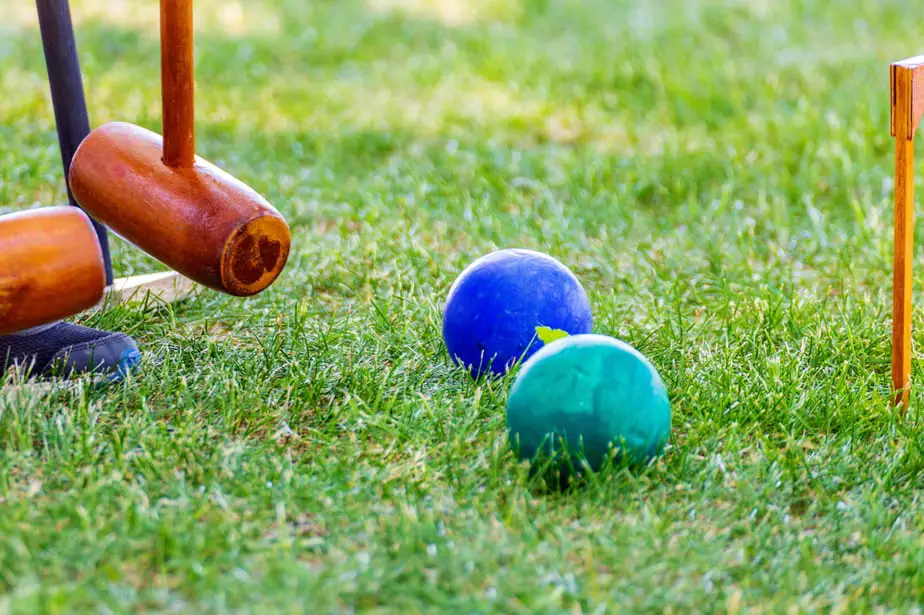 Whether you're a croquet novice or croquet expert, you're bound to enjoy playing, and your guests will, too. This game requires a bit of setup, but it's certainly worth it if you want to have a good time.
Look through our list of best croquet sets, and you'll have the right materials for your next event. And make sure to play croquet when the weather's nice out; that's the best way for you and your guests to enjoy it.
Games for When the Weather's Hot
If you're inviting guests over during the summer, you may want some specific games to help keep everyone from getting too hot. Fortunately, we have some super cool, summer-specific fun outdoor group games. Here are our favorites:
22. Water Balloon Games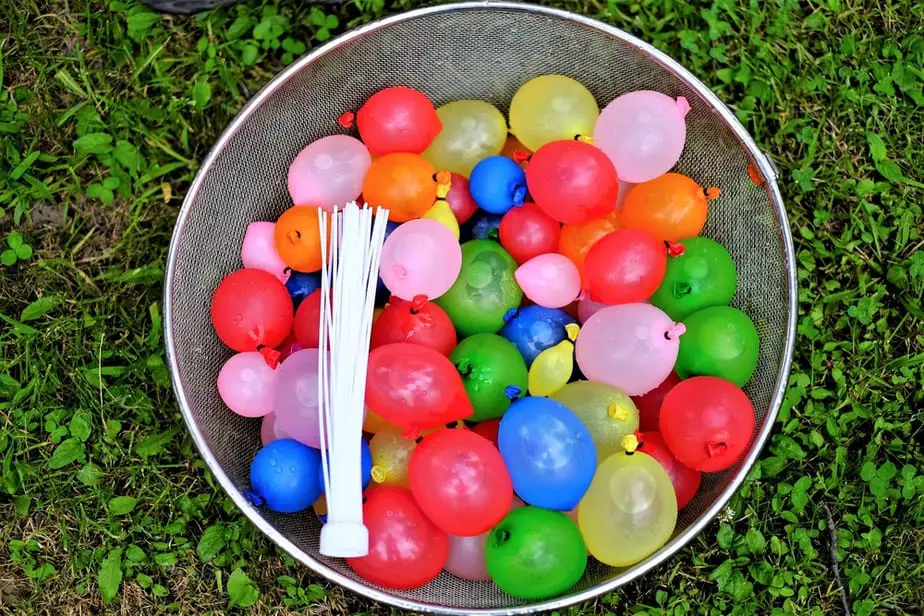 We have an entire article about water balloon games, and some of these options work especially well as outdoor games for large groups. From dodgeball to duck, duck, goose and balloon pick-up, there's bound to be a game (or games!) that your guests will love.
23. Water Gun Fight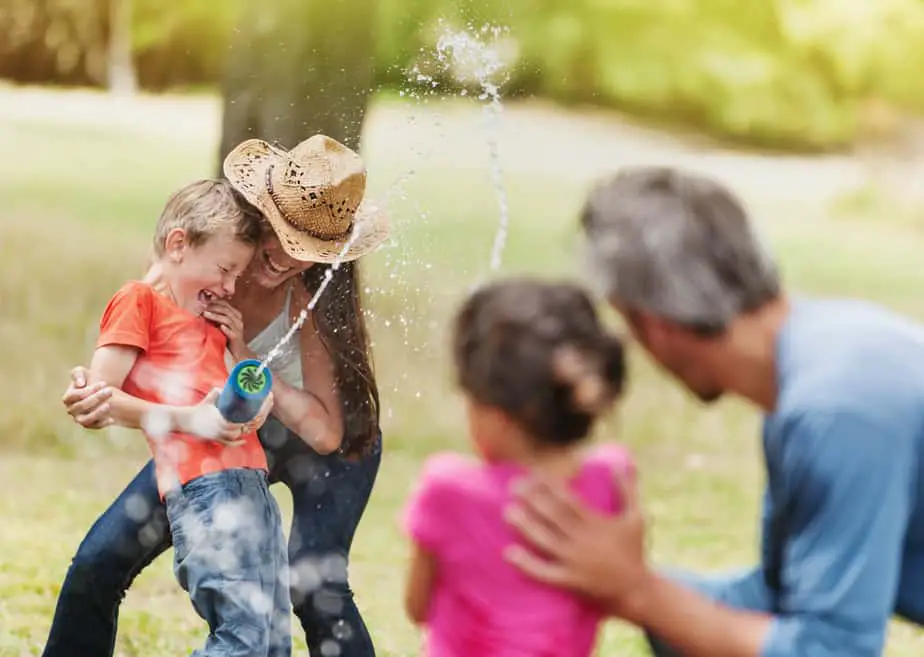 A perfect way for a large group to cool down is by having an all-out water gun battle. You'll need several water guns in order to play, though you can always substitute for water balloons or water buckets. And be careful with all that water – you don't want your yard getting soggy or someone slipping!
24. Frozen T-Shirt Race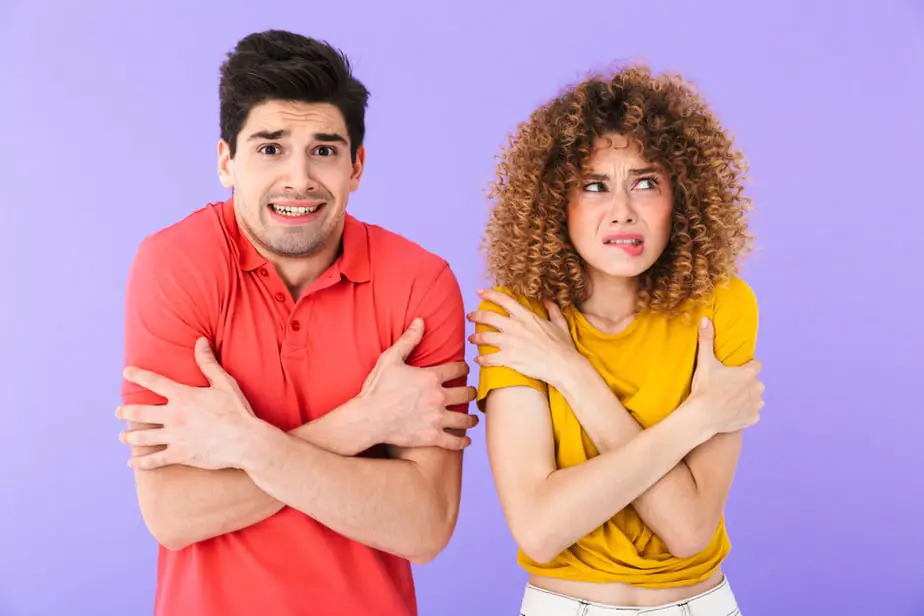 This next game shouldn't be played during winter, but all other seasons are fair game. Once again, players will be divided into teams of five or more. The first player will put on a t-shirt that's covered in ice, and they'll have to transfer this shirt to their teammate… while holding hands. If they break the connection, they lose; if they can't pass the shirt over, they'll also lose (and freeze!).
It sounds easy, but the process of transferring a frozen shirt is harder than you'd think. And the longer it takes to transfer, the harder (and colder) the game becomes!
25. Sharks and Minnows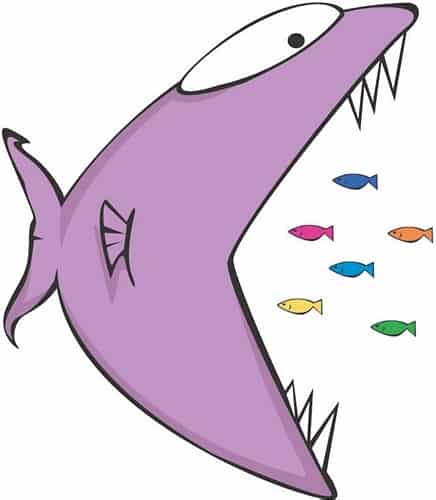 This fun outdoor game for large groups works best in a pool and can be played by up to 11 people. With multiple ways to play for multiple types of events, you're bound to find a Sharks and Minnows variations that you and your guests enjoy!
Races
Some of the best outdoor games for larger groups involve racing against or beside your friends. With so many racing games to choose between, here's a narrowed list of our favorites:
26. Obstacle Course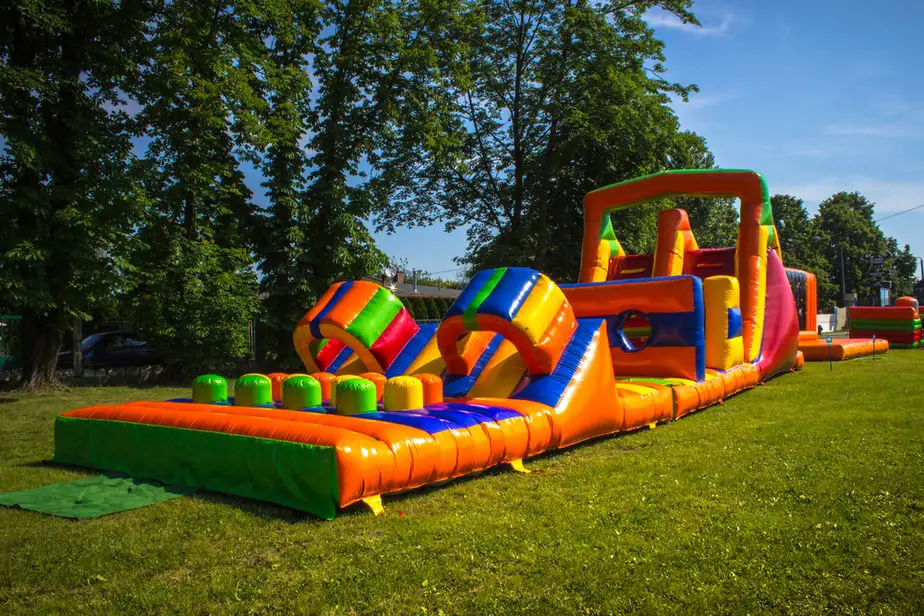 We've written about several obstacle courses before, and that's because they're a great option for so many occasions. It's easy to make a game out of these courses by timing each player's run and seeing who can complete the course the fastest. Also, you can break groups into teams for a relay race and see which team finishes first.
Either make your own obstacle course with traffic cones and wooden planks or buy a giant inflatable version. Your guests are sure to love either choice, and you'll have fun right alongside them!
Bounceland Pop Star Inflatable Bounce House Bouncer, Large Bouncing Area with Long Slide, Climbing Wall, Basketball Hoop, UL 1HP Blower Included, 15 ft x 13 ft x 8.3 ft H, Pop Star Kids Party Theme
[Specification] Inflated size: 15 ft W x 13 ft Lx 8.3 ft H. Package includes: bounce house, blower, carry bag, stakes, repair kit and instruction. Weight limit: Max weight: 500 lbs, Max individual weight: 100 lbs. Max number of kids: 5. Easy set up and take down, inflates in less than a minute. Perfect for indoor and outdoor use. Carry bag provides easy portability.
[Quality Assurance] 1) Heavy-duty puncture proof material with double to quadruple. 2) Half way hook-and-loop fastener opening for safe & easy access. 3) Bouncing surface made with heavy-duty commercial grade material for long-lasting bounce house 4) Strong secure 9" ground stakes 5) 6 ft Long air intake tube 6) Basketball hoop with hook-and-loop fastener connection for safety 7) Extra slide cover provides extra protection, easy cleaning and is conveniently replaceable
[Safety Standards] Bounceland products have been tested and approved for meeting and exceeding current world-wide requirements. We have been certified by ASTM (consumer safety), 16CFR1500.3/16CFR1505 (materials safety) and UL (blower certified) with 25 ft power cord and GFCI plug (Recommended for all electronic toys by the American Consumer Safety Committee). Note: 120V only for northern American market
[Satisfaction Guaranteed] Product satisfaction is our goal. All Bounceland bounce houses come with a 90-day limited warranty covering manufacturing defects. Blowers come with a one-year limited warranty. Experienced customer service always available to help you with your products.
[Perfect Gift] Perfect gift idea for children to stay fit and active. Physical exercise and interaction with friends to replace screen time.
Last update on 2023-09-17 / Affiliate links / Images from Amazon Product Advertising API
---
27. Three-legged Race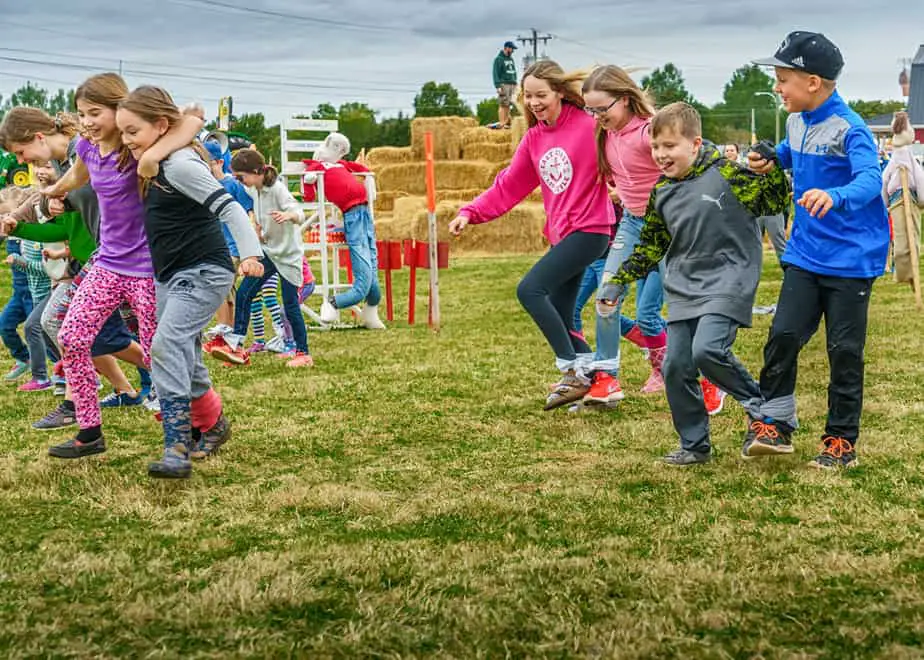 Like with the obstacle course, a three-legged race involves grouping players into teams and seeing who will finish the race first. The twist here is that each team must bind their legs together and run in tandem to the finish line.
To make this game even harder, you can put three players on a team instead of two. Technically, this means you'll have a four-legged race, not a three-legged race, but we're sure your guests will enjoy either type. Plus, the four-legged version allows for more players at once, so it's especially useful when you're hosting a large party.
28. Blanket Race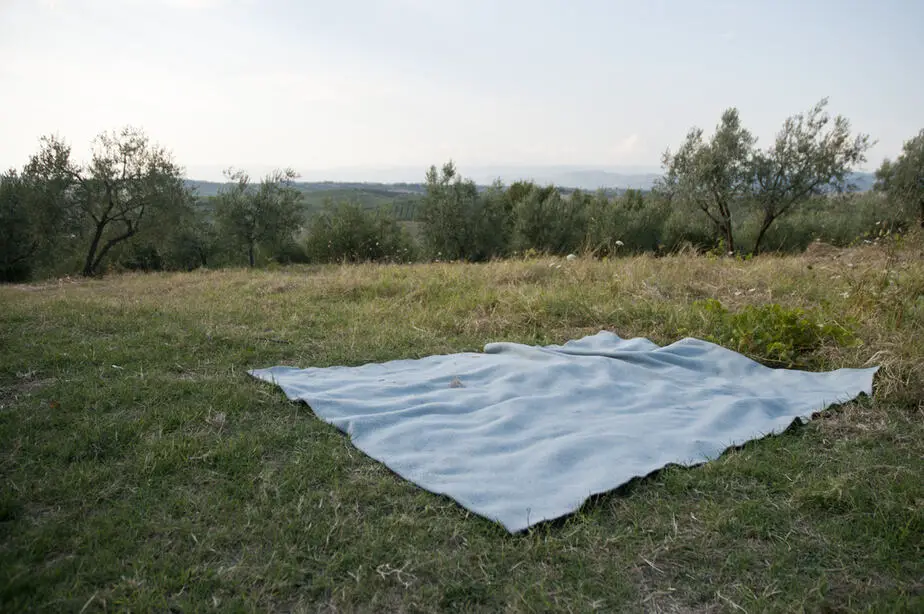 For a blanket race, you'll need several blankets (such as picnic blankets), as well as some strong players and some smaller players. The smaller players will sit on the blankets, and the stronger players will grab an end of the blanket. Then, the stronger players will drag the smaller players across the yard and try to make it to the finish line. The game is fun but difficult for all players since the pullers will need to use their strength and the sitters will need to hold on!
Even More Games!
We couldn't end our list without mentioning a few more fun outdoor group games. These games aren't specific to a certain age or season; instead, they can be enjoyed year-round by everyone.
29. Marshmallow Toss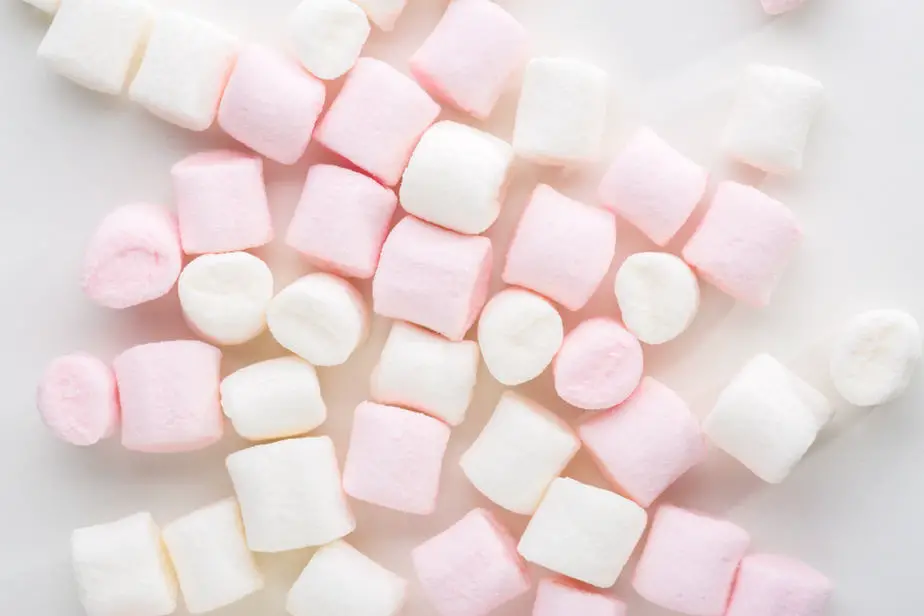 Marshmallow toss is a competitive game in which players break up into teams of two and try to catch as many marshmallows as possible. One person will serve as the thrower and the other person will play as the receiver. However, the receiver doesn't catch the marshmallows with their hands. Instead, they'll use their mouth!
The round will end when all marshmallows have been thrown, and you can count up how many are left to determine who wins. For the next round, it's only fair for the thrower and receiver to switch places. That way, the game serves as a good snack break for your guests (at least for the ones who are able to catch the marshmallows)!
30. Tug of War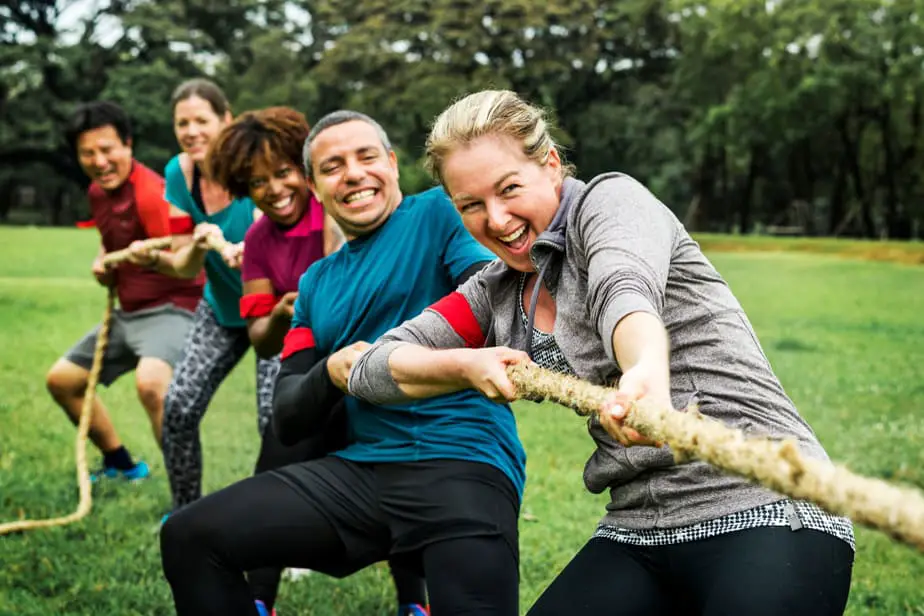 We all loved playing this game in school, and playing it in your backyard with friends is a natural next step. You'll need a rope, and depending on how many people are playing, that rope will have to support a good amount of weight.
Lay the rope across your yard, and have one team hold one end and the second team hold the other end. Then, give players the signal, and tell each side to pull.
Try to ensure that teams are fairly balanced in age and strength; if they're not, simply choose teams at random or change them up each round. You might also want to give players chalk for their hands, especially if you play multiple times.
31. Keep Away! (Monkey in the Middle)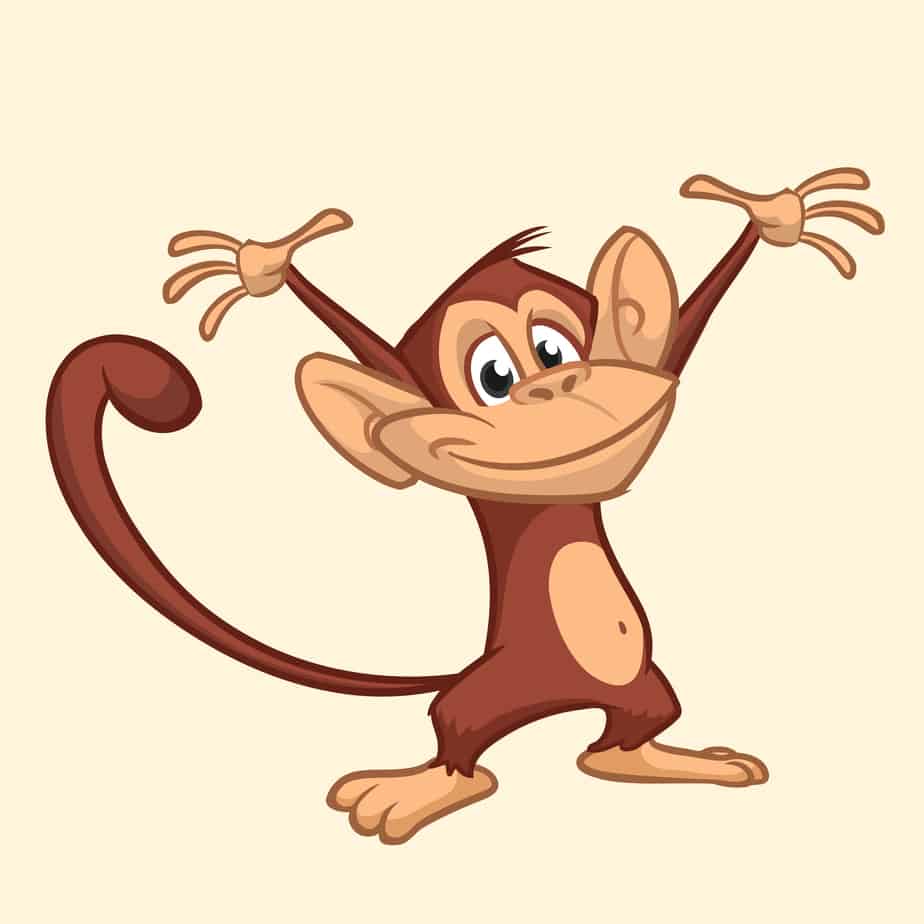 Keep Away! and Monkey in the Middle are very similar, and they're both extremely fun outdoor group games. Each involves two or more players throwing a ball and trying to keep a different player from getting the ball.
A variation of Monkey in the Middle involves two or more players trying to keep the ball away from multiple players. If one of the monkeys gets the ball, they switch out with a player, who then becomes a monkey themself. The game can continue on for as long as you want, with players continuously switching in and out.
32. Telephone
Telephone is a fun outdoor game for large groups that becomes even more fun with additional players. All players will form a circle, and the first player will whisper a sentence to the player beside them. In turn, the second player will whisper this sentence to the person on their other side, and so on, until the original player is being whispered to.
By the time the sentence reaches the original player, it will likely have devolved into something unrecognizable from the original. Hearing how much it's changed is bound to be funny, especially if the sentence involved another player.
33. Movie Night Trivia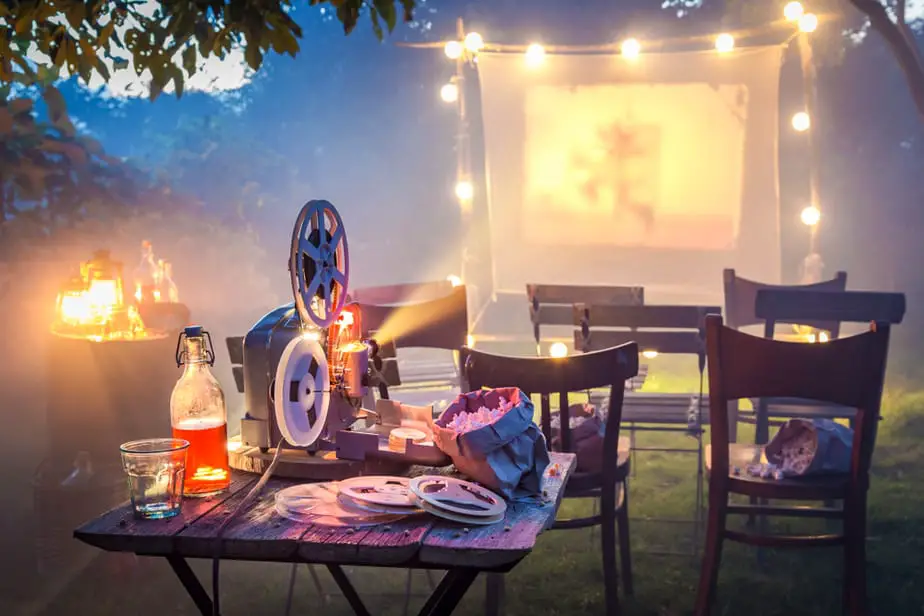 Technically, this game is more of an event followed by a game, and it requires you to have a giant movie screen. You can invite your guests over to watch a movie together, and when the credits roll, divide into teams and answer movie trivia.
You can make the trivia up yourself or find trivia for some popular movies online. And remember: no movie night trivia game is complete without friends, popcorn, and soda under the stars.
Conclusion
If you're going to throw a big gathering, it's important to be prepared with a variety of games for guests. You can pick between giant-sized games, kid-friendly games, and even weather-specific games. No matter what you choose, our fun outdoor group games are perfect for almost any occasion, and they'll have your guests excited about your upcoming meet-up. The larger the group, the more options you'll have, which means more fun for you and your guests.