Fresh open-air, nice weather and good company create the perfect recipe for a picnic gathering of any size. Games are a must-have at any large picnic gathering. We have rounded up 20 exhilarating picnic games for large groups such as church groups, field days, company parties, and family reunions.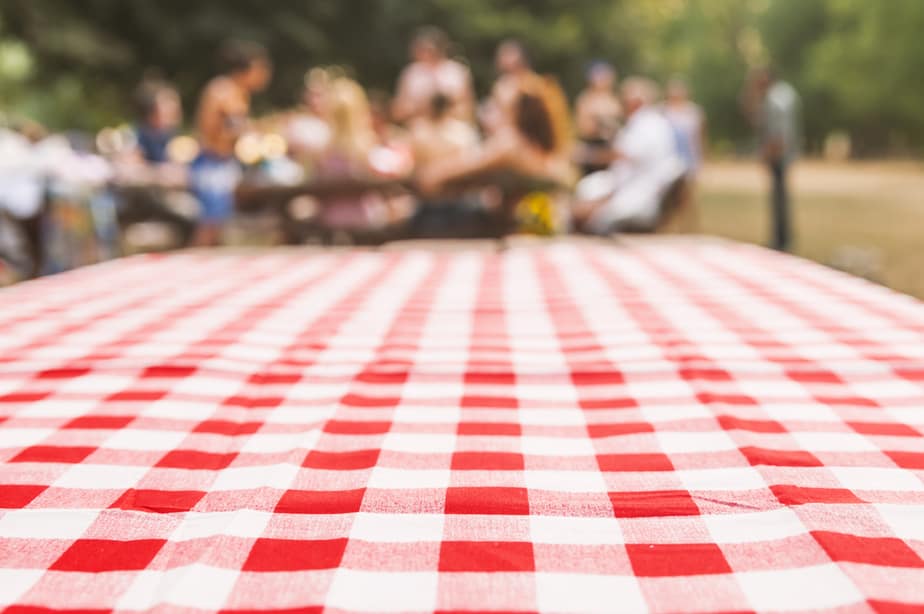 Our picnic games for large groups will have your crowd chatting, competing, and enjoying the day outdoors!
Sports Games
1. Giant Soccer
Soccer is a great picnic game while waiting for lunch. Instead of playing soccer the usual way, add a fun twist with a giant soccer ball! The large soccer ball will even the playing field among the participants. Even the old men will want to join in on the schoolboy fun!
To set up your field, create two goals by using cones or anything you have available. The goal of soccer is to kick the ball through the opponent's goal without it being deflected. No hands are allowed to contact the ball while it is in play.
Last update on 2023-11-16 / Affiliate links / Images from Amazon Product Advertising API
---
2. Ultimate Frisbee
The only equipment needed for ultimate frisbee is a frisbee and something to mark the endzones with. Pick an open field about the size of a soccer field and mark the endzones using cones or anything you have readily available.
Teams start at opposite ends of the field where one team throws the frisbee. The frisbee can be intercepted, caught, or deflected by the teams during play. The goal is to successfully catch the frisbee in your opponent's endzone at the opposite end of the field. Check out more of the specific rules here.
3. Wiffle Ball
Wiffle ball is a sport-related to baseball with less equipment needed. All you need to play wiffle ball is a wiffle bat and ball.
The official rules of wiffle ball state that you do not run the bases. However, you can adapt the rules to suit your group and needs to include base running. If the area you are having a picnic at has a baseball field, then you can use that field to play wiffle ball. To create your own, head over to this article to learn how to make a wiffle ball field.
Last update on 2023-11-16 / Affiliate links / Images from Amazon Product Advertising API
---
4. Kickball
Do you remember kickball during your elementary recess days of the past? Kickball is a game fun for all ages!
Kickball is usually played with a round, red rubber ball. To prevent the ball from being kicked too far, you can also play with a giant kickball (pictured below).
Kickball can be played on any softball or baseball field, or you can set out your own boundaries and bases. To play, first divide your group into two teams; one on the outfield and one kicking. Teams switch roles after each inning.
You can decide how long to keep your game by the number of innings or the amount of time you have. Keep the game fair and allow each team the same number of times up to kick.
Basic Rules of Kickball:
Three strikes and you're out!
When pitching, the ball must be rolling and not bounce more than twice before reaching home plate.
If the pitched ball rolls through the strike zone and is not successfully kicked, it counts as a strike.
Balls that do not cross the strike zone or bounce too many times are balls.
Four balls grant the kicker a walk to first base.
A foul ball after the second strike counts as the third strike.
Fly balls that are caught, constitute an out.
Last update on 2023-11-16 / Affiliate links / Images from Amazon Product Advertising API
---
5. Water Balloon Volleyball
Water balloon volleyball is a great picnic game for large groups on a warm day.  Supplies include sheets or towels, a volleyball net, and water balloons.  If using sheets, have groups of 4-8 players on each sheet.  You can also use beach towels for partners.  Each team can have several towel partners on their side.
At least one group on each side of the net is needed to play.  The serving side will place a water balloon in the center of their sheet or towel.  Working together, the goal is to launch the balloon into the fair boundaries on the other side of the net.
The opposing team must safely catch an intact balloon and return it to the other side.  Continue a volley until the balloon is dropped or pops. If the balloon pops on your side, the other team gets a point.
Volleyball Badminton Set Net Portable Adjustable Poles 4 Rackets Kids Family Fun Sports Beach Park Backyard Outdoor
FULL ACCESSORIES - All the accessories and equipment are provide in our Volleyball Badminton set, including net, poles and setup accessories, 1 volleyball, 1 air pump, circle site, 2 shuttlecocks, 4 rackets and 1 storage bag.
ADJUSTABLE NET - Our Volleyball Net Set has 4 adjustable heights: 5' 1 in. for badminton games, and 6, 7 and 8 feet for volleyball play. You can adjust the heights yourself for different ages to play! 3 different height settings (8.17/ 7.17/ 6.17 ft.). Net dimensions 32 x 3 ft.
PORTABLE - Our Portable Volleyball Badminton Net Set is light and easy to carry, you just put them in the storage bag and you can carry it to the backyard or the park.
QUICK & EASY SETUP - This Volleyball Net Set with Poles ensures an easy setup and takedown. No tools are required to set it up. You can bring it to the beach, park or play in your own backyard.
GUARANTEE - If you do not love this, please contact us to set up a return. We have a easy 100% no hassle return policy.
Last update on 2023-11-16 / Affiliate links / Images from Amazon Product Advertising API
---
Races
Guests of all ages can enjoy these classic racing games!  Who will be first across the finish line?
6. Potato Sack Races
You will find yourself giggling in this old fashion race. Use large burlap potato sacks or buy some large bags online.
Set a start and finish line. "On your mark, get set, go!". The first person to hop in their sack to the finish line wins! Make it a team game by turning it into a relay race!
La Linen Burlap Potato Sacks (12 Pack), 23" x 40"
Size is approximately and may vary from 23x 40. Sacks have a distinct scent and would dissipate over time when the sacks are aired Out
The scent is from the Natural fibers, an air Purifier and germ killer. A reason this sack is used in storage of food and produce
We recommend rolling your Potato sacks to prevent creases and storing them in a dry cool place
Order includes 12 burlap sack
Last update on 2023-11-16 / Affiliate links / Images from Amazon Product Advertising API
---
7. Four-Legged Race
A four-legged race goes beyond the traditional 3-legged race. Have your group get close and comfy by tying them together in a four-legged race. Four players will be connected at the ankles and must coordinate to run to the finish line. Who can coordinate with their team and not fall over?
4 Legged Race Bands Teamwork Training Outdoor Game for Children Adult With Carry Bag
FUN GAME: suitable for adults, children and teenagers, encourage children to cooperate and teamwork. Fun game for a family reunion, team games, birthday party, outdoor games, Backyard, carnival games, etc
HIGH QUALITY - Adoption of high quality nylon and Velcro tape are sturdy and durable which will last for many repeated uses, This game can ascend athletic passion and make people happy
EASY TO USE - Convenient Velcro tape and good elastic are easy for both adults and children to put on and take off, which will not break during the whole race band game
Adjustable and reusable: the race bands hook&loop easy for adults and children to put on and take off, adjustable hook&loop makes it easy to fit both small and large legs, this game can enhance your passion for sports and make your family and friends happy, after the game, you can keep it and use it at the next party
Game play methods: Every team has 4 members and each member fasten the hoop&loop around the left foot and all 4 members left foot are banded on one band walker. So do the right foot. Then 4 people cooperate with each other and run. Which team first arrives the finishing line wins.
Last update on 2023-11-16 / Affiliate links / Images from Amazon Product Advertising API
---
8. Run Mat Race
Have you ever been mesmerized by a hamster on a hamster wheel? This run mat race may give you a glimpse into the fun of a hamster wheel. Work with your team to move the mat from the start to finish line while the mat rotates under feet and over heads.
Sale
KINDEN Teamwork Games Group Learning Activity Fun Playing Run Mat for Kids and Adults Field Day Game(1 Pack)
NOTE: It just ONE. Please check it. Material: oxford fabric ONE piece per pack.
For Field Day, Active Play, Balance and Flexibility, Hop Sacks & Games, Team Building & Collaboration, Obstacle Course, Training Tool, Kids Grown-Ups, Group Work, etc.
Length: 6Meter(19.68ft), Width: 0.45meter(1.47ft), Group activity for 3-4 adults or 5-7 children
Run Mats for a roll mat race. A racing game that requires team work and coordination, in order to keep tour team running and your mat rolling.
Last update on 2023-11-16 / Affiliate links / Images from Amazon Product Advertising API
---
9. Chariot Race
The chariot race originated with the Roman Empire and can still be enjoyed in picnic games today. The chariot race is played in partnerships. The first partner, or charioteer, holds the ankles of the second partner, or chariot, whose hands are on the ground.
The charioteer drives forward while the chariot walks their hands forward.  The first team to successfully cross the finish line as charioteer and chariot wins!  You can have as many chariots and riders racing at once as you desire.  It is usually honorary to aware of the winners some kind of prize.
Caydo 6 Pieces Gold Silver Bronze Award Medals-1st 2nd 3rd Place Medals for Competitions, Party, 2.55 Inches
Packet Include: 6 Pieces 3 kinds of medals, gold medal, silver medal, bronze medal, with ribbons
Material: Made of excellent metal, zinc alloy, not plastic
Size: The diameter of the medal is 2.56 inch; The length of the red ,white and blue ribbon is 15.5 inch
Great Prize: Medals are very important to every competition. To the winner, medal is a good prize, and it's a representative of honor and great efforts
Good Gifts: It's a good gift for children, because they will never forget the excitement when they win the medal, and they will be encouraged to realize their dreams and achieve more goals in the future
Last update on 2023-11-16 / Affiliate links / Images from Amazon Product Advertising API
---
Group Competition Games
Who doesn't like some adept competition? These group competition games will have teams competing to be declared the champions.
10. Tug-of-War
The classic game of tug-of-war is just as fun as you remember! All you need is a long rope with a flag or ribbon tied around the center. Create two crossing lines about 4-6 feet apart.
Start with the flagged part of the rope centered between the crossing lines. All players should grab the rope on their team's side. Make sure the teams are even in strength to have a lasting game.
On the count of three, both teams pull in their direction. The goal is to get the flag to cross the line closest to them.
Last update on 2023-11-16 / Affiliate links / Images from Amazon Product Advertising API
---
11. Capture the Flag
Capture the flag is a combination of tag and hide and seek. It will test a player's problem solving, stamina, strategy skills, and agility. It is played with 2-4 teams. Divide your group evenly between the teams.
Designate territories for each team, such as a line down the middle of the field. Including playgrounds or wooded areas into the territories creates a better challenge for the game. Each team is given a flag to protect in their own territory.
The goal of the game is to capture an opposing team's flag and bring it safely back to your own territory without getting tagged.
Anytime you cross into an opposing team's territory, you can be tagged and sent to "jail". "Jail" is usually somewhere near the flag.
To be freed from jail, a teammate must safely reach the jail and tag you. Both get a "safe" walk back to home territory. Check out this page for more detailed capture the flag rules.
Sale
Redux: The Original Glow in The Dark Capture The Flag Game | Ages 8+ | Outdoor Games for Kids and Teens | Birthday Gift | Party Games for Kids 8-12+ | Alternative to Laser Tag Guns and Flag Football
CAPTURE THE FLAG – GLOW IN THE DARK STYLE! Light up the night with 23 bright glowing game pieces, 12+ hours of batteries (type CR1220) and 12 bonus challenges for hours of replayable excitement
ALL AGES TOGETHER: For ages 8+ and 4-8 players (or up to 16 with game variations); kids, preteens, teenagers and adults join forces and create thrilling memories together
GET ACTIVE, GET SOCIAL: Team up, strategize, sneak, sprint…conquer! Leave phones, the switch and other virtual experiences behind to enjoy active play and genuine social connection
OUTDOOR FUN: Spark laughter and wholehearted involvement during outdoor party games, neighborhood backyard games, sleepovers, family outdoor games, reunions, summer camps, scout activities and camping games
GIFT FOR BOYS & GIRLS: Looking for unique ideas for birthday gifts, sports gifts or group gifts for kids? You've discovered an incredibly cool (dare we say "the best!") gift and alternative to obstacle courses, basketballs, hockey, kids board games, giant yard games and other outdoor toys
Last update on 2023-11-16 / Affiliate links / Images from Amazon Product Advertising API
---
12. Kan Jam
Kan Jam is an exciting and thrilling game that is perfect for any gathering. A Kan Jam kit can be purchased online, or you can use any frisbee and make the Kan Jam bucket yourself.
For large groups, you can have several Kan Jam games going at once or create bracket competitions. This game is just as fun to watch as it is to play!  Here is a video of the rules:
13. Wizards and Werewolves
Bored of the same kind of games over and over? Keep your picnic games for large groups going even after dark with glow-in-the-dark Wizards and Werewolves.
This game is a role-playing game with elements of hide and seek, tag, and scavenger hunts. If you have ever been interested in LARP (live-action role play), this game is for you!
The goal of the game is for the wizards to find glowing crystals and destroy the alpha werewolf. The werewolves hide the crystals, infect wizards, and protect the alpha.
The game has different levels of difficulty making it engaging combined play for kids and adults. Game variations also allow you to play with small or very large groups.
Will you hide, hunt, howl, or run in this clever action-packed game?
Wizards & Werewolves: A Magical Hide and Seek Game | 4-10 Players | Outdoor Games for Kids 8-12+ | Camping Games for Kids | Glow in The Dark Yard Games for Kids and Adults | "A Howling Good Time!"
BRING FANTASY TO LIFE - Werewolves hunt Wizards; Wizards search for glowing crystals to end the Werewolves' curse; it's a thrilling, howl-worthy backyard game
ACTIVE GAMES FOR KIDS - Part "hunt and go seek," part capture the flag and part kids tag game, this is a new kind of glow in the dark outdoor games for kids and camping fun
PLAY AGAIN & AGAIN – Players never get bored with this magical glow games set that includes 3 levels of gameplay, unique "wizard powers" and bright game pieces (batteries included and replaceable)
EASY TO LEARN – With simple instructions, labeled game pieces and illustrated cards, it's easy for kids (and adults!) to learn the basics and get playing
FUN GIFTS: Looking for an 8 year old boy gift? Need 10 year old boy gift ideas? Far more engaging and inclusive than most kids outdoor toys, it's a great birthday present or family gift
Last update on 2023-11-16 / Affiliate links / Images from Amazon Product Advertising API
---
14. Scavenger Hunt
Get out and enjoy nature with a scavenger hunt. You can buy pre-made versions or make your own.
Have a list of items that each team must successfully find at the picnic. Some examples may be a flower, a person wearing a hat, an oak tree, a four-leaf clover, or a bird's nest.
Teams can check off that they have found the items on a checklist. For more solid proof, have teams use their phones to take a picture of each item on the list. The first team to bring back a list with all the items found is the winner!
No products found.
---
15. Reverse Charades
Charades, or riddle games, have been around since the 18th century. Reverse charades take the classic game and makes it perfect to add to our picnic games for large groups.
Instead of having one person getting the team to guess the answer, it is flipped. The entire team tries to get one person to guess as many correct words in the time limit as possible. The team gets one point for every correctly guessed word or phrase.
We recommend using a reverse charades game that has all of the ideas on cards for you. Have your camera ready for some hilarious team moments!
No products found.
---
16. Giant Twister
Get tangled up in a game of twister. This giant outdoor Tangled game is a perfect twist on the original Twister. You can customize the pieces by laying them as close or far apart as you like. You can also personalize the arrangement of the colors on the board.
Just spin the spinner and jump on the board! The last person still standing is the winner!
No products found.
---
Games That Require No Equipment
Head straight to the picnic with these games in your back pocket! Don't worry about loading equipment and setting anything up with these game ideas.
17. Giants, Wizards, and Elves
Giants, wizards, and elves take the traditional game of paper, rock, scissors and creates an entertaining picnic game for large groups. To play, divide your group into two teams. Have the teams face each other in two parallel lines. Each team will secretly decide to be giants, wizards, or elves. On the count of three, each team makes the sign associated with their character.
Giants: Raise their hands over their heads, stand on tippy toes, and say "Roarrrr".
Wizards: Crouch slightly, stick arms straight out, wiggle their fingers as if casting a spell, and say "Shazam"!
Elves: Squat down low, cup hands around their ears, and squeal "Eeeee"!
The following rules determine the winner. Giants beat the Elves because they can step on them. The Elves outsmart the Wizards. The Wizards cast a spell defeating the Giants. The winning team then chases the losing team to a "safe" line. Anyone who is tagged before reaching the line is now members of the opposite team. Play can continue until all players of one team are completely captured.
18. Sardines
The game of Sardines is the opposite of Hide and Seek. Instead of everyone hiding and one person seeking, one person hides while everyone else seeks. Once a person finds him or her, they join and hide with them in the same spot. The game continues until everyone has found the person who is "it". The last person to find the hiding group is "it" for the next round.
19. Piggy Wants a Signal
Piggy Wants a Signal is a great game to play where there are many hiding places surrounding an open area. The person who is "it", or the wolf, draws a circle in the open area. The wolf then counts out loud to ten. The rest of the group, or piggies, run and hide.
When the wolf has counted to ten, he begins searching for the pigs. He only needs to see the pig and shout, "1, 2, 3 on (name of piggy) by the (where the pig is seen)." If the wolf has correctly seen the pig, the pig is caught and must stand in the circle.
The pig in the circle shouts "piggy wants a signal!". Another pig gives a signal by waving their hands or arms in view of the pig in the circle. They then can sneak from the circle and hide again when the wolf is not looking.
If a pig is caught three times, the game is over, and they are "it" for the next round. If all the pigs are caught, the wolf wins and the game is over.
Pig Nose Hog Snout for Kids with Elastic (12 Pack)
IS IT NORMAL TO DRESS UP LIKE A PIG? | Absolutely. By putting on our Pig Nose Hog Snout you're letting go of all your inhibitions and showing your playful side. Wear our pig snout to a pig roast BBQ. Add pig ears and a full costume and throw an animal party for kids and toddlers. It's ideal for a Missy Piggy, Porky Pig or Three Little Pigs costume. Your options are virtually limitless.
WILL MY LITTLE PIGGIES LIKE IT? | Our pig snout makes a wonderful party favor for kids' birthday parties. If your little one loves Peppa Pig and Muddy Puddles--throw them a Peppa Pig party and hand out our pig snouts as party favors.
CAN ADULTS WEAR A PIG SNOUT? | Yep. One size fits all. Consider wearing it to the grocery store, a mommy and me class, the gym, when going out to dinner--just about anywhere to want. People might think you've watched The Purge too many times, but oh well. For obvious reasons, we don't recommend wearing our pig snout to work or when going to the bank.
BASED IN THE USA | We're proud to be a US based, family owned company that's been in business since 1983. Our passion is to always provide you with the best selection of unique gifts and novelties on the market.
INCLUDED: (12) Pig Nose Hog Snout for Kids
Last update on 2023-11-16 / Affiliate links / Images from Amazon Product Advertising API
---
20. Never Have I Ever
There are many versions of this game, including board game sets with pre-made questions. However, you can easily come up with your own questions. Some versions you can just hold up fingers, then put them down if you have done something. However, we prefer the active version for picnic games for large groups.
To play, have your crowd sit in a circle. One person will stand in the middle and say "Never have I ever…" and finish the sentence with something they have never done. For example, "Never have I ever broken a bone".
Anyone in the circle who has done that must get up and switch seats with anyone else who stands up. Meanwhile, the person in the middle tries to steal one of the vacated seats. In our example, everyone who has broken a bone would stand up and switch seats.
The person left standing without a seat must come up with the next "Never have I ever…" statement. This game does not have a winner, but all will have a great time and get to know each other better!
Sale
Never Have I Ever Classic Edition Adult Party Game: Hilarious Card Games for Game Nights, Gatherings & More! for 4+ Players, Ages 17+
HILARIOUS AND FUN PARTY GAME: Tired of the same old board games?, Relive your funny and entertaining moments with your friends while playing this card game. Transform your and your friends' awkward and embarrassing experiences into silly memories and add a dollop of humor to your next game night!
STRENGTHENS BOND WITH FRIENDS: This card game not only ensures that your party is one to remember but also offers an engaging way of bonding with friends and family. Whether you use it as an ice breaker game for college parties or as a way to enjoy with old buddies, our game helps you laugh and let loose!
EASY TO LEARN AND PORTABLE: This multiplayer game includes 550 cards – 485 play cards/questions, 65 rule cards, and instructions, which are super easy to learn. Perfect for groups of 4-12 people, this game can be played anywhere and everywhere. Be it camping or on vacation, this game will be a fun companion!
GAME FOR ANY OCCASION: This game will be an outrageous hit for any occasion — from birthday parties to bachelorettes. You will not only have a fun time playing this game but also get to know more about your friends' and family's life — creating new memories of laughing at each other's embarrassing moments.
PERFECT GIFT FOR ADULTS: Our Classic Edition card game makes a delightful gift for all adults (ages 17+). From housewarming gifts to any celebrations, this gift would make a perfect addition to anyone's home and game collection. Bring this gift to the next holiday party and get ready for a night of funny moments!
Last update on 2023-11-16 / Affiliate links / Images from Amazon Product Advertising API
---
Game on!
Your next picnic is sure to be a hit with these 20 exhilarating picnic games for large groups. We have included something for everyone with sports, races, competition, and no-equipment-needed games. Some of our favorites are water balloon volleyball, tug-of-war, and "Never Have I ever".  Looking for more ideas? Check out our post on 33 Fun Outdoor Games for Large Groups to Enjoy.
Enjoy a stress-free picnic day out with friends, family, and church groups with these fun games! Pack your checkered blankets and picnic baskets and head to the park! Your guests will be begging to play these picnic games for large groups again!