Perhaps your ideal way to wind down after a hard day at work is to retreat to your deck with a cold drink and just chill. But maybe traffic, rambunctious kids next door, or a barking dog makes you wonder how to make your backyard more private.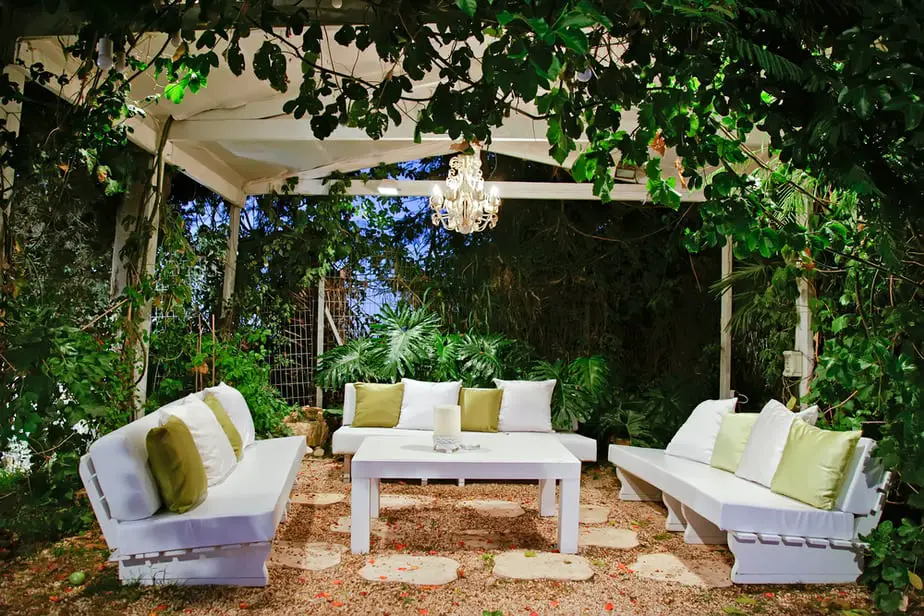 You have questions, we have answers.
Step 1: Identify Your Challenges
When you approach the task of how to make your backyard more private, you'll likely feel overwhelmed and might not know where to start first.
We suggest borrowing a concept from management and make a plan using a S.M.A.R.T. goal. Essentially, you set your course using a well-defined objective that is measurable and attainable. The latter is where your budget and motivation come into play.
You must also make it relevant to what you and your family needs. It also helps if you can get it done sooner rather than later to start basking in your peace and quiet quicker.
Let's start by defining what that end goal is by looking at what is getting in the way of you enjoying your space.
Deafening Noise
Sometimes, we don't realize how oppressive noise is, affecting both our physical and mental health. Taking charge and learning how to make my backyard more private is an excellent way to take control of the situation.
Consider the following when planning for more privacy:
Is traffic the main problem? If so, is it all day or during certain times like rush hour?
Is there scope-creep going on with the neighborhood's kids?
Are there other sources of noise like barking dogs, chickens, or other animals?
Is there construction going on in your area?
Answering these questions can help you determine the type of measures you can take to match the challenge.
Generally, the denser the sound barrier, the more effective it is. That often goes hand-in-hand with the cost. If you want to block the noise from one side of your yard, invest in the more costly features there and go lighter on other areas of your backyard. The advantage of this method is that you avoid creating a boxy feeling of four walls around you and still keep the space airy while dealing with the intrusions.
Using White Noise to Make Your Backyard More Private
Another way you can tackle this challenge is to add a water feature or chimes that can provide a distraction to the unpleasantness you're trying to abate. If you place them near a solid wall, the sound waves can bounce off and amplify it to get more out of a smaller element.
Sale
UpBlend Outdoors Wind Chimes for Outside - 29" Copper-Red Wind Chime Outdoor, Zen Garden Chimes for Outdoors, Tin Windchime, Decor Windchimes for Mom, Grandma, Gifts for Her
Indulge in beautiful hymns with our hand-tuned wind chimes for outside. Perfectly tuned to G-Major, these chimes offer amazing sound quality for a truly immersive outdoor experience. Relax and enjoy the peaceful tones of these unique wind chimes.
Let the mesmerizing sound of our copper wind chimes for outside transport you to a state of relaxation. With its elegant design and high-quality materials, this wind chime is sure to capture the attention of anyone who enters your outdoor sanctuary.
Delight your loved ones with a gift that they will cherish forever. Our wind chimes for outside make the perfect housewarming gift, and their beautiful design and calming sounds will bring joy and peace to any space, making it a perfect present.
Keep the memory of your loved ones close to your heart with our sympathy wind chimes for outside clearance. The gentle melody produced by the chimes as the breeze flows through them can be a comforting reminder of your loved one.
Get your hands on our wind chimes for outside, a stunning addition to your garden decor. The unique pentatonic scale used in this chime creates a harmonious sound that will elevate the mood of any space that is perfect fit for any outdoor area.
Last update on 2023-11-20 / Affiliate links / Images from Amazon Product Advertising API
---
Soft Surfaces
Don't neglect the effects of using materials that can absorb some of the sounds. A yard with a lush, green lawn will seem quieter than a rock garden with a minimalist style. That's part of what makes living fences and walls so beneficial.
You get the privacy you want and can also get the benefits of having nature close by to ease your stress and tension.
Restoring Your Privacy
Maybe you'd like more of a defined space that is out of sight of neighbors or passersby. Think about whether it's a specific area in your yard or the whole space. Even small changes can have a profound impact.
Consider other factors that may indirectly affect your sense of privacy such as:
Light pollution from streetlights
Proximity to public parks and trails
Existing landscaping features nearby
You have several options for creating that separation that can say subtly, but distinctly, that your yard is off-limits. Things to think about include:
Wooden fence
Hedgerow
Trellis for vines and climbing plants
Bamboo plants
Stone or brick wall
Pergola
Outdoor curtains
The great thing about these choices is that they can do double-duty and dampen the noise, too. If you want to stick with plants, some excellent options to explore are:
Privet hedges
Lilacs
Holly
Yew
Boxwood
Arborvitae
Other Ideas for Reclaiming Your Space
Another variation on this theme is a vertical garden. You can use an outdoor shelf as a base for potted plants, preferably those that will flow outside of their pots to fill in the spaces in between rows.
If you're starting from scratch you can create a garden with several layers that can give you the privacy you want without seeming like a line in the sand. It's an excellent way to optimize the use of a small space.
If a visual barrier is all you need, explore adding a screened-in gazebo or porch to your landscaping. You can put up sunroom curtains to give you more privacy and to keep it more comfortable during warm, sunny days.
Sale
Last update on 2023-11-20 / Affiliate links / Images from Amazon Product Advertising API
---
Step 2: Determining Priorities
We'll be honest upfront and say that some landscaping changes are expensive, making prioritizing essential.
For example, you can plant shrubbery or trees like arborvitae to create a privacy screen. But you may not realize the benefits for a year or more. You can get larger ones to get a headstart, but you'll pay a lot more, both financially and physically getting them into the ground.
Alternatively, you can add an artificial element with the younger plants to enjoy the benefits of more privacy until your shrubs can take over the task.
We suggest determining both a best-case scenario and a viable alternative for the issues that you want to fix. That will come in handy when you starting talking money.
Step 3: Setting a Budget
Begin with a dollar figure about what you can reasonably expect to invest in your landscaping. Don't delve into what you'll spend where yet. This task addresses the issues of being measurable and attainable.
Then, with your priorities in hand, see what works with the money you can spend without breaking the bank. The best way to do that is by putting it in writing.
Step 4: Drawing Up a Plan for Making Your Backyard More Private
The old saying goes that if you fail to plan, plan to fail. The same adage applies when thinking about how to make your backyard more private. The most significant concerns rest with the spacing of your landscaping elements.
You want everything to fit without being cluttered. It goes in line with creating your sanctuary with the peace you want to restore to your home.
We suggest measuring your yard, taking particular note of any size limitations such as overhead powerlines and property boundaries. After all, it's easier to erase a few sketches than it is to dig up a row of misplaced hedges.
If you're planting, find out the spacing requirements and expected sizes of all your selections with both width and height. You'll likely find many smaller cultivars that can fit if your first choice is too big.
If you're adding any features that have special needs like solar lights or powered devices, take these into account too. Make sure anything that needs direct sunlight or an outlet can get it.
We'd also recommend living with your plan. What we mean by that is to lay it out in the yard with spray paint, outlining the elements on your lawn to make sure that you don't feel too cramped when you have everything in place.
Be mindful of your neighbors too if you're adding anything that could affect their time in their backyard such as outdoor lighting.
No products found.
---
Step 5: Preparing to Make Your Plan Happen
We strongly urge you to take care of some housekeeping tasks before you put your plan into place. First, check with your city and county if you're thinking about changes that may impact wetlands, road visibility, or surface runoff. Some areas may require a building permit or special permission for some projects.
Also, call 811 before you do any digging. This service notifies the utilities in your area to mark where underground lines exist. They're closer to the surface than you may think.
They will delineate them with spray paint or flags so that you know where not to dig. And it's not just the existing utilities either. Older systems may also exist that could affect the success of your landscaping efforts.
Step 6: Implement Simple Measures for Big Results
The little things can often go a long way toward solving a privacy problem. For example, if you live near a public trail, a simple "No Trespassing" sign may get your message across loud and clear to keep others out of your space.
If your neighbor has a dog that barks incessantly, approach them first to discuss a solution before calling the city to complain. Sometimes, people don't realize how their actions affect others. A gentle nudge may be all you need to do.
Also, consider the outdoor furniture you have on your patio or deck. A winged bench set or chair can foster a sense of privacy without making any major landscape changes.
It all goes back to identifying what you want to fix about your yard and finding ways to make things happen.
Finally, when considering how to make my backyard more private, remember that it is a work-in-progress. Tweak anything that isn't providing a solution.
Sale
Signs Authority Private Property No Trespassing Sign - Dibond Aluminum 15" X12" No Trespassing Signs Private Property - Metal Yard Signs Protect your Home and Businesses with Private Property Signs
Heavy Duty Aluminum - Unlike plastic, wood, stickers or vinyl lawns signs, these no trespassing signs are extremely durable. It has a great water and chemical resistance. It is made of 100% rust free aluminum, they won't fade and could last a lifetime
Visibly Stylish - With its big, bold, premium colors, it can be able to see from a distance and easily noticed because of its stylish appearance. Our no trespassing yard sign make people think twice before entering a property without permission
Residential Looking - Unlike any other signs, this one is made for a more decent and residential look that will not ruin your property's or house's exterior. Posting these signs will help with your peace of mind for the outsider to stop trespassing
No installation Required - Simply stick the Signs no trespassing Signs into the wet or soft ground and you're done! The graphics of metal no trespassing signs will withstand any natural whims. Don't settle for cheap plastic or thin gauged metal
Perfect Fit - Ideal size for any space gives you the power to Place the sign in any location. Small enough to not take over but large enough to be seen! 100% foolproof No Tresspassing. Private Property by Signs Authority
Last update on 2023-11-20 / Affiliate links / Images from Amazon Product Advertising API
---
Final Thoughts About How to Make Your Backyard More Private
Spending time outdoors is essential for good mental health. Even if you live in an urban area, you can still realize these benefits. The solution is a close as your yard.
When learning about how to make my backyard more private, you'll likely find that implementing several things can create a peaceful environment you crave. With a little planning, you and your family will reap the rewards of restoring the calm.