Wiffle ball is a simple and fun backyard game played with a wiffle ball and bat. In this tutorial, we will show you how to make a wiffle ball field in your backyard.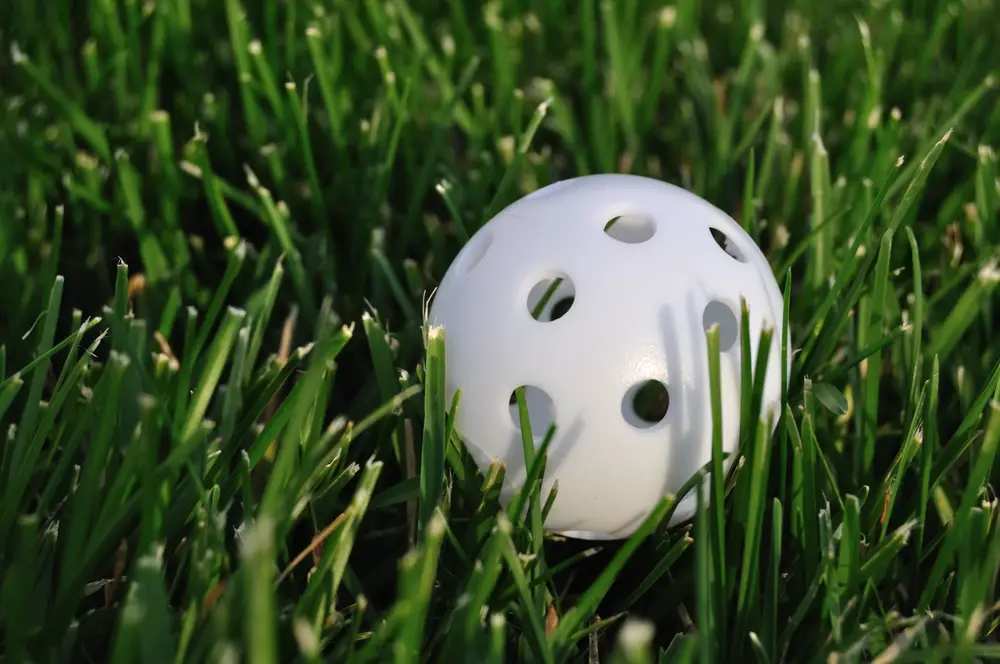 Wiffle ball started out as an idea in a backyard in Connecticut. David A. Mullany was playing ball with a perforated golf ball and broomstick handle.  They didn't have enough players nor enough space to play baseball. From here the sport quickly morphed into what is now known as "wiffle ball".  And it is no wonder that people are still playing wiffle ball in backyards today.
There is a lot of confusing information about wiffle ball fields. Let us clarify and teach you how to make a wiffle ball field in your backyard.
Field Diagram
We have included a field diagram that will help you visualize your field as we review the dimensions and rules of the field. We recommend that you draw your own diagram before marking the lines in your backyard.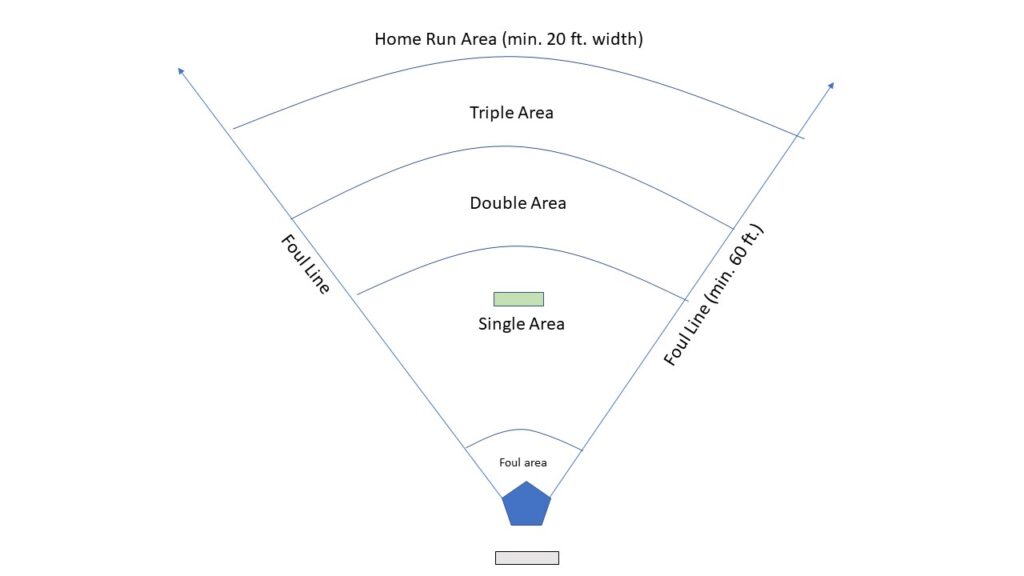 Rules of the Field Dimensions
As you research, you may find that wiffle ball fields are all different sizes and shapes! It is no wonder you are confused about how to make a wiffle ball field in your backyard! According to the creators of Wiffle Ball (wiffle.com), there is no official dimension for a wiffle ball field.
This means you can make a wiffle ball field out of whatever space you have available! Some leagues have set dimensions for their fields, others do not. Therefore, we will provide some suggested dimensions for gameplay.
Interestingly your wiffle ball field can be concrete, dirt, gravel, grass, or anything you have to play on.
How To Make A Wiffle Ball Field In Your Backyard Step-By-Step
To reiterate, the field size is optional.  Work with the dimensions you have available in your backyard.  As there is only imaginary baserunning in the official rules of wiffle ball, we will not be adding bases. As a design choice, feel free to add bases to have the look of a real baseball stadium!
Materials:
Chalk or paint to mark lines
Measuring tape
Home Plate
Pitcher's plate
No products found.
---
Step 1:  Measure Home Run Area
It is easiest to begin with the outer boundary of your field, the home run area. The home run area can be marked with a line or a natural barrier such as bushes, wall, or fence.  We suggest the height of the barrier to be between 4 and 16 feet. The width of the home run marker from the left foul line to the right foul line should be between 20 and 100 feet.
Step 2: Mark Foul Lines
Next, measure down the foul lines from the home run point to the home base 60-100 feet and place your home plate.  Be sure to carefully mark your foul lines using paint or chalk. It is up to you if the left and right foul lines are the same or different lengths.
Sale
Rust-Oleum 266590 Professional 2X Distance Inverted Marking Spray Paint, 15 oz, Fluorescent Red-Orange
Ideal for temporary marking of underground utilities, construction and excavation sites, traffic safety, athletic fields and more
Designed to spray upside-down for easy application and control; for best results, apply with Rust-Oleum Professional Marking Wand
Dries to the touch in 15 minutes and covers up to 810 linear feet at 1.5" wide
Offers excellent adhesion to surfaces such as black top, concrete, grass and gravel; withstands short-term weathering
Provides a flat to semi-gloss finish depending on porosity
Last update on 2023-11-19 / Affiliate links / Images from Amazon Product Advertising API
---
Step 3: Foul, Single, Double, and Triple Zones
Depending on the size of your field, you may change the suggested distances of your single, double, and triple zones. Mark these zones in an arc from the left foul line to the right foul line. In the game of wiffle ball, no bunting is aloud. Therefore, we have included a foul zone around home plate.
The foul zone between 5-15 feet from home plate
The single-zone between 20-45 ft. measured on the foul lines
The double zone is placed 20 feet beyond the singles marker (40-65ft.)
The triple-zone is marked 20 feet beyond the double zone or between 60-85 ft.
Step 4: Pitcher area
You may choose to add a pitcher's plate. The pitcher is also the designated player for a single area. Consequently, the pitcher's plate should be located in a single area.
Wiffle balls are not the easiest balls to throw long distances. With this in mind, choose a spot in your single zone where you can throw a good curveball!
The World Wiffle Ball championship places their pitcher plate at 30 feet.
Step 5: Batter box
In baseball, each batter's box is 4 ft wide and 6 ft. long. Since wiffle ball is a miniature version of baseball, we will use these dimensions. Batter boxes should be centered top and bottom to home plate.
Draw the 4 ft. wide and 6 ft. long box 6 inches away from home plate on either side of the plate.
Step 6: Optional Touches
Now that you have the basics of your field, why not add some final touches?  You can even create replicas of actual stadiums such as this 1/4th scale replica of Fenway park called Fenway Westfield. Creating a plywood fence on your home run boundary will get you started.
Adding great equipment to your field will not go unnoticed by players. Always have an ample supply of wiffle balls available and provide a few bat options. To help you improve your game, we have reviewed the best wiffle ball bats here.
It may also be fun at a pitching machine to your field. We have reviewed the best wiffle ball pitching machines here.
Here are other ideas that you can add to your field:
Scoreboard
1st, 2nd, and 3rd base
Dugout
Foul Poles at the home run boundary
Strike-zone backstop
Crowd viewing area
Concessions stand
Copy King Large Dry Erase Custom Baseball Scoreboard 2ft x 4ft
Large Dry Erase Custom Baseball Scoreboard with your custom stadium name!
Size is 24in. x 48 in. (2 ft x 4 ft) Lightweight and easy to hang.
Scoreboard is laminated for dry erase use.
Made for indoor use. Not intended for outdoors.
Shipping: Item is shipped rolled around a tube and in a protective mailing bag
Last update on 2023-11-19 / Affiliate links / Images from Amazon Product Advertising API
---
Basic Rules Of Play
Although wiffle ball is based on the game of baseball, the rules of play do vary slightly.  The baseball 3 strikes rule and 9 innings remain the same.
Many avid players already have specific rules that they live by in wiffle games. Check out the specific rules for leagues in your area if you plan to compete.  Otherwise, stick with these basic rules when you make a wiffle ball field in your backyard.
The game can be played with 2-10 players.  Not more than one player at any time can be in each zone (single, double, and triple).  In other words, only 3 outfielders on the field at once.
Interestingly enough, there is no actual base running!  The batting team must keep track of the imaginary runners.  To get to base you must successfully hit the ball into one of the zones without a fly being caught or a in motion grounder retrieved.
Single zone: 1 base
Double zone: 2 bases
Triple zone: 3 bases
Home run:  All players "on base" and batter score
For a more detailed list of the rules for strikes and outs, make sure to visit the official website at www.wiffleball.com
Sale
Wiffle Ball Original Brand Baseballs, Regulation Baseball Size, 24 Count
PERFECT FOR BATTING PRACTICE - This value pack comes with 24 individually packaged perforated plastic Wiffle balls. Whether you're fielding a team, or playing in the backyard, this pack has you covered.
REGULATION BASEBALL SIZE - Each of these perforated balls measure 9" in circumference and with the proper technique you can throw curve balls and sliders just like the pros.
DURABLE PLASTIC - Each ball is made of a tough, rubbery plastic that is light in weight. It cannot be thrown or hit great distances, so it is great for indoor activities too
CURVES LIKE CRAZY - This ball is designed so it will easily curve which makes this great training for batters. Prepare for lots of strikeouts, and in this popular barbecue activity we call strikes "WIFF"s.
MULTIPLE SIZES AVAILABLE - This ball comes in regulation baseball size (2.86" diameter) and a popular softball size (3.82" diameter). Pick the size that is best for you.
Last update on 2023-11-19 / Affiliate links / Images from Amazon Product Advertising API
---
Conclusion
Now grab your Wiffle ball and bat and head out to the field!  With just a measuring tape and something to mark the ground, you learned how to make a wiffle ball field in your backyard.
Hopefully, you can score a home run and not get a "Wiff".  Perhaps, this is the beginning of your own wiffle ball league!